Top 15 Most Haunted Places in America No One Should Visit Alone
Updated: 15 Mar 2019 3:42 pm
The nation's best ghost stories come from cemeteries, insane asylums, and underground tunnels.
What are the most haunted places in USA?
America is full of legendary hauntings and disgruntled ghosts.
From small, Midwestern towns to coastal cities, these are the most haunted places in America.
If you like to travel America alone, make sure to avoid these haunted places.
15. Resurrection and Bachelor's Grove Cemeteries (Chicago, IL)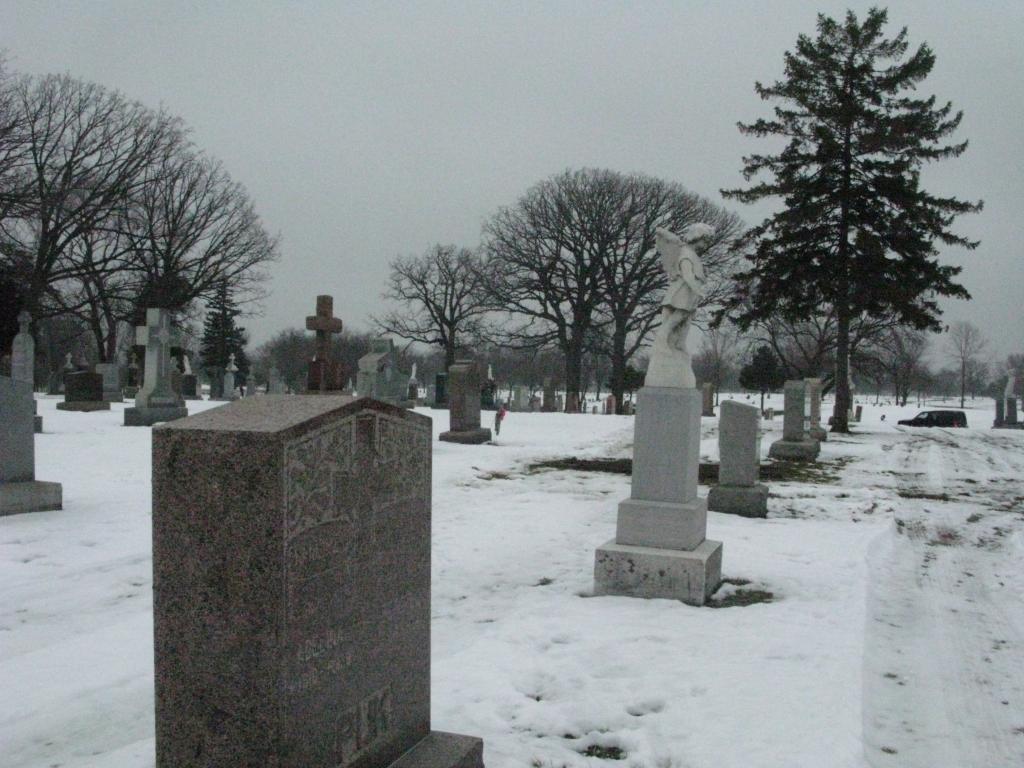 Resurrection Cemetery
What better place to start a tour of famous hauntings than at a pair of graveyards known for their female specters?
Resurrection Cemetery is the eternal resting place for thousands of bodies. Drivers have reported a woman stepping into the road outside the cemetery at night, giving them little time to slam on their brakes. Those who aren't able to stop say that the figure vanishes before their eyes.
The woman could be Resurrection Mary, a ghostly hitchhiker who is seen in Chicagoland clubs. After a night of dancing, she asks single men or cab drivers for rides home. As their vehicles pass before Resurrection Cemetery, the woman disappears. Some believe this is the ghost of Mary Bregovy, a car accident victim.
Bachelor's Grove is a smaller cemetery with only 82 plots. Despite this, some consider it to the be most haunted graveyard in the country. Its most famous phantom is the White Lady, who wanders the grounds with a baby in her arms -- likely the child buried next to her. People have also seen the ghost of a wandering monk, as well as a farmer on a horse-drawn plow near the lagoon.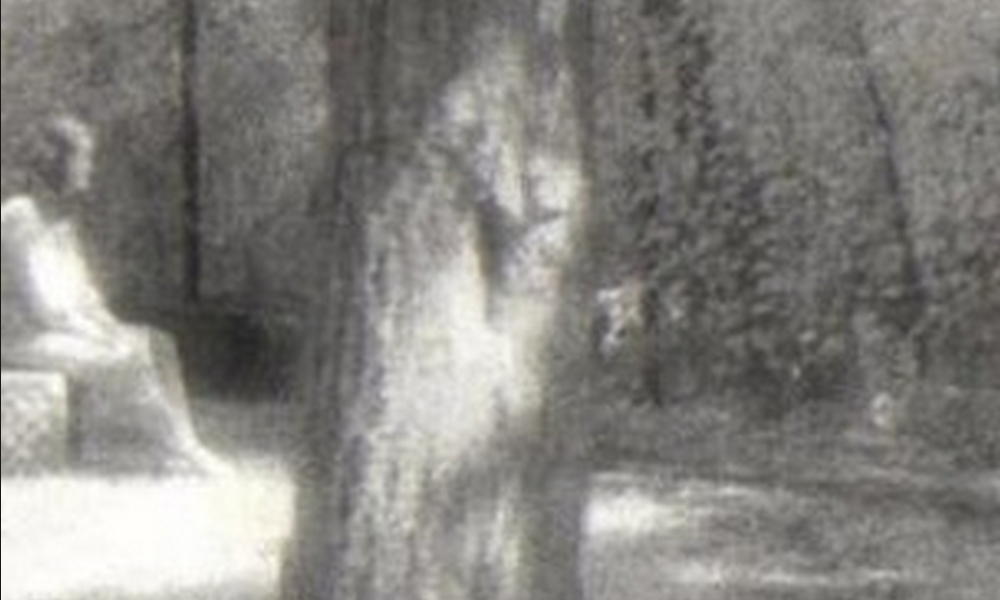 The White Lady of Bachelor's Grove was captured in one of the most famous ghost photographs ever taken.
14. Bobby Mackey's Music World (Wilder, KY)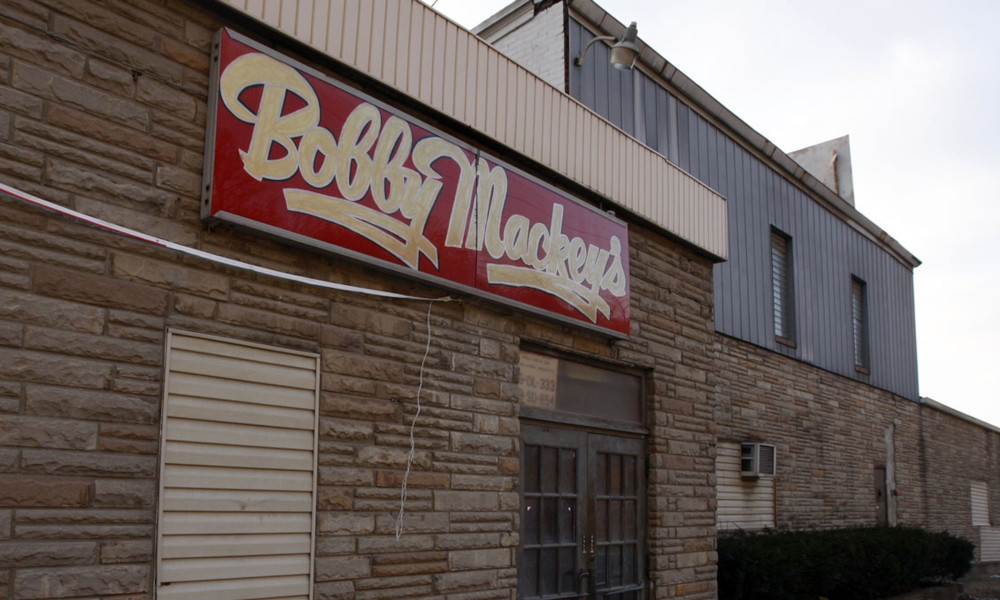 Exterior of Bobby Mackey's Music World
The history of this small-town music joint are as complex and fascinating as its ghosts.
The most ghastly of the phantoms at Bobby Mackey's is that of Pearl Bryan, who has one noticeable detail -- she doesn't have a head. After an amateur abortion attempt killed her, Bryan's boyfriend removed her head to conceal her identity and dropped her body in a local field. Some speculate that he went so far as to throw her head down the well in Bobby Mackey's basement.
Also heartbreaking is the tale of Johanna, whose father owned the club in the 1950s. When she fell in love with a singer against her father's wishes, he had the singer killed. In her despair, Johanna took her own life. Today, workers at the club see Johanna walking around, leaving the scent of rose perfume. Sometimes she's watched by the dark figure of a man behind the bar.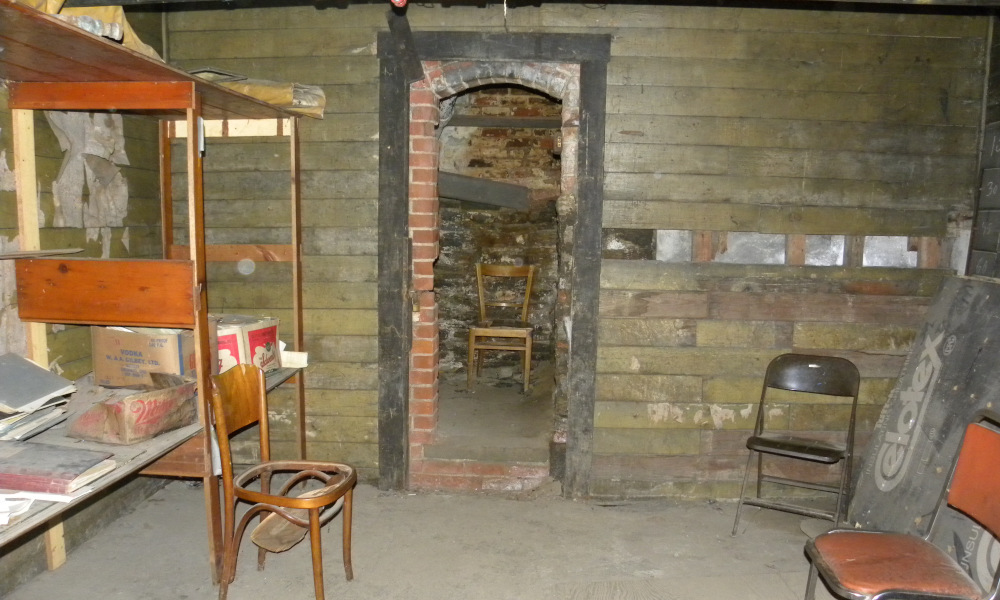 One of Bobby Mackey's former employees was possessed while working there and was exorcised in the building.
13. The Stanley Hotel (Estes Park, CO)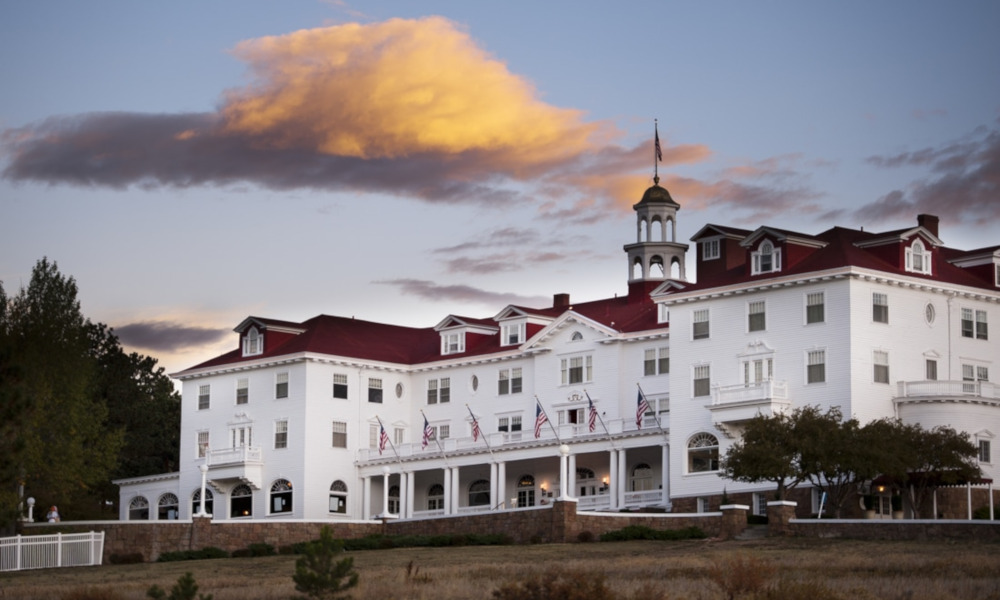 The majestic Stanley Hotel is a sprawling place in a beautiful setting.
The Stanley Hotel, founded in 1909, has plenty of space to accommodate its many friendly phantoms.
Freelan and Flora Stanley, once the hotel's owners, have stuck around to see that their guests are catered to. While Freelan is content to wander the halls on his own, Flora has a more welcoming role. She keeps mostly to the hotel's music room, where she greets travelers with songs on the piano.
The ghost of Elizabeth Wilson, on the other hand, is a little too hands-on. If you book a stay in Room 217, she'll happily do the unpacking for you. Guests have returned to the room after a busy day to find their belongings scattered. Once the hotel's lead housekeeper, Wilson is still hard at work -- no tip necessary.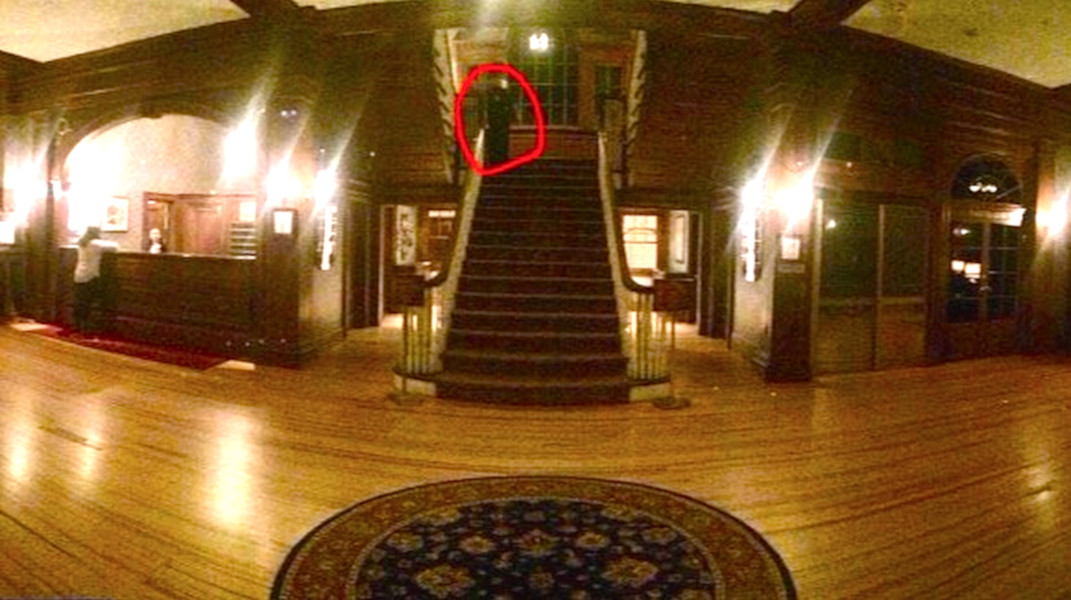 The Stanley Hotel inspired one of Stephen King's most celebrated horror novels, The Shining.
12. St. Joseph's College (Rennselaer, IN)
This campus in the rural Midwest has a darkly religious history.
Chances are, you've never heard of this small Catholic college in Indiana. Don't let its quaint setting fool you -- it may be the most haunted campus in America.
There are so many ghosts at St. Joseph's that almost every one of its students has their own encounter. Aquinas Hall was the site of exorcisms long before it became student dorms. The negative energy has caused some to hear voices echoing through their heads. Also well-known is the phantom of a priest, who hanged himself in the school's theater after one exorcism went horribly wrong.
The school's chapel at Drexel Hall is home to a ghost with unknown origins and a ball of light that sometimes appears at its peak. These are just the most popular stories -- other witnesses have heard the cries of a phantom child and the dragging of chains.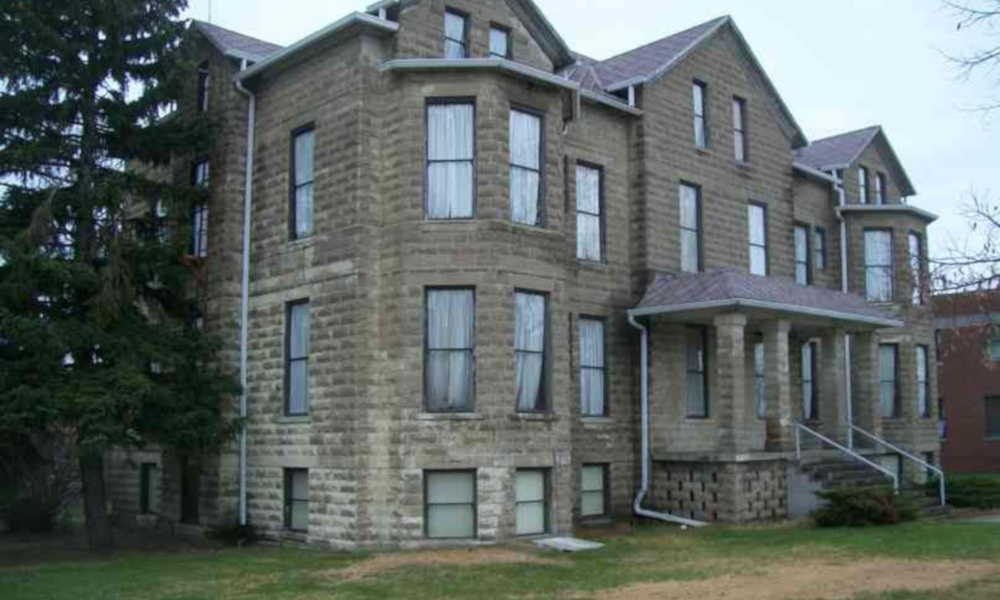 St. Joseph's College was recently shut down due to financial problems, leaving the campus deserted currently.
11. The RMS Queen Mary (Long Beach, CA)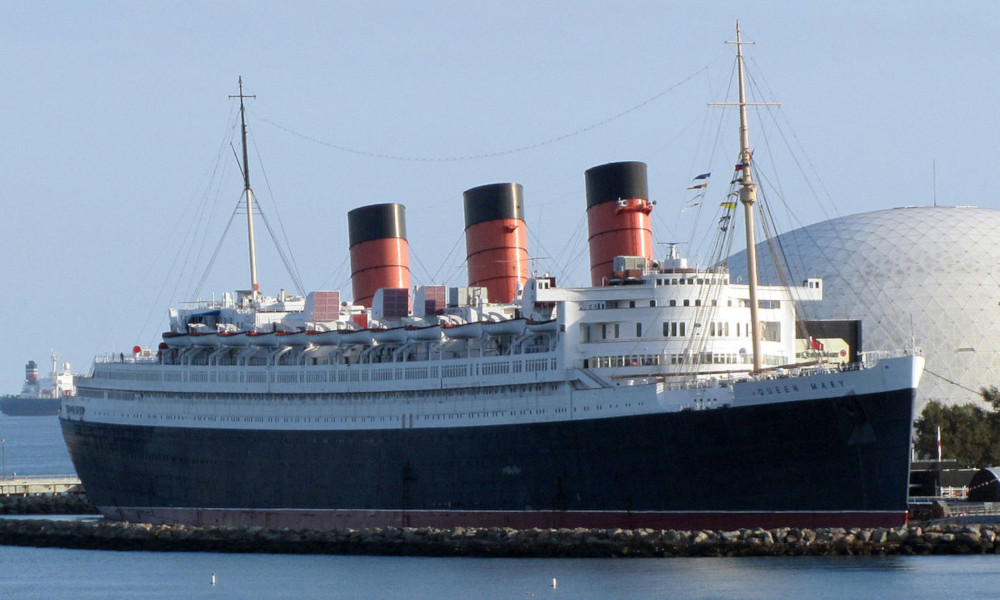 The Queen Mary seems stately enough from the outside as it sits at its dock.
Originally built as a luxury cruise liner and later converted into a ferry for soldiers in WWII, this British ship is home to over 100 unique spirits.
It is known that almost 50 people have died on board the Queen Mary, many under unfortunate circumstances. Most of them seem stuck in time -- specifically the 1930s, when the luxury ship catered to wealthy families. The spirits of men, women, and crying children are still wandering the decks, particularly near the pool area.
In one of the nicest suites on-board, a woman in white dances alone, perhaps waiting for a partner to join her. More hideous is the lost spirit of a worker who was crushed in one of the ship's watertight doors. Be warned: phantom screams are known to echo through the halls of the ship.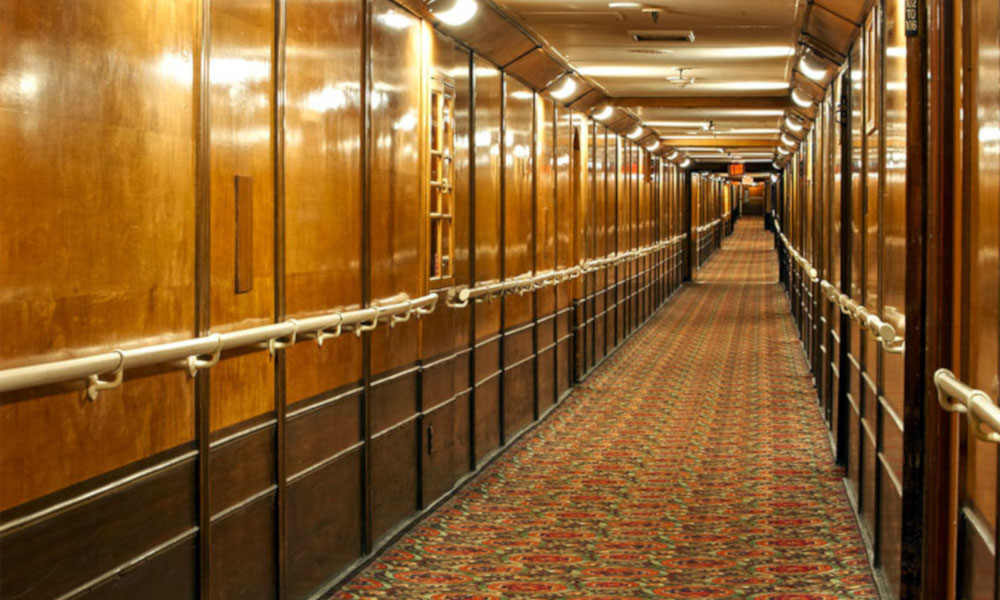 Winston Churchill and actor Clark Gable were both passengers on the RMS Queen Mary.
10. The Hotel Roosevelt (Hollywood, CA)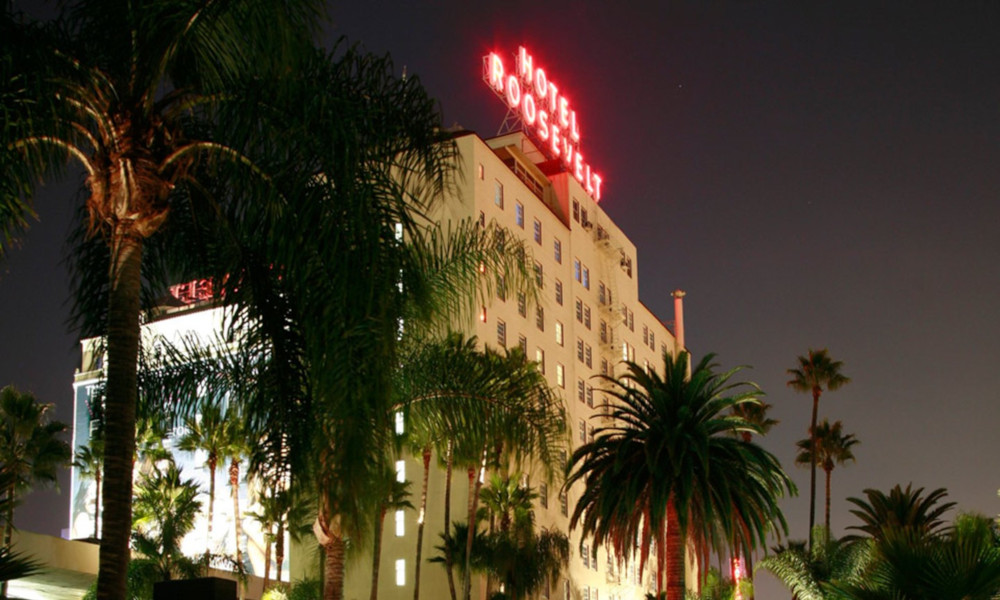 This haunted hotel sits among pine trees and basks in warm California nights.
Hollywood is known for glitz and glamor, but its darker history haunts this 1920s hotel.
The first Academy Awards were held in the Roosevelt's Blossom Room. One of its esteemed guests has stuck around. The man, rumored to be an Oscar nominee, wanders the room in his best tux. He's not alone. Another ghost, a man in a white suit, keeps him company while playing the room's piano.
Celebrity sightings aren't uncommon. Classic actor Montgomery Clift has never checked out of Room 928. If you feel someone watching you in the middle of the night, try not to open your eyes. Clift's ghost likes to sit in one of the room's corners and watch guests sleep.
If Clift isn't famous enough, perhaps Marilyn Monroe is more exciting. A mirror from Suite 1200 is known to reflect the icon's ghostly image. The hotel sometimes displays the mirror next to the elevators.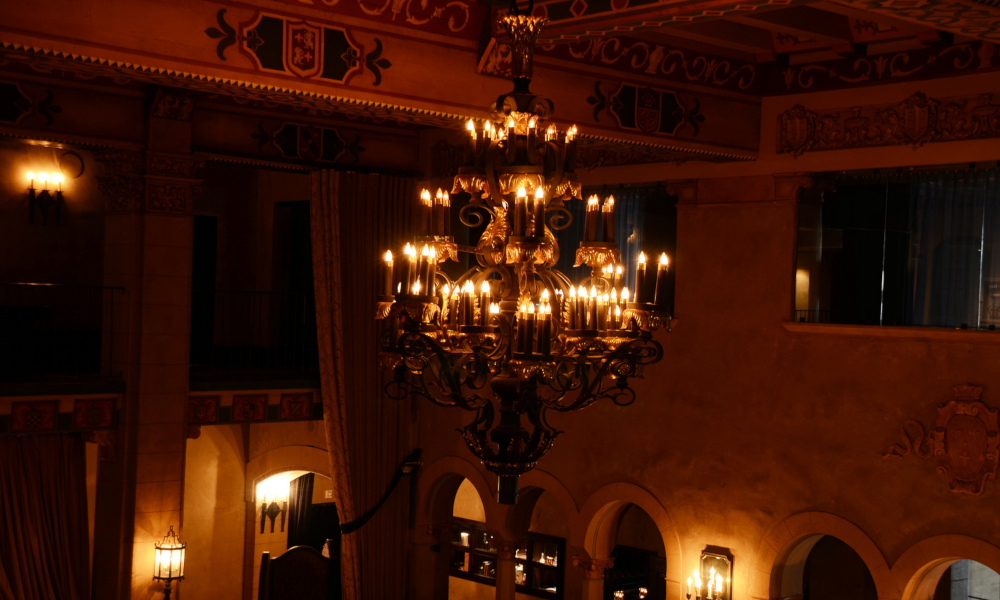 Clift doesn't just sit around freaking out the guests. He's also known to practice his trumpet in the hotel's hallway.
9. Shanghai Tunnels (Portland, OR)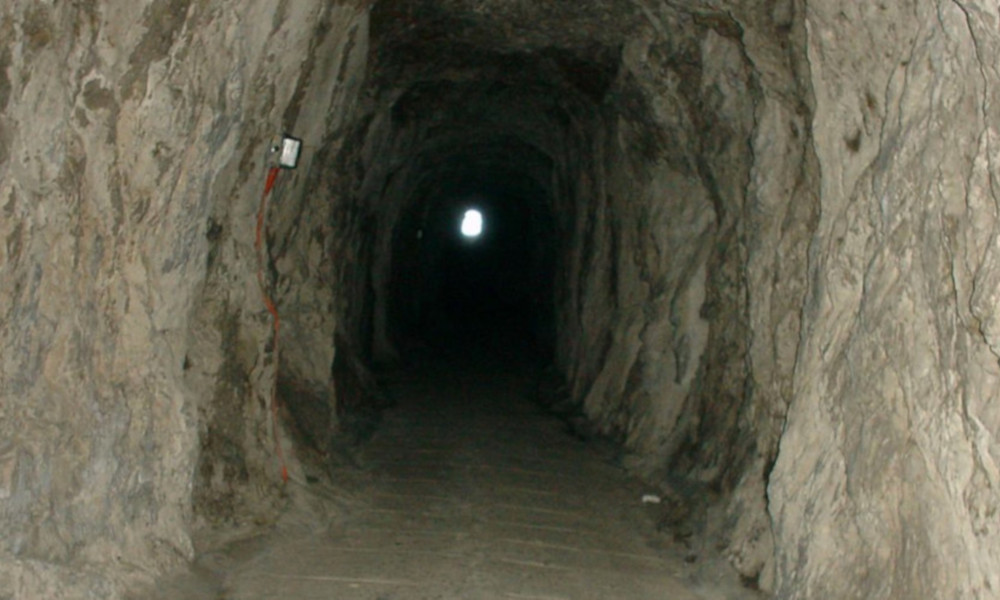 The light at the end of the tunnel wasn't always good news for kindapped prisoners.
A network of underground tunnels in Oregon's largest city promises to keep Portland weird.
Many of the people who traveled the tunnels in Portland's early days were not doing so of their own free will. Women were sometimes smuggled into the city via the tunnel's Willamette River openings and sold into prostitution. Drunk men were dragged to waiting ships and forced into slaveryon the high seas.
The most famous of the tunnels' ghosts is Nina, who once exposed what was happening underground. Today, she is seen on the balcony of Old Town Pizza or casually walking among its customers. More frightening is the collection of ghosts in Scooter McQuade's Restaurant & Bar. Innocent men and women were caught in the crossfire of a mafia gunfight, and their spirits sometimes rush from the bar's basement seeking safety.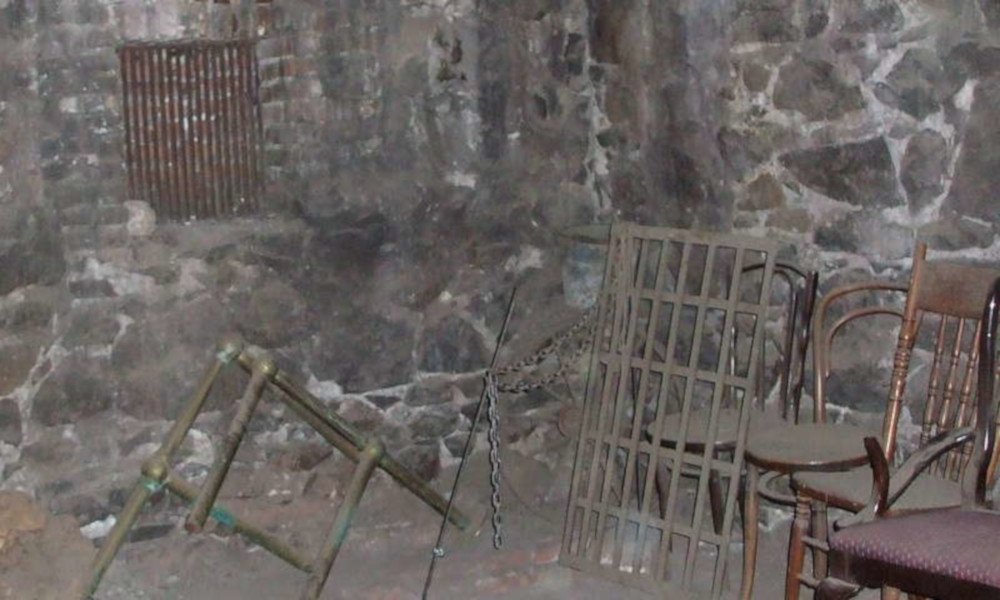 The Shanghai Tunnels are allegedly haunted by more than just ghosts. Monstrous black shadows with glowing red eyes have been seen underground, as well.
8. Clinton Road (West Milford, NJ)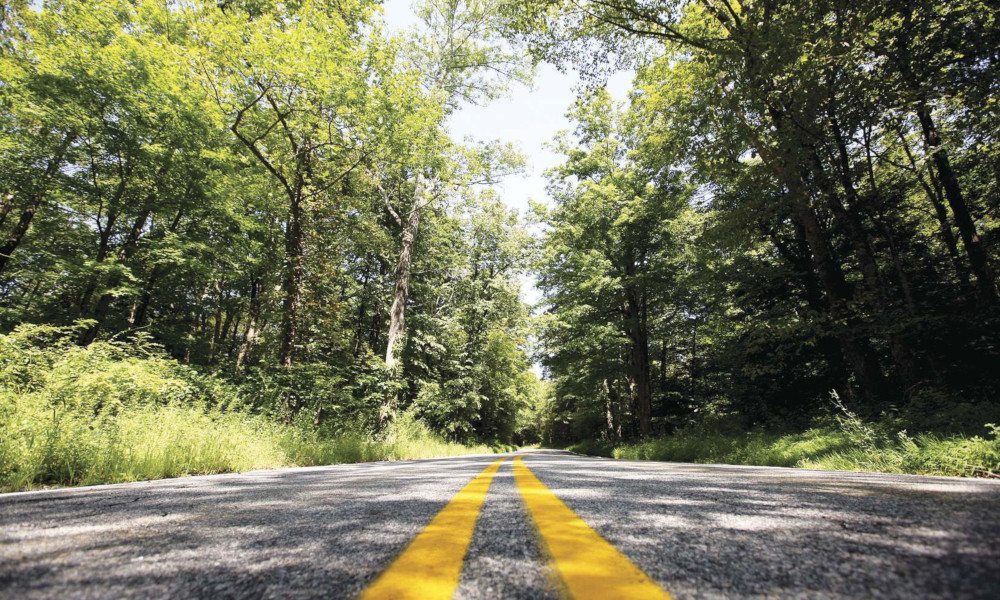 Just one stretch of this ghoulish trek through the woods.
This ten-mile stretch of road is paved with stories of ghosts and Satanic rituals.
Along the wooded road, you'll find Ghost Boy Bridge. If you drop a coin on the center of the bridge and wait until midnight, the spirit of a boy will appear to collect it. Legend says that he drowned while swimming under the bridge and now returns to save others from the same fate.
If the phantom headlights of ghost trucks don't run you off the road first, you might encounter Cross Castle. Satanic writing has been found on the castle's dilapidated walls, but be wary: visitors have suffered seizures, bruises that appear without cause, and even hallucinations on the property.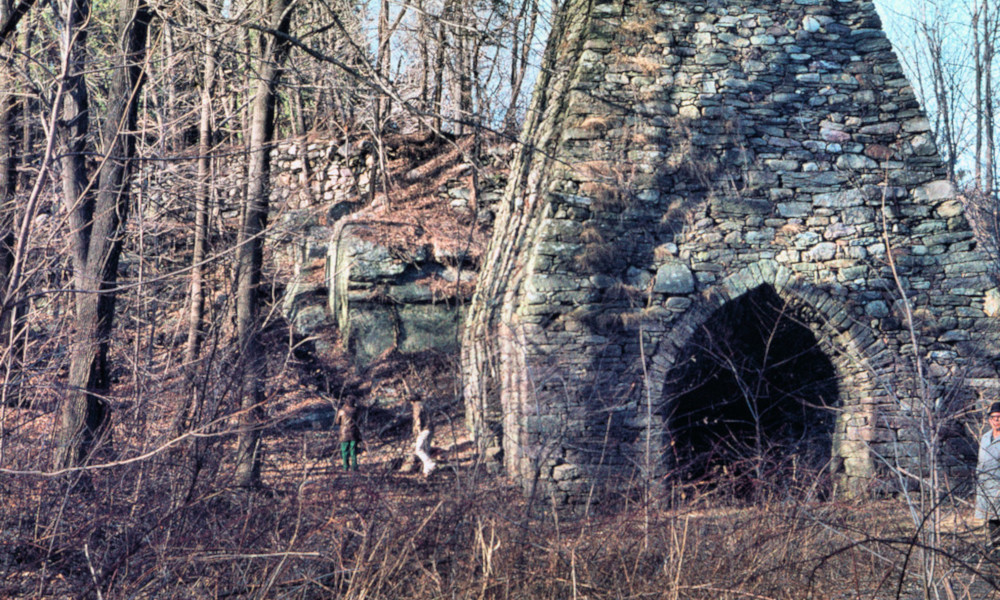 In 1983, a body was found off Clinton road. It was identified as Daniel Deppner, a small-time crook who was killed by the mafia.
7. Eastern State Penitentiary (Philadelphia, PA)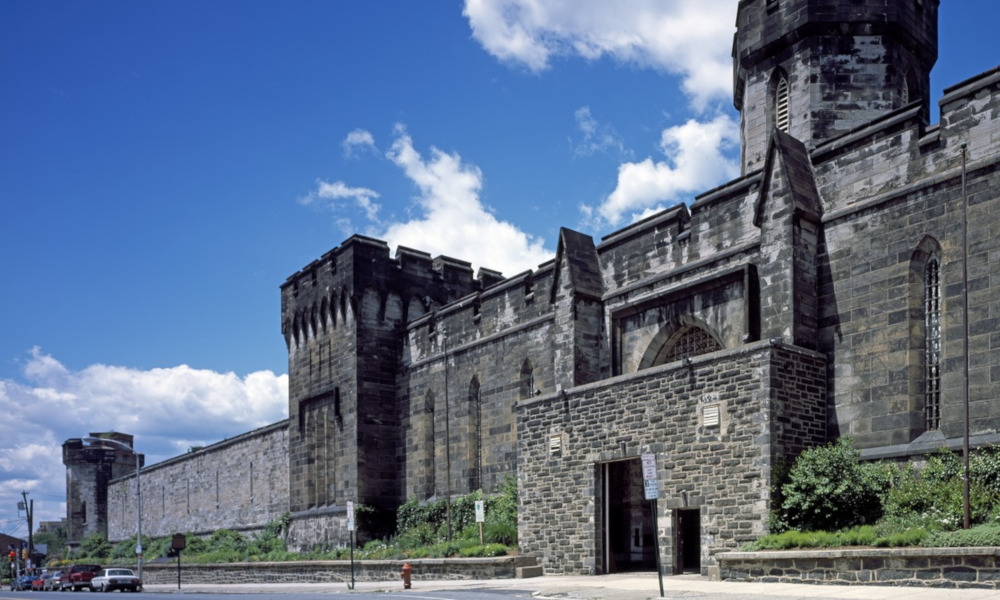 The looming exterior of the infamous prison.
When Eastern State Penitentiary was first opened, its cells were designed for one thing: solitary confinement. Many of its prisoners lost their minds, and their ghosts still roam the grounds.
The hauntings at Eastern State Penitentiary are truly terrifying. Faces appear in the stone walls of Cell Block 4, silently screaming as they relive the punishment dealt out by infamous warden Herbert Smith.
In rare cases when prisoners were let out of their cells and into the sunshine, they were forced to wear burlap sacks over their heads. Now, their spirits roam the prison yard, faces hidden -- except for the eyeholes that let them stare back at you.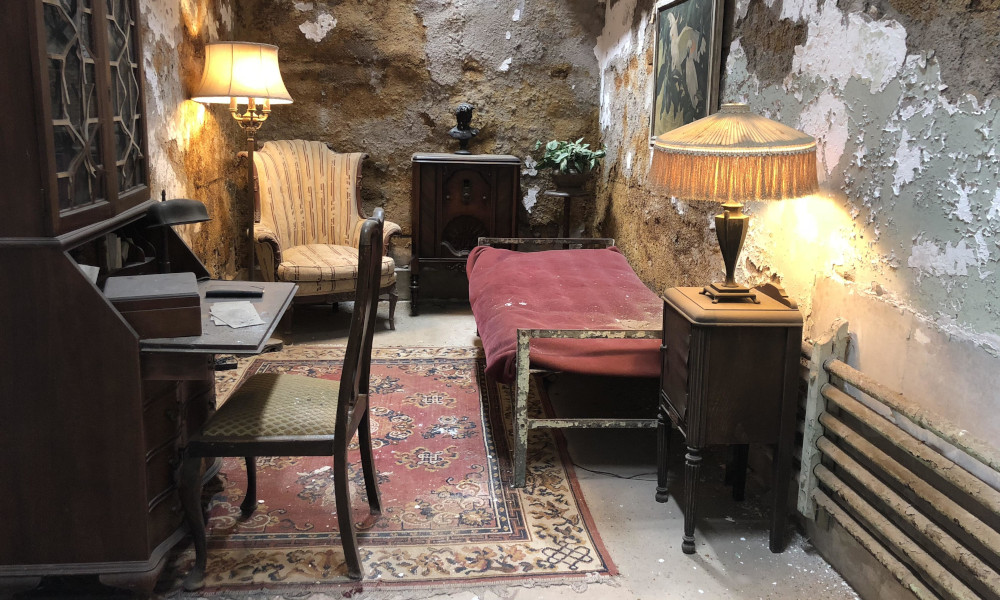 Gangster Al Capone was a prisoner at Eastern State Penitentiary. He often complained that he was haunted by a victim of his St. Valentine's Day Massacre.
6. LaLaurie Mansion (New Orleans, LA)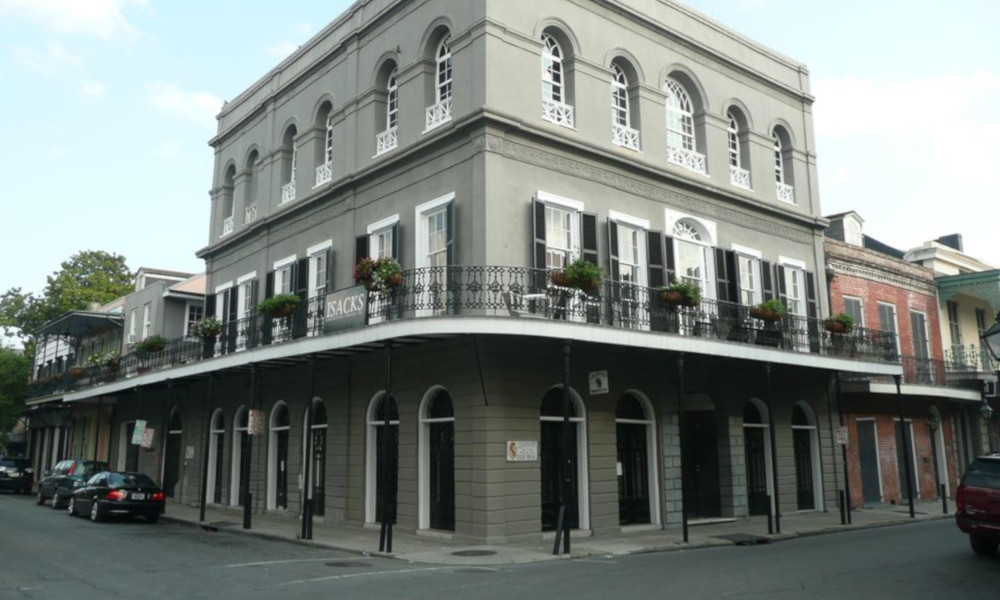 Don't let its modern refurbishing trick you, this place is crawling with angry spirits.
A house in the famous French Quarter was once the scene of immense human suffering.
Delphine LaLaurie moved to the house with her family in 1832 and quickly became a member of high society. That changed when a kitchen fire revealed her terrible secret. After finding a hidden room, authorities stumbled on the bodies of more than a dozen slaves. Some were in dog cages, while others had been completely disemboweled. All of them suffered tremendously at the hands of LaLaurie.
It's no wondered that these spirits are trapped in the house to this day. Many of the mansion's occupants have heard gut-wrenching screams throughout the halls. Other ghosts are more aggressive. A boy was once attacked by an unknown man carrying a whip. When the mansion was divided into apartments, one of its tenants was assaulted by the ghost of a slave, who was still shackled by chains.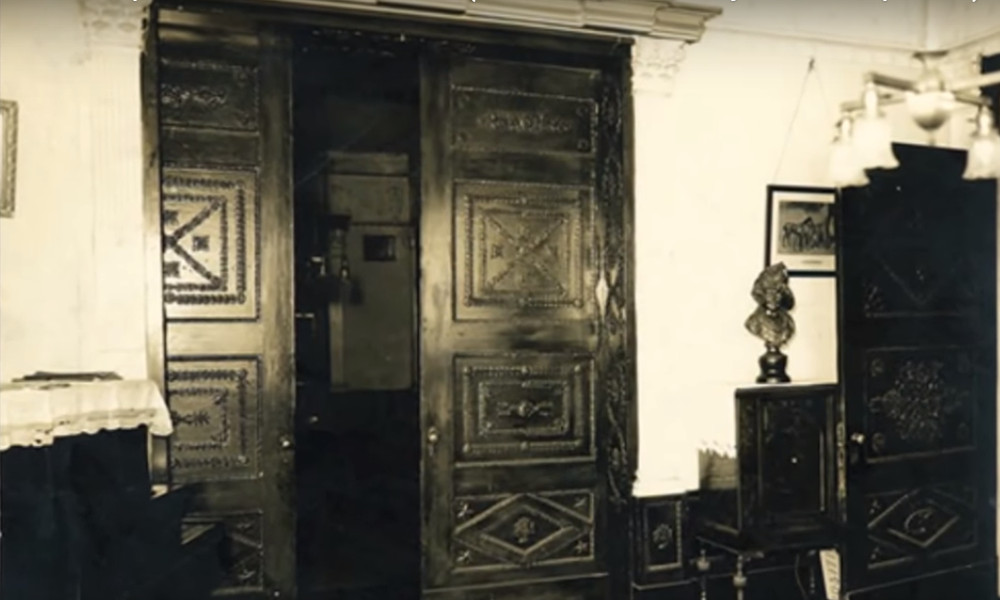 The LaLaurie legend was part of the inspiration for American Horror Story: Coven.
5. The Lizzie Borden House (Fall River, MA)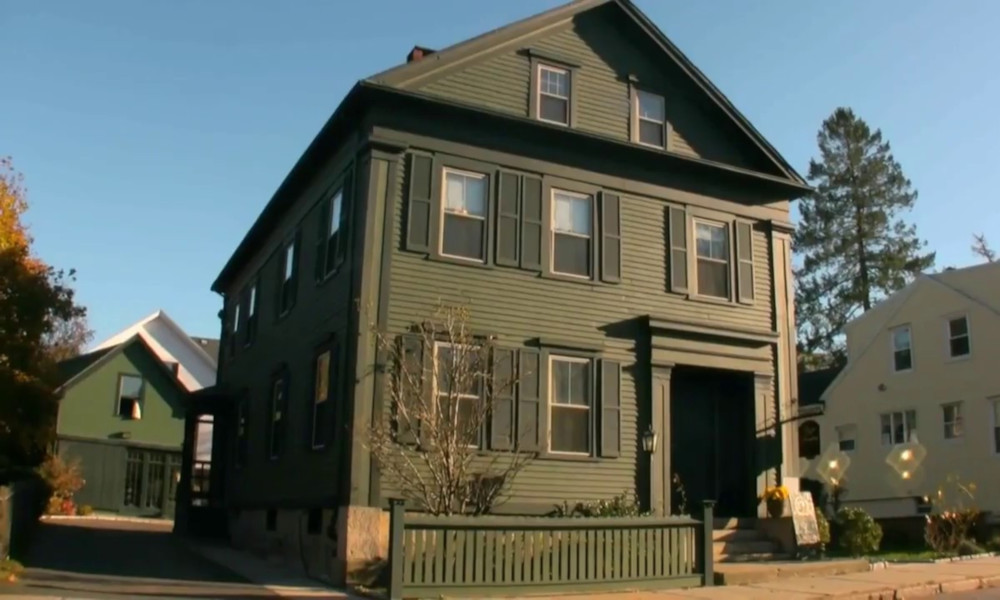 Looks charming enough, right?
In August, 1892, Andrew and Abby Borden were slaughtered in their home. The suspect: Andrew's daughter, Lizzie, who was accused of murdering them with a sharp hatchet.
The site of the murders is now a Bed & Breakfast. Guests can stay in the Borden family's bedrooms or lounge in the living room where Andrew was butchered. But if you stay, remember that you're trespassing in the family's home. Leave the bed too untidy, and you're likely to see the covers moving back into position on their own. Some guests don't even make it out of bed in the morning before ghostly hands begin to straighten the sheets.
It's unlikely the ghosts are trying to make you comfortable in their home. They're probably just tired, as the shape of a human body sometimes appears on the freshly made beds.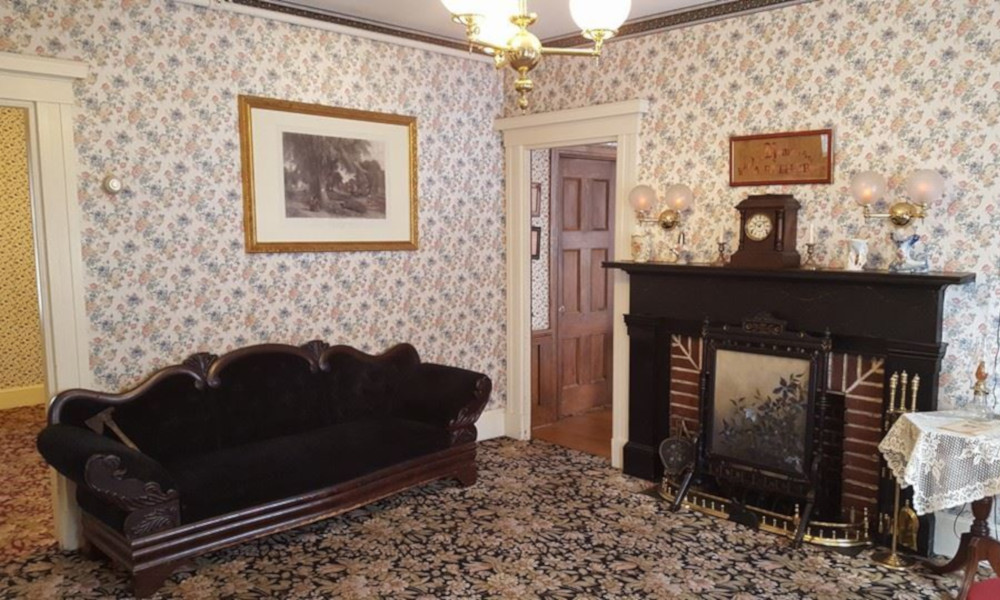 The living room of the Borden House sports a replica Victorian couch against one wall -- in the exact spot where Andrew Borden was killed.
4. Trans-Allegheny Lunatic Asylum (Weston, WV)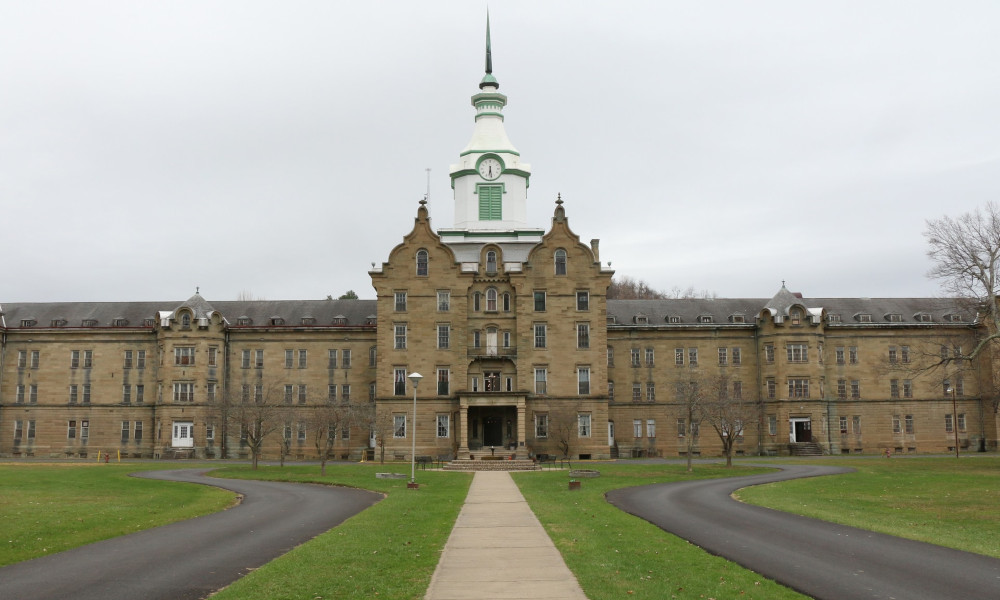 This former home for the mentally unstable looks haunted enough from the outside.
A hospital built for the humane treatment of patients once hid a disturbing secret.
At one point, the hospital was home to over 2,000 patients. Their diagnoses included asthma, menstruation, and indigestion. For them, Trans-Allegheny was a nightmare. Among the many experimental practices (read: torture) performed there, the most infamous is the icepick lobotomy. How common was the procedure? In a fourteen-day stretch, a single doctor performed over 200.
Now, the property is haunted by a woman who throws objects at men who cross her path and a demonic being that crawls across the floors.
The most famous ghost is that of Lily, the child of a patient who lived her entire nine-year life within the asylum's walls. If you hear her high-pitched giggling, it might mean she's looking for a friend to play with. Lily is known to roll balls back and forth with guests who entertain her.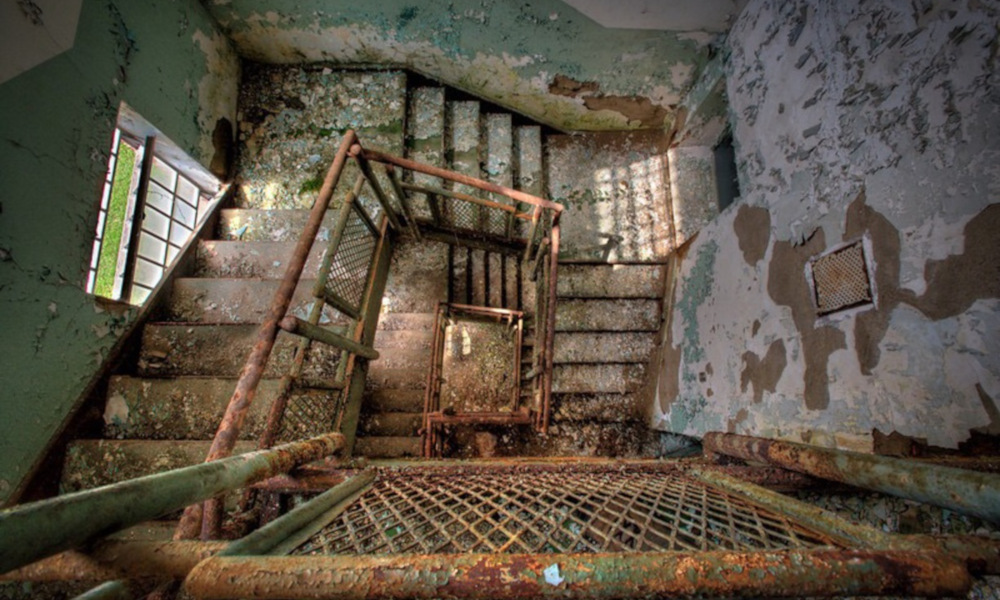 If you visit the hospital, keep in mind that the ghosts aren't confined there. At least one of the asylum's doctors was followed home by an entity.
3. Yellowstone National Park (Wyoming)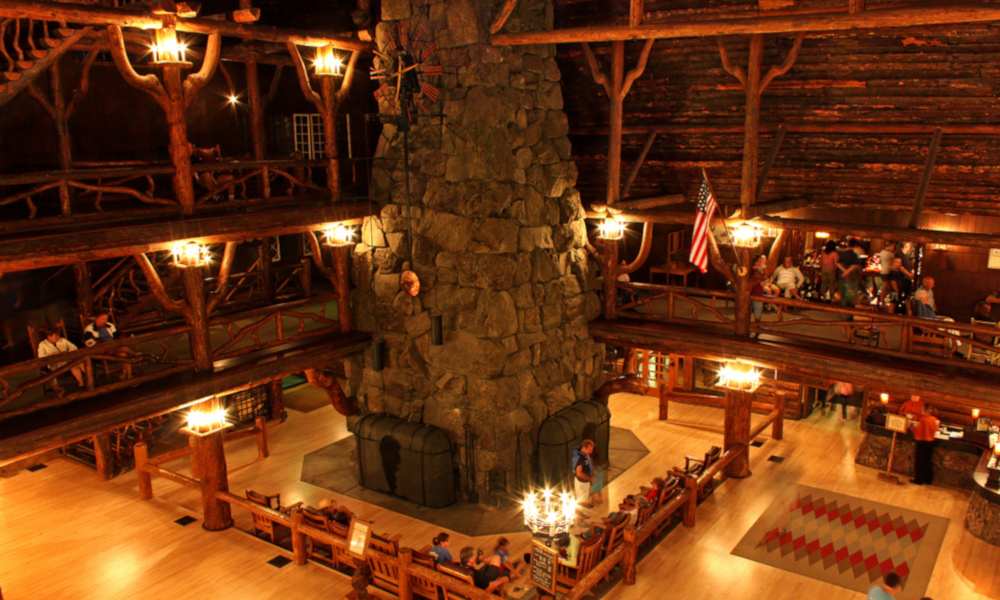 The beautfy of the Old Faithful Inn at Yellowstone National Park speaks for itself.
Yellowstone National Park is America's treasure. But most people don't know that many park guests have died on its 3,500 square miles -- some have drowned, some have been gored by bison, and others have fallen into the boiling hot geysers.
Among the hauntings throughout the park is the group of Native Americans who were tragically killed at Lower Falls. The men fell over the falls while trying to flee gold prospectors. Chanting can be heard at the bottom of the waterfall, and sometimes the water itself turns red.
At the Old Faithful Inn, a woman once woke to see a floating apparition at the foot of her bed. The spirit wore clothes from the late 1800s. Objects, including fire extinguishers, are also known to float through the inn's halls.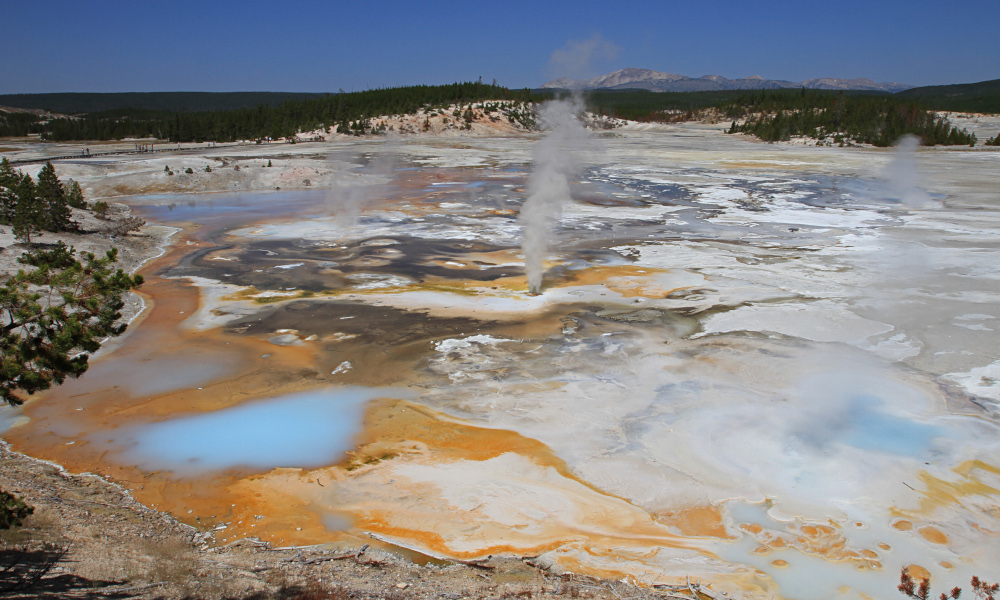 There are rumors of a video that shows a nude, singing woman luring a man to his death in the Norris Geyser Basin. It's a modern-day siren story.
2. The Bird Cage Theatre (Tombstone, AZ)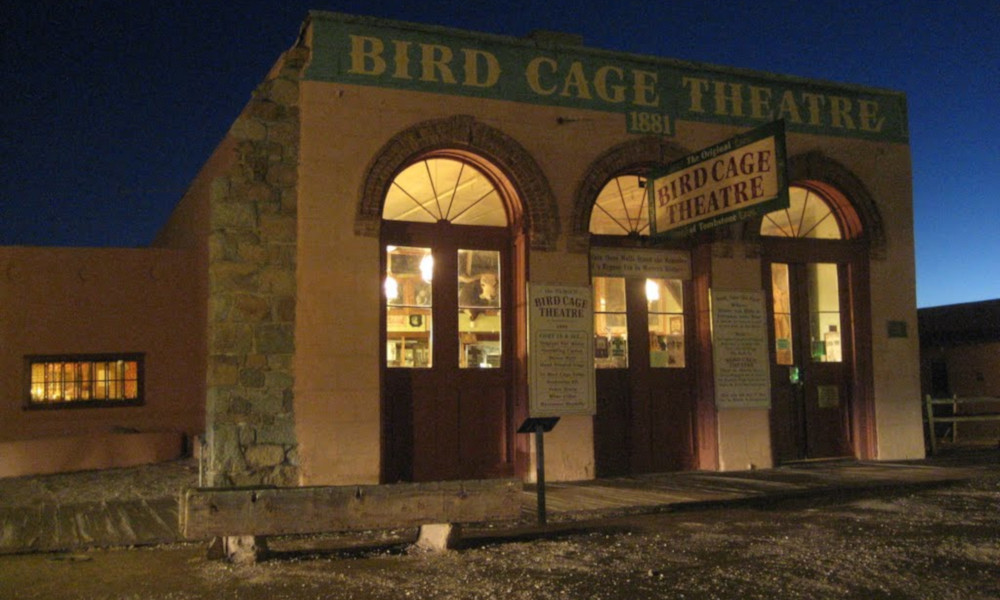 The old bar and opera house maintains its vintage look to this day.
It wouldn't be wrong to picture the Bird Cage Theatre as a saloon straight out of Westworld. It was home to gamblers, prostitutes, and gunslingers. Some of them have stuck around.
One gruesome night in the Bird Cage bar, a gambler named Billy Millgreen grew friendly with a prostitute named Margarita. This didn't sit well with his usual companion, a woman known as Gold Dollar. Gold Dollar stabbed Margarita to death with a double-edged stiletto in the crowded bar. She hid the weapon well -- it wasn't found for another century, which left Gold Dollar to face no charges.
The Bird Cage is just as rowdy today. Don't be surprised to hear the giggling of prostitutes or the whispers of gamblers. These are often accompanied by the smell of perfume and cigar smoke.
These ghosts aren't shy. Employees say the spirits actually pose for photographs. Some have been caught on video.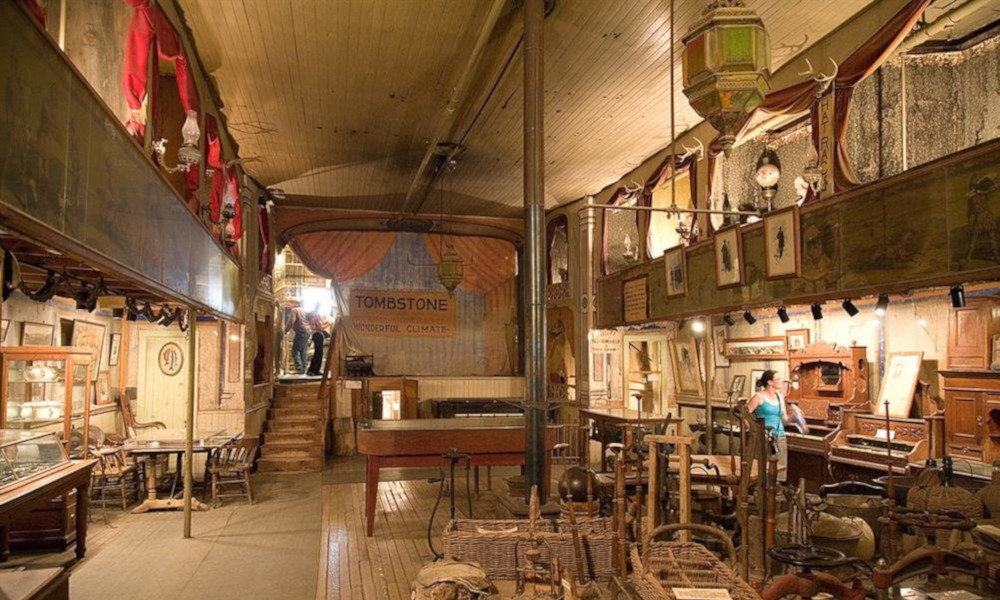 The Bird Cage still has its original furniture, lights, and wallpaper. Perhaps that's why the ghosts feel so at home.
1. Waverly Hills Sanatorium (Outise Louisville, KY)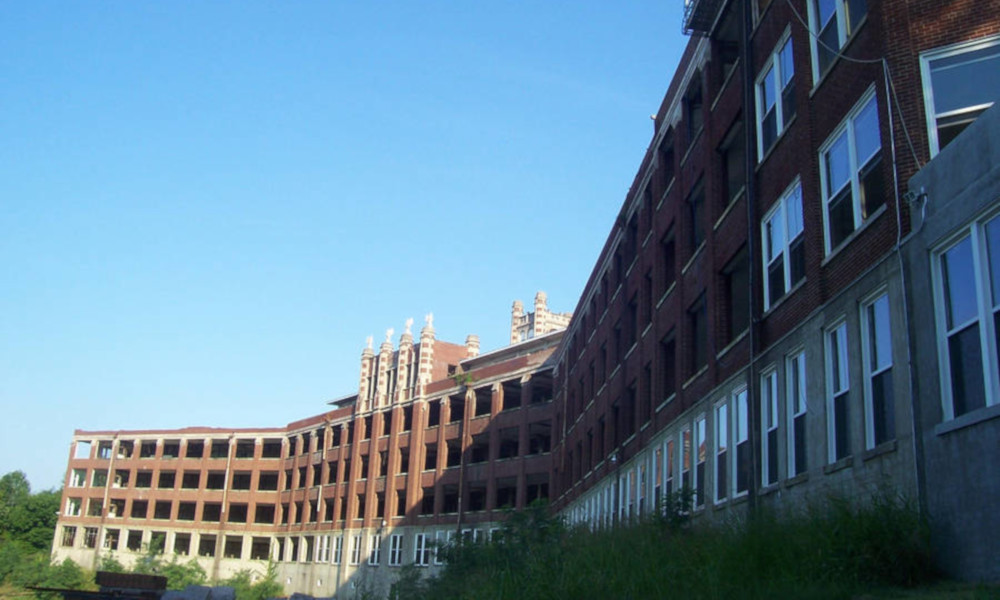 The hospital had a frightening reputation that lingers to this day.
Some claim that this former tuberculosis hospital in rural Kentucky is the most haunted place in the world.
Waverly opened in 1926. Like most tuberculosis wards, its success rate was low. The disease killed most of its victims, and the experimental procedures of the time took the lives of many more.
One thing is clear: these ghosts don't hide. In one room, the ghost of a young boy kicks around a leather ball. Bring your own and roll it to him -- he's been known to send it bouncing back.
The ghosts of Waverly are intense. A woman with bleeding wrists begs visitors for help, and an incredibly tall figure sometimes stalks visitors. If you're up for it, journey to the fourth floor, where you're all but guaranteed to see multiple shadows running up and down the corridors. The clear apparition of a doctor in a white coat has also been spotted walking from room to room.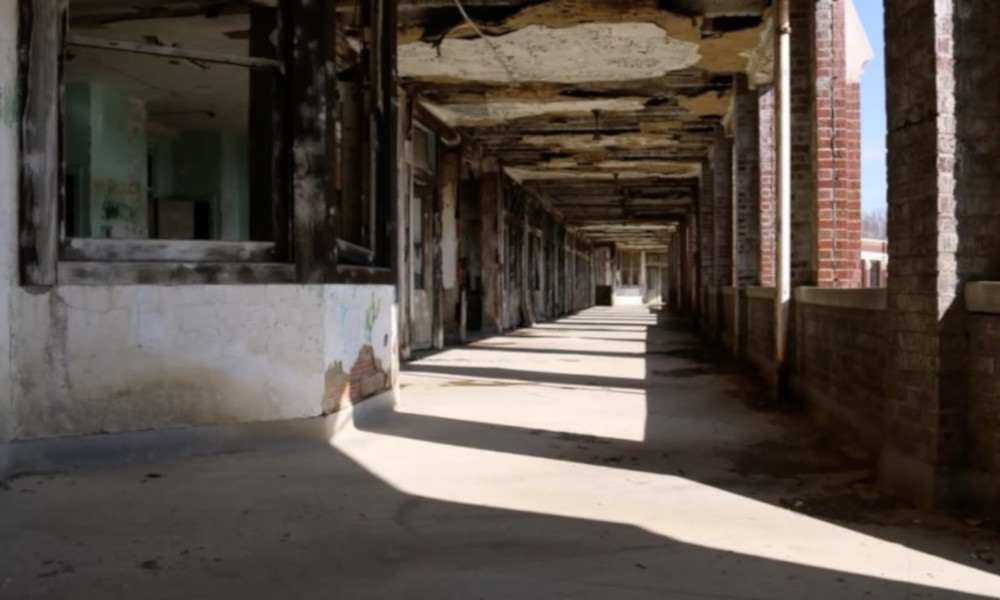 If you're brave, you can go on night tours of Waverly Hills. If you're both brave and crazy, you and your friends can make reservations to stay there overnight.
You might also enjoy:
Image Gallery