[Top 10] Best Gwent Decks That Wreck Hard!
Updated: 24 Jul 2020 1:16 am
The factions at war, will you be a casual casualty or an elite conqueror?
Join the fray, these decks will get you crushing foes in no time. Take a seat at the table, it's your time. And this guide shall cut through the confusion for you, ending the wild hunt for answers. 
10. Lockdown (Nilfgaard)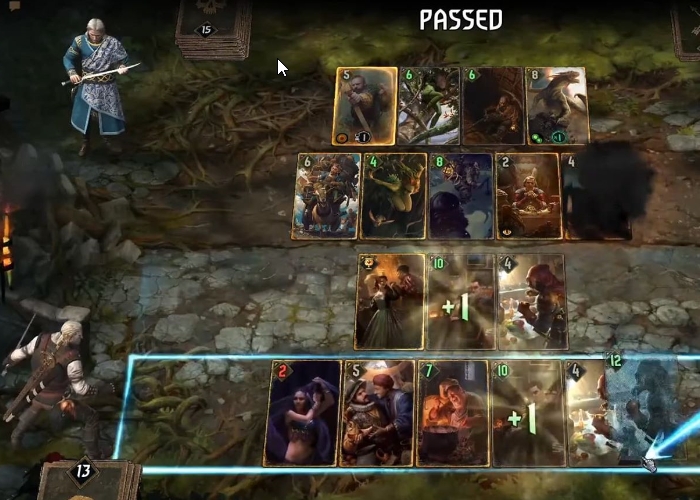 Much like a game of chess each player must read into potential plays.
A hand away from victory, Nilfgaard is made for toxicity so this deck will show you just that. Swiftly disable the leader abilities of the opponent, poison never felt like such a gift. Good for getting rank at lower levels, whatever meta may bring you are set regardless of changes with this beauty. 
Can cause mayhem for opponents, meaning your strategy will get you an easy win if played well. 
 Able to save the best for last by using this deck in competitions, which in short terms you get a deterrent. 
This deck will save you time in lower ranks, which in terms saves you from many pitfalls in the trenches. 
Cards
Collar
Masquerade Ball
Vincent Van Moorlehem
Maraal
Joachim de Wett
Jennefer's Invocation
Matta Hu'uri
Ffion var Gaernel
Assie var Anahid
Van Moorlehem's Cupbearer
Roderick of Dun Tynne
Ard Feainn Tortoise x2
Rot Tosser x2
Bomb Heaver
Thirsty Dame x2
Tourney Joust
Deithwen Arbalest
Fangs of the Empire x2
Magne Division x2
Van Moorleham Hunter x2
9. Kikimore (Monster)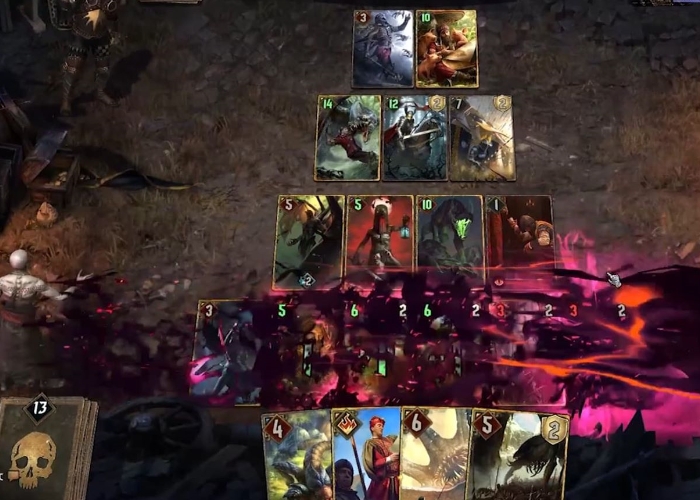 Domination comes in many forms and Monsters, shall have it at all costs.
Full of potential and easy cheesy wins, kikimore is the main event beefing your army. Death's shadow looms, you'll easily swarm the field with your edible underlings. This deck can get you far with its ability to run the field and numbers up in a pinch. 
You'll have cards that have a death wish, making it easy to lose cards and gain advantages at the same time. 
Playing big units early can win you first round and last round, saving you from stressing both rounds. 
 Truly Thrive with your units, sit back and relax as your units reach unbelievable strength round after round. 
Its combo is quite reliable, meaning it can spare you overthinking each round. 
Cards
Magic Lamp
Haunt
Kikimore Queen
Royal Decree
Yghern
Dettlaff: Higher Vampire
Matta Hu'uri
Ozzrel
Kayran
Caranthir Ar-Feiniel
Pugo Boom-Breaker 
 The Beast
 Penitent
 Barghest x2
 Harpy Egg
 Endrega Larva x2
 Arachas Nest
 Noonwraith
 Endrega Eggs x2
 Endrega Warrior x2
Foglet x2
8. Vampire (Monster)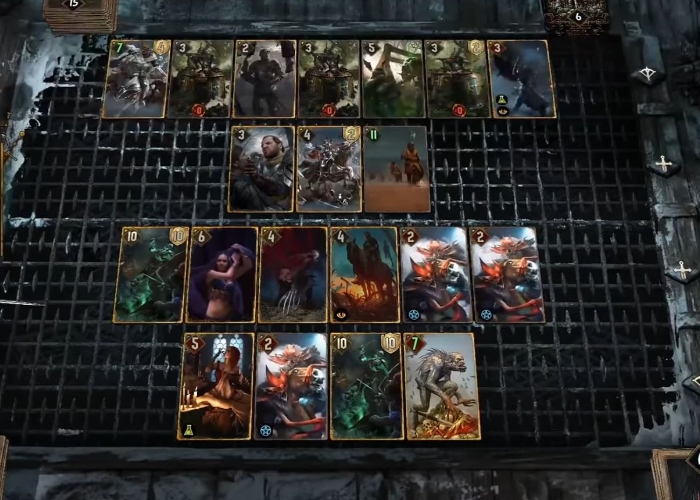 Blood fills the air and these units hunger for it.
Bleed opponents dry, this deck has the ability to answer most opponents. Quite popular, for good reason, it can push and abuse your victims. And the scent of blood is in the air, able to turn the battlefield into a bloodbath with heavy hitting cards and many strong units. 
Thrive and Bleed are your friend in this deck, numbers count and you'll more than likely get them with this deck. 
Able to have counter measures, even against Nilfgaard. 
Utility goes a long way with this deck. 
Cards
Magic Lamp
Living Armor
Royal Decree
Yghern
Regis: Bloodlust
Katakan
Matta Hu'uri
Orianna
Ozzrel
Caranthir Ar-Feiniel
Queen of the Night
The Beast
Parasite
Bomb Heaver
Mantlet x2
Nekurat x2
Endrega Larva x2
Natural Selection x2
Plumard x2
Bruxa x2
7. Midrange (Skellige)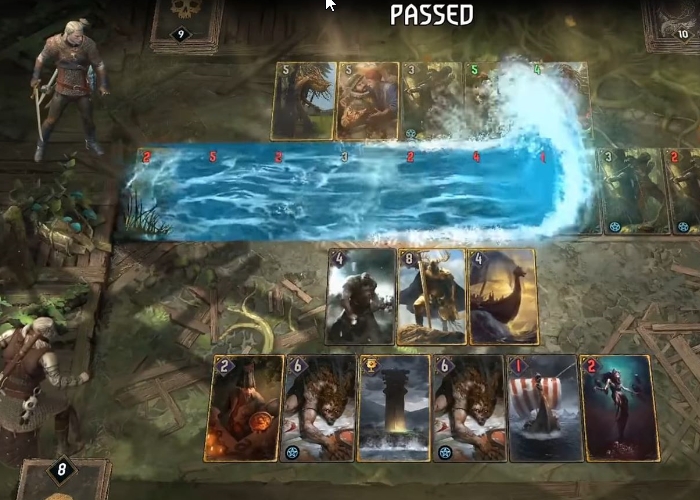 These salty dogs know how to conquer the field.
This deck can turn the tide of battle, with such synergy these units will position you for victory. And with versatility to match it has quite a bit of mitigation against pushy opponents. But its key is in knowing the units timing, which pays off once you truly nail it. 
You'll have quite a good amount of push even against low ranked push decks. 
Claiming the seas and rounds for yourself is simple and engaging in with these savage units. 
Well-rounded and can rival many opponents. 
Cards
Tactical Advantage
Hemdall
Wild Boar of the Sea
Royal Decree
Svalblod Totem
Morkvarg: Heart of Terror
Crowmother
Hammond
Ermion
Raiding Fleet
Gremist
Gigascorpion Decoction
Freya's Blessing
An Craite Greatsword
Stribog Runestone
Dimun Light Longship x2
An Craite Longship
Golden Froth
Gutting Slash
Stunning Blow x2
Savage Bear x2
Wagon
An Craite Armorsmith
6. Midrange (Northern Realms)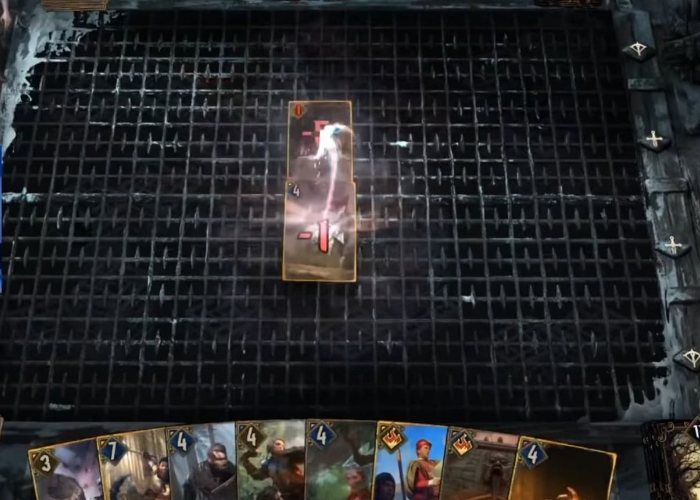 Take damage and deal it, strike true!
A powerful uprising deck, a top-heavy unit build with an emphasis on a golden hand. Low end units first round, will bait your opponent to show you what they will attempt during combat. But pushing in is possible to seek if your opponent is willing to play the long game, tactical is best. 
Possible to outnumber your opponent, points will rely on knowing your units. 
And many of your lower units can be quite capable of pushing around your opponent. 
Leader ability is quite useful in the end round. 
Cards
Magic Lamp
Radeyth
Philippa: Blind Fury
Falibor
Royal Decree
Bloody Baron
Prince Anséis
Reynard Odo
Keira Metz
Vissegerd
Anna Strenger
Forbidden Magic
Boiling Oil
Carroballista
Bomb Heaver
Siege Tower
Pellar
Aedirnian Mauler
Tridam Infantry
Cintrian Enchantress
Ballista
Kaedweni Sergeant
Lyrian Scytheman
Temple Guard
Radovid's Royal Guards
Cintrian Knight
5. Draug (Northern Realms)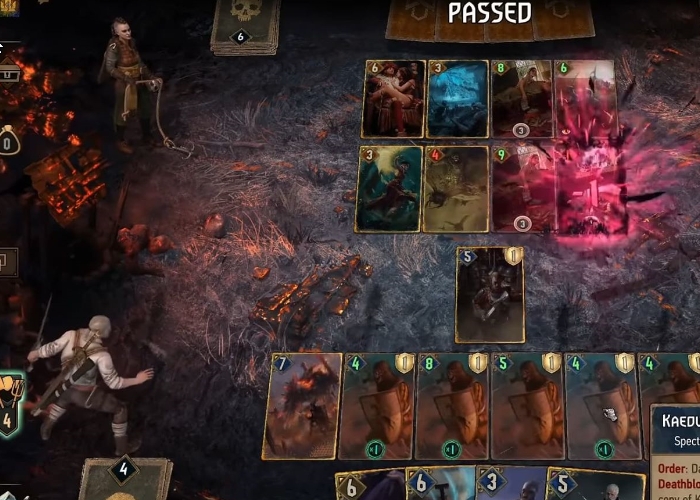 The Northern Realms has quite the armata and dependable force at its command.
Yet another uprising deck, fairly well balanced against more popular armies. Be more than a challenging force against a good amount of enemy factions. Northern Realms is a more competitive assortment against other factions climbing ranks. 
Balanced enough to give opponents challenge as well as getting well matched even against the best decks. 
And considerable when making a Northern Realms deck to use, due to its consistency. 
As far as weaknesses go this one can be very durable, meaning it can go the distance and rumored to be worthy of higher caliber.
Cards
Magic Lamp
Draug
Philippa: Blind Fury
Falibor
Queen Adalia
Royal Decree
Bloody Baron
Prince Anséis
Vissegerd
Voymir
Reinforcements
Caravan Vanguard x2
Pellar
Bomb Heaver
Aedirnian Mauler x2
Cintrian Enchantress x2
Ballista x2
Temple Guard x2
Radovid's Royal Guards x2
Lyrian Scytheman
4. Greatswords (Skellige)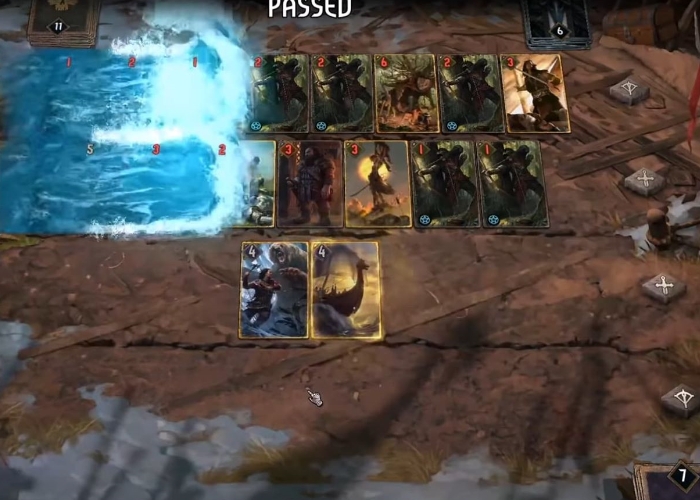 One boat rides in drenching and wounding enemies near and far.
The mightiest tides will crush your opponents with this arsenal, known as the greatswords. And Skelliges strongest deck, able to win against many foes. A round three certain victory against those who are unprepared. 
Easy third round turnabouts, meaning your numbers will come to you with your long game push power. 
And quite fun to utilize against the current meta, since it has more staying power. 
These salty dogs are quite spicy due to the sheer impact of these units in your hand.
Cards
Tactical Advantage
Wild Boar of Sea
Royal Decree
Morkvarg: Heart of Terror
Dagur Two Blades
Avallac'h
Covenant of Steel
Hammond
Skellige Storm
Raiding Fleet
Gremist
Gigascorpion Decoction
Freya's Blessing
An Craite Greatsword x2
Dimun Light Longship x2
An Craite Longship x2
Dimun Corsair x2
Stunning Blow x2
Savage Bear x2
Wagon
3. Hybrid (Scoia'Tael)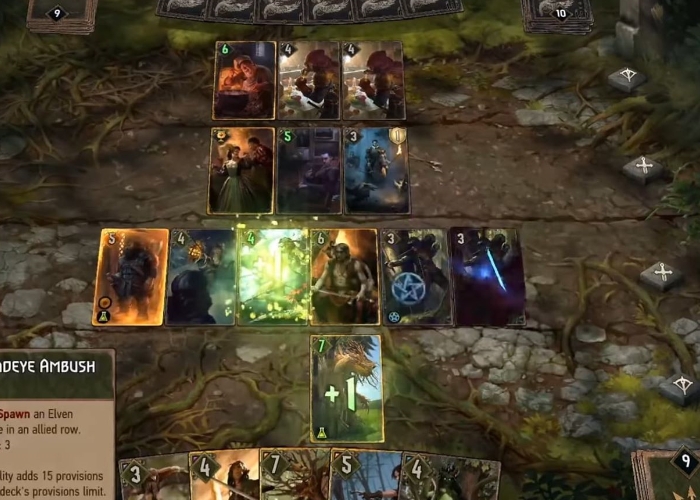 Such beautiful harmony lies within these units.
The first of this faction, a formidable one at that with full bully potential. Quite valuable in its poisons and value in its units, which grants it quite the rhythm. Easy wins and capable of shutting down opponents. 
Stacking units is fully valuable for this deck's win conditions, meaning the more units on the field the better. 
And that grants burst from your units powering each other up, making you the controller of the battle. 
But with all that burst that includes snatching victory from stronger enemy units on the field when need be.
Cards
Magic Lamp
The Great Oak
Vernossiel
Call of the Forest
Novigradian Justice
Barnabas Beckenbauer
Maraal
Ele'yas
Aelirenn
Weeping Willow
Yaevinn
Half-Elf Hunter x2
Forest Whisperer x2
Dryad Ranger x2
Trained Hawk
Mahakam Marauder x2
Miner x2
Dol Blathanna Bowman x2
Dwarven Skirmisher x2
2. Jackpot (Syndicate)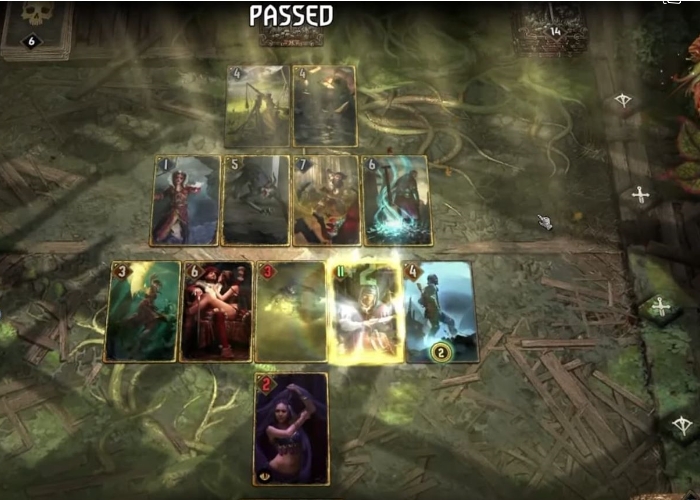 Coin runs these streets, most importantly, the back alleys.
Strong one, you'll get paid and have room to deal with your opponents as you see fit. And you'll have the opportunities to strike fast or drag it out, meaning you can choose how fast or slowly you deal with your opponent. Also, card advantage meaning your hand could have more cards to truly be several steps ahead of your opponents. 
Abuse coin flips, meaning you get to have an advantage on the way things are paced in the match up.
And regardless of who goes first, when it comes to strategy, you can gain the upper hand.
Also meaning regardless of round to push you'll have many ways to deal with your adversary's actions, less stress.
Jackpot works well since it has ability to keep your treasured allies healthy and paid in full.
Cards
Tiger's Eye
Passiflora
Tinboy
Maraal
Phillippa Eilhart
Vivaldi Bank
Azar Javed
The Flying Redanian
Adriano the Mink
Ewald Borsodi
Adalbertus Kalkstein
Saul de Navarette
Pickpocket
Bomb Heaver
Sly Seductress x2
Mutated Hounds x2
Fisstech x2
Sea Jackal x2
Fisstech Trafficker x2
Street Urchins x2
1. Harmony (Scoia'Tael)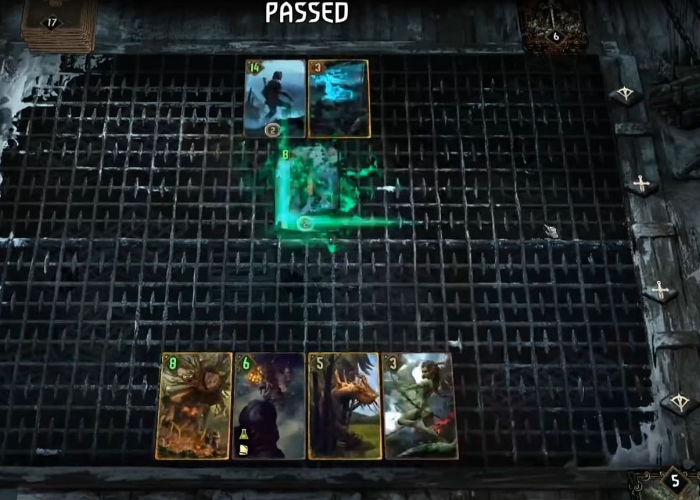 The forest is faithful to those that are its protectors.
One of the easier and more favored deck, which makes it simple to pick up to immediately play. But it is a defined way to use it in combat, meaning you could learn it and win it all. Quite valuable and definitely a top choice, when it comes to its track record through each update. 
Definitely a viable deck, worthy of the build. 
Strong and easier deck, meaning it saves you time and learning curb as a champion of Gwent. 
With this deck you'll know it's valuable and consistently out do your adversary, reliably.
Cards
Tactical Advantage
The Great Oak
Water of Brokilon
Call of the Forest
Barnabas Beckenbauer
Figgis Merluzzo
Pavko Gale
Toruviel
Fauve
Treant Boar
Weeping Willow
Malena
Hawker Smuggler
Forest Whisperer x2
Dryad Ranger x2
Trained Hawk x2
Mahakam Marauder x2
Miner x2
Dol Blathanna Bowman x2
Dwarven Skirmisher
You May Also Be Interested In:
[Top 25] Gwent Best Cards That Wreck Hard!
[Top 5] Gwent Best Monster Decks
[Top 5] Gwent Best Starter Decks
[Top 10] Best Gwent Decks That Wreck Hard!
Image Gallery