Top 15 Games Like Game of Thrones You Need To Play
Updated: 18 May 2019 7:56 am
"When you play the game of thrones, you win or you die." - Cersei Lannister
What Are The Best Games Like GoT?
A release date still hasn't been announced for the next novel in the A Song of Ice and Fire series, The Winds of Winter, but we know that after a wait that feels longer than a winter in Westeros, the final season of the most epic TV show of all time has finally arrived.
After reading all the books, marathoning all previous seasons (repeatedly), and watching the "funny" Game of Thrones videos available on YouTube, what can we do for the upcoming weeks while we wait for more? And what about after it ends?
Here are fifteen games to quench our cravings for Game of Thrones:
15. Kingdom Come Deliverance
Official "Kingdom Come Deliverance" Gameplay
Kingdom Come Deliverance is a single player RPG set in a realist medieval open world that places you into the life of Henry. You'll live through his eyes as you grow and learn with him as you go from humble villager to a mighty knight. Or maybe a scholar, an alchemist, a thief... Whoever you want to be! This is the most realistic medieval experience I've played so far.
There are no dangers or magic in the game, but if you like castles, armor, and swords blended with compelling storytelling and interesting characters, you cannot skip this game. And all this gets even better once you are immersed into its outstanding graphics,beautiful settings, and breathtaking atmosphere.
As the real action begins, you will lose your first sword fight and probably get frustrated, but don't despair and don't give up: remember that you are just a villager that has never played... ahem... held a real sword before. After honing your skills you'll be able to kill bandits with one shot of your bow, and that is very satisfying, I promise. It seemed to me that at times some of its features made the game unnecessarily difficult, but at least for PC gamers there is almost nothing that our good ol' mods cannot solve.
Head to Nexus Mods if you want to add the missing bow dot reticle or to save as you need without having acquired one of those expensive Savior Schnapps save potions. And guess what? The upcoming mod Seven Kingdoms will transform the game into the Riverlands and bring you right into the world of Game of Thrones.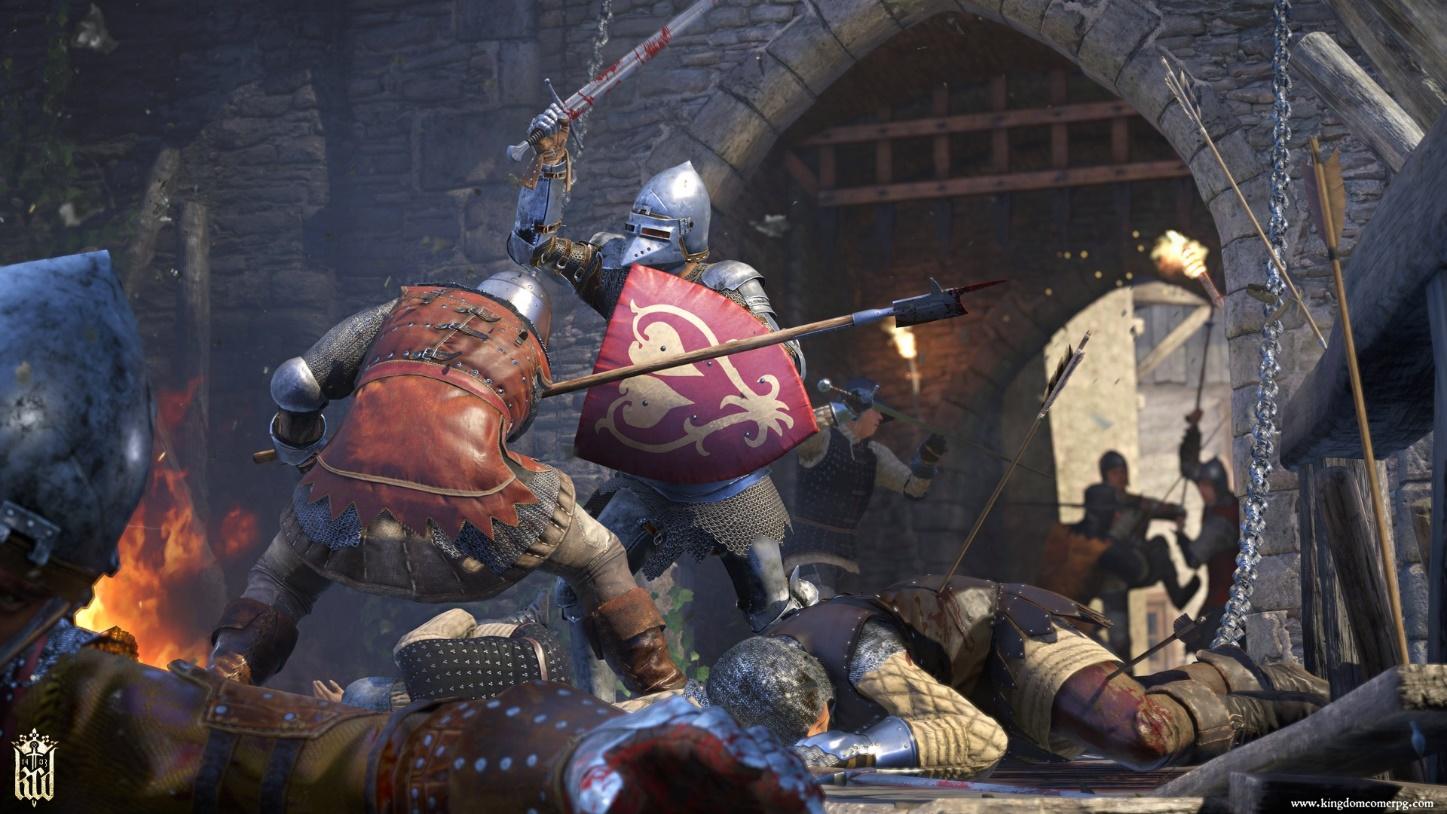 The game features battles in which you'll be glad you stole that armor from the bandit you poisoned last week.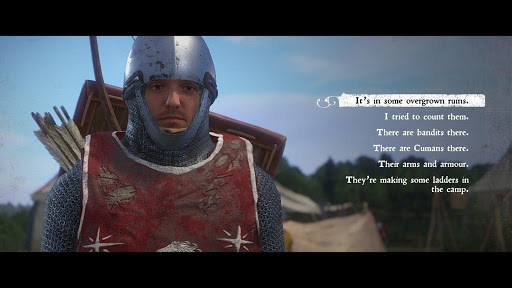 You'll be able to choose between different dialogue options and your actions will dramatically determine the ramifications and outcome of the story.
14. The Witcher 3
Official "The Witcher 3" Gameplay
The Witcher 3 is an open world single player RPG in which you become Geralt of Rivia, a monster hunter. Like Kingdom Come Deliverance, The Witcher 3 also features horses, castles, medieval weapons and armor... but this time it's set in a fantasy universe where there is magic and fantastic creatures, including wyverns.
Many of you will agree when I say that it's a masterpiece. I found its fighting mechanics fun and engaging, and it has a beautiful visual design, an epic soundtrack, and a remarkable storyline and dialogue. And Gwent! I spent hours playing and mastering that game of cards. It was so successful that it got a standalone version that you can play on PC or console for free*.
The fact that it's based on a series of fantasy novels makes The Witcher 3 closer to Game of Thrones than our previous example. But there is more: Netflix plans to release new production of The Witcher 3 by the end of this year starring Henry Cavill as Geralt. Video game adaptations don't usually work very well but there is hope because the series will be based on the novels, written by Andrzej Sapkowski.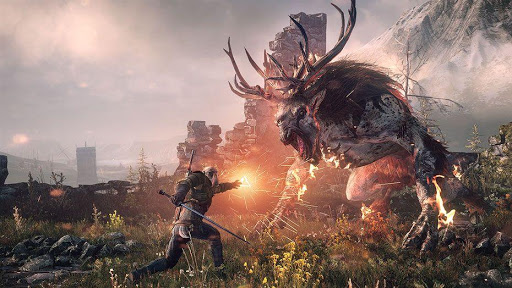 Geralt, the ultimate badass, using a fire spell against a monster.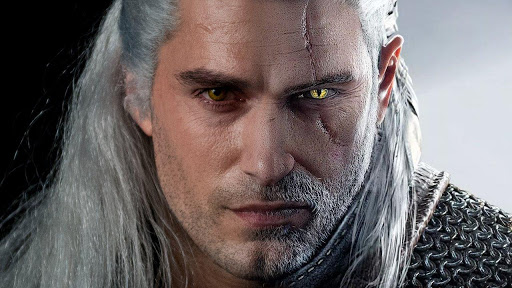 Will this new series become our new addiction after "Game of Thrones" ends?
13. Skyrim (with Mods)
Official "The Elder Scrolls V: Skyrim" Gameplay
The Elder Scrolls V: Skyrim is yet another open world single player RPG set in a well-developed fantasy world. Originally released for PC, PlayStation 3, and Xbox 360, it has won many awards and has a Metacritic score of over 90%. It sold so well that it has been ported to newer platforms (even Amazon's Alexa) , but did you know that the team that made Skyrim almost made a Game of Thrones game instead?
As Todd Howard revealed in an interview back in 2011, they were approached to develop a video game adaptation of the Game of Thrones novels before the TV series even existed, but they decided to stick to their own world and declined the offer. We can just imagine how a Bethesda Game of Thrones video game would have looked like... or we can mod Skyrim and have a better idea.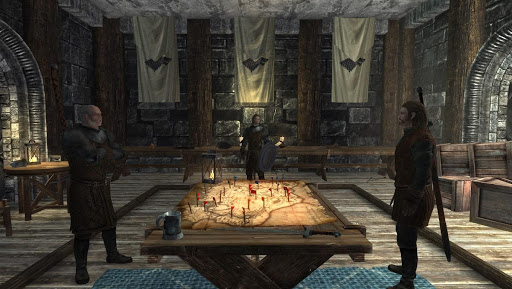 Windhelm with the "Game of Thrones" Immersion mod.
Medieval Skyrim Overhaul by The Credo Team
Guards Overhaul - New Armors and Weapons by Nikola231
12. Game of Thrones - A Telltale Game Series
"Game of Thrones: A Telltale Game Series" Launch Trailer
Telltale's Game of Thrones is a graphic adventure video game composed of 6 episodes that based its visual design on the TV series. It's a new original story that follows the fate of a northern family, House Forrester, during and after the Red Wedding.
Always loyal to the Starks, their position becomes unstable after they are betrayed and House Bolton becomes the ruler of the North. With intrigues, politics, diplomacy, unexpected turns and shocking deaths that can be a consequence of your choices, it is a pure Game of Thrones experience. Like the series and novels, the game is compelling and emotionally engaging, and even though it made me suffer I still enjoyed it immensely.
The new characters are well-built and you end up caring for them and when one of them dies (not naturally, as you'd expect) you feel responsible, which gives a lot of extra weight to your choices.
If, like me, you get one of the worst possible endings, you'll be left thinking: "Well, I should have seen this coming… it's Game of Thrones!"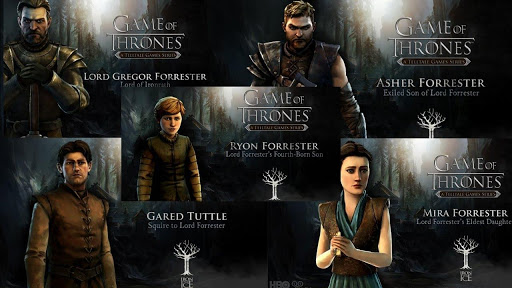 You'll control key family members in a story driven by dialogue and difficult choices that will determine the destiny of you House.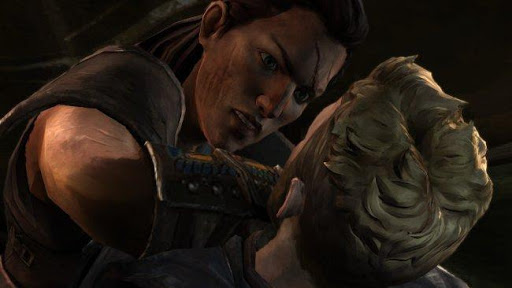 The game also has scenes in which you'll have to react fast to fight for your character's life.
11. Reigns: Game of Thrones
"Reigns: Game of Thrones" Gameplay Trailer
Reigns: Game of Thrones is a strategy video game in which you'll have to swipe cards left and right to choose your next move. This adaptation of the indie game Reigns, will let you wear the crown as Cersei, Tyrion, Sansa, Jon, Daenerys, among  others, to rule and decide the fate of your kingdom. But be careful not to cut yourself with the blades of the Iron Throne.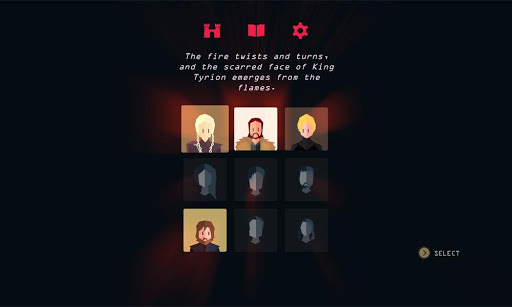 Melisandre's visions will determine the next ruler of the Seven Kingdoms.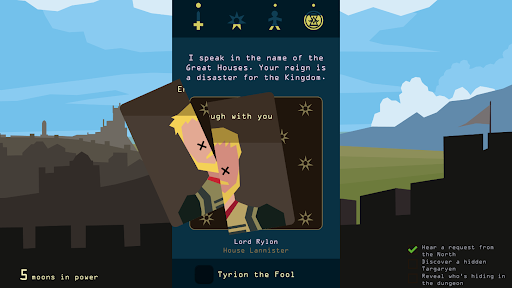 See how long you can last before someone gets fid of you.
10. The Black Death
"The Black Death" Gameplay
Probably the darkest title of the list is The Black Death, an online multiplayer survival RPG. You'll choose a class by selecting one of the available professions before joining the game, set in Medieval Europe during the plague. You'll need to take care of your basic needs, gather resources, commerce, craft, and survive in a dark and unforgiving world.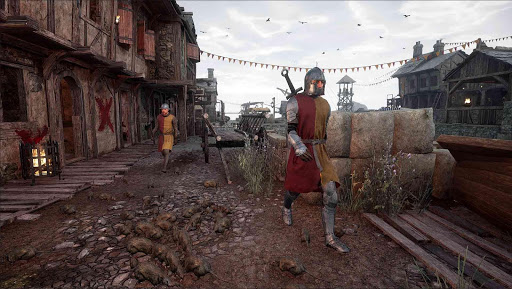 Black rats were responsible for the plague outbreak but here they seem to not know that yet.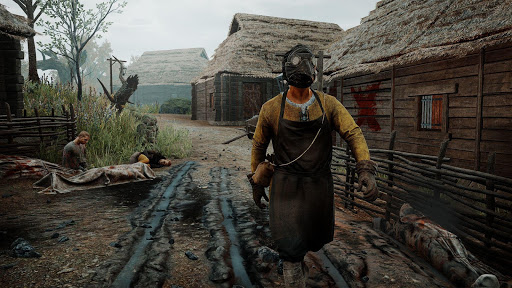 Plague Doctors had flowers at the end of their creepy masks to soften the smell of death when they worked.
9. Valhall
"Valhall"  Gameplay
Valhall is an upcoming medieval multiplayer game that follows the "battle royale" trend: it features a shrinking map that forces players to fight each other in a enclosed space until a champion emerges. The story at the core is inspired on Nordic mythology, and, from what I've seen so far, it looks quite good.
HBO is preparing a prequel of Game of Thrones that will be set 1000 years before the events of the series, during the Long Night. We still do not know how it will look, but we can dream and hope to see some Viking influence in the design.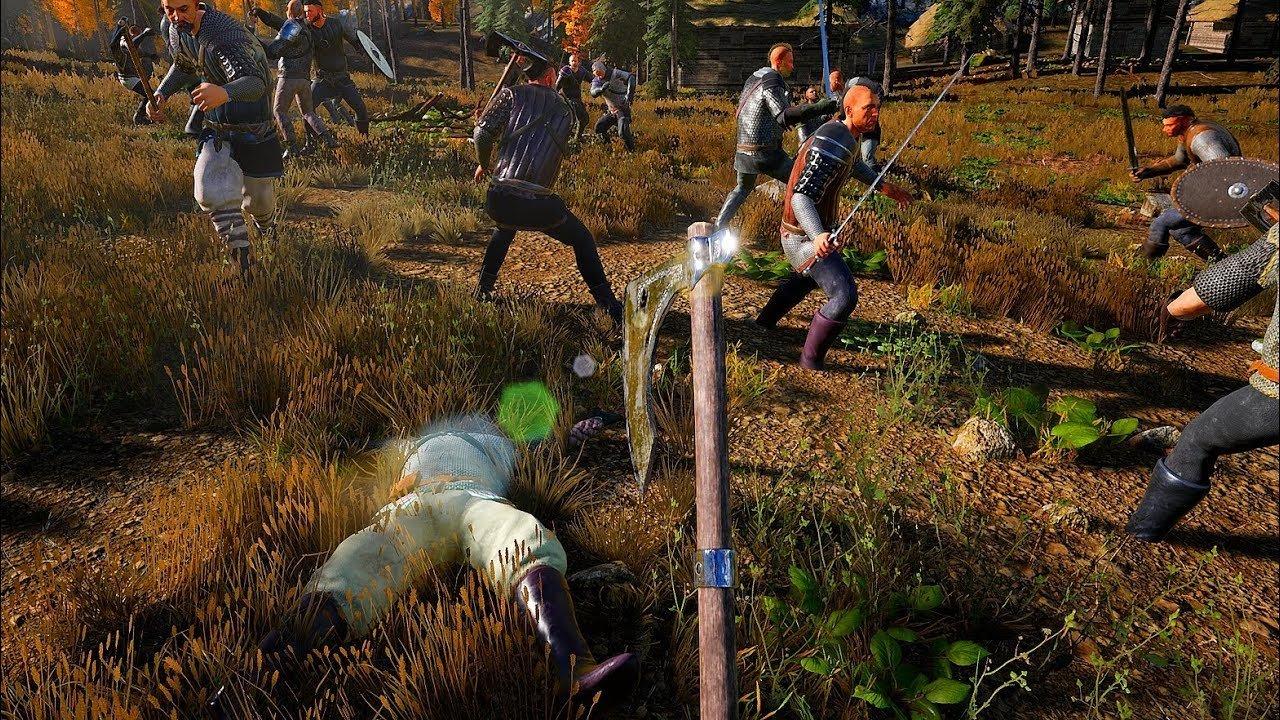 May the odds be ever in your favor.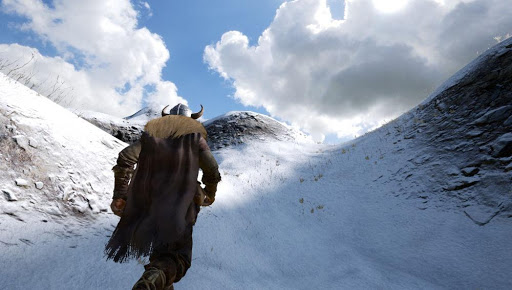 The game will feature changing weather and seasons.
8. Rustler
"Rustler" Gameplay
Another upcoming title, Rustler, creates a setting where you'll play a thug in an open medieval world. You'll be a low-born anti-hero trying to get rich by thieving and killing in a wild and corrupt world filled with humor and political incorrectness. It will have different play modes such as jousts, races, multiplayer battle royale matches, and more.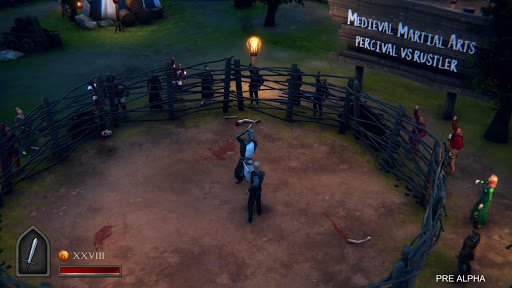 Fight in single player or multiplayer modes.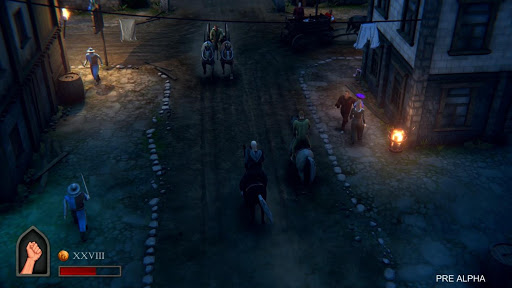 The town is yours to unwind and go as crazy as you want.
7. Pathfinder: Kingmaker
Kickstarter-funded, Pathfinder: Kingmaker is the first isometric party-based RPG based on the universe of the tabletop adventure game Pathfinder. It's a single player game in which we can explore and fight to conquer our own kingdom. If you like Baldur's Gate, you'll definitely like this one too.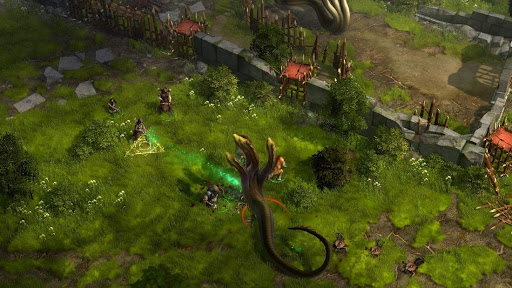 The game features vibrant and stunning settings.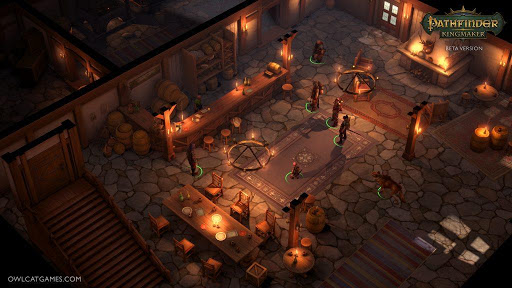 Cozy taverns: a key feature in every respectable medieval game.
6. Life is Feudal: Your Own
"Life is Fuedal: Your Own" Gameplay 
Life is Feudal: Your Own is an online RPG sandbox game set in medieval times. Survive, craft, and collaborate with other players to grow in a game that is defined as "hardcore and realistic." It's basically a medieval life simulator in which you can terraform and build your own village and defend it from other players in real time.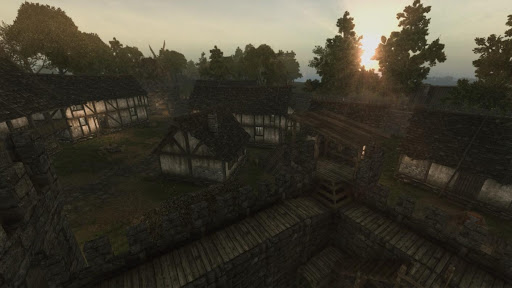 You can team up with other players to build your own village.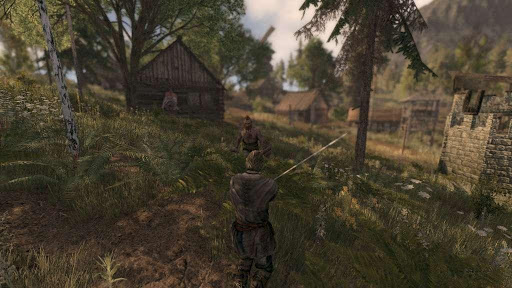 Fend-off enemy attackers and protect your land.
5. Mount & Blade II: Bannerlord
Mount & Blade II: Bannerlord is an upcoming open world game that combines the genres of RPG and strategy in one epic sandbox. First announced in 2012, the game will be an upgraded and expanded prequel of Mount and Blade: Warband.
Mount & Blade games allow you complete freedom to forge the path of your own character. It has large scale battles, castle and city sieges, and a fairly large map. Among other things, you can fight, conquer, trade, use diplomacy, do optional quests, manage your lands, and attack trading caravans.
Like its predecessor, Mount & Blade: Warband, Bannerlord will be moddable and I cannot wait to see a new version of Warband's Game of Thrones mods with even better game mechanics and graphics.
A Clash of Kings (by Cozur) and A World of Ice and Fire (by produno) are two mods that add the world of Game of Thrones to Mount and Blade: Warband. Both include new maps, characters, quests, and models on top of mechanics developed by other mods such as Floris.
The two mods share many similarities but they are two entirely different experiences. You can have several mods installed at the same time, so I play both depending on how I feel that day, although I personally like A Clash of Kings more. You can also find the mods on Steam.
Hopefully 2019 will be the year that the release date for Mount & Blade II: Bannerlord will be announced!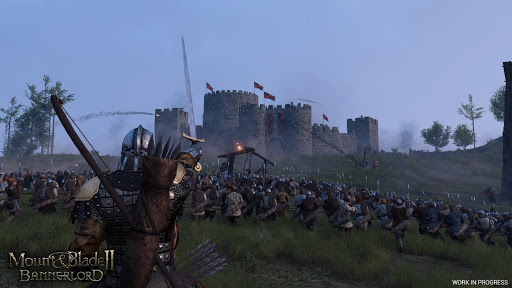 Tactics will be expanded in Mount & Blade II: Bannerlord and you'll be able to manage your party more efficiently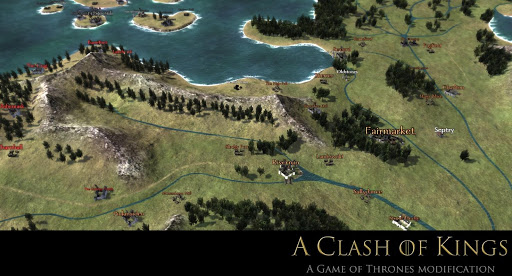 The Riverlands and part of the Westerlands and the Iron Islands in one of the Game of Thrones mods for Mount & Blade: Warband 
4. Chronicles of Elyria
"Chronicles of Elyria" Pre-Alpha Progress Update
Chronicles of Elyria is an upcoming MMORPG set in a persistent mid-fantasy world. With what we know right now, the sandbox game will have many elements new to the genre, such as Permadeath, the ability to become a type of NPC when offline, and the fact that there will be no dungeon re-spawning.
The game is described as realistic, dynamic, and immersive. Being a medieval style world with Dynasties, a deep History, and a closed economy, it has the potential to be a unique and engaging experience. Game of Thrones has been a game changer in the history of television, will Chronicles of Elyria be the same for the MMO genre? We'll have to wait and see.
If you want to know more, you can head to their official website.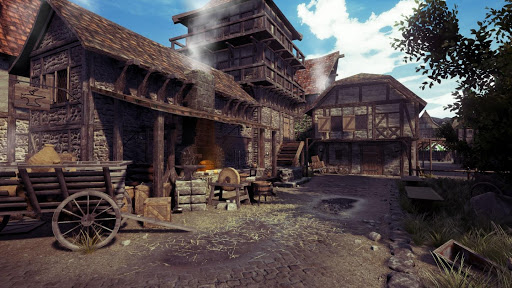 Nothing like stone, wood, smoke and hay to create a cozy medieval atmosphere.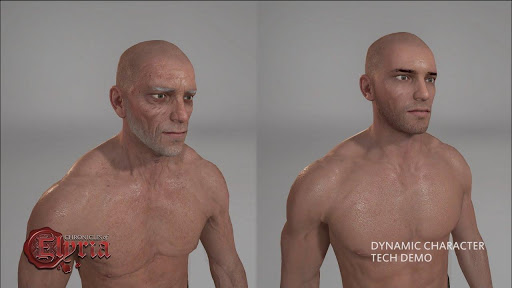 A demo of character aging mechanics in Chronicles of Elyria.
3. Chivalry: Medieval Warfare
Chivalry Medieval Warfare is a first-person multiplayer hack and slash title that takes place in a medieval style setting. The combat is similar to the one we see in Kingdom Come Deliverance (first person hand-to-hand combat with medieval weapons) but this time you fight against player-controlled opponents instead of IA. The game modes include: Free for All, Duel, Team Deathmatch, Last Team Standing, King of the Hill, Capture the Flag, and Team Objective.
It has the medieval atmosphere and setting of Game of Thrones, but it lacks the compelling story-driven action and drama that we can find in other medieval games described in this article. If you are not into multiplayer games but you enjoy the fighting system, I'd recommend you try Kingdom Come: Deliverance, which has more modern graphics and physics. But if you like dismembering your opponents, stick to Chivalry, as Kingdom Come is less gory.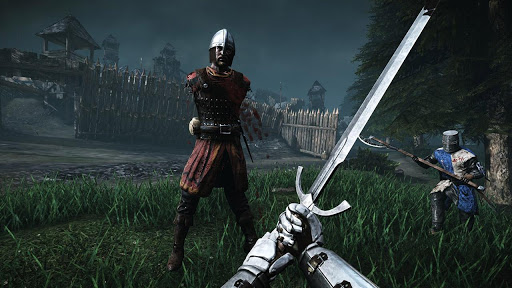 'Tis but a scratch!
We can choose one of four classes to play.
2. Mordhau
"Mordhau" Gameplay
Mordhau, a developing title,is a first-person multiplayer hack and slash that takes place in a medieval setting. The combat is like the one we see in Kingdom Come Deliverance…
Okay, wait. I know. Am I repeating myself? Nope. It's just that Mordhau looks like a new and improved Chivalry Medieval Warfare, with similar style and mechanics. It's planned to be released this year, so if you don't like the aging graphics of Chivalry you can wait a bit and just get Mordhau instead.
Chivalry's successor? Plagiarism?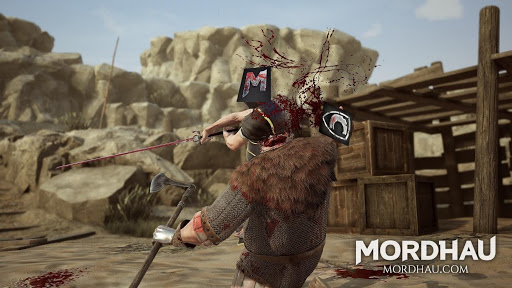 Off with his head!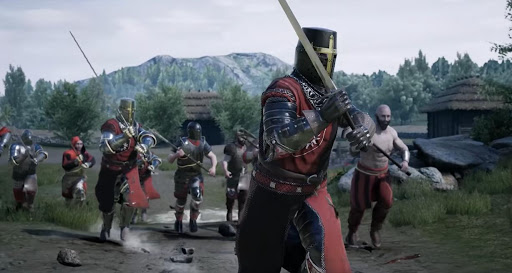 Assaulting a castle with your friends must be thrilling.
1. Gloria Victis
"Gloria Victis" Gameplay
Gloria Victis is a realistic medieval MMORG set in a medieval open world. It features sieges and PVP non-target combat and a mode to build your own castles and other structures.
Another example of a combat-focused medieval sandbox, Gloria Victis immerses the player in a world of heroes and hand-to-hand battles, but like other games mainly focused on the action, it lacks one of the key features in Game of Thrones: an engaging story line, rounded characters to love and hate (sometimes both at once), and unexpected twists. However, it's still a good appetizer while we wait for the main dish that is the next season or the next novel of Game of Thrones.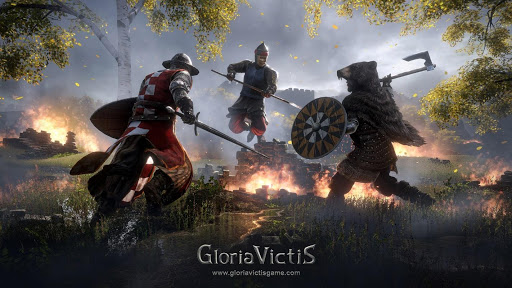 So epic!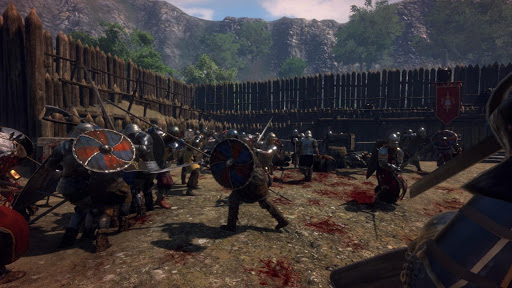 The game is described as "Mount & Blade meets Planetside 2" on Steam
You may also be interested in:
Image Gallery