Fifa 21 Best American Players (Top 10 Amazing Players)
Updated: 06 Jul 2021 7:12 pm
CONCACAF? Completed it, mate!
Fifa 21 - Best American Players
(Top 10 Amazing Players)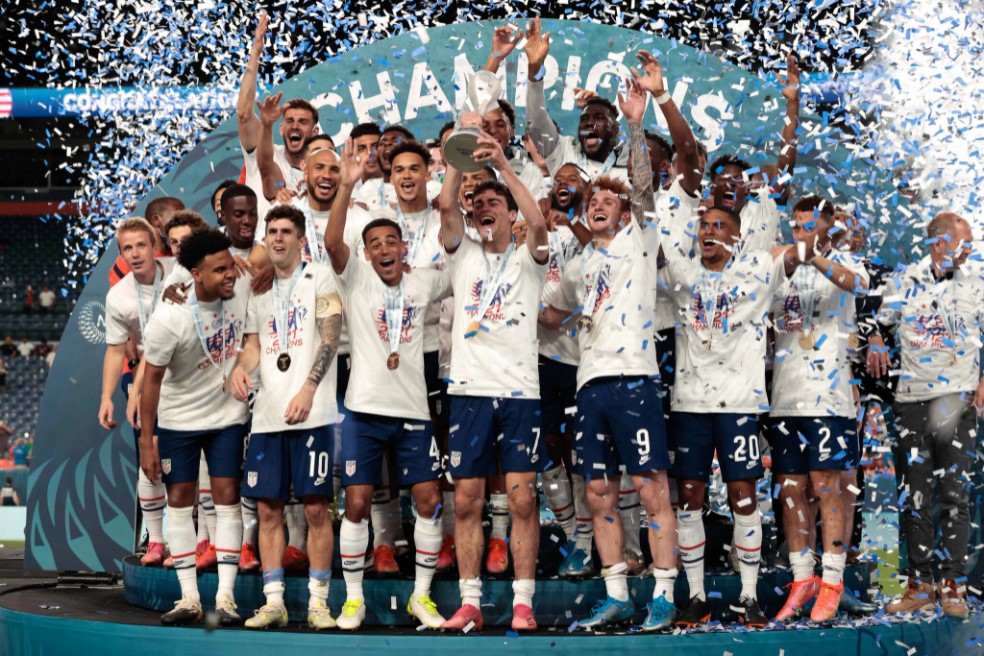 We take a look at the best talent America has to offer in Fifa 21!
(Men's US National Team, pictured above)
10. DeAndre Yedlin - 75 OVR
Top Attributes
Acceleration - 92
Sprint Speed - 92
Jumping - 85
Agility - 84
Balance - 77
DeAndre Yedlin, 27, is a player currently at Galatasaray in the Turkish Super Lig. Well known to fans of past Fifa titles, he plays at right back and possesses all the skills needed for today's modern day full backs. Lightning quick and super athletic, Yedlin could be an asset for any team's attacking threat.
9. Bill Hamid - 75 OVR
Top Attributes
GK Reflexes - 76
GK Diving - 76
GK Positioning - 76
GK Kicking - 70
GK Handling - 70
Bill Hamid, 30, is a goalkeeper currently playing for DC United in the American MLS. Reliable is probably the best way to describe this player, and that in itself is a massive compliment. If you want peace of mind with the knowledge of having a great shot stopper there when called upon, then you won't go wrong with having Hamid between the sticks in your team!
8. Aaron Long - 75 OVR
Top Attributes
Jumping - 88
Stamina - 82
Strength - 80
Heading Accuracy - 79
Sprint Speed - 77
Aaron Long, 28, is a centre back currently playing for New York Red Bulls in the American MLS. Quick for a centre back, he also has great strength and amazing jumping ability to compliment his solid heading skills. If you like your defenders to be quick and athletic, rather than looking like they are towing a caravan while they run, then look no further than Aaron Long!
7. Jordan Morris - 75 OVR
Top Attributes
Sprint Speed - 91
Acceleration - 88
Strength - 83
Jumping - 83
Shot Power - 83
Jordan Morris, 26, is a forward player currently plying his trade at Seattle Sounders FC in America's MLS. He owns all the skills you'd want from a modern day striker - incredible pace, power and the versatility to play a number of positions along the front line. Tricky, athletic and the proud owner of a palm stinging shot, he's sure to please any Fifa 21 player that's smart enough to include him in your squad.
6. Weston McKennie - 75 OVR
Top Attributes
Jumping - 92
Strength - 83
Stamina - 83
Sprint Speed - 82
Heading Accuracy - 82
Weston McKennie, 22, is a great young player currently playing for football giants Juventus in Italy's Serie A. Operating mainly as a centre back, but with the ability to also play in midfield, McKennie has incredible attributes for such a young age. Fast, strong, durable and solid in the air, he would slot into most teams seamlessly! 
5. Sergino Dest - 75 OVR
Top Attributes
Acceleration - 88
Agility - 87
Sprint Speed - 86
Dribbling - 80
Balance - 78
Sergino Dest, 20, is another young player with sky high potential currently playing for Catalonian giants Barcelona in Spain's LaLiga as a right midfielder. Electric pace and bags of energy to compliment his dribbling ability, Dest is a high level operator with the potential to be world class. At his tender age, he's already a great addition to any squad but, with some gametime, he could become a player that EVERY team wants to have!
4. John Brooks - 76 OVR
Top Attributes
Strength - 83
Heading Accuracy - 82
Composure - 81
Sprint Speed - 79
Standing Tackle - 78
John Brooks, 28, is a giant of a man that plays as a centre back for Wolfsburg in the German Bundesliga. Despite his enormous 6 foot 4 inch frame, Brooks is incredibly quick for a CB and his tackling ability makes him a very hard player to get the ball past. Great strength and a solid header of the ball, along with impressive composure, allows Brooks to fit into any team's defensive line.
3. Zack Steffen - 76 OVR
Top Attributes
GK Reflexes - 83
GK Diving - 77
GK Kicking - 73
GK Handling - 72
GK Positioning - 71
Zack Steffen, 26, is a goalkeeper currently playing for the mightily impressive Manchester City in the English Premier League. His cat like reflexes make him an incredible shot stopper with all round solid attributes to compliment his talents. If you want a goalkeeper that you can rely on during 1 on 1 situations, then look no further than Zack Steffen.
2. Tyler Adams - 76 OVR
Top Attributes
Stamina - 86
Balance - 85
Jumping - 83
Agility - 79
Acceleration - 78
Tyler Adams, 22, is yet another young American talent with huge potential (there seems to be a pattern here) that currently plays for RB Leipzig in the German Bundesliga. He possesses an incredible engine for such a young man, giving him the ability to control a game from start to finish. Great on the ball, along with good pace and athleticism, Tyler Adams is a very accomplished young man with the promise of a great future ahead of him.
1. Christian Pulisic - 81 OVR
Top Attributes
Acceleration - 91
Sprint Speed - 87
Agility - 87
Balance - 86
Dribbling - 86
Christian Pulisic, 22, is the absolute pinnacle of American football (soccer) talent! Better known as "Captain America" by fans of the American National Team and by the diehard fans of his club side, Chelsea FC, who play in the English Premier League and recently won the Uefa Champions League. Awe-inspiring pace, dribbling ability, agility and unwavering balance are all backed up by more incredible attributes across the board, which makes Christian Pulisic an all round elite level player and a welcome addition to any team across the globe!
The American Men's National Team has a wide array of talent, from the older generation of players all the way through to the up and coming plethora of tomorrow's stars. The US team recently won the CONCACAF nations league tournament, seeing off stiff opposition from Mexico in the final and cementing this current squad's place in American history. There is currently a wide array of young American players plying their trade in Europe's top leagues, which is sure to see the US continue to dominate continentally and also prove their talents on the world stage for years to come!
You May Also Be Interested In: