Top 10 Biggest Anime Events in The World
Updated: 28 Jul 2019 7:27 pm
Some of Ikebukuro's best professional cosplayers ready for Halloween!
What Are The Biggest Anime Events in The World?
Anime Expo in Los Angeles may be the biggest anime convention in the United States, but how does it stack up against others around the world?
There are events of similar size across Europe and Asia, and many of the largest happen in Japan. Each one appeals to a different obsession anime fans tend to have⁠— figures, cosplay, and even fanfiction.
We have compiled a list of the world's biggest anime conventions, conferences, and festivals so no matter what kind of otaku you are, you can plan the perfect weekend.
10. Wonder Festival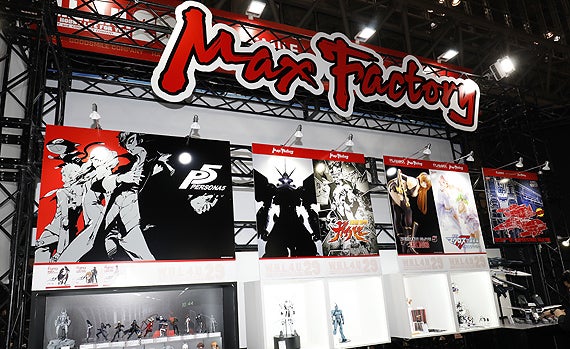 Figure maker Max Factory showing off their new Persona 5 products (credit: http://whl4u.jp/en/)
Wonder Festival, also known as Wonfes, is the largest convention in Japan dedicated to DIY statues, figurines, and models of characters, robots, and monsters from popular anime. These are called garage kits, and there are numerous independent artists who come each year to sell their creations. The convention also welcomes official anime figure manufacturers such as Max Factory and Good Smile Company. You should go to Wonder Festival if you're itching to get the newest nendoroid or if you're one of three people who actually remembers your favorite character. You might just find those other two!
Attendance: 50-60,000 
What's special about Wonder Festival:
- Most of this event is a giant artist alley, and all the artists are making carefully crafted home made figures.
- Official manufacturers like to show off their upcoming products by displaying works-in-progress at their booth. This is a great way to plan collecting or gift shopping ahead of time.
- The Wonder Showcase: At each WonFes, the most skilled independent artists are selected for a special showcase. This gives independent artists an opportunity to show their talent to the entire convention.
- Wonder Festival takes place inJapan's Chiba prefecture. Chiba is home to Tokyo Disneyland and hosts many other anime conventions each year.
Wonder Festival Summer 2019 Details
Date: Saturday, July 7th 2019
Venue: Makuhari Messe Halls 1-8 (The WHL4U Booth is in Hall #1)
Entrance Fee: ¥2,500 (Roughly $25) children under 12 can enter for free. You can register at https://l-tike.com/event/wf/ but Japanese events may not accept credit cards from overseas.
Watch last year's event:
All the greatest merchandise from WonFes Summer 2018
Watch the latest Wonder Festival from earlier this year:
A showcase of the myriad figures sold at WonFes Winter 2019
Official Wonder Festival Website: http://whl4u.jp/en/
Wonder Festival Twitter: https://twitter.com/Wonder_Festival
9. Animate Girls' Festival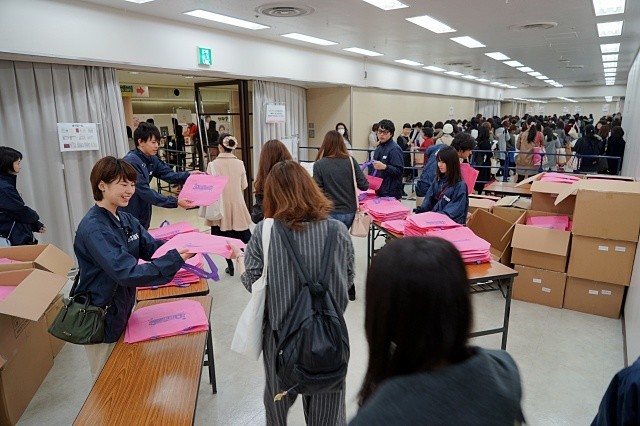 Attendees getting free bags as they enter the Animate Girls Festival (credit: otakumode.com)
Animate Girls' Festival is an event in Tokyo's Ikebukuro district centered around otaku media aimed at women and young girls. This convention is perfect for fans of "bishounen" or beautiful boys, as almost everything sold there will include them. And we mean everything. In addition to anime and visual novel merchandise, you can also find the latest otaku girl fashion statements like itabags. These translucent backpacks can be decorated and customized with buttons, small plushies, keychains, and anything else that shows your love for your favorite character. The event is hosted by Animate, a popular Ikebukuro store that is referenced in both Lucky Star and Kiss Him, Not Me.
Attendance:80-90,000
What's special about Animate Girls' Festival:
- Ikebukuro is in the heart of Tokyo, so when you're done at the Animate Girls Festival, you are free to explore the rest of the city at your leisure.
- This is one of the few anime events that are specifically aimed at otaku women, and it's run by one of the most popular stores in the anime community.
- It takes up a total of four buildings, all jam packed with big name manufacturers and distributors like Kotobukiya, Aniplex, Avex Pictures, Kadokawa, and many more.
Animate Girls' Festival Event Details
Date: November 9-10
Venue: Ikebukuro Sunshine City Fountain Square Stage
Entrance Fee: ¥2,800-1000 (Roughly $28-$10) depending on your type of ticket
Registration: https://www.club-animate.jp/
Watch 2017's Animate Girls Festival:
A montage of everything an otaku girl might find from the Animate Girls' Festival
Official Animate Girls Festival Website: https://agf-ikebukuro.jp/s/agf/?ima=2112
Official Twitter: https://twitter.com/animatetimes
8. Ikebukuro Halloween Cosplay Festival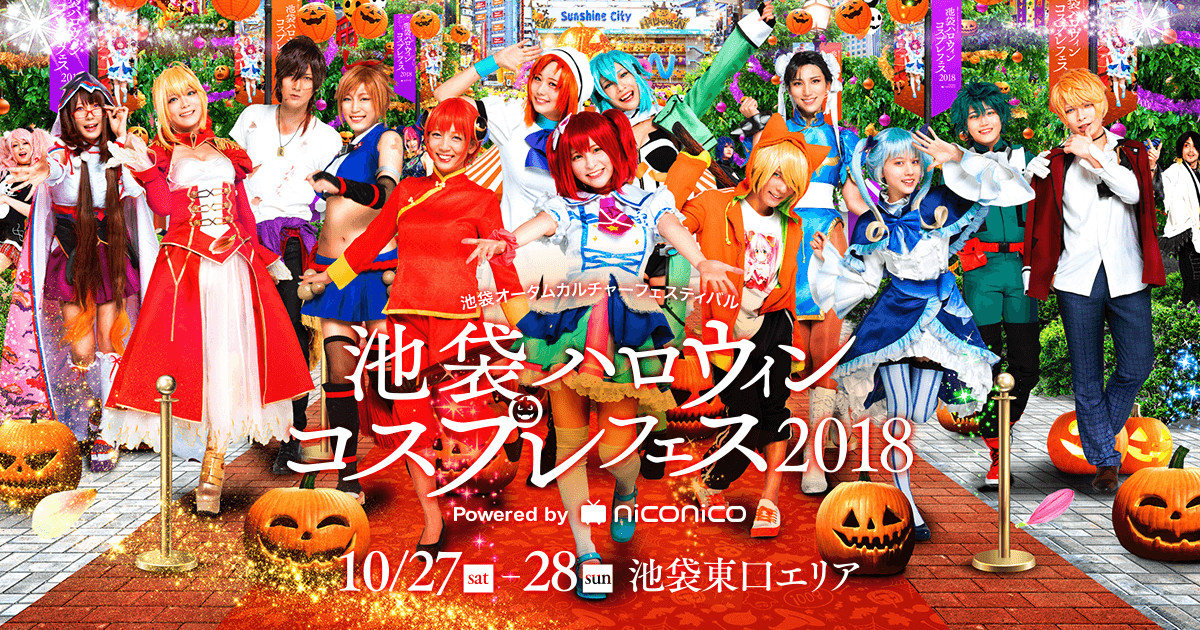 The opening banner for 2018's Ikebukuro Halloween Cosplay Festival (credit:https://ikebukurocosplay.jp/en/)
The Ikebukuro Halloween Cosplay Festival happens two weeks before Animate Girls Festival, and uses one of the same buildings to host it. Attendees from overseas may recognize some  locations and buildings from anime like Durarara!! and Tokyo Ghoul. This public cosplay event has musical guests, a cosplay runway you can apply for, and other live cosplay attractions. You can walk around the entire Ikebukuro district and enjoy the cosplay for free, but you'll need to pay if you want to dress up or photograph anyone else. The entire event is live streamed through the event's parent company, Niconico, making it the most accessible event on this list. 
Attendance:90-100,000 
What's special about the Ikebukuro Halloween Cosplay Festival:
- Like the Animate Girls' Festival, attendees will have access to the entire city throughout the day. Only this time the official events are free if you're just there to enjoy the fun.
- This is one of the few anime events that is not completely centered around buying your favorite merch. If you are not the kind of person who only goes to cons to break the bank, you'll love this one.
- It is the biggest anime themed Halloween event in the country. Halloween has become increasingly popular in Japan, and it only makes sense to incorporate cosplay into the festivities.
- The staged cosplay events involve audience participation to those who have great cosplay. If you're skilled enough, a performer might call on you to come on stage for an activity!
Ikebukuro Halloween Cosplay Festival Event Details
Date: Late October 2019. The event is usually schedule for the last weekend in October.
Venue: Higashi-Ikebukuro Central Park
Entrance Fee: Free! Unless you want to cosplay or take photos. But who doesn't? The dressing room and luggage storage area fee is ¥1,500 (roughly $15)
Registration: None needed, just come to Ikebukuro
Watch last year's Ikebukuro Halloween Cosplay Festival:
Walking through Ikebukuro during the Halloween Cosplay Festival
Official Ikebukuro Halloween Cosplay Festival Website: https://ikebukurocosplay.jp/en/
Official Twitter: https://twitter.com/niconico_cos
7. Anime Expo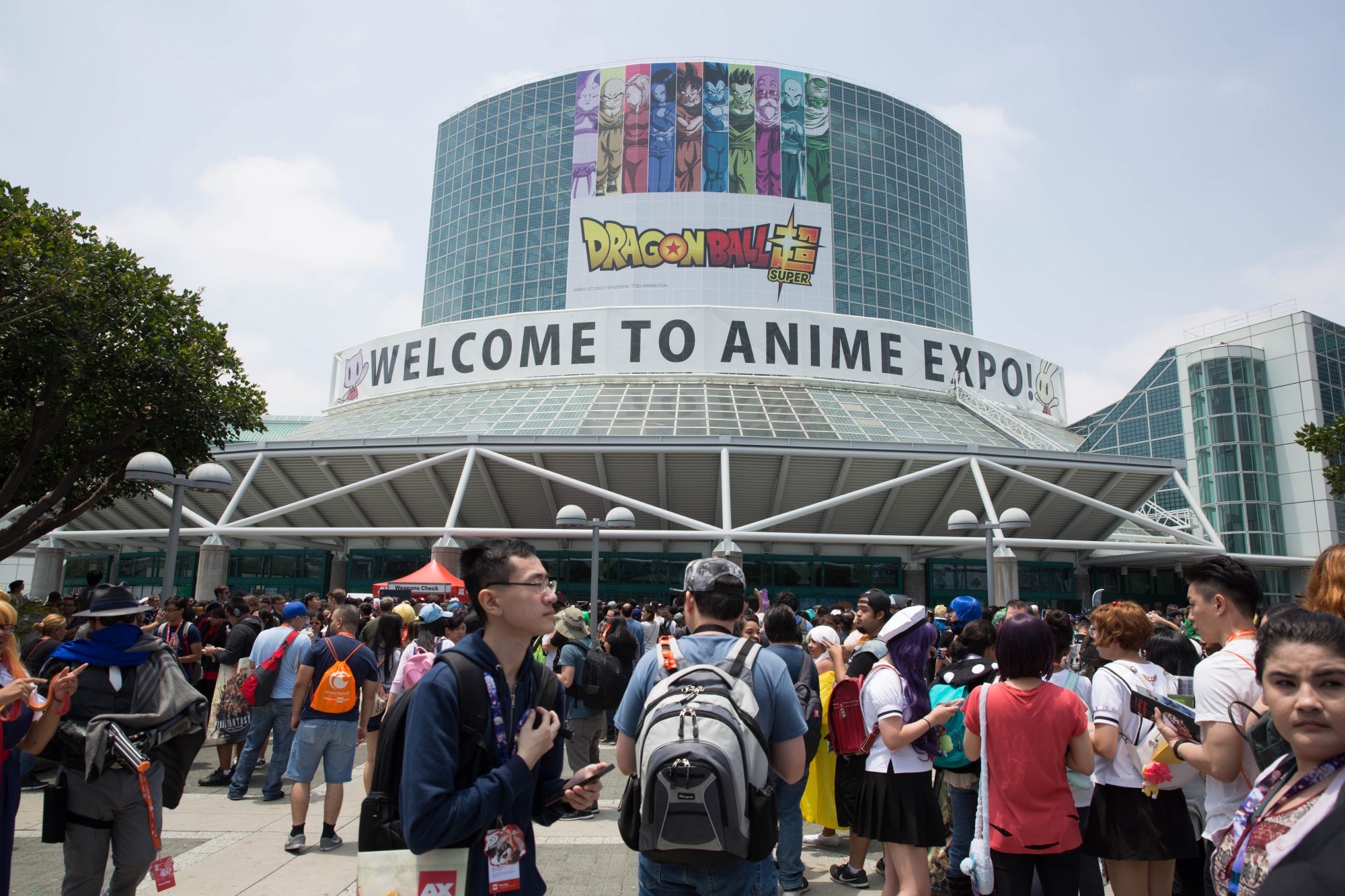 The front door to the LA convention center during Anime Expo (credit:http://www.anime-expo.org/)
Anime Expo in Los Angeles is the only anime convention in America that even comes close to the largest ones elsewhere. With about 100,000 attendees each day, the convention is flowing with hardcore anime fans looking to do anything and everything concerned with their favorite series. In addition to the essential cosplay, dealer's room, and artist alley excursions, you can visit panels about otaku culture and maybe even meet your favorite voice actors. Japanese guests include artists of popular anime opening themes, anime directors, and producers. If you're lucky, they may even pre-screen an upcoming show you've been hyped for since the first trailer.
Attendance: 110,000
What's special about Anime Expo:
- Studio Trigger, the team that brought you Kill la Kill, SSSS.Gridman, and Kiznaiver, has shown up multiple times to announce their newest projects. Expect them to announce something new this year!
- If you are from a more remote area with little access to hobby shops and Japanese stores, Anime Expo will be your one stop shop to find your favorite merch. While it does not feature as many companies as Wonder Festival, you will likely be able to find any anime good currently being sold in America. 
- Anime Expo has a huge event area they call the "Entertainment Hall," which combines photo-op areas, video games, tabletop games, a live band, and cosplay workshops into a one-floor extravaganza.
- All the regular con events are here, but turned up to eleven. There's an anime music video (AMV) theater in addition to an AMV competition, a maid cafe, a masquerade competition and a late-night comedy showdown.
Anime Expo Event Details
Date: July 4th - July 7th 2019
Venue: LA Convention Center
Entrance Fee: Varies, but it's $126 for an adult to go all four days.
Registration: http://www.anime-expo.org/register/
Watch last year's Anime Expo:
A Highlight Reel of the 2018 Anime Expo official YouTube channel
Official Anime Expo Website: http://www.anime-expo.org/
Official Twitter: https://twitter.com/AnimeExpo
6. AnimeJapan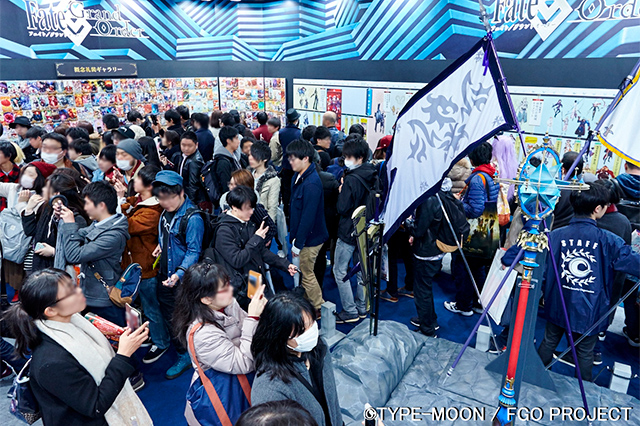 A humongous crowd lines up for the Fate/Grand Order booth at AnimeJapan (credit:https://www.anime-japan.jp)
AnimeJapan is one of the biggest consumer shows for the anime industry, and is run by a committee of important character goods manufacturers, distributors, anime production studios, and record labels. There are industry panels in which new anime series and movies are announced, along with product upfronts of premiere distributors like Bandai Namco. If you're most concerned with seeing trailers and promotions for upcoming anime productions, this is the convention for you. Be on the lookout for your favorite studio's booth, especially if you're a fan of Production I.G. (Ghost in the Shell, Psycho-pass) and studio Pierrot (Naruto, Bleach, Black Clover). 
Attendance: 140-150,000
What's special about AnimeJapan:
- Each year has a new theme with exclusive goods of popular anime characters. For example, 2019's theme was rock music, and they sold commemorative guitar picks featuring Kirito from Sword Art Online and the titular characters Detective Conan, and Lupin III.
- There are some more specific cosplay crafting events, such as a live sculpting of Joker's mask and dagger from Persona 5 and Rem's morningstar from Re:Zero.
- The convention has a Production Works Gallery, in which the audience can learn about how a certain aspect of anime gets produced such as sound design or digital effects.
- This is one of the few anime events that are organized at least in-part by anime production studios. This is as close to your favorite anime creators as you can get aside from barging into their studio on a workday!
AnimeJapan Event Details
Date: March 21th-24th 2020
Venue: Tokyo Big Site
Entrance Fee:  ¥2,200
Registration: https://www.anime-japan.jp/en/ticket/outline_outside/
Watch last year's AnimeJapan, where they announced the new Natsume's Book of Friends movie:
A sample of the kinds of announcements you'll get to see at AnimeJapan
Official AnimeJapan Website: https://www.anime-japan.jp/en/
Official Twitter: https://twitter.com/animejapan_aj
5. Jump Festa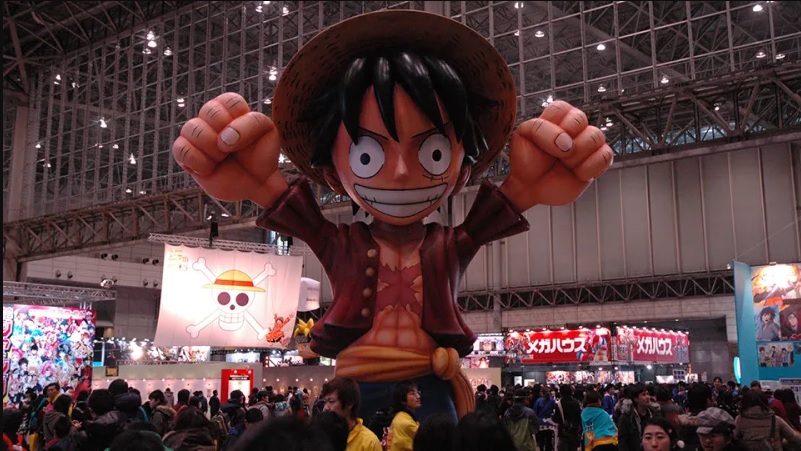 Jump Festa's giant chibi statue of Monkey D. Luffy (credit: https://www.jumpfesta.com/)
Jump Festa is the most well known Japanese anime event outside the country. This is a convention for manga publisher Shueisha to showcase the newest Shounen Jump series and host events like special episode screenings and TV adaptation announcements. Here you'll find everything related to One Piece, Dragon Ball Super, My Hero Academia, and The Promised Neverland. There has even been a Jump Festa exclusive episode of My Hero Academia that fleshed out the audience's favorite side characters. Shueisha also welcomes game developers to the event so they can showcase and demo new tie-ins to the most popular series.
Attendance: 160,000
What's special about Jump Festa:
- Special screenings of episodes you won't see anywhere else, except maybe the blu-ray if you're lucky.
- It's the perfect place for anime fans who are really just in it for the fights. You won't have to wade through a sea of cute girls, arthouse weirdness, and highschool dramas to find what you like.
- There are multiple Shounen Jump imprints, such as Young Jump, Ultra Jump, and Jump Sq. Crown all with their own manga lineups. Expect showcases for all of their series as well.
- Shounen Jump's manga and their anime adaptations tend to become the most popular series in the west. This event is definitely worth checking out even if you're just interested in staying on top of the latest trends in anime.
- The convention hosts an art showcase called "Jump Genga World," where attendees can look at and photograph hand drawn portraits and manga pages from famous Shounen Jump authors.
Jump Festa Event Details
Date: Likely Late December
Venue: Likely the Makuhari Messe 
Entrance Fee: Usually Free admission
Registration: None needed
Watch last year's Jump Festa:
JUMP FESTA 2018 at CHIBA TOKYO walk-through
Official Jump Festa Website: https://www.jumpfesta.com/
Official Twitter: https://twitter.com/shonenjump?lang=en
4. Japan Expo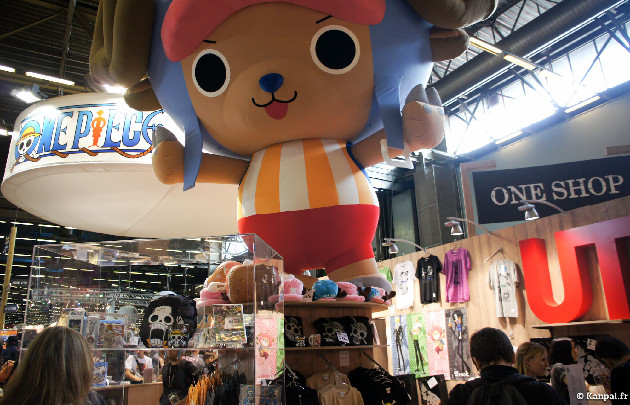 A giant Toni Toni Chopper balloon overlooks the dealer's hall of Japan Expo in Paris (credit: https://en.convention.parisinfo.com/)
Japan Expo Paris is the largest anime convention in Europe, and likely the largest one anywhere outside Japan. Their highest recorded attendance numbers totaled over 240,000, which more than doubles the daily attendance of America's Anime Expo. This convention hosts well known industry veterans along with high profile esport tournaments like this year's Soul Calibur VI. This year, Nintendo also showed up  to demo their new game, Fire Emblem: Three Houses for the Switch. Any European anime fan that can't make it to Japanshould definitely consider Japan Expo.
Attendance: Over 200,000
What's special about Japan Expo:
- This year's event welcomed Devilman creator Go Nagai and Space Pirate Captain Harlock creator Leiji Matsumoto. This is a dream come true if you're into 70s classics!
- Voice acting veteran Aya Hirano is coming to this year's event. While she is best known for starring in The Melancholy of Haruhi Suzumiya and Lucky Star, she is still doing important voice work for Dragon Ball Super and Gintama.
- Japan Expo hosts DARUMA: Japan Expo Awards as an event to recognize outstanding production from our favorite manga authors and anime directors. Attendees and professionals alike are allowed to vote!
Japan Expo Event Details
Date: July 4-7
Venue: Paris-Nord Villepinte Exhibition Center
Entrance Fee: €69 for all four days (roughly $78)
Registration: https://www.japan-expo-paris.com/en/ticketing/JEP2019
Watch last year's Japan Expo:
A speed run of a visit to Japan Expo 2018 Paris
Official Japan Expo Website: https://www.japan-expo-paris.com/en/
Official Twitter: https://twitter.com/japanexpo
3. Tokyo Game Show
A series of showcases on the main floor of the Tokyo Game Show (credit: expo.nikkeibp.co.jp)
The Tokyo Game Show is one of the most popular video gaming events in the world. And because it's based in Japan means that almost every anime styled game coming out that year will be showcased. Square Enix, Bandai Namco, and Capcom are mainstays of this event, so you can stay up to date on everything Final Fantasy, Jump Force, and Monster Hunter related. Additionally, you can find smaller companies there that may be developing games you may not have heard of otherwise. This is the kind of event you can convince a whole group of people to come to, even your friend who always rails against anime.
Attendance: Over 200,000, 250,000 expected
What's special about Tokyo Game Show:
- There are two whole days dedicated to business guests and the press, so you won't be competing with them to see the newest releases.
- There are almost too many game demos to choose from, so make sure you arrive early to get a spot at some of your must-sees. 
- There are plenty of booths surrounding mobile games such as Fate/Grand Order, Fire Emblem Heroes, and other randomized character games. You won't find dedicated exhibits for those at many other events.
- Exhibitioners also include schools for video game development where those considering college can get a feel for the curriculum.
Tokyo Game Show Event Details
Date: September 12th and 13th for Press and Business attendees, and the 14th and 15th for the public.
Venue: Makuhari Messe
Entrance Fee: ¥1,000-1,200 (Roughly $10-12)
Registration: https://expo.nikkeibp.co.jp/tgs/2018/public/en/visitor/ticket.html 
Watch last year's Tokyo Game Show:
Tokyo Game Show 2018
Official Tokyo Game Show Website: https://expo.nikkeibp.co.jp/tgs/2019/exhibition/en/
Official Twitter: https://twitter.com/tokyo_game_show
2. Comiket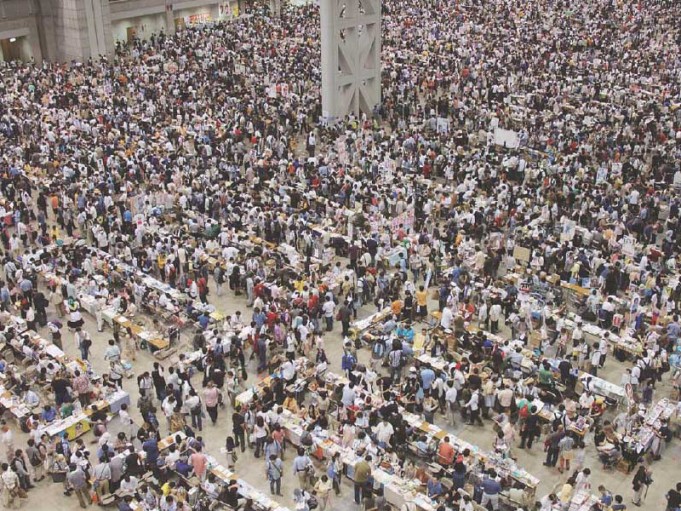 Tokyo Big Site flooded with excited fanfiction readers and authors (credit: https://thehypedgeek.com/)
If Tokyo's Akihabara district is the home and birthplace of otaku culture, then Comiket might be equivalent to Christmas. Artists from all over Japan come to sell their Doujinshi (fan works), art books, and indie comics. You can find everything from in-depth illustrated fanfiction to adult parodies of nearly any anime or video game you can think of. And some of the industry's popular animators and character designers still come to sell special comics and art that are usually unofficial but very authentic. Panty and Stocking with Garterbelt director Hiroyuki Imaishi once made a Comiket appearance to sell a possibly canon continuation of the show. Now that's something any fan would clamour for!
Attendance: 210,000 per day
What's special about Comiket:
- Finding out your favorite character designer from the industry is there selling their art. For us, it's Tadashi Hiramatsu.
- Seeing the myriad interpretations of your favorite characters in other art styles or surprising situations.
- You get the most bang for your buck at Comiket. If you travel light, don't cosplay, and save all your money for the doujinshi, you may come out with a pretty heavy bag.
- If your favorite show lacks representation that you may have been hoping for, you may see it reinterpreted as a "girls' love," or "boys' love," story.
- Comiket culture has helped create widely successful multimedia franchises that started as indie manga. The best example of this is Touhou project, which now has countless officially licensed games and manga. 
Comiket Event Details
Date: August 9-12
Venue: Tokyo Big Site
Entrance Fee: Free
Registration: Not required, but this page is helpful for attendees from outside Japan. https://www.comiket.co.jp/info-a/TAFO/C92TAFO/cmkfor.html
Watch last year's Comiket: 
Summary Comiket Cosplay Showcase 2018
Official Comiket Website: https://www.comiket.co.jp/
Official Twitter: https://twitter.com/comiketofficial
1. Anime Festival Asia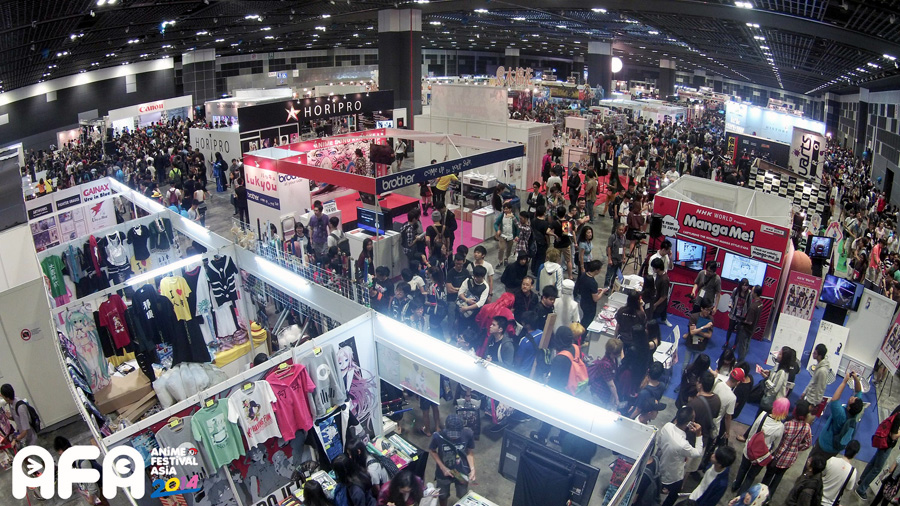 The apparel and exhibition section of the AFA main floor (credit: https://animefestival.asia/afa/)
Anime Festival Asia is the biggest anime event in the world by a landslide. The event is held at least three times a year across different countries in Asia, and has a total cumulative attendance of over 1.7 million. This event usually has the most popular anime musical guests, industry and fan work celebrities, and dazzling cosplay events. The event is organized by C3, which stands for Character, Culture, and Content. They are dedicated to spreading the newest and hottest stuff from the anime scene all across Asia, giving many more people the opportunity to attend.
Attendance: 100,000 per day per location (takes place in Hong Kong, Tokyo, and Singapore)
What's special about Anime Festival Asia:
- This event includes exclusive merchandise during special anniversary years, which may rise in value over time!
- The festival is known for red-carpet events for voice actors, anisong artists, and cosplay celebrities
- Premieres of highly anticipated anime happen here before anywhere else. Like last year's premiere of Mob Psycho 100 season 2.
- Depending on the year, you may get to see part of the World Cosplay Summit, the most prestigious cosplay competition in the world.
Anime Festival Asia Event Details
Date: November 29th-December 1st
Venue: Suntec Convention and Exhibition Centre
Entrance Fee: $8-$15 per day
Registration: https://www.animefestival.asia/afax/ticketing.html
Watch last year's Anime Festival Asia: 
An Anime Festival Asia C3 AFA Singapore 2018 Cosplay Video
Official Anime Festival Asia Website: https://animefestival.asia/afa/
Official Twitter: https://twitter.com/animefestasia
Official Facebook: https://www.facebook.com/animefestivalasia
You may also be interested in: 
Image Gallery