[Top 10] Best VR Boxing Games with Great Gameplay
Updated: 10 Sep 2021 4:28 am
Would you dare fight against this opponent?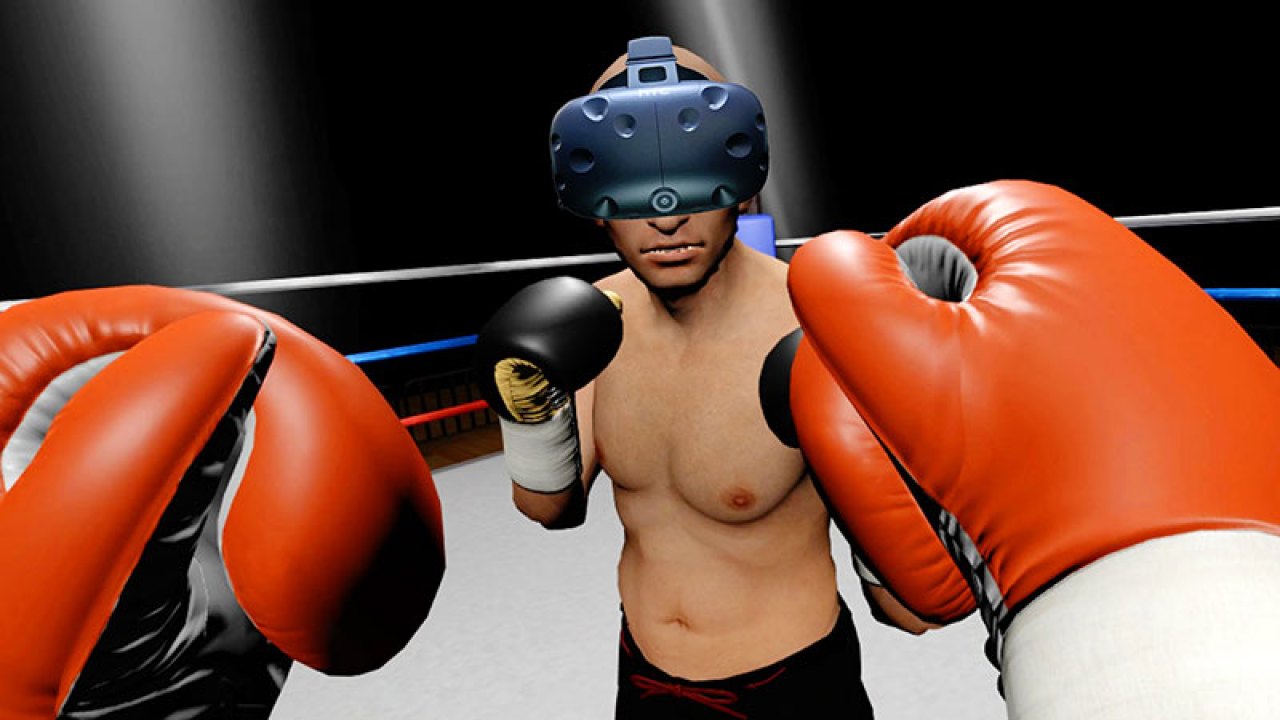 Virtual reality is amazing, and with Covid-19 leaving everyone stuck at home, there's never been a better time for people to get into VR. There are a lot of great VR sports games, but today I'll be showing you the top 10 Best VR Boxing games that have great gameplay! Whether you're a new or experienced VR user, I guarantee that you'll love at least one of these games on the list, and may even find yourself learning a new sport.
10. Drunkn Bar Fight (PS4, Windows, Oculus Quest)
While not specifically focused on boxing, Drunkn Bar Fight is a fun-riddled game that makes bar fighting fun and silly. The objective, empty the bar by fighting everyone! You have super strength so you can throw people anywhere with enough force, even out the window of a skyscraper! And you also have an alarmingly large variety of objects that you can turn into weapons (including a gumball machine) to fight your opponents. A lot of players have complained about the small amount of content, but if you're looking for a laugh then I highly recommend this. It goes on sale fairly regularly, so pick it up if you see its price reduced from the usual £10.99 price tag.
9. Fighting Clans (Windows)
Released in March 2020, Fighting Clans is a very small boxing game that features unique street fighting moves in dark alleys. It's got a little story about how you're in debt to the Mafia, and are required to fight to survive and pay off your debt. There's no limits or rules to the fighting, so kicking is also allowed and used excessively. Many players have mixed feelings about this game, particularly with the gameplay and graphics. Some describe the game as feeling slow, while others complain about its unrealistic nature. However, its low price tag of £5.79 is fairly good for this sort of game.
8. Box VR (PS4, Oculus Quest, Windows)
BoxVR doesn't have you facing off against an opponent, but instead requires you to dodge and punch glowing obstacles flying at you in time with music, which sounds very similar to BeatSaber. The game has over 20 hours of fun workouts, and over 150 different music tracks. In 2019, it won the "Best VR Fitness Game of The Year" award and won the "Best VR Boxing Fitness Game of The Year" in 2017. It's one of the more expensive games in this article, priced at £24.99, but it's rated as "Very Positive" on Steam. If you do manage to run out of content, they've also got two different types of DLC to give players even more playtime. I highly recommend this game to anyone starting out with VR who is also looking to get fit.
7. Beat Boxer (Windows)
Beat Boxer was released in 2016 and takes players to fight in time with any song on either a local device or from the internet. Each song that you play is automatically generated into a track that you must box against, dodging and uppercutting glowing balls as they zoom at you. Oh, did I forget to mention that this is all happening in Space? This game has gone under the radar for many and came at a time when VR was still finding its footing. The graphics are also mediocre; however, Steam users believe that it is the best game for translating songs into tracks that you have to fight against. That is why I recommend this game, it's perfect for those looking to have some boxing fun while enjoying their favourite music. Buy it now off Steam for £5.99.
6. Virtual Fighting Championship (Windows)
Virtual Fighting Championship (VFC) is all about fighting online opponents and AI in VR. The game features many modes that range from PvP to a variety of training and single-player modes. Despite the small player base, this game's fighting mechanics are excellent and it is targeted to become the first "street fight/mortal kombat in VR". While the graphics aren't excellent, the technology behind the fighting certainly is. Since 2018 they have had a variety of tournaments, and have a thriving Discord server for all of their players. The developers are also incredibly active with the game, constantly fixing issues that users address. In 2018 VFC was awarded "one of the five best VR games" by finders.com. For £14.99, it's not a bad price for the game that you receive.
5. Knockout League (PS4, Oculus Quest, Windows)
Knockout League was released in February 2018, and has received mostly positive reviews on Steam. It focuses on an arcade-style of boxing that has players fighting magicians, squids, and even giants! While it is built on being fun instead of realistic, Knockout League is still able to make players have a good workout because of the fast-paced action. It is also quite a fair price at £15.49, seeing as the graphics are excellent and the gameplay is smooth like butter. I fully recommend this game to anyone who is looking for a new and silly VR game which is also family-friendly. 
4. Virtual Boxing League (Windows)
Virtual Boxing League is an interesting take on VR boxing, mainly because of its variety of training minigames. The actual boxing is realistic and requires skilled players to win against opponents, however the graphics lack sharpness, and the models are fairly low on the polygon count. But, its release in 2019 had many promises from the developers, the main one being multiplayer, yet the same developers still haven't delivered any of these promises. It appears as though the game has been abandoned, but the variety of minigames and challenging AI in the arena create a great and simple boxing game. If you see this game on sale, I fully recommend buying it and giving it a try. Otherwise, I wouldn't recommend paying the steep price tag of  £15.49, just because the game hasn't seen much progress lately.
3. The Fastest Fist (Windows)
The Fastest Fist is a training game for real-life boxing. It requires players to react quickly to punches, and dodge and block attacks from the coach. This game is perfect for players who want to train their boxing skills from the comfort of their home, without the actual equipment. It also has seen a majority of positive reviews, something rare for a small VR game that came out in 2016. Many users claim that this game is an excellent workout, so if you're looking to get into shape, I would definitely check out this one.
2. Mech League Boxing (Windows)
Mech League Boxing trailerThis fun-filled boxing game, released in 2018, has the player fighting robots, as a robot. Players must act fast and dodge these unique robots in the ring, or they face humiliation from the crowds. Being set in 2050, the game has a variety of futuristic maps and characters that look stunning for a 2018 VR game! From training to fighting next to a volcano or in space, there's a lot to explore in this game. During the fights, players are treated to different types of weapons to help aid you in taking down your opponent. This is an interesting twist in the game, really showing that it is more of an arcade VR boxing game rather than a simulator. For its low price of £6.19, I'd recommend it If fighting robots is your thing.
1. The Thrill of the Fight – VR Boxing (Windows)
This game is one of the top dogs for VR boxing, and this is due to its focus on authenticity. Users can train in a special gym and face off against components in the ring whilst following real boxing rules. There's also a virtual referee to watch and call out any fouls! Because the game focuses on authenticity, it requires users to have a minimum supported play area size of 2m by 1.5m so that players have to actually move their entire bodies. This has left many players sweating, and the majority claim for this game to be a really good workout with a lot to do in the game. It's priced at £6.99 and has over 2,000 positive reviews, making it my personal favourite VR Boxing game.
You may also be interested in:
Image Gallery