[Top 15] Best Virtual Reality Companies
Updated: 10 Sep 2021 4:31 am
Here are some of the current best cutting edge VR companies
In today's world, virtual reality is moving from a pipedream to a reality, and as such there are a lot of new and existing companies that have taken VR and created products and services from it. But there are so many of these companies to choose from, which is why I've created a list of the 15 best virtual reality companies that you, the reader, should keep an eye on. It's these companies that are paving the future for VR, and for that reason I highly suggest that you read and learn about what these companies are doing, and how what they're doing is different from  other companies that deliver VR products and services.
15. CM&D

CM&D, founded in 2016 and located in Austin, Texas, is a VR/AR Creative agency company that specialises in working with clients through the entire process of creating immersive experiences. They're a small company of 6 employees and use virtual reality to create immersive experiences that cannot otherwise be experienced. Since 2016 they have collaborated with major companies to deliver exciting experiences across the globe. A few of their famous clients include Pepsi, Make-A-Wish Foundation, the State of Washington, and Lloyds Bank.
CM&D are also one of the first companies to introduce VR training, which they claim can lead to reduced training times, improved Job Performance, and more confident employees at the fraction of a cost to traditional training methods.
One of CMI&D's latest projects includes a first of its kind - VR storytelling. By leveraging 360 video technologies with collaboration for Washington State Department of Social and Health Service, CM&D were able to create a VR story about a fictional character named Lena, who has been battling her secret mental illness for years until she ends up in a psychiatric hospital, finally learning to manage her symptoms. This story serves as a training program for the Western State Hospital in Washington.
Specialties:
360˚ Video, Virtual Reality, Mixed Reality, Augmented Reality,  Interactive Storytelling,  and AR App Development, VR tech (headsets, guns, games, rigs)
Oculus Quest
Oculus Quest 2
Mobile AR
Official site: https://chocolatemilkdonuts.com
14. AppliedVR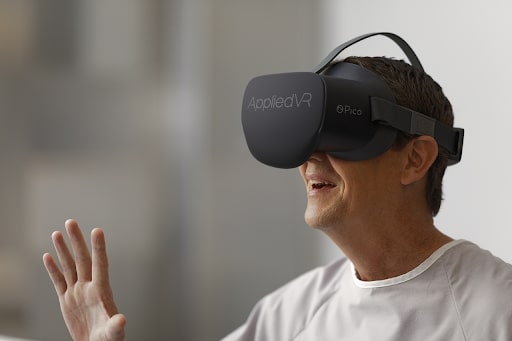 AppliedVR was founded in 2015, with its headquarters located in Los Angeles, California. AppliedVR is the first company to make virtual reality widely available in clinical care, boasting 30k+ patients in 200+ hospitals. Their aim is to reimagine medicine by establishing therapeutic virtual reality as a new standard of care for pain management.
By utilizing virtual reality, studies claim that AppliedVR's technology can teach patients skills to help them manage their pain, and recently teamed up with the Department of Veterans Affairs (VA) to bring their technology to patient's homes, removing the need for a visit to the hospital. AppliedVR believes that virtual reality is the future of treatment because of how many types of pain it can treat. From chronic to acute pain, as well as anxiety caused before, during and after surgery, to emergency room procedures and child labour, virtual reality is increasingly likely to replace traditional medications. 
Recently securing $29 million in March 2021, with their total funding rising to $35 million, they are one step closer to integrating virtual reality as a valid treatment to pain across the globe. 
Specialties:
Digital health, pain management, virtual reality treatment
VR tech (headsets, guns, games, rigs)
Pico G2 (4K)
Official site: https://appliedvr.io
13. Spatial

Spatial was founded in 2016, and its headquarters are currently located in New York City. They are an ambitious company that wants to get co-workers from across the globe to work together in a virtual environment. To do this, they've created an app that allows users to create a lifelike avatar, and then they can communicate and collaborate through Spatial's virtual environment. To allow for all co-workers to participate, Spatial is available on mobile phones, personal computers, and AR/VR headsets. 
Currently, Spatial has 34 employees and are very likely to see a growth in their userbase during 2021 as working from home becomes the new normal. They also have a total of $22.3 million in funding and will likely get a lot more over the coming years if Spatial's popularity grows.
Specialties:
Augmented Reality, Virtual Reality, and User Interfaces
VR tech (headsets, guns, games, rigs)
Oculus Quest 
Oculus Quest 2
Nreal
Microsoft HoloLens 2
PCVR Steam 
Official site: https://spatial.io
12. Valve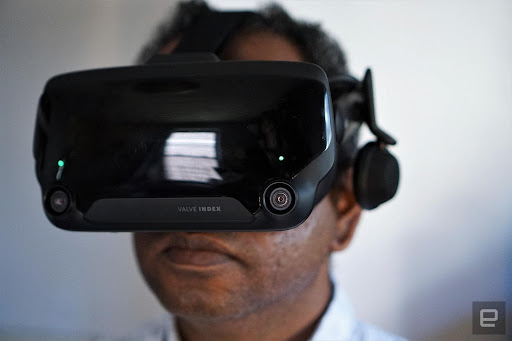 Unlike the other companies on this list, Valve is a considerably older company, being founded in 1996 as a game studio. Their most famous game, Half-Life, has won a staggering 50 Game of the Year Awards. They are known for creating some of the most played games in the world, including Counter-Strike, Team Fortress, the Portal franchise, and Left 4 Dead. As such, Valve have around 962 employees, many of whom are the best in the game development industry.
Valve haven't stopped their though, partnering with HTC to release the HTC Vive in 2015, the Vive Pro in 2018, and so forth until May 2021, where the Vive Pro 2 was released. These are some of the most well-known and powerful headsets that consumers and businesses alike can purchase. Valve has also ported many of their games to accept virtual reality, which are immensely popular in the virtual reality community.
Valve also released their first VR-only game called Half-Life: Alyx. Released in March 2020, this game temporarily left all sorts of virtual reality headsets to become sold out for three months. It is clear from this that Valve will continue to focus on creating virtual reality headsets and games, and that their market share in the virtual reality industry can only grow from here.
Specialties:
product design, engineering, virtual reality, hardware engineering, and software engineering
VR tech (headsets, guns, games, rigs
Valve Index
HTC Vive Pro 2
HTC Vive Pro
HTC Vive Cosmos
HTC Vive Focus
HTC Vive
Official site: https://www.valvesoftware.com
11. Oculus
Oculus was founded in July 2021, and it's currently located in California. Oculus are one of the most well-known VR headset makers and have departments all over the world that are dedicated to improving specific areas of the headset and VR experience. For example, Oculus has departments just for computer vision, social interaction, VR research, and haptics. After being purchased by Facebook in 2014, they have grown rapidly and are creating some of the most versatile and accessible headsets for a fraction of the cost of their competitors. They currently have 1,247 employees and are considered to be one of the largest virtual reality hardware and software companies.                    
Oculus was also the first company to commercially release a completely independent standalone VR headset in May 2018, called the Oculus Go. Recently, Oculus's latest headset, the Quest 2, has become the most widely used VR headset on the Steam charts, and is ranked by many as the number 1 headset to have. This puts Oculus in a powerful position, and rumour has it that Oculus are already in the makings of creating a Quest 3.
Specialties:
VR tech (headsets, guns, games, rigs)
Oculus Quest 2
Oculus Quest
Oculus Rift
Oculus Rift S 
Oculus Go
Touch Controllers
Official site: https://www.valvesoftware.comhttps://www.valvesoftware.com
10. Pebble Studios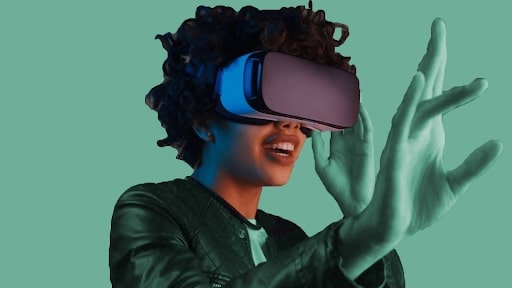 Pebble Studios was founded in 2011, and is one of London's top creative technology and video production companies that focuses on both animation, film, AR and VR experiences. Despite being a decade old, they have a small specialist team of 40 employees that are based in London.
Since 2011, Pebble Studios have worked with companies such as Disney, Adidas, Sony, ABC Studios, and Samsung to create mind-blowing work that is unrivalled to their competitors. Some of their latest work is with Carlsberg, a brewing company, who needed a VR sales meeting. Pebble Studios claim to have likely created the best sales meeting in the world for Carlsberg and go into depth about it alongside their other pieces of work on their website. They are in a niche market for advertising, but their work is starting to pop up all over the advertising industry, making them a fast growing and top VR company.
Specialties:
Film, Animation, VFX, Virtual Reality, and Augmented Reality
VR tech (headsets, guns, games, rigs)
Pebble Studios make use of all varieties of VR headsets, including:
HTC Vive
Oculus Rift
Oculus Quest 2
Official site: https://www.pebblestudios.co.uk
9. AMD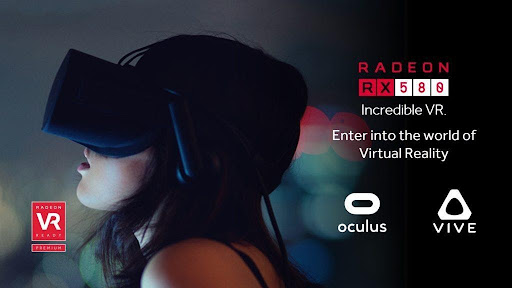 AMD was founded in 1969, and dominates against Intelprimarily makes computer hardware centred around gaming and servers. But, since the rise of VR since 2013, AMD have created software such as LiquidVR and ReLive for VR for gamers to use their VR headsets smoothly with AMD's hardware. Their main focus is on hardware to help boost VR's popularity with their low to high-end GPUs, which cost anywhere from £200 up to £2000, but their CPUs are also a great value for getting into VR, undercutting their rival Intel on CPU prices by up to a couple hundred pounds.
Specialties:
Processors, Graphic Cards, Computer Platforms, CPU, GPU, APU, Server, 64-bit, Virtualization, Cloud computing, Green IT, Energy Efficiency, Semiconductor, Components, Design, Semi-custom, Embedded systems, x86, and Datacenter
VR tech (headsets, guns, games, rigs)
Creates hardware and software for all VR headsets to either run on or be used in conjunction with. Sadly, they have not designed or produced their own headset yet.
Official site: https://www.amd.com
8. ScienceSoft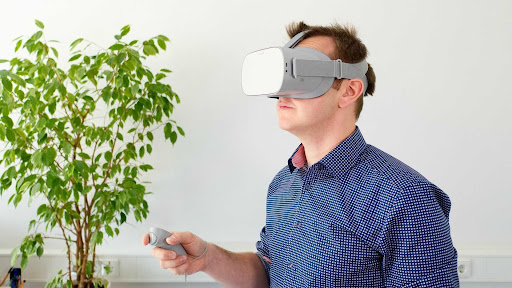 ScienceSoft was founded in 1989, and is an American-based company located in Texas that provides IT consulting services and custom software development to their clients. During the past decade, ScienceSoft have expanded their tools to create competitive VR software for their clients, some of whom include NASA JPL, Walmart, IBM, and Ebay. With more than 700 specialist employees, it's no wonder ScienceSoft have been around for 32 years in the IT business.
ScienceSoft is not a specialist in developing VR software for one industry, but instead focuses on a broad range such as: education, manufacturing, healthcare, advertising, transportation, and retail.
Specialties:
IT consulting, Collaboration & Knowledge management,Custom software development, SharePoint, Mobile app development,
VR tech (headsets, guns, games, rigs)
ScienceSoft make use of all varieties of VR headsets, including:
HTC Vive
Oculus Rift
Oculus Quest 2
Official site: https://www.scnsoft.com
7. Groove Jones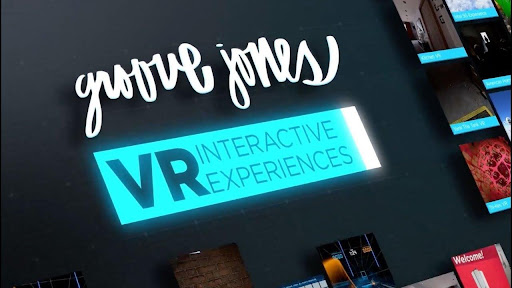 Groove Jones was founded in 2015, and is based in Dallas, Texas. They are a creative technology company that are solely focused on creating next-generation experiences for their clients. Some of their most famous clients include Amazon, AT&T, Ford, HP, Intel, Mastercard, McDonald's, Toyota, and Under Armour. The main industries that they focus on are advertising and marketing, sales enablement, and enterprise training. In 2021 they were awarded a silver National American Advertising Award for VR. That was one of their 35 awards for 2021, which is more than enough to show how successful Groove Jones is.
Since 2015, Groove Jones have revolutionised how companies advertise, and their small team of 51 employees plan to carry on doing just that. They make use of a variety of technologies, from VR, AR, XR, and machine learning. They are also one of few select studios in Unity's Certified Creator Network, giving them a lot to boast about.
Specialties:
Virtual Reality, Live Action Production, Interactive, 360 Video, ,augmented reality, Location Based Experiences, unity, unreal engine, web ar,VR tech (headsets, guns, games, rigs)
Everything
Official site: https://www.groovejones.com
6. Mutual Mobile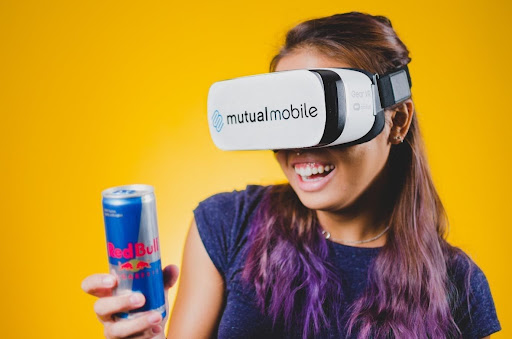 Mutual Mobile was founded in 2009, and has 150 employees that bring digital experiences to life through tools such as VR. Since 2009 they have launched 700 projects, a few of which were for events such as The Olympics, The World Cup, or for clients such as Under Armor. They claim to have a talent for spotting new technologies, and starting development on them early before they go mainstream.
Some awards that Mutual Mobile has earned are "Top App Developer" by Clutch, and "Top Product Designers & Developers'' by The Manifest. In total, Mutual Mobile has 18 awards and recognitions from various companies such as Forbes, Intel, and W3Awards. This company is on the way up, and you should expect to see amazing products from them in the near future.
Specialties:
Cross-Platform Development, Android Application Development, Application Testing and Deployment, Augmented Reality, Virtual Reality, IoT, and Connected DevicesVR tech (headsets, guns, games, rigs)
HTC Vive
Oculus Rift
Microsoft HoloLens
Google Daydream
Gear Environments
Official site: https://mutualmobile.com
5. Subvrsive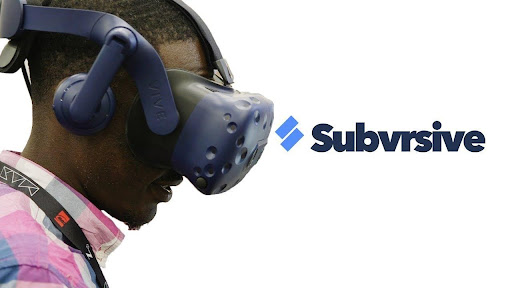 Subvrsive was founded in 2015, and its mission was to create unforgettable VR experiences that help brands engage with their audiences. Based in Texas, Subvrsive uses a variety of emerging technology to solve complex problems that their clients bring them. Subvrsive's worked with Amazon, Google, Showtime Networks, Walmart, and more to deliver exactly what they promised. Some of the industries that they have worked in include healthcare, retail, and more.
The small team of 33 employees have seen great success, recently partnering with TikTok to create effects for TikTok's adverts. They fully deserve to be near the top of VR companies for their innovation and adaptability as technology changes. 
Specialties:
Virtual Reality, 360° Video, Marketing, Video Production, Augmented Reality, Mixed Reality,, Software Development, Technology, Interactive, Unity, Unreal, Mobile Development, VR Training, and AR Advertising
VR tech (headsets, guns, games, rigs)
A variety of the latest VR headsets, such as:
Oculus Quest 2
HTC Vive Pro
Microsoft HoloLens 2
Controllers
Official site: https://mutualmobile.comhttps://mutualmobile.com
4. OTR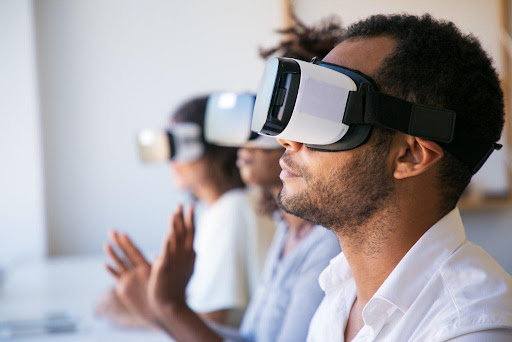 Personally, my favourite VR company, OTR, was founded in 2000 and has spent the past 21 years developing high-quality software solutions and products for both Financial Services and Banks. Working internationally, OTR has more than 2500 in-house employees, and specialises in building VR apps to train employees. Everything from plumbing to Helicopter and Tram training, OTR have the resources and tools to create VR training apps that can reduce training hours for new employees by up to 40%.
OTR don't just focus on VR training though, they also specialise in VR Real Estate, VR Entertainment and Gaming, VR Education, VR Manufacturing, and VR Retail and Sales. They've been in the VR industry for 13 years, have 35 VR professionals, are rated as one of the "Top 5 AR/VR companies" by Clutch, and are also rated as one of the "Top 3 AR/VR companies" by The manifest.
Specialties:
Banking Software, Custom Software Development,, VR development , and Open Banking Development
VR tech (headsets, guns, games, rigs)
Samsung Gear VR
Vive Pro
Vive Cosmos
Oculus Rift s
Oculus Quest 2
Official site: https://otr.eu
3. Osso VR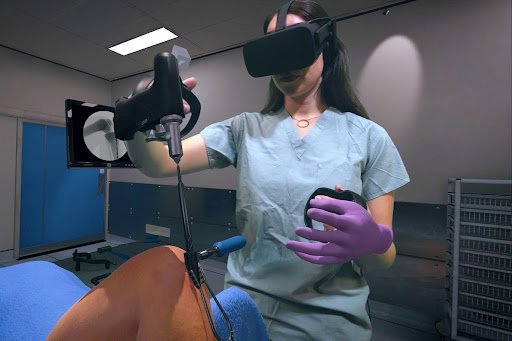 Osso VR was founded in 2016, and is located in California. Osso VR focuses on VR training and assessments that are centred around surgical procedures. With around 111 employees, the team at Osso VR have created an award-winning VR surgical and medical device training platform. Osso VR uses practicing clinicians, medtech industry veterans and professional VR developers to create hyper-realistic and hands-on interactivity and design.
Osso VR boasts a 230% to 306% increase in skill transfer after using VR training to teach medical procedures, and are a preferred Partner of Oculus, giving Osso access to off-the-shelf technology that is both affordable and scalable. Osso VR also currently have access to around 2000+ headsets, and have performed 29,000 VR training sessions. Osso VR is blurring the line between real world and virtual training, one session at a time.
Specialties:
Virtual Reality, Medical Education, Surgical Simulation, Augmented Reality, Medical Devices
VR tech (headsets, guns, games, rigs)
Oculus Rift
Oculus Quest 2
Oculus Quest
Official site: https://www.ossovr.com
2. zSpace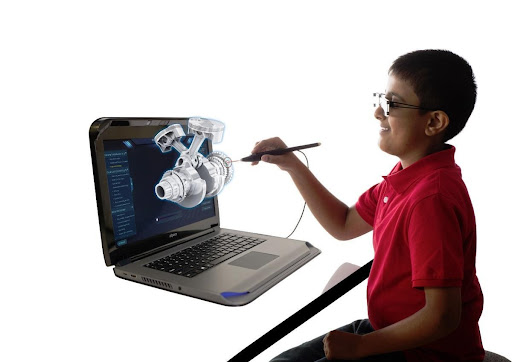 zSpace was founded in 2001 and is based in California. They focus on creating lifelike experiences by using VR to break the screen barrier. Currently, zSpace has 91 employees that innovate and excel in the VR industry. zSpace's main project is a special computer that is aimed for students of all ages to use, whilst making use of VR and AR to literally bring out what's on the screen into an interactive 3d projection. They hope that schools take advantage of this technology, and as such have created an enormous library of lessons that teachers can use to put into their lesson plans. The tool that zSpace has created has near endless boundaries, and it gives students a new experience on different ways to learn.
zSpace was ranked on the Inc. 500 list of fastest growing companies for 2 years, and was the "Best in Show at ISTE" by Tech & Learning Magazine for 3 consecutive years. As they gain more publicity, zSpace is very likely to start popping up in schools all across the world within the next 5 years.
Specialties:
virtual reality, education technology, augmented reality, education, career and technical education, Mixed RealityVR tech (headsets, guns, games, rigs)
zSpace AIO PRO
zSpace AIO
zSpace Laptop
Official site: https://zspace.com
1. Immersive Studios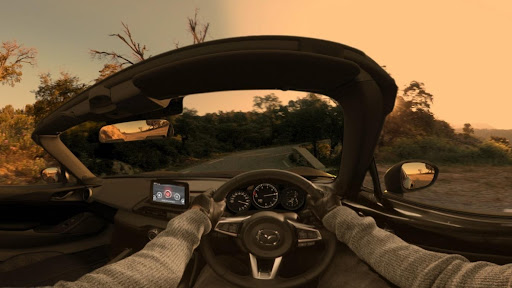 Founded in 2015, Immersive Studios, the creators of Pokemon Go, have been creating award-winning VR, AR and 360 video experiences. They are based in Norfolk, and have 18 employees who work together with all types of clients, from international charities such as the British Red Cross to retail giants such as IKEA. They develop experiences such as virtual property tours, university open days, and driving experiences.
One of Immersive Studio's greatest success stories with VR is when they partnered with Mazda to create a 4D virtual test drive for the Mazda MX-5 RF. It was a huge success and got them lots of attention from other potential clients. Their most recent client is with the University of East Anglia (UEA), wherein they created a set of 360 tours that can be experienced virtually by any potential student. The best part is that students can use either their phone, computer, or VR headset to view the 360 tours. It seems that, with all the success that Immersive Studios have received since 2015, they'll be staying around for a while longer.
Specialties:
Virtual Reality, 360 degree video, Augmented Reality, Projection mapping, Immersive technology, Virtual tours, Game development, App development. 
VR tech (headsets, guns, games, rigs)
Oculus Quest 2
Pico G2
A range of 360 cameras
Official site: https://weareimmersive.co.uk
You may also be interested in:
Image Gallery