Top 25 Best Slice of Life Anime's We Love Watching
Updated: 22 Apr 2020 10:53 pm
The regular lives we love to watch
The Best Slice of Life Animes To Watch Today
25. Bunny Drop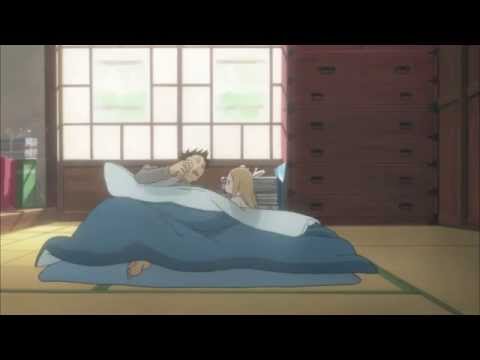 Usagi Drop Trailer 
Daikichi lives alone, every day he goes to work, comes home, and repeat. But after attending his grandfather's funeral he finds out that his grandfather has an illegitimate daughter, Rin. Not old enough to live by her self and being known as the shame of the family Daikichi takes her in despite the fact that he has never taken care of a child. While Rin is unapproachable at first with Daikichi's help, they learn how to become a family.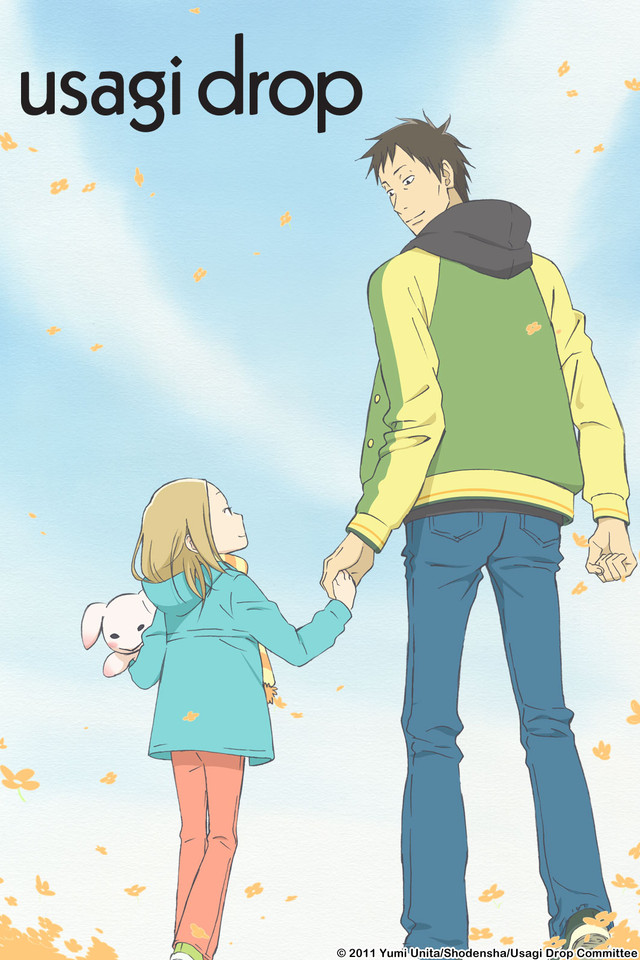 Daikichi and Rin walking together 
24. Tanaka-kun Is Always Listless
Unlike most high school students ready to live on the edge Tanaka prefers the calmer side of things. Praying that nothing happens every day so that he can maintain his lazy lifestyle. Prone to falling asleep anywhere at any time, Tanaka tries his best to not exhaust himself. Though the people he attracts as friends seems to be more on the less peaceful side of things.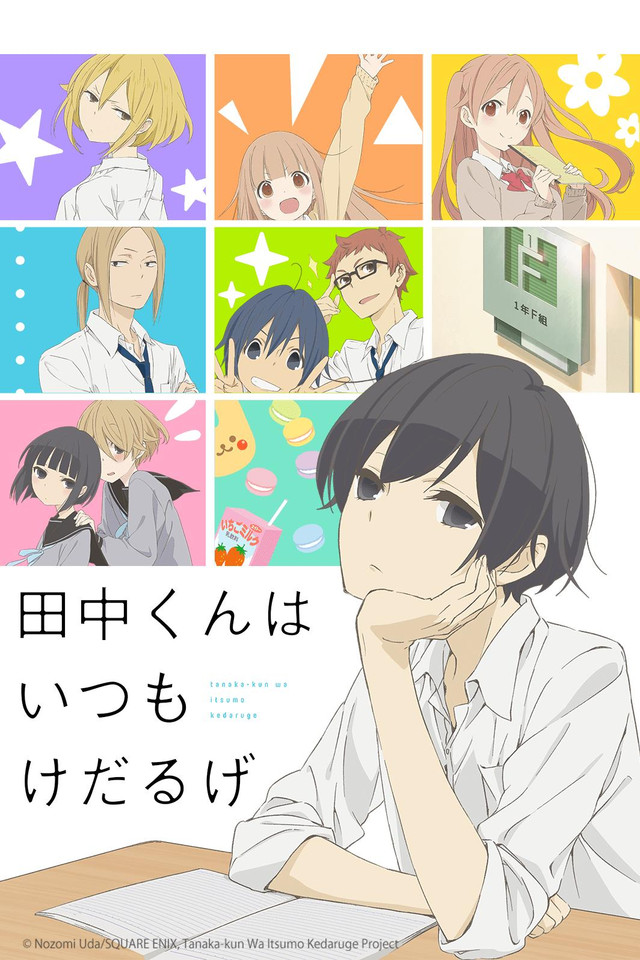 Tanaka-kun in his usual state, head in hand. 
23.Bakuman
Mashiro has always wanted to draw manga, following in the steps of his uncle. After the passing of his uncle, he puts his dream on the shelf instead aiming to be a businessman instead. But after Takagi, a fellow classmate who is well known to be great at writing notices Mashiro's talent for drawing the two decide to make an amazing manga together while trying to keep up with studies and their day to day life.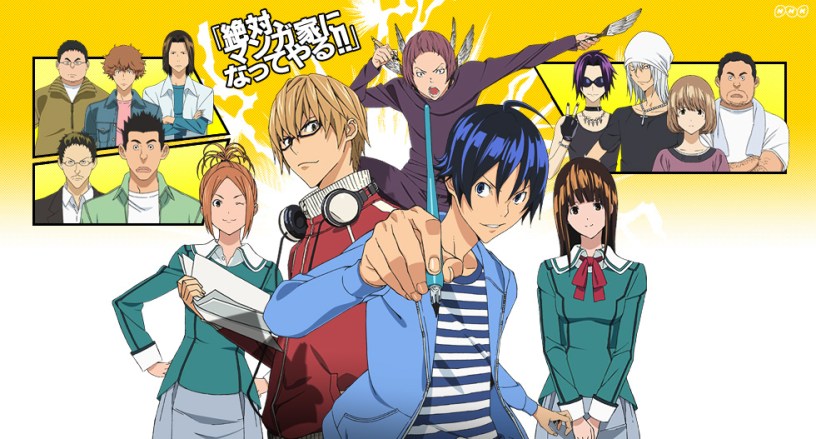 Mashiro and Takagi standing with everyone that supports them.
22.Fruits Basket
Tooru is a sweet girl that tries not to cause anyone any inconvenience, so much so that after her mother passes and she can no longer live at her grandfather's she takes to a tent in the woods as not to bother anyone. But when Yuki Somma notices her out there he invites her into his house to stay. While there Tooru discovers that he is apart of the Chinese zodiac and if anyone in his family is touched by someone of the opposite sex they will turn into their animal. Now they must live together in secret to avoid being found out by the school and the head of the family.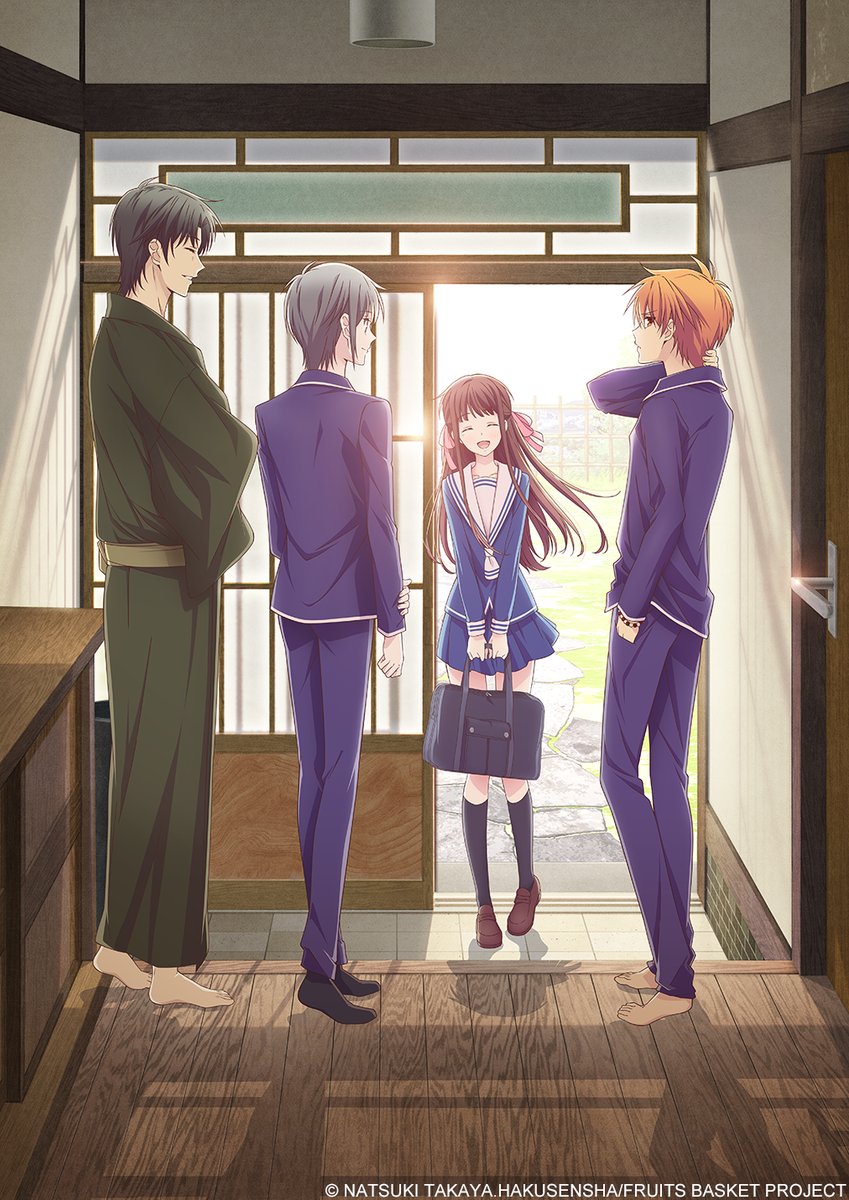 Tooru and the Somma boys
21.Himouto Umaru-chan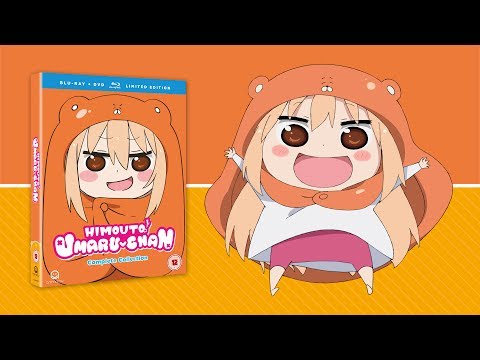 Himouto! Umaru-chan Trailer
Umaru-chan is your perfect student, always getting perfect scores and excellent at everything she does, she sounds like a perfect person. This, however, is untrue as we find out that when she gets home, she is a lazy Otaku that whines when she doesn't get what she wants. Her brother can't believe that his perfect sister has such different personalities between school and home life, and neither can we.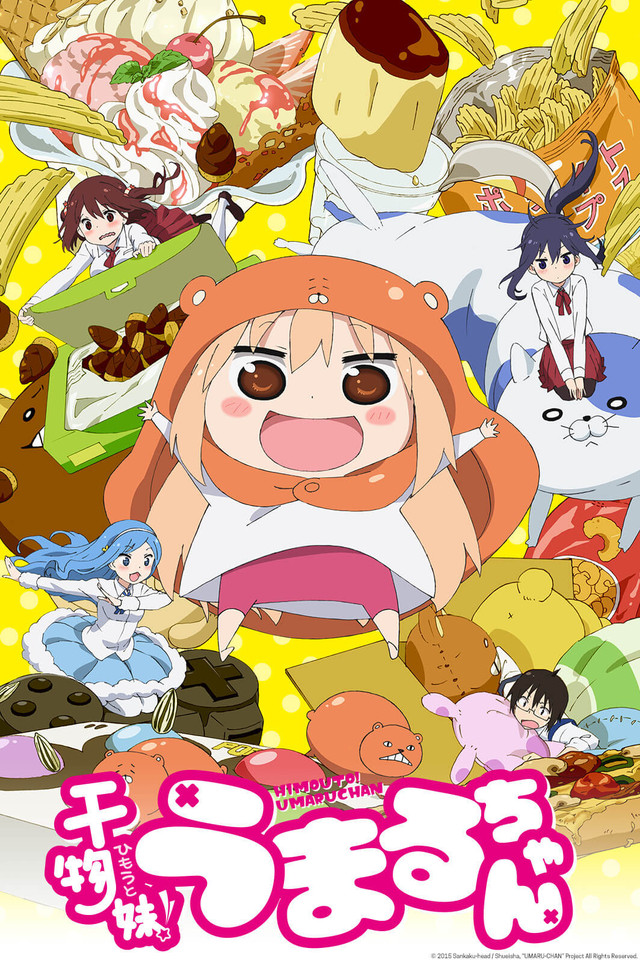 Umaru-chan and all the things she loves
20. Ouran High school host club
Haru not being one to care about appearances opts for comfortable clothes that give her a boyish appearance when she can't afford her new schools uniform. She walks into what she thinks is an empty room to find a quiet place to study, only to end up in the school's host club. While trying to get away she ends up knocking over an expensive vase causing her to belong to the club as an errand boy until she is able to repay her debt.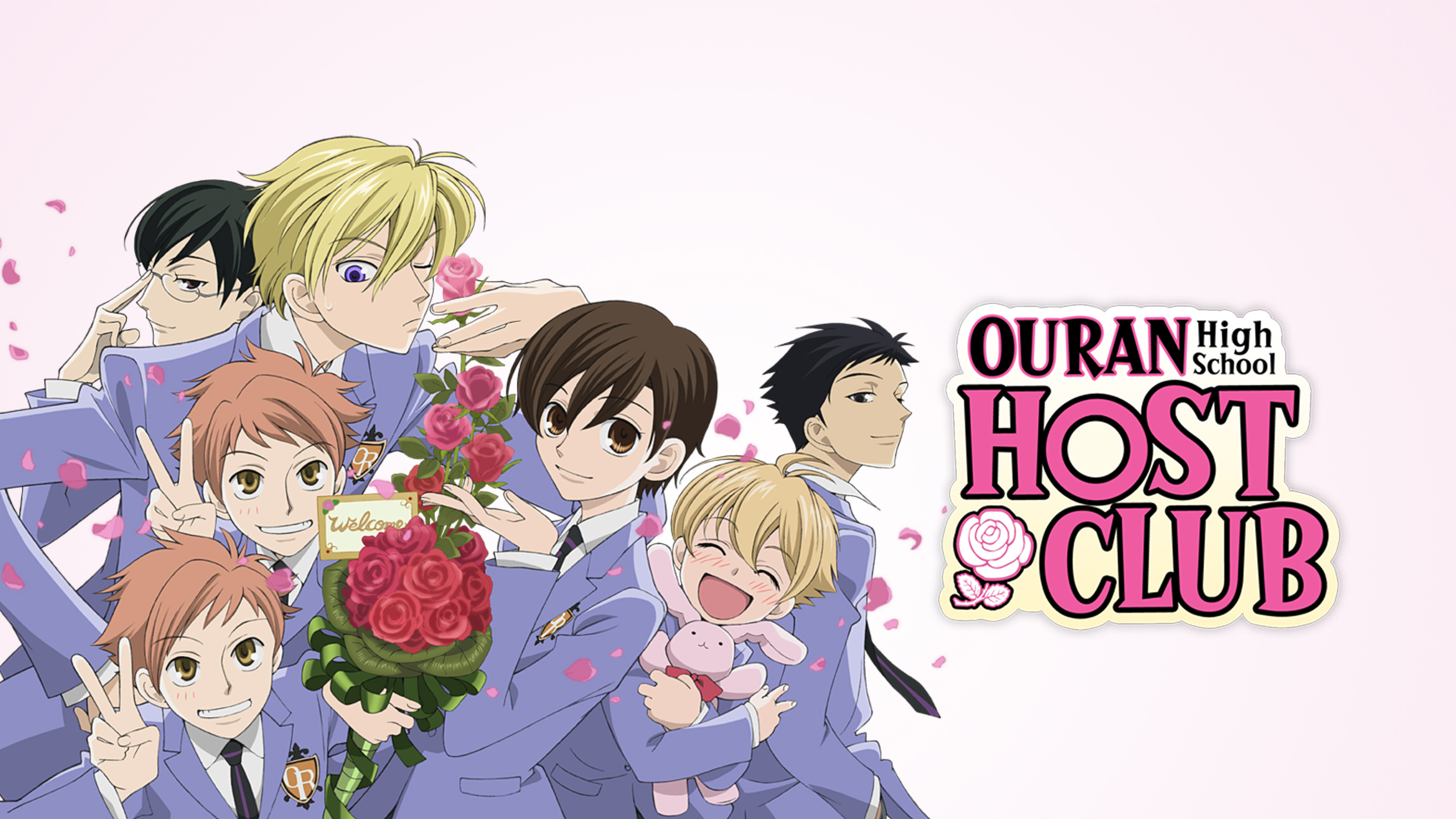 Haru and the rest of the Host Club 
19. The Flowers We Saw That Day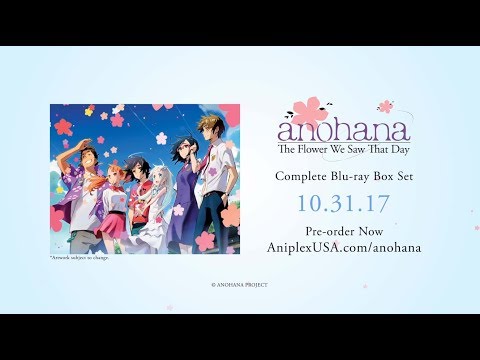 Anohana - The Flower We Saw That Day Trailer
Jinta is enjoying his life at home, never going to school and spending his days playing video games at home. After being bothered by a friend about a forgotten wish he forced to reconnect with the world and his old friends to lay her spirit to rest.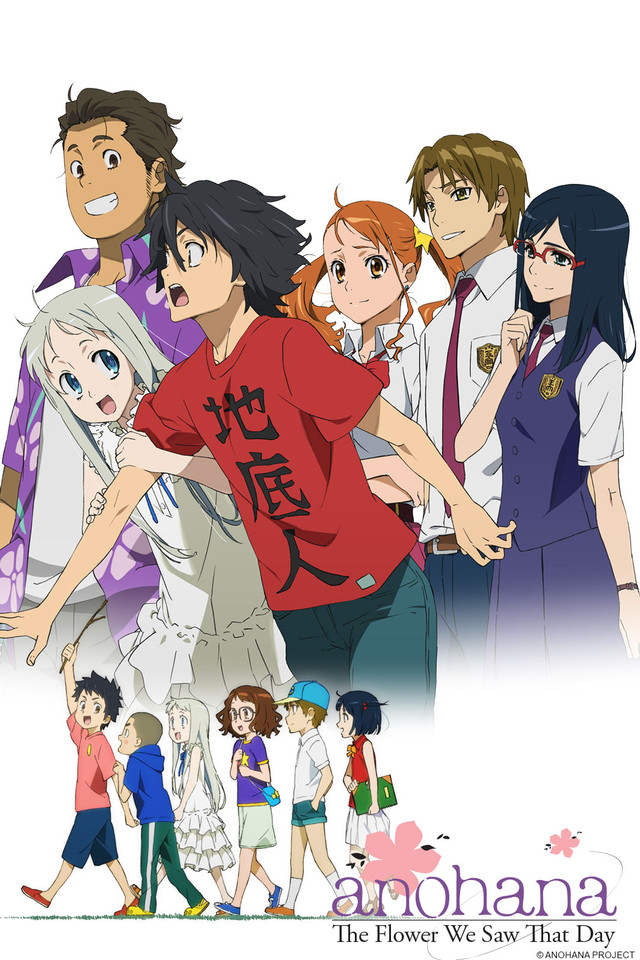 The group together as their current and past selves
18. Re: Life
ReLife Trailer 
Everyone wants a second chance, but what would you do if you actually had it? This is the case for Arata Kaizaki, a 27-year-old who has been jumping from job to job. One night he meets Ryou a member of the ReLife institute who offers him a pill that will give him a chance to return to school and a new lease on life.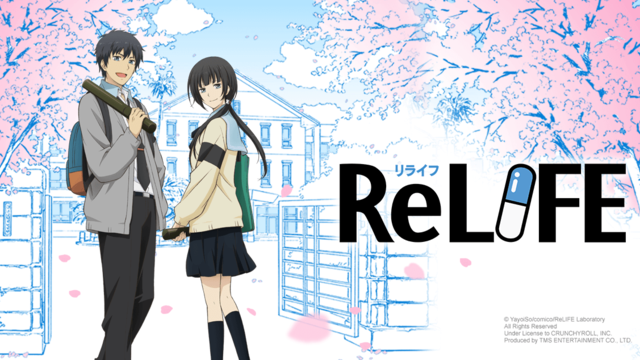 Arata starting his new life.
17.Lucky star
Following the lives of Izumi, the Hiragi twins, Tsukasa, Kagami, and Takara. Though they have quite different personalities there's nothing they won't get into as we follow them in their daily lives.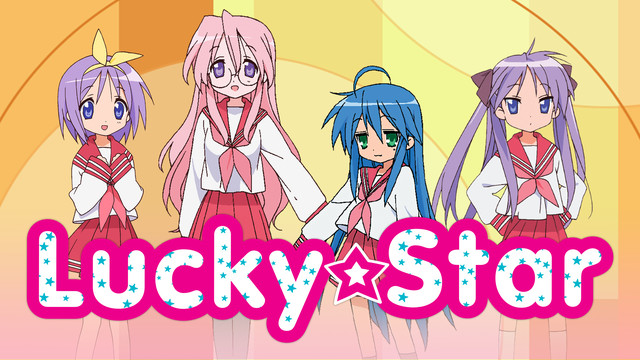 The girls standing together.
16. Amaama to Inazuma
Sweetness and Lightning Trailer
Due to his wife passing Inuzuka has been left to care for his younger daughter Tsumugi all by himself. Due to the fact that he is constantly working and lacks the knowledge of how to cook a proper meal, often bringing home ready-made dinners from convenience stores, taking care of his daughter is harder than he expected. After one of his students invites them to her family restaurants and his daughter enjoys a home cook meals, he puts his best foot forward to be a better father and caretaker.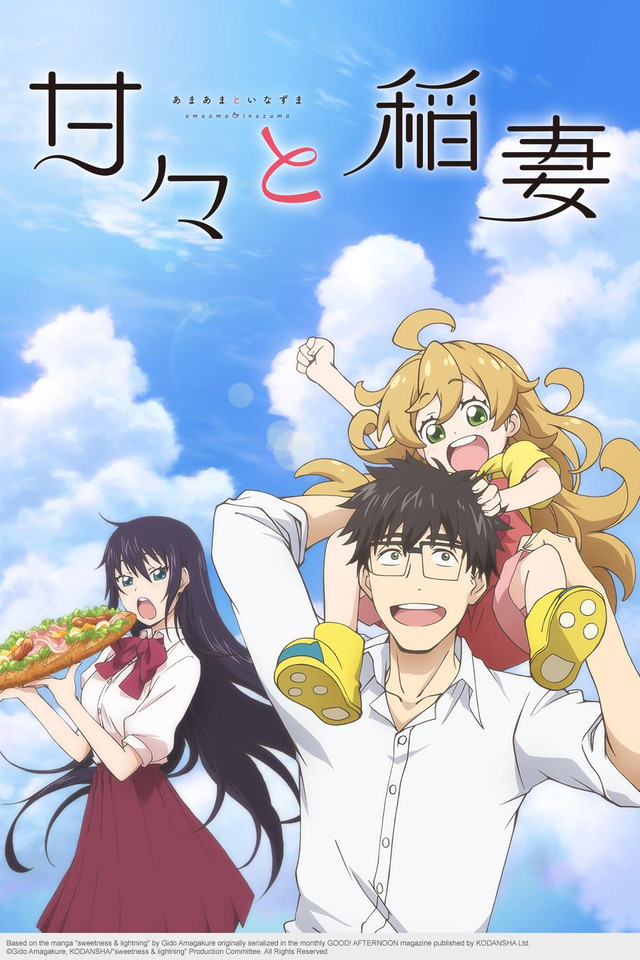 Inuzuka, his daughter and his student.
15. March comes in like A Lion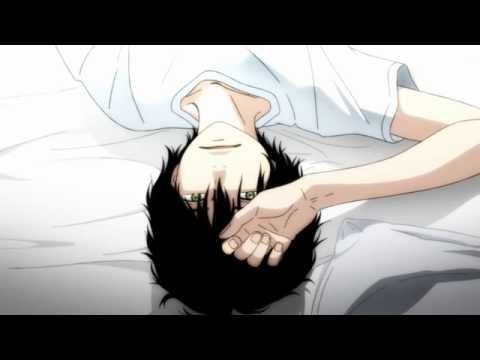 March comes in like a Lion Trailer
After reaching professional status as a shoji player while still in middle school, Rei Kiriyama began to feel enormous pressure from his family and friends, so much so that at the age of 17 he moved to Tokyo. Though due to his reclusive nature he doesn't take very good care of himself physically or mentally, closing himself off from everyone. After meeting the Kawamoto sisters, he begins opening up with them and learning how to interact with others again.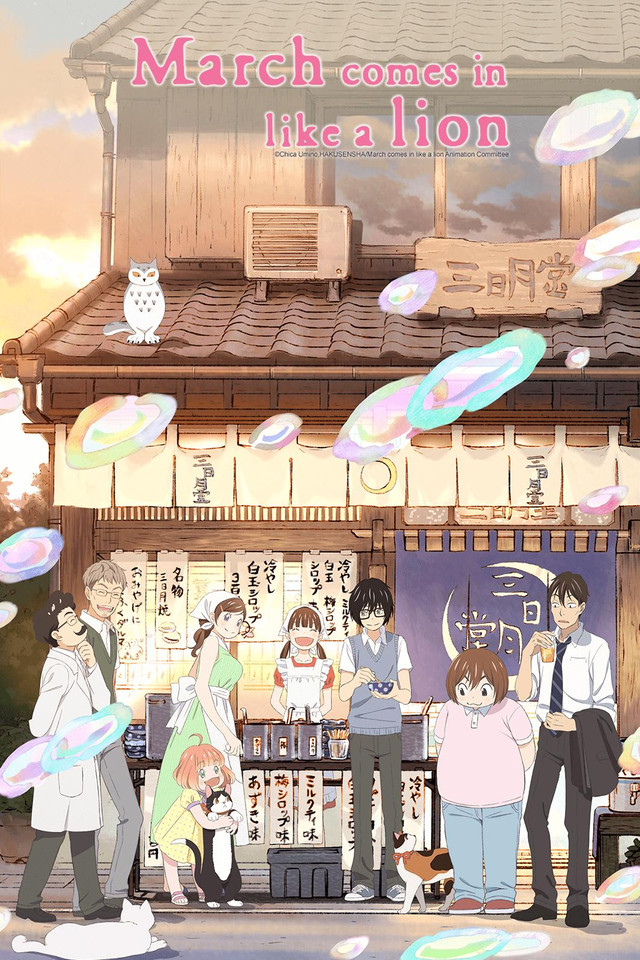 Rei and the world around him
14. Hyouka
The listless Houtarou Oreki, joins his schools Classics Club under his sister's command, but little does he know that he will be pulled into a 45-year-old mystery surrounding the club room.  With his fellow club members, they knock the dust off works created before them and while also stopping for some smaller mysteries along the way.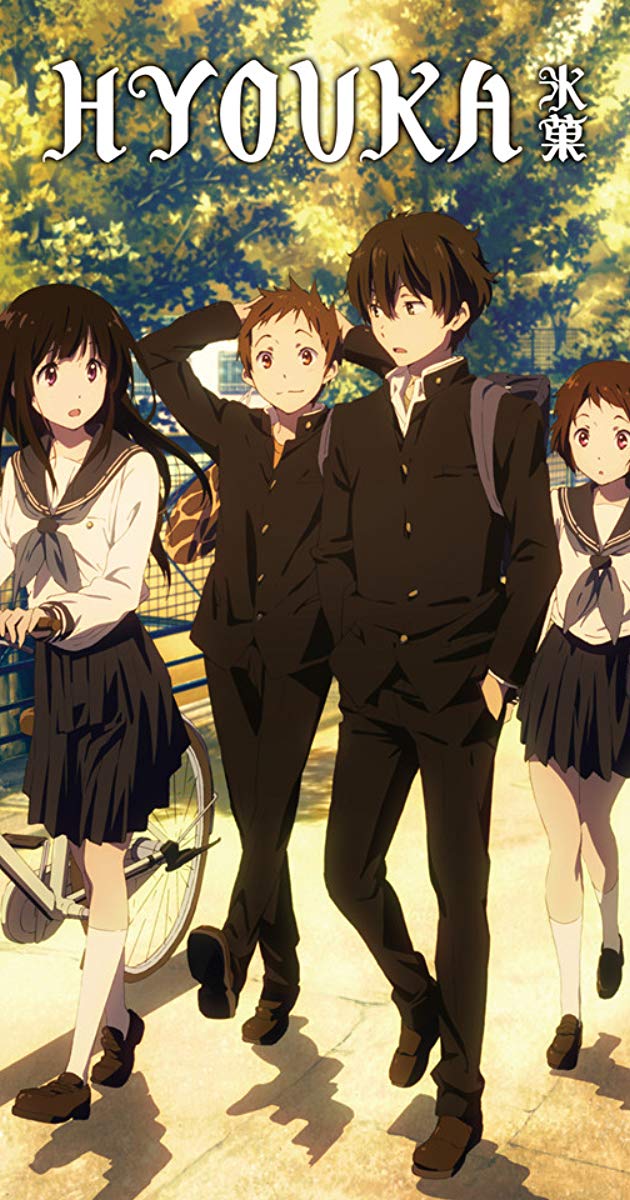 Oreki and the Classics clubs.
13. Kids on the Slope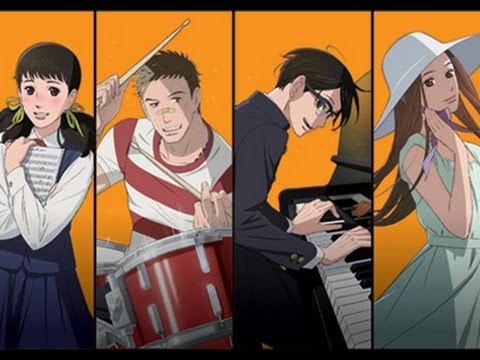 Kids On The Slope Trailer
Never staying in one place too long, Kaoru has adjusted to the life well, opting not to make friends and not even thinking about trying to fit in anymore. After being bothered by a friendly delinquent Sentarou and sharing a love of music together through different genres, the two end up making summer memories that neither boy will soon forget.

The boys chasing each other
12.Silver spoon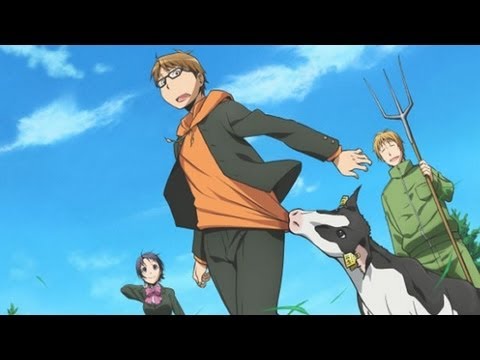 Silver Spoon Trailer 
Yuugo is always aiming to be number one, spending most of his time studying to get the highest grades. But after falling apart due to the pressures he skips town, he heads to the country and enrolls in an Agricultural school, which would be soothing if he had experience with farm life. Learning that nothing is ever as simple as we think it is, Yuugo must learn what it means to be a farmer.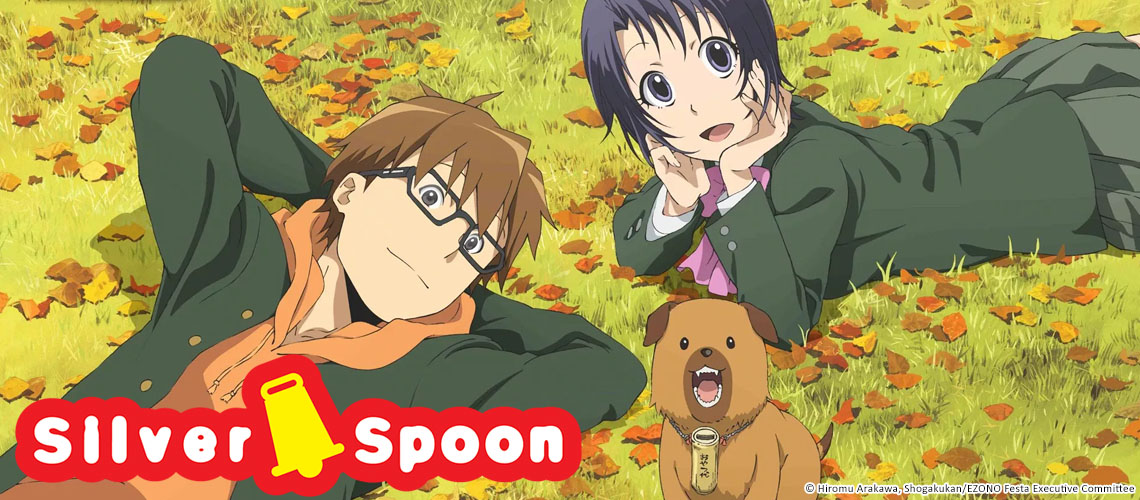 Yuggo and fellow classmate.
11. Nana
Sharing the same first name and not much else both Nana's end up on a train to Tokyo. Running into each other and even ending up sharing an apartment. The deeper their friendship gets the more they begin to share with and support each other, as they become best friends.

Both Nana's
10. Udon Nokuni No Kiniro Kemari
Souta returns to his family home and udon shop in order to get away from the city. While looking around he finds a small dirty child sleeping.  First thinking this is a normal child he feeds and clothes the boy only to find out that the child is a shapeshifting Tanuki. Deciding to keep him, the two build a relationship reminding Shota what he missed about his hometown and family in the first place.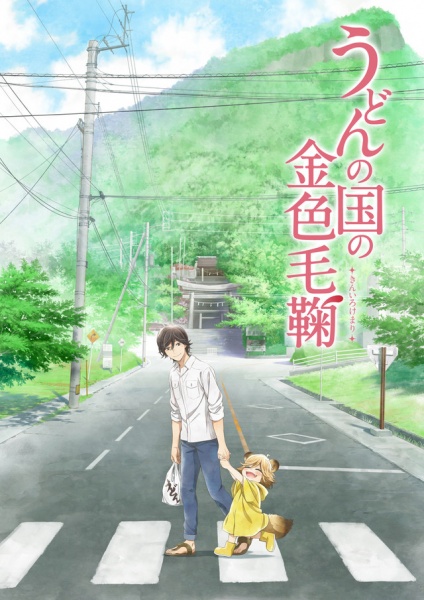 Souta and Poco
9. Shirobako
After forming an animation club in high school, Aoi, Ema, Midori, Shizuka, and Misa, now adults have all started working in the industry, but things aren't as it seems when the anxieties of the job come down on them. We watch as these five girls make their dreams come true with a little elbow grease and a lot of creativity.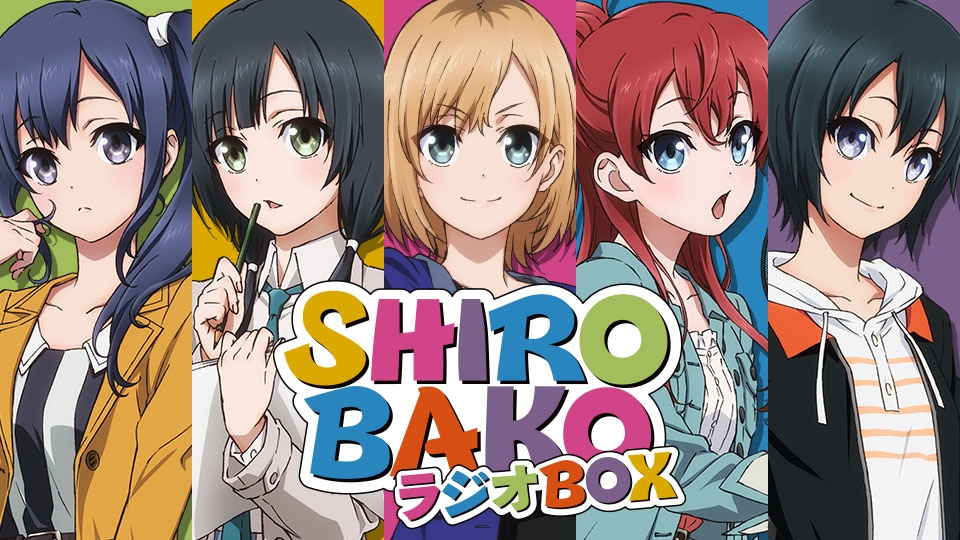 All the girls in the series 
Akari a novice tour guide on Neo Venezia, a city on the planet Aqua(formerly known as Mars), is a bubbly teenager learning how to do her job. We follow her as she becomes familiar with the residents, the city and even learns a couple of life lessons along the way.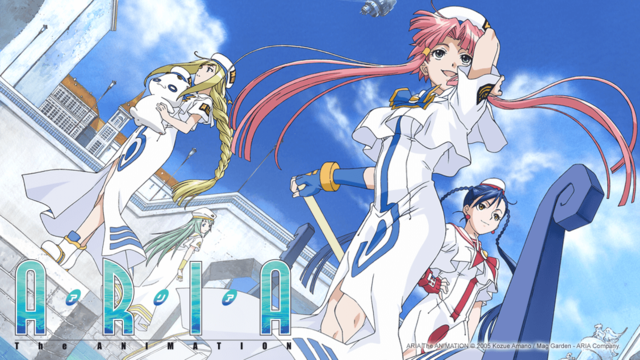 Akari and friends
7. Hidamari Sketch
Yuno has finally done it, she's been accepted into the school of her dreams, the Yamabuki Arts High School. Excited as she is, this will be her first time away from home, though her new neighbors make her feel right at home, leaving her to deal with the other weird problems such as her masculine landlady along with others that fill her world.

 Yuno holding and her friends.
6. Barakamon
A narcissistic up and coming calligrapher, Seishuu loses his temper after having his work called unoriginal, because of this, his father sends him to the Goto Islands. Here he must find his inner inspiration and figure out his style, all while the residents of the island run in and out of his house. Unable to be secluded in the countryside he learns more than he ever would have by himself.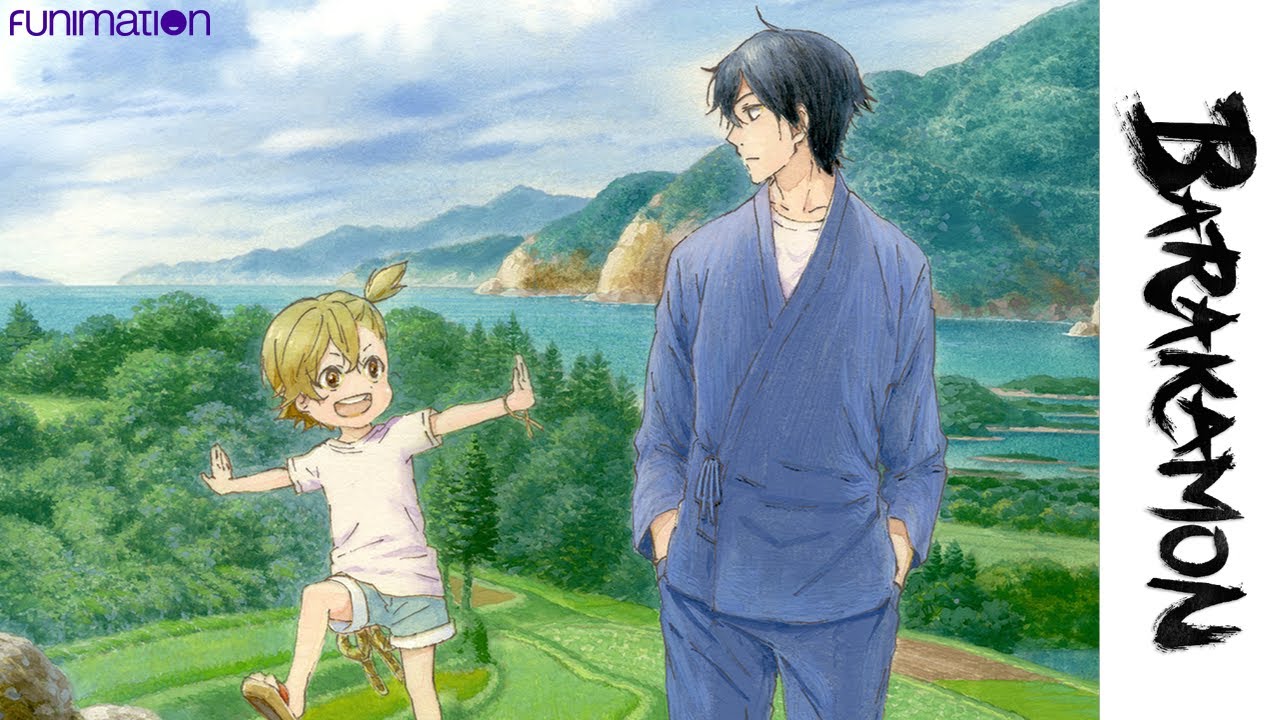 Seishuu and one of the residents of the island.
5.Engaged to the Unidentified
Confused by the appearance of a fiancé and a sister-in-law on her 16th birthday Kobeni has a lot to deal with, thanks to her late grandfather. Hakuya  (her fiancé) and his younger sister are forced to leave their country life to better fit his new relationship, both of them forced into something that they are not prepared for. Together they must find love in a very strange way.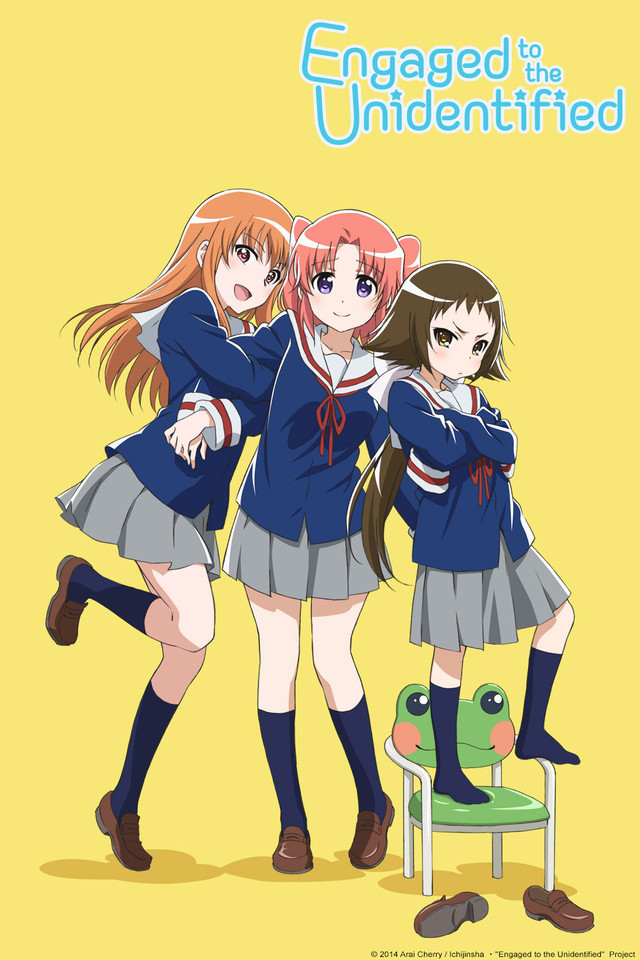 Kobeni and her sister-in-law and mother.
4.Working!!!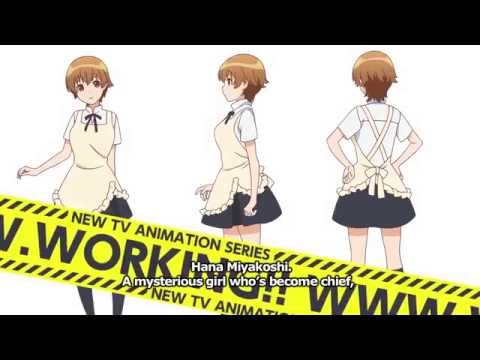 WWW.WAGNARIA Trailer
While working is not normally fun Souta goes in head first, due to his love of cute things, is unable to turn down friend, Popura when she asks him to work in a family Restaurant. While everything is not exactly together and the workers aren't normal, the whole staff manages to have fun and create an entertaining time for everyone.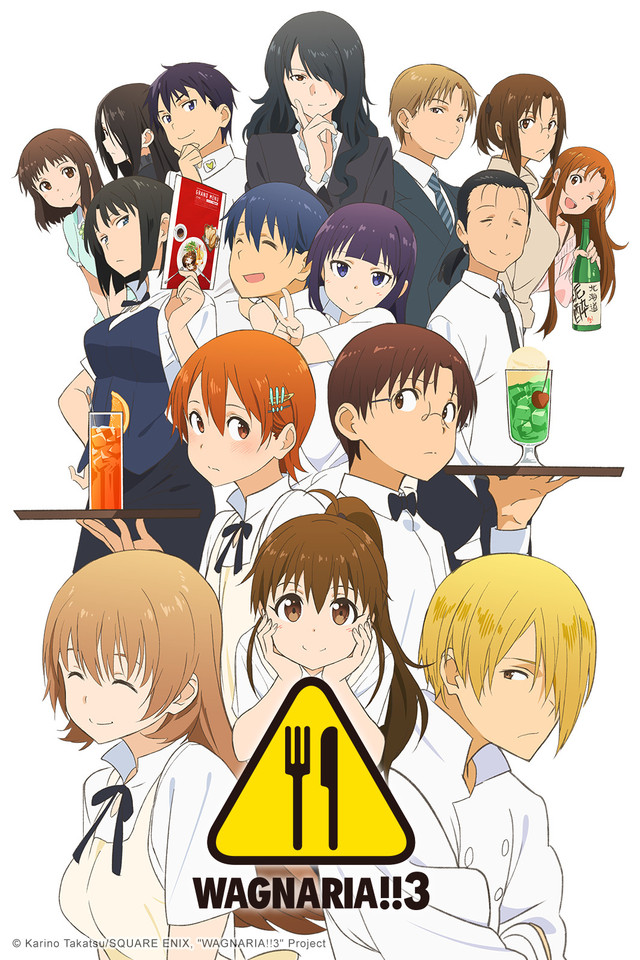 All of the staff standing together.
3.The Disastrous Life of Saiki K
Most people would love to have psychic abilities but not Saiki, a powerful psychic, from chaining human DNA to implanting memories Saiki wants nothing more than to go unnoticed. Though due to the strange and wacky friends he attracts he only becomes more and more famous it seems.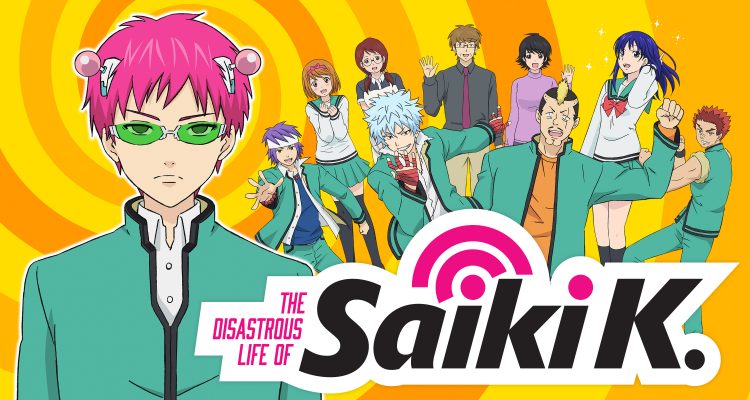 Saiki and his friends.
2. Azumanga Daioh
Chiyo is ready to start high school and ready for all the adventures that life has for her. But it all starts off differently as she meets only the strangest people she can. Thought they are all weird they quickly become friends and start to understand the ups and downs of high school life together.

 Chiyo and her friends.
1.Natsume Yuujinchou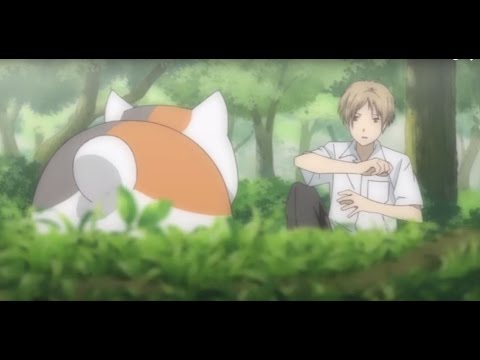 Natsume's Book of Friends Official Trailer
 While most kids would be worried about being constantly haunted by Youkai, Takashi has decided that friending them might be the best way to stop them. A book passed down from his grandmother filled with the names of the spirits. Because the technically owns their names. Finding out that the spirits to haunt him to gain their freedom, so he decides to also help them achieve their goal.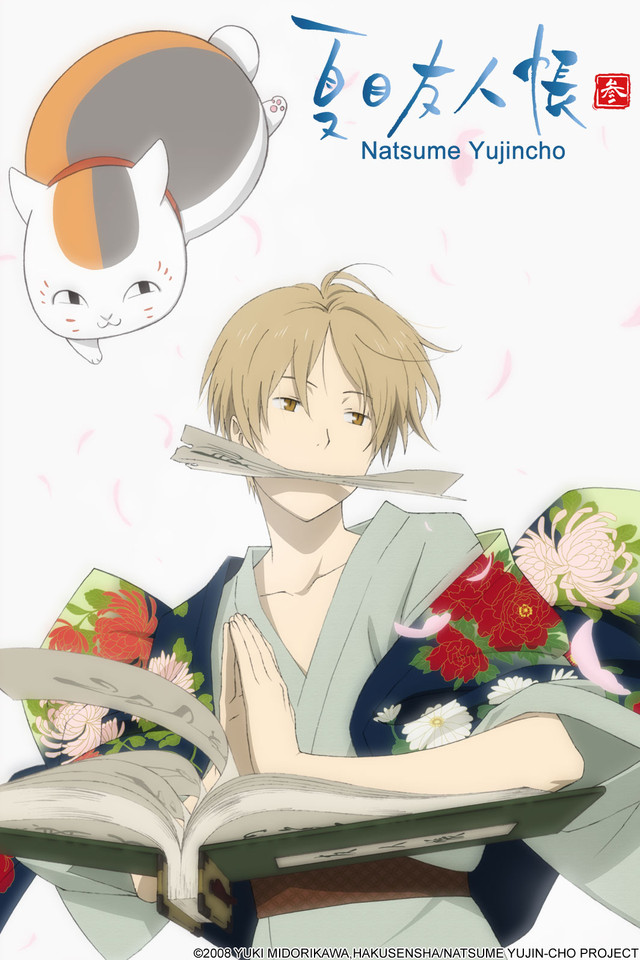 Takashi and his book.
You May Also Be Interested In: 
The 25 Best Action Animes To Watch Right Now
Top 15 best Attack on Titan Moments Worth Watching Again
Top 15 Most Popular Animes in The World
Image Gallery