Ooblets Farming/Town Life Indie Game Announces Plans For 2018 Release
Updated: 05 Aug 2017 10:02 am
Ooblets is a highly anticipated indie game set to release next year. Image via Ooblets.com
Ooblets is a farming and town life indie game in the works by a small time game studio called Glumberland which was just recently announced via the Ooblets website. The game is inspired by Harvest Moon, Pokemon and Animal Crossing and with original character designs, landscapes and shop options.
In the game, there are "Ooblets" which are tiny magical creatures that the player collects throughout the game by planting and harvesting crops. There are tons of the little guys, and all of them play a different role although we'll have to play in order to find out.
The Ooblets game presents all original work, from the scenery and concepts to the characters and music. Rebecca Cordingly, known by her twitter handle @Nonplayercat is the artist behind the game, and she's making machines, houses, characters and of course the loveable little ooblets that are making us all swoon. Cordingly is also in charge of programming, so you can thank her for all of the awesome little details such as facial expressions, plant motions and more.
The dialogue in the game as seen via snippets shared on the Ooblets Devlog and Twitter is fluid and very modern. You can tell that the Ooblets writer (Twitter handle @Perlamps) isn't new to this sort of thing and we can expect this game to flow pretty smoothly.
As far as what the player can do in the game, over time Ooblets has had more and more features added such as Character Customization, house customization and item pick ups. There are also new NPC's being added and they are reportedly being given schedules, so you'll be able to find the Ooblets townsfolk somewhere actually doing something rather than standing in the same place all the darn time.
The game also features precision farming , which is something that will vary depending on the platform and controller being used. Precision farming is pretty much where if you want to till the tile to your left, you turn left and the character immediately selects that tile while you're tilling. If you turn right, the character selects the right tile, and so on and so forth.
Currently, Ooblets is aiming to release for PC and Xbox One. The team hasn't offered a set date yet, but they're aiming for early 2018. They've mentioned that they will announce a set date as soon as they can, so for now all we can do is wait.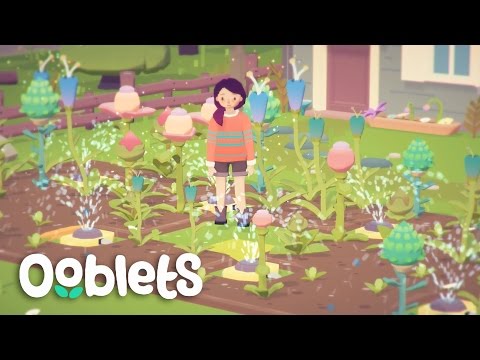 Ooblets trailer