[Top 3] D&D Best Wizard Builds of All Time
Updated: 08 May 2020 11:57 am
A Sole Wizard takes on a Primordial, one of the Ancient beings who's mere existence created the Planes as we know them.
[Top 3] D&D Best Wizard Builds of All Time
The Wizard
As the orcs torture their newly captured prisoners from the small town at the edge of the empire, there is a flash of a light illuminating a hooded figure. He whispers together an arcane string of curses and goosebumps rise from the skin of the orcs as the very heat is sucked from the air, traveling to an inferno the stranger is gripping in his palm. 
The nearest group is shaken out of their stupor by a roiling fire that burns over them reducing their bodies to ash. A batch of orcs rush the stranger but quickly begin flying into the air as they find gravity at their feet no longer anchors them. Orcs all around find they can no longer hold onto their blades as their weapons begin to glow with incredible heat. 
The orcs begin running for their lives, but in a moment the stranger hears the faintest jingle of keys. An incantation escapes the lips of the stranger as the jailer freezes in place. "Free them", the stranger whispers. The jailer, like a minion, happily frees the captured townspeople from their prisons.
If you think that story was cool, then you want to be playing a Wizard. The Wizard class can be a bit overwhelming, especially to new players, with the largest spell list of any class. After reading this list you will have an idea of the top wizard builds to accompany your next Arcane Powerhouse.
ABILITY SCORES
First things first, regardless of subclass, your ability scores will look the same across all builds. This optimizes your spellcaster with the engine of your class, high intelligence. 
This also leaves you with a higher Constitution score ESSENTIAL for maintaining concentration on your spells. A high Dexterity allows you to boost your Armor class, complimenting your mage armor (and helping you be dodgy when the big guy with the ax comes in swinging), and gives you a better initiative, ensuring you can stop those baddies before they start playing wizard tug-of-war. 
Wisdom and Charisma here are interchangeable but the odds are your party will already have a face in the group and playing a nerdy, antisocial wizard is part of the fun!
Point buy:
Strength: 8
Dexterity: 14
Constitution: 14
Intelligence: 15
Wisdom: 12
Charisma: 8
Array:
Strength: 8
Dexterity: 13
Constitution: 14
Intelligence: 15
Wisdom: 12
Charisma: 10
3.  The Controller (Take control of the battlefield and your enemies)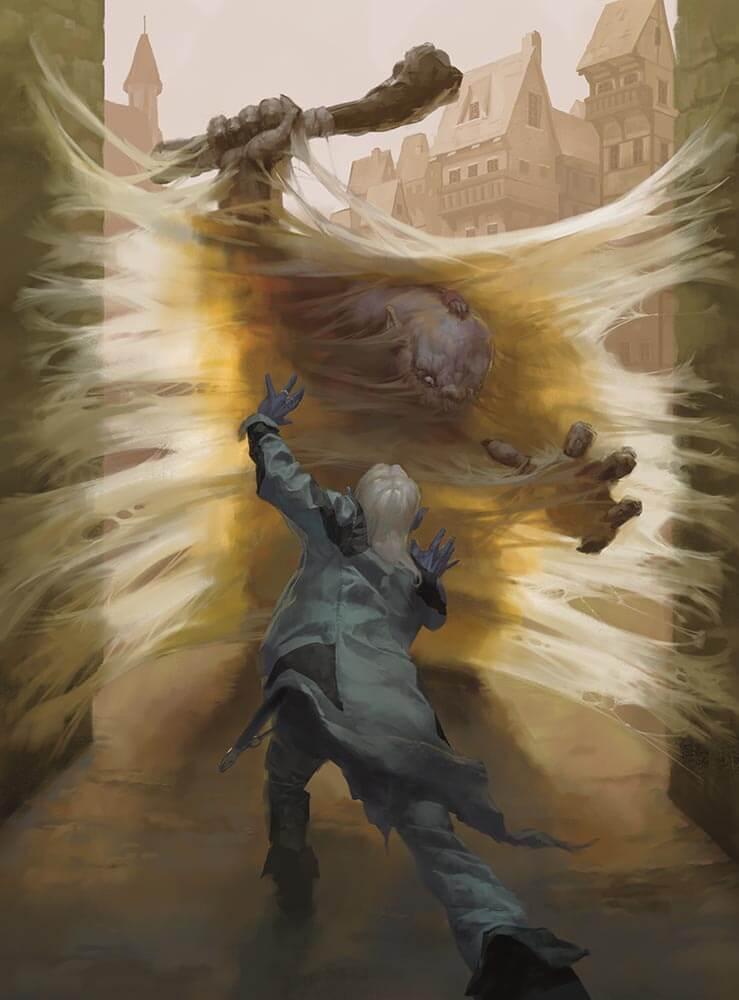 A Control Wizard traps an ogre in a giant web while, at the same time, closing off an angle of attack.
The fighter looks into the face of a Dragon and drops to his knees, knowing this is the end. He can hear the rumble in the gullet of the beast and can already feel the intense heat building in its bowels. As the scaled tyrant opens its maw to exhale its hellfire, the fighter drops his eyes. 
Although he can feel the intense heat around him, he looks up to find a wall of stone that has diverted the path of the flame. The fighter glances backward to see his wizard companion, one hand raised as if he pulled the stone from the ground himself. The dragon's wings beat furiously to take flight but it finds itself unable to leave the ground as ice holds its feet to the earth like heavy chains.
This is the Battlefield Controller. The wizard who manipulates the battlefield to keep enemies away from his allies, force his adversaries to take paths they normally would avoid, or make the scariest of beasts into puppies!
What is The Controller good at?
The Controller harnesses their arcane power in order to hold down enemies, allowing your party to deal with smaller envoys of monsters OR hold down the boss while your party hits their minions with sharp things.
The Controller manages the battlefield, preventing those nasty melee creatures from getting to you or your ranged fighters
You can, also, keep the baddies in range of your raging barbarian indefinitely (and maybe keep him away from YOU too, nerds and jocks never get along, not even in fantasy)
The Controller can create death funnels in certain areas, only allowing a couple of bad guys to pass at a time while your group meticulously disposes of them one by one.
Outside of battle, The Controller also excels at infiltration, defending strongholds, pranking the party, or setting up magical traps.
RACE
2 words: High Elf
Typically, Variant Human is the go-to race when thinking of optimized builds because of a +1 bonus to 2 stats with a free feat?! In this build, however, there aren't many mandatory feats! This gives you the ability to be broader in your choices, so picking up High Elf is the best choice here.
Ability Score Improvements:
Dexterity boost of +2 (16 for Point buy players and 15 for the rare Standard Array games). This will give you a 16 AC to start! Don't step on my robes baddies.
Intelligence boost of +1 (16 Intelligence to start!)
Perks:
Keen Senses – Free Perception Skill! 
Darkvision – 60 Feet of free Night vision goggles (missing this is the worst part of playing a human)
Fey Ancestry – Advantage against being charmed AND CAN'T BE PUT TO SLEEP, WHAT?! This must be the bane of Elven Moms' existence.
Trance – ELVES DON'T SLEEP EVER?! Poor Elven Moms', the true unsung heroes of DnD. Anyways, only a 4-hour mandatory trance a day, and while the rest of your party is sleeping for the other 4 hours, you can copy over new spells in your spellbook, stand watch, play pranks, or read books (nerd).
Languages – You get Elvish and Common of course, but you can also add one more for free. Take whatever you want, it will be cool for your backstory stuff, but won't be super necessary because you can cast comprehend languages as a ritual.
A FREE CANTRIP – Take another Cantrip! This makes all the choices a little easier AND its intelligence-based! Perfect!
Elf Weapon Training – Proficiency with Longswords, Shortswords, Shortbows, and Longbows. You will not be using any of these. If you're close enough to be hitting someone with a sword, you're in trouble and your cantrips will outperform the bows. So maybe it'll help you be less of a nerd? No. No it will not.
SUBCLASS
There are a couple of good choices here, namely, Transmutation Wizard and Illusion Wizard. Most of the control spells ARE transmutation based and this would decrease the gold cost for copying such spells in your spellbook, BUT you get 2 new spells per level after 1. The transmutation wizard perks aren't that great either other than the Transmuter's stone. So, in the end, the winner is School of Illusion.
"ILLUSIONS? I THOUGHT THIS WAS A CONTROL WIZARD WITH WALLS AND SUMMONING THINGS TO HOLD THE ENEMY STILL AND STUFF! ILLUSIONS CAN'T DO ANY OF THAT," Don't worry! Bear with me! Illusions are actually one of the cheapest and most versatile ways of controlling the battlefield! 
Minor illusion can create images that fit in a 5-foot cube, or a sound that can range from a whisper to a scream. So, you can easily "brick up a doorway", "throw up a small wall of stone", or "Make a 5-foot pit in the ground with spikes at the bottom". The only way the creature can tell it's an illusion is by interacting with it and what creature is going to risk falling in an endless pit when fighting against a wizard capable of anything? The only limit to this spell is your imagination! With this subclass you get:
Improved Minor Illusion: Now your minor illusion can communicate both sound AND an image! Those illusions become WAY more realistic now and lower the chance the enemy doesn't believe what you've created is real! Also, you get another free cantrip.
Malleable Illusion: OK, this might be TOO good. You can now have your cantrip, minor illusion, look as if it is moving! You can change up your illusions without expending extra spell slots, but one of the strongest uses I've seen is a wizard with the spell "Mirage Arcane". You can change a ONE MILE AREA to appear as any terrain you want including having the illusions inside this area feel real! Sticks and stones can be interacted with, you can feel sand at your feet, you can add in structures that aren't real, or even create giant chasms! With Malleable Illusion, you can keep creating more terrain as you move while "deleting" terrain you've passed far away from!
Illusory Self: This SCREAMS control mage! Create an illusion of yourself to lure your enemies into a trap, open up an otherwise guarded corridor, make your elf mom think you're asleep while you sneak out. Seriously, I'm sorry elf moms.
Illusory Reality: MAKE YOUR ILLUSIONS REAL! Seriously, the only limit is your imagination. It has to be inanimate, non-magical, and cannot deal damage, but that doesn't prevent it from restraining or grappling enemies! Also, with Malleable Illusion, you can change this object! Make an illusory, REAL coin that turns into a real wall! 
FEATS
You're going to want to be getting as many Ability score improvements as you can to boost that intelligence to 20 and your Constitution to 20 so there is not a whole lot of wiggle room for feats. 
The controller does, however, rely a lot on concentration spells and a simple arrow could cause you to drop your spell, so we will be picking up a feat that will help maintain that essential concentration! 
Resilient (Constitution): This will boost your Con score to 16 and you will get to add your proficiency to those constitution saves and maintain your concentration easier!
War Caster (optional): This feat is much better for Eldritch knights and isn't necessary here. The advantage on constitution saves to maintain concentration is nice though.
Other than those the control mage doesn't need any other feats! That means your level up Ability Score Improvements (ASI's) will look something like this:
Level 4: Resilient (Constitution)
Level 8: Intelligence – 18
Level 12: Intelligence - 20
Level 16: Constitution – 17 (OR War Caster)
Level 19: Constitution – 19 or Con: 18 Dex: 16 for array players (OR War Caster)
So, in the end, your stats look something like this:
Point buy:
•Strength: 8
•Dexterity: 16
•Constitution: 19
•Intelligence: 20
•Wisdom: 12
•Charisma: 8
Array:
•Strength: 8
•Dexterity: 16
•Constitution: 18
•Intelligence: 20
•Wisdom: 12
•Charisma: 10
SPELLS
Arguably the most important part of the build, yet, for wizards, the most flexible. As a wizard, you can fill in your spellbook with spell scrolls, other spellbooks, or any copies of spells you find. You can only prepare a select amount though, so we will select all the spells you would select through leveling up alone. 
Keep in mind, in your campaign, you may run along spells to make this list even stronger! (To note: When I compiled this list it consisted of over 60 spells, but you only get access to 44 through leveling. There are a lot of strong spells available that your wizard can copy down in-game to expand beyond 44!)
Cantrips: You get 7 of these by level 20 
Minor Illusion – We've already talked about this one... Moral of the story: IT'S GOOD
Ray of Frost – Remember, this build assumes your party can already handle the damage aspect so when we're selecting these spells we are looking for EFFECTS and taking away 10ft of movement is pretty strong.
Frostbite – Once again, the damage is negligible but the disadvantage on their next hit isn't! Help out your tank by not allowing the giant to hit him!
Message – Let your party know when an effect is an illusion without saying it out loud, or create battle plans that the enemy can't hear. There are lots of uses for this one, I'm sure you will not regret having it.
Mage Hand – Pull levers, open door, open chests, and tickle a sleeping friend all without putting yourself in danger! Yes, please!
Lightning Lure – A 10ft pull, most likely this spell will not be doing any damage unless you're feeling really lucky. Pulling your enemy away from an ally, into range of another, or into one of your other spells (like grease) is nothing to turn away from!
Shocking Grasp – This one is costly, moving into touch range AND a roll to hit to take away reactions. Luckily, you can cast touch spells through your familiar! So, send over your owl to taze the enemy so your buddy can get away without provoking an opportunity attack!
1st Level:
Mage Armor – Your tax for being a Wizard, pay your dues.
Shield – The strongest defensive spell for a wizard. With mage armor on, this will boost your AC to 21 for a whole round as a reaction. This wizard is feeling pretty safe.
Grease – It's a small area but can be very strong in certain situations, like in hallways or doorways! Plus, a prone enemy gives your angry barbarian something to hit with advantage. Maybe he will appreciate that enough to not hit YOU.
Find Familiar - Probably one of the strongest wizard spells. Scout ahead, deliver touch spells, have your familiar take help actions, and fly around in a raven's body like Bran. Keep it as a ritual so it doesn't count against your prepared spells.
Color Spray – Affect an area making as many creatures as you can blind for 1 round. At the very worst this is an "AOE disadvantage to hit" spell. At best you have your enemies hitting each other, walking into danger, or falling from heights. No save, it just happens.
Thunderwave – Against creatures, this is a bit of a panic button. Against objects, though, this is strong. Push a large desk in front of a door, or push heavy bits of cover into better positions. This is one of the spells where a creative mind excels.
Charm Person – Make the bad-guy friendly enough to let you get away, take you to his leader, or make you a sandwich!
2nd Level:
Enlarge/Reduce – On creatures this spell is OK, but probably not worth your precious concentration. On objects, this can be very useful! Shrink a door off its hinges, bad guys are coming down the hallway and the treasure is locked in a chest; just reduce it and put it in your pocket, or enlarge a piece of cover. The possibilities are endless!
Gust of Wind – 15ft push spell that shuts down an entire direction? It sounds like a control wizard's dream!
Levitate – Better than hold person, that's right I said it. It's just one save and the enemy is at your mercy. Have them float just out of reach (as long as they aren't ranged fighters) and they are eliminated from the fight. No save per round like hold person. Put your hostages on a string and carry them around like a balloon.
Mirror Image – Another strong defensive spell, like shield. Cast shadow clone jutsu and greatly reduce the chance that you get hit. Then throw up an illusory wall and run away!
Misty Step – This is your panic button; bonus action teleport 30 feet away then hit the enemy with a ray of frost then run another 30 feet. They can't reach you, even if they dash. Gottem.
Suggestion – "Hey buddy why don't you just go turn yourself in, to the guards?" then go get some mutton. It's a good day to be a wizard.
Web – Stick your enemy to the wall and take them out of the fight. Maybe even set them on fire. Strong combo, where were you on that one Spiderman?
3rd Level:
Counterspell – Swipe the incantation right from the lips of any bad guy you don't want casting.
Glyph of Warding – This is your cheat code. Sure, set a trap for damage, boring. But set a trap that goes off as one of your concentration spells and the spell lasts for its whole duration. In other words, you can hold concentration on one spell while the glyph holds concentration on another! 2 concentration spells, Profit.
Hypnotic Pattern – THE control spell. In a 30ft cube, creatures make 1 save or become incapacitated for 1 minute. No save every turn, they are stuck, as long as your raging barbarian doesn't get too bored and hit one of them.
Major Image – Similar to minor illusion but WAY more detailed.
Sleet Storm – 40ft Radius of difficult terrain! This area is HUGE! Shut down entire sectors of enemies and allow your party to focus as they please. 
Stinking Cloud – Try casting this one without saying, "Pull my finger". A chance to prevent all creatures in a 20ft radius from taking a turn at all.
4th Level:
Banishment - Poof! They're gone, especially if they aren't from the material plane.
Charm Monster – Like Charm person but now it works on creepy crawlies.
Dimension Door – This one is great for infiltration and a lot of other, useful, out of combat things. But thinking in terms of controlling the battlefield the spell states you can take along a willing creature of roughly your same size. So, pop off that charm person/monster, teleport them far away to some beach resort or something, then come back to a combat that is down another baddie.
Hallucinatory Terrain – Create expansive illusory traps, or make a chasm look like an open field, so the enemy just falls when they try running through the imaginary flowers. 
Polymorph – Turn that big bad into a kitten, turn your ally into a Tyrannosaurus Rex, or turn an ally into a flying creature to take you where you, otherwise, couldn't reach.  
5th Level:
Bigby's Hand – This hand can push enemies around, carry you where you need to go or block off corridors. 
Control Winds – Have wind blow from below and allow Super Mario jumps, have it blow from above and cripple your enemies, or have it blow in any direction to create difficult terrain. This forces disadvantage on ranged attacks so you can focus on those melee baddies then get to the ranged ones when you're ready. 
Dominate Person – Completely control your enemy. I would explain how this can be useful, but I'm sure you already have ideas.
Hold Monster – I still maintain that levitate is better, but, chances are, most monsters are heavier than your levitate threshold, so holding them down is the best you can do here!
Passwall – Make a doorway where there wasn't one before to create a new escape route or attack the enemy from a direction they were not expecting.
Seeming – Disguise your entire party however you please. Infiltrate, or make the enemy pass right by your party without realizing it.
Telekinesis – This will become your go-to control spell. Move your enemies or the terrain around to fit your strategy.
Wall of Force – An unbreakable, undispellable wall. Create unreachable parts of the battlefield at your discretion.
6th Level:
Contingency –  This allows you to have a "Prepared spell" at all times. Set a trigger like, "If an enemy appears, throw up a wall of force", "If the bad guys get within 15ft of me cast levitate", or "If the barbarian tries to eat my rations turn him into a frog". This allows you to cast spells in reaction even if you're surprised or even when it's not your turn in combat!
Guards and Wards – This spell is so cool. After a 10 minute casting, an area that you designate essentially becomes your lair. Obscuring hallways with fog, filling stairways with respawning webs, locking all doors with arcane lock, set up magic mouths where you want them, corridors filled with strong winds, etc. 
Mass Suggestion – Like suggestion but now you can force a whole team of bad guys to be your personal chefs.
Move Earth – For the duration of the spell, you can create trenches, walls, or pillars. The battlefield is at your command.
7th Level:
Mirage Arcane – This is the spell we talked about in Malleable Illusion. Create terrain that fits your needs as you move across it? Maybe too strong.
Reverse Gravity – Like Levitate but do it in a large area. 
8th Level:
Antimagic Field – Shut down casters in an area to let your barbarian hit them in the face. Maybe if you help him beat up on those nerds, he'll forget that you're one too.
Dominate Monster – Like dominate person, but now you can take control of a giant beast. I can't think of many spells cooler than this one.
Feeble Mind – Make your enemy primal. FOR 30 DAYS. That powerful Lich is now a caveman who only knows how to bite and scratch. Tie them up, then take them to some antimagic prison. Easy day.
9th Level:
Wish – I can't think of any Wizard build that doesn't include this one.
Pick one of these:
Mass Polymorph – Polymorph up to ten creatures. This should greatly shift the tide of battle.
Prismatic Wall – Essentially, make your enemies go through an entire dungeon to get to your party. If this doesn't shut down an entire portion of the battlefield, I don't know what will.
True Polymorph – Turn yourself PERMANENTLY into any super-powerful creature if you want, or even more fun, turn your big bad into a slug for all eternity. 
2. The Nuke (Drop Fireballs on your foes and watch as they run)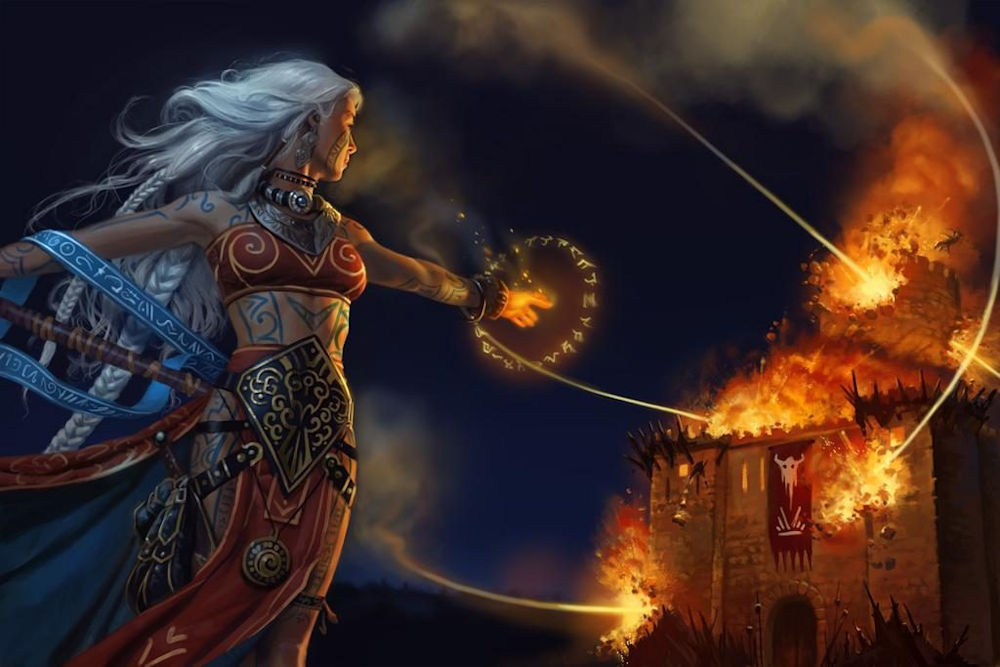 As seen above, a nuclear wizard has the ability to take down an entire enemy stronghold on their own, saving time to go get all their sweet tattoos.
You're trembling in your plate mail, holding the forward position on the battlefield. Your ears prickle with the silence as you wait for the cacophony of stomping boots from the oncoming enemy. You think you hear something but it's not an army of boots, its one man walking toward your company with the soft sounds of mud molding around each of his steps. What could this be? A messenger? Was the battle surrendered with no bloodshed? 
You hear the man say something but you don't quite catch it. Then, you see him toss a small red bead of light. "WIZARD!", Your captain cries out. Chaos ensues as the bead explodes into a gigantic ball of consuming fire. The screams of your men burning alive reach your ears, the lines break, and men begin to run from this ONE man. The troop of archers fires their arrows but they never reach their target as the arrows are incinerated by a wall of flame that burns the front line alive and separates the wizard from the arrow's trajectory. 
You see as the sky breaks and the clouds make way as giant balls of burning rock fall from the sky. You look up at the certain death, all wrought by one man.
This is The Nuke. A godlike wizard focused on leveling cities, destroying entire companies of soldiers, and taking down the most threatening of creatures in record time.
What is The Nuke good at?
The amount of damage a Wizard focused on destroying his enemies, is capable of is unmatched.
The Nuke can dish out many different types of damage to take advantage of creature vulnerabilities, and avoid resistances. 
The Nuke can remain versatile, like its other wizard counterparts, while focusing fire across a large swath of the battlefield and taking out masses of enemies at a time.
Outside of battle, The Nuke can blast any obstruction in their way, threaten the enemy to release important information, and can serve as a deterrent to conflict.
RACE
Variant Human. There it is, you must have known this race was going to be used in at least one of these builds. No race is stronger for the evoker. This frees up the ability to pick up an early feat and make room for harder spell saves in the future.
Ability Score Improvements:
Take  +1 to 2 ability scores, the best choices being Intelligence (of course) and Constitution (For those concentration checks remember?)
Perks:
Free Feat – Take Elemental adept (Fire) here. In this build, maxing out Intelligence as soon as possible is the strongest strategy. With variant human, however, you can sneak in this feat and increase your damage significantly at those lower levels.
Extra Language – You get common by default but you can pick one other language. Once again, not super important because of the comprehend language spell.
SUBCLASS
Not much of a debate here. The Evocation wizard fits the bill with exactly the power we are looking for. Most of your damaging spells are evocation as well, so less gold to copy down your core spells can never be a bad thing.
Sculpt Spells: This allows you to throw out that fireball and have the fire ignore all your allies. They will appreciate this very much and what's a better flex than: "I could've hit you with that too but I didn't want to"?
Potent Cantrips: Eh, this one isn't great. It sounds good in writing but there are only a couple cantrips that require saves and if you're fishing for half damage on those, I'm not really sure you're playing the nuke very effectively.
Empowered Evocation: Not a CRAZY power up but adding your intelligence modifier to your damage is definitely useful. An extra 5 damage per attack adds up quickly! 
Overchannel: Create a BOMB when you really need it! 1st through 5th level spell gets to automatically do maximum damage once per long rest! (After that, you can keep doing it, but you're going to take necrotic damage). Make your enemies drop like flies.
FEATS
Once again, ability score improvements are your main priority, but there are a couple of useful feats to help out this nuclear wizard. Otherwise, this looks similar to the control wizard:
Elemental Adept (Fire): As an evoker, you want this feat. Fire is the most powerful, but also the most resistedl. Ignore resistance and make immunity into resistance. If you really wanted, you could take this one multiple times for more damage types!
Resilient (Constitution) (optional): We talked about how important this one was for the Control wizard, but it's not nearly as necessary on our nuke. You should not be concentrating on too many spells in this one, but it may be still good to hold onto your free bonus action damage spells.
Spell Sniper (optional): double the range of your attack roll spells! This will give many of your strongest cantrips double range, so you can stand far away and pelt the enemy safely like the glass cannon you are. Get a free cantrip. Ignore ½ and ¾ cover.
Magic Initiate (optional): An easy way to pick up some more cantrips and spells. Unfortunately, you have to use the spellcasting ability of the list you took the spells from. So really, only a way to get more wizard spells, but tempting because of the 1 free 1st level spell cast a day.
I would only really consider one of these NECESSARY. But if you build your own version take your pick on feats. Like I said, constitution is not THAT important due to not really needing those concentration spells as badly.
Level 1: Elemental Adept (Fire)
Level 4: Intelligence – 18
Level 8: Intelligence - 20
Level 12: Constitution – 17 (OR one of the optional feats, I recommend Resilient (Con))
Level 16: Constitution – 19 (Con: 18 Dex: 14 for array players) (OR one of the optional feats)
Level 19: Resilient feat (Constitution) to boost your con to 20 if you have not already grabbed it. (For array players, boost Constitution to 19) (OR take an optional feat).
So, in the end, your stats look something like this:
Point buy:
•Strength: 8
•Dexterity: 14
•Constitution: 20
•Intelligence: 20
•Wisdom: 12
•Charisma: 8
Array:
•Strength: 8
•Dexterity: 14
•Constitution: 19
•Intelligence: 20
•Wisdom: 12
•Charisma: 10
SPELLS
Remember, the magic number here is 44 if you're only relying on your level-ups for spells. This is what diversifies The Nuke most from other wizards. How are we going to achieve our damage though? Well, there are only so many really good damage spells, so you have the room to be more flexible, especially at lower levels!
Cantrips: You get 5 of these by level 20
Firebolt – Your bread and butter. 120ft range for hucking 4d10 fire damage a turn. Synergizes with your Elemental Adept. Not much more you could ask for here!
Toll the Dead – A shorter range spell but with D12 instead of d10 if the enemy has already been hurt! Ring that bell, like it's dinner time, and watch the baddies hit the floor. 
THAT'S IT! That's the only necessary cantrips for this build. Feel free to pick up more utility cantrips like dancing lights, prestidigitation, message, etc!
1st Level:
Mage Armor –You thought Nukes didn't pay wizard taxes? Think again.
Shield – Still your strongest panic spell. With Mage Armor, your AC becomes 20 for the round.
Burning Hands – A 15ft cone Dexterity Save for fire damage to everyone in your cone. Once again, synergizes with elemental adept and you become a human flamethrower.
Catapult – Probably one of the most underappreciated spells. Use your surroundings to damage your enemy like you're a Poltergeist. The damage is nice and in a pinch can be used for some utility.
Find Familiar – You're not delivering any deadly touch spells in this build, but having your familiar just take the help action each turn generates advantage for yourself or an ally!
Magic Missle – A spell that does not require an attack roll or a save. If you just need to squeeze in some guaranteed damage or need to throw an enemy caster out of their concentration, this could do the trick. Beware, an enemy mage casting shield will block all of these bad boys.
2nd Level:
Aganazzar's Scorcher – Identical to burning hands, but instead of a cool gang sign coupled with a cone of fire this is a 30ft long laser beam. Couples well with Elemental Adept and play as Iron Man.
Flaming Sphere – Once you cast this spell you only have to give up a bonus action on each of your turns (while casting other spells) to roll this bowling ball from Hell around, burning all in its path.
Melf's Acid Arrow – Damage is OK but in the creation of this spell it was meant to hit someone from far away to take away concentration. So the initial hit forces a roll, then the residual damage for the next turn forces another roll. If an enemy is holding onto a particularly irritating spell get rid of it and maintain a damage stream!
Mirror Image – Shadow clone jutsu for the glass cannon to get away and continue to rain fireballs.
Misty Step – Still a panic button. Get far away without wasting an action then lob a firebolt their way.
Scorching Ray – 3 rays that do 2d6 a piece. Stack these up on one target, or share the love! Elemental Adept compatible!
Shatter – Really good against construct type creatures like Golems or Warforged, especially if they are grouped up and you can hit more than one. Another really fun use of this spell is to shatter an enemy's weapon if your fighter disarms them!  
3rd Level:
Fireball – I bet you didn't see this coming. Wizards of the Coast even claim they purposely made this spell overpowered for its level because it is such a classic spell. Elemental Adept gives this spell a boost as well!
Haste – Since most of the time you're going to have concentration free you can cast this on your barbarian, run far away, then see the big chap have the time of his life swinging his ax at super speed. However, your party may never let you concentrate on any other spell ever again.
Lightning Bolt – An amazing Lightning damage spell that can hit multiple enemies if you position yourself correctly!
Melf's Minute Meteors – If your party lets you concentrate on something other than haste this one is a strong contender. Only use your bonus action, after you've dropped a fireball on your enemies face, to have a meteor revolving around you smoke the same guy in the face for 2d6, all his buddies around him have to make the save as well!
Tidal Wave – Technically, this spell can do more damage than fireball if you line it up correctly to hit even more enemies. Also, knocking them prone will make your hasted barbarian very happy with his advantage.
4th Level:
Blight – 30ft range spell for 8D8 damage! Really good if you particularly loath plants.
Evard's Black Tentacles – A large area becomes the domain of giant tentacles grabbing your enemies and crushing them. I won't make any jokes about this one.
Storm Sphere – Summon a giant storm that initially causes some bludgeoning damage across its entire sphere. As a bonus action on EVERY TURN cause lightning to come down and smite your foes. Fireball, Lightning, Fireball, Lightning.
Wall of Fire – a little bit of a protection spell but, mostly, it's a strong way to hold down enemies in a wave of continuous fire damage. Pairs with elemental adept. If they are feeling froggy, they can run through your fire wall for additional damage.
5th Level:
Cone of Cold – 60FT CONE! That is a huge area for 8d8 to everyone in it. If it drops them to 0, they are just frozen solid. No death saves.
Cloudkill – A fog that rolls through dealing considerable, recurrent damage. Takes concentration but if you aren't using it, and find something weak to poison, this is strong.
6th Level:
Chain Lightning – If your fireball did not convince them to spread out, this spell certainly will. 10d8 of lightning damage that jumps around to other targets! The Wunderwaffe in DnD!
Disintegrate – This is your GOD spell for single target damage. 10d6 + 40 force damage. If this spell brings them to 0 there is no reviving, unless a true resurrection or wish is used. 
7th Level:
Finger of Death – The damage is similar if not a little more than disintegrate. Instead of not being able to revive their fallen ally, the enemy has to fight him as a zombie under your control.
Prismatic ray – Most likely causing 10d6 of a random damage type, but with a 1/8 chance it turns into 20d6 of damage. Fear the rainbow, WASTED by the rainbow.
8th Level:
Abi-Dalzim's Horrid Wilting – Continue your hatred for plants on this one. AOE necrotic damage in a 30ft cube, dealing 12d8 damage on a failed save.
Sunburst – Giant area of 12d6 radiant damage. Undead and oozes are hurt particularly badly by this one. Apologize to all those plants you destroyed with a nice serving of sun for extra photosynthesis. 
9th Level:
Wish –Still can't figure out why you wouldn't pick this one
Gate – Open up an extraplanar portal. If you know the name of some Ancient Dragon, bring it forth and let it wreak havoc on your enemies for you. Stay at a distance and continue to drop fireballs on the baddies as they run for their lives. 
Meteor Swarm – This is, hands down, the coolest spell in all of DnD. CALL DOWN A METEOR STORM ON YOUR ENEMIES. I can't think of anything more terrifying. Gigantic area of effect with an unprecedented number of dice.
Power word Kill – Point at someone and they die. No save. No Attack roll. If they are under 100 hit points they just die. Imagine going against someone with THAT ability.
Only 34 MANDATORY spells in this build. That means you have a remaining 10 to play around with and pick up some extra out of combat utility spells! One of the pros of the Nuclear Wizard is the ease of choice in combat spells, but just having to determine how high of a level you want to cast that fireball at! 
1. The Seer (Glance through destiny and pick the path that is best for you)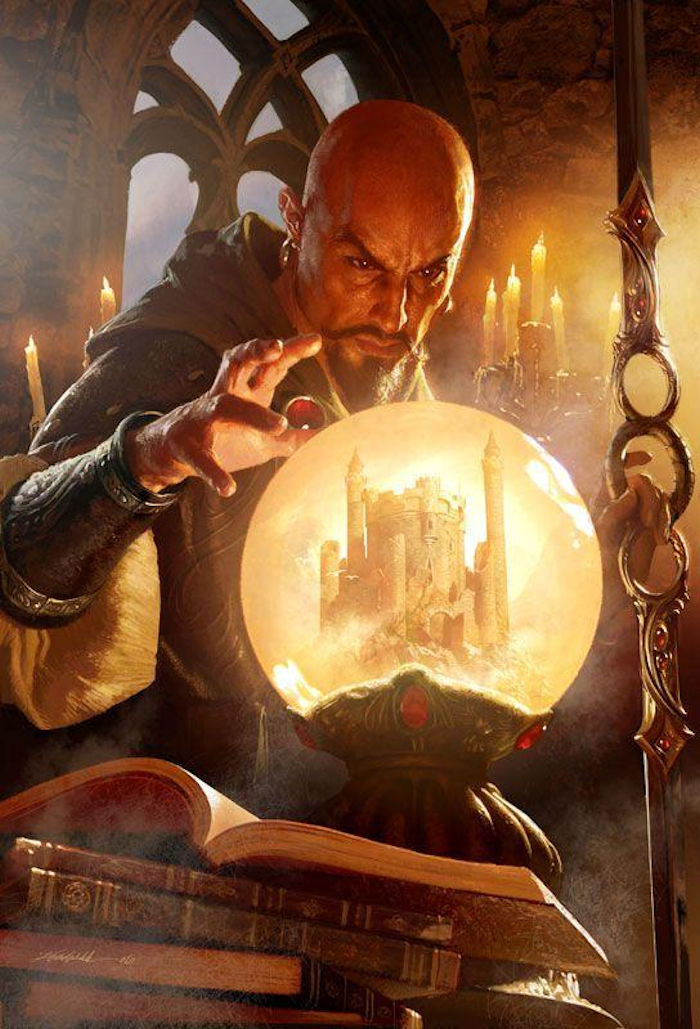 Mordenkainen (above) Scrys on his enemies, learning their capabilities and noting any weaknesses and maybe looking at the reflection of that sick goatee!
You're the greatest detective the planes have ever seen. You meticulously plan each move you make, and always have the upper hand on the enemy. You know their weakness and can exploit them. 
Most of the time, it doesn't come to trading blows. You sit back and take a sip of your tea. Your eyes drift to a far off place and you study the Ancient Dragon once again. You know its routine, you know where it keeps all its treasure, and you've seen it fight a thousand times, so you know its tactics. 
You can guarantee your spells hit when it's important, and you know exactly when it is necessary to avoid danger. You can bend fate itself. Always meticulously choosing the timeline that turns out best for you. You are the ultimate Seer.
This is the Seer, the diviner, the bender of fate. While playing a Seer it will often feel the story and combat, itself, go in the direction you want. It will feel like you are taking the reins of the story, and deciding when actions fail or succeed. 
What is The Seer good at?
The Seer has a load of dice they may set aside for rerolls and forcing successes or fails when they please. Bend the story to your will.
The Seer specializes in the power of deduction and,  as such, is the greatest investigator in the game.
The Seer is a specialist in information gathering. Focusing on finding weaknesses in the enemy's position or stature. A Seer will never go into a fight unprepared.
The Seer doesn't trade off much by focusing on their information-gathering as they are one of the greatest in resource management and can use their saved resources to assist them in battle.
RACE
Halfling can be tempting for this build. The Lucky ability allows them to reroll on a 1, but other than that there is no real benefit. The ability scores don't help, and neither does any of their other perks. Quite the tradeoff for just a 5% chance on a reroll. So, Variant human again! It's too strong!
Ability Score Improvements:
Take +1 to 2 ability scores, the best choices being Strength… kidding We're boosting that Intelligence again! Constitution is the other because more than likely you're going to need to concentrate on a spell.
Perks:
Free Feat – LUCKY! Yes, it's lucky that you get a feat at level one, but also the feat here is going to be lucky. No. The feats NAME is Lucky! Get it? 3 more rerolls per day. Give me all the dice DM just let me roll everything for everyone at this point.
Extra Language – You get common by default, but you can pick one other language. If you think this got even better from the last 2 builds, you're wrong. It's still overshadowed by the comprehend languages spell.
SUBCLASS
The entire purpose of this build is the divination subclass. This is arguably the strongest subclass in all of DnD. For a fact, it is the strongest wizard subclass. What better flavor for an all-knowing wizard than divination?
Portent: Meat and Potatoes of the build. 2 d20 rolls at the beginning of the day. Unlike any other mechanic in Dungeons and Dragons that allows rerolls, you know what the reroll result is already. If you have a natural one saved, force a crit fail on your enemy. Natural 20 saved, give an automatic crit to yourself, or your barbarian. Watch him smile.
Expert Divination: You hesitant to cast those information-gathering spells in case your buddies need you in a fight? No worries! After casting a divination spell, you get spell slots back. Reduce the tax for performing your role in the party. Bake your cake and eat it too!
The Third Eye: Counteract the worst part of being human, give yourself darkvision! On top of this, you can allow yourself to see into the Ethereal plane, read any language, or see invisibility (this includes scrying orbs). Your choice Sherlock! 
Greater Portent: Not THAT exciting of an upgrade, but an extra pre-rolled d20 result is just another way you get to do whatever you want!
FEATS
Ability Scores, Ability Scores, Ability Scores. There are feat options here, but much like the evoker, your concentration is not a huge deal giving more flexibility on feats. However, get your Intelligence to 20 first for your save heavy spell list!
Lucky – Hopefully you grabbed this one at level one. It's a fun feat that lets you further impact the game, and make it into the game YOU want to play.
Resilient (Constitution) (optional): Still solid here. You will have some concentration spells you won't necessarily want to drop, but still not as important as it was for the Control Wizard.
Observant (optional) – boost to intelligence, cast comprehend languages, and read lips to snoop in on any conversation. This also comes with a +5 to both passive perception and investigation. An incredible weapon in the hands of a Seer.
Alert (optional) – The bonus to initiative is amazing because there is a lot you can do if you get to go first in combat, and you can't be surprised. Not necessary, but useful.  
The engine to the overall build is lucky with portent. Observant makes you into the ultimate detective. If you have the room for it, I highly recommend it! In general, your progression will look something like this:
Level 1: Lucky
Level 4: Intelligence – 18
Level 8: Intelligence - 20
Level 12: Observant or boost constitution to 17 (OR choose another optional feat)
Level 16: Boost your Constitution to 17, (or 19 if you still didn't take observant) (OR an optional feat)
Level 19: Resilient (Constitution) to boost your con to 18 (or 20 if you didn't grab observant.) 
With the largest feat pool your stats take a small hit, but worth it:
Point buy:
•Strength: 8
•Dexterity: 14
•Constitution: 18
•Intelligence: 20
•Wisdom: 12
•Charisma: 8
Array:
•Strength: 8
•Dexterity: 13
•Constitution: 17
•Intelligence: 20
•Wisdom: 12
•Charisma: 10
SPELLS
44 Spells is the budget here. With a focus on utility spells, and strong save spells to force fails on. 
Cantrips: You get 5 of these by level 20
Message – Inform your allies of the info you gather, even if you're at a distance, without cluing in the enemy!
Minor Illusion – You found out the dragon is afraid of mice? Create illusory mice. Take advantage of any info you gleaned, and treat this cantrip like a bag of tricks.
Those are the only real essential cantrips for this build. Take a damaging cantrip like firebolt as well as some utility ones like prestidigitation (to make your tea taste AMAZING!) or dancing lights.
1st Level:
Detect magic – Another ritual that you don't need to prepare. Look for hidden magic. Understand magical traps. Read the types of magic coming from the baddies gear, and better prepare to counteract it.
Identify – Know for sure what that magic item does before you risk your life using it. Also, use it on any magic items obtained from the enemy to understand their capabilities.
Alarm – You've put away a lot of baddies. So, they are probably going to try coming after you. Set this up and be alerted when they get there.
Disguise self – You've learned who the baddies' closest associates are and how they act, now all you need is to look like them to infiltrate the big bad's lair.
Find Familiar – Super useful for different reasons in every build. Scout ahead or spy on the enemy. Keep it as a ritual and have plenty of spells prepared.
Illusory script – Do you love me? Check yes or no. You can make messages that only people you designate can read. The creativity with this one is endless.
Mage Armor – HA! I didn't start the list this time with the mandatory mage tax so you thought you escaped it. Don't worry Uncle Merlin always gets his due.
Shield – Hid this one down here too, bet you were afraid you wouldn't get it.
Comprehend languages – Decode hidden messages, read the bad guys mail, or order off the Elven menu. If you use it as a ritual, you can save your spell slot, and you can avoid taking up one of your prepared spell spots.
2nd Level:
Flock of familiars – Just like find familiar, but now you can set up and keep an eye on multiple locations at once. Triple the ability to know everything.
Invisibility – Infiltrate an enemy's base and map out their domain, or sneak up on a scouting party and get an idea of their numbers and capabilities.
Knock – Even if they try to shut you out you can open any locked door, albeit, with a loud noise screaming, "HEY I JUST BROKE INTO YOUR HOUSE!"
Locate object – You have to know of the object, but you could have seen it during a scry. Locate object on the big bad's weapon or on that Mcguffin your group is chasing.
Mirror Image – Still one of the best defensive spells. Yes, you need it.
Misty Step – Even the greatest detectives panic. You will be happier with this panic button than you would be without it.
Suggestion – After you get everything you need, pull some Jedi mind tricks on those baddies. You can also use it to glean new information from a captive.
Alter Self – A better disguise self that can also allow you to breathe underwater. Cool.
Detect Thoughts – Know what the enemy is thinking. Keep an eye on them while they're on watch and see how they're feeling. While interrogating get an idea of what your captor is holding back. See how naughty the big bad is.
3rd Level:
Clairvoyance – Once you've seen the enemy in his lair in a scry, set up a forward watch position and continue spying on their lair. Where are the exits? How many minions does he have?
Tongues – Let's your other party members understand a strange language along with you. The more ears the better. Except the barbarian will, probably, still not understand what's going on.
Counterspell – This lets you save your "reroll dice".  Just don't allow your enemy to cast save spells! Profit!
Dispel Magic – Same idea as Counterspell, minimize the unpredictable magical effects around you and save those "reroll dice"
Glyph of Warding – You know the baddies always use a particular corridor? Set a trap there.
4th Level:
Dimension door – Now that you're familiar with the enemy's sanctum, teleport wherever you want. Then, assault the enemy from their weakest angle.
Locate Creature – Know the exact location of your target, so you can find them despite their hiding place (or avoid them). 
5th Level:
Contact other plane – You don't know the answers or can't find the answers? Maybe a Demigod or an Ancient Sage knows.
Legend Lore – You can instantly learn the entire history of an item. This can be a very strong information gathering tool.
Modify Memory – Do what you need to, then delete the memory of any creature that may have been a witness. This can, also, be used to force an enemy to remember something that never happened.
Rary's Telepathic Bond – Like Message, but now you don't have to keep using your action to pass on information.
Scrying – The meat and potatoes of the Seer. This is your "in" on all your information gathering.
6th Level:
Mass Suggestion – Get noticed scouting an area by a whole lot of guys? "Nothing to see here boys."
Nothing else of much interest here for The Seer. Use this slot as your "get what you want" spell level! You could also use the slots to upcast your other spells!
7th Level:
Delayed Blast Fireball – Similar to Glyph of Warding. Set up a trap to take advantage of your enemies habits.
Etherealness –  Infiltrate through another plane of existence and reappear wherever you want!
Symbol – Another trap spell to take advantage of your enemy's weakness.
8th Level:
Mind Blank – You break them; they can't break you. Keeps any creature from learning what you're thinking or stops any ability to glean information from you.
9th Level:
Wish – I "wish" I had 2 spell slots to cast this one with.
Time Stop – Stop the fabric of time itself. Do whatever you want. Scout, escape, or draw a fake mustache on someone! Whatever you can think of!
Foresight – The most divination-y spell there is. The flavor of it is, essentially, you know exactly what your enemy is going to do before they do it, so you are instantly ready for any situation.
We ring in with 38 spells on this one. This leaves you with a free, flexible 6 spells during the level-up process. Pick up some more utility or damage spells to be useful in a fight!
That's all for the top 3 Wizard builds! Are you convinced that the Wizard is, hands down, the most fun class in Dungeons and Dragons? Let me know which build YOU think is the best, or if your favorite build did not make the list let me know why YOURS is the best! If you enjoyed this article you will also enjoy:
You may also be interested in: 
Image Gallery