[Top 10] Overwatch Best Wrecking Ball Skins
Updated: 22 Feb 2020 4:43 pm
Battle hamster, activated!
Which Wrecking Ball skins do you need?
A genetically improved space rodent in a mech, Wrecking Ball is a tank with an incredibly unique flair. Gloriously round and notoriously mischievous, don't be fooled by the hamster behind the ball, Hammond.
His complex kit makes for a challenging hero that can absolutely dominate the battle as a main tank. Keep reading for the best Wrecking Ball skins so you can roll in style.
10. Classic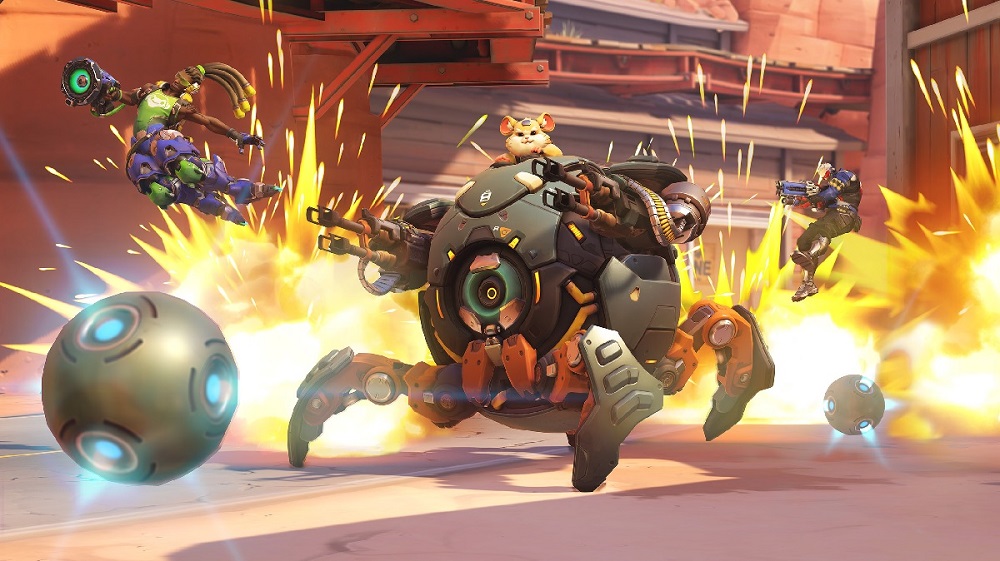 Hammond may be cute, but his minefield is devastating
The ball that started it all, Wrecking Ball's classic skin is one for the ages. In the lead up to Wrecking Ball's reveal, nobody expected an intelligent hamster to be Winton's partner from Lunar Colony, but here we are.
What makes this skin awesome:
As the original Wrecking Ball skin, Classic shows the hamster in his pure form
The gunmetal color scheme of Hammond's mech contrasts perfectly with his golden-furred chubbiness
Doesn't cost the player a cent! Who could put a price on this adorable hero?
How to get Classic: All you need to do is pick up Overwatch on your preferred platform and you'll have this skin already equipped.
See Classic in Action:
Wrecking Ball Classic Gameplay
Skin Rating: 8.2/10
9. Biohazard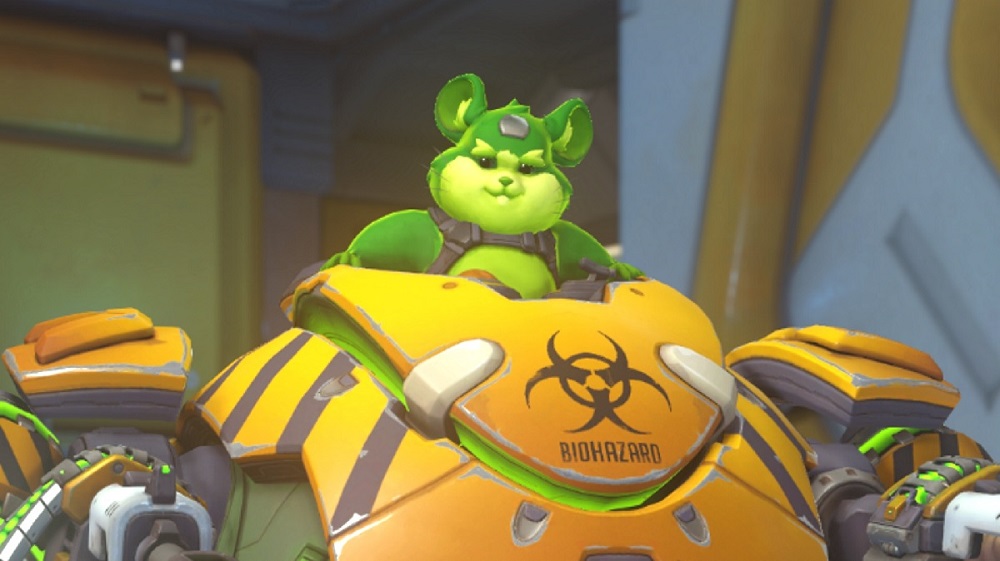 This irradiated hamster will blow your mind
Up next is Wrecking Ball's radioactive option, Biohazard. When you want to go nuclear on the enemy team, make sure to have this skin equipped!
What makes this skin awesome:
Gives Hammond a neon green design unlike any of the other Wrecking Ball Skins
Is an Epic tier skin, so it does not cost players as much to acquire
The perfect skin to go with the atomic Piledriver and Minefield combo you'll land on your enemies
How to get Biohazard: You won't need two keys to activate this Wrecking Ball option, just 250 credits.
See Biohazard in Action:
Biohazard Gameplay
Skin Rating: 8.3/10
8. Wooden Ball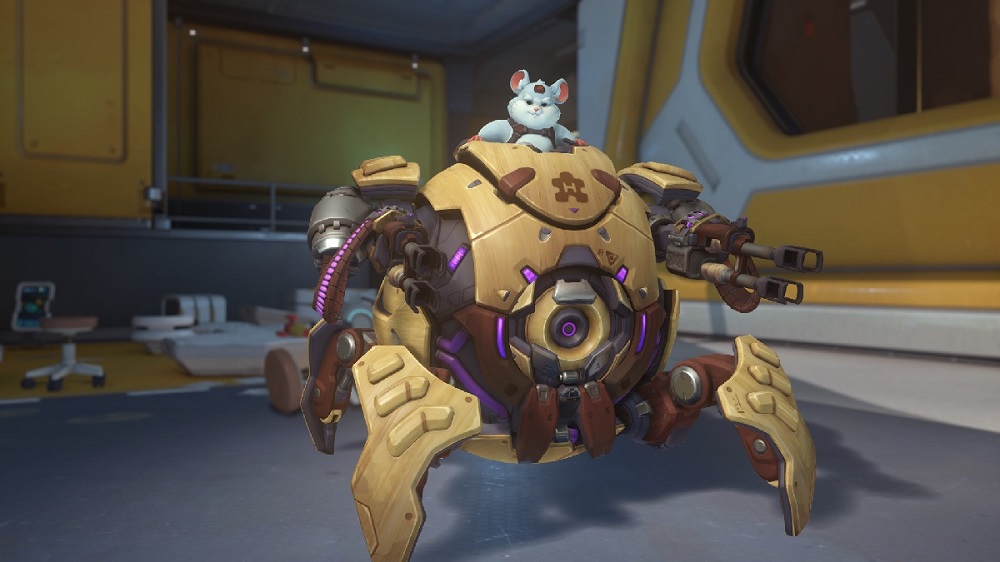 A handcrafted ball made from the finest lumber money can buy
If you have ever wanted a rustic charm to go with your furry friend, Wooden Ball is the skin to purchase. This cosmetic adds an earthy, unprocessed component to an otherwise inorganic mech.
What makes this skin awesome:
Harkens back to an older era, when hamsters were attuned to their natural surroundings
A personal favorite of mine, Wooden Ball gives Hammond a grey fur makeover
The "H" wood burning decal will be the last thing unsuspecting enemies see as you blaze across the objective
How to get Wooden Ball: Coming in at 250 credits, the Wooden Ball skin will not require a lot of grinding from players.
See Wooden Ball in Action:
Wooden Ball Gameplay
Skin Rating: 8.5/10
7. Smoke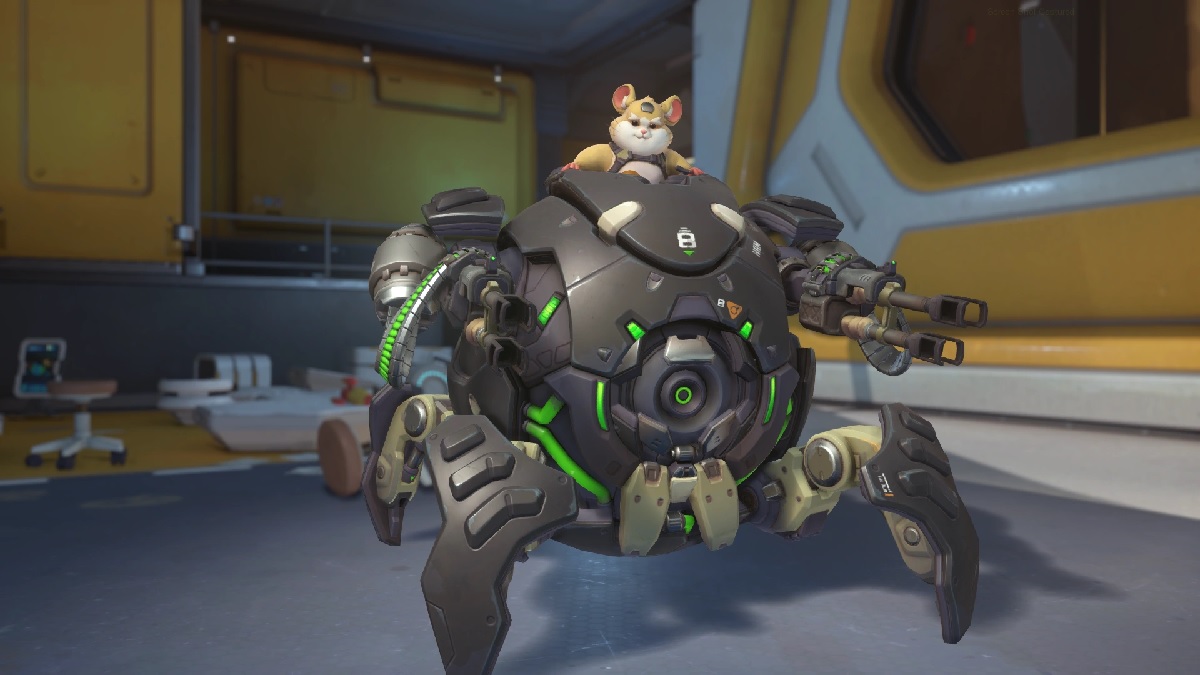 You will never see this sleek hamster coming
Typically, basic color swaps may not be seen as the most exciting skins, but Smoke is an exception. Due to it's entirely black color scheme, Wrecking Ball can blast enemies from the shadows with his quad cannons.
What makes this skin awesome:
Perfect simplicity, Smoke gives Hammond's mech a svelte black overlay with green accents 
Because Smoke is a basic recolor, it won't suck up all your credits
Can be used strategically in dark locations to hide from enemies and misdirect their attention elsewhere
How to get Smoke: Players can grab the Smoke skin from the hero customization screen for 75 credits.
See Smoke in Action:
Smoke Skin Gameplay
Skin Rating: 8.7/10
6. Jack-O'-Lantern
Alert! A small, masked rodent is on the loose and stealing pumpkins
Any Wrecking Ball main needs to carve out some time to earn the number six skin, Jack-O'-Lantern. Added during the Halloween Terror event, this skin completely transforms the design of both Hammond and his mech to match the spooky season.
What makes this skin awesome:
Jack-O'-Lantern pairs perfectly with the "Nibbling" victory pose pictured above
Gives Hammond a scarecrow mask design that makes the cute hero downright terrifying
The bright oranges of Jack-O'-Lantern will ensure that your team sees exactly when you swing towards the objective
How to get Jack-O'-Lantern: Only available during Halloween Terror, this skin will run players 1000 credits.
See Jack-O'-Lantern in Action:
Jack-O'-Lantern Gameplay
Skin Rating: 8.9/10
5. Lucioball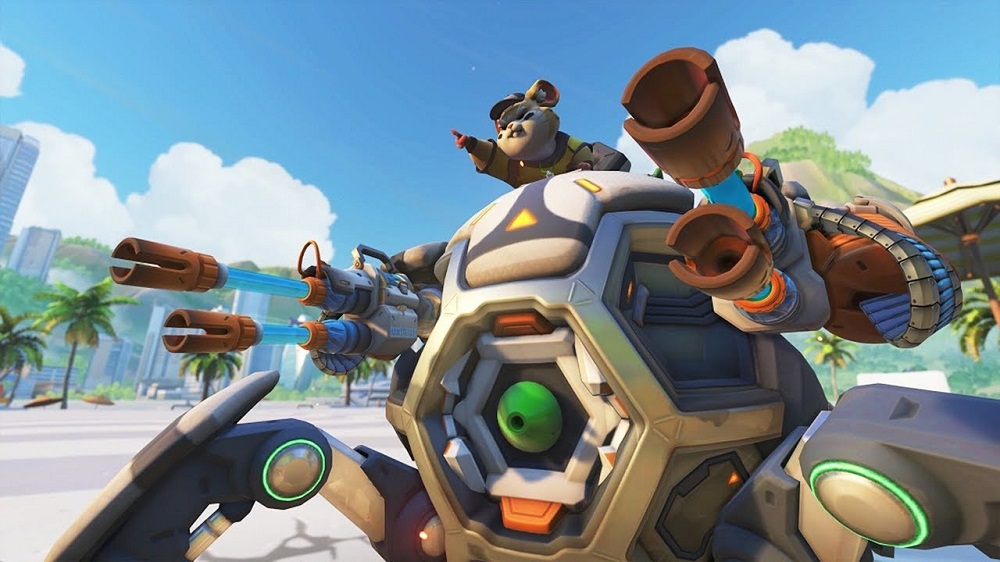 Wrecking Ball calling the shots during the last, critical moments of overtime
Back when the Lucioball game mode was originally added to Overwatch, the crowd went crazy. Then they went even crazier when Blizzard added a Lucioball skin for Wrecking Ball.
What makes this skin awesome:
Changes Wrecking Ball to have a sportier vibe, complete with a soccer ball mech and tiny hamster coach
For all the Lucioball fans out there, you can represent your love for the classic game mode by equipping this skin
You can literally, "Be the Ball"
How to get Lucioball: Shoot to score the Lucioball skin during the Summer Games event for 1000 credits.
See Lucioball in Action:
Lucioball Skin Gameplay
Skin Rating: 9/10
4. Junker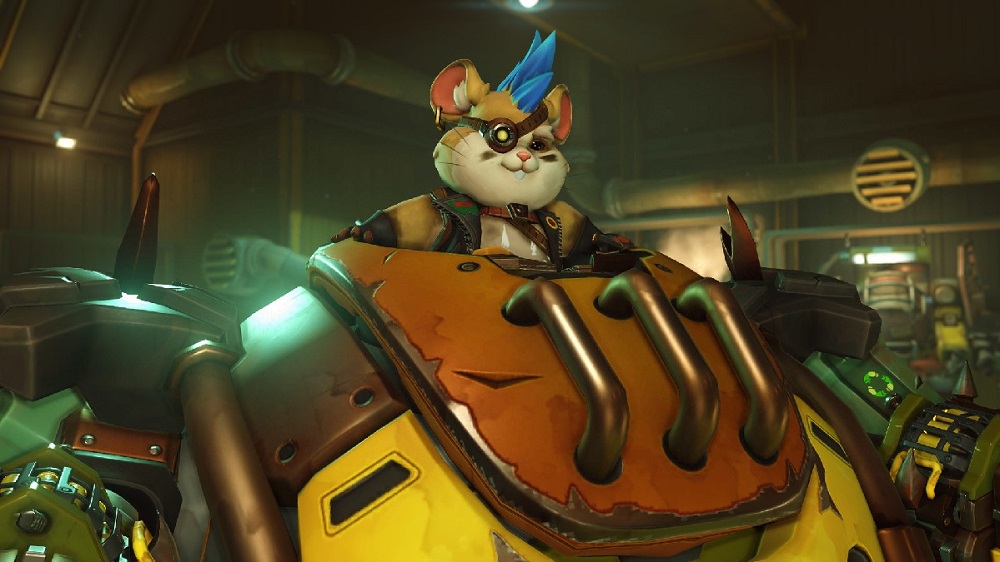 Only a hamster this bodacious could claim the title of Scrapyard Champ
While not a lot is known about Wrecking Ball after landing on Earth, the Junker skin references a time when he became champion of the Scrapyard. With this skin, players can easily relegate their enemies to the scrapheap.
What makes this skin awesome:
One of the few skins in the game that ties to a character's backstory
Matches with Junkertown, so make sure to equip this skin whenever you're playing that map 
Hammond gets a blue mohawk, enough said
How to get Junker: Can dumpster dive for this skin on the hero customization screen for 1000 credits.
See Junker in Action:
Junker Gameplay
Skin Rating: 9.2/10
3. Lunar
To boldy go where no ham has gone before! Or to just kick back and relax
With such a multi-faceted history, Wrecking Ball has another skin related to his past, Lunar. Having been friends with the galactic gorilla tank, Winston, this was Wrecking Ball's suit during his time on Lunar Horizon Colony.
What makes this skin awesome:
Turns Wrecking Ball into an astronaut, and what's better than a space hamster?
Squeezes Hammond into a full body suit, emphasizing his pleasantly plump figure
Provides some extra lore and insight into Wrecking Ball's backstory
How to get Lunar: Houston, you can pick up this skin anytime for 1000 credits, over and out.
See Lunar in Action:
Lunar Skin Gameplay
Skin Rating: 9.5/10
2. Paper Cutting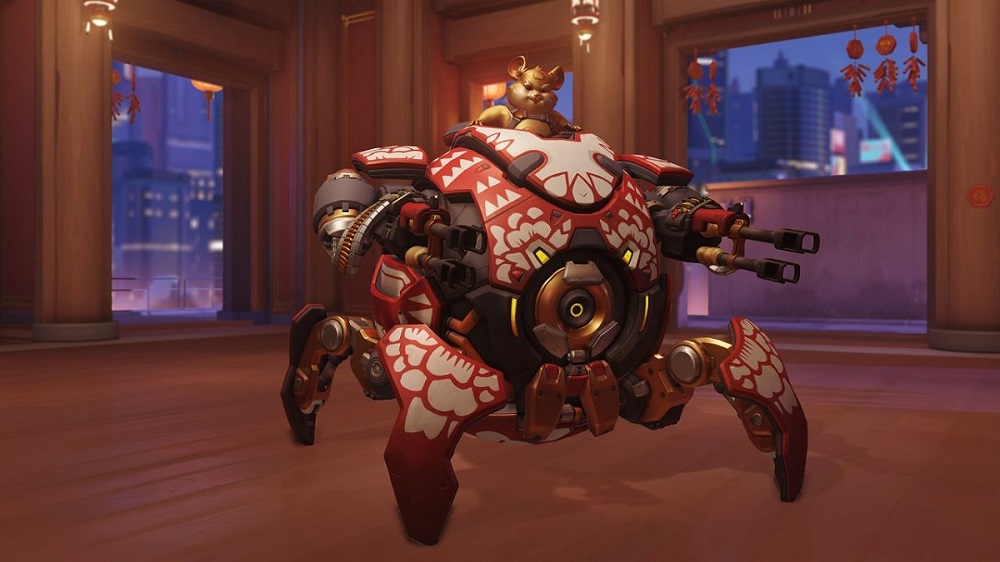 The golden Hamster takes no prisoners
The most recently added Wrecking Ball skin, Paper Cutting is worth its weight in gold. Paper Cutting is the first Lunar New Year skin for Wrecking Ball, and adds a Chinese artistic flair to the hero.
What makes this skin awesome:
An intricate paper cutting design for Hammond's mech, and a golden hamster to boot!
The best of Wrecking Ball's skins to go with a golden weapon
While a paper cutting in name, slamming enemies with this skin will be anything but flimsy
How to get Paper Cutting: The most expensive of Wrecking Ball's skins, Paper Cutting will run players 3000 credits and can only be picked up during the Lunar New Year event.
See Paper Cutting in Action:
Paper Cutting Gameplay
Skin Rating: 9.7/10
1. High Roller
Rolling up after cashing that winning lotto ticket
When equipping Wrecking Ball's High Roller skin, players are going to feel like a million bucks. Combining a bunch of great details, this skin is well worth the cost and number one spot.
What makes this skin awesome:
Hammond wearing sunglasses is a dream come true
It can pair with the Dramatic highlight introduction for maximum hilarity
If you're low on credits, High Roller only costs 250 credits and looks great paired with his golden weapon
How to get High Roller: Players can purchase this skin during the Archives event for 250 credits.
See High Roller in Action:
High Roller Gameplay
Skin Rating: 9.9/10
You may also be interested in:
Image Gallery