[Top 15] Overwatch 2 Best Weapon Charms
Updated: 13 May 2023 11:11 pm
The Overwatch 2 shop
What Are Weapon Charms?
Weapon charms are cute little items that you can attach to your weapons in Overwatch 2. Depending on the hero, the charms can appear on the weapon or even on the side of the hero's hands. These adorable additions to the game give you something to look forward to and something you can actually see in-game. They add more to your skin and increase your desire to level up in the Battle Pass to unlock them.
15. Demon Queen Mask (Tier 63 Season 3 Battle Pass)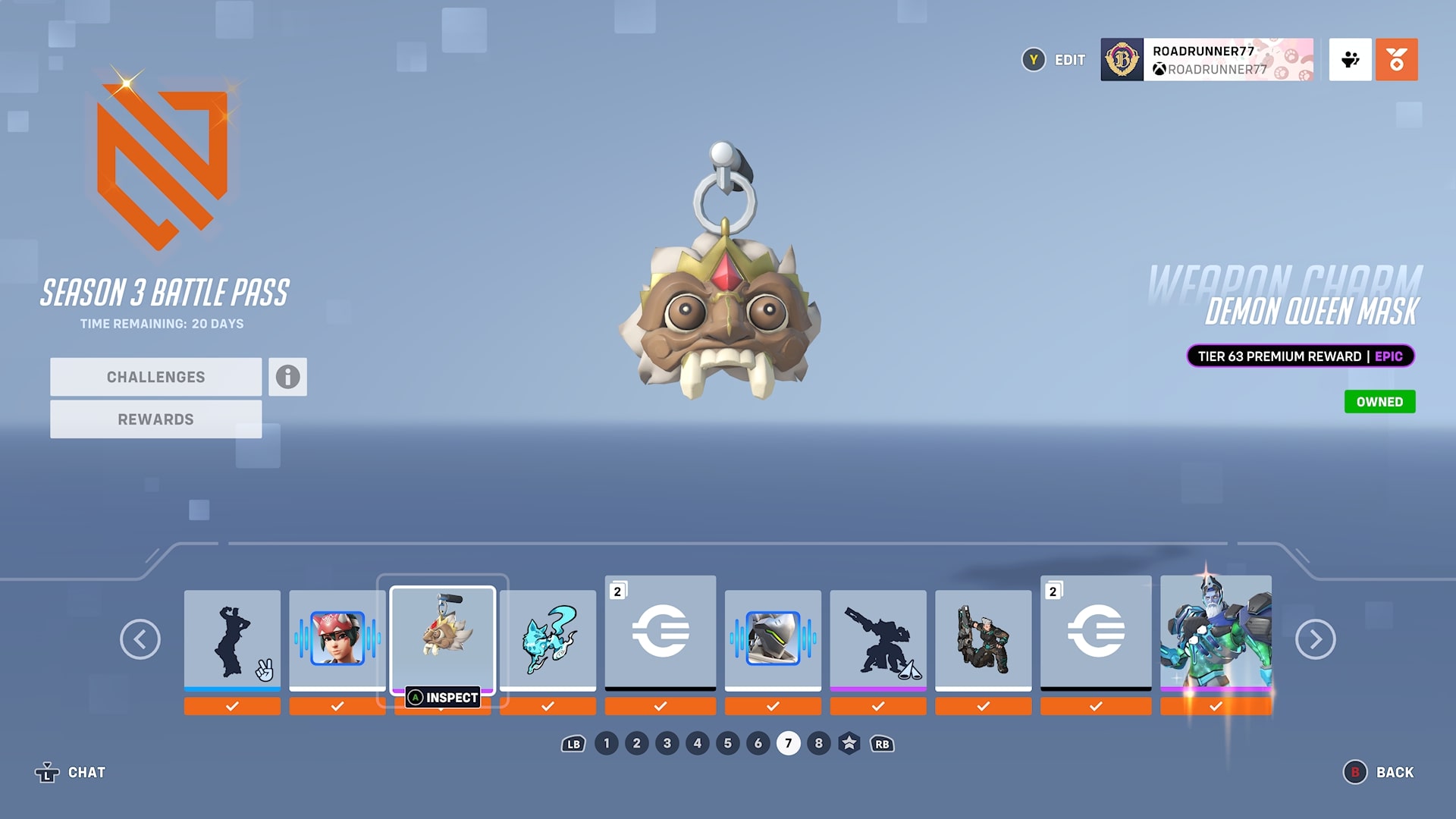 Demon Mask charm; it'll give you nightmares
See Demon Queen Mask in action: 
The Demon Queen Mask is based on the Demon Queen Moira skin. It matches the color and feel of said Moira skin, but you can wear it with any hero, not just Moira. This is a premium weapon charm, meaning you'll have to buy the premium Battle Pass in order to get it. The Battle Pass is 1000 credits. If you do not have the credits, they are about 1 dollar for 100 credits, meaning ten dollars for 1000.
The Demon Queen Mask is a cute, simple, and funny charm. I personally find the mask silly thanks to how small it is. It looks like a shrunken peanut if you look at it from the right angle. From a design perspective, it's adorable despite being an evil demon queen. This weapon charm is simple and to the point, and it's pretty easy to get.
How To Get Demon Queen Mask
Unlock tier 63 of the season 3 Battle Pass
14. Skull & Wings (Tier 41 Season 3 Battle Pass)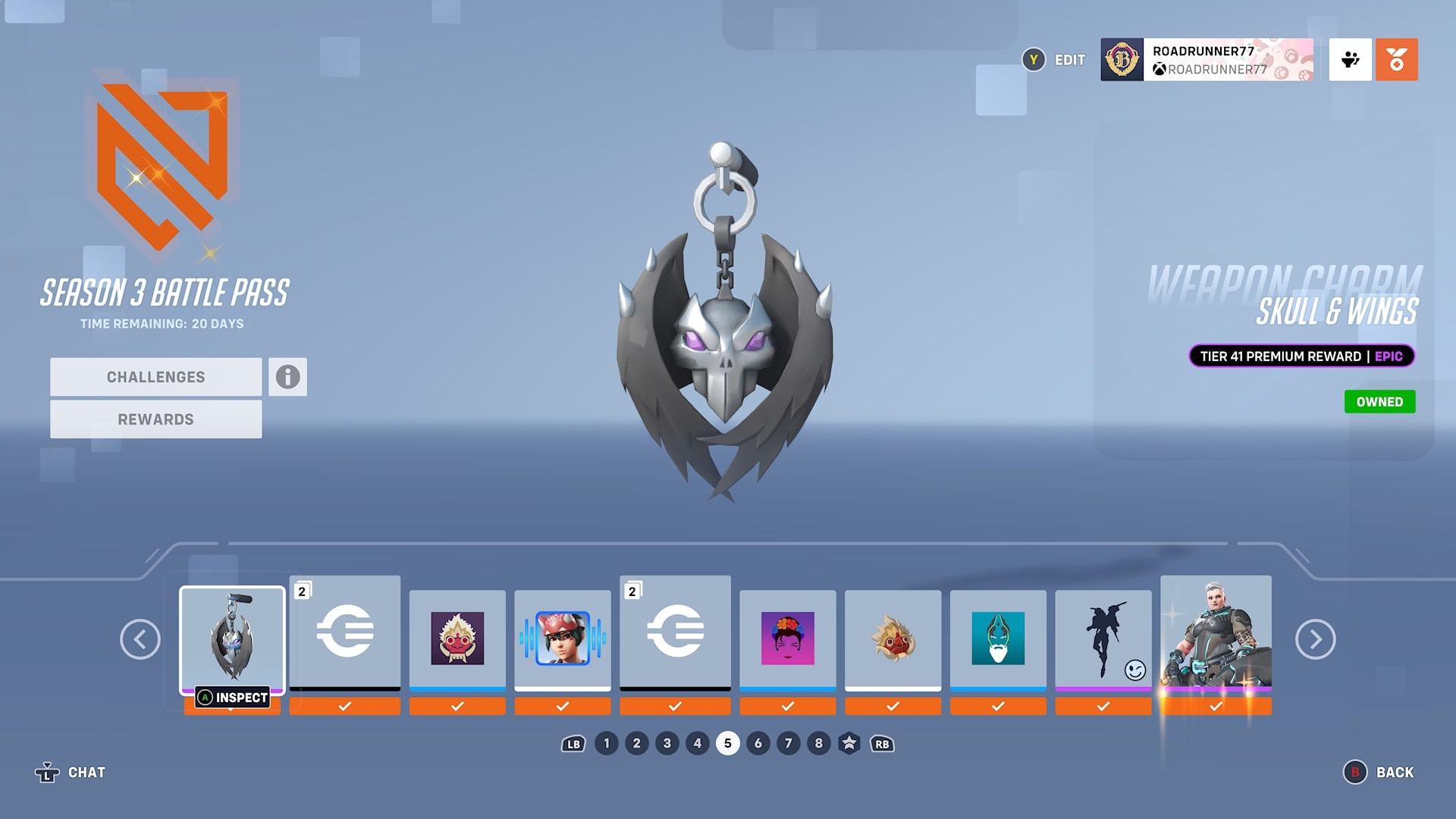 The edgy skull
See Skull & Wings in action: 
Skull & Wings is yet another Battle Pass weapon charm, which makes sense seeing as most of the weapon charms are available through the Battle Passes. This one is a tier 41 reward that you will need the premium Battle Pass to unlock. It's easier to get than the Demon Queen Mask since it's at a lower tier.
This one is easier to notice than a lot of other weapon charms, which makes it stand out from the rest. Although it's not a very creative design, it has a nice color palette with little details on the wings, like the spikes. Overall, this weapon charm is adorable and easy to get as long as you have the premium Battle Pass.
How To Get Skull & Wings
Unlock tier 41 of the season 3 Battle Pass
13. Chasa Hat (Tier 29 Season 3 Battle Pass)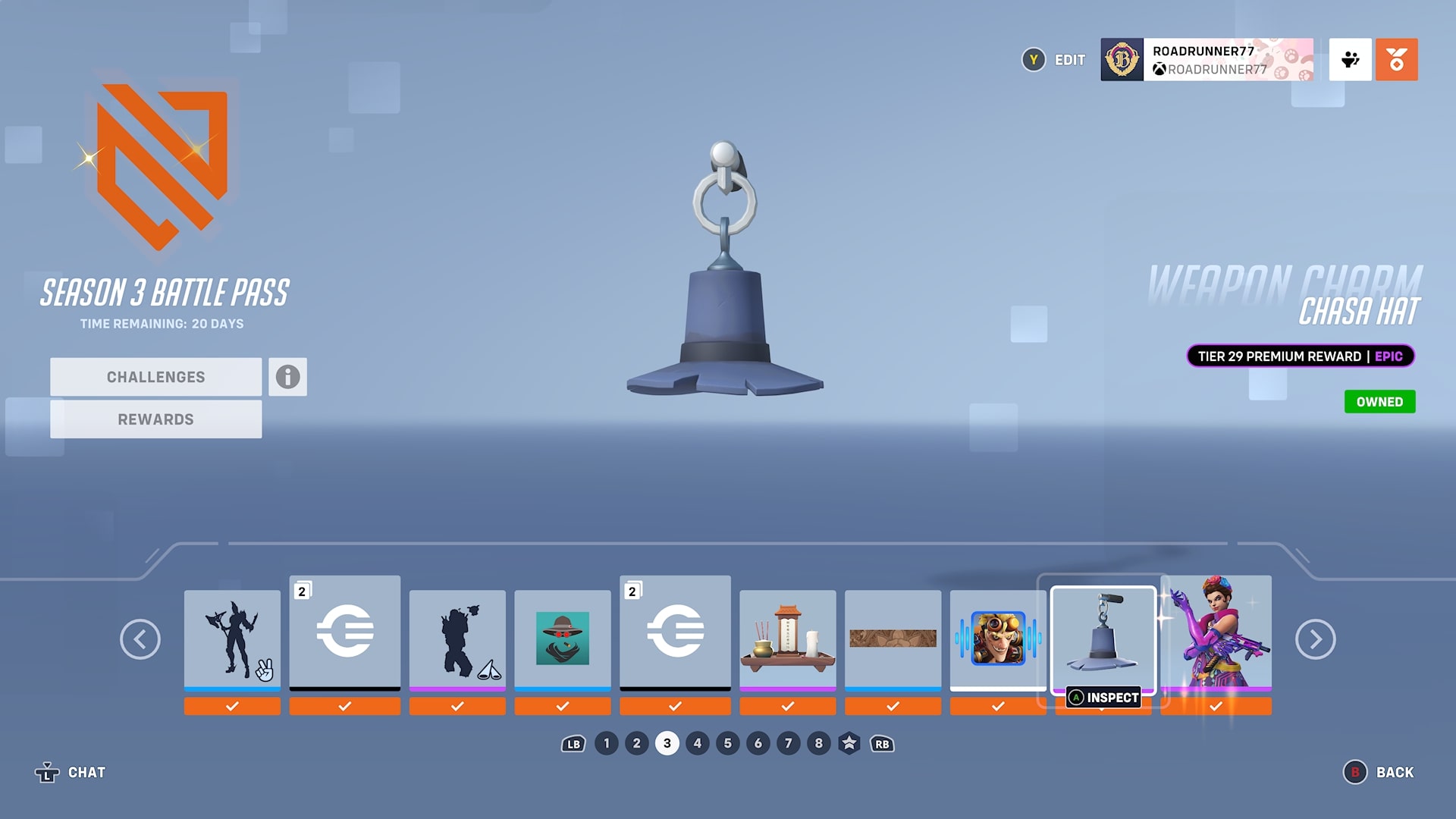 A cute lil hat
See Chasa Hat in action: 
Like both of the charms before this, Chasa Hat is a premium Battle Pass exclusive. I personally like this one better because it's so silly. It's just a hat. It's a little hat dangling from your weapon. What more can you ask for?
Beyond that, it's really easy to get as long as you have premium. If you have it, you'll get this reward in two weeks, tops. It's an easy reward to get, it's cute, and it has a simple design. It may not stand out much in-game, but it adds flair to your hero.
How To Get Chasa Hat
Unlock tier 29 of the season 3 Battle Pass
12. Penguin (Tier 17 Season 3 Battle Pass)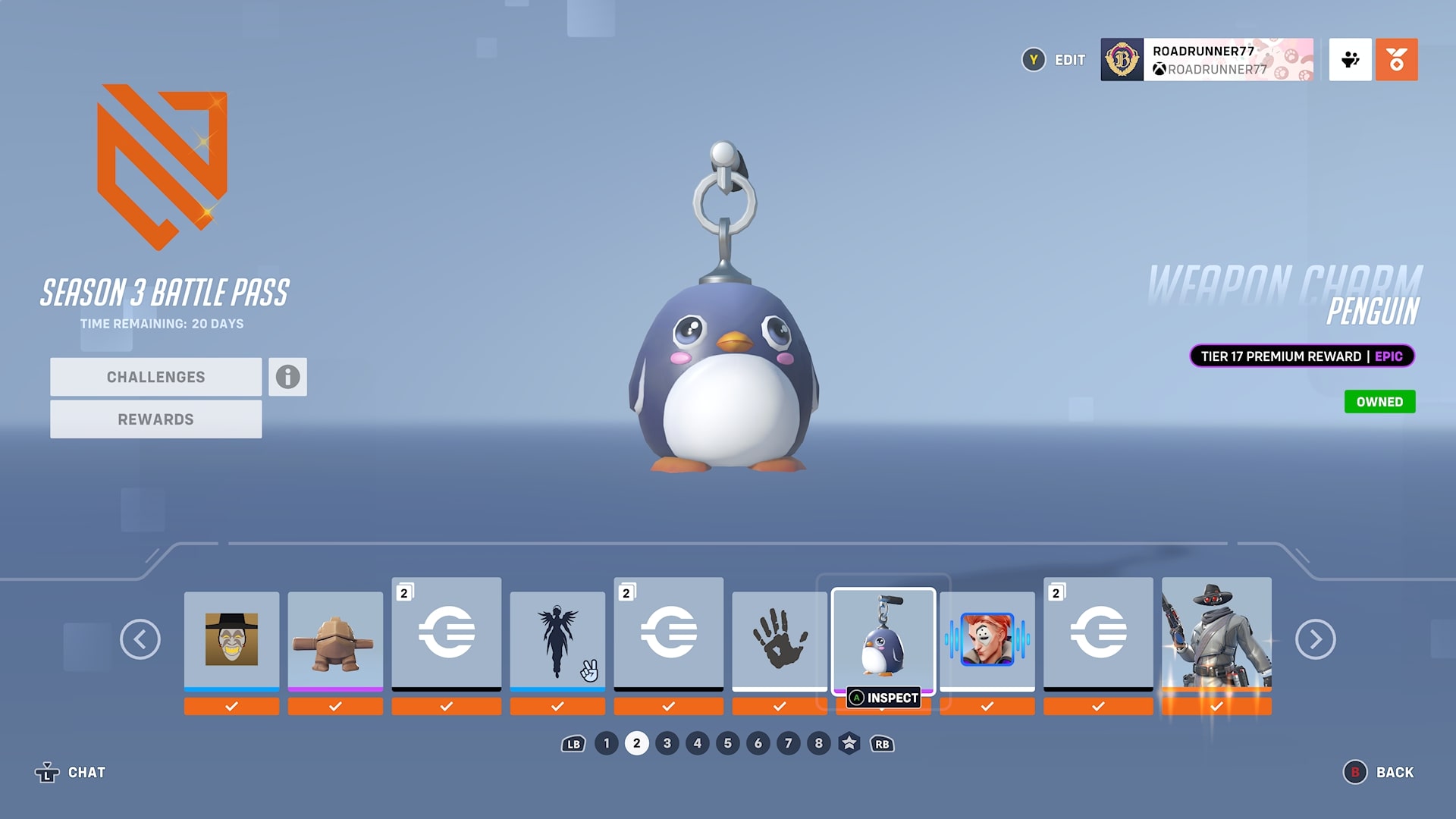 Look at the penguin right now
See Penguin in action: 
Who doesn't love an adorable little penguin? Weapon charms are designed to be adorable, and the Penguin charm fits that description perfectly. From the round body to the little spots of blush on its cheeks, the Penguin charm is one of the best weapon charms as of season 3 of Overwatch 2.
Along with that, it's the easiest weapon charm to get in the Battle Pass. Although it also requires the premium Battle Pass, it's at such a low tier that you can get it in a week. So it's cute, easy to get, and fashionable. Isn't that the best?
How To Get Penguin
Unlock tier 17 of the season 3 Battle Pass
11. Salt (Season 2 Battle Pass)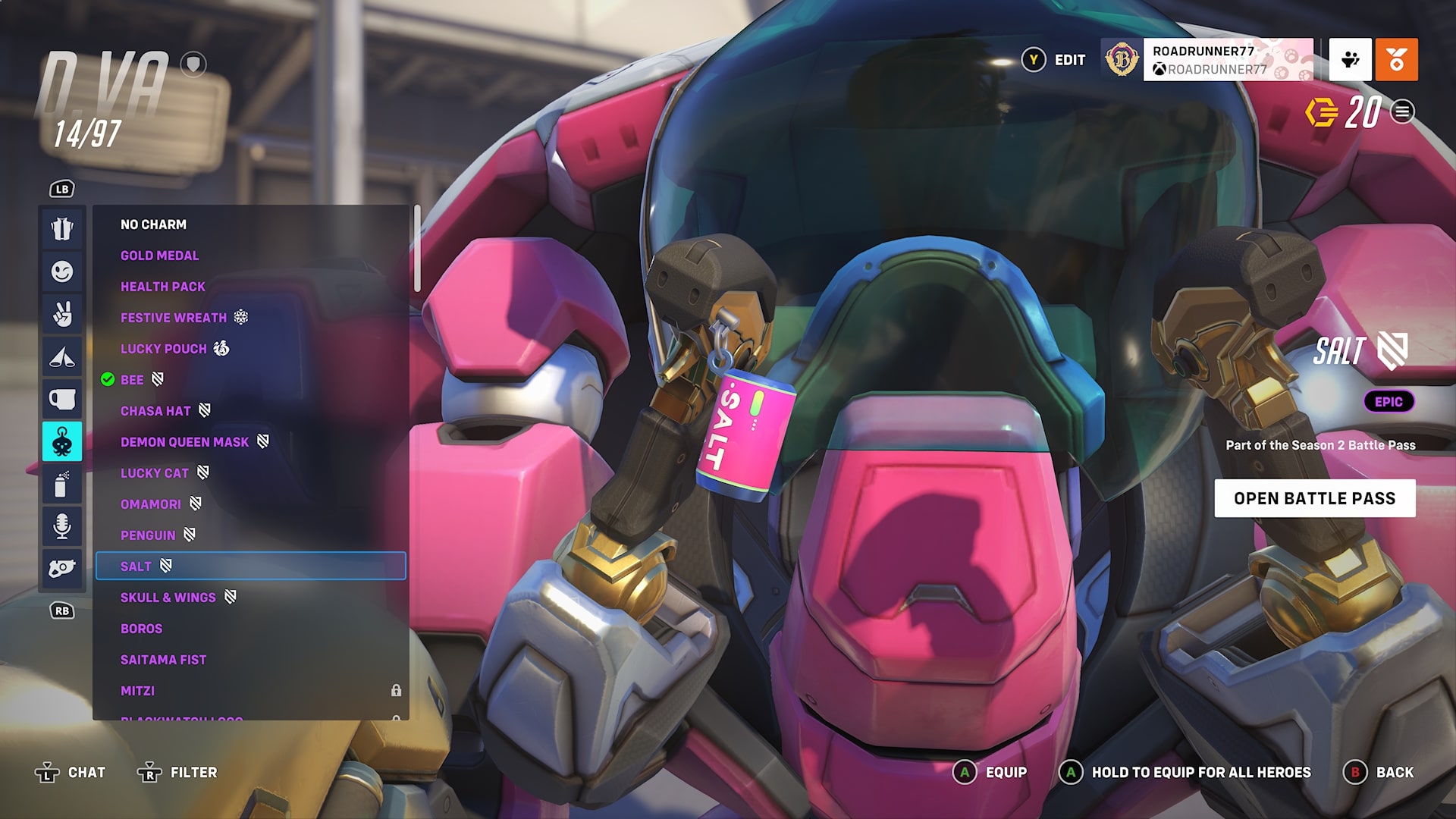 Can you smell the toxicity?
See Salt in action: 
Salt feels like Blizzard's response to toxicity. I can't tell if that's a good or bad thing, but the weapon charm sure looks cute. As long as it looks cute, I'm fine with it. And even better, it's free. It's one of the free weapon charms you can get with the season 2 Battle Pass.
Unfortunately, season 2 is over, so you can no longer get this weapon charm unless you've already unlocked it. Maybe they'll move it to the store one day, but for now, this is a season 2 exclusive. That's really unfortunate since it's an adorable little container of salt for you to use to listen to your opponent's whines.
How To Get Salt
One of the free weapon charms from the season 2 Battle Pass
10. Saitama Fist (One Punch Man Event)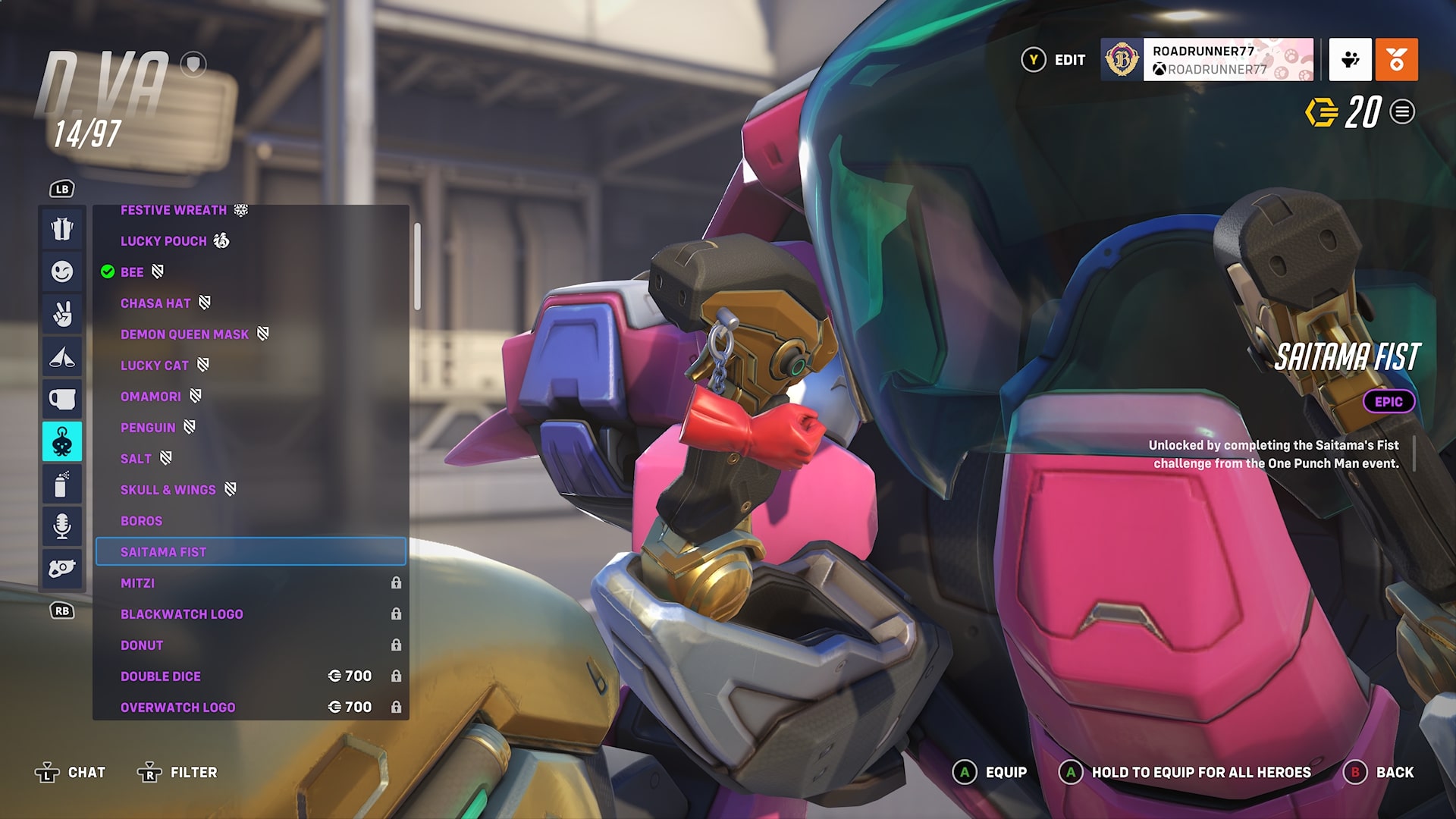 Giant fist
See Saitama Fist in action: 
This is a new weapon charm added recently to Overwatch 2. The One Punch Man and Overwatch collaboration is here, meaning you can do the challenges to win rewards. The Saitama Fist is one of the rewards. All you have to do is play Overwatch. I'm not kidding: after a certain number of games played, you'll win this weapon charm.
That's why it deserves such a high spot on this list. Not only is the charm from a beloved character, but it's also the easiest one to get on this entire list. There is no need for currency, real-world money, or grinding. Just play the game normally, and you'll get it.
How To Get Saitama Fist
Complete the One Punch Man event challenges
9. Donut (Free Kiriko Charm)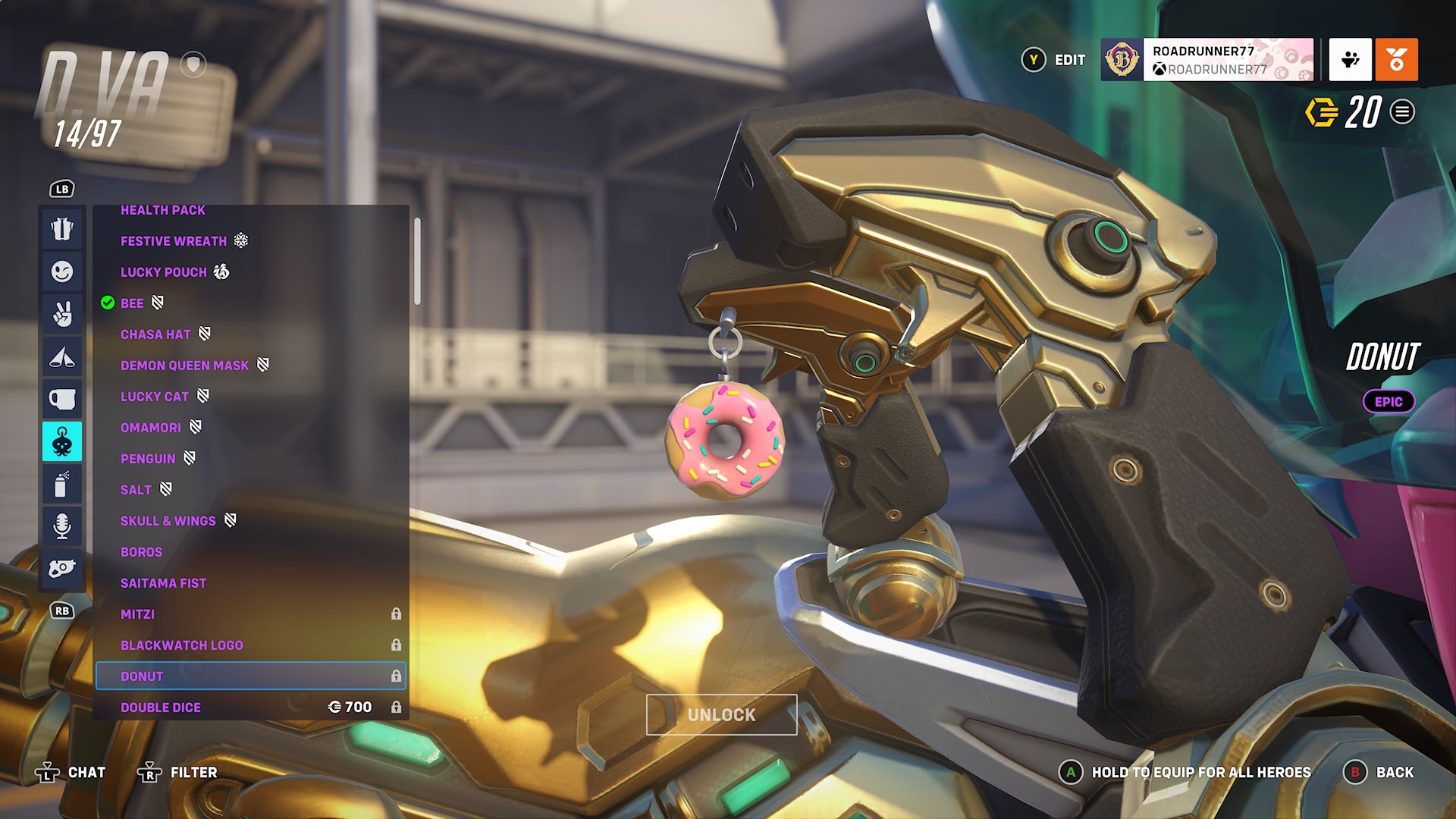 It's a donut, must I say more?
See Donut in action: 
This charm is so simple yet so effective. It was a free reward when Kiriko was revealed. In her cinematic, Kiriko is shown to love donuts. Who doesn't love a good donut? Since donuts have become a bit of an icon for Kiriko, the donut became a weapon charm.
Unfortunately, you can't get this charm right now. It might come to the shop at some point, but it was awarded to players who watched Overwatch on Twitch. It was part of their promotion campaign to promote Kiriko to new and old players. Anyone who participated in the Twitch drops got the charm.
How To Get Donut
Participate in Twitch drops
8. Double Dice (700 Credits)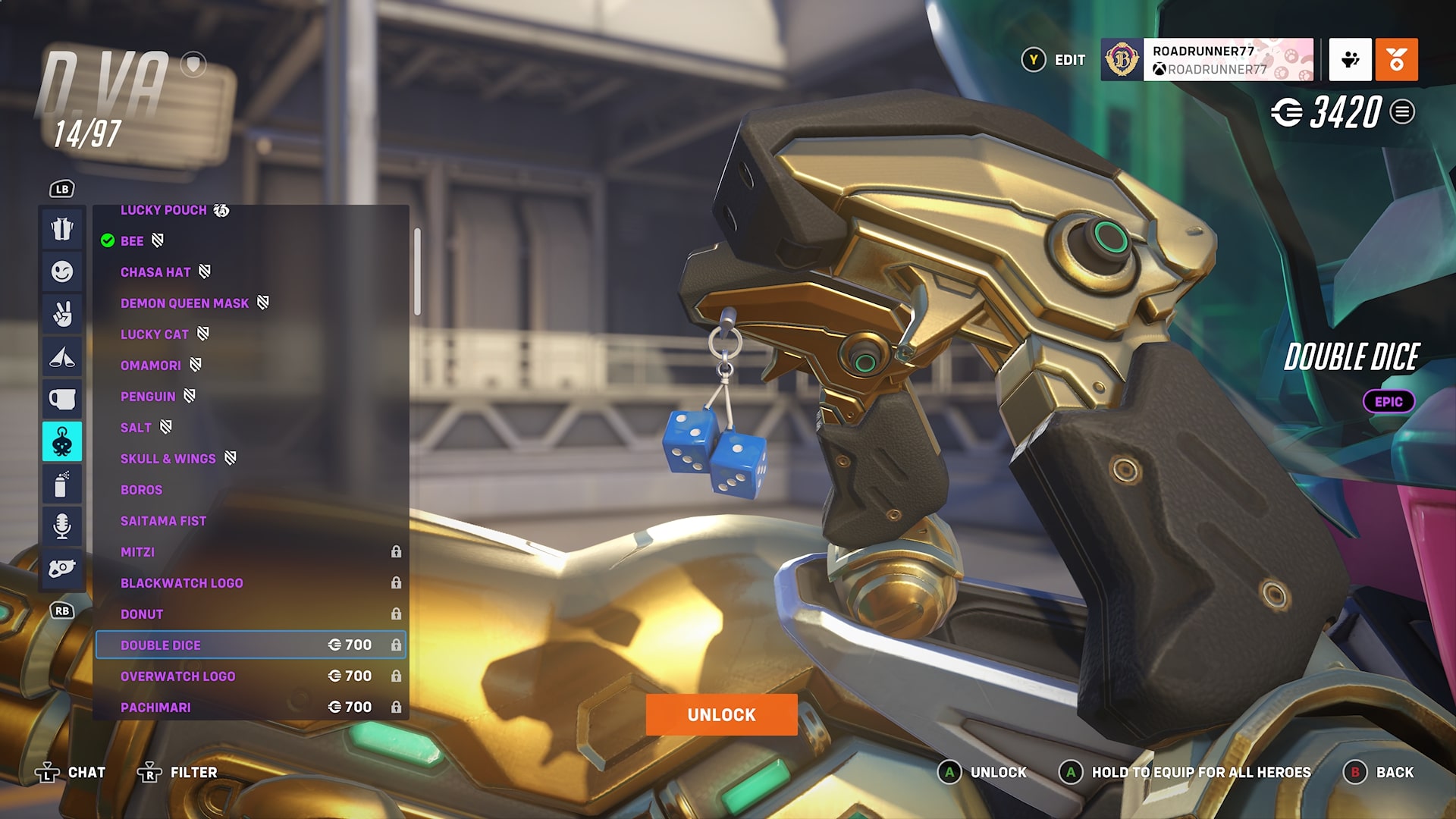 Han Solo who?
See Double Dice in action: 
The Double Dice weapon charm is one of my favorites thanks to how it dangles back and forth when you move. All the other weapon charms dangle, but this one seems to dangle the most. It's such a small detail that adds to how cute and lovable these little charms are.
Double Dice are relatively easy to get. Since you can use the old Overwatch credits to buy them, most old players will have enough to get them and still have currency left over. The design is cute, it won't cost you too much, and they'll dangle. There's really no reason not to get them.
How To Get Double Dice
7. Pachimari (700 Credits)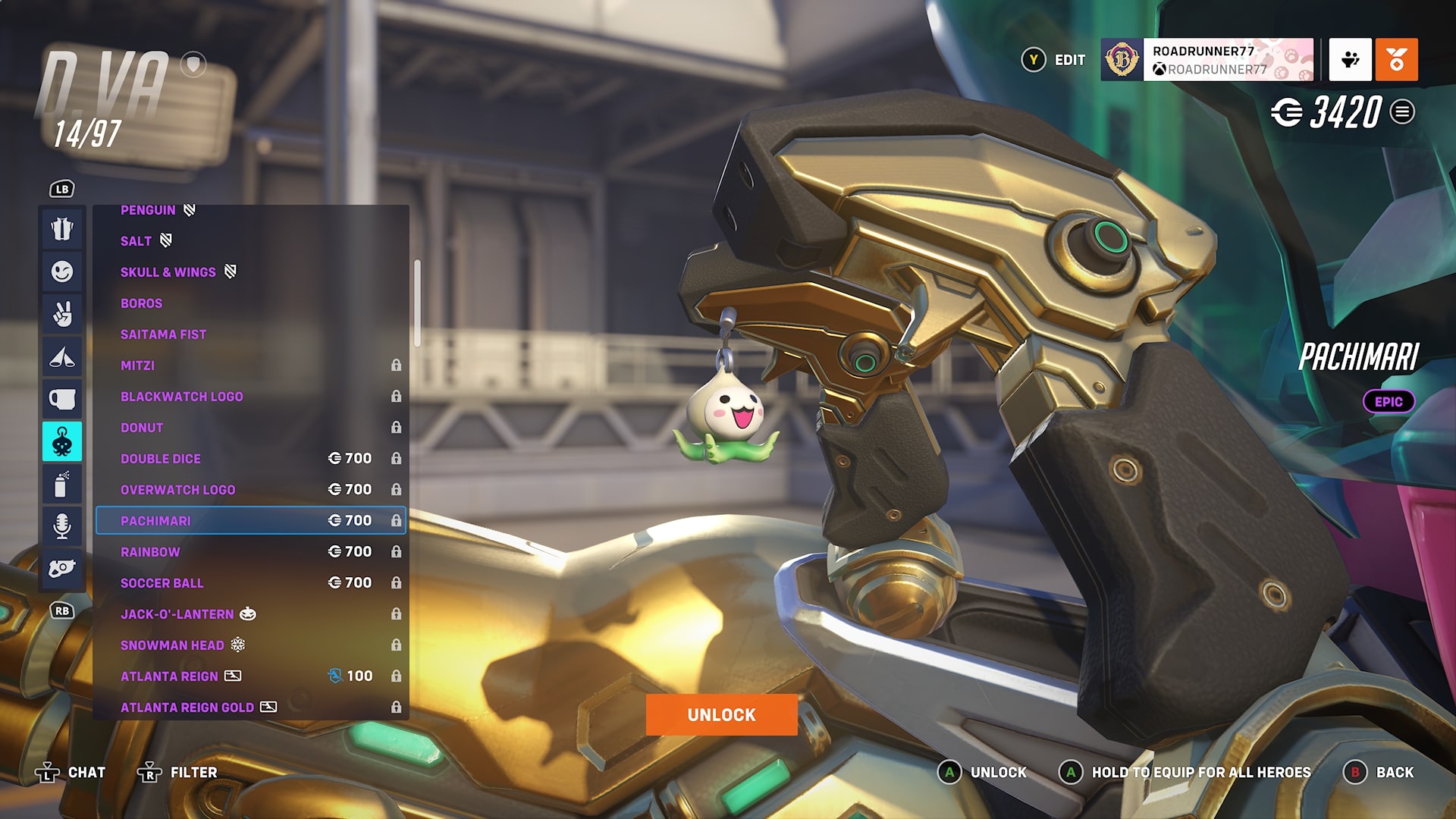 These weapon charms keep getting cuter and cuter
See Pachimari in action: 
Ah, the iconic Pachimari. A symbol of Overwatch. I'd argue that Pachimari is more influential than the game's cover girl, Tracer. Okay, that's a stretch, but the Pachimari weapon charm is a beloved one thanks to how adorable it is.
Just like with Double Dice, it's easy to get. All you have to do is buy it with old Overwatch credits. Once you get it, you'll have a Pachimari companion dangling with you as you play Overwatch.
How To Get Pachimari
6. Origami Crane (Season 1 Battle Pass)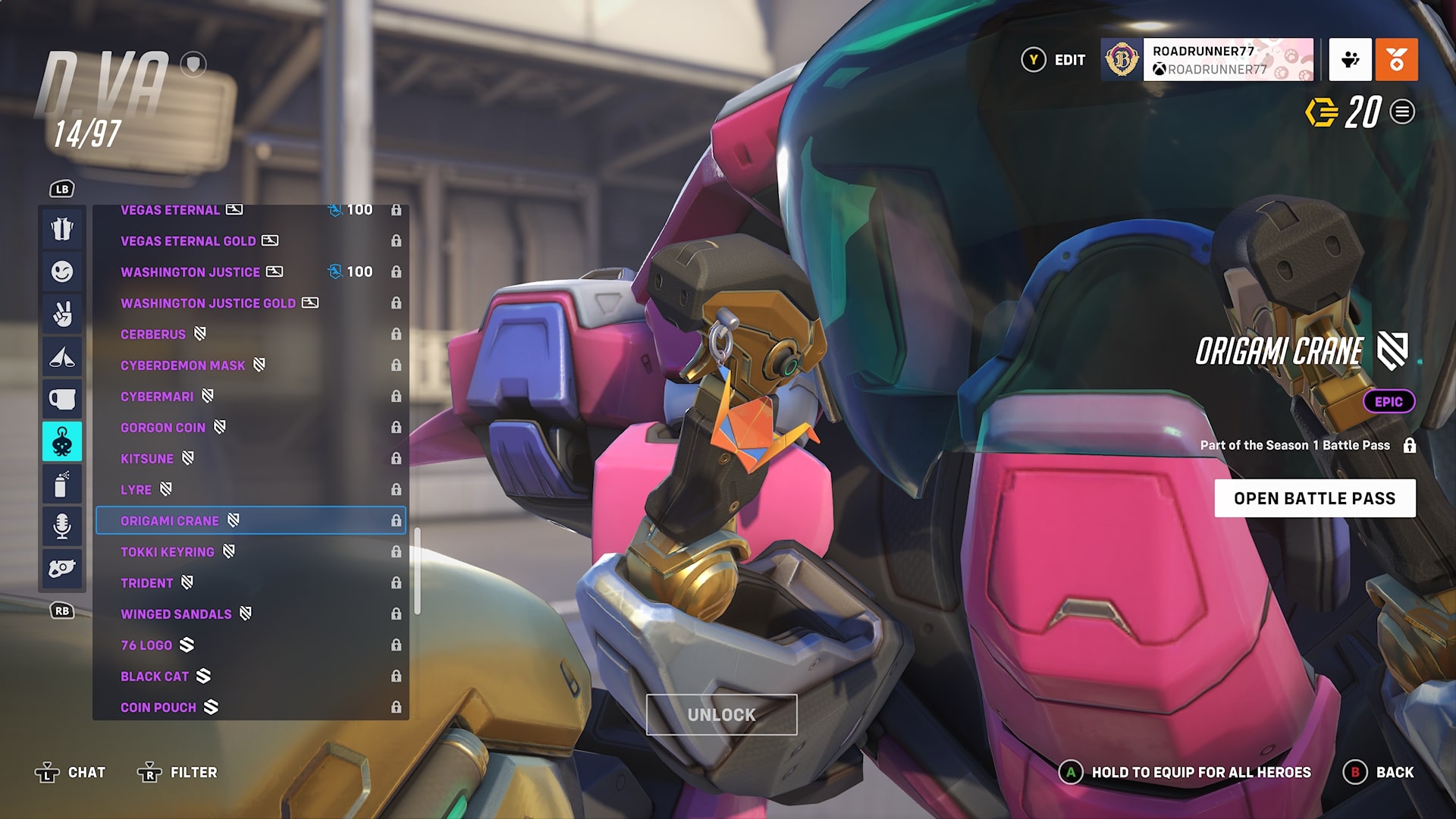 It kinda just floats there
See Origami Crane in action: 
Origami is a beautiful art form that has made its way into Overwatch. Now, you can get an origami crane as a weapon charm. The Origami Crane charm is adorable and colorful. Thanks to the colors, it stands out more. The biggest criticism gamers have about the weapon charms is that they don't notice them. With these bright colors, players will surely notice the charms more.
The Origami Crane is also well designed. It looks exactly like its real-life counterpart, and if you have golden weapons, it matches them. The only issue is that you can't get it now. It was a charm for the season 1 Battle Pass, meaning unless you already have it, you can't get it.
How To Get Origami Crane
One of the weapon charms available in the season 1 Battle Pass
5. Black Cat (Halloween Event)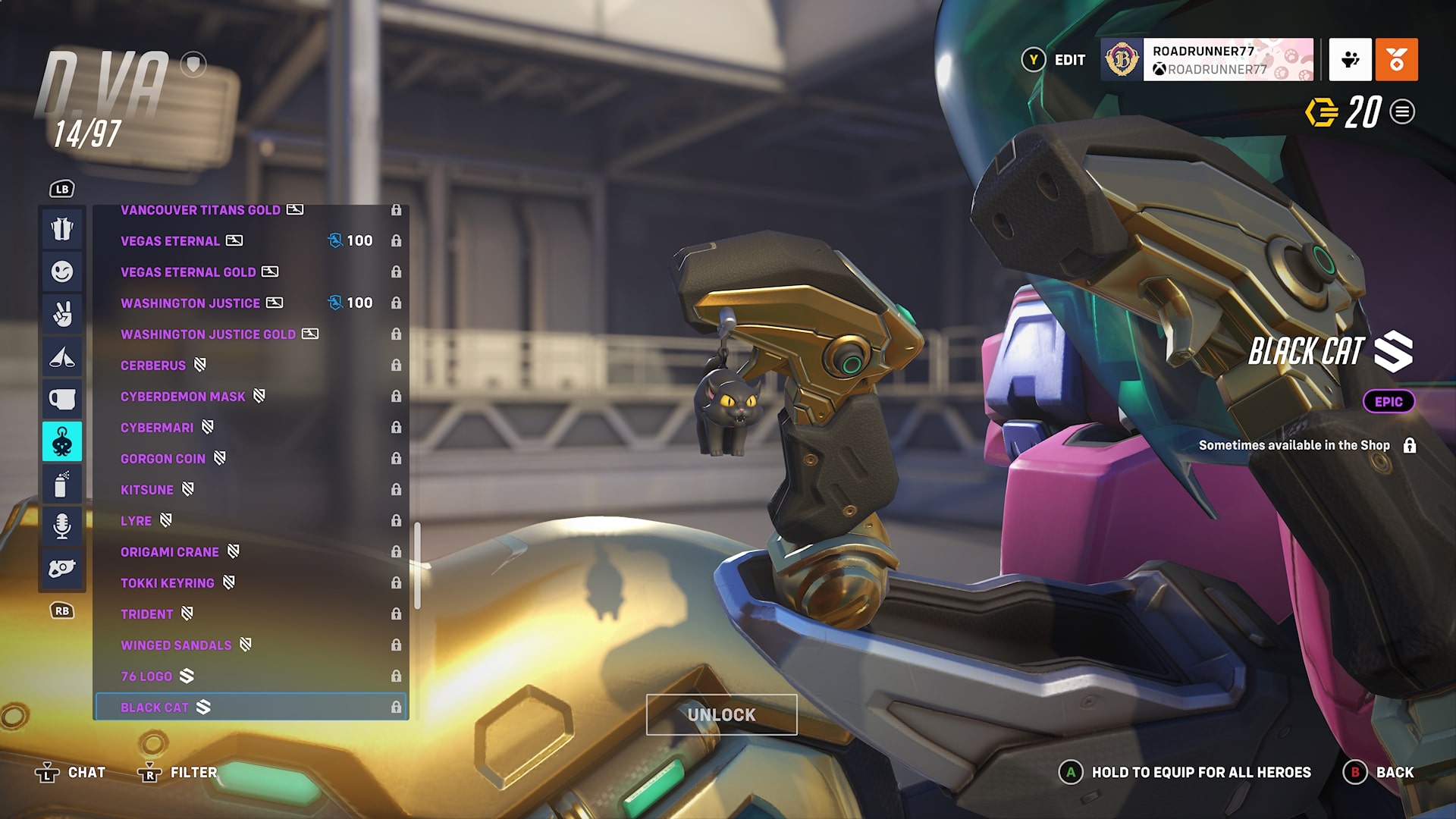 Pet the cat
See Black Cat in action: 
Black Cat is just too cute not to include on this list. Look at those eyes. How can you not fall in love? The Black Cat weapon charm is one of the cutest and most lovable charms in the game. Whenever I look at that charm, I want to give it cuddles and pet it for hours.
The only downside is that you can't get it right now. It was released during the Halloween Event, which means it probably won't be back until next Halloween. On the bright side, at least that means it'll come back. The problem is that you have to wait a few months until it does.
How To Get Black Cat
This is a Halloween Event charm; check the stores around Halloween time to find the price
4. Folded Unicorn (Bundle)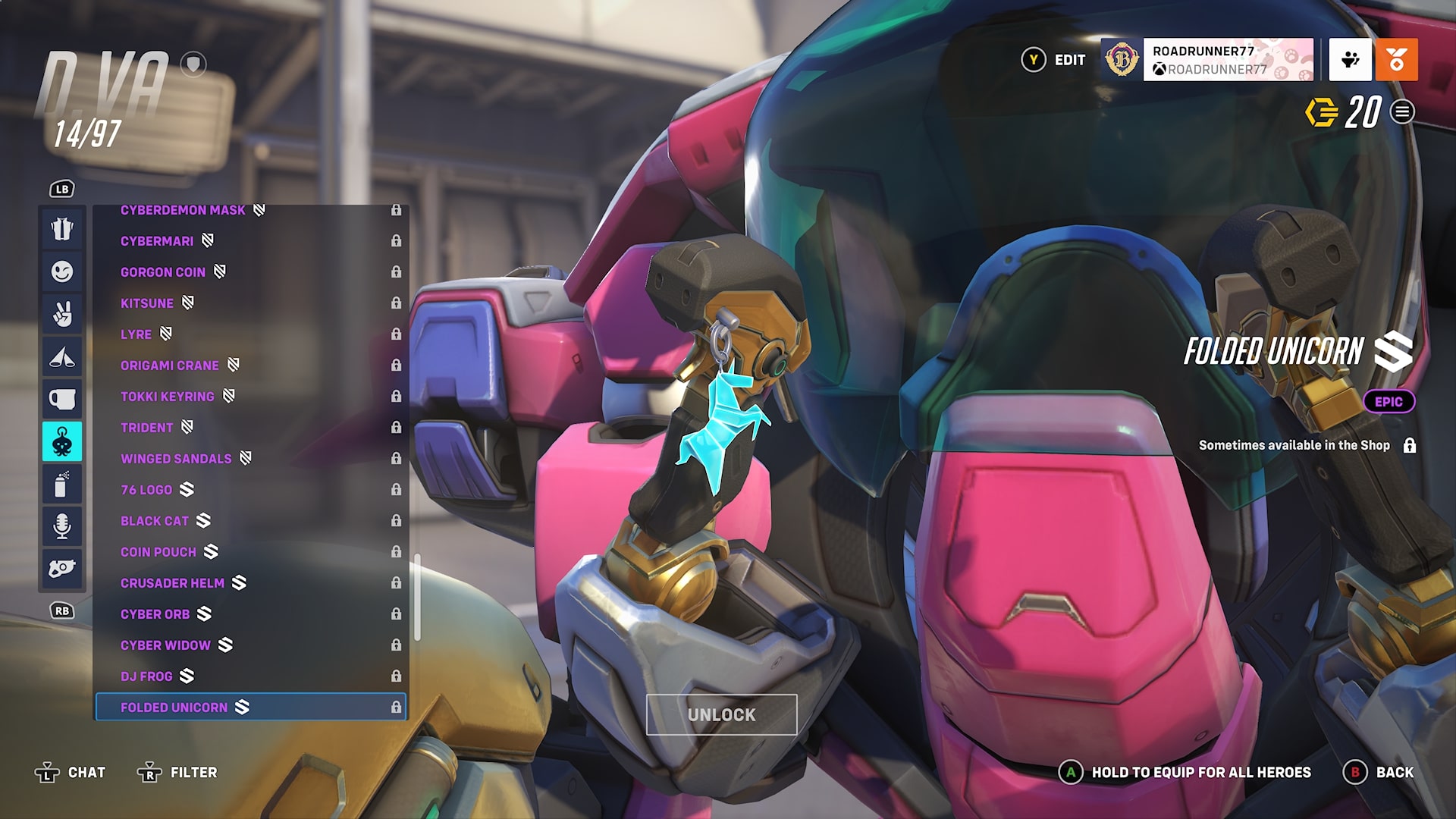 Do you dream of electric sheep?
See Folded Unicorn in action: 
This is mostly a personal pick since it reminds me too much of Blade Runner. Still, the Folded Unicorn weapon charm is bright and stands out. You will definitely notice this charm while playing the game. If you look at the picture, you'll see it outshines even my glowing golden weapons for D.Va.
This charm is easy to get if you can find it at the right time. The shop rotates often, so there's a chance you can find it. It's in a bundle pack, meaning the prices will vary. The prices can go up or down at any time.
How To Get Folded Unicorn
This is part of a Sojourn bundle, so prices will vary; occasionally it will be available in the shop
3. Koi (Bundle)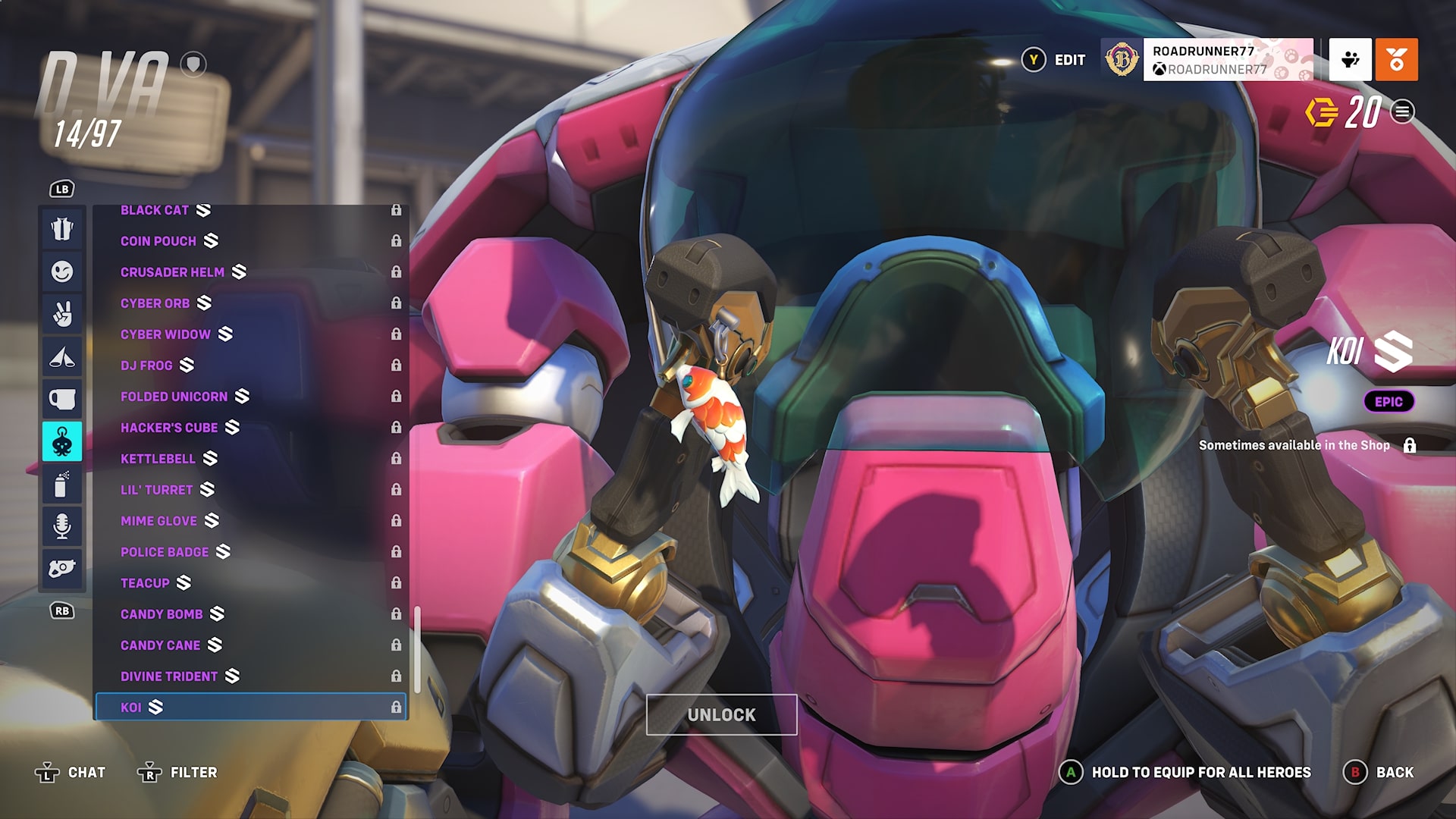 Floppy fish
See Koi in action: 
It's a fish. Seriously, how cool is that? You have a fish hanging from the side of your weapon. Although I don't personally have this weapon charm, I desperately want it. Imagine having a fish flopping by your side as you rush into battle. Now that's top-tier comedy.
Like the Folded Unicorn, this charm is noticeable. It might be one of the most noticeable charms in the game. It's bright, it has nice details, and it's a flopping fish. It's kind of hard to miss.
How To Get Koi
This is part of a Hanzo bundle, so prices will vary; occasionally it will be available in the shop
2. Tako (Bundle)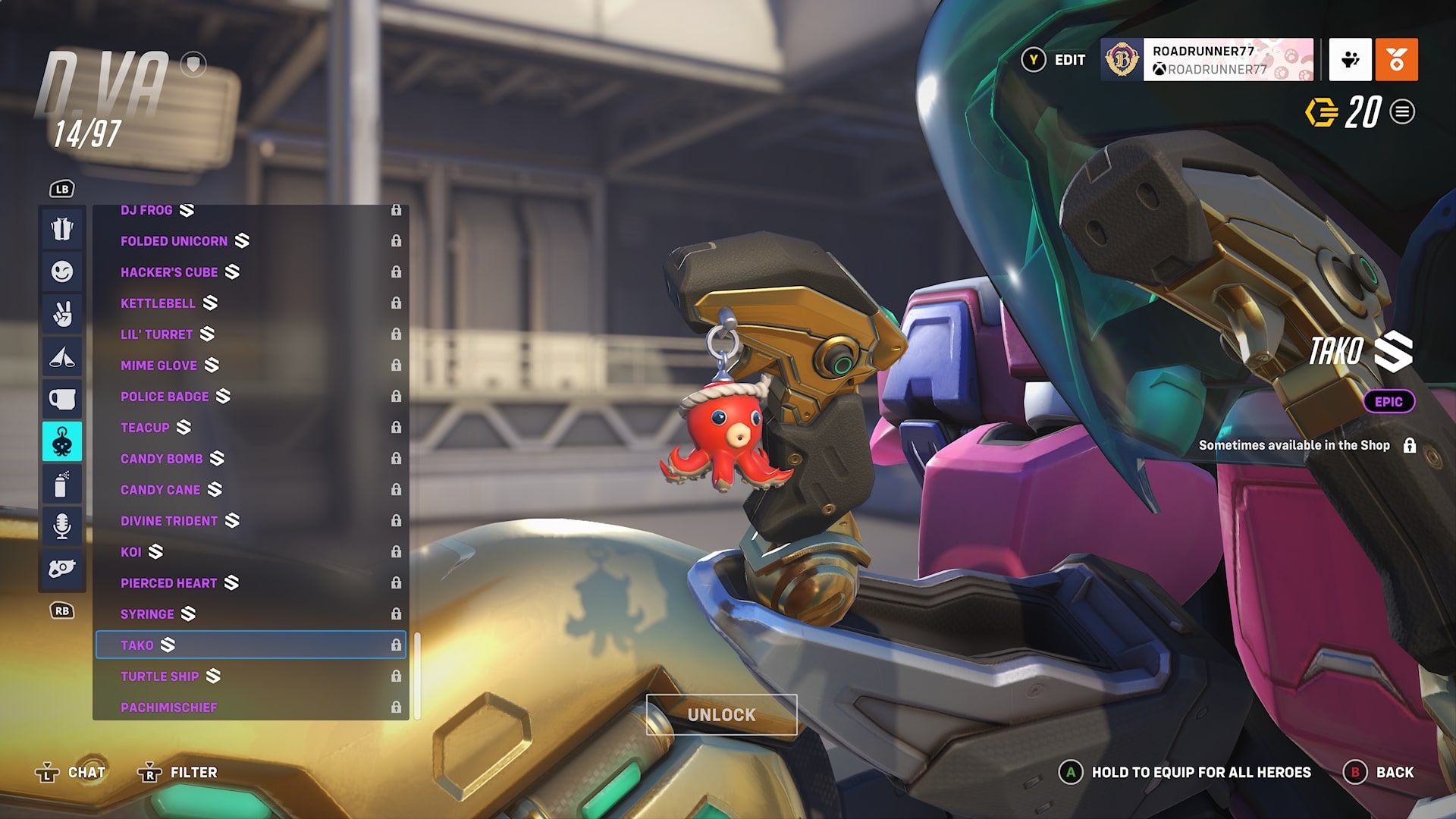 It's a menace to society
See Tako in action: 
Tako is, like Koi, very noticeable. It's a little octopus with its lips in an 'o' shape. How can you say no to that face? Is that not the cutest little octopus you've ever seen? Imagine having an octopus accompany you as you battle your foes. Doesn't that sound awesome?
This charm is sometimes available in the shop. It comes with a Zenyatta bundle, meaning you'll have to look out for Zenyatta skins. The shop rotates often, so make sure to check daily to make sure you don't miss it.
How To Get Tako
This is part of a Zenyatta bundle, so prices will vary; occasionally it will be available in the shop
1. Bee (Starter Pack)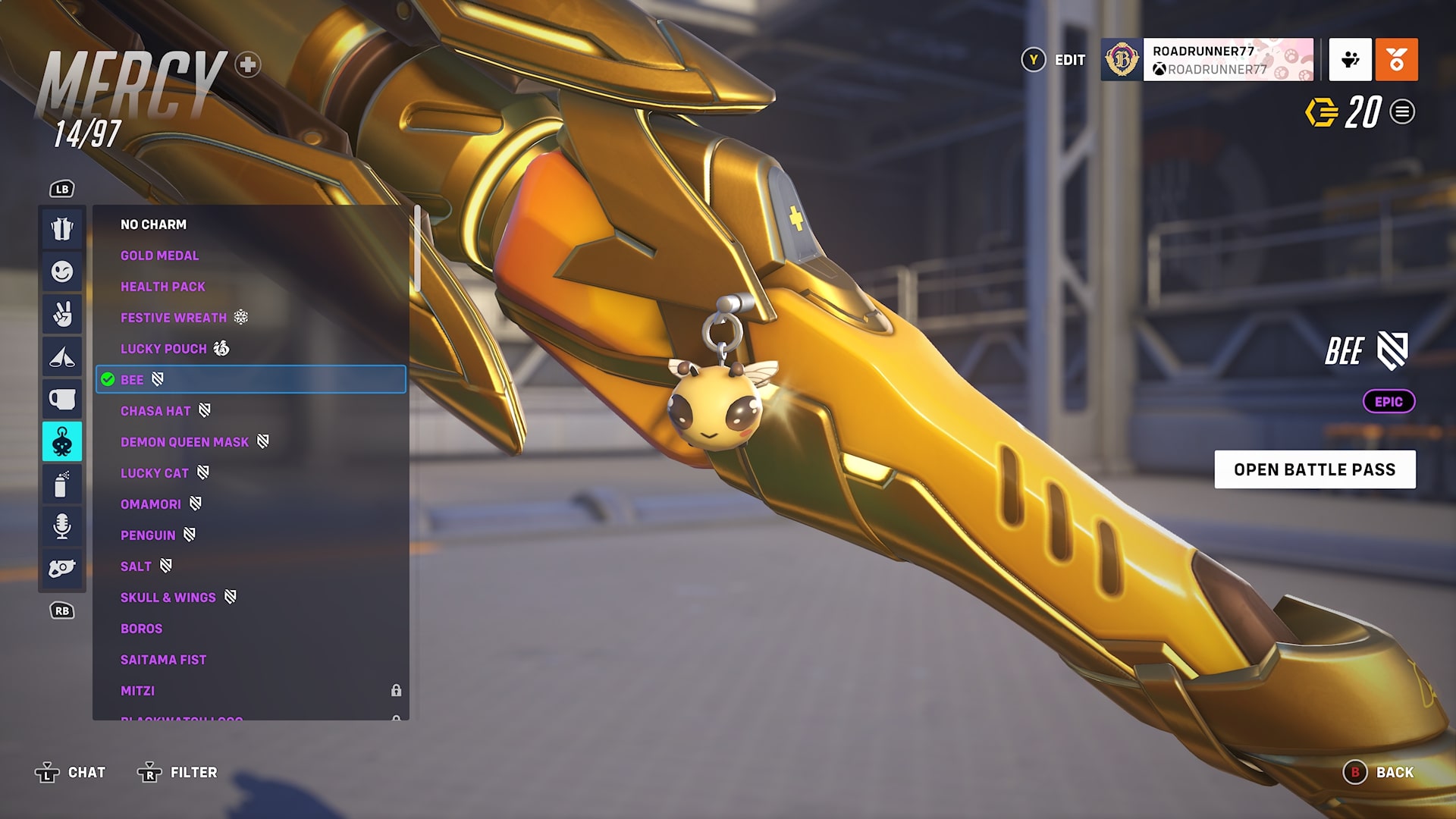 That's the cutest thing I've ever seen
See Bee in action: 
Topping this list is the bee charm. Although it may not be as noticeable as the Tako and Koi charms, Bee has its own charms, if you will. Puns aside, Bee is the cutest charm in the game and comes with a beautiful skin for Mercy. This bundle is the cutest in the game. I actually equipped the Honey Bee Mercy skin, so you can see what the Bee charm looks like on it with the golden weapon.
The only issue is that this costs actual money. As of right now, there is no way to get it in the shop for currency you can earn in-game. You have to spend ten dollars on it. It will give you the bee skin pack and 1000 credits. Honestly, that's not a bad deal for how much stuff you're getting. 1000 credits gives you the premium Battle Pass, meaning you'll have access to a lot of the weapon charms on this list.
How To Get Bee
Purchase the season 3 starter pack; 10 dollars
You May Also Be Interested In: