[Top 15] Minecraft Snow Seeds That Are Fun!
Updated: 15 Dec 2022 9:34 am
Get on your snowsuit and explore!
Minecraft has a huge variety of biome seeds. There are 63 distinct biome types between the Overworld, the Nether, and the End, including the snowy biome. They frequently stand tall and are challenging to access, and they offer few to no resources. While this could sound unappealing to some, to those who love a challenge, it's paradise. Here are the Top 15 Minecraft snow seeds!
1. Cliffside Winter Escape (75866657992697851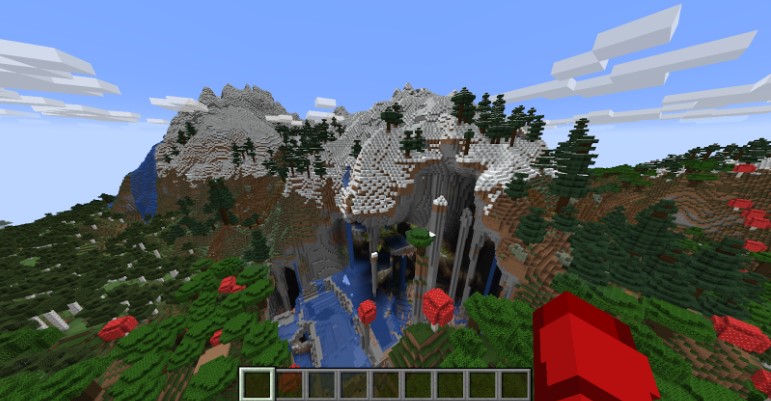 Look at that scenic view!
This seed is a nice environment to construct your house or even just to explore! There are also edible mushrooms nearby, surrounded by thick oak and birch woodland. The area is open and available for use above the mountain. The extensive cave network below contains a lush ecosystem and a number of readily available materials. Even though there won't be that much food and the trek will indeed be long, the cave system itself is worth the effort.
2. Blizzard Island (160517084)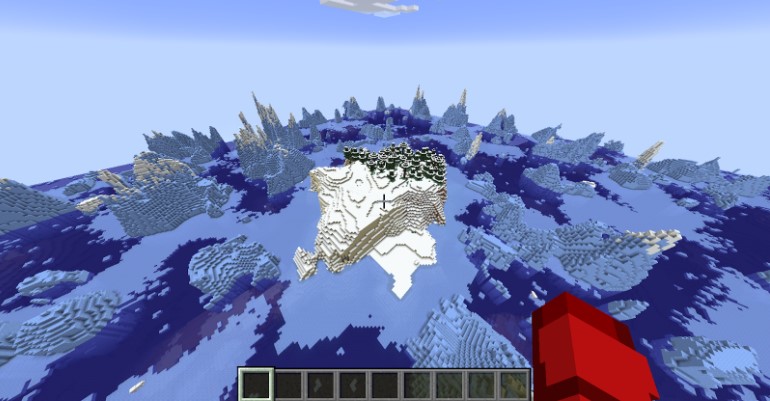 Icy solitude lives here!
This seed features island living, but with a twist. You spawn on an island with a very small forest, in the middle of a water and ice ocean, surrounded by icy hills and spikes. This seed will challenge you with the extremely limited amount of resources and the water surrounding the island forever. Is the challenge worth it? I would say so, considering the view. Isolation, at its most gorgeous.
3. Abandoned Winter Village (2129407928)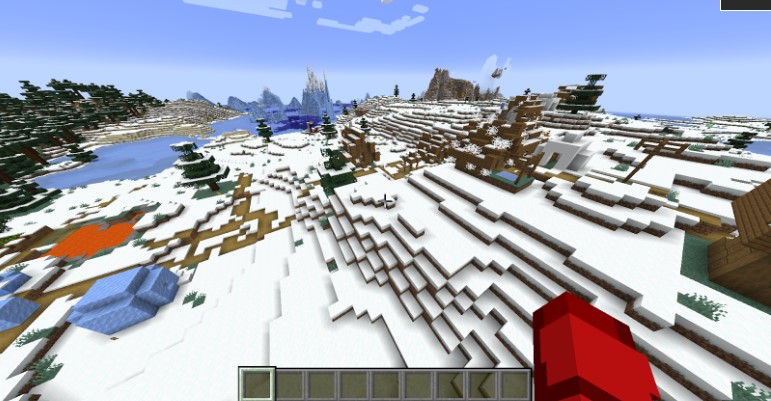 Live in the snow with these villagers!
This seed is a storyteller's paradise. A beautiful, abandoned village facing an ice lake and ice spikes biome is the destination. Walk around the dilapidated village and discover hidden leftovers from a once-thriving village. Multiple igloos are in the village along with a smithing shop, houses, filled chests, a lava pond, and a good amount of resources. If a snowy escape is needed, this seed is a perfect middle ground with resources and storyline opportunities.
4. Blizzard Pillagers (2625328716742122581)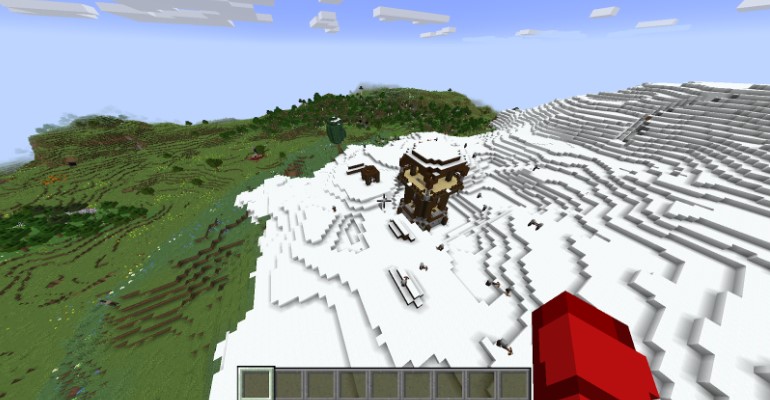 Beat these pillagers and steal their base!
This seed is a simple, yet challenging one. You spawn on a nearby mountain, travel to the next snowy mountain in sight, and defeat the pillagers. (They're the bad guys anyway!) Use their tower as a base for yourself and utilize the nearby resources. You'll see a ruined portal down the mountain along with plentiful woods. Covered in trees, flowers, and bees, you'll have more than enough to find yourself in comfortable living.
5. Deep Dark Snowscape (-561772)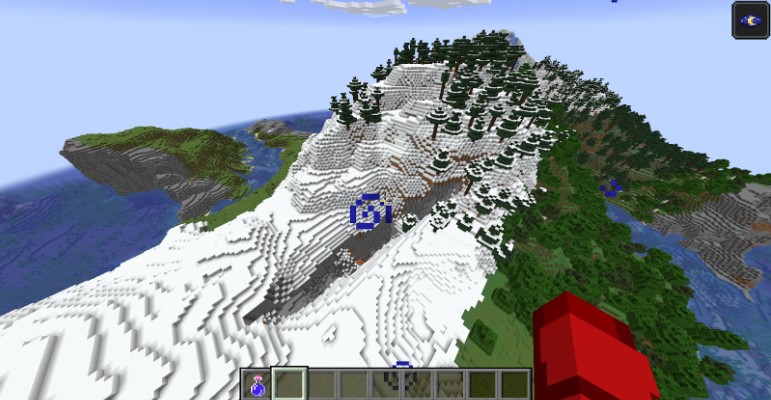 Watch your step, there's a Warden below!
This snowy place features a secret! While surrounded by plentiful resources, deep in the crevice on the side of the snowy mountain, lies a quest. Trudge deep into the ravine and find yourself in the Deep Dark biome. Make your way further and you may find an Ancient City. (Beware of that pesky Warden). The snowy mountain serves as a great base as you'll find the way to the Deep Dark is steep and hard. Newbs need not apply, this is a challenging seed.
6. The Recluse's Hideaway (-18016543117397)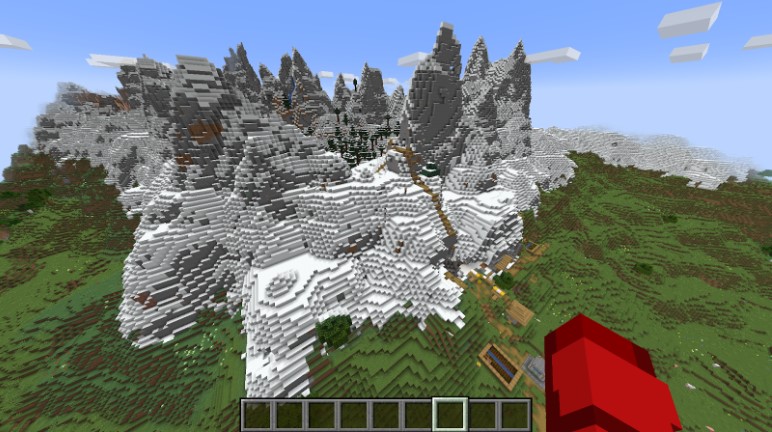 Hide in these snowy mountains!
This seed is excellent for those who wish to remain unbothered. Live on a mountaintop, on a plain, surrounded by the mountain. Have your own personal road to the village below. Nothing will be more serene than in your own snowy paradise. The mountains also provide ample opportunity for tier-two tools with the exposed stone and resources.
7. The Starter's Dream (199002808534434020)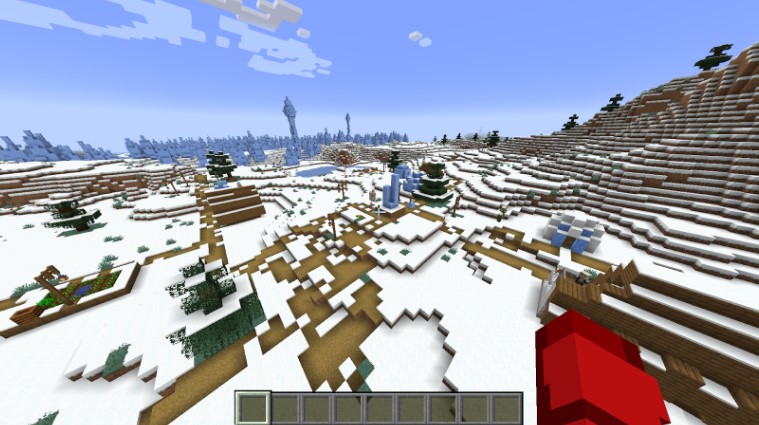 The abundance of snow biome lies here!
This seed provides a chill time for those who need to game with ease. You spawn in a rare mixed village with ice, stone, and wood buildings. This village features a blacksmith for even easier gameplay. Many biomes surround the area with ice spikes, woods, plains, and snowy mountains. Ravines are also right next door. If you want a seed with minimal travel for resources with minimal challenge gameplay.
8. Trio's Merchant (8155309)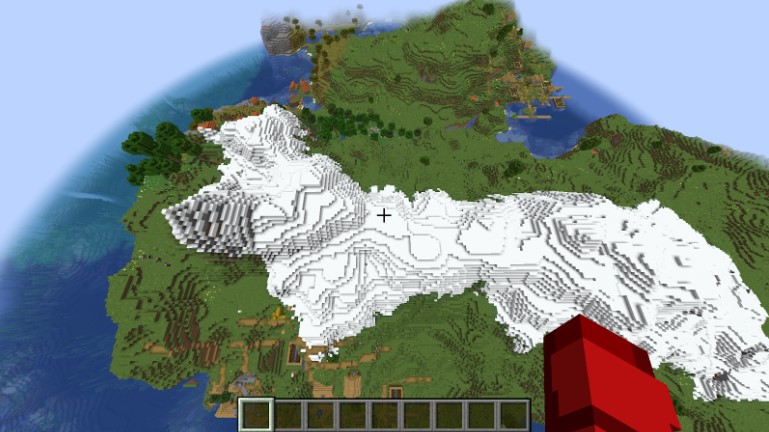 Three different villages are all within reach!
This seed is for merchants and traders. A snow-capped mountain surrounded by not one, not two, but three villages! All of which are within walking distance. Enjoy two oak-based villages and an acacia village with a plentiful bounty to boost your early game. Living on a mountain also gives certain advantages such as easy underground resource access. This seed features a center for everything you need for villager-related things.
9. The Survivalist's Paradise (39831394)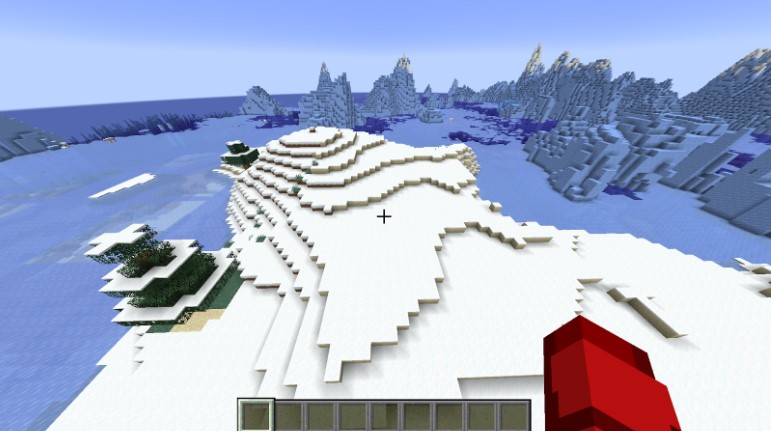 You'll have a hard time finding resources here!
This seed is for those with patience and skill. Spawn in a tundra bordering on an ice spikes ocean. While you are given trees, that will be about it. The only spawns near you are polar bears. A boat may be your best friend during this playthrough
10. Mooshroom Iceland (1706992951)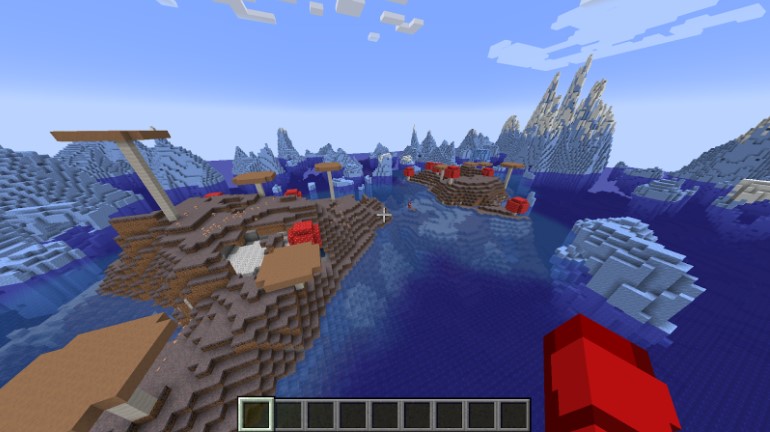 Cute mushrooms around the ice!
This is a biome, within a biome. Spawn in a nearby tundra. Travel to safety on this mushroom island ( X:-568, Y: 70, Z: -442) amidst an iceland ocean. Since nothing fearsome can spawn there, and it's already equipped with food, the only thing you'll be missing is trees, which you can collect while traveling to the island from spawn. A challenge at the start, but peace from mid-game and on.
11. The Abyss (1889391968)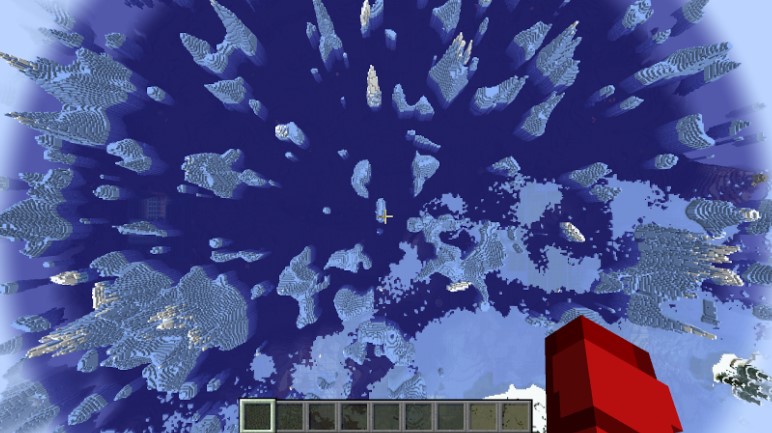 This seed is super challenging!
This seed is for the people who absolutely love tundras. This biome spreads for over 1500 blocks and includes a variety of smaller islands, deep caves, and a lot of structures. Some resources can be found if you look hard enough and in the right places. This vast void of snow is the loner's dream…enter at your will
12. Scattered Snowy Mountain (2122612140)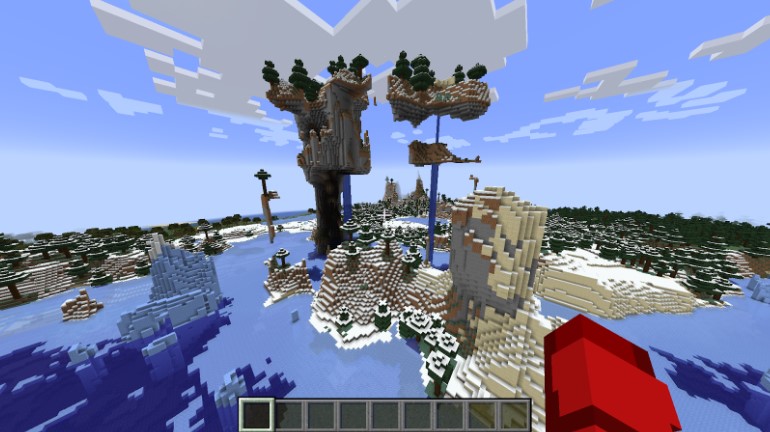 The island is full of upwards opportunities! 
The sights here are spectacular. Spawn nearby and travel to this amazing scattered mountaintop (X:-31, Y: 174, Z: 273). Take the chance and climb to the top to nest, or live nearby and enjoy the view. The challenge is there, and ready to be taken. Resources are plentiful and the options for gameplay are amazing. This unique seed is perfect for those who love quirky places.
13. Snowy Dripstone Mountains (-98990689)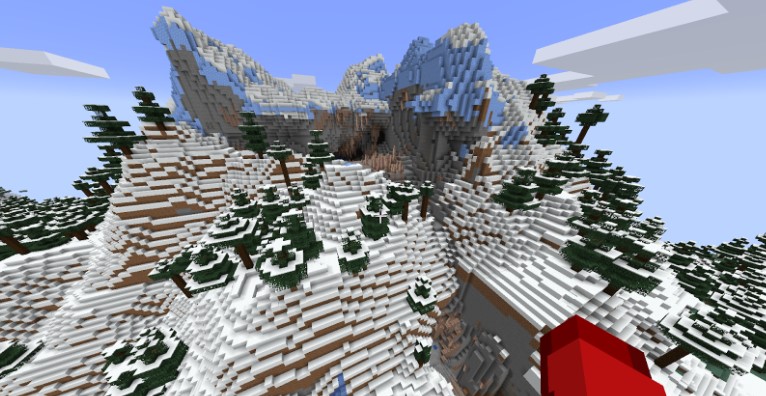 Climb up high to reach the cave!
Spawn in the snow and travel a bit to get to this cut-out in the mountain. Featured in this mountainside is a dropstone cavern (X: -258, Y: 163, Z: 377), hidden in the snow. This cavern stretches for chunks throughout the entire inside of the mountain. Many resources await here for the taking.
14. Realistic Mountain (664228344)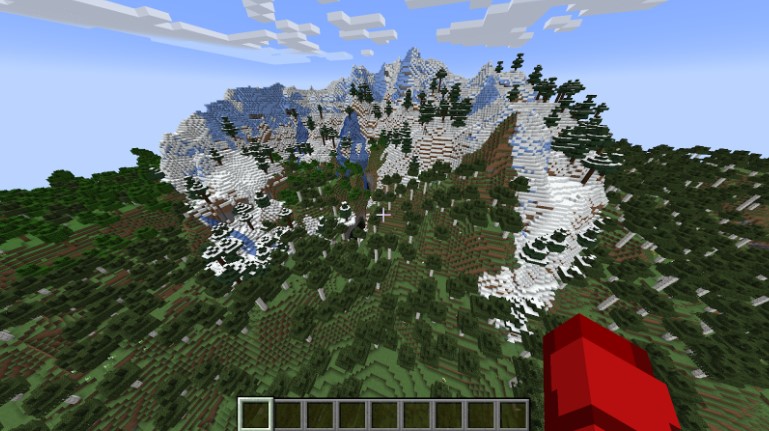 Mimic real life with snow-capped mountains!
Travel from spawn to arrive at a realistic mountain (X: 110, Y: 100, Z: -494). The farther you travel up the mountain, the snowier it gets. Hidden caverns await you inside the mountain as well. Make your house below and climb the mountain like Everest, or live atop the mountain in a snowy escape.
15. Insane Snow Cliff (-1820780390)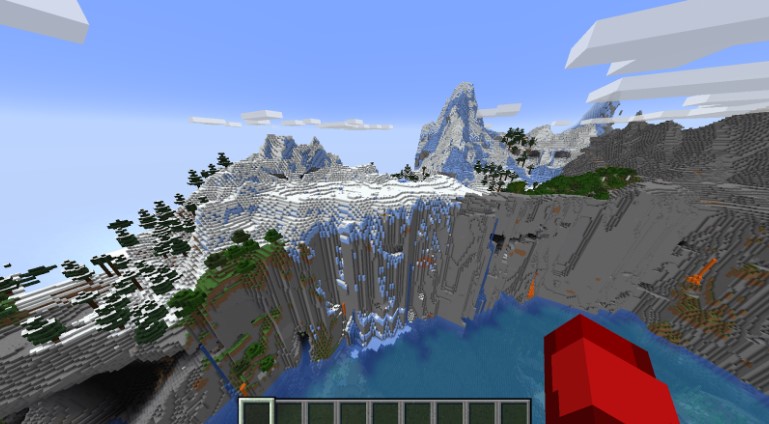 An icy cliff awaits you!
A few chunks away from this insane view, the entire side of multiple biomes spawns on a cliff facing the ocean. Caves that require ample skill to get to spawn below. Ample resources are provided on the top of the cliff and in the surrounding biomes. Adventure, opportunity, and a view. This seed is optimal for survival gameplay for those with higher aesthetic preferences. 
You may also be interested in: