Gears 5 Gameplay - Top 10 Things We're Excited For
Updated: 21 Jun 2019 10:22 pm
Marcus is still always ready for a fight.
With the release of Gears of War 5 right around the corner and tons of gameplay being revealed at E3, the Gears community is buzzing with excitement.
And to prepare ourselves for the countless number of hours we'll be putting into the game, it's important that we take a moment to gather what we know so far for discussion. Here's our top list of the Top 10 things we're excited for in Gears of War 5.
10. New Characters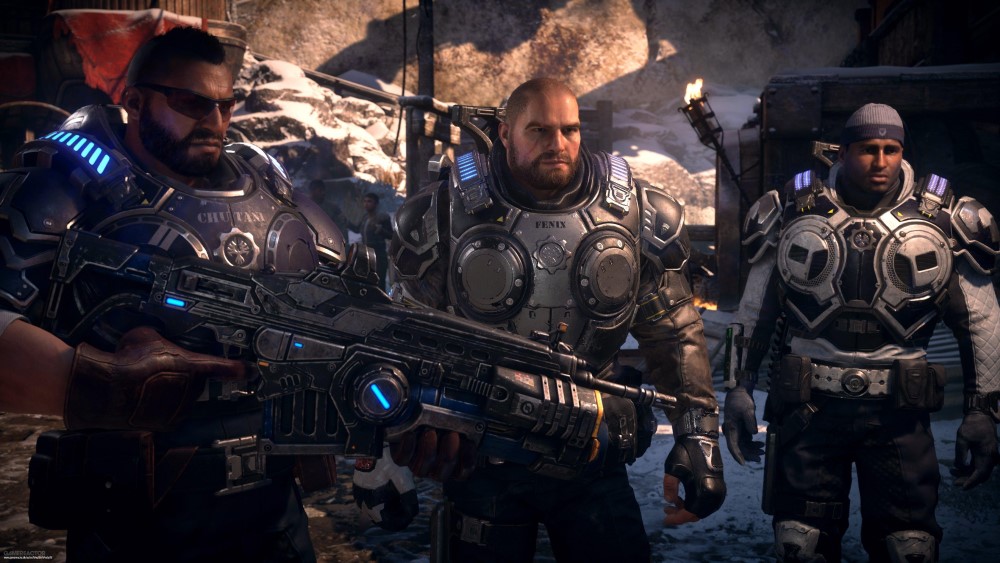 Fahz Chutani, JD Fenix, and Delmont Walker.
Big personalities have been a staple of the Gears of War franchise since the day we were introduced to the Cole Train back in the 2006 release of the original Gears of War. Since then, every new Gears game has introduced a slew of new characters with a variety of robust and colorful personalities and GOW5 is no different. In the campaign reveal trailer, we were introduced to our new Squad mate Fahz Chutani, who is being voiced by Rahul Kohli (iZombie). Not much is known about Fahz at this time, but we're excited to learn more about the dynamic between himself and JD Fenix. Additionally, we got a detailed look at a new group of "Hive busters" composed of three new faces in the Escape Mode.  
Why we're excited about this feature:
The Coalition has introduced us to some of the most iconic gaming characters in the history of gaming.
GOW 5 is continuing its mission to further diversify its character base. It's hard not to feel represented by at least one of the characters on this massive roster.
This means more playable characters and dialogue in multiplayer as well.
9. Early Access + Preorder Bonuses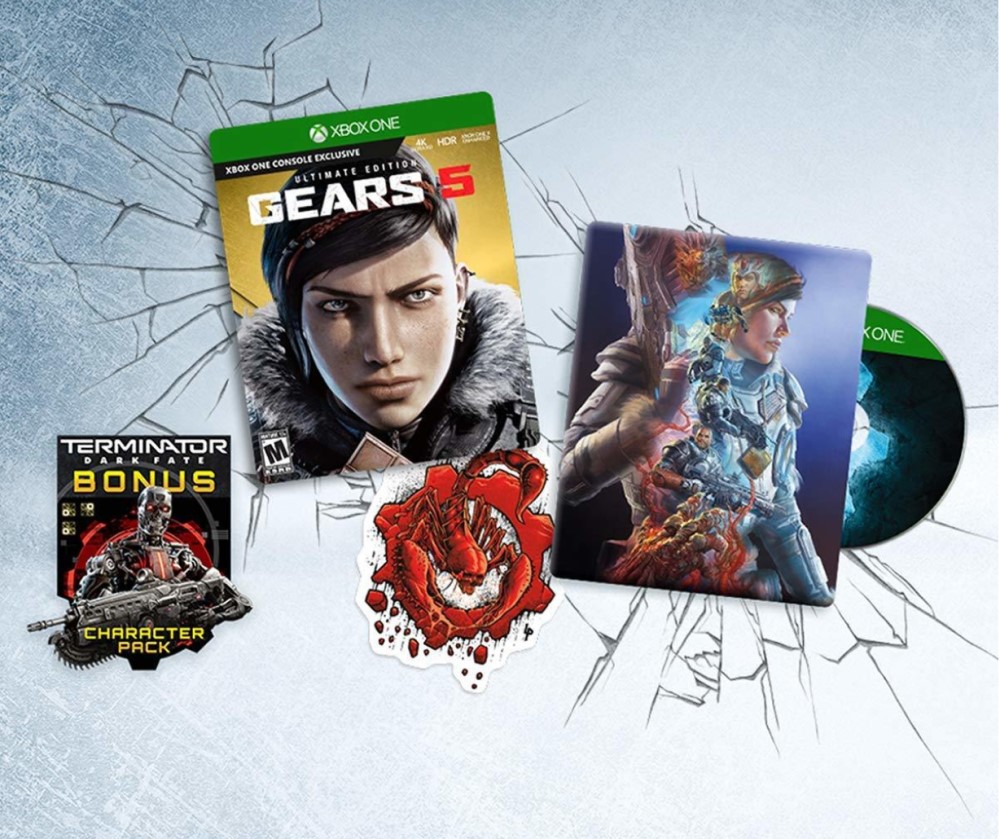 Receive the Terminator Dark Fate Character Pack when you pre-order before September 10th. 
I can't think of the last time I wasn't satisfied with my Gears of War pre-order bonus and I don't believe this time will be any different. Now, if you haven't already heard, pre-ordering the base game comes with quite a few bonuses. Most notably, the Terminator Dark Fate Character Pack. This allows you to play as Sarah Connor and the T-800 Terminator. You'll also get access to the Tech Test which lets you play the game on July 17. almost two months early! Finally, if you pre-order the digital edition, you'll receive the Vector Lancer Skin and 7 days of XP Boost.
Why we're excited about this feature:
The T-800 Terminator sharing the battlefield with the COG & Locust feels natural.  
Traditionally, Pre-order characters take forever before they're released to everyone else, if at all, which makes them extremely rare in the community later in the games life cycle.
Being apart of the Tech Test gives you a voice, and The Coalition listens.
8. Weapon Tuning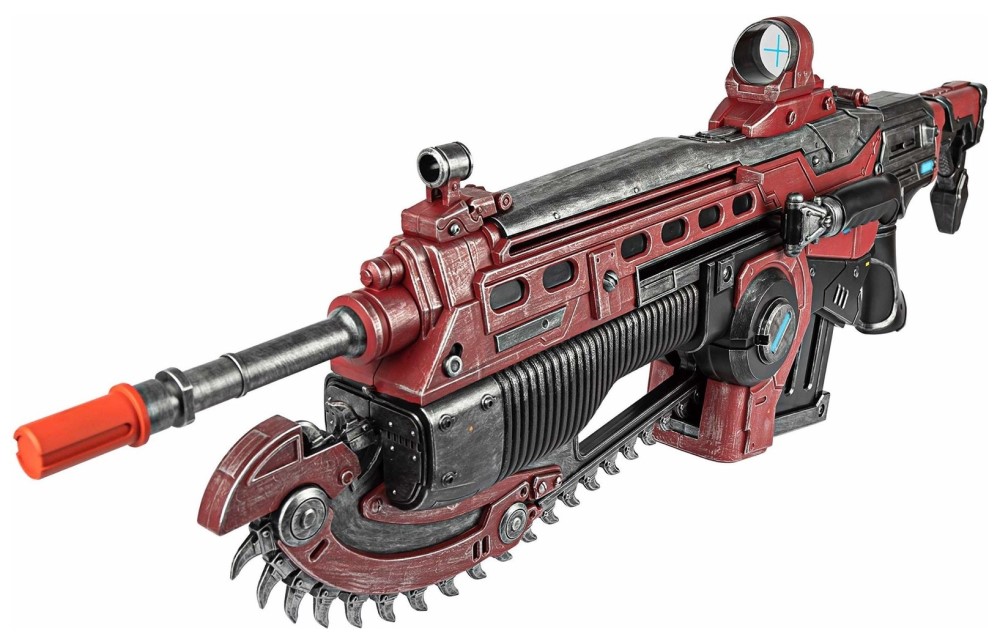 Crimson Lancer MK3 (Replica)
It looks like we're getting an entirely revamped weapon system in the new installment of the Gears franchise. Until now, your weapons accuracy was almost entirely centered around your ability to manage the reticles bloom. This was done by simply feathering the trigger or firing in small bursts which allowed the size of the reticle to return to its original size, ensuring maximum accuracy. According to Rod Fergusson, this system is being changed to factor in a weapons recoil and create a unique feeling for each weapon. Additionally, hit indication colors will be introduced as well. A white x indicates a hit, a red x indicates a critical hit to weak point, and a yellow x indicates a critical hit with an active reload bonus. 
Why we're excited about this gameplay feature:
Increases the skill gap. Learning a weapons unique recoil pattern rewards skilled players and provides a more consistent experience.
Adding recoil to rifles feels like a direct response to the criticism of Gears becoming "more like call of duty".
Color coding hit indicators takes all of the guess work out of lost gunfights.
7. HUD/Overlay Changes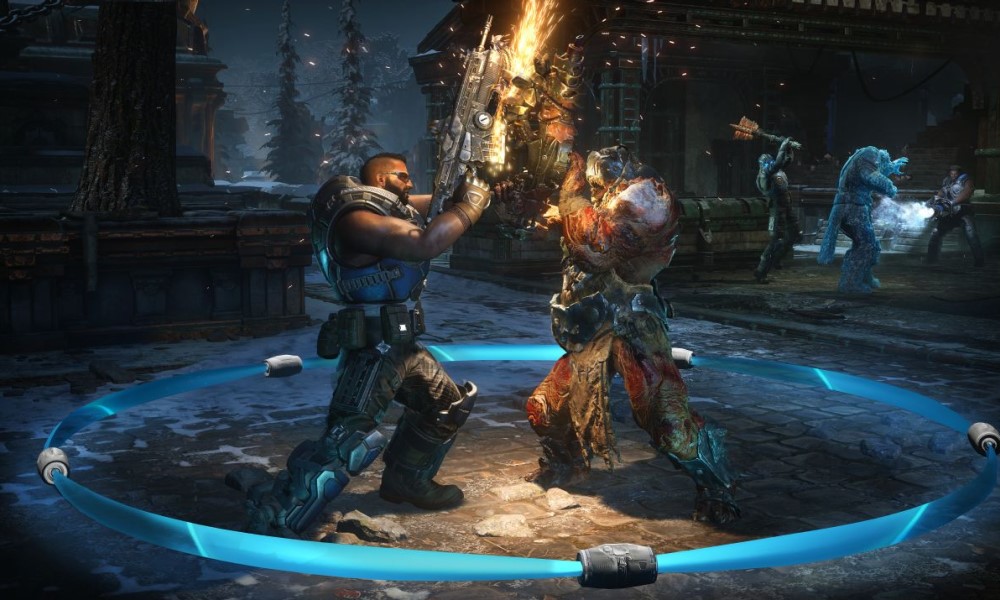 Right up to the point where a player has sustained enough damage to fall, your vision is unobscured.
A huge qualm that most people have had with Gears has always been the damage indicator. In previous installments when players took damage, the iconic red skull and gear symbol would almost entirely encompass the screen and obscure your vision. It appears the Coalition has heard our criticisms and changed the system to instead show a clear silhouette of a COG. Another notable change is the clearer and more detailed map on the bottom righthand portion of the screen, showing a much wider view of the surrounding area.
Why we're excited about this gameplay feature:
It shows The Coalition is listening to our concerns and making subtle changes that have a big impact on gameplay.
Mini map provides a wider and clearer view of the battlefield.
New damage overlay makes it easier to see where you're being shot from.
6. Health Bars and Damage Data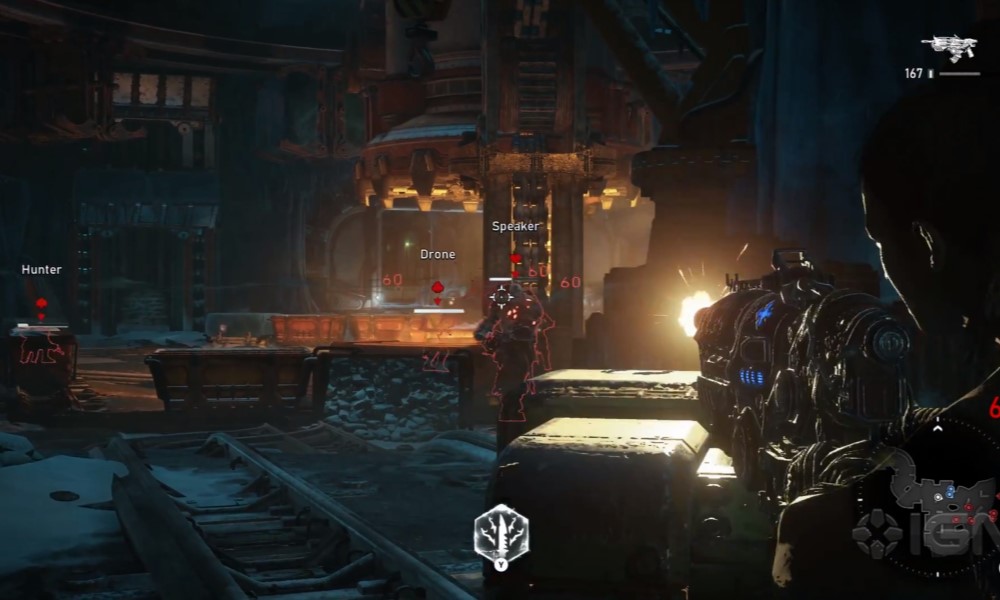 Health bars and hit data in the new Escape mode.
This feature is being met with some criticism online, but whether you love it or hate it, it's the direction a lot of games seem to be heading towards. Until now, gauging an enemy's health was half luck, half skill and you'd have to take a lot of unnecessary chances to finish off heavier enemies. With this new feature, the guesswork is taken out of the equation. This is also the first-time damage data is being displayed, so you can tell which weapons are effective at what ranges. This allows players to accurately determine the best weapons for every engagement.    
Why we're excited about this gameplay feature:
Hit data allows for a deeper understanding of a weapons damage profile.
Health bars accurately display how much damage you've inflicted on an enemy.
Critical damage done to an enemy is now displayed and color coded.
5.New Escape Mode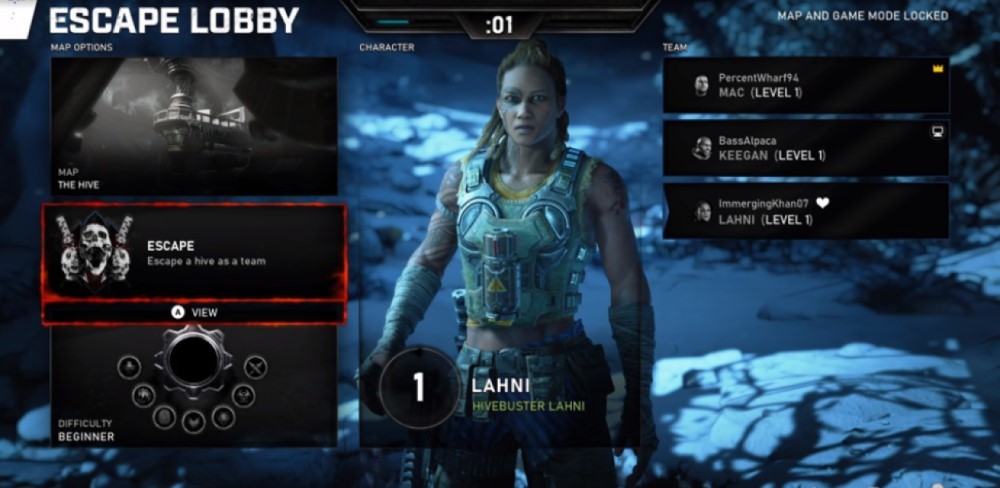 Escape Mode appears to have taken an RPG style approach with its level system and class based unlocks.
In this 3-player co-op experience, you're playing as a group of Hivebusters who Trojan Horse their way into the heart of the hive, plant a venom bomb, and escape with their lives. With time-based leaderboard challenges and unlocks, this game mode is all about how quickly you and your team can clear an area and push forward to the next. Gears has also changed how you gain experience. Characters are now tied to their respective classes. Rod Fergusson is on record as saying he wanted to create new characters tied to their abilities in order to provide a different experience, as opposed to using the obvious JD, Kait, and Del setup.
Why we're excited about this gameplay feature:
3-player couch co-op is a welcomed feature for the franchise.
Gears puts a unique spin on the classic "Plant the bomb" concept.
Level- based unlocks increases replay value.
4. New Campaign Focused on Kait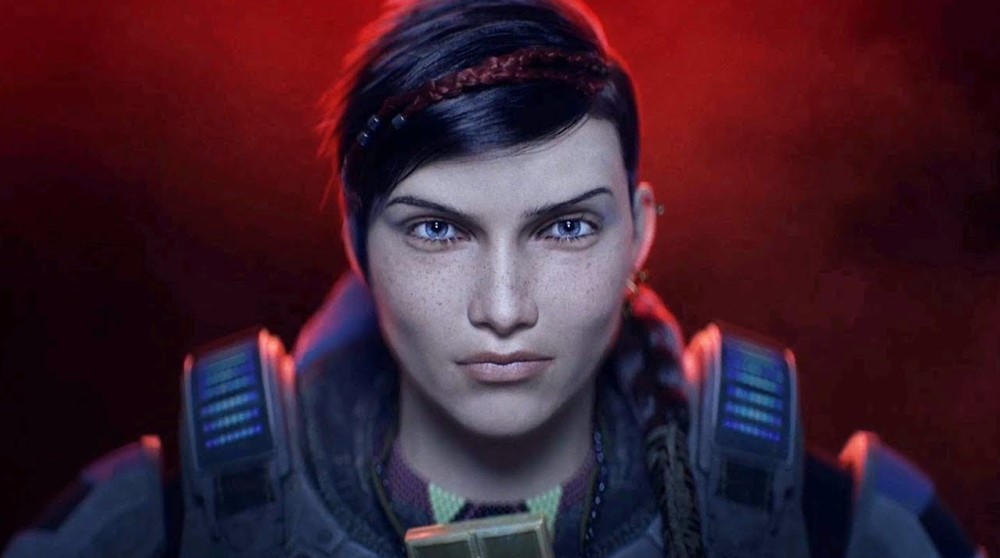 Gears of War 5 will follow Kait Diaz and explore the inner conflict of her family ties with the Locusts.
The Coalition is going a different route with its story this year. Previously, the campaignn has always followed the Fenix storyline, beginning with Marcus Fenix and eventually moving its focus the spotlight over to his son, JD. Until now we've never been able to experience the universe from the perspective of another COG, especially from a female protagonist. This only goes to show that this campaign will be as rich and story driven, if not more so, than the previous installments.
Why we're excited about this gameplay feature:
Gears fans have long awaited the history of Queen Myrah.
This is the first time we're getting a real explanation on the Locust backstory.            
Kait was the perfect choice to carry on the protagonist role.
3. New Weapons/Executions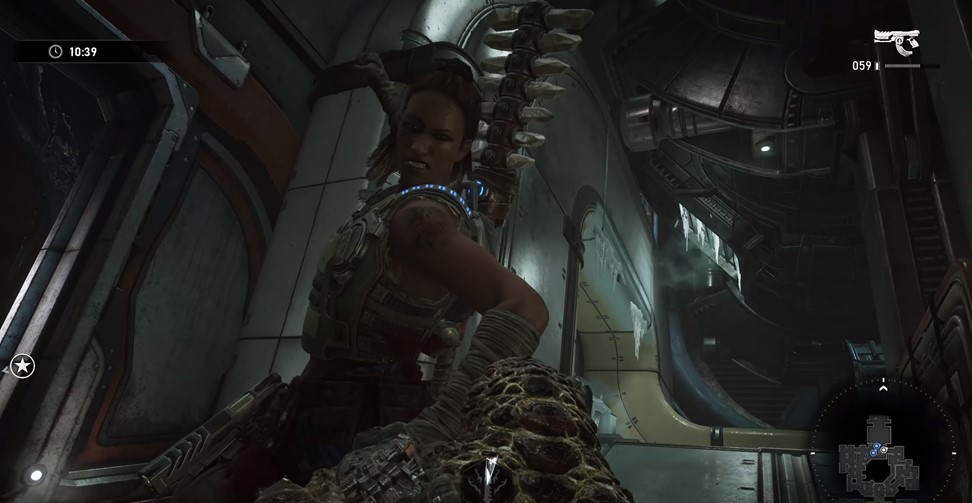 Lahni performing the face-punch execution. The player grabs the victim's "collar" and then crushes the enemy's head with her fist.  
Variety is the spice of life, and Gears of War 5 is looking to continue keeping things spicy this year. With every new weapon, meat shield, and cover-kick animation comes a plethora of new executions. So far, we've seen a new primary electric knife used by Lahni in Escape mode, a two-handed heavy weapon called the Cryocannon that freezes enemies in place, an autopistol called the Talon, a Locust Lancer variant that replaces the chainsaw with what appears to be sharpened bone material, and a two-handed melee weapon called the Breaker Mace. These are just a few of the new weapons we've seen so far, but if history is any indication, we'll be looking at upwards of 20 new and returning weapons by the time the full game is released.
Why we're excited about this gameplay feature:
Every Gears game has introduced a handful of new, unique weapons and this game is shaping up to do the same.
We'll have new executions for ALL weapons in the game.
The new Locust Lancer variant opens the door to other possible weapon variants. 
2. Terminator DLC (and future DLC)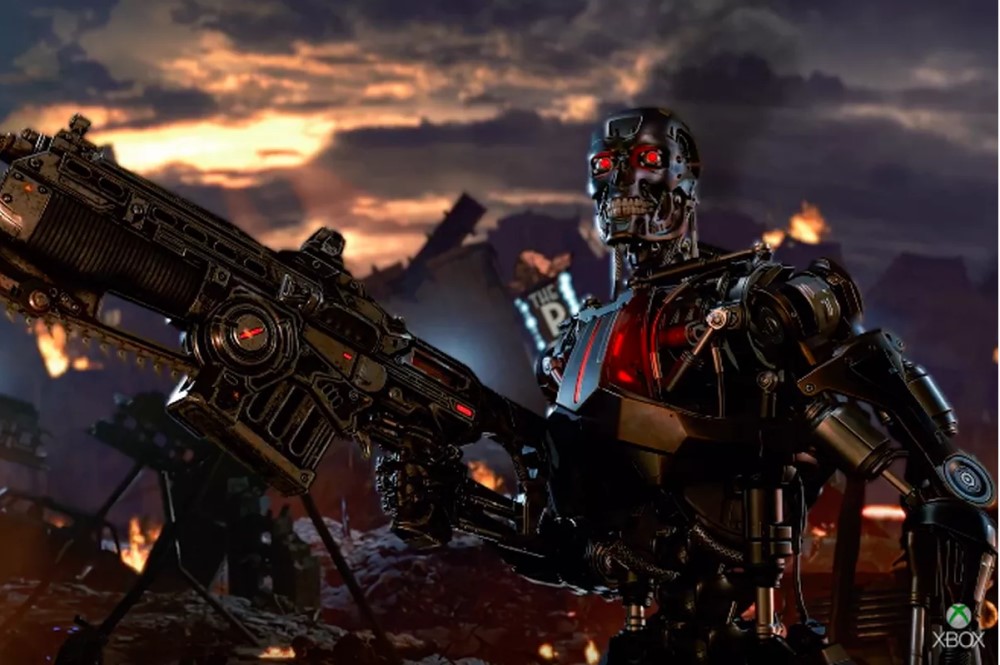 The T-800 Terminator is part of theTerminator  Dark Fate characters pack coming to Gears 5.
As a pre-order bonus, we'll be receiving the Terminator Dark Fate character pack. This will include the T-800 Terminator and Sarah Connor who is being played by Linda Hamilton. If you've played Gears 4, this probably isn't a huge surprise, but that doesn't make it any less exciting. Mainly because the Terminator fits in perfectly with the gritty, dark style of the Gears of War Franchise. But more importantly, this opens the door for future DLC Crossovers later in the game's life cycle.
Why we're excited about this gameplay feature:
The Terminator fits in perfectly with the theme of the game.
This opens the door to future crossover DLC.
Sarah Connor is being accurately modeled after the Linda Hamilton
1. Focus on Esports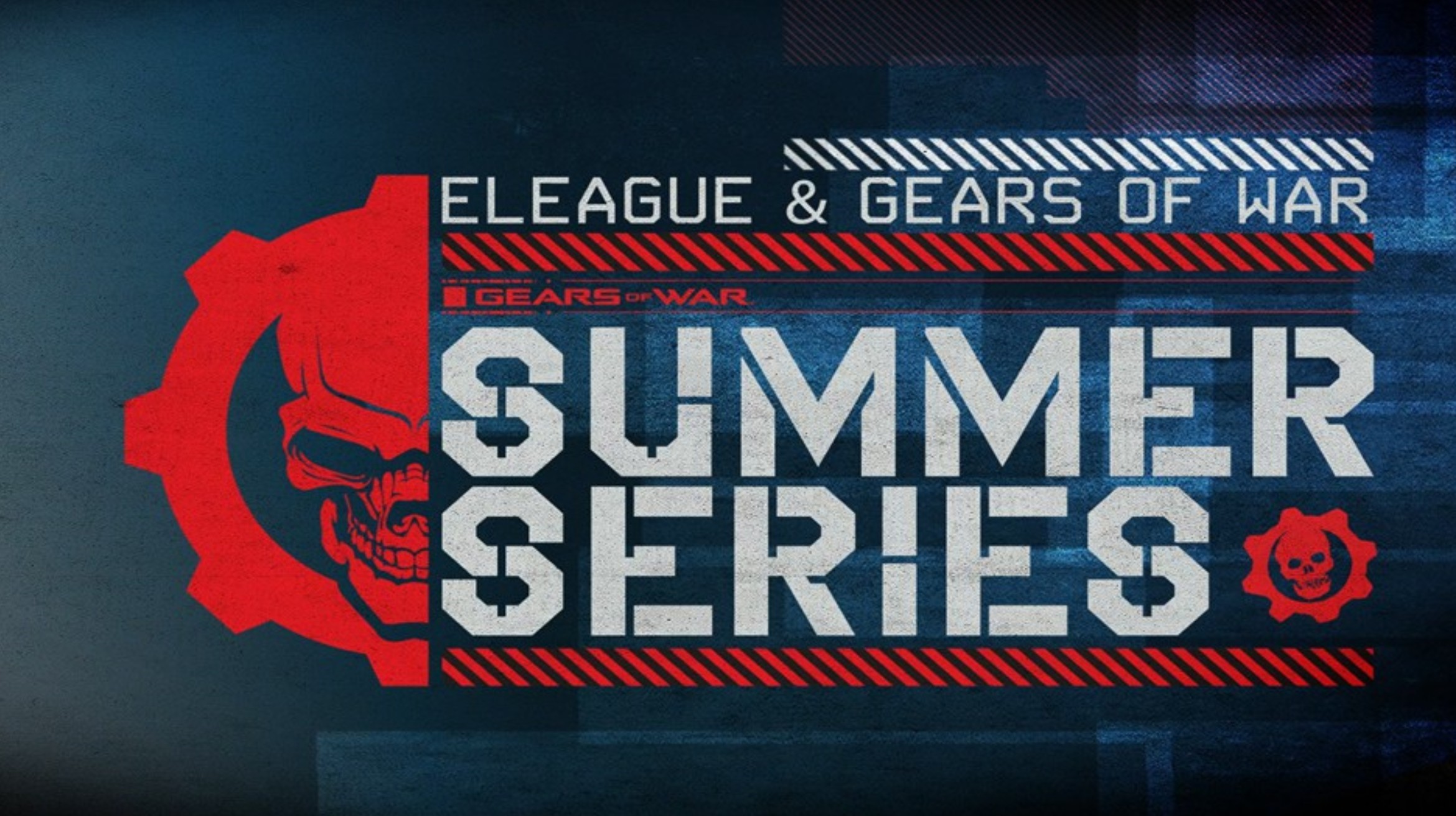 The versus gameplay reveal date will be July 13th, 2019.
The Versus Multiplayer Gameplay Date has been Revealed & ELeague Esports has been Announced! Now unfortunately, while we haven't gotten to see any new gameplay trailers, there were a few key details dropped by Rod Fergusson. For one, he mentioned a different direction he's planning on taking things within the Eleague. He described it as six-part event and live tournament focusing on the stories and players behind the world of Gears esports. We also now have a date for when we can expect to see versus multiplayer in full as it makes its debut to the world on July 13th, 2019.
Why we're excited about this gameplay feature:
Allowing professional players time with the game months before its release shows they're taking the versus mode seriously and receiving high level feedback.
Leading off the Versus Reveal with a tournament reinforces the idea that they're keeping esports a priority.
Tournaments and esports broaden the popularity of a game and the community.
You may also be interested in: