[Top 5] Dead Space 3 Best Weapons and How to Get Them
Updated: 27 Jun 2021 9:41 pm
[Top 5] Dead Space 3 Best Weapons and How to Get Them

Dead Space 3 is the third installment – as you might have guessed from the name already – in the survival horror action series by visceral games, it's played from a third person's perspective.
The enemies in this game are sometimes human and sometimes humans with the good ol' alien morph, and that's where it gets tricky because these alien infections cause the host, meaning the human body, to grow extra limbs and the way to kill them in the game is by cutting off said limbs.
Because of this system, the game puts quite the emphasis on which weapons should be at your disposal, and this third installment introduced a more in-depth weapon modification system, so it's even more important to know the right combinations; that's where we come in.
This article will show you the top best 5 weapons and combinations for you to not be dead in space. I'm sorry I had to make that terrible pun.
Combination 1: Heavy standard chain gun with a force gun.
We'll call it the "pushy shooty".
This one gets to be the first one on the list because you can achieve this combo early on in the game, from the start of chapter 3 till chapter 4, where you'll essentially be introduced to the Bench where you'll be able to craft your weapons. 
The combination consists of : 
-Plasma Core
-Heavy Standard Frame
-Telemetry Spike
-Diffraction Torus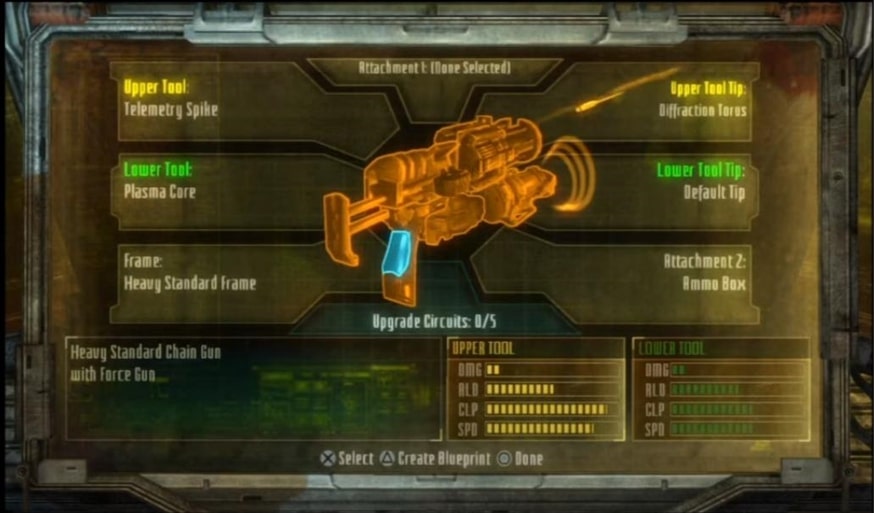 Why is this weapon great :
-The top/ the upper tool is a rifle, so as you're starting in the game and haven't got used to it yet, you can afford to miss some shots, and with a high fire rate, you can still recover from missing them.
-The lower tool is essentially a ''GET AWAY FROM ME '' type of blast, so even if you were shooting at the enemies with the accuracy of a cross-eyed stormtrooper, you could still push the enemies away when they get too close to you.
Combination 2: Heavy Elite assault rifle with Javelin gun.
We'll call it '' Freeze! Javelin time ''.
This is a great combination. Even if you're playing on a high difficulty, you can still pretty much eliminate those cute aliens quickly and not get overwhelmed.
The combination consists of : 
-Military Engine 
-Compressor
-Telemetry Spike
-Heavy Elite Frame
-Stasis Coating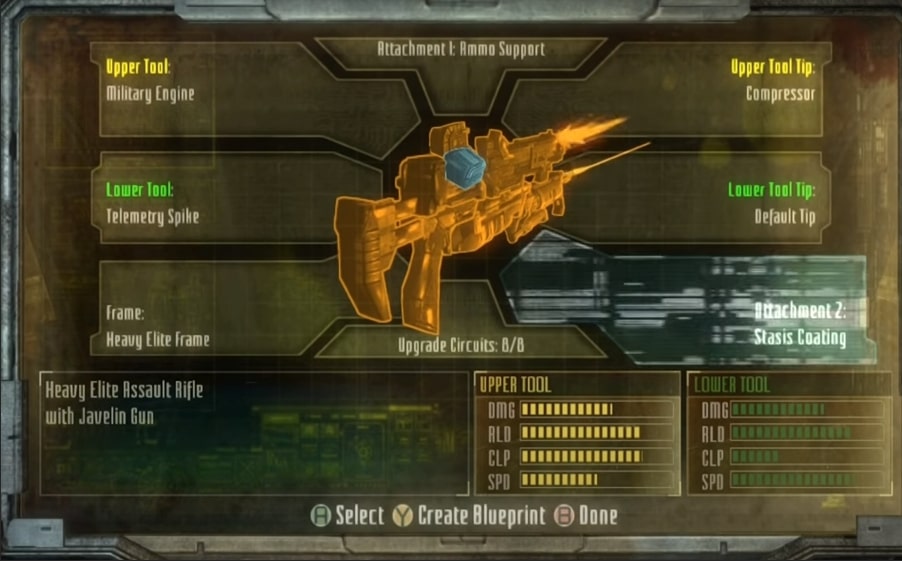 Why is this weapon great :
-The upper tool consists of a rifle with a decent fire rate and since we have a stasis coat, it will freeze up the enemies and slow their movement down.
-With high damage that not only could kill the alien, even if it's not dead it's certainly moving in slow motion. That's when you can be sure that your precious javelin shot will not go to waste and it will blast them out of your field of vision.
Combination 3:  S.C.R.F seeker Rifle with MK-V supercharged rocket launcher.
We'll call it '' One Shot Man ''.
This right here is for the big boys, the accurate elite, the John wicks who alien killed their dog, You have 5 shots on the top and 2 in the bottom, and every one of them has to count.
The combination consists of : 
-Military Engine
-Precision Tip 
-Survey Charge 
-MK-V Directed Suspension Filed 
-Heavy S.C.R.F Frame
-Flame Glaze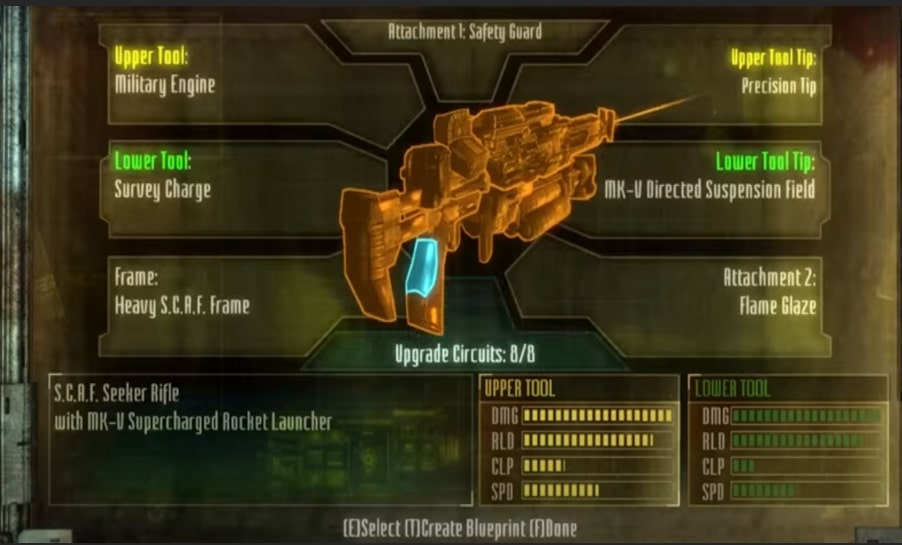 Why this weapon is great : 
-No matter what difficulty you'll be playing at or the enemy type, it will always kill with one shot.
-It gives you that feeling of really hitting something, the impact of the weapon in your hand and the way it blasts aliens is nice.
Combination 4: Heavy Elite Force gun with Hydraulic Hammer.
We'll call it '' shock and slash ''.
This one should be in everyone's arsenal because many levels of dead space are essentially narrow rooms where melee is forced on the player, so you'll need something to count on in those places.
The combination consists of : 
-Plasma Core
-Hydraulic Engine
-Conic Dispersal 
-Heavy Elite Frame 
-Electric charge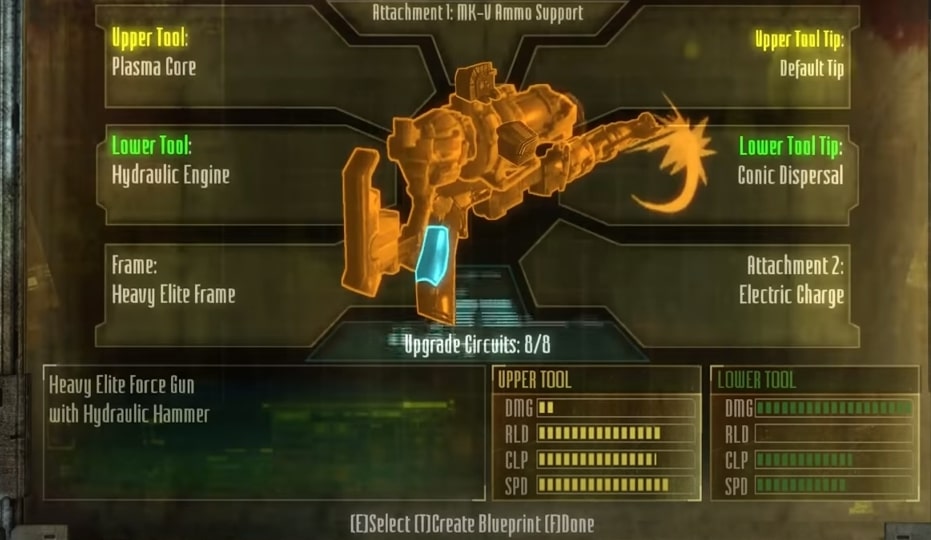 Why is this weapon great : 
-The melee is excellent for close combat, and it kills most enemies with one swipe even at the impossible difficulty.
-The electric shot goes well with the rest of the weapon because it stuns the enemies with electricity, and you can slash them with the lower half that is the melee.
Combination 5: Heavy Standard Rivet shotgun with chain lightning gun.
we'll call it '' We don't like your kind around here, boy.''
We all love good shotgun gameplay, the satisfaction of its blast obliterating the enemy is unmatched, and you can achieve that level of damage with this combination right here.
The combination consists of :
-Telemetry Spike
-Conic Dispersal 
-Tesla Core ( no dodge coins in this one)
-Diffraction Torus
-Heavy Standard Frame
-Electric Charge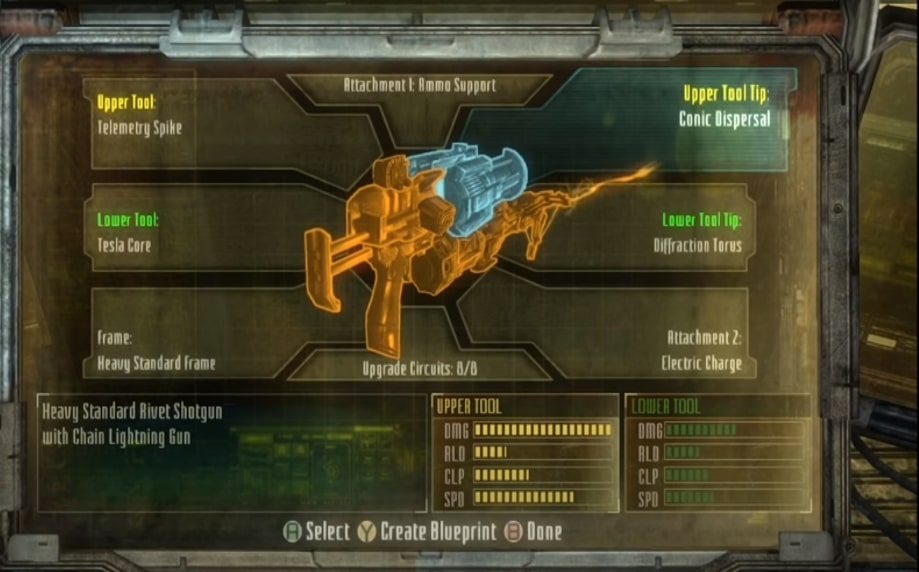 Why is this combination Great: 
-Whenever you get overwhelmed you can use the electric charge to stun the enemies and blast them at your paste.
-The Shotgun part has such high damage it can delete enemies from your vision and when you mix it with the electric stun you can shift + delete alines in style.
-Those are the best 5 weapons combinations you can have in Dead Space 3, don't forget to attach your weapons with circuits that offer you perks like faster reload and a higher fire rate, that one depends on which gun fits your play style and how it can be improved in some aspects to be perfect.
You may also be interested in:
Image Gallery