[Top 11] Best Digital Card Games in The World Today (Best PC Card Games)
Updated: 28 Feb 2020 2:35 am
Take on the world as a Planeswalker and cast spells to beat your opponents in Magic: The Gathering
Take on the most popular digital card games out there
Many Collectible Card Games (CCGs) have made it to the digital era. Most have a storyline that leads you into battle to save the world. Played like traditional tabletop CCGs, they are head to head strategic games. Imagine games like Magic brought to life through amazing graphics and animation. Here are the top digital card games in the world today.
11. Shadowverse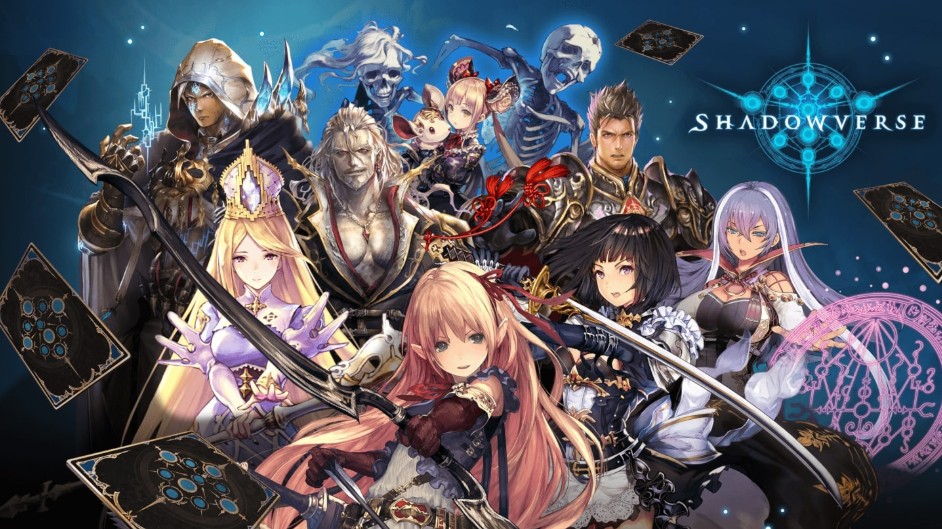 Save your allies in Shadowverse
Ever get immersed in the world of Anime? Want a card game to take you beyond simply playing cards into a full story? Shadowverse takes you to the depths of the dark on a quest to save your allies.
Released by Cygames in Japan in 2016 it quickly became popular, going worldwide in 2017. Shadowverse is based on anime.
You'll pick one of eight crafts to play as. The farther you progress the more you will stick to just one of the eight. But to begin, try them all. 
You will start by playing cards that can then attack your opponent. Watch out though, you only have a certain number of points to use each turn. And the cards cost points to play. 
Eventually, you will be able to evolve a character, increasing its health and attack value. Win by taking your opponent down to zero life points.
Shadowverse isn't just head to head though. You can take a solo mode that progresses you through a journey to save your friends. Following the storyline is a creative and fun twist in this game.
There is also audio commentary and visual effects throughout the game, bringing it to life!
10. Faeria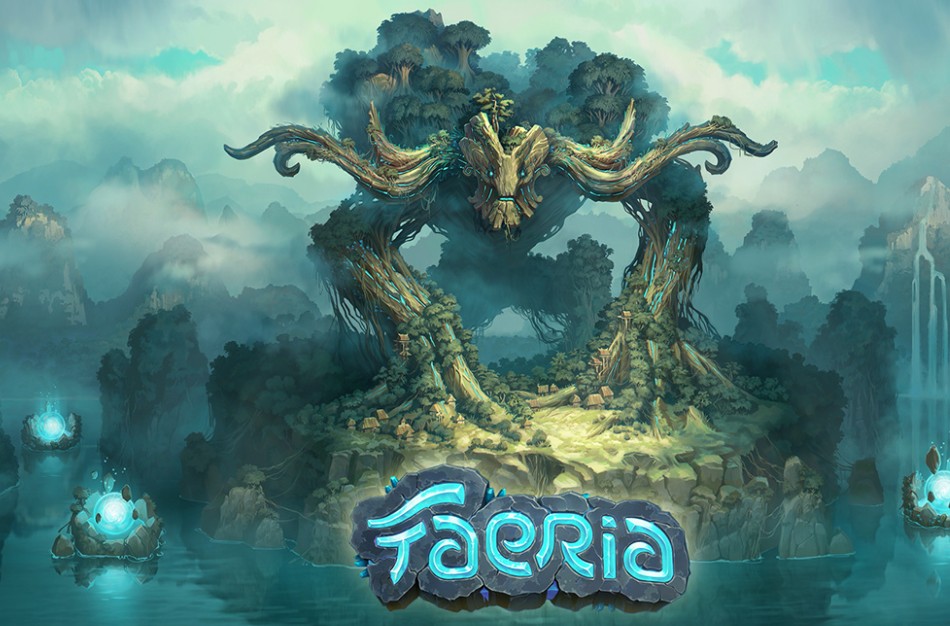 Move through the land to defeat your enemy in Faeria
Go on an adventure battling your opponent in a fantasyland. Online card building takes on a new angle in Faeria. Dare to slay the enemy while strategically building lands to play your cards.
Faeria is a pay to play card game created by Abrakam in 2017. You can play in battle mode against other players, possibly leading to esport tournament invites. Or you can play in solo mode facing the computer to hone your skills.
It's played by reducing your opponent's life points. This one varies slightly though from MTG and some other well-known card building games. You will be able to carry your Faeria points over from each round if you don't use them all.
Another difference, you will be moving around a hexboard in an effort to defeat your opponent. In order to play cards, the matching land type (forest, desert, lakes, or mountains) and quantity must be played first. Once the card has been played you can then move it around the board to attack the other person.
Faeria lacks a lot of animation and audio that some other online card games bring to the table. What it lacks in animation it makes up for in the strategic gameplay.
9. Gwent: The Witcher Card Game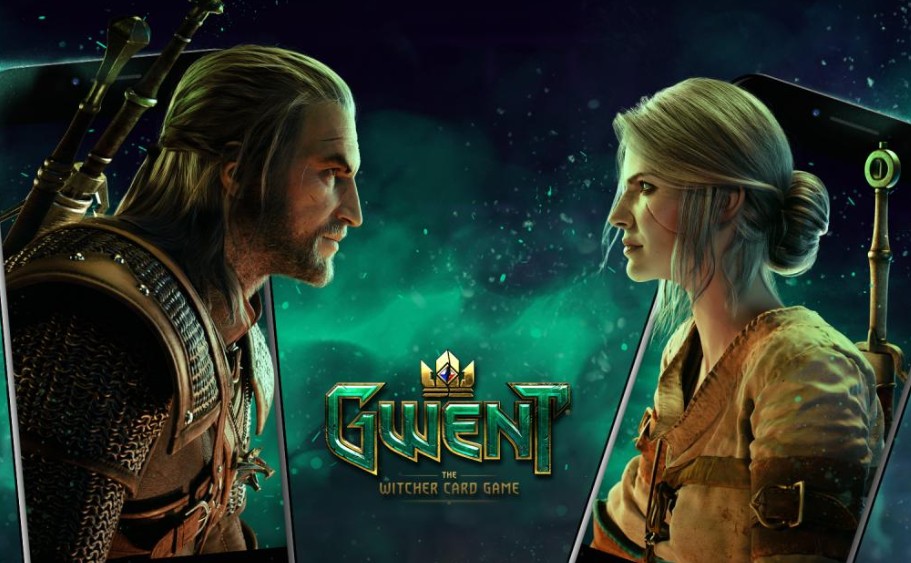 Can you save the world from darkness in Gwent: The Witcher Card Game?
The world's been plunged into darkness. Armies of witches, sorcerers, monsters, and knights arose to battle over the land. Can you take an army into battle and come out victorious?
Gwent: The Witcher Card Game was released in 2018 by CD Projekt. It's quickly rose in popularity and has been nominated for a couple of awards already in its short history. 
Step into the witchery world and pick a clan. Build your deck and lead the battle. You are the commander.
As commander, your objective is to win two of three rounds. You'll be playing cards in one of three rows on the board in front of you to score points. Have the highest point total at the end of the round and you win.
The artwork and graphics in Gwent will truly plunge you into the dark. Are you ready for it?
8. Eternal
Build your deck and battle in Eternal
Ever get swept up into games like Magic: The Gathering? Love the gameplay and back and forth battle between your enemy? Try Eternal.
A free to play online CCG by Dire Wolf Digital released in 2016, Eternal delivers great artwork and similar gameplay to MTG. It's gone worldwide with the first Eternal World Championship being held in July 2019.
To play Eternal, you will use a starter deck or build your deck. Decks contain several different types of cards. And if you aren't certain how much power to include, the game will put some in your deck.
Power is your mana. You must play it in order to play other cards. The other cards allow you to attack your opponent and defend your own health. 
Eternal has different play modes that help newbies learn tactical strategies but bring heftier battles for the experienced. Whatever your level of play, Eternal is quickly becoming more and more popular and with great graphics and gameplay, what more could you want?
7. Yu-Gi-Oh! Duel Links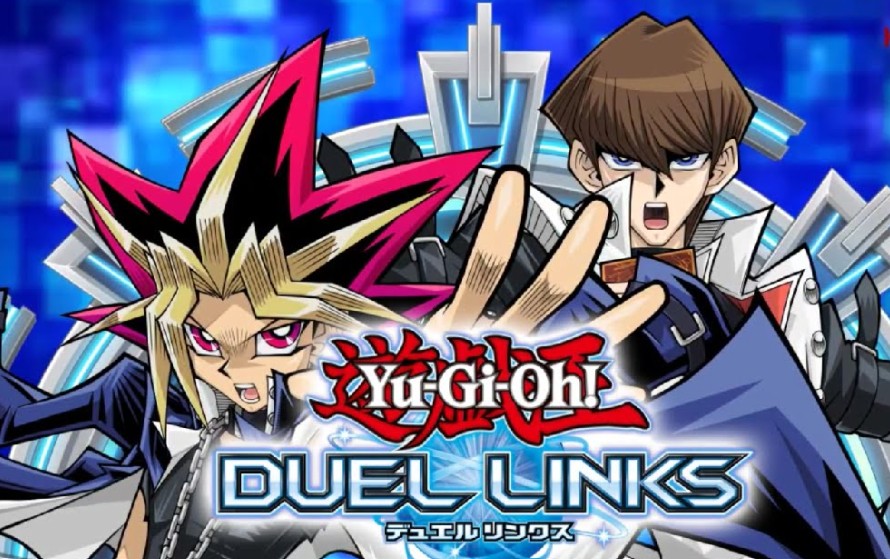 Battle head to head in Yu-Gi-Oh! Duel Links
Step into a world of amazing animation. And on your phone no less. Yu-Gi-Oh! Duel Links brings it with their visual effects during the matches.
Duel Links is a direct offshoot of the original Yu-Gi-Oh! TCG produced by Konami. It was released in Japan in 2016 and worldwide in 2017.
Yu-Gi-Oh! Duel Links is played by head to head battling, or duels. You will start the game by picking either Kaiba or Yugi. But don't worry, later on, you can obtain the other if you wish.
At the start of the game, there is a tutorial. After that, you can jump in and start battling duels. Duels will get you rewards which in the end earn you things to buy more cards.
Duels are won by reducing your opponent's points from 4000 to zero, if they run out of cards, or if a special card is played. 
When a card is played, the character becomes an animated figure hovering above the card. This creates a very cool effect. 
So if you are still looking for the right collectible card game to play online, check out Yu-Gi-Oh! Duel Links.
6. Pokemon TCG Online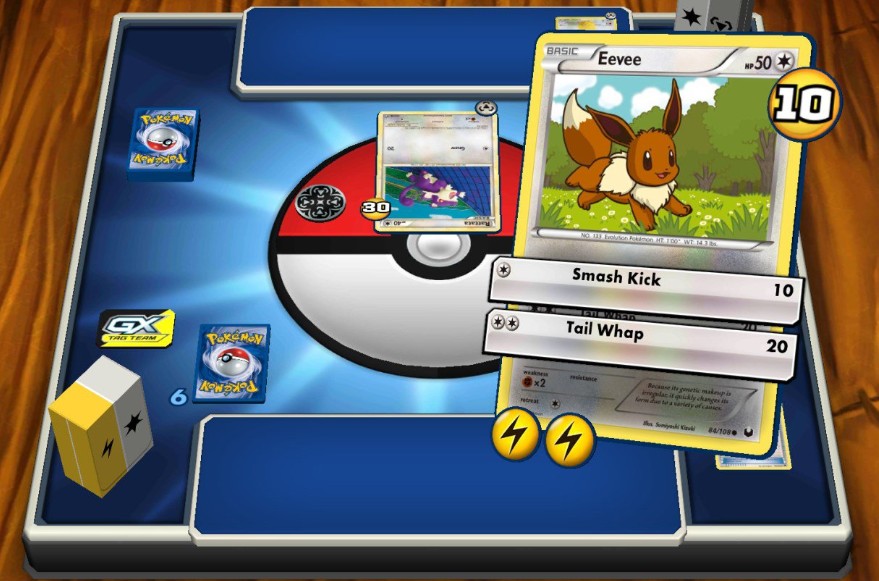 Become the ultimate trainer and win with your very own Pokemon
Pokemon TCG Online immerses you in a world of battling creatures. Although they seem cute and innocent, the strategy remains the same as other games. Kill your opponent.
In Pokemon TCGO you are a Pokemon trainer activating your different Pokemon. Once they have enough energy attached they can attack and damage the opposing player's active Pokemon. Defeat six of the enemy Pokemon and you win.
You can also win if the other player has no Pokemon in reserve that can be activated or if their deck is exhausted. It seems easy, but it's important to strategize wisely. Depending on how you build your deck and how the cards fall could be your ultimate win or demise.
Pokemon TCGO is the digital version of Pokemon TCG that hit the world by storm in the 1990s. The online version was released in 2011 by American Studio Dire Wolf Digital. Starter decks are given in the beginning and more cards can be purchased or earned by winning matches.
Play solo mode to unlock more items or go head to head. Win enough and you could be invited to participate in tournament play.
5. The Elder Scrolls: Legends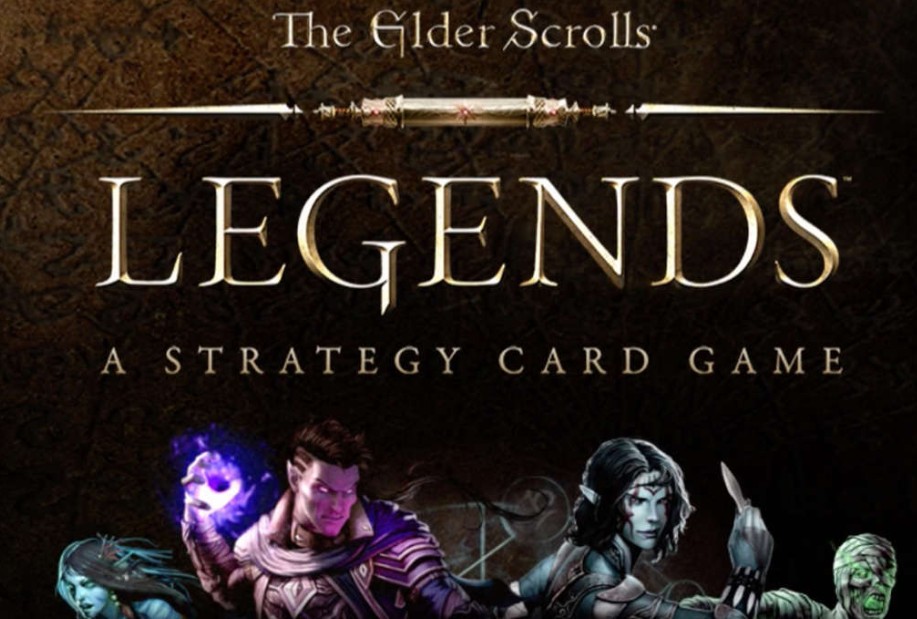 Battle in a unique way in The Elder Scrolls: Legends
Set in a daring land doomed by the evil Elf Naarifin, The Eder Scrolls: Legends takes you on an adventure to stop him before it's too late. 
This free to play digital CCG produced by Dire Wolf Digital and Sparkypants Studios was initially released in 2017. The Elder Scrolls is another head to head game similar to MTG, but with a few twists.
You will be playing against another person or the computer, but the gameplay adds a few unique things. First, there are two lanes that cards can be played to. Cards can only be attacked when played in the same lane.  
A second addition is runes. For every five health that your enemy destroys, it breaks a rune, which allows you to draw a card. If the card is a prophet you get to play it for free immediately.
Winning requires you to reduce your opponent's health to zero. The game features several modes so you can follow the story or just battle, the choice is yours.
4. Magic The Gathering Online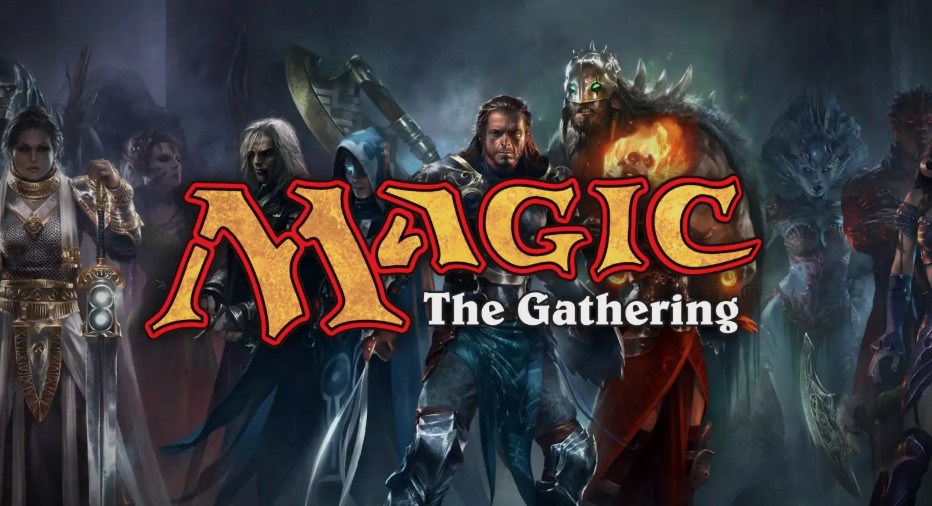 Magic: The Gathering Online takes one of the longest-standing CCGs and turns it digital
Are you a serious gamer looking for a deckbuilding game you can set yourself apart in. Magic the Gathering Online is just that. Released by Wizards of the Coast in 2002, MTGO was the digital extension of the original card game. 
The user interface is somewhat simple with a generic background. Although it can be glitchy it's the best choice for the serious gamer. 
Played the same as MTG the card game, players battle to defeat each other's hero in a head to head battle by casting spells and playing other cards using mana. The one whose life points runs out first loses. 
It's free to play but you can buy digital card packs to expand and get more powerful cards. How powerful you want to get depends on how much cash you want to spend. You won't get rewarded with cards for playing this game.
MTGO caters to the serious gamer. Newbies or those that don't want to drop a lot of dough will likely find other games a better fit than this one. 
Every year there are MTGO tournaments all over. The biggest of which is the Magic Online Championship. Do you have what it takes to compete in one of the biggest online championships around?
3. Magic The Gathering Arena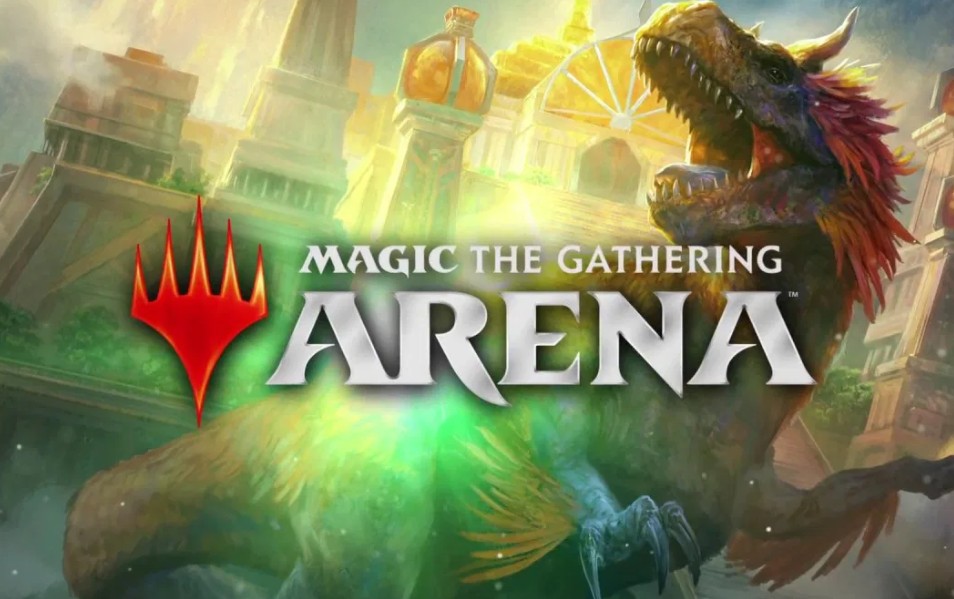 Magic The Gathering Arena brings new graphics and user experience to MTG
You might be wondering why Magic is listed again. No, it's not a typo. Magic the Gathering Arena has only been around for a few years. Wizards of the Coast released the beta version in 2017 with the full Windows version just coming out in September 2019. 
Wondering what makes MTG Arena different enough to have it on the list along with MTGO? Several things.
It has a better UI that is updated with the game and fits the rooms the player is in, giving you a better experience. The graphics are amazing and come to life during attacks when cards that are defeated blow up.
Deckbuilding is handled differently. You can buy some cards to upgrade a little more quickly but those that play the game earn "gold" to purchase cards. This evens the playing field and doesn't allow a user to create a super-powerful deck.
The game itself is still just like MTG the card game in play. Defeat your opponent by killing their hero. 
If you have what it takes to defeat your enemies you could find yourself at the Mythic Invitational competing for a large prize. Join forces in the new esport: Magic the Gathering Arena.
2. Hearthstone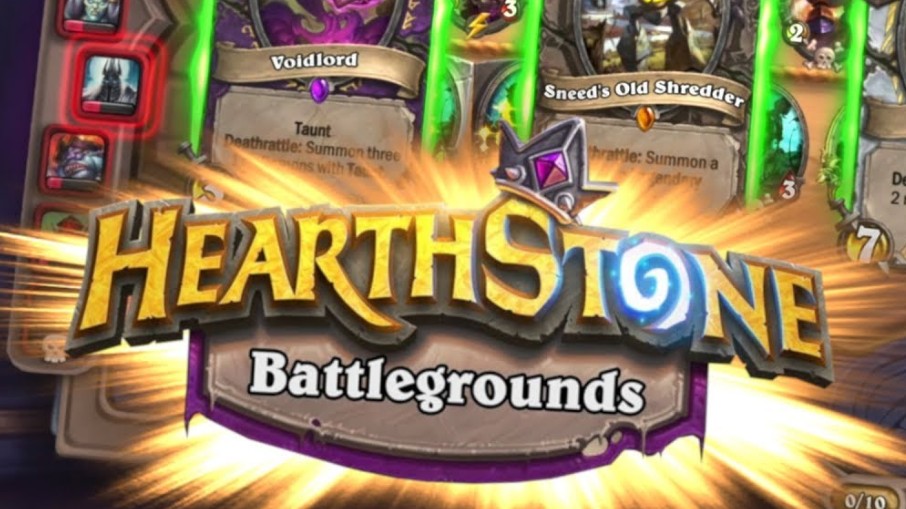 A take on World of Warcraft TCG, Hearthstone brings the whole package
Have you ever played World of Warcraft TCG? Do you enjoy the head to head clash of enemies but want it all that your fingertips? Hearthstone brings the whole package.
Much like MTG, you will be playing against an opponent trying to destroy their hero. Can you suck the life out of them? That's how to win. 
Hearthstone, released by Blizzard Entertainment in 2014, has become extremely popular with over 100 million players. With its popularity, it has joined the esports community and numerous tournaments are out there for it including the Hearthstone World Championships.
Hearthstone brought a new aspect to deckbuilding games by adding a player timer. You will only have 90 seconds to make your move. 
Players can still customize and upgrade their decks to better their chances of winning. The play remains similar to that of MTG and the Warcraft series. 
But, with great play, graphics, and player experience, it's a must-try if you are looking for an awesome digital card game.
1. Slay the Spire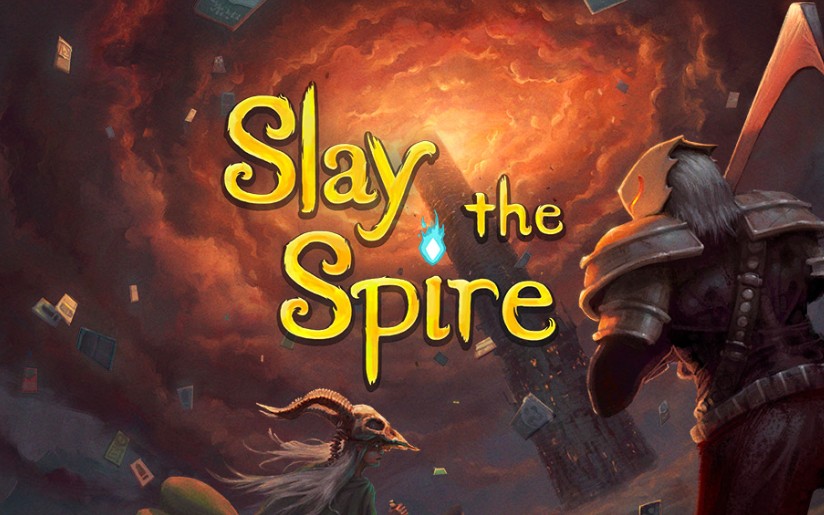 A unique twist on battles when cards are little characters bringing Slay the Spire to life
Embark on a battle to defeat bosses and climb the tower to the top. Do you have what it takes to make it all the way in this unique deck-building game?
Slay the Spire was developed by MegaCrit and published by Humble Bundle in 2017 with its official release in 2019. In 2018 and 2019 it quickly rose in popularity.
You will pick one of four characters. Each comes with a starter deck. Then you will choose a path to start on.
Along the path, you will be able to shop at the store to buy different items, obtain items or heal health, and face bosses in battle. The goal is to get to the top and defeat the main boss.
In a boss battle, you will be given a hand of cards and have a set number of points to spend to play cards. Some cards attack, some defend, and others do a combination of things. The objective is to kill the enemy before your health is zero.
The difference between Slay the Spire and games like Hearthstone and Magic is the characters on screen aren't just cards. They are animated figures. Also, you know what the enemy has planned for his attack. 
If you beat a boss you win new cards for your deck as well as other items. Should you lose, you go back to the bottom of the pyramid. 
The unique gameplay makes this a non-traditional deckbuilding game but one that is definitely worth trying out.
You May Also Be Interested In:
Image Gallery