Top 10 Best Wrestling Games in 2017
Updated: 18 Jul 2017 11:31 pm
Let your inner wrestler out with these 10 games.
Wrestling games are one of the most fun games to play with your friends, no matter which console you play on. Getting the opportunity to beat down your opponent's character and performing some jaw dropping moves, or simply playing as your favorite wrestler is something that will get your adrenaline pumping. So here is our list of wrestling games that you will have a blast with.
10) Free Impact: Wrestling Fight (Android/iOS)
TNA Impact Finishers
Impact Wrestling is an online multiplayer wrestling game with high paced action, and tournaments and so much more. It supports up to 4 players at a time. This game allows you to scan wrestlers instead of manually creating them to include the smallest of details to enrich your gaming experience.
The game also provides downloadable content which will be able to keep your gaming experience fresh over a long period of time. Though the game can be challenging at times, the core game play in very simple and intriguing.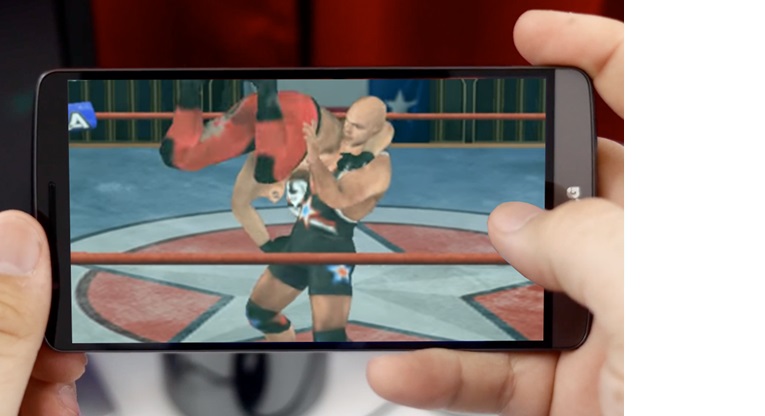 Kurt Angle going one on one against Sting
9) Wrestling All Stars Fighting (Android/iOS)
I couldn't find gameplay for this game
Fight as your favorite wrestlers and destroy your enemies. This game gives you a feeling of a classic wrestling game, as the motto says: Don't just see it, live it. The game also contains everyone's favorite General Manager mode. General Manager Mode is also a deep and involving game mode that will have you hooked in all the wheeling and dealings of a General Manager.
The game contains many real life aspects of wrestling. As your ripped foes get tougher, their aggressiveness and stamina increase dramatically, and all enemies in general seem to have an uncanny habit for effortlessly pulling off counter moves that reverse your moves. Though its not the best Wrestling game out there, it's definitely worth your time.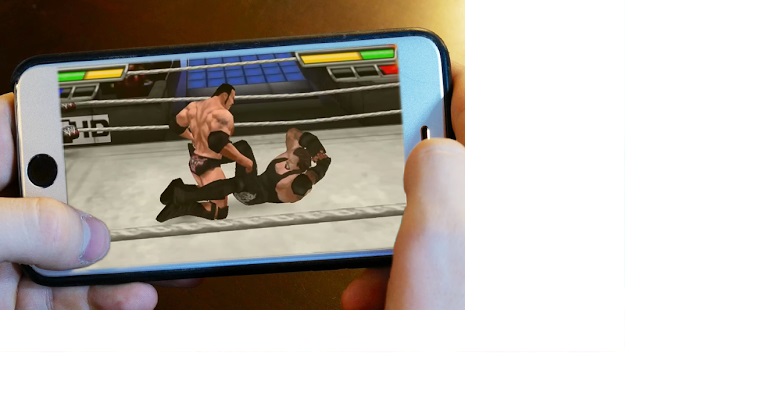 Make dream matches come true, such as the Rock vs the Undertaker
8) World Wrestling Revolution War (Android/iOS)
Wrestling revolution 3d attitude era royal rumble war
Jump into the world wrestling ring to show your wrestling skills as a king of the ring wrestler and defeat your rivals.  Become a pro wrestling champion in this world wrestling fighting simulator game. Survive in the ring leaving your rivals no chance to win, fight against heavy weight wrestlers and level up your wrestling fight skills to win the world wrestling revolution championship. There's just so much you can do in this game.
You get to perform actual wrestling moves, face different wrestlers with different wrestling styles, and that too in 3D, with great audio and visuals.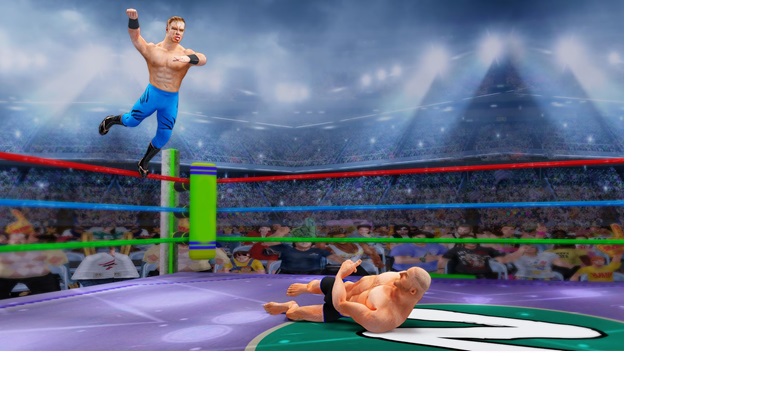 Enjoy stunning graphics and jaw dropping wrestling moves
7) WWE Ultimate Entrance (Android/iOS)
WWE Entrance Creator: WWE Ultimate Entrance         
This game is here to revolutionize your wrestling experience. Ever wished a particular superstar made his way to the ring in a different style? This app is for you. Make your own WWE entrance or recreate the entrances of your favorite superstars.
There are three ways to use this app. Watch your favorite superstars, or customize and recreate their entrances, or make your own video clips of your wrestling action.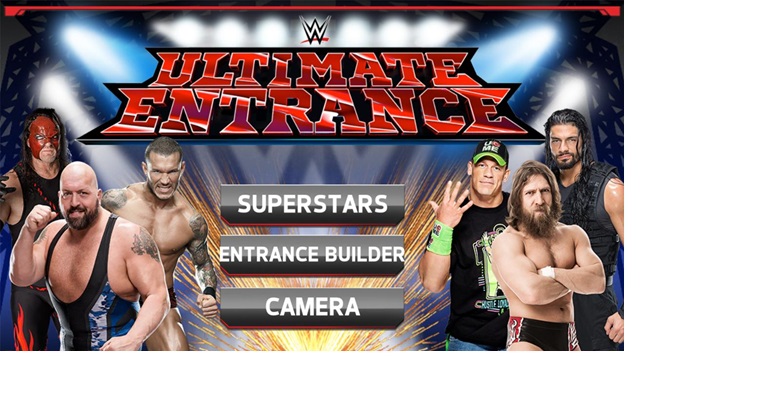 Create an entrance for your favorite WWE Superstars
6) Booking Revolution (Android/iOS)
Booking Revolution (Roman Reign Vs AJ Style) with interference Neville         
You might think that you have conquered all wrestling games, but think again. Booking Revolution takes you behind the scenes, as you see for yourself what goes behind in the making of a great wrestling promotion. In this game, you are given complete control of the creative wing of a given promotion, i.e., you make matches, change gimmicks of wrestlers, and so much more.
The player can upgrade to "pro" to gain special privileges such as creating a personalized promotion, hiring talented new wrestlers, etc. This game also allows you to customize all 350 wrestlers through 9 promotions.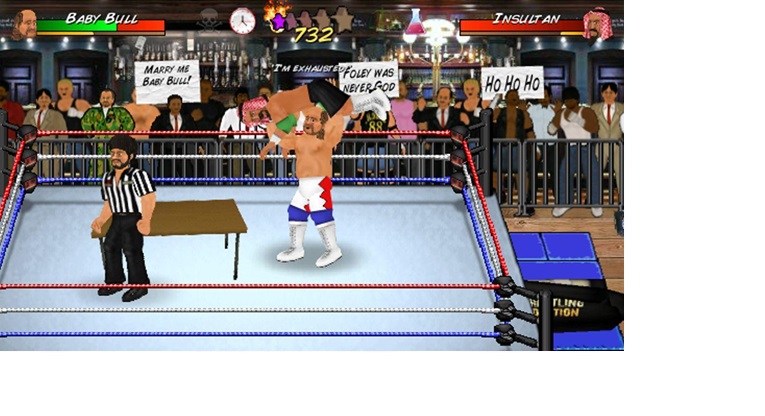 Go old school and enjoy the basics of an awesome wrestling game
5) Wresting Revolution 3D (Android/iOS)
Wrestling Revolution 3D (By MDickie) - iOS - iPhone/iPad/iPod Touch Gameplay         
The "Wrestling Revolution" rumbles into the 3rd dimension, where it now features all the aspects of the business. A wrestling career challenges you to show your courage in the ring, whereas a "booking" career allows you to show your intellectual strength in promoting entertaining matches every week. Seeing each side of the curtain gives you an even better aspect as to what happens in wrestling. Both modes are available to play for free, but the player can opt to upgrade to enjoy the "Pro" experience with no ads or limitations.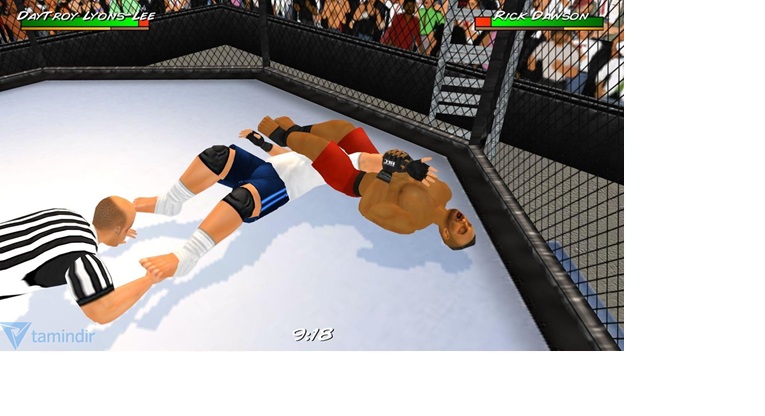 Choose between a wide variety of wrestlers in an even wider variety of matches.
4) WWE Supercard (Android/iOS)
WWE SuperCard Android Gameplay         
WWE Supercard delivers over 150 Superstars of the past, present and future as well as fast-paced action like you've never seen before. The player is given several match types to choose from, like Money in the bank, Royal Rumble, Ring Domination, People's Champion Challenge, King of the Ring, and Road to Glory.
Updates are frequent to this game, and the best part is that with each update comes either new cards or a new game mode. Competition is high in this game with the heat between players to make it to the top of the leaderboard.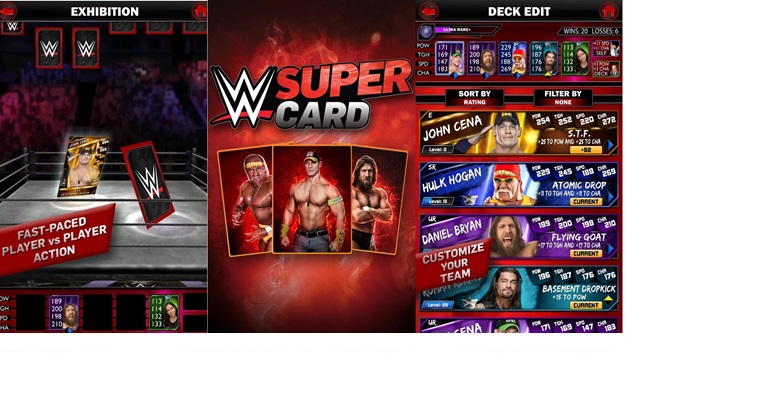 Go head to head against other players in this WWE card game
3) WWE Immortals (Android/iOS)
WWE Immortals - All Characters Super Finishers | Signature Moves         
This game takes the superstars of the WWE into a Fantasy World, their gimmicks, and makes them Fantasy Heroes. The companies describe it as "a free-to-play mobile game that will feature epic Superstar battles in a fantastically re-imagined WWE world." The game borrows many technical graphical and sound elements from Injustice: Gods Among Us as well as the three vs. three combat format.
As the players progress, they earn Immortal Credits which allow them to buy and/or upgrade characters. The game also features online competitive battling, where players can challenge with their Immortals players for prizes of Immortal Credits, special Gear cards, and so on.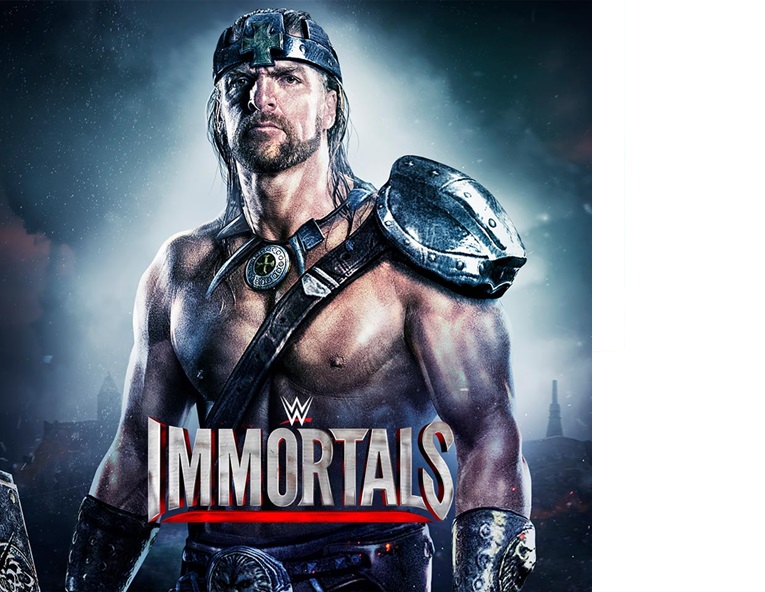 Live your fantasies in this awesome WWE game
2) WWE Champions (Android/iOS)
WWE CHAMPIONS - Roman Reigns The Juggernaut Gameplay         
Imagine that you are in the medieval period of great warriors and wizards and mystical creatures. Then imagine that instead of your regular warriors, you have WWE superstars with you. The resulting game will be none other than WWE Champions.
The player collects coins through their journey, which can be spent to upgrade or buy new characters. The game offers in-app purchases to help make this process easier.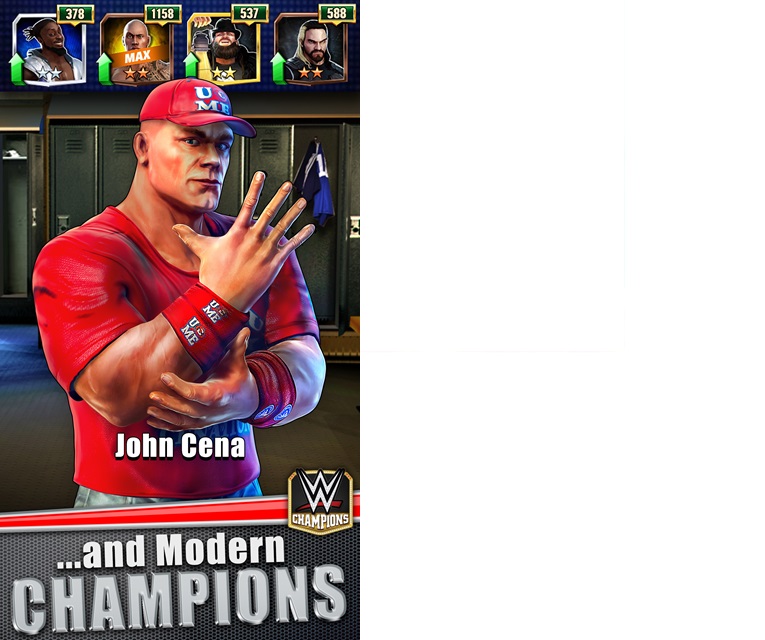 One of the best TCG games out there.
1)WWE 2K17 & WWE 2k18  (Xbox 360/Xbox One/PS3/PS4)
WWE 2K17 OMG Moments  
WWE 2K17 made quite an impact upon its release. Several new game modes were added for the players to enjoy such as the Backstage Brawls. We also got to see many new faces make their way into the 2K17 roster including AJ Styles, Shinsuke Nakamura, Samoa Joe and others. There are minor changes to the gameplay mechanics, which are always appreciated nevertheless. We also saw the Universal Championship make its way to the famous video game.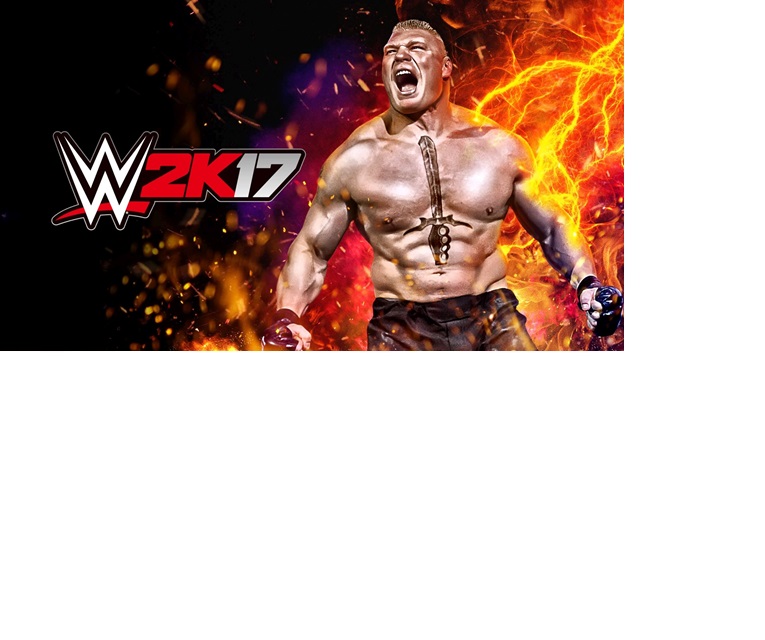 One of the most mainstream Wrestling games out there.
Speaking of WWE 2K18, not much is known about the game yet, other than the cover star, Seth Rollins, and that it will be one of the best wrestling game upon it's releases, as it's no secret that WWE always manage to top its video games over the years.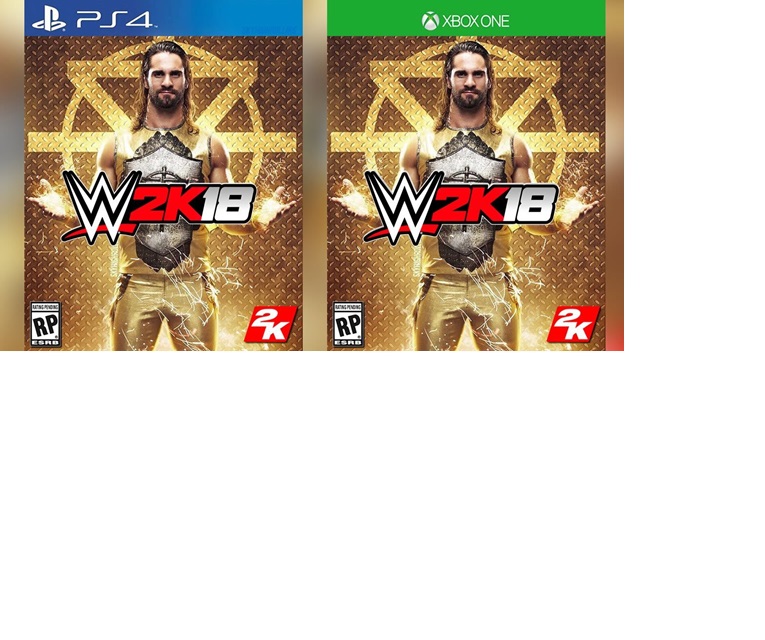 Final Word
That tops our Top 10 Wrestling video games. As we all know, there is much debate over whether Wrestling is scripted or not, one just can't deny that everyone enjoys a good ol' wrestling game with their buddies. So let us know if our list satisfied your urge of WWE games. Let us know about your opinion in the comments below!
You may also be interested in:
·        5 Best WWE Video Games To Play in 2015…. http://www.gamersdecide.com/pc-game-news/5-best-wwe-video-games-play-2015
·        10 Fighting Game Characters With The Deadliest Moves… http://www.gamersdecide.com/pc-game-news/10-fighting-game-characters-deadliest-moves