Fifa 16 Gameplay: 10 Things You'll Love About The Upcoming Game
Updated: 24 Jun 2015 11:25 am
The new FIFA 16 cover featuring Lionel Messi from FC Barcelona.
1. Establishing a Balance
I'm failing! Some balance please!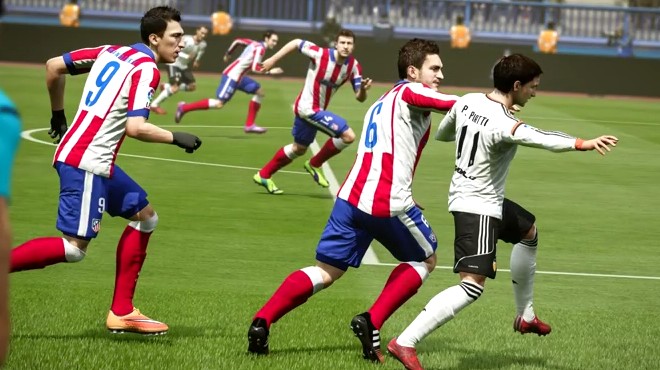 Defenders defending from oncoming onslaught
When I say establishing a balance, I don't mean that the players ratings from Real Madrid or Barcelona gets lowered to balance the teams in the league.
It just simply means that the type of players is balanced. Many of the feedback received from fans was that 'we want to have more confidence in defence'.  We didn't feel the defence was as tight as it could be. Everyone loved how dribbling worked last year but it was quite difficult to keep up."
The producers of FIFA also felt that the defenders and midfielders have difficulty to keep up with strikers such as Bale or Messi and that people just stick to playing as Real Madrid or Manchester City so one of the things they decide to improve was the responsiveness of the midfielders and defenders. That's why a new move "swing step" was designed to counter that.
Defenders can quickly change direction while running back toward their own goal in front of an attacking player. This appears to stop the player from over-running and creating gaps for the opponent to accelerate through. A bold new move by the Fifa team to move away from man-marking to cover dangerous space for better responsiveness.
---
2. Enhancement of goalkeepers
Hey goalkeeper, get your act together!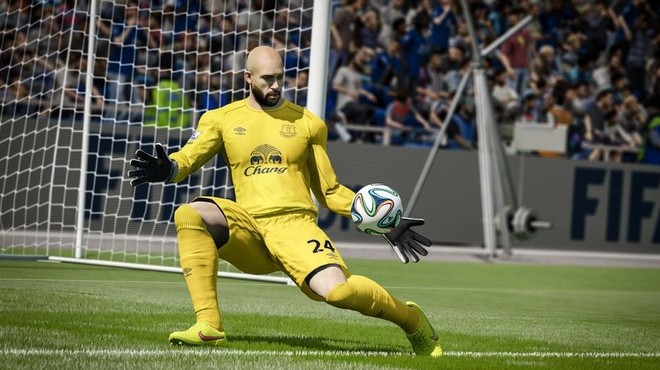 Everton's goalkeeper, Tim Howard making a routine save.
Back in Fifa 15, fans would agree that goalkeepers keep conceding goals easily and are appearing weak in front of goal. Because of this, fans have been pretty vocal with their feedback. The Fifa team hence, tried to change how the goalkeeper would respond to the oncoming onslaught. According to EA Sports senior producer, Nick Channon, that improvement would "make the goalkeepers feel right again." That would result in better defence and less goals conceded. It would certainly increase in competitiveness and skills.
3. New Dribbling Mechanics
Dribble, dribble, dribble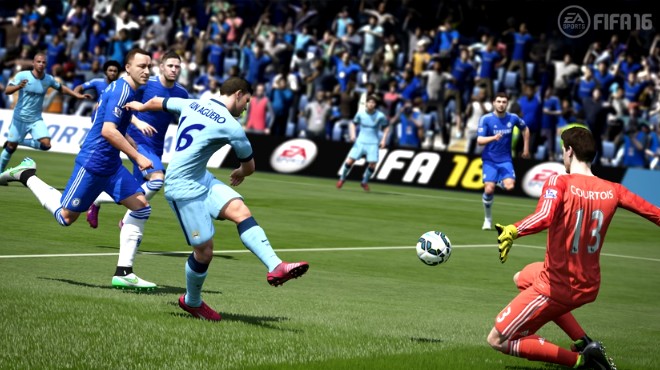 Manchester City striker, Sergio Aguero shooting.
Modern players are adept at maintaining control of the ball – while dribbling or while stationary – without actually touching it. "If you look at the likes of Messi and Ronaldo, they body feign and do a lot of movement around the ball," says Channon.
Fifa 16 makes an attempt to simulate this, using the left bumper button. As usual, moving the left stick while on the ball lets you dribble, but then tapping the bumper separates you from the ball. "Think of it like a clutch in a car," says Channon. "Hold it down, the engine disengages, you're now not in contact with the ball so you have a moment to feign, fake or body swerve, both while stationary and running with the ball, allowing you to ride a challenge." Having that explosive movement in the aftermath would give you a sense of urgency which would bring up the tempo of the game. It's a sense of fresh air right there!
4. New Tackling Animations
Hey, get the ball back!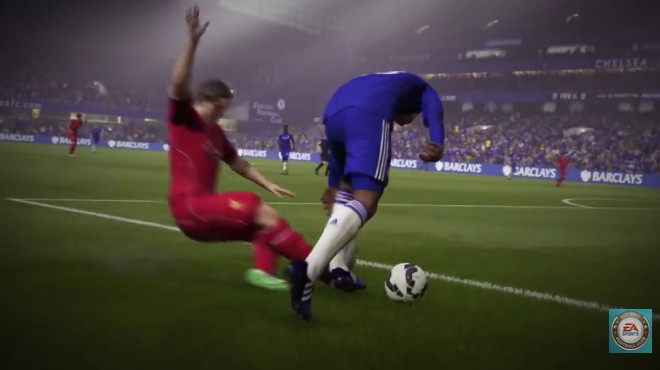 Liverpool defender tackling a Chelsea Midfielder.
Defenders and midfielders alike are experts at perfect tackles which are designed to knock the ball of the opponent. However, there are calls to take tackles to another level because fans have expressed that slide tackles could take the tackler completely out of the play so, a new slide tackle is created. The player could just press slide once to tackle the opponent and then press slide again to pop up and win back the ball.
5. Angled crosses
Hook it in, anyone?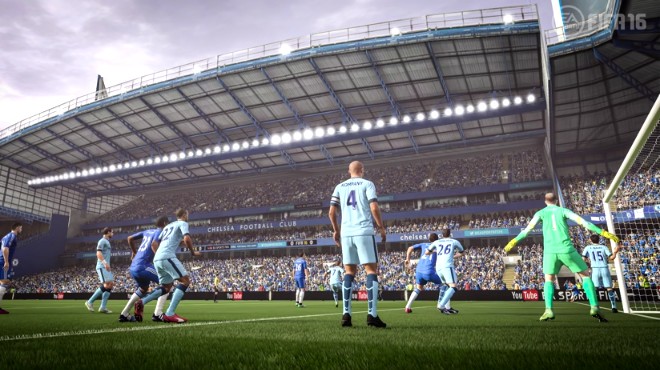 Chelsea taking a corner into the Manchester City penalty box.
Crossing has always been a contentious element of the Fifa experience: too easy to score from in 2014 and too tough in 2015. So what will 2016 bring? "What we're trying to do now is lead the player a bit more," says Channon. "In previous games crosses would be a bit square, but now players will put it a little bit ahead to get the attacker to run onto it. There's more of a margin for error now as we don't want it to become over-powered, but it gives you an opportunity to come in and get on the end of it."
He shows this off by running Ronaldo down the wing, then chopping in the cross just after the 18-yard line. True enough, the ball swings in toward the goal, putting it out of reach of Karim Benzema, but just within toe distance of an incoming Barca player. Channon concedes that, previously, battles in the box could be a little random as a cross flew in, so this is an attempt to reward player skill with clearer chances. It is now more realistic with an angled cross compared to a more squared cross which are less likely to be intercepted.
6. Contextual training
Hey you're so weak! Train it up!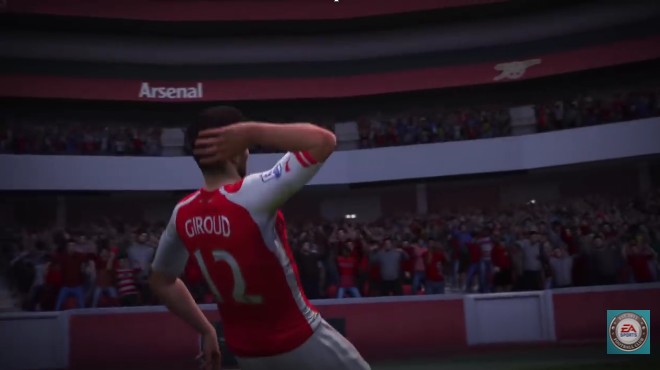 Arsenal striker, Giroud celebrating after scoring.
This may actually be my favourite new feature. If you press R3 during play, the game brings up a "contextual overlay system" above the player you are controlling, providing a selection of possible moves. If you're just dribbling the ball in your own half, it'll probably just suggest short or long passes, together with the relevant button, but once in the opponent's territory it'll bring up a range of attacking options. There are several levels of advice to select from, so intermediate and experienced players can get more complex pointers, including tougher skill moves. "It just helps people get more out of the game. I mean, half the people on our own team didn't know about bounce pass!"
7. Shots more realistic
Life is like a story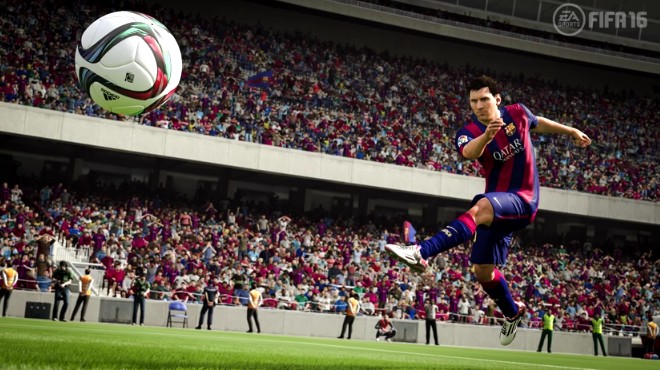 Barcelona striker, Lionel Messi shooting.
The Fifa team has long wanted to make shooting more realistic and lifelike and they have might well have done it. Fifa has had ball physics for ages, but now Channon says his team is modelling the interaction between the foot and the ball in 3D space – thereby leading to more emergent behaviours as one meets the other. What does that mean? Well, if you hit the ball from a slight angle your player is more likely to get their foot around it, adding extra spin and therefore giving it a curved flight.
They have now used a 3D model of the foot to the ball and have made them look nothing less than lifelike. It now focuses more on how the foot and the ball connects which greatly increases the ball physics.
---
8. Improved Marking
Hey AI! You suck!
Channon says the AI defenders have also been tweaked so they work more as a unit. For example, Everton builds an attack with Mirallas on the ball, so the player is looking to run up the field. However, when the Belgium midfielder loses possession the defender immediately starts running back into position. In the previous franchises he would have kept running forward for a while; he wouldn't have recognized the situation so swiftly," says Channon. It could get pretty frustrating.
The designers have also changed the man-marking system so that defenders will now recognize if a player is making a threatening run and move in to intercept. "We're just tightening everything up a little bit" says Channon.
---
9. Inclusion of the Women's Teams
Love women? You would love this then!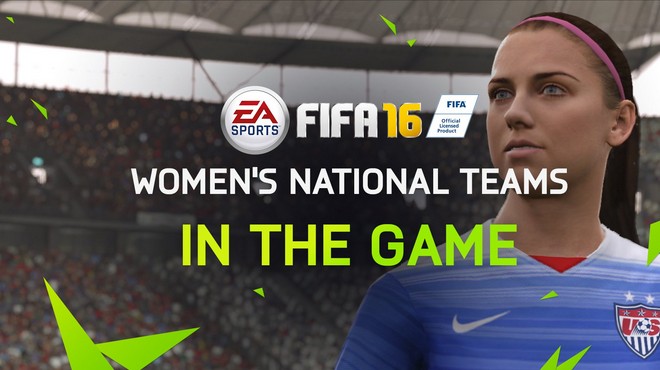 United States women's soccer team
One of the major improvement by the Fifa team is the inclusion of twelve Women's teams into Fifa 16. The hype of the Women's World Cup happening right now could well be poured over into the game prompting delight for the game. The game which is due for North American release on 22 September 2015, will feature the women's national teams of Australia, Brazil, China, Canada, England, France, Germany, Italy, Mexico, Spain, Sweden, and the United States of America.
The 12 women's teams will represent their respective countries in several FIFA 16 game modes including Kick Off, an offline tournament, as well as Online* Friendly Matches.
"I honestly can't believe all of the science and technology behind the game itself, let alone getting us into the motion capture suits and eventually into the game," said Abby Wambach, Forward for the United States Women's National Team. "We're all excited to see ourselves in the game, but even more excited to see the reaction from all of the fans, including the fans of our team that maybe wouldn't be expecting something like this from EA SPORTS." 
---
10. Keep the eyes on the ball
I have my eye on you
There some sort of a small change here. Players will actually look at the ball, tracking it as it flies through the air, rather than just staring forward. It's a small tweak, but watch a player follow the ball and then connect for a thunderous volley looks awesome.
Image Gallery