Developers of "Darkwood" Horror Game Release New Trailer
Updated: 03 Aug 2017 1:17 am
Atmospheric new trailer released for "Darkwood"
Set for release on 17 August 2017 from Warsaw-based developers Acid Wizard Studio, who modestly describe themselves as "3 young people and a dog", we are pleased to announce the atmospheric new trailer for "Darkwood". After gathering over $57,000 thanks to crowdfunding on Indiegogo, Acid Wizard Studio spent three painstaking years fine-tuning the game and if their trailer, released in July 2017 is anything to go by, their hard work has certainly paid off.  
Going against typical horror-genre trailers by avoiding eye-roll-inducing nursery rhymes and stereotypical "It's coming for us!!!" dialogue, this minimalistic trailer leaves a lot to the imagination. An eerie, faint drone provides an unnerving backdrop as, after a few mysterious shots of a seemingly derelict town replete with burning effigies, a rabid dog, and a Gollum-esque ghoul squatting eerily what appears to be a man-made cave, we follow an alluring nude woman into some rather uninviting woods. Only a creepy, defaced portrait of a stern looking gentleman, a rather p*ssed off black cat and, in a macabre split-second scene a maggot slithering over what appears to be a severed ear serve as clues to what this game could be about.
Acid Wizard Studio released the trailer for Darkwood stating "Scavenge and explore a rich, ever-changing free-roam world by day, then hunker down in your hideout and pray for the morning light". They also urge you to "Laugh manically as madness consumes your mind."
The RPG bears a realistic day/night cycle that is set to "impact your (already faint) chances of survival".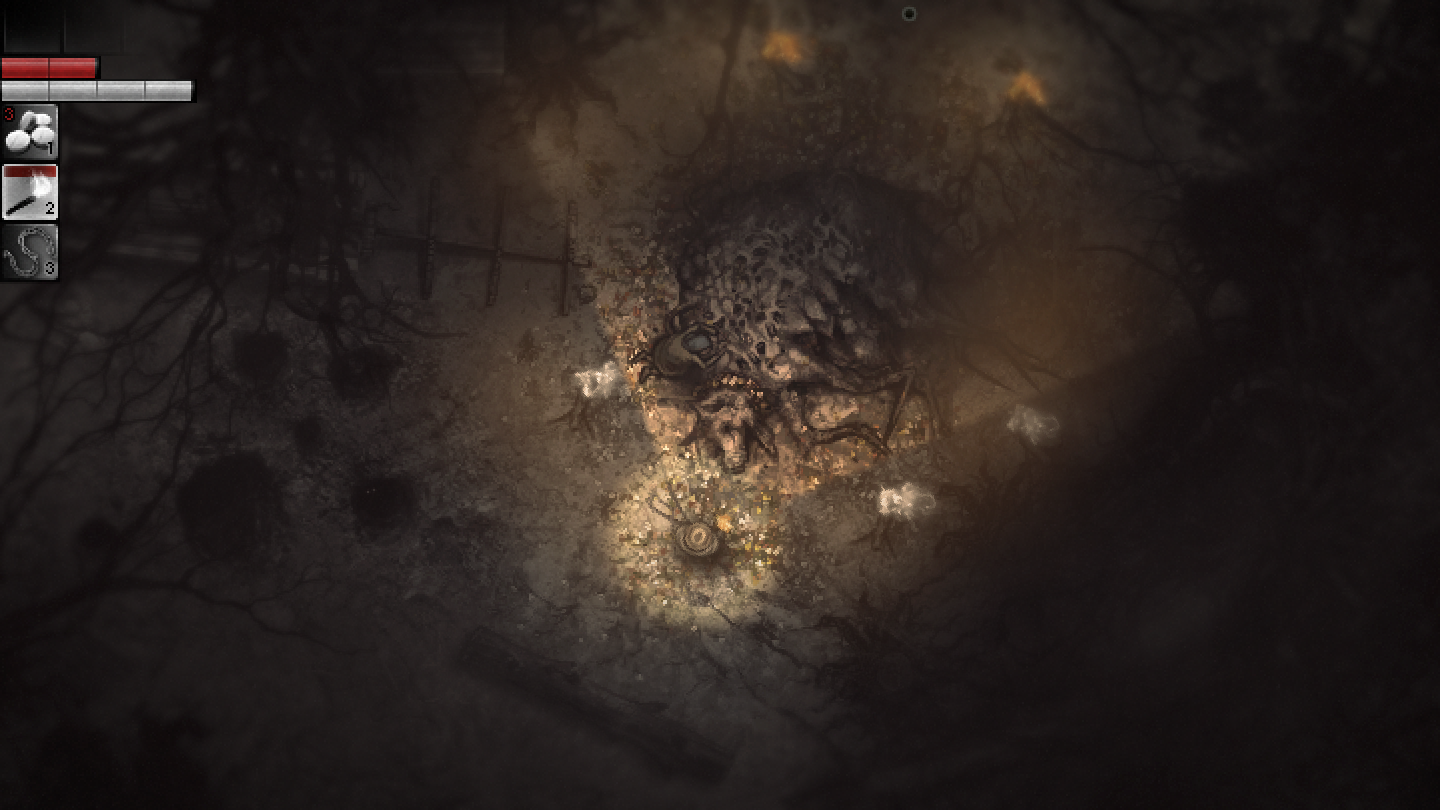 The classic top-down perspective combined with dark atmosphere are some of the features of Darkwood.
Image Gallery