Alienware Unveils New 25-inch Gaming Monitors And Other New Tech
Updated: 01 Jul 2017 9:13 pm
Alienware's beautiful new hardware fits nicely into the usual sleek designs the brand is known for.
Dell are at the top of the league for PC monitors
Alienware, the games technology side of Dell, released some decent hardware designs at this year's E3. Two new gaming monitors, plus a keyboard and mouse. Not bad news for the gaming giant.
Having a computer monitor that's as up to date with the latest technology is fantastic. It keeps your game looking crisp and makes sure you have the ultimate gaming experience by letting you see everything on screen that you're supposed to. Just an aside - I had a low-grade monitor, and combined with a really old Alienware PC I could never see when I was standing in an Area of Effect… I died a lot.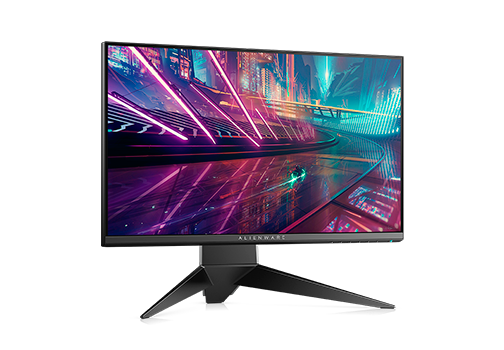 Alienware continues with its sleek designs.
The two new Alienware 25 Gaming Monitors both have 240Hz refresh rates so you won't have to make any adjustments yourself - just plug in and go. There is a 1ms response time so what you do is replicated on-screen immediately, with no lag, and no blurry images. The monitors are up-to-date as well with the latest NVIDIA G-Sync technology.
With 25 inches, your games will come larger than life, all on a thin and fully adjustable screen. You can also save settings for individual games, meaning you don't have to keep adjusting your settings to play different games. Just click on your pre-set for Warcraft or League of Legends and go.
A Light-Up Keyboard
RGB light technologies get a buff with Alienware's latest keyboard release -the Alien FX. The backlight concept popular amongst most gaming accessories has been taken further; each key on the keyboard can be coloured differently. And perhaps most importantly, the FX is designed to change key colour based on what you are doing in-game, giving you an even deeper customizable experience.
Alienware's light-up keyboard is beautful.
Other highlights of the Alien FX include 15 programmable macro keys giving you easy access to your favourite sites, programmes, and games. The keys are also super quiet and there are 3 different positions for height adjustment, plus a magnetic palm rest. But really, it glows, so that's what wins this keyboard for me.
The Advanced Gaming Mouse gives your hand ultimate comfort
The new Alienware Advanced Gaming Mouse is a top performer. It combines good looks with comfort and durability. It's longer than a standard mouse, giving extra support to your thumb and fingers during those long gaming matches.
The mouse comes equipped with the same RGB technology as the Alien FX so you can light up your mousepad to fit what you're doing in game. There's 9 programmable buttons, so you can cast Judgement or use your Kill Command with just a quick click of your thumb. Finally, with 5,000 DPI your mouse will be as responsive as you are.
You might also like…