Top 5 Best Gaming RAM You'll Only Need [DDR 4] (2018-2019)
Updated: 11 Jan 2019 4:52 pm
Top 5 Flavors of RAM
Top 5 Best Gaming RAM You'll Only Need
These new RAM kits just keep charging ahead and trampling their predecessors. We rounded up the top 5 best gaming RAM (Random-access memory) kits available. We like to think we have a little something for every type of gamer out there. We even have a couple options for you game developers.
Number One: Kingston HyperX Fury 8GB

Speed: DDR4-2400 | CAS Latency: 15 | Timing: 15-15-15-35 | Voltage: 1.2V | Modules: 1x8
Why should you buy this: Kingston has been making reliable memory kits for years. We think this is a great entry level kit for any build.
Who's it for: Who isn't it for? The Kingston HyperX Fury kit is extremely versatile.
How much will it cost: Currently, $94
Why we picked it: Well it comes stock with a speed of 2400 MHz and a tight 15-15-15 timing. The stock Kingston HyperX Fury kit will perform well with most games including those with intense graphics and effects. If that's not enough, overclocking is easy. These kits come underclocked. Increasing the speed a bit doesn't even require a voltage increase and won't even need timing adjustments. Just click and done. If you do increase the voltage to around 1.4V, you can up the speed quite a bit or lower the timing drastically down to potentially a 12 or 13. We love the Kingston HyperX Fury kit because it's a great generalist kit stock but an even better specialist kit when adapted with some easy tweaks. Should you ever decide to upgrade, just grab another stick and slap it in. Boom 16 GB.
Number Two: G.SKILL Trident Z RGB Series 16GB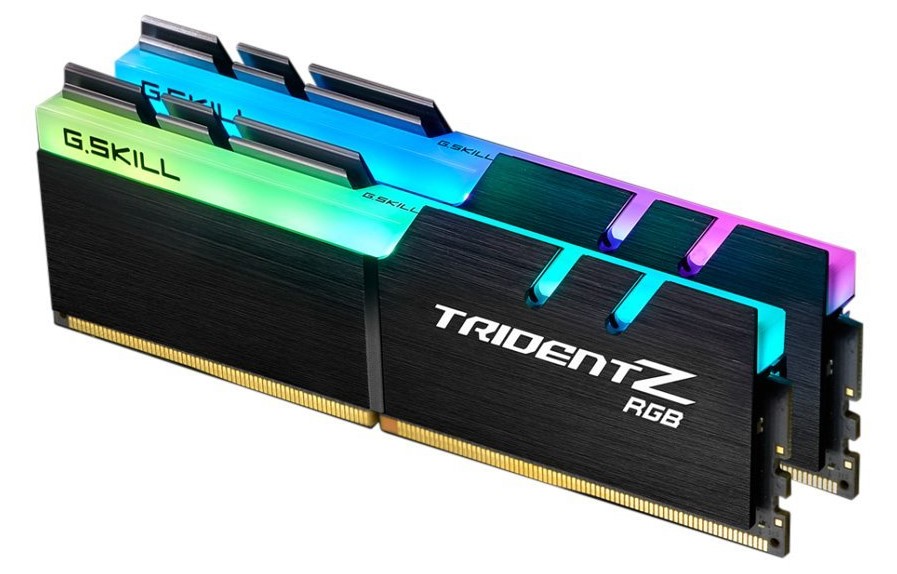 Speed: DDR4-3200 | CAS Latency: 16 | Timing: 16-18-18-38| Voltage: 1.35V | Modules: 2x8
Why should you buy this: Pretty colors! Seriously, these things are beautiful. It's a shame they will be hidden in a case. Luckily their performance won't let you forget that you mounted these beautiful gems.
Who's it for: Gamers with a window case and water cooling. Please don't cover them up with a giant CPU fan or some ugly mesh case.
How much will it cost: Currently, $214
Why we picked it: Even though we think the G.SKILL Trident Z kit is pretty, we focused on performance. Stock performance is great, amazing even. This kit runs with or even ahead of most serious gaming memory kits. If your worried 16 GB isn't enough, upgrade to the 32 GB kit. Just be sure to follow those rainbow colors to the end. You're going to need that leprechaun gold to pay for these. Also of note is that the colors can be controlled with the Asus Aura application or G.Skill's own application.
Number Three: Corsair Dominator Platinum Series 32GB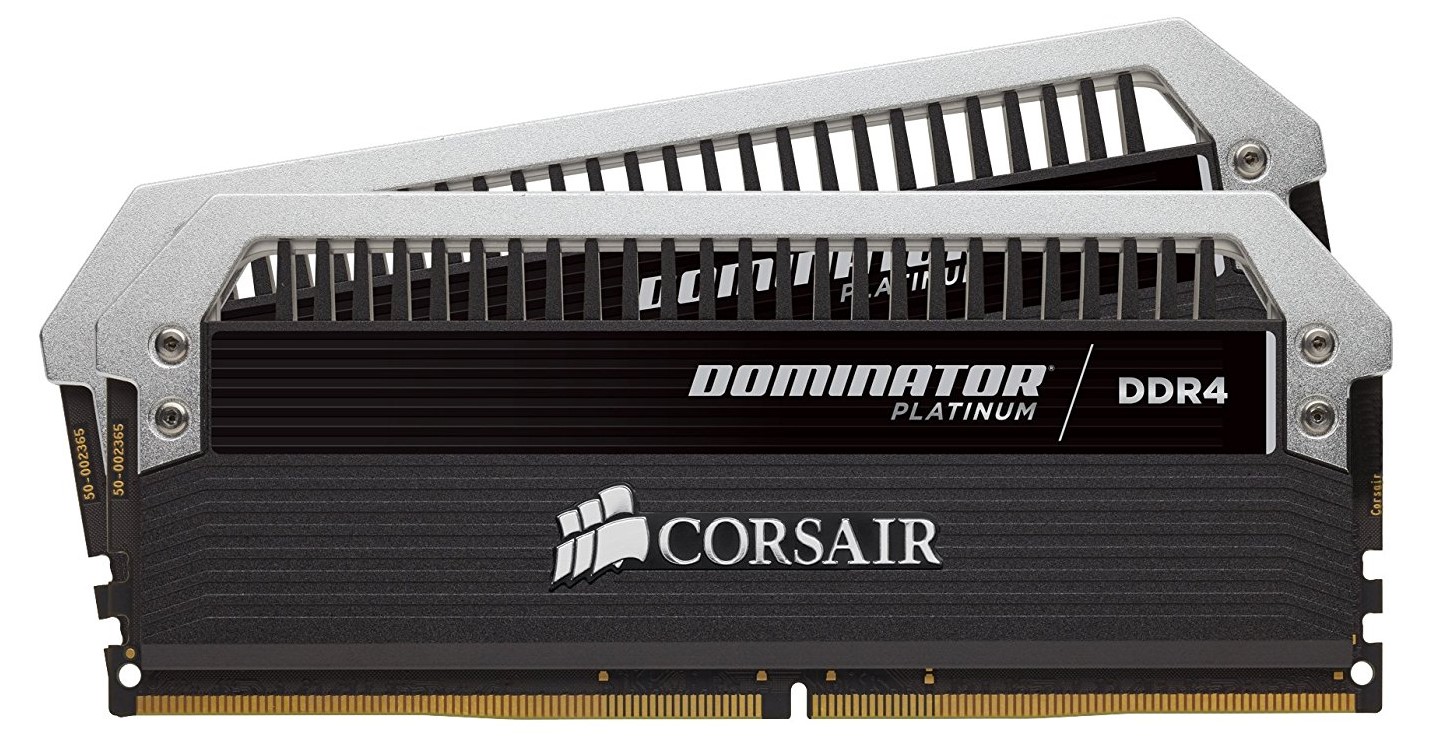 Speed: DDR4-3200 | CAS Latency: 16 | Timing: 16-18-18-36 | Voltage: 1.35V | Modules: 2x16
Why should you buy this:  Average gear just doesn't cut it. Reliable and fast with a lifetime warranty.
Who's it for: The premium gamer. The rich prick we all keep wishing we were!
How much will it cost: Currently, $420
Why we picked it: When your spending this much on parts, you want it to be reliable and durable. The Corsair Dominator Platinum is both. It feels like quality. It has a heft to it that makes other memory kits feel like cheap toys. We feel like it goes without saying but the kit performs extremely well stock. Not many games are going to be testing the limits of the Corsair Dominator Platinum kits, especially when using a 32 GB setup. The stock speed is already high but, if you do feel the need to overclock, the Corsair Dominator Platinum moves up a few steps in speed with ease. Barely having to adjust much else. Note that it doesn't let you push much past a few speeds up. This kit is all about stability and reliability. This kit is not for extreme overclocking.
Number Four: Mushkin Redline 16GB

Speed: DDR4-2666 | CAS Latency: 16 | Timing: 16-17-17-36 | Voltage: 1.25V | Modules: 2x8
Why should you buy this: Stability, reliability and a real lifetime warranty from a US company.
Who's it for: Mushkin Redlines are perfect for gamers who focus on single player games with intense graphics and heavy effects. Developers will feel great using these as well.
How much will it cost: Currently, $165
Why we picked it: Mushkin Redlines hold a soft spot in our hearts. In the past you could overclock these kits through the fires of Hades and then ask Mushkin for a new kit anytime you took it a little too far. It seems the latest version is less focused on overclocking speed and more focused on lower timing. We were stunned by their ability to maintain very stable low timing. In fact, these Mushkin Redlines when lowered down to 2100 MHz can take on a super low 12-12-12-32. The choice between speed and timing is very game specific. The Redlines low timing makes them perfect for games with heavy rendering and effects.
Number Five: Crucial ECC (Error-Correcting Code) 16GB

Speed: DDR4-2400 | CAS Latency: 17 | Timing: 17-17-17 | Voltage: 1.2V | Modules: 1x16
Why should you buy this: It's a great step into a more stable gaming build. Imagine reduced crashing and drastically fewer file corruptions. It's the best memory for anyone running AMD's Threadripper.
Who's it for: Gamers and game developers. Anyone running AMD's Threadripper CPU or a workstation/server CPU such as Intel's Xeon or AMD's Epyc. Anyone with ECC support hardware.
How much will it cost: Currently, $160
Why we picked it: ECC memory was originally reserved for those using a workstation/server CPU. With AMD's Threadripper bringing ECC support into a more gaming focused CPU, we see a huge acknowledgement of a popular niche gaming build. The gaming workstation. Gamers have been using low to mid-range workstation/server CPUs in gaming builds for years now. A huge reason being ECC memory. Memory errors are something that can easily be considered a weak point in gaming memory. Something most gamers tolerated because ECC was so slow in the past. But with a speed of 2400 MHz and a tight 17-17-17 timing, ECC is anything but slow nowadays. We think ECC support will be popping up a lot more in the future.
Our Notes
Hopefully you notice that only one of our selected memory kits has an RGB color setup. Really, it's a niche market for those with display gaming builds that probably get put in shows or taken around to LAN parties. Most of us play alone in the dark focusing on performance rather than looks. Memory is a tricky component. In general, larger kits are always better but speed and timing also influence performance depending on the type game or application. A low speed kit with low and tight timing can outperform a fast kit with high timing and vice versa. It all just depends on what you're playing. We specifically tried to find versatile memory kits that can dip into either specialty. Most of our kits are either already capable or can be easily adapted for your preferred gaming type.
You may also be interested in: