Top 5] Zelda: Breath of the Wild Best Beginner Weapons (And How To Get Them)
Updated: 08 Feb 2022 6:05 pm
A Link will always defend his Zelda.
5. Tree Branch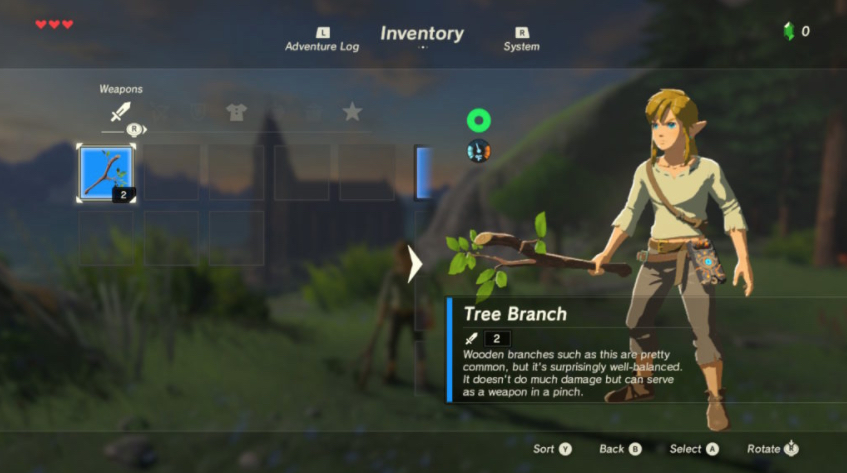 Your first weapon is a literal stick
A tree branch is likely the first weapon Link will find after leaving the Shrine of Resurrection. There are trees everywhere coming down into the Great Plateau and tree branches will be littered throughout your initial path into your new world. While they are not the most effective weapons, they will hold you over until you can increase your arsenal.
Item Stats 
Attack 2
Durability 4
Stock up on as many few tree branches as you can find when you first enter the game. You'll need themto battle your first monsters.
Use your makeshift weapon to disarm an armed enemy and then steal their weapon.
How To Get a Tree Branch:
Tree branches can be easily found by foraging in wooded areas.
Once you have a woodcutter's axe, tree branches can be obtained by cutting down trees.
I Beat Breath of the Wild with a Single Stick
4. Korok Leaf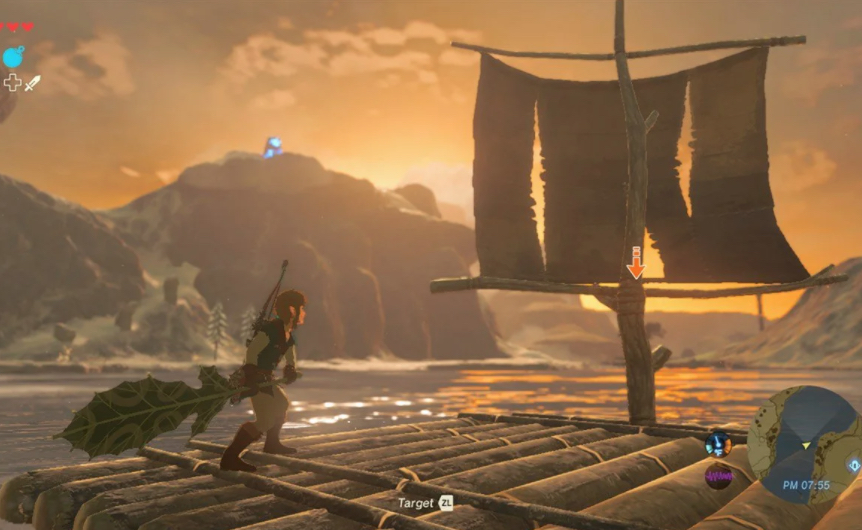 Korok Leaves are a useful tool throughout the game. They are the giant stiff leaves of native Hyrule trees. Waving them creates a strong gust of wind. 
Item Stats 
Attack 1
Durability 25
Korok leaves are primarily used to power the sails of rafts in order to navigate rivers and lakes.
Korok leaves can also blow over and disarm lighter enemies such as Bokoblins and Yiga Footsoldiers.
Korok leaves are used in some quests to blow air through tubes to create musical notes; like a giant flute.
How To Get Korok Leaves:
If you find a raft tied to the shore, look around. A Korok Leaf is often left right where you would need it.
Korok Leaves can also be found by foraging in wooded areas.
Once you have a woodcutter's axe, Korok leaves can be found by felling trees; although not every tree will gift you a leaf.
BotW- How To Properly Use a Korok Leaf
3. Boko Club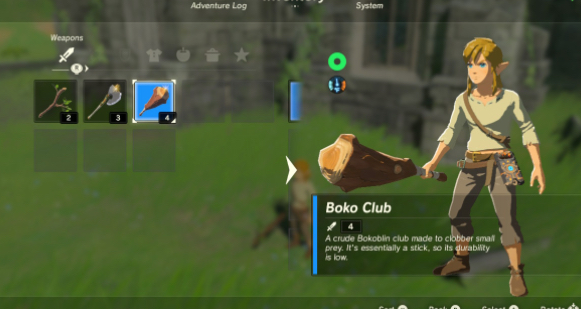 Boko Clubs are wooden sticks carried by Bokoblins. They can be modified with bone in order to make them more durable and raise their attack power. A standard Boko club will likely be the first item Link can steal from his enemies.
Item Stats 
Attack 4
Durability 8
Boko Clubs will likely be the item designed to be a weapon that Link procures in the game.
Boko Clubs are easily usable for battle but may break easily, since they are essentially large sticks.
How To Get Boko Club:
Red Bokoblins guarding the Great Plateau will be carrying Boko Clubs.
Attack the monsters using whatever you have available until they will drop their clubs.
Quickly steal the club once it has been dropped or oncethe Bokoblin dies.
You may also be interested in:
Image Gallery