[Top 11] Zelda: Breath of the Wild Best Recipes And How To Get Them
Updated: 08 Feb 2022 6:10 pm
A tasty cooking pot of thistle and raw meat is all Link needs to keep his health up.
Cooking is one of the necessary skills that Link picks up in Breath of the Wild. Some basic recipes will provide Link with impressive abilities and defenses.
11. Baked Fruit (Best for Easy Heart Regeneration)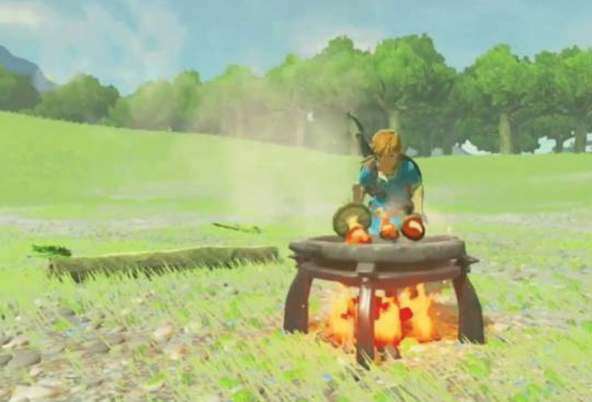 Make sure you stir the bowl so nothing sticks to the bottom.
Fruit is everywhere in Hyrule and Link has been picking up apples since the beginning of the game. Baking fruit increases the fruit's potency and is a great way to increase your heart count. Baked fruits also stack their numbers in the inventory, so you can amass an unlimited number of baked fruits.
Baked Fruit Stats
Any fruit can be cooked to increase its potency from its raw form.
Different fruits provide a varied number of hearts.
Baked fruit is great for easy heart replenishment.
Baked fruit stacks in the inventory, so you won't run out of room to keep it.
Any fruit baked will increase its heart replenishment
Palm Fruit and Hearty Durians will provide the highest number of hearts.
6. Sneaky Steamed Fish (Best for 10 Minutes of Increased Stealth)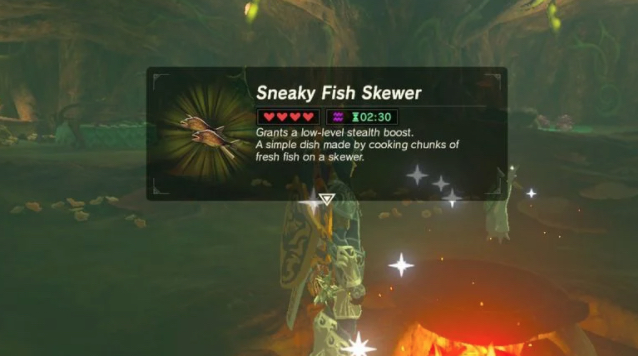 Link always leaves the head on when serving fish.
Sneaky Steamed Fish Skewers give Link a stealth boost allowing him to move undetected by enemies and animals. This ability allows Link to invade on enemy camps or sneak up on wildlife.. 
Sneaky Steamed Fish Stats:
Sneaky Steamed Fish can be produced by combining fish with Swift Violet or Blue Nightshade.
The substitution of Stealthfin Trout will increase the length of the effects up to 10 minutes.
Sneaky Steamed Fish grants a period of extended stealthiness.
Once eaten, Sneaky Steamed Fish allows Link to sneak up on enemy encampments without being spotted.
Sneaky Steamed Fish allows Links to be undetected by wild horses, making them easier to mount.
Link can capture bugs, lizards, fairies, and other shy creatures with his increased sneakiness.
2 Silent Shrooms
2 Silet Princess
1 Stealthfin Trout
5 Best Recipes for Extra Hearts, Stealth and Combat - Zelda BOTW
5. Hearty Mushroom Skewer (Best for Aggressively Bumping Up Your Hearts)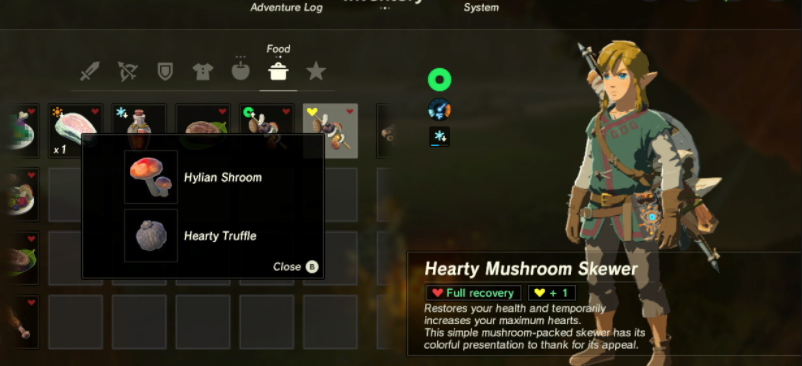 Mushrooms aren't just for breakfast anymore.
Hearty Mushroom Skewers are made using hearty truffles. These mushroom skewers will fully restore Link's health hearts. Using Big Hearty Truffles in this recipe will add temporary hearts.
Hearty Truffle Stats:
Hearty Truffles come in regular and Big sizes
Cooking one Hearty Truffle will refill all hearts and add one temporary heart.
Adding more Hearty Truffles or a Big Hearty Truffle will increase temporary hearts.
Hearty Mushroom Skewers completely refill your hearts, regardless of how many heart spaces you have collected.
Temporary hearts can also be collected by additional truffles used in the recipe..
4. Tough Steamed Fish (Best for 4 minutes of High Level Defense)
Tough Steamed Fish will increase Link's defense levels. Increasing these levels allows Link to sustain more damage without losing as many hearts. This recipe can be made in multiple ways but the most effective recipe is below.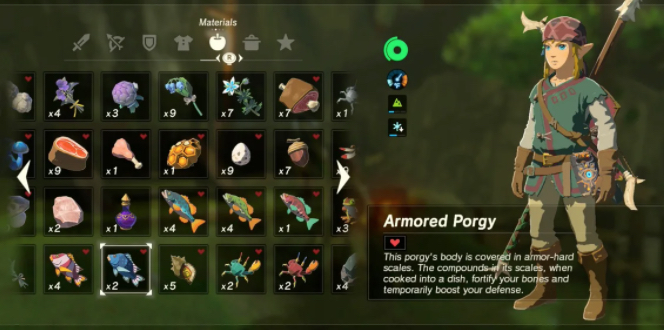 The bigger the armor, the better the porgy.
Tough Steamed Fish Stats: 
The Tough Steamed Fish recipecalls for either a tough plant or fish. i.
Armored Carp or Porgy for defense from a fish.
Using Amaranth as the vegetable will also add defense.
Combining Amaranth and an armored fish will provide the most defense.
Increased defense levels allow Link to sustain more damage when fighting enemies.
3 Armorath
2 Armored Porgies
Zelda Breath of the Wild - BEST Mighty Porgy Locations
3. Mighty Simmered Fruit (Best for 4 Minutes of High Level Attack)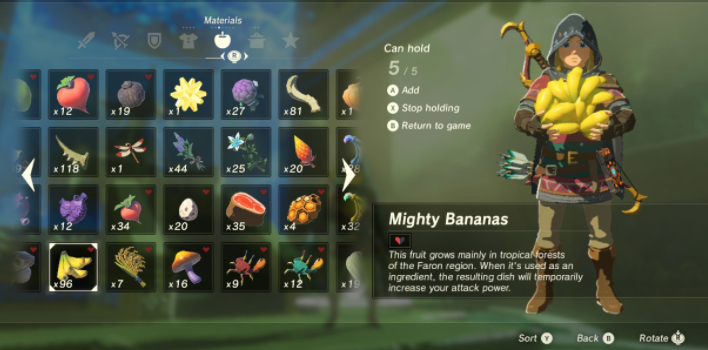 Is that a banana you're holding?
Mighty Simmered Fruit is a variation of Simmered Fruit using Mighty Bananas. Mighty Simmered Fruit will increase Link's attack levels. Adding additional bananas will increase the time limit on his increased attack levels.
Mighty Simmered Fruit Stats:
Mighty Bananas can be found in jungle climates.
The Yiga Hideout is a cornucopia of Mighty Bananas as it is their favorite food.
Yiga Clan members will also drop Mighty Bananas when they are defeated.
Increase Attack Levels allow Link to increase the damage he inflicts on enemies, making them easier to defeat
1-5 Mighty Bananas
Zelda: Breath of the Wild - Where to Find / Farm Mighty Bananas (Attack Boosting Ingredient)
2. Enduring Mushroom Skewer (Best for Completely Refilling Stamina Wheel)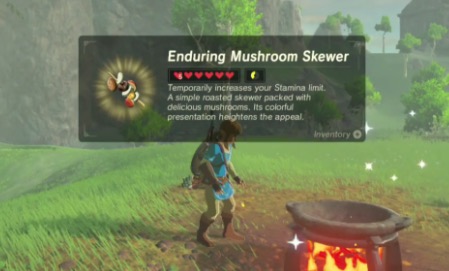 Now where did I leave my mushroom skewer now?
Enduring Mushroom Skewers are simply made by cooking Endura Mushrooms. This meal will refill a stamina wheel and grant additional temporary stamina. Eating Enduring Mushroom Skewers is particularly helpful if Link is climbing a wall or swimming and is about to run out of stamina.
Endura Mushroom Stats:
Endura Shrooms can be found abundantly in the Ridgeland Tower area.
Adding extra mushrooms will increase the number of hearts added.
Enduring Mushroom Skewers are best eaten in emergency situations where Link is going to deplete his stamina wheel completing a task.
Eating the skewer will immediately refill Link's stamina wheel and grant him temporary stamina.
1 Endura Shroom
Endura Shroom | Farming Location #1 | Zelda BOTW
1. Hearty Fried Wild Greens (Best for Refilling All Hearts and Granting Three Temporary Hearts)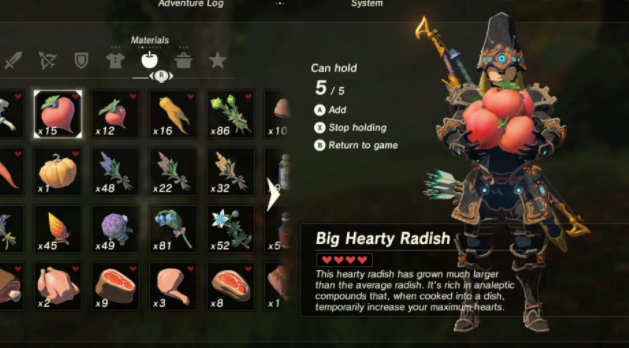 Oh, you like my pile of radishes?
Cooking Hearty Radishes will create a dish that completely refills Link's hearts. These dishes also add temporary hearts. Cooking Hearty Fried Wild Greens is a great way to never deplete hearts.
Hearty Radish Stats:
Cooking one Hearty Radish will fill all hearts and grant three temporary hearts.
Cooking one Big Hearty Radish will fill all hearts and grant five temporary hearts.
Hearty Radishes cooked will automatically refill Link's health hearts.
Eat this recipe when battling difficult enemies who are quickly depleting your hearts. Baked Apples and other fruit can refill sporadic heart loss
Using this recipe, Link will never run out of hearts.
1 Hearty Radish
Where to Farm Hearty Radishes/Big Hearty Radishes and Durians
You may also be interested in:
Image Gallery