Top 10 Most Popular Fighting Games in the World
Updated: 16 Apr 2020 12:35 pm
Sub-Zero of Mortal Kombat (L) and Ryu of Street Fighter (R) are the poster boys for their respective fighting titles, which popularized and continue to dominate the genre.
Top 10 Most Popular Fighting Games in the World
Tight mechanics, combos and stylish moves remain genre staples, but online multiplayer and leaderboards often determine a fighter's popularity in the post-Twitch community. This is because Twitch and YouTube are the playground of gaming, and since kids are king on the playground, gamers are determining the online footprint in gaming.
Nowhere is a fighter's online reach more analyzed than when it comes to the titles selected for the Evolution Championship Series's (Evo) annual esports tournament. The exclusion of the massively successful Mortal Kombat 11 from Evo's 2020 lineup proves however that an invite to the gauntlet is but one factor in determining popularity.
   
Whether polling fans, ranking, or being selected for Evo, commercial and critical success + being popular means one thing, being played.
*The data in this article is accurate as of March 17th, 2019*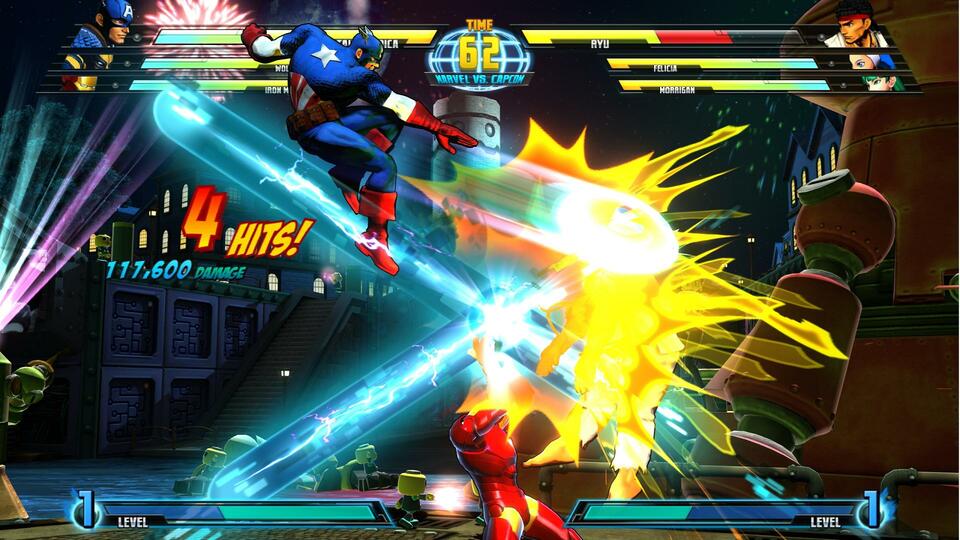 Ultimate Marvel vs. Capcom 3 retains the same flashy fast paced action of its predecessors.
Number 10: Ultimate Marvel vs Capcom 3
Total Registered Players: 2,800,000 (PS3, PS4, Vita)
Total Active Players: 28,000 MAU
Released for the PS3 and Xbox 360 at the end of 2011, Ultimate Marvel vs. Capcom 3 (UMvC3) is an update of the well-reviewed Marvel vs. Capcom 3: Fate of Two Worlds (MvC3) released earlier that year. One and a half months after MvC3's release, 2 million units had shipped making it a commercial success, while by the end of 2019, UMvC3 had shipped 1.2 million units according to developer Capcom's Investor Relations.
Known for its fast paced, tight tag-team action, it had been eleven years since Marvel vs Capcom 2: New Age of Heroes and fans were practically salivating for a proper numbered entry. However, despite being a critical and commercial success overall, MvC3 was unbalanced with lackluster online multiplayer. Its update would address these concerns and adjust the aerial combat and X-Factor systems as well, vastly improving the game's popularity. UMvC3 was played at every Evo between 2012-2017, something that cannot be said of its successor which has yet to be selected.
 The game could have gone the way of the dodo, but UMvC3's popularity surged once again in 2016/2017, when ports to the PS4, Xbox One and PC brought a 1080p/60fps update. This took an amazing update, of a great game and gave it new life. The r/MvC3 subreddit has a healthy 11.6k members and sees weekly updates of Combos/Tech and team building threads and the game pulled in 47.1k hours of watch time on Twitch in February of 2020.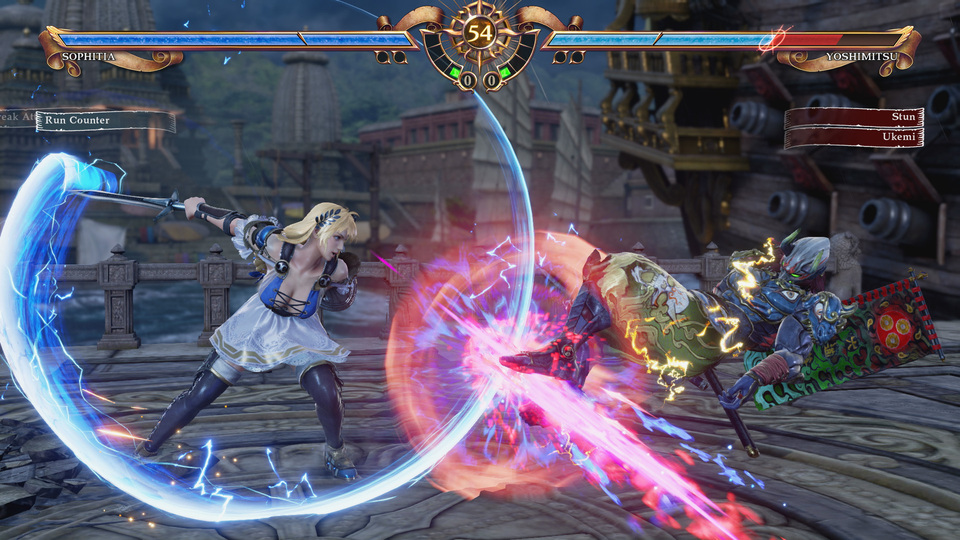 SoulCalibur VI sees the return of longtime series staples, while optimizing newer mechanics.
Number 9: SoulCalibur VI
Total Registered Players: 920,000 (PS4)
Total Active Players: 56,000 MAU
SoulCalibur VI has earned more than $1 million in just over one year since its October 2018 release. In that time, it peaked at #4 in viewership on Twitch, and #20 in active players on Steam. The newest entry in the long running series by Bandai Namco Games was even present at last year's Evo and will return for Evo 2020.
SoulCalibur's weapon wielding combatants go head to head in 8-way directional combat. The series became known for its demanding offensive/defensive balance, victories achieved through "ring out" and non-linear Renaissance-era storytelling. What sets SoulCalibur VI apart from its predecessor, is that it added to the gameplay; did it well and made it fun. IGN praised previously introduced mechanics from SoulCalibur V that had been fine-tuned and added that new features offered a "deeper level" of strategy.
The Witcher's Geralt of Rivia and Nier: Automata's 2B join the series' already incredibly diverse guest roster, a list that includes Link from The Legend of Zelda and Yoda of Star Wars fame. The game's online community is modest at best, the r/SoulCalibur subreddit has 39.3k members and it has become a meme/mod hub thanks to the updated character creation feature introduced in SoulCalibur III. The game's popularity comes from being one of the few tightly controlled customizable fighters out there and will thrive because of that, but "If you're looking for a multiplayer-heavy game, this isn't it."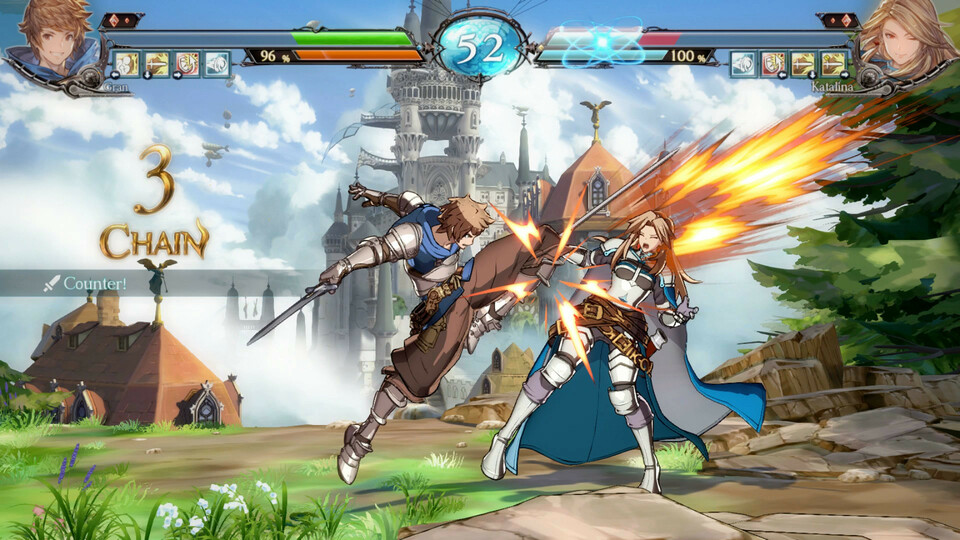 Granblue Fantasy Versus is the newcomer, with bright anime stylings and plenty of potential.
Number 8: Granblue Fantasy Versus
Total Registered Players: 150,000 (PS4)
Total Active Players: 150,000 MAU
Granblue Fantasy Versus earns a spot on this, not because it's a worldwide phenomenon, but because it could be. The game has been out for just over a month in Japan and less than a week in NA and is ranked #53 on Twitch where it boasts more than 536,000 hours of watch time. These stats are for the PS4 version alone and a Steam version is just days away from release.
Developed by Arc System Works (more on them in a bit), Granblue Fantasy Versus is named for the hugely successful mobile game it's based on and takes an "anime fighter" approach to its art style. The game received high praise from IGN upon its release and Hardcore Gamer gave it a 4.5/5, hyping its "potential" and praising combat from "devs familiar with what makes it fun."
Granblue Fantasy Versus has a lineup of five DLC character releases scheduled for 2020, has been selected as a title for Evo 2020 and daily posts on COMBO/HIGHLIGHT and TECH/GUIDE rule at the r/GranblueFantasyVersus subreddit of 7.3k members. This game will have plenty of chances to increase in popularity and so it earns the title of one to watch for this list.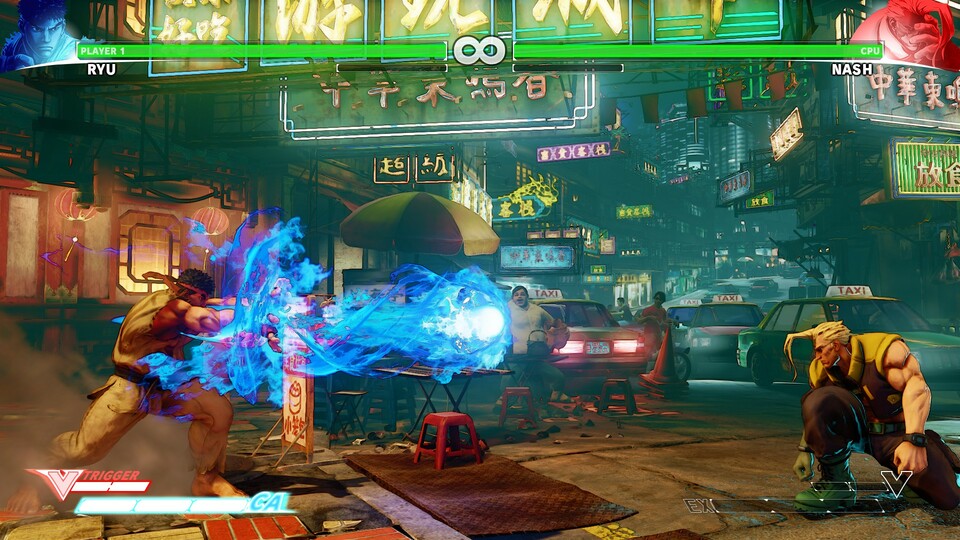 Street Fighter V had a rough start but has since gone on to combo down the competition.
Number 7: Street Fighter V
Total Registered Players: 5,400,000 (PS4)
Total Active Players: 150,000 MAU
Known for being one of the first fighters to offer character selection, the Street Fighter series popularized the special attack; Hadouken and sits alongside Mortal Kombat as the two titles that kicked off an entire genre. Despite its reputation, Capcom's Street Fighter V had to earn its place on this list after a disastrous launch in 2016. The mechanics, like most Street Fighter titles, were praised by GameSpot and Destructoid but the game's online connectivity was so broken it prompted an apology from its creators forcing them to address the concerns.
With online play improved, Street Fighter V could truly shine. It surged to #1 in viewership on Twitch and #16 in player rank on Steam. The game has one of the most aggressively consistent popularity spreads of any title in the genre, in part due to the updated Street Fighter V: Arcade Edition released in 2018.
 The series helped establish the tournament scene for fighting games with Street Fighter II Turbo and Street Fighter Alpha 2 as founding titles for the Evolution Championship Series (Evo). A Street Fighter title has been played at every Evo since its inception, inclusive of the latest entry and Evo 2020 will mark the tournament circuit debut of Street Fighter V: Championship Edition. The r/StreetFighter subreddit has a combined membership of 104k and includes a LocalFightersNetwork and Weekly Tourney section that continue the rich competitive spirit that follows this game's history.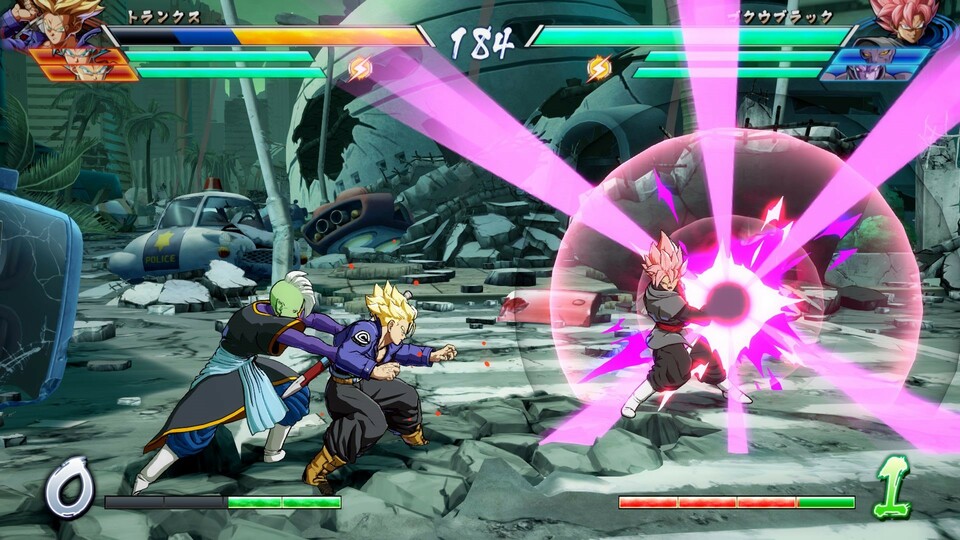 Dragon Ball FighterZ achieves a crisp anime colour palette that any fan of the series will love.
Number 6: Dragon Ball FighterZ
Total Registered Players: 4,300,000 (PS4)
Total Active Players: 210,000 MAU
The other Arc System Works title on this list, 2018's Dragon Ball FighterZ was infinitely praised for its graphical fidelity, and flashy combat system. At times you might believe you are playing an actual episode of the anime from which it takes its name; the art style is that close to series creator Akira Toriyama's work. Fans were no doubt drawn to the title by nostalgia glasses but stayed for the gameplay.
Dragon Ball FighterZ's fighting mechanics reward you for easy combos by making them the entry point toward more powerful and controlled special attacks. At launch the game was the most-played fighting game in Steam history at more than 44,000 and as an accessible title for fighter elitists and beginners alike, the game maintains a stable popularity.
An impressively active r/dragonballfighterz subreddit hosts monthly Combo Contest, contributing to the title's daily viewership of more than 5000 on Twitch. DLC FighterZ Passes have nearly doubled the roster of characters since launch and FighterZ Pass 3's reveal coincided with a 290% surge in viewers and 48% surge in players on Twitch last month. Dragon Ball FighterZ has found a home at Evo's past and upcoming and shows all the signs of being around for a while.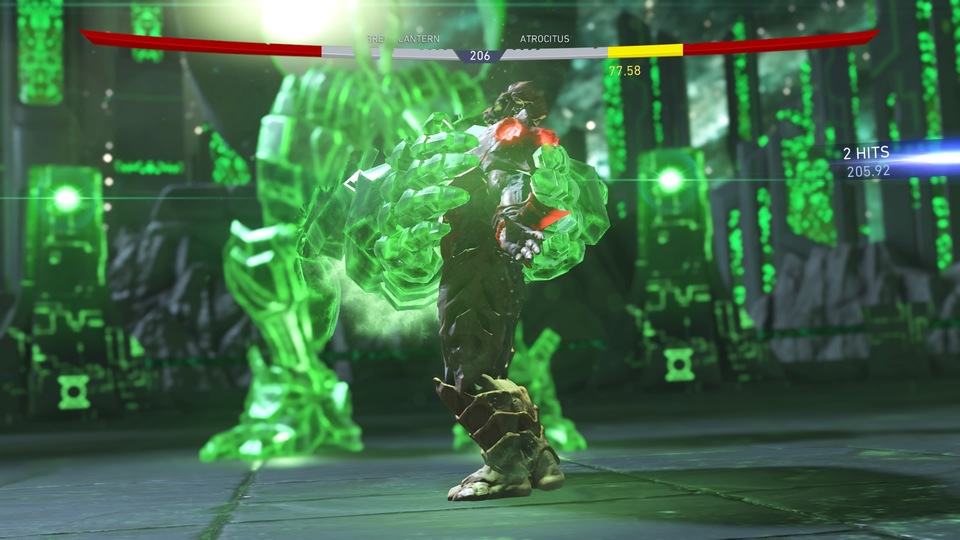 Injustice 2 expanded on what worked from the original; superpowers and a compelling plot.
Number 5: Injustice 2
Total Registered Players: 7,300,000 (PS4)
Total Active Players: 240,000 MAU
Injustice 2 was released for the PS4, Xbox One and PC in 2017 as the sequel to 2013's Injustice: Gods Among Us. The title runs on the same engine as NetherRealm Studios' other smash hit Mortal Kombat X (more to come on that) and was a commercial success. The game achieved near universal praise as well and cleaned up in the awards category the year of its release.
Like other NetherRealm Studios' titles, Injustice 2 tells a rich narrative that builds off its predecessor and the improved visuals using motion capture, action choreography and facial animations make it near cinematic quality. Injustice 2 dominated Twitch viewership in the fighting game genre upon its release and held a steady player base on Steam well into 2019. It is one of the only titles on this list whose online presence has continually declined, likely due to the emphasis on story and solo play vs. Competitive online.
The r/INJUSTICE subreddit and its 38.9k members host exhibition matches, but the thread is largely discussion focused. Injustice 2 was a selected title for Evo 2017/2018, before being replaced, still, it saw continued popularity owing to the many DLC characters that would fill its roster, not unlike Mortal Kombat X.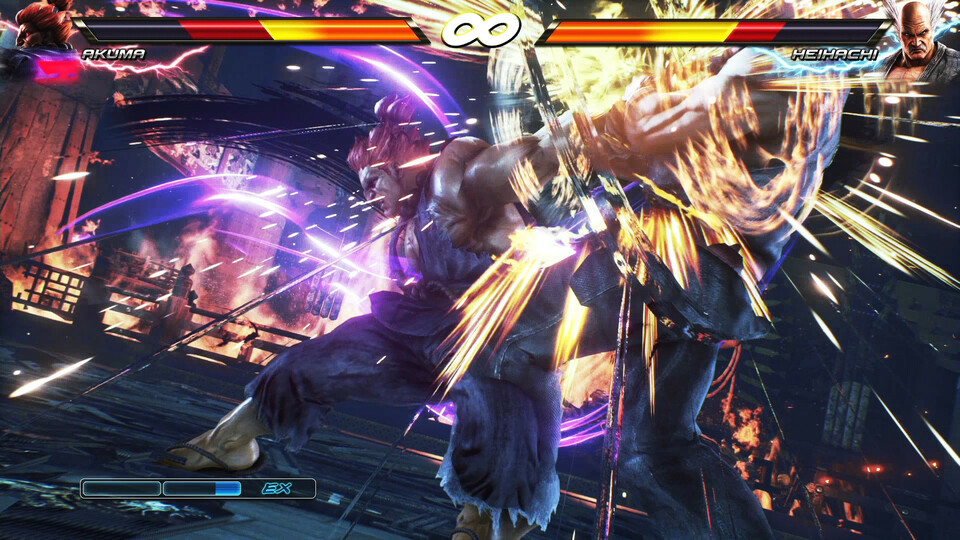 Tekken 7's release nabbed a 2nd Guinness World Record for the beloved arcade style fighter.
Number 4: Tekken 7
Total Registered Players: 5,600,000 (PS4)
Total Active Players: 340,000 MAU
Releasing in 2017, Tekken 7 was the first numbered Tekken game in 10 years. The newest entry, was lauded as "Tekken, with better graphics" and IGN would score the title a whopping 9.5/10 praising the "highly technical" gameplay that has set Tekken apart for decades. It was what fans were looking for, a close combat hand to hand fighter with highly technical mechanics. A few months after its release, the Tekken series was inducted into the Guiness Book of World Records for the Longest-running videogame storyline as well as extending its title of Longest-running 3D fighting videogame franchise. The former of these is especially notable as fighting games are traditionally not known for their storytelling.         
                                  
While other developers raced to innovate; Bandai Namco Studios doubled down on what set them apart and honoring what made Tekken great. At the close of 2019, more than 5 million copies had been sold. Three years after its initial release, Tekken 7 has maintained 50+ channels streaming per month on Twitch and 1700 - 2500 players per hour on Steam. Statistics wise, Tekken 7 has the most consistent popularity across all platforms.
Fans of the series can gather with their other 91.2k Tek'kin' on the r/Tekken subreddit, a meme/fan art haven for the series. Tekken 7 has been at every Evo since 2017, will return this year, and in a twist, achieved peak popularity on Twitch during its third year.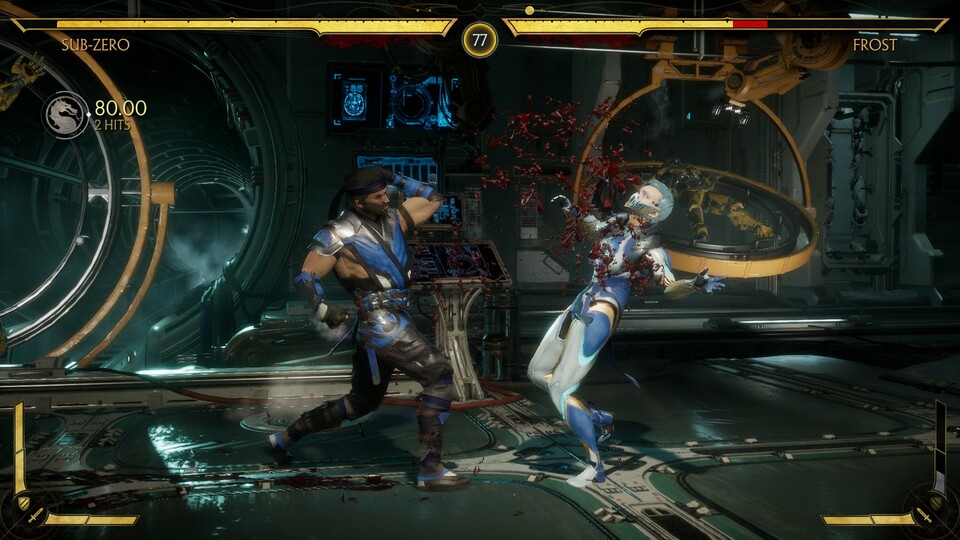 Mortal Kombat 11 slowed the pace but not the action, to feel the intention behind each blow.
Number 3: Mortal Kombat 11
Total Registered Players: 5,800,000 (PS4)
Total Active Players: 630,000 MAU
While the year one sales of Mortal Kombat 11 (MK11) are still absent from the studio, the game crushed the digital sales of its predecessor by more than 1.4 million units. The follow up to Mortal Kombat X was praised for its graphics, story and online play and the excitement fans held for this sequel could not be contained. Combined views on YouTube for the announcement of MK11 across IGN, PlayStation, GameSpot and Mortal Kombat are more than 20 million views.
The game was not without criticism however, GameSpot called out the "frustratingly gimmicky and grindy" solo progression but scored the game a 9/10, nonetheless. MK11 averages 3,500+ players per hour on Steam, is currently ranked #63 on Twitch with more than 400,000 hours watched in the last week.
MK11 shares the r/MortalKombat subreddit with Mortal Kombat X where and impressive 174k members come together for posts on Match Footage, Kombos and Tech, to name a few. The question on everyone's lips though, "can MK11's tight mechanics and stunning graphics unseat its predecessor in popularity?" With the return of favorite Sindel, guest Joker, and first timer Spawn being part of Kombat Pack 1 DLC, all signs point to yes.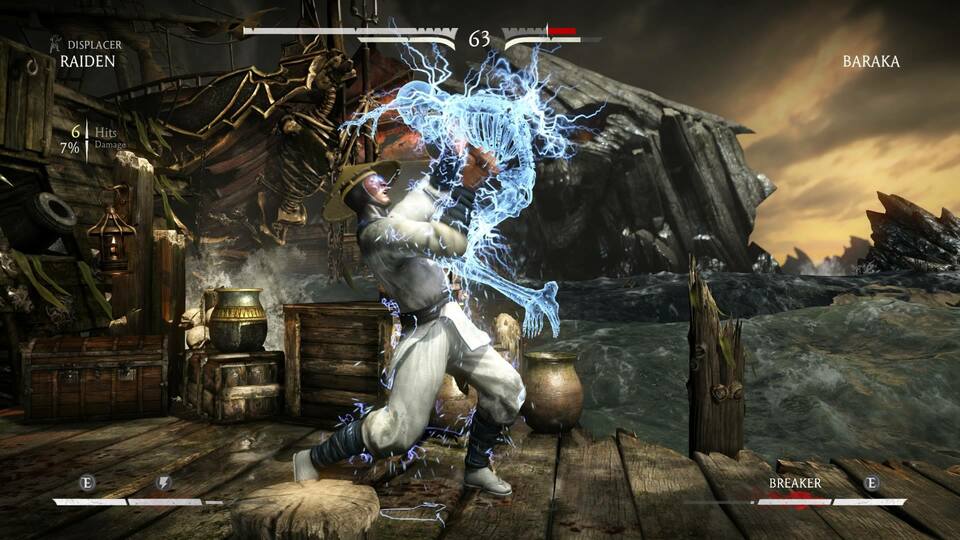 Mortal Kombat X wiped the slate clean and set the standard yet again for what a fighter was.
Number 2: Mortal Kombat X
Total Registered Players: 26,100,000 (PS4)
Total Active Players: 810,000 MAU
NetherRealm Studios did a retcon right when Mortal Kombat (2009) rebooted the tired series. Mortal Kombat had long been suffering from disjointed plot threads and character bloat. A time-altering reboot allowed for a change in direction that would see Mortal Kombat return to glory. This was one of the games that led to the creation of the ESRB rating system after all. The follow-up, Mortal Kombat X was released in 2015 to near universal acclaim and fans couldn't get enough. The Who's Next? trailer ended up getting 20 million views.
GameInformer called Mortal Kombat X "one of the best fighting games in years," praising nearly every aspect of the title, which topped out at number two in viewership on Twitch. What sets the game apart today is that its viewership and player base is still strong. The game has achieved ~50% of its peak online popularity each year since 2016, shipped more than 11 million copies and sold over $5 million.
Though the r/MortalKombat subreddit has been taken over by MK11 the game continues to see a thriving player base on Steam and PSN with no signs of passing that title off anytime soon. Mortal Kombat X's legacy can be attributed to the continued revitalization it achieved for the brand and for fighting games in general.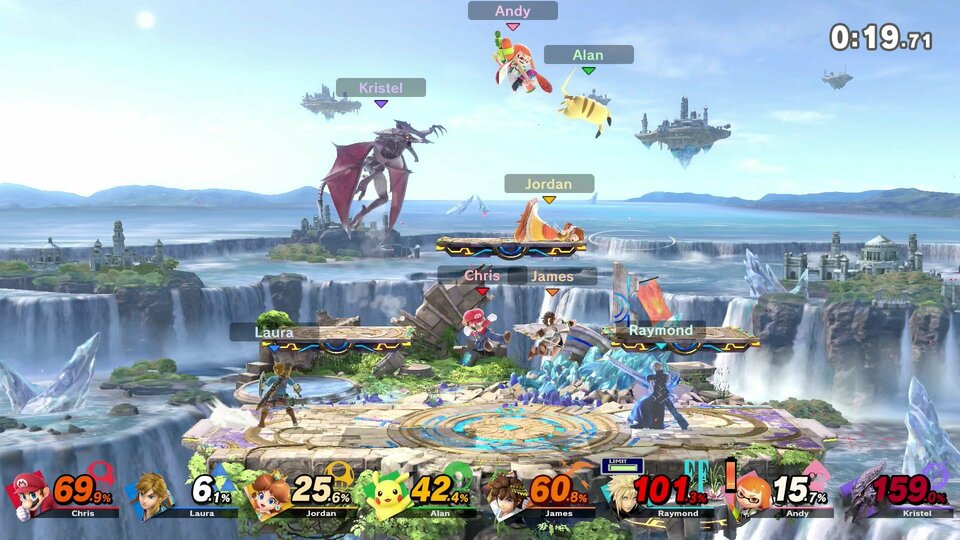 Super Smash Bros. Ultimate is the giant 8-player gauntlet love letter to fandoms everywhere.
Number 1: Super Smash Bros. Ultimate
Total Registered Players: 17.68 Million Units
Total Active Players: 2,250,000 Monthly Views
Holding the #49 spot on Twitch, at more than 3,880,000 hours watched in March, and an average daily high of 20,000+ viewers, Super Smash Bros. Ultimate (SSBU) has earned its name. The latest entry in Nintendo's mash-up brawler is the best-selling fighting game of all time, full stop. The previous record holder, Street Fighter II was just shy of its 30th anniversary, when SSBU overtook it in one year.
Boasting a roster of more than 70 characters from more than a dozen game IP's alone, SSBU is nothing short of record-breaking. It is one of the few fighting games to have received "universal acclaim" from critics; requiring all scores be above 90%. The Nintendo Switch exclusive won 14 awards and holds the honor of unseating Super Smash Bros. Melee's spot at Evo, a spot held since 2013.
In terms of this list, r/SmashBrosUltimate is the most subscribed subreddit at 315k members. The page includes its own official Discord and posts that range from memes, to challenges and everything in between. Reaction video views for SSBU's announcement are in the millions and it's no surprise, this is the definitive Smash experience. It took three sequels for Super Smash Bros. Melee to pass on the title of King of Smash, but Super Smash Bros. Ultimate certainly earned it.
Image Gallery