[Top 3] TFT Best Shi Oh Yu Builds To Use
Updated: 20 Oct 2022 8:04 pm
Nobody can bring you peace but yourself, in other words SHI OH YU.
How do you view peace? Did you see the peace statue? Shi Oh Yu, she knows nothing but peace, yet she can fight wars just to achieve peace.
Having Shi Oh Yu on your side would summon Jade statues. Their job is to protect the team from any incoming threats.
This is a full guide on how to best use Shi Oh Yu, making her, ironically, the peace beast.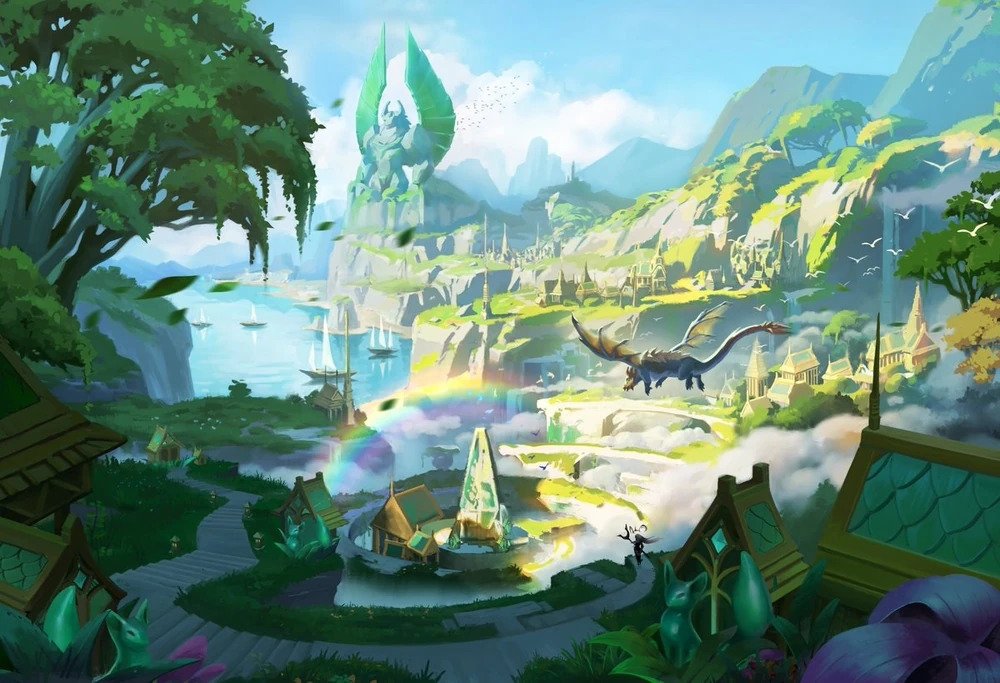 Shi Oh Yu, the ancient Jade dragon, although she has a stoic nature, was once a beacon of peace in the Dragonlands.
She is now resting, and waiting to get up once more to protect those who are in need of her protection.
Shi Oh Yu is often regarded as a stoic, more of a jade statue; legend has it that she appeared on a Jade island after its formation, granting peace to all who lived there.
Best Shi Oh Yu builds in TFT Season 4 - Stage II
Shi Oh Yu's ability

Jade Form
Shi Oh Yu enters Jade stance, gaining damage reduction, immunity to crowd control, and empowering her next 3 attacks with special effects that deal a percent of her Attack Damage.
Attack 1: Deals a percent of her Attack Damage and knocks the target into the air for 1.25 second.
Attack2: Deals true damage.
Attack 3: Ends the stance, dealing a percent of her Attack Damage to all enemies in a line and knocking them up for 1.25 seconds.
Percent of Attack Damage: 250% / 300% / 1000%
Damage Reduction: 20% / 25% / 50%
Shi Oh Yu's best items
1-Bloodthirster

Passive 1: Physical damage heals for 33% of the damage dealt.
Passive 2: Gains a 30% maximum health shield for 5 seconds if the wearer falls below 40% maximum health.
2-Titan's Resolve

When the wearer basic attacks or takes damage from any source, grants 2 bonus attack damage and 2 ability power for the rest of combat, stacking up 25 times for a maximum of 50. At maximum stacks, additionally gains 25 bonus armor and bonus magic resistance, and increases in size. Resets every round.
3-Edge of Night

When the holder first drops below 50% Health, they briefly enter stealth, becoming untargetable and shedding negative effects. After coming out of stealth, the holder gains 40% bonus attack speed.
Best comps for Shi Oh Yu
3) Purple and Green Dragons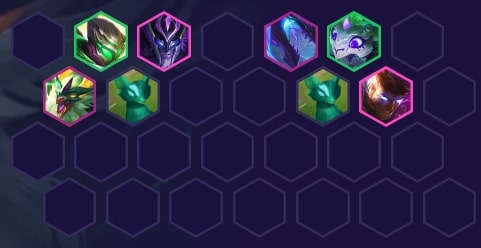 This comp focuses on the 2 Dragons of Whisper and Jade. Sy'fen and Shi Oh Yu are your main carries, and both of them can get the same items. Hitting level 8 is a must with a strong economy. Try to get your dragons to level 2 at least.
Best team for this build:
1-Shi Oh Yu being one of your 2 main carries, the Jade Dragon would deal tons of damage while being a bit of a tank.
2-Sy'fen is your second carry, knocking up enemies with a venomous bite and killing enemy backlines.
3-Pantheon, activating the whisper trait and making enemies vulnerable to more damage.
4-Gnar, adding 1 more Jade as well as Shapeshifter traits.
5-Jax counts as an additional Jade while stunning enemies, borrowing time for his team.
6-Jayce's being a tank and a shapeshifter would make him unkillable.
2) The monkey of Jade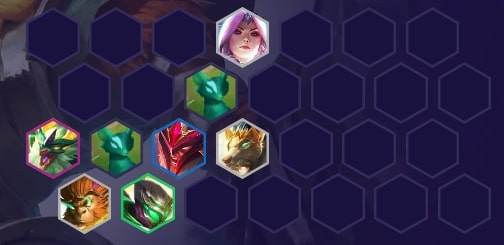 This comp's main damage dealers are Wukong and Shi Oh Yu, this is a slow reroll at level 5 trying to hit a level 3 Wukong, maybe Leona and Nasus too, if you happened to find them in your shop.
Having too many stuns in your team and a Guardian like Leona protecting your team is a 100% winnable game.
Best team for this build:
1-Shi Oh Yu, your Jade Dragon, stunning enemies and dealing tons of damage.
2-Wukong stunning enemies and dealing huge damage to enemies while being a Jade.
3-Jax counts as an additional Jade and Shimmerscale while stunning enemies.
4-Olaf is a great choice, making combos with Wukong as a Warrior, Jax as a Bruiser, and Nasus as a Shimmerscale.
5-Nasus, adding 1 more to the Shimmerscale and Guardians.
6-Leona, your main tank in the front line has her Guardian trait activated.
1) ALL OF THEM ARE GREEN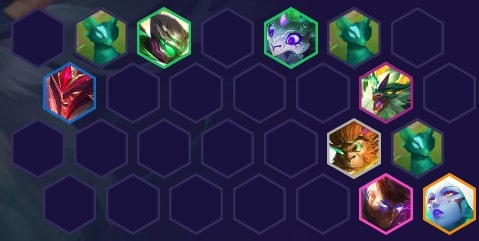 This comp is a noticeable one. Once you hit a green champ in your shop, buy him immediately.
Having Olaf and Jayce for more damage and synergies to support the whole team.
Best team for this build:
1-Shi Oh Yu dealing tons of damage as well as healing as you have never seen him before.
2-Gnar being a Shapeshifter and Jade would make him a huge tank in the frontline.
3-Jax, adding to the Jade trait and stunning enemies.
4-Wukong counts as an additional Jade and Warrior.
5-Olaf is a great pick since he is a Bruiser and a Warrior, giving a huge advantage to your team.
6-Jayce dealing huge magic damage while being a Shapeshifter.
7-Soraka being a Jade and healing your team as well as healing your tactician.
You may also be interested: