[Top 6] Stardew Valley Best Wife - Who To Marry
Updated: 18 Feb 2022 1:17 am
So Many Lovely Ladies
One thing that keeps us Stardew Valley players coming back again and again is that it's a game with endless ways to play. One of the biggest questions of course is:
Which one of the lovely Pelican Town Bachelorettes is the best to marry?
Marrying in-game definitely has its perks, and I don't just mean ticking off the achievement. Your spouse will help feed your animals and keep the dog's bowl filled along with giving you a nice cup of coffee first thing in the morning. 
I've compiled a list of all the bachelorettes in town and ranked them, worst to best to make your decision a bit easier. There's six ladies in Pelican Town waiting for romance and here they are!
6. Haley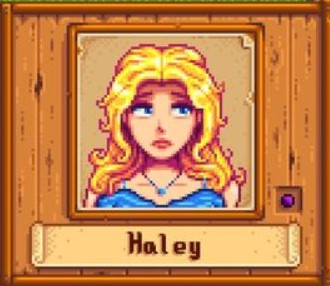 Is Pink Cake a carb?
Haley is essentially the Regina George of Pelican Town. Not really, but she really does give off "Mean Girl" vibes. Her most redeeming feature is her beauty, but until you get a ton of relationship points with her, she can be pretty rude.
She is probably the least popular of the bachelorettes with SV fans for that reason. She simply reminds too many people of their high school bullies. Personally, it's hard for me to overlook a bad first impression…and second impression….and third…You see where I'm going with this.
Haley is Emily's sister and lives with her at 2 Willow Lane.
Why Haley is Great 
She's the most traditionally pretty bachelorette.
Once you gain a lot of relationship hearts with her, she can be sweet.
Haley Details
She will dance with Alex at the Flower Dance if not with the Player.
Loves Pink Cake, Fruit Salad, Coconuts, and Sunflowers.
Hates Prismatic Shards, Clay, and Wild Horseradish.
5. Maru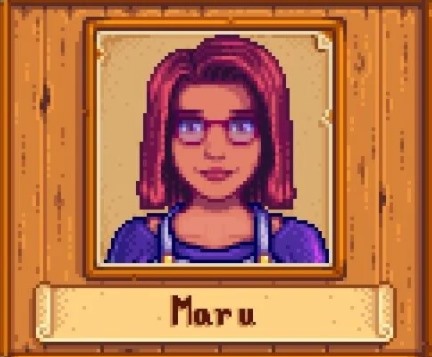 Science rules!
While there's nothing particularly wrong with Maru like there is with Haley's attitude, there isn't a whole lot going for her either. 
She's interested in her science projects and can often be found working with her dad, or hanging out with her friend Penny. Other than that, there's not a whole lot to say. 
Maru is the daughter of Robin and Demitrius and Sebastian's half-sister. She lives with them at 24 Mountain Road.
Why Maru is Great
She has distinct hobbies and passions outside the norm of Pelican Town.
Giving gifts to her is easy: she loves a lot of things.
She'll share her telescope with you (how romantic!).
Maru Details
She works with Dr. Harvey as his nurse at the Clinic.
She loves Batteries, Strawberries, Rhubarb Pie, and Cauliflower.
4. Penny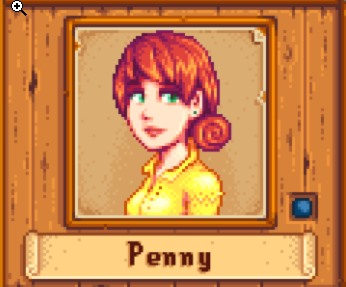 Sweet and caring.
Penny is one of the kindest marriage candidates in town. She spends most of her time reading, cleaning up her home, or tutoring Jas and Vincent at the Museum.
One of the big reasons a lot of players choose to marry Penny is that it gives her the chance to leave her abusive, alcoholic mother and live a better life. If you don't, she stays where she is, and that's pretty sad if you think about it too long.
She lives with her mom, Pam, in their trailer near Mayor Lewis's house.
Why Penny is Great
She's an adorable bookworm.
She volunteers to teach the children of Pelican Town so they can have a proper education.
She's super sweet and cute.
Penny Details
She will dance with Sam at the Flower Dance if not the Player.
She loves Sandfish, Melons, Poppies, and Poppyseed Muffins.
She hates all alcoholic drinks (probably because her mother is an alcoholic).
3. Leah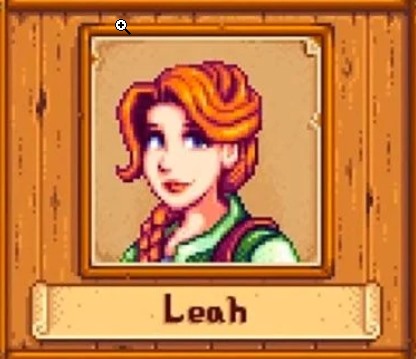 Hippy forest child Leah.
Leah is the town's local artist. She spends time working on her sculptures and other art projects in her cottage all while giving off major hippy vibes.
Her schedule includes taking her drawing pad to various places and drawing. You can usually find her on the dock in Cindersap Forest or on the beach by the tidal pools once you've fixed the bridge.
She lives in her cottage at the edge of Cindersap Forest near Marnie's Ranch.
Why Leah is Great
She's an artist with an interesting past (you can even see her Ex at one point).
She loves nature.
Gives you a sculpture that she made while thinking of you.
Leah Details
She is friends with Elliott and will dance with him at the Flower Dance if not the Player.
She loves Salad, Stir Fry, Truffles, and Wine.
She hates Bread, Pancakes, Pizza and Void Eggs.
2. Emily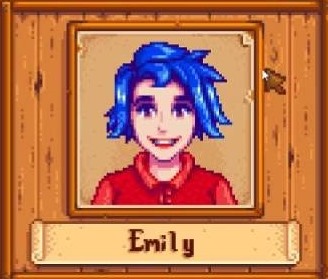 Profoundly unique and fun-loving.
Emily is one of the most fun marriage options in Stardew Valley. She loves animals and gems and will even let you use her sewing machine once you're close enough friends.
She enjoys her part-time job at the Stardrop Saloon where she works with Gus. She's also the crush of the town blacksmith, Clint, who is too nervous to approach her.
She lives with her sister, Haley at 2 Willow Lane.
Why Emily is Great
She is generally fun loving and happy.
She gives you a sewing machine.
Marrying her keeps her away from Clint, who many players find to be a bit creepy.
Emily Details
She's friends with Sandy in Calico Desert and they talk about each other in dialogue with the player.
She loves Gems, Wool, Cloth, and Survival Burgers.
She hates Salmon Dinner, Sashimi, Holly, and Fish Tacos.
1. Abigail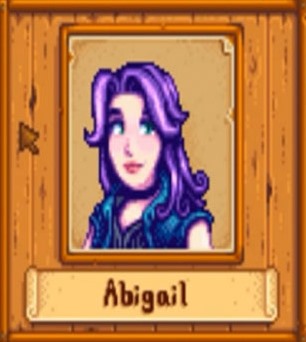 Purple haired adventuriing goddess.
I'm sure a lot of you saw this coming, but the best bachelorette to marry in Pelican Town is Abigail! She's spunky, adventurous, and a bit nerdy.
Her father gives her a lot of grief for being weird, but that's why we love her. She wants to explore the mines, loves playing video games, and can be found hanging out with her friends around town.
She lives with her parents, Pierre and Caroline in the same building as Pierre's General Store.
Why Abigail is Great
She wants adventure in the great wide somewhere.
Sometimes when she is given an amethyst she'll imply that she's planning on eating it.
Overall, she's got the most distinct personality of the bachelorettes.
Abigail Details
She's friends with Sam and Sebastian, and hangs out with them frequently
She loves Amethyst, Pumpkins, Chocolate Cake, and Pufferfish.
She hates Clay and Holly.
She's most likely the product of an affair between her mother Caroline and the Wizard.
Overall, the choice of who you marry is up to you because that's what Stardew Valley is all about and as long as you don't pick Haley, you're doing it right (just kidding).
You may also be interested in: