[Top 10] Best Skyrim Beauty Mods We Love!
Updated: 11 Dec 2020 2:38 am
Maybe she's born with it, maybe it's mods!
Make your character the prettiest person in all of Skyrim. 
Some Skyrim players choose to stay in first person and never give a second thought to what their character looks like. If you're not that person, you probably spend two hours in character creation (like me)! Being stuck with the boring vanilla character options is just no fun, and that's where these mods come in to help. Your character may end up being the best-looking person in Skyrim, but you are the main character after all!  
10. Racemenu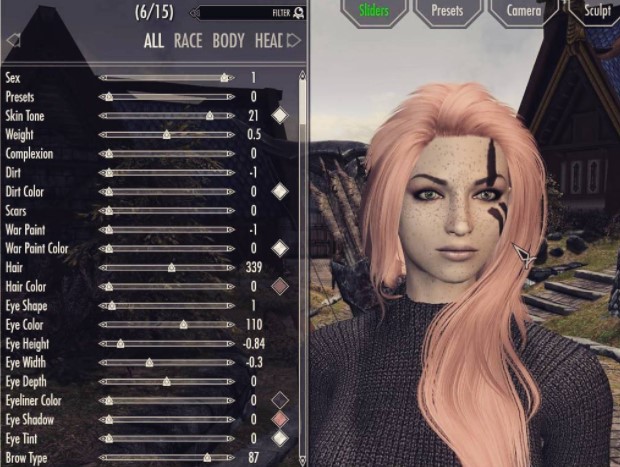 A look at just a few of the detailed options that Racemenu has to offer. 
Racemenu is by no means at the bottom of this list because it deserves the bottom spot. I consider it essential to have it first on the list because it is a necessity for most of the mods in this list to work. It is the backbone of character appearance mods, and it makes the character creation process better in almost every way. Anytime I've tried to play vanilla, Racemenu is something I just can't go without. (SKSE is required for this mod). 
Features:
Completely redone character creation, including RGB color pickers for almost everything, including hair color 
Lighting options, character rotation, save/load appearance, camera options, and the ability to load in or save your own character presets 
Console command 'showracemenu' allows you to change your character's appearance on the fly
Get the mod here./se version.
9. Freckle Mania 2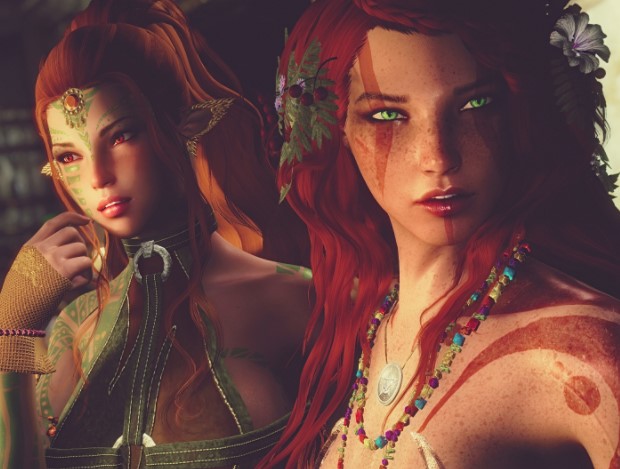 Mix and match freckles to your heart's desire (red hair not required). 
Freckle Mania 2 is what you've probably guessed it is; a mod that adds freckle patterns! I find that freckles add a lot of dimension to the skin and bring my characters to life. This mod isn't available on Special Edition unless you have a little modding knowledge regarding Creation Kit. The comments on the nexus page offer a small tutorial if you're willing to try! 
Features:
Different full body freckle sets for both male and female characters featuring head to toe freckles
10 sets of face-only freckles for females, and 5 face-only variants for males
Works great in combination with the original Freckle Mania, allowing you to mix and match between the two, giving you even more options
Get the mod here. 
8. Improved Closefaced Helmets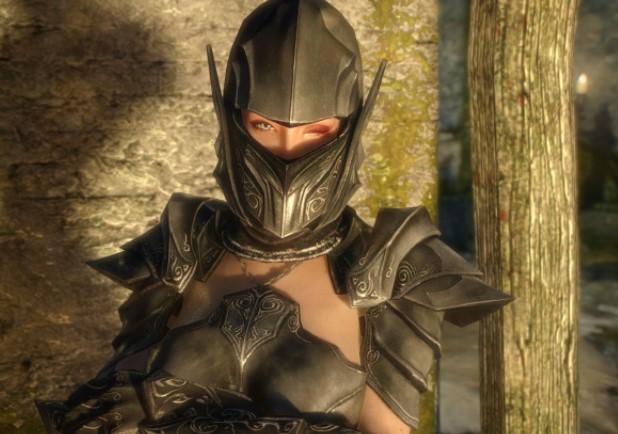 Gone are the days of going without a helmet to see your character's face. 
If you're going to spend all of this time on your character's face, you don't want it to be covered up all the time, right? If you don't want to forget what your character looks like but still reap the stat benefits of your helmet, this mod is essential! Also, this mod only changes the meshes for helmets, so it's fully compatible with any texture replacement mods! 
Features:
Openings in helmets that let you see your character's eyes and some of their face depending on which helmet you're using
Different helmet models for each race to best fit their head size and shape
Covers everything from average armor sets to DLC sets (yes, even Dragon Priest masks) 
Get the mod here./se version. 
7. Wolfpaint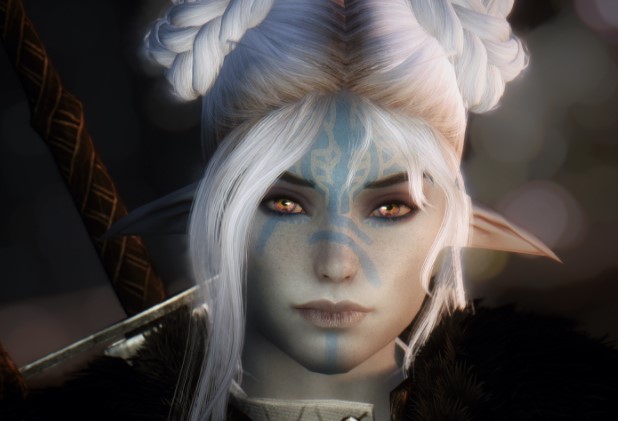 Choose a light-colored subtle design like this one, or choose a bold and bright option.
Vanilla Skyrim comes with a few good war paint options, but it can't hurt to have more to choose from, right? Wolfpaint is a huge mod that adds tons of new sets of face paint options for characters of all races. The designs are sorted into categories with their own unique styles. If you're getting tired of the war paint offered in Skyrim, you're sure to find some new favorites here.
Features:
Over 200 brand new face paint overlays, split into 12 distinct categories to suit your character
The in-game search function within Racemenu makes it easy to find which design you're looking for
The mod now has support for both male and female face shapes, so you can use these face paints on any character you wish
Get the mod here./se version.
6. The Eyes of Beauty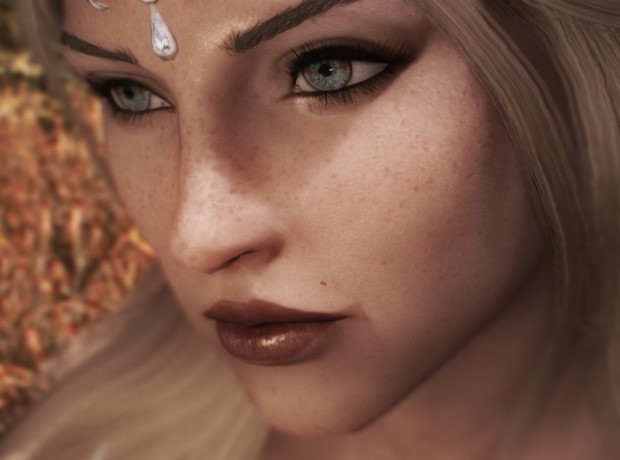 Your character will have tons of eye color options to choose from, like these blue eyes.
It's pretty easy to guess that this mod adds new eye textures! Like most things in vanilla Skyrim, the eyes aren't very detailed. There aren't many color variations offered either. This mod will give you more options than you could imagine! No matter what color or style you choose, your character's eyes will be so detailed you can't help but just admire them. 
Features:
Tons of brand new eye textures with new options being added frequently 
Unique eyes for different races, with options for things like half-blind characters
Option file available to replace all NPC eyes with variants from this pack
Get the mod here./se version. 
5. Ethereal Elven Overhaul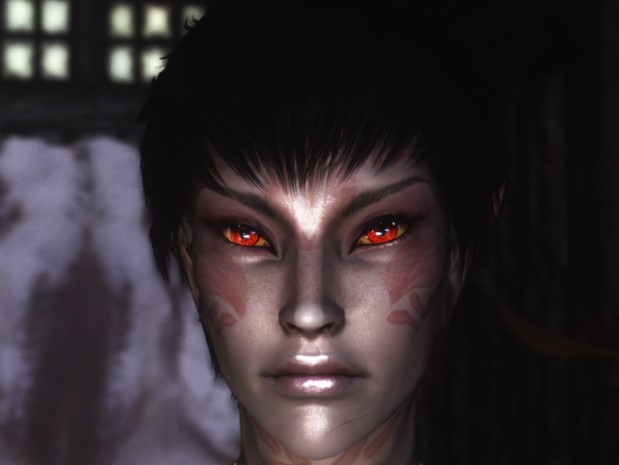 An up-close look at the detailed skin textures and unique war paints.
Ethereal Elven Overhaul is by far the most popular mod for revamping the appearance of elves. Elves are a huge part of Skyrim and a lot of character builds suggest playing as one of the elven races for a stat boost. However, trying to create a nice elf character with the vanilla options is frustrating. Elves tend to look too pointy and very angry. If you've had these complaints stop you from making elf characters in the past, try out this mod! (Be sure to follow installation instructions, the SE link is for the patches only)!
Features:
New head shapes for each elven race and gender, and new nose and lip options (for both your character and the elves all over Skyrim
Unique high-res skin textures with optional 2048x ultra-high detail versions and brand new presets 
Unique war paints for each race, scars, and beards are fitted to the new head shapes
Get the mod here./se version. 
4. Beards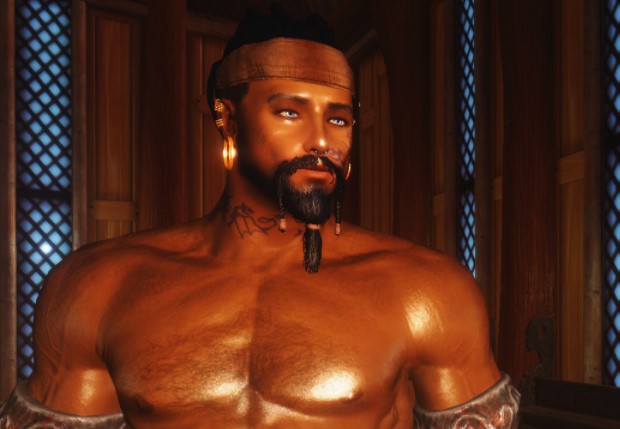 This mod has tons of beards to choose from, with many unique styles like this one. 
You can't get more self-explanatory than Beards! Male characters definitely get the short-end of the stick when it comes to appearance mods, so I wanted to be sure to include something for them. Even if you are playing a female character, this mod will improve the appearance of male NPCs, so it's still worth installing.
Features:
Brand new beard textures made entirely from scratch to look as realistic as possible
Ultra, high, and low texture options available for your performance needs (ultra being mostly for fancy screenshots, low being for lower-end PCs)
Many different options, ranging in length, fullness, and unkemptness 
Get the mod here./se version.
3. Seductive Lips HD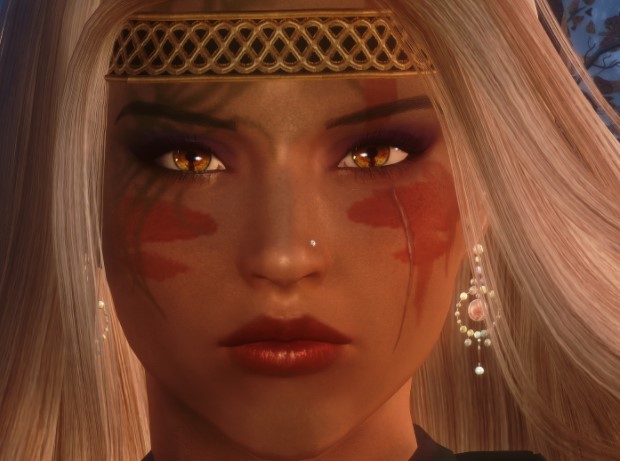 A closer look at how the shiny texture makes the mouth look much more realistic.
This mod will make all of the difference to the appearance of your next Skyrim character. It's hard to come across a mouth option that looks good in the vanilla game. Most of the options have an odd blocky shape or just look almost blurry. This mod isn't necessarily only for big, full lips if that's not your style. This mod will give you a nicer, HD texture for your character's lips. 
Features:
New HD lip tint masks for a much more natural look that will pair great with skin texture mods
Both human and elf races are included, but this mod is exclusively for female characters
Natural shine that gives the appearance of more depth to the face instead of looking very flat and dull
Get the mod here./se version.
2. Total Character Makeover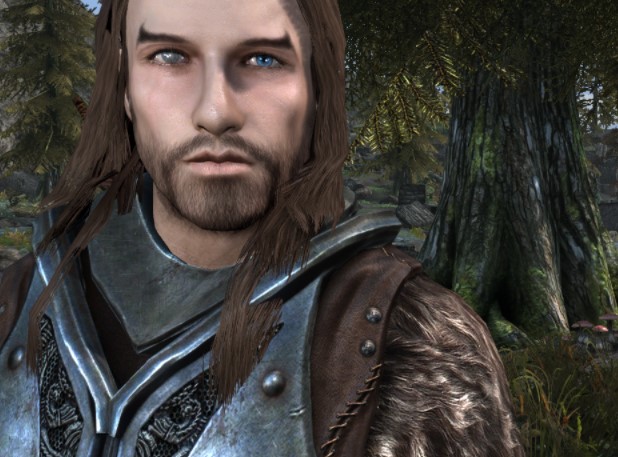 New skin textures on a male character (a vast improvement on the vanilla textures).
Upon installing Total Character Makeover, you'll notice changes instantly. This mod doesn't only make changes for your player character, it applies to everyone in the game. This mod completely replaces the skin textures for every race, as well as tons of other improvements. This is going to be a must-have if you're really wanting nice-looking characters in your game. 
Features:
Brand new, detailed textures for every race that look great but are still performance-friendly
Improved hand and foot meshes, vampire fangs and regular teeth textures, eye and eyebrow textures
High-resolution facial features such as war paint, dirt, freckles, makeup, and even scars
Get the mod here./se version.
1. KS Hairdos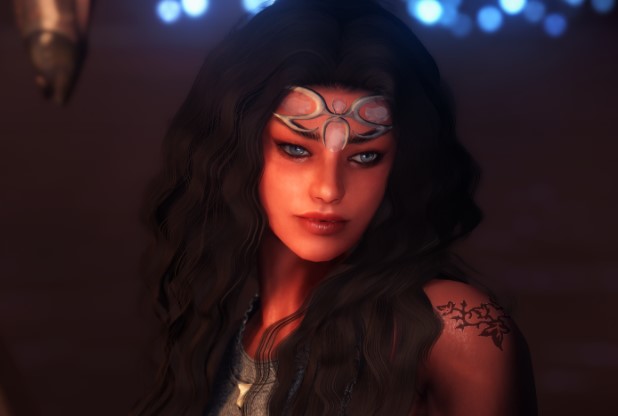 You're sure to spend a lot of time trying to pick the perfect hairstyle. 
KS Hairdos was one of the first mods that really made me see how big of a difference mods can make. Skyrim by default comes with a very small amount of hairstyles to work with, and what they give you just doesn't look good. With fancy new skin textures and facial features, the crunchy low-res hair will look out of place. In comes KS Hairdos! Depending on how lore-friendly your play-style is, some of these hairs will look a little out of place. But most of them will work just fine no matter your preference.
Features:
An unbelievable 883 hairstyles: 792 for females, 91 for males 
For those worried about performance, a lite version with 20 for each gender is available here (and this mod to avoid crashing in racemenu)
Compatible with any other hairstyle pack you might want to use alongside this one
Get the mod here./se version. 
You may also be interested in:
Image Gallery