Sims 4 CC Guide: How To Add Custom Content To Sims 4
Updated: 27 Aug 2019 1:27 am
Can you dream it up? There's a mod for that.
How To Add Custom Content To Sims 4
What is Custom Content and how does it make the game more fun?
The Sims series was designed to be diverse, with multitudes of options for gameplay, one option being downloading custom content (CC). CC is as old as the series itself, and includes everything from clothing recolors to full-on game-changing content that lets you micromanage the entire world.
I'm a big fan of CC. I can't really play without it anymore. To me, it enhances the game and makes things just better. All the annoying things that you don't like about the game are most likely modded to improve them. Feel like there are not enough traits to choose from? Add more! Hate the mosaic when your Sims shower? Get rid of it! Tired of your Sim moving around in Create a Sim? There's a mod for that too! Seriously, a mod exists for almost everything, and for me, they make the game all the more playable. Now for a long time I didn't use CC—not because I was a purist who thought it tainted the gameplay experience, but because I didn't know how to download it.
(Plus my dad wouldn't let me. #youngestchild #Dadfearstheinternet #Simmingsince2000)
If you're brand spankin' new to CC and haven't ever tried to download it before, have no fear. It's actually really easy and really addictive once you know how.
How to Add Custom Content
First and foremost, make sure that you have mods enabled in your game. This is easy enough to do: when you launch your game, click on the options menu (top right corner) and click "Game options." Choose the last option, "Other," and make sure that the boxes are checked to "Enabled Custom Content and Mods" and "Script Mods Allowed." Apply the changes, save, and quit the game.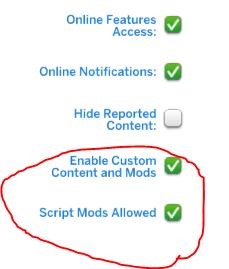 After you find a piece of CC that you want, download it and navigate to your downloads folder. Unzip the file and it will extract your CC. The extracted file should be a .package file, but if it's in RAR format run it through your RAR extractor.

Next, navigate to your mods file. If you're using a PC, your file extension should look something like mine: Documents\Electronic Arts\The Sims 4\Mods.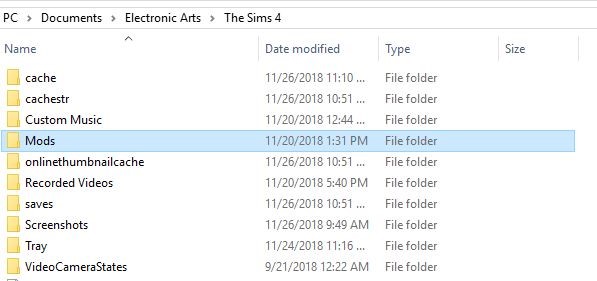 Create a folder for your newly downloaded content.
**PSA: This is critical. Keep your CC very organized and tidy—if you don't, it can go to hell all too easily and you will have no idea what's in your folder. This is bad if you downloaded corrupt CC! If you have no clue what broke your game and your naming conventions are not organized-you're hosed.**
Navigate back to your downloads folder (I usually open 2 file explorer windows at once to easily flip back and forth). Highlight the contents of your extracted folder and hit Ctrl C to copy everything, and then hit Ctrl V to drop the contents into your newly created folder.

That's it! Launch your game and test out your new CC!
Is Custom Content Free?
Custom content should always be free. If you are prompted to pay for CC, I beg you to please, go somewhere else. There's a difference between a modder who offers free content but has an optional "Donate" button—and one who hides their content behind a paywall at all times.
The legality and ethics of this makes it a hot-button issue in the Simming community. A website to give charged CC out for free has even been set up. I won't go any further into it, but my first sentence stands: custom content should always be free.
The best sites to download Custom Content
As with anything you download onto your computer, please be cautious when downloading custom content. This page on the answers.ea website gives a lot of good information about how to safely use mods and CC.
That being said, here are my favorite places to download CC for The Sims 4:
AroundtheSims. When I was a preteen and would jealously peruse TS1 content (that I wasn't allowed to download yet). I remember going to Around the Sims for quality CC even then and that was almost 20 years ago! ATS has always had really good stuff, and a lot of it is themed, so when you're looking you find yourself yearning for items you had no idea you needed! 
Modthesims. This is a tried and true site that I've been using since The Sims 2.It has good quality modifications that make the game more enjoyable and it's all free content which has an active forum in case you have a question about specific CC.
MCCC. This is the single most important mod I have ever downloaded for the Sims 4. It gives you complete control over nearly every aspect of the game. You can change the world time, modify your Sims' moods, tweak population settings, and so many more options it's overwhelming. MCCC has an older sister for the over 18 crowd as well, but I won't link it here. Google "Wicked whims" if you're that curious. (18+ ONLY!)
Lana CC Finds. This one I advise you to use with caution because it's more or less a database of all things CC. It has content of all kinds, some of which might be hidden behind a paywall. But then again, a lot of it isn't, so it's a bit of a craps shoot. I can tell you this much though, I refuse to download something I have to pay for. I have found and downloaded a lot of quality content through Lana's.
Other articles you might also be interested in:
Image Gallery