[Top 5] Clash Royale Best Arena 5 Decks
Updated: 28 Sep 2022 8:21 am
Navigating through the uncanny Spell Valley!
[Top 5] Clash Royale Best Arena 5 Decks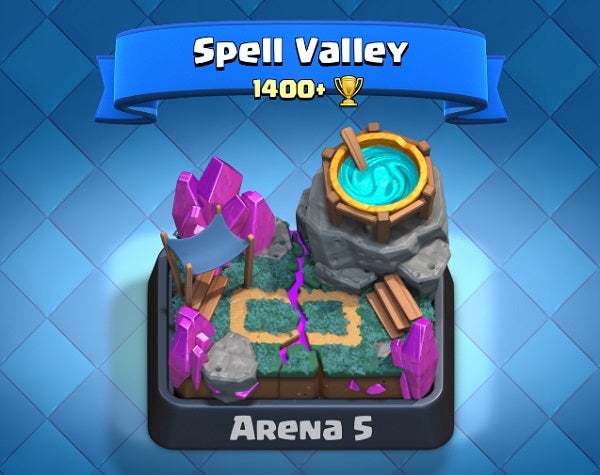 For the gamers that have been enjoying Clash Royale so far, you'll probably begin to have an idea of what kind of cards you enjoy playing with and noticing what is needed in a good deck. However, as you gain trophies you'll be up against more experienced players and face tougher challenges. Luckily, there are decks out there specifically designed for this Arena and trophy amount. From win conditions to spells, this article is here to help you ace your way through Arena 5 and be out in no time!
5. P.E.K.K.A. Air Attack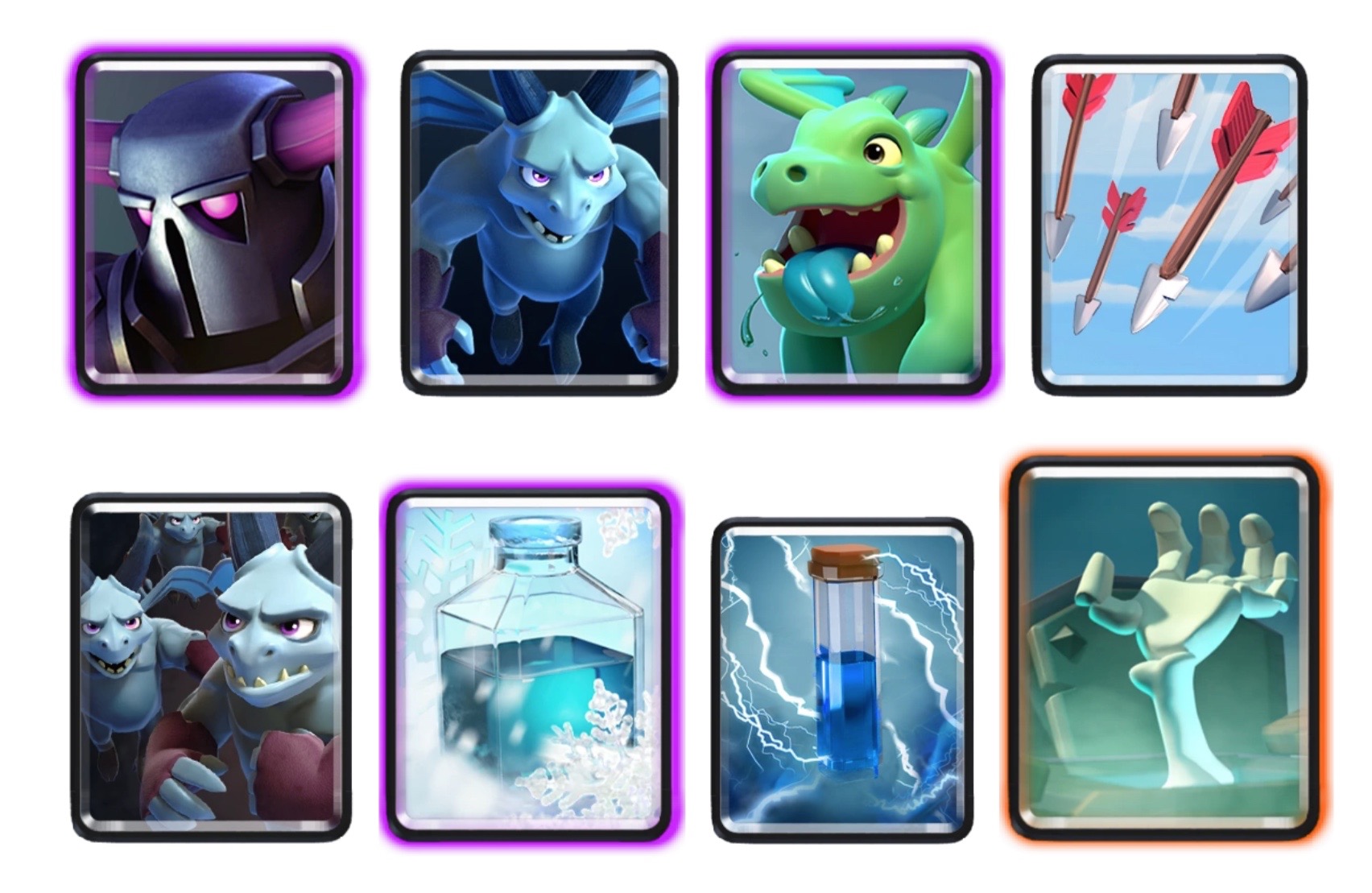 Introduction:
This deck is highly on the offence and requires a lot of precision to ensure you make the most out of your spells. P.E.K.K.A. acts as your win condition and should be protected as such. 
Cards in this deck:
P.E.K.K.A.
Baby Dragon
Minions 
Minion Horde
Arrows
Freeze
Zap 
Tombstone
What is great about this deck:
The best thing about this deck is that once P.E.K.K.A is locked onto the tower it's practically gone in seconds, but with such a high elixir amount it has to be timed perfectly. 
Tombstone is hard to stop initially allowing for the tower to be chipped
Freeze can also stop the Princess Tower temporarily if placed correctly 
How to play with this deck: 
When P.E.K.K.A. is closer to the tower use Tombstone to provide backup, place the spell near the Princess tower/bridge but be sure to keep it away from the King Tower so a Skeleton does not activate it
Baby Dragon can be placed at the back of your arena to give enough time for the elixir to grow, allowing you to place your tank (P.E.K.K.A.) by the bridge as he is slow
Minions and Minion Horde will be good against troops coming your way but if the enemy has arrows try to place them separately or after arrows has been activated so that the card isn't wasted
Use Spells defensively if needed but they are better off being used to support the tank, he will get distracted easily and attack any ground troops or buildings in his way
Baby Dragon is a perfect response if they use Skeletons against the tank due to its splash hits therefore keep him nearby to P.E.K.K.A 
4. Giant Lead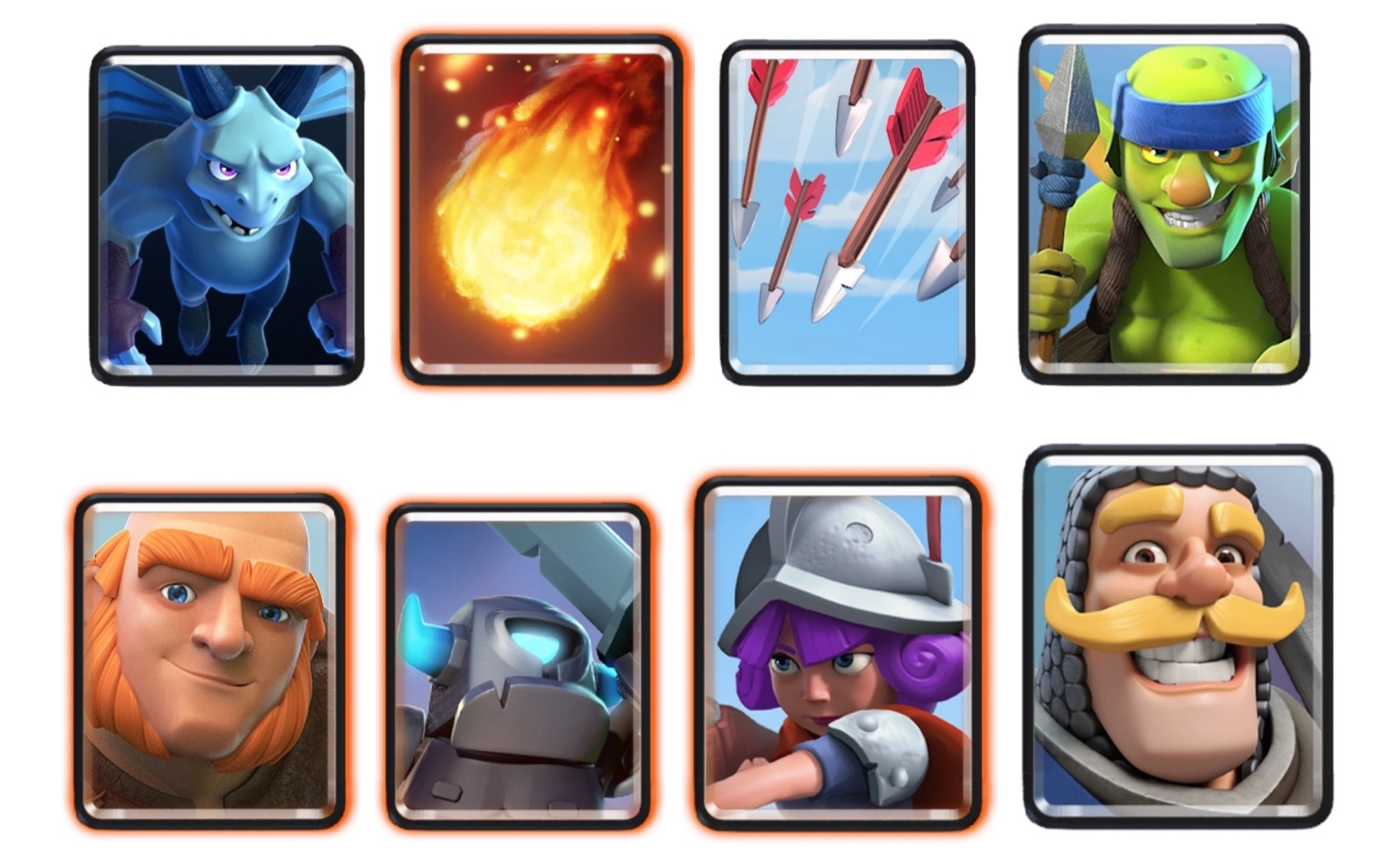 Introduction: 
Here your Giant is the win condition, with back-up support for the ground and air it's a versatile deck to use
Cards in this deck: 
Giant 
Knight
Musketeer
Minions
Mini P.E.K.K.A.
Spear Goblins 
Fireball
Arrows
What is great about this deck:
It has a low elixir cost (3.5) making cycling a lot easier to do here which is what you'll have to do in order to keep Giant on track to getting to those buildings 
Musketeer covers both ground and air troops as do Spear Goblins
Knight can handle tanks if needed 
How to play with this deck:  
As giant is your win condition, you can place it right at the very back to gain more elixir in time and support him with Musketeer in front by the bridge or Minions
Mini P.E.K.K.A. is a perfect response to other tanks or can be placed at the back and wait until he is by the bridge then put Giant
As there are no buildings in this deck defensively you will have to rely on Knight and Musketeer to deal with cards like Valkyrie 
Spear Goblins and Minions are good against air troops just be wary of Baby Dragons which have splash damage
Arrows and Fireball are good defence options to help your Giant out, such as with Skeletons which can take him out quickly 
3. P.E.K.K.A. Rider
Introduction: 
With a Hog Rider and serious damage hitter P.E.K.K.A. locked onto a tower you will be winning in no time, however you'll have to be careful to not overspend elixir all at once as this will be your downfall when it comes to defending. 
Cards in this deck:
Hog Rider
P.E.K.K.A.
Witch 
Valkyrie
Skeletons
Bomber
Bats
Zap
What is great about this deck:
With a 3.6 average elixir cost it can be used for both attacking and defending, making it an ideal 'all rounder' deck to utilise!
Skeletons can stop Hog Rider before he even reaches the tower
Witch's Skeletons can distract other P.E.K.K.A.s from reaching the Witch 
How to play with this deck: 
A common card used against Hog Rider and P.E.K.K.A. is Skeletons or other swarm-like cards, if this is the case in a game be sure to have bomber hidden behind either of these cards to get rid of them instantly, in a pinch zap can help for air related swarms
Valkyrie is a good response to swarms too but will be better off against cards that can hit hard such as Knight
Witch should be placed at the very back where possible to gain as many Skeletons as possible which can support one of the tanks but if the enemy has a card like fireball then make sure it is not near the Princess tower
Bats are perfect against tanks like Giant that are slow meaning you have less pressure to get rid of it instantly 
Zap is also good at stunning troops temporarily, good for buildings that P.E.K.K.A and Hog Rider would get distracted by 
2. Chipping Away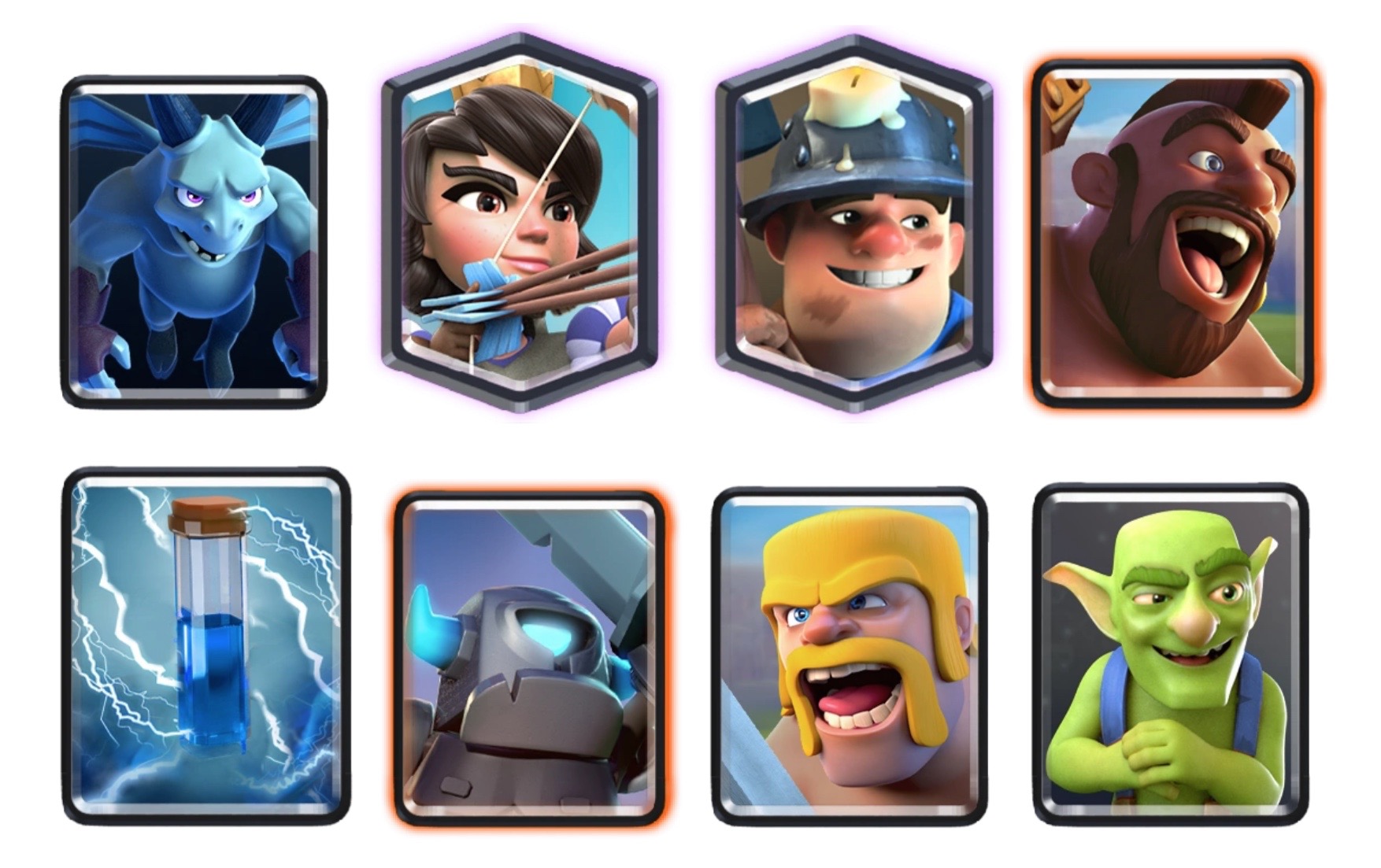 Introduction: 
This deck not only excels both in attacking and defending but means that even without a surefire tank strategy you'll be able to chip away at the Princess towers
Cards in this deck:
Mini P.E.K.K.A.
Barbarians
Minions
Goblins
Miner
Princess
Hog Rider
Zap
What is great about this deck:
Lots of swarm-like cards can be destroyed easily by Princess 
Mini P.E.K.K.A is a good response to tanks 
Miner can act defensively in a pinch 
How to play with this deck: 
Hog Rider is your win condition and with Miner means it'll be hard to stop them, once the enemy has put a response to Hog rider, you can put Miner in the other corner giving him more time for hits
Princess at the bridge always provides chip damage which can be useful 
 Minions can support Hog Rider from the sky and anything that combats it can be fought with Zap if needed
Barbarians and Goblins can tackle tanks if Mini P.E.K.K.A. isn't in rotation at that time
Princess works well as an air defence if put closer to the Princess Towers to keep her protected 
1. Mining Valkyrie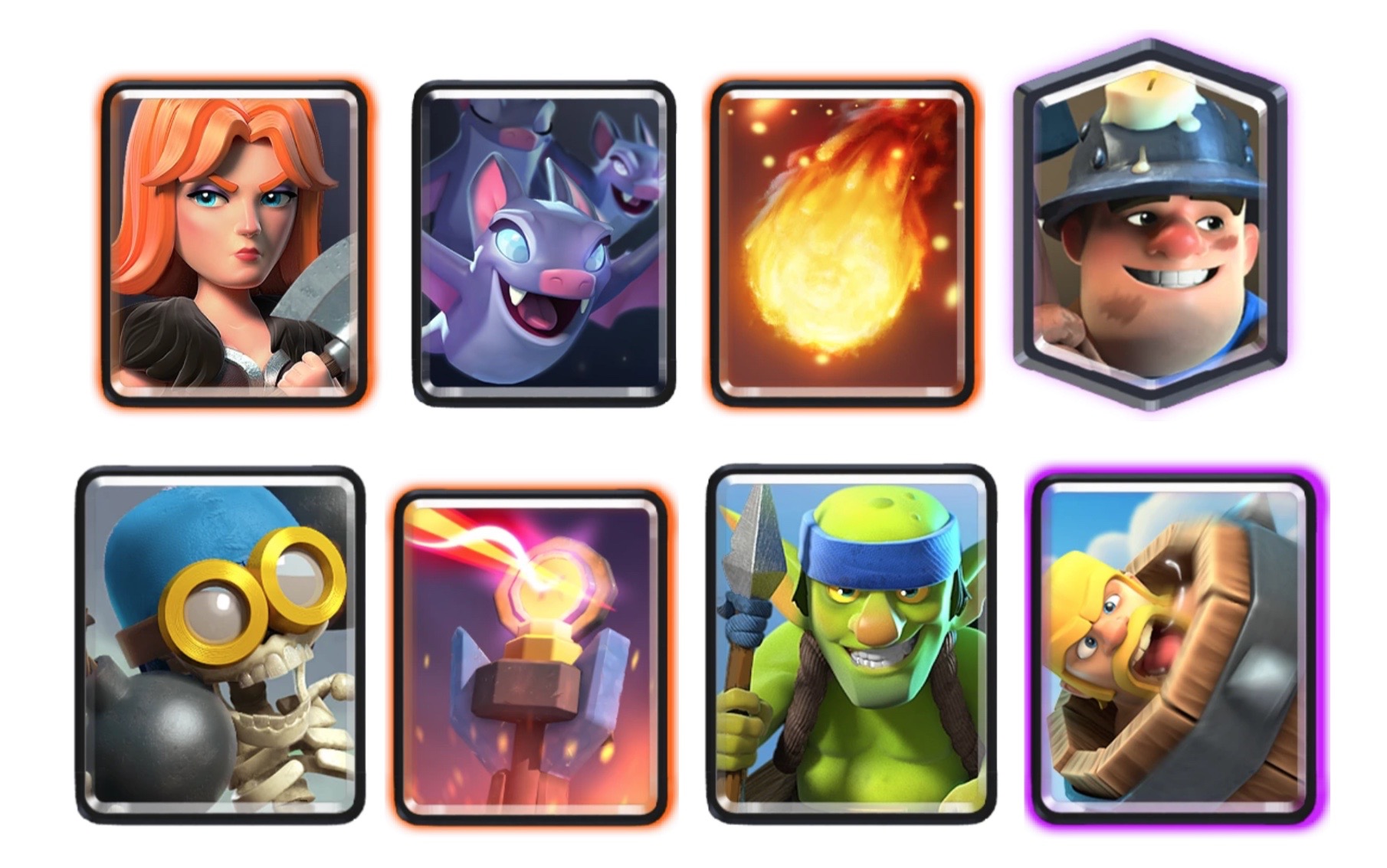 Introduction:
Although it is similar to other decks featuring Miner, the Inferno Tower allows for a different kind of defensive mobility. 
  Cards in this deck:
Valkyrie 
Miner
Spear Goblins
Barbarian Barrel 
Bomber
Inferno Tower
Fireball
Bats
 
What is great about this deck:
Inferno tower distracts troops that focus on buildings such as Hog Rider
Barbarian Barrel takes out swarm ground troops whilst also being able to attack
Valkyrie can take on tanks in a pinch if the Inferno Tower isn't in the cycle 
How to play with this deck:  
Chip damage with the Miner will be easy to maintain and can be done when troops are distracted at the bridge
Inferno Tower can pull troops away and Valkyrie can then take them down 
With not a lot of air, Bats will work well against troops and Fireball should be used against air troops more, Spear Goblins can help too but be wary of spells such as Arrows that can take them down
Miner's push can be supported by bats which the Princess tower will be distracted by 
Bomber can go up against Skeletons if behind a Hog Rider to help him get to the tower
You May Also Be Interested In: