Top 15 Best Western Comics
Updated: 10 Mar 2021 5:27 pm
Jonah Hex
15. Jonah Hex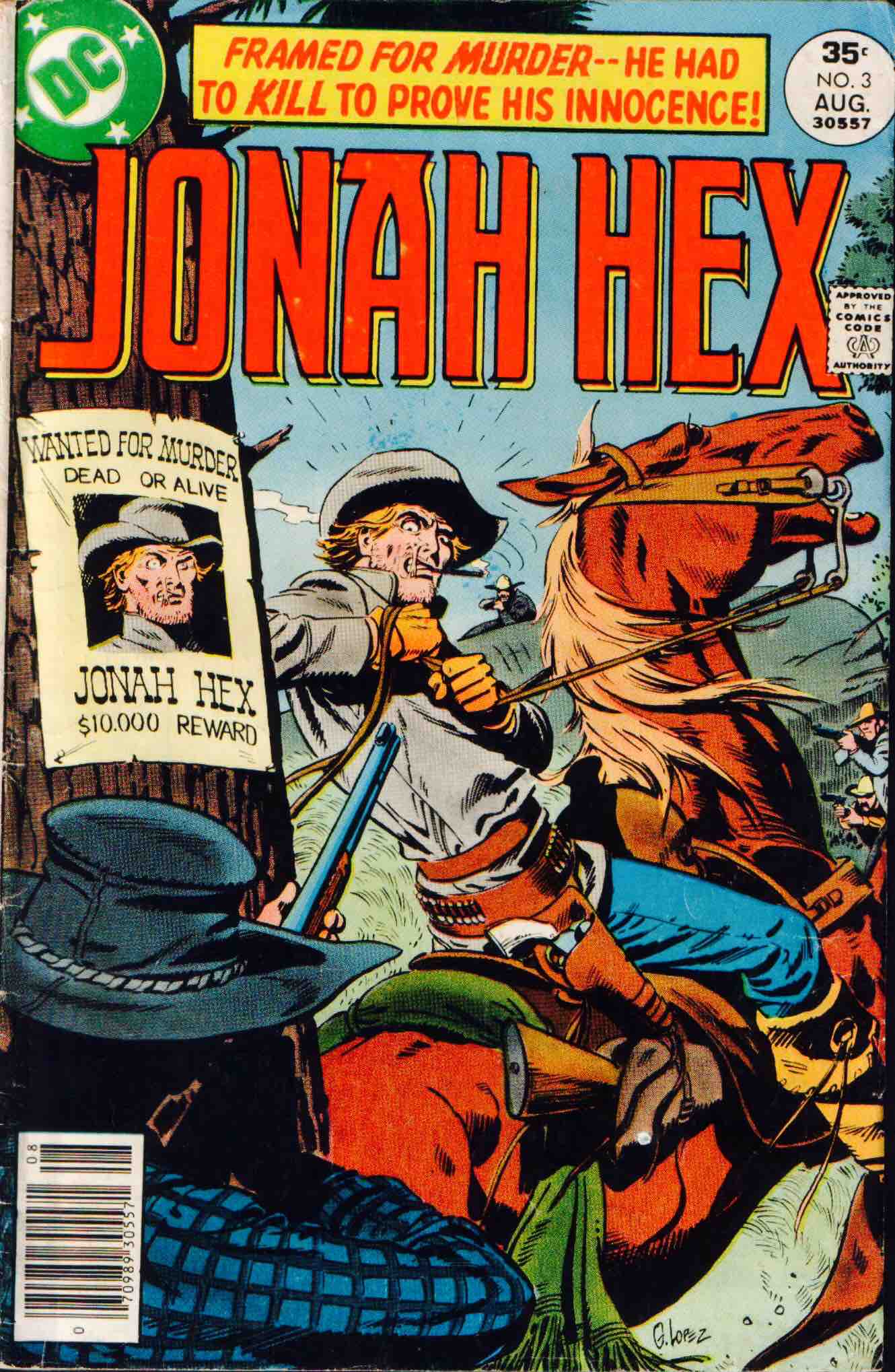 What happens when you get framed for murder? Kill your way until proven innocent. Jonah Hex is in no way a good guy. Yet, apparently, he's not exactly a bad guy either. Meet the West's most violent anti-hero. Sure, he will save you, although reluctantly. And be sure to have a reward on hand; those are his greatest motivation. 
When I think of "anti-hero with a kill record", I think of Deadpool. Hell, Jonah Hex ended up in the same predicament as him. He must be a descendant! 
14. Bat Lash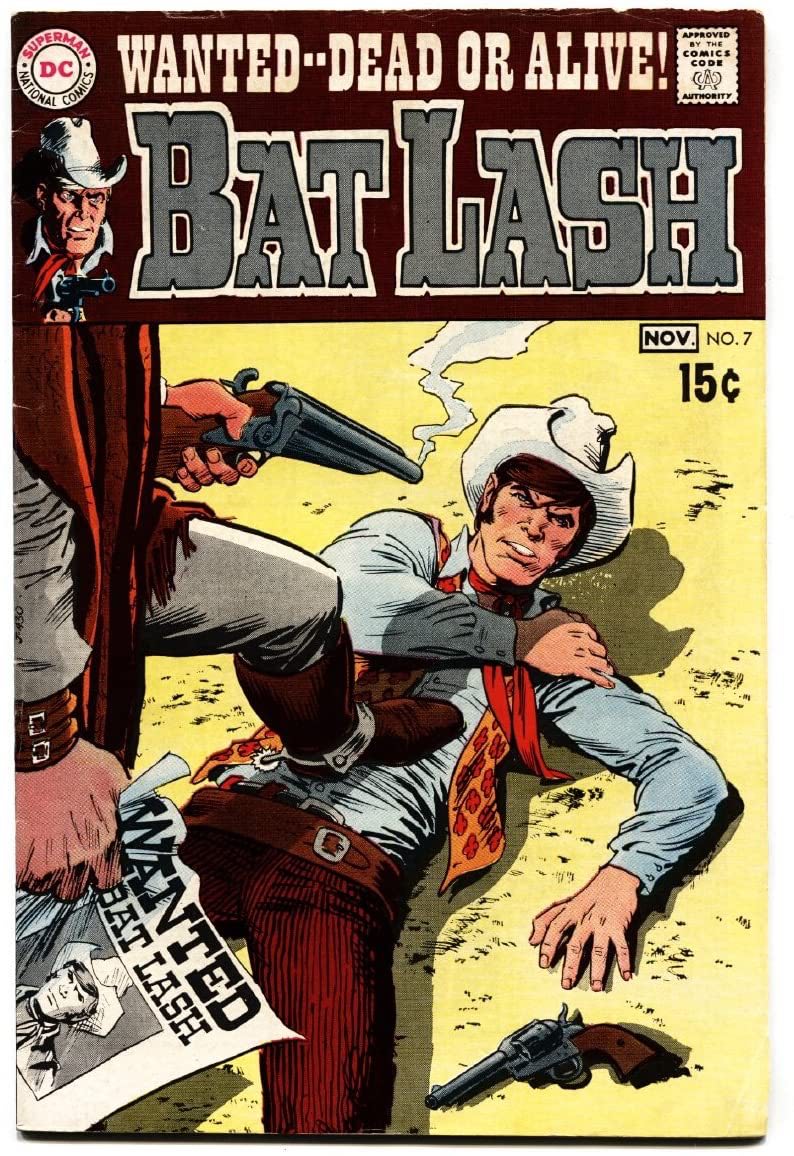 This peace-loving flower boy wants no trouble. While he has a penchant for gambling, he would rather things not get irrational over a simple deck of cards. He will only pick up a gun if he needs to. Did we mention what an absolute gentleman he is?
If Archie Andrews lived in the west. Also, he's a redhead who is always with women. (Does that not clue you in?)
Fun fact: he has made a guest appearance in the Jonah Hex comics. 
13. Boys' Ranch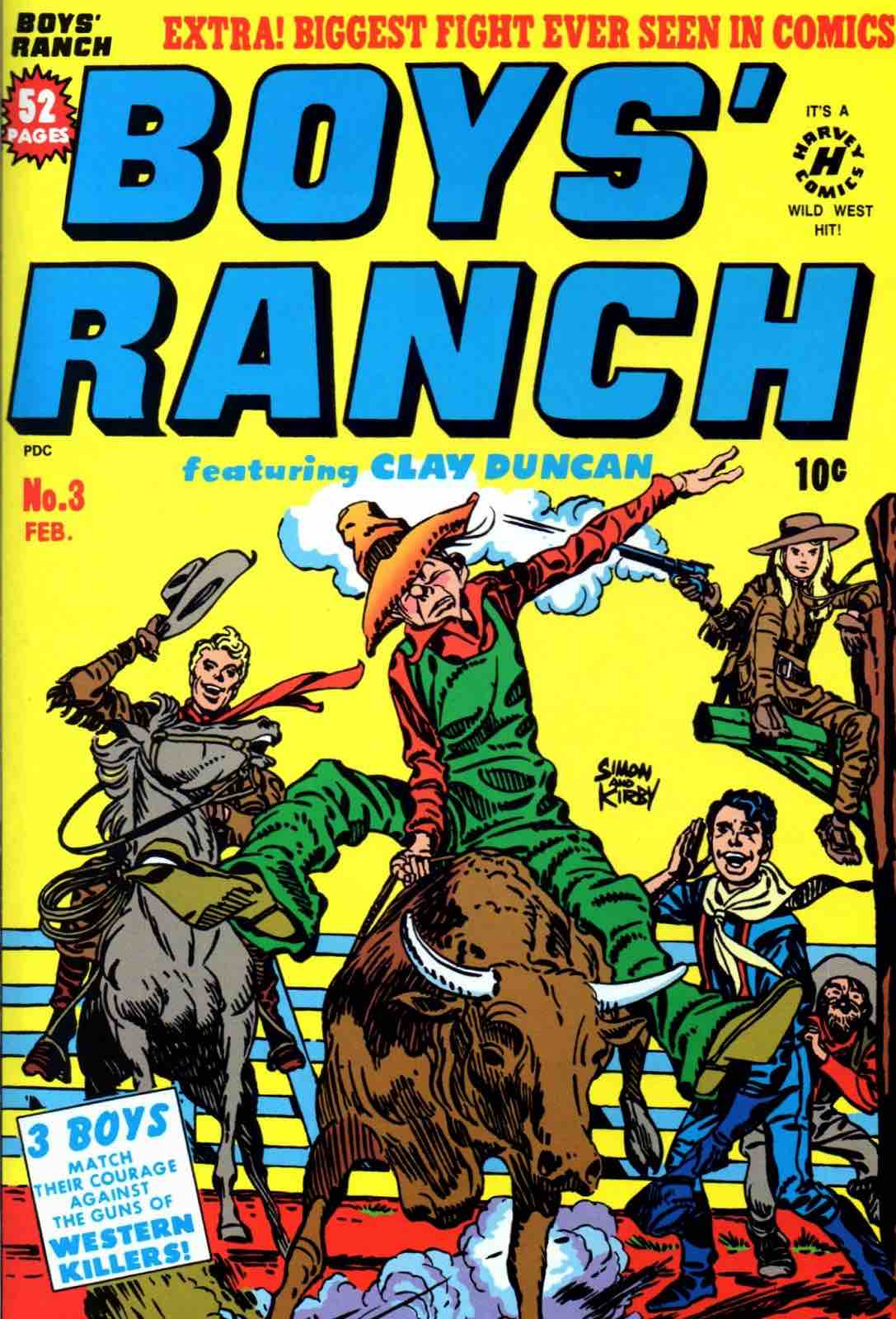 A dying owner donates his ranch, wanting it to become a place for homeless boys. The property becomes filled with the most unusual yet exciting group of adolescent males this side of the frontier. 
Don't be offended by the fact that little boys are using guns in this comic series. This was made in the 1950s (and one of the co-creators also worked on Captain America). 
If you've read Tom Sawyer and Huckleberry Finn, you know what to expect. 
12. El Diablo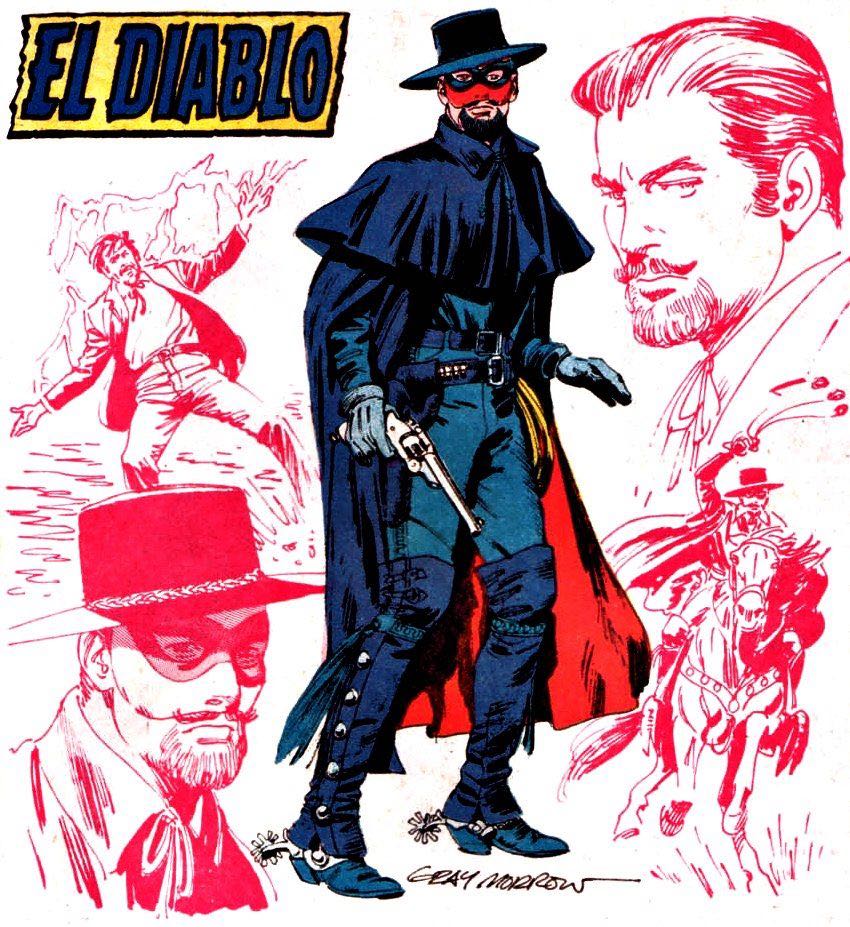 After being betrayed by his own gang, the severely Chato Santana finds himself sharing a hospital room with infamous gunslinger Lazarus Lane. Both have passed, Santana traveling to the spirit realm and discovering he has accepted the curse of El Diablo. Such a curse means dangerous power to use when seeking revenge. And he plans to use this to his advantage. 
It took me a moment to realize that this is the guy from Suicide Squad. The character they did dirty in that horrible 2016 live-action film. 
11. Two-Gun Kid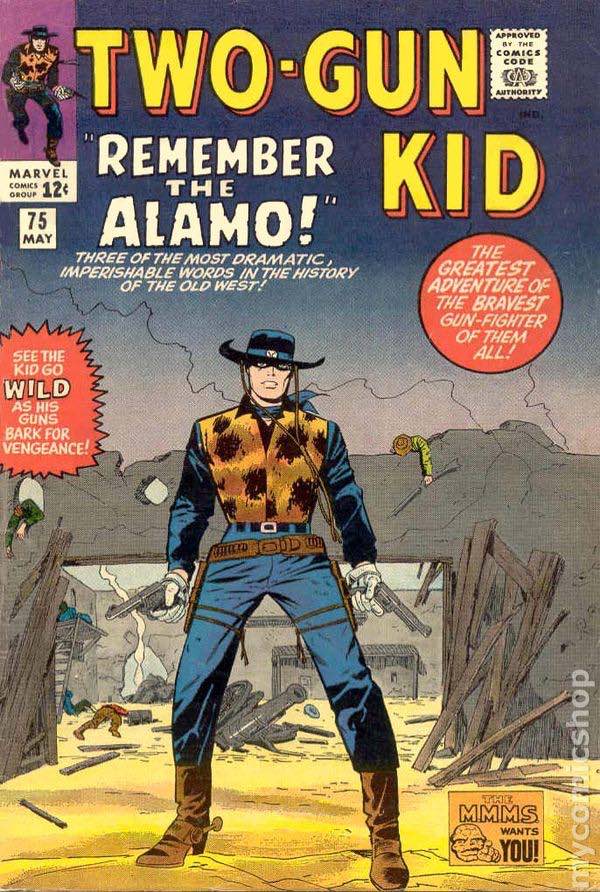 A young Boston lawyer finds inspiration for his "supposedly ideal" life when he looks up a novel about the Two-Gun Kid. He decides to adopt the persona, fulfilling the role of a true hero while also fulfilling his cowboy fantasies. He now lives an exciting life between fighting in court and fighting outside the law as a masked crusade. 
Fun fact: In later comics, he would be equipped with weapons thanks to the Avengers who time-travelled to his day. 
10. Desperadoes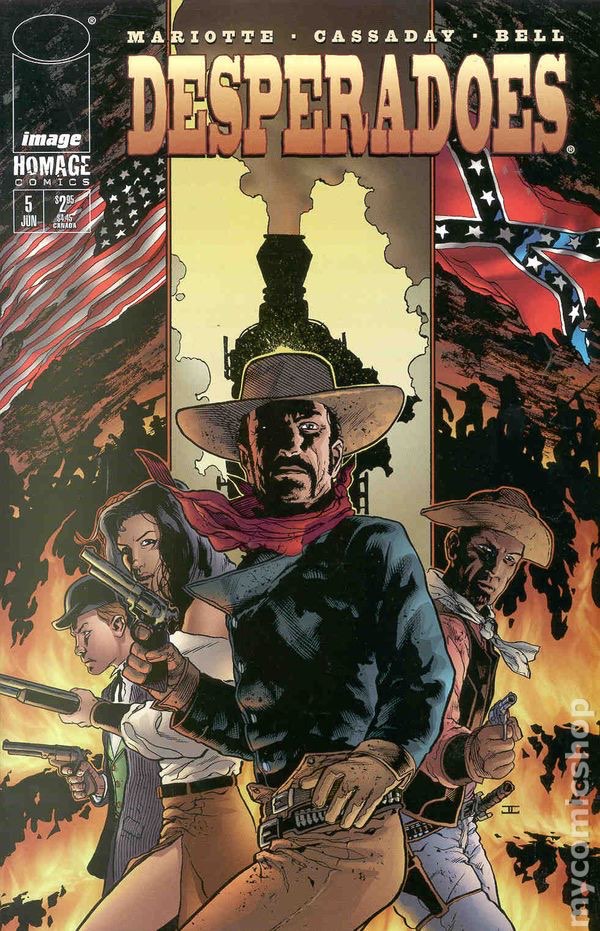 An installment of the Weird Western series, a group of former "niceies" succumb to the Western life of gunslinging and robbing. However, it's not all cowboys and girls in petticoats as they discover...they are living in a world of aliens, zombies, and serial killers with magic powers. 
Weird Western is right. Like WTF, did M Night Shyamalan make this? 
9. Ghost Rider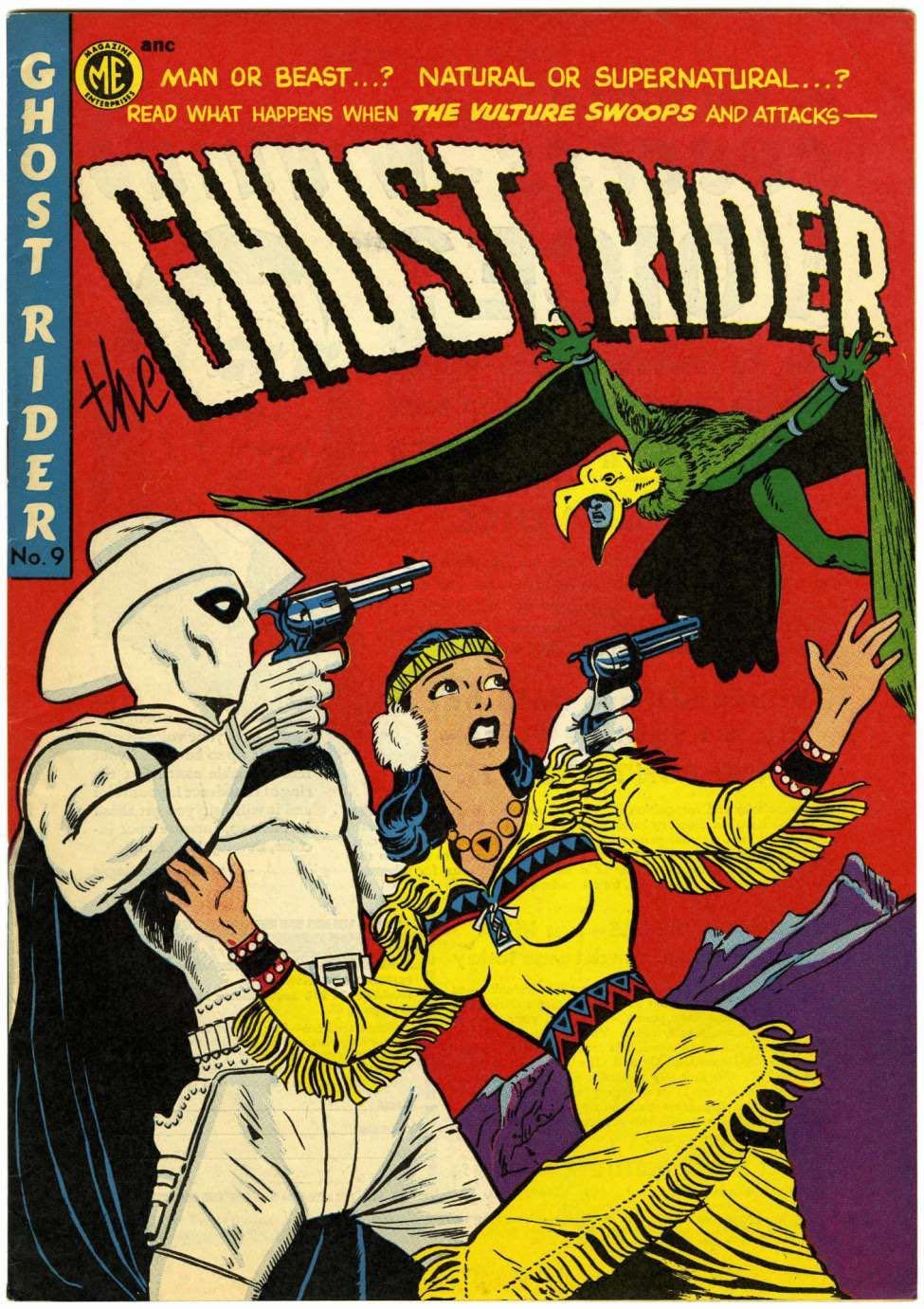 Against the backlash of horror comics, the Ghost Rider was a character that took the horror genre to greater heights. A masked man and his horse strike fear into the hearts of their enemies, especially since they're ghosts. In true horror fashion, they deal with zombies, witches, and even Frankenstein's monster. 
This character and his entire origin has been through a lot of changes. Before they decided on Ghost Rider riding a motorcycle instead. 
Speaking of Ghost Rider, did you hate the movie as much as I did? 
8. Kid Colt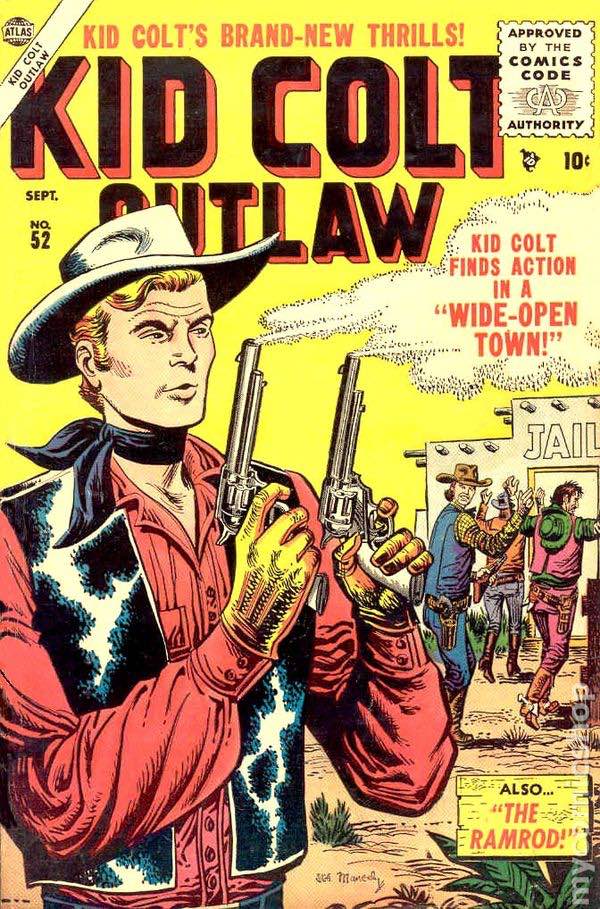 After shooting his father's killer in a fair fight, Colt is falsely accused of murder. Rather than face the corrupt legal system, he goes on the run. He travels across the West helping and saving people while vowing to clear his name. 
This is one of Marvel's best beginner heroes. And he inspired the heroes we know today: Spider-Man, Hulk, and even the X-Men. 
Stan Lee really liked this guy. 
7. Ringo Kid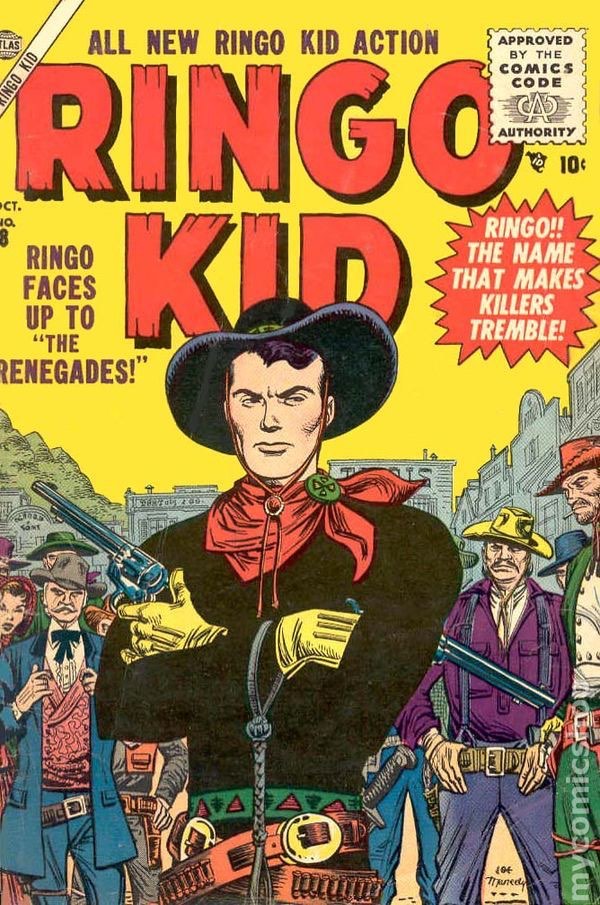 Ringo. The name that makes killers tremble. The Ringo Kid grew up being an outcast due to being born from a white man and a Native American mother. He gets accused of a crime he didn't commit and immediately goes on the run. While still a fugitive, this does not stop him from actually helping people, especially those who have dealt with the same things as he did. 
Thinking about it, this must have been the comic that inspired the movie Rango (the one where Jack Sparrow's actor voices the MC). 
6. Johnny Thunder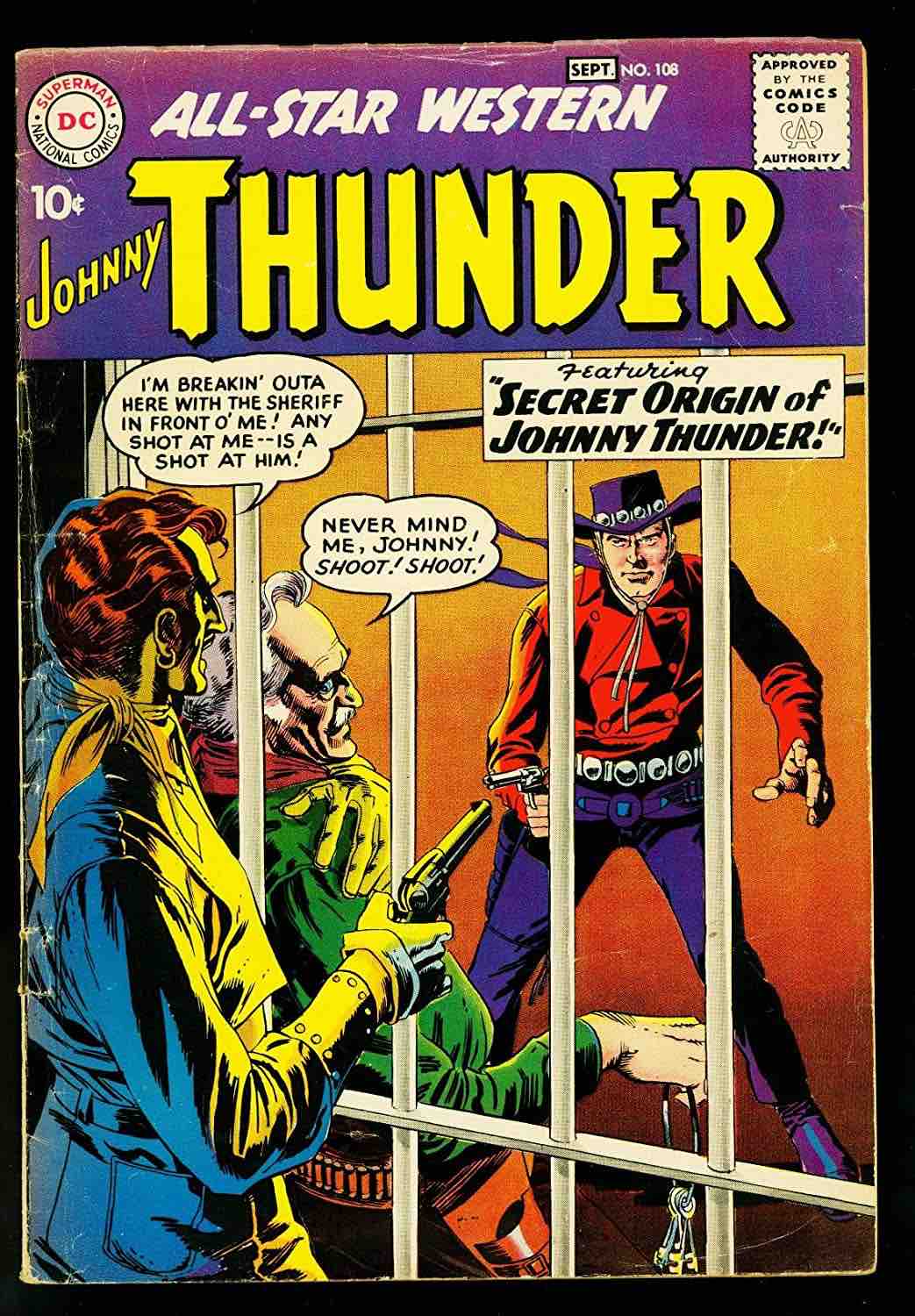 The son of a sheriff father and a school teacher mother, the latter makes him promise to never use guns. Now a young school teacher himself, Johnny made good on his promise. Until he was thrown into a situation that required violence. However, he's able to keep his promise by completely changing his entire persona when in use of guns. And thus Johnny Thunder, the gunslinging vigilante, was born. 
Don't...get him confused with the other DC hero who summons a lightning bolt and basically lives a Darkwing Duck kind of life.  
5. Blueberry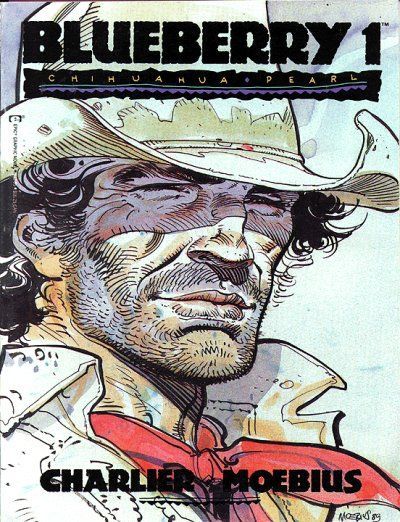 Disowned by his racist Southern family, Mike Donavan decides to fight against them. He decides to support the Union against them, now changing his name to Blueberry (after seeing a blueberry bush). Now he's a lawman for better justice, seeking to aid those that have gone through the harsh treatment he was forced to witness as a child. 
Fun fact: Ernest Borgnine, aka Mermaid Man, played his sidekick in the live-action film. 
4. Rawhide Kid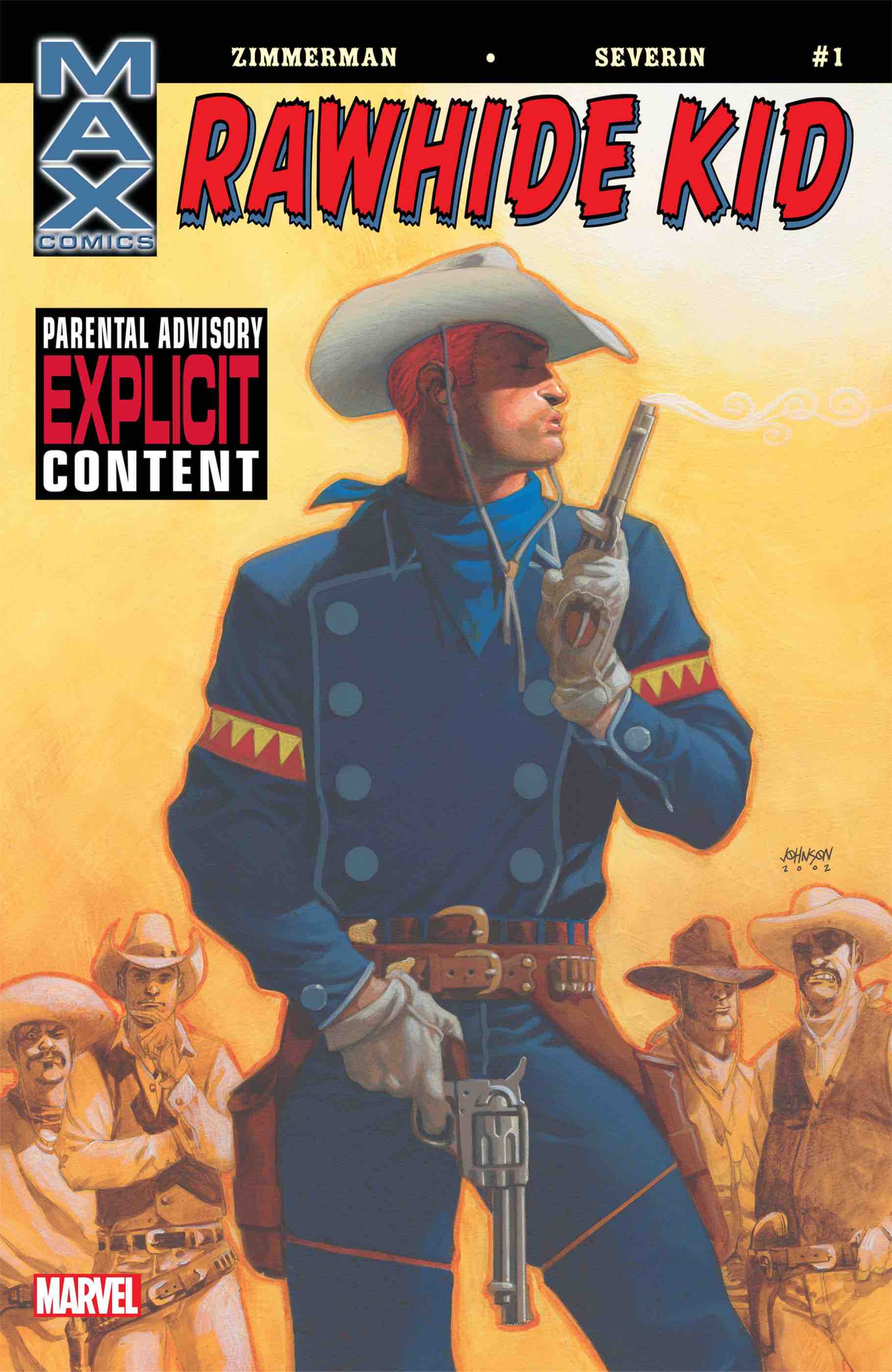 After his beloved caretaker is murdered, Johnny Bart swears to seek justice. Living a life as a gunslinger, he gets accused of a crime and must go on the run. However, despite avoiding the law, that does not stop him from helping others. 
You remember the story of Billy the Kid? Very young. Very innocent. And very cute. In this comic, he's an awkward, ginger-haired 18-year-old (and possibly even cuter).
3. Nighthawk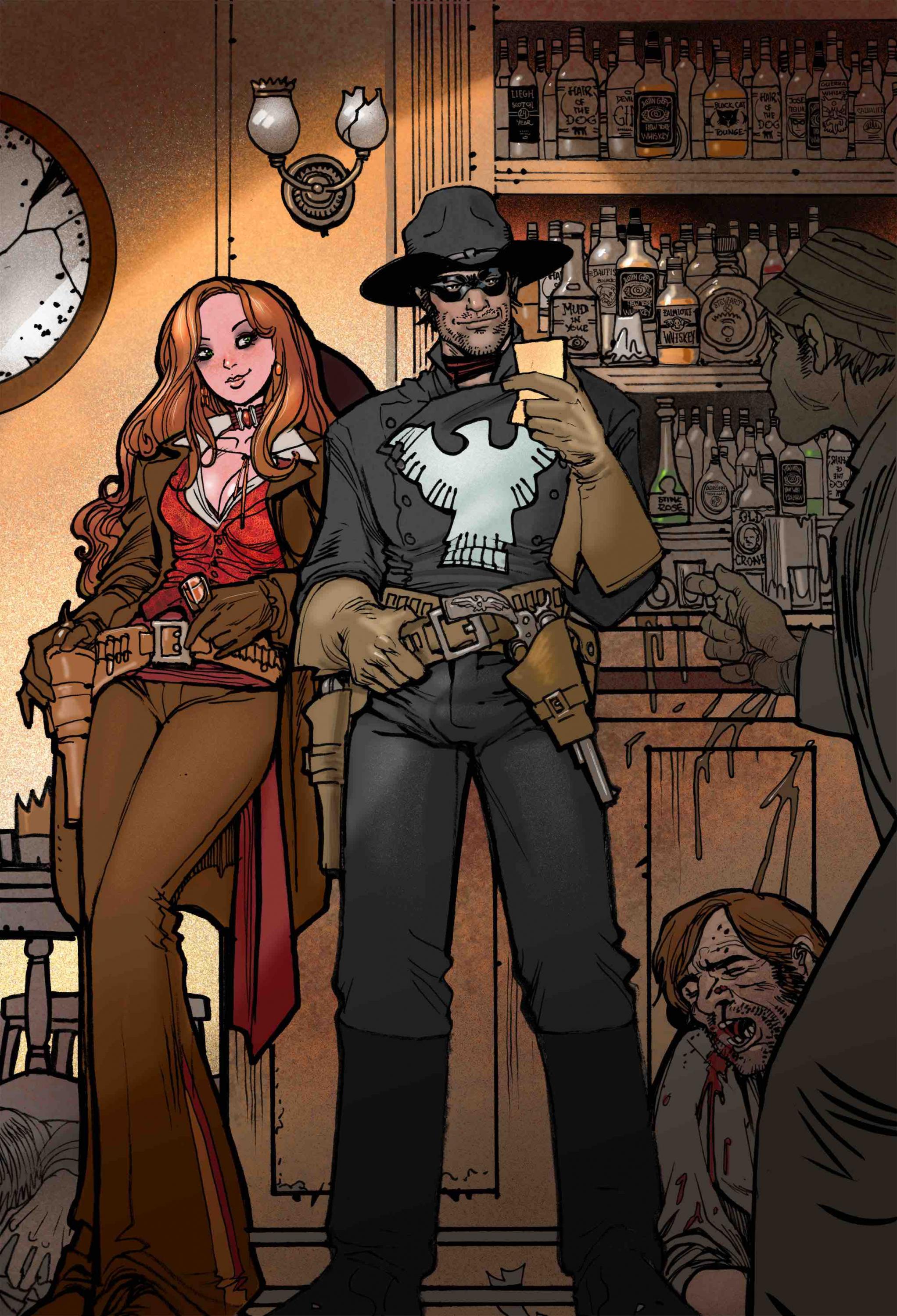 While he's not travelling the West as a salesman, he dons his mask whips out his guns when trouble arises. Later down the road his meets and falls in love with Cinnamon, a woman who is just as amazing with a gun. Together, they take down the cold world of corrupt businessmen and vengeful tramps. 
I can't be the only one who thought this guy was The Punisher with a cowboy hat, right? Meanwhile, his love interest looks like she skipped the X-Men. 
2. The Presto Kid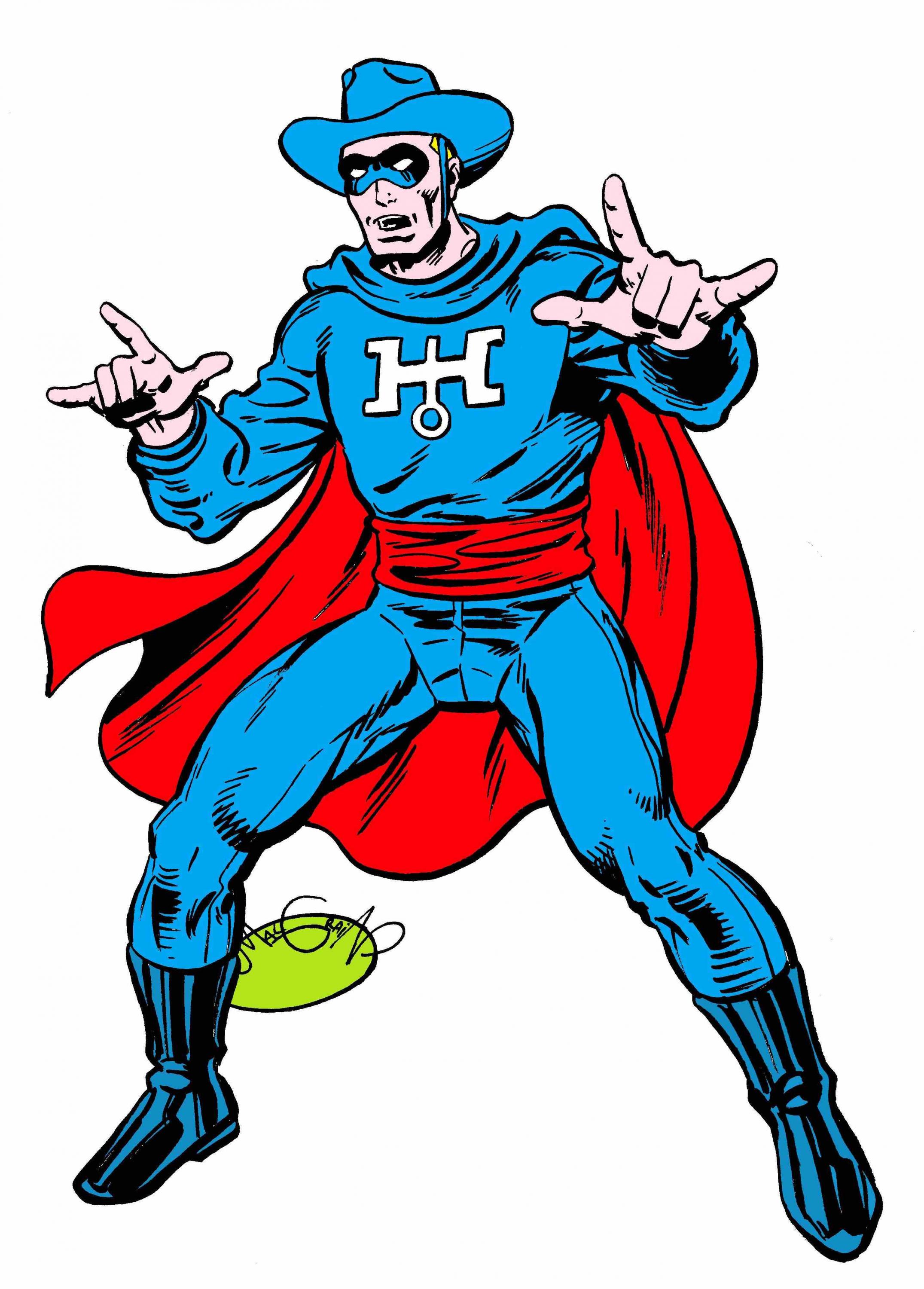 A lawsmith by day, a vigilant cowboy with a cape later that day. Jeff Grant is the one Western hero who doesn't fight using a gun. Instead, he uses his special "magic abilities" such as telekinesis to take down the bad guys and save the innocent. 
The idea of a cowboy who dresses similarly to Captain America, with a Superman cape, and uses magic instead of a gun sounds almost like a child's sugar-high fanfiction. 
Definitely a read! 
1. The Lone Ranger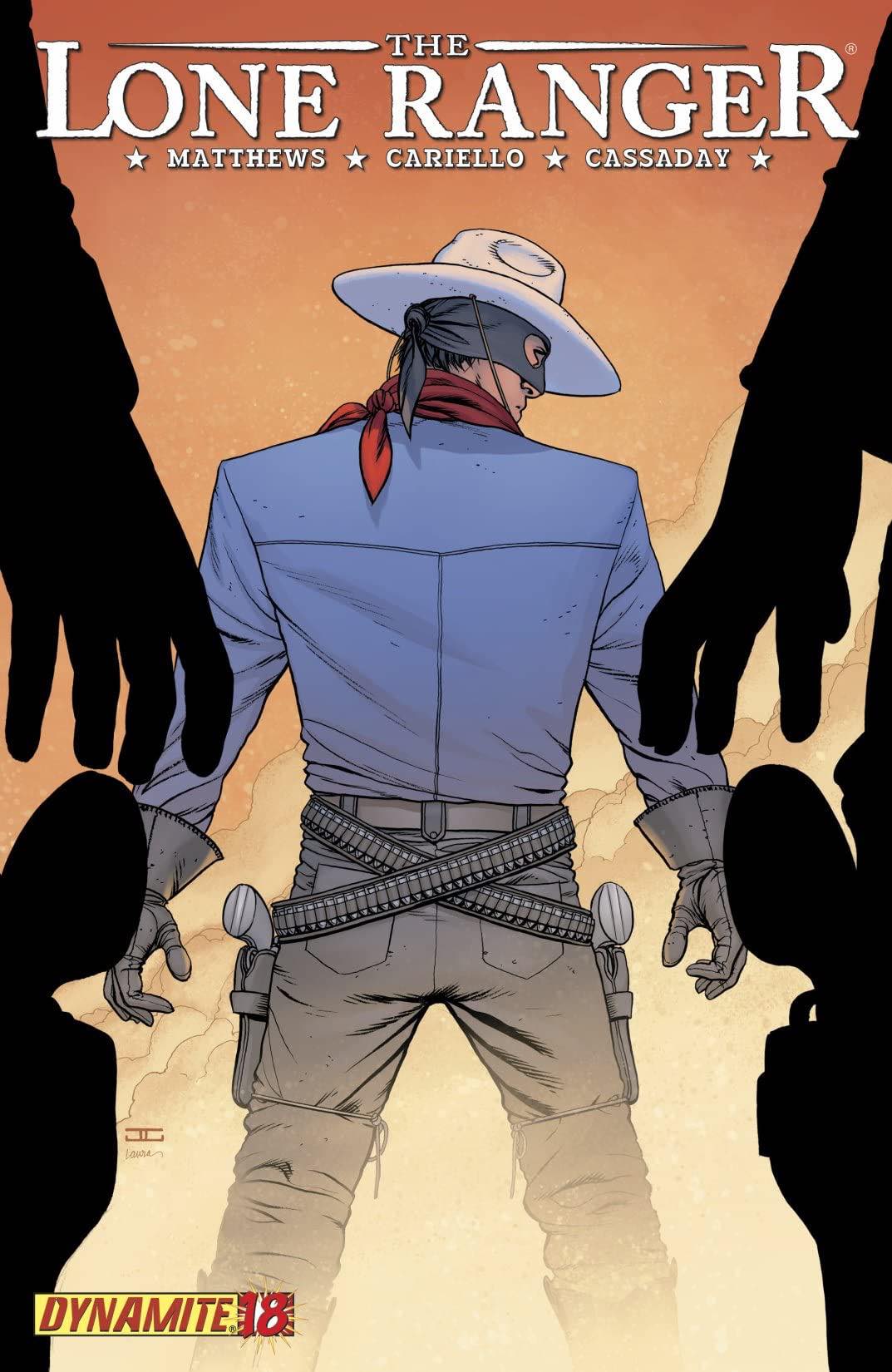 John Reid is the only survivor of his Texas Ranger Company, which was massacred by Butch Cavendish and his gang. Rescued by an Indian named Tonto, he transforms into a masked gunslinger to seek justice. Bullets crafted by silver in his secret mind, and a white stallion whom he names Silver, Reid becomes one of the leading heroes of Western comics galore. 
That movie with Jack Sparrow's actor doesn't do this beloved comic series justice.