[Top 10] Best Comic Books For Kids
Updated: 08 Sep 2020 2:22 am
The most kid-friendly way to take down someone named Dr. Doom.
Because comic books are fantastic, but not always super appropriate. Comics like Watchmen, Y the Last Man, and The Walking Dead are iconic, but I wouldn't give any of those books to anyone under the age of 14 or 15.
With that being said, there are a ton of brilliant comics that are made with kids in mind. If you're considering getting your kid into a series of comics, might I suggest:
10. Moon Girl and Devil Dinosaur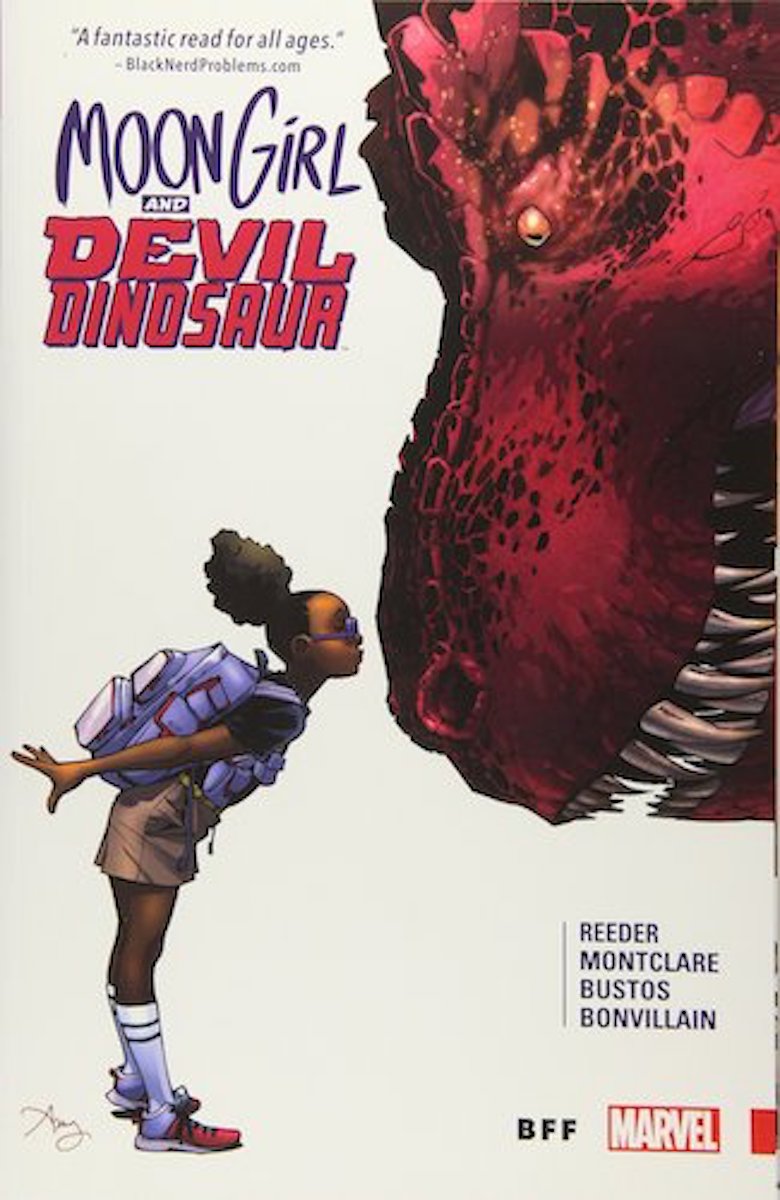 What a sweet dino, not eating that kid.  
Lunella Lafayette is a super-genius who's trapped in a standard school that can't seem to keep up with her. To make matters worse, she also has Inhuman genes that she knows will radically change her in the near future if she doesn't do something to stop them. It's in this pursuit for a cure that she accidentally calls up a ferocious dinosaur from the past and drops it into modern-day New York City.
Fortunately, though, she seems to be able to communicate with the dinosaur and builds something of a relationship with it. In a world where Lunella doesn't fit in, a devil dinosaur may be the best, and only, friend she has.
You should read this series if you:
Are looking for a story with newer characters
Want a comic with an unlikely partnership
Enjoy stories with fantastical elements
Would like to see a T-Rex act like a lost dog
9. Bone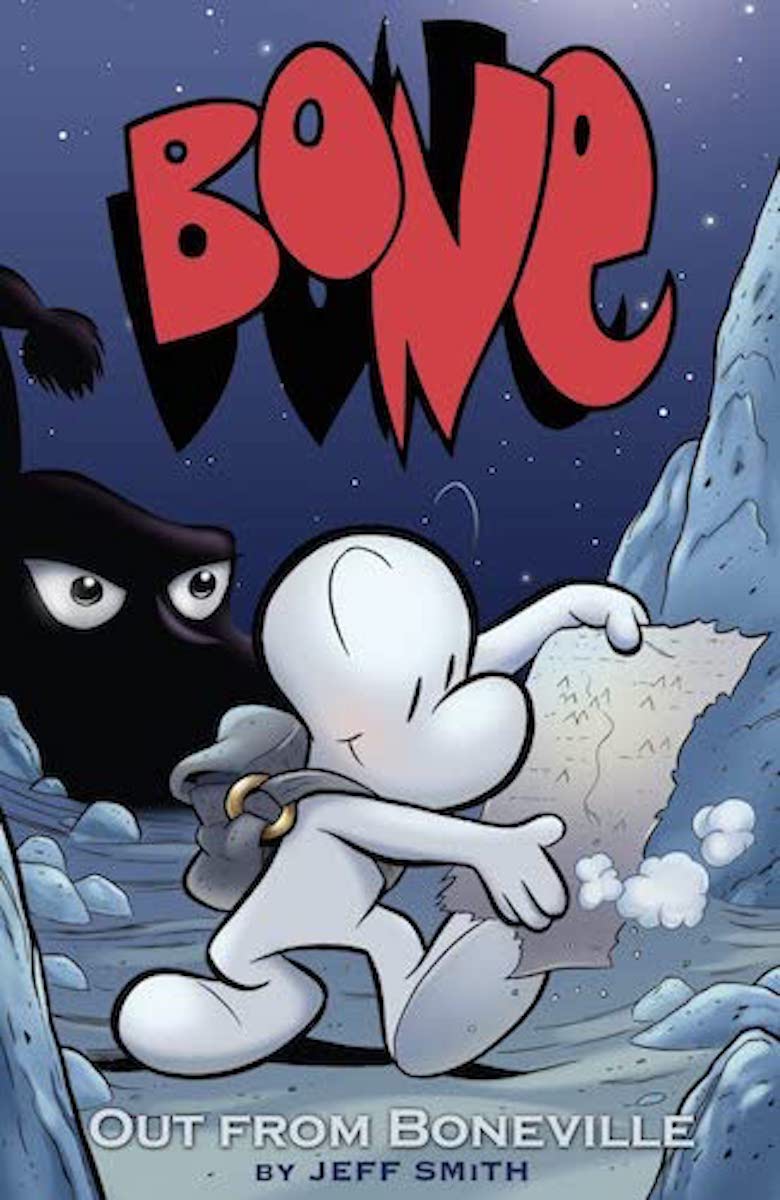 Nothing weird behind you, Fone. Just keep going!
Bone is a comic series that feels like an up-to-date Sunday newspaper comic strip in both its art and writing.
The three Bone cousins, Fone, Phoney, and Smiley, are chased out of their hometown of Boneville after Phoney loses the election for mayor (due to some very shady business deals). After traveling across the desert, the cousins are separated, and the comic begins to primarily follow Fone.
Eventually, Fone finds a lush valley in the desert, filled with a variety of strange creatures. His cousins end up in the valley as well, and the three of them work to survive in their new environment. It's an enjoyable story with humor for readers of all ages to enjoy.
You should pick this up if you:
 Are looking for a story that focuses heavily on humor
Prefer a cartoony art style
Like seeing regular-ish people in fantastical settings
Want to know why Netflix decided to make a series about this
8. Batman: Li'l Gotham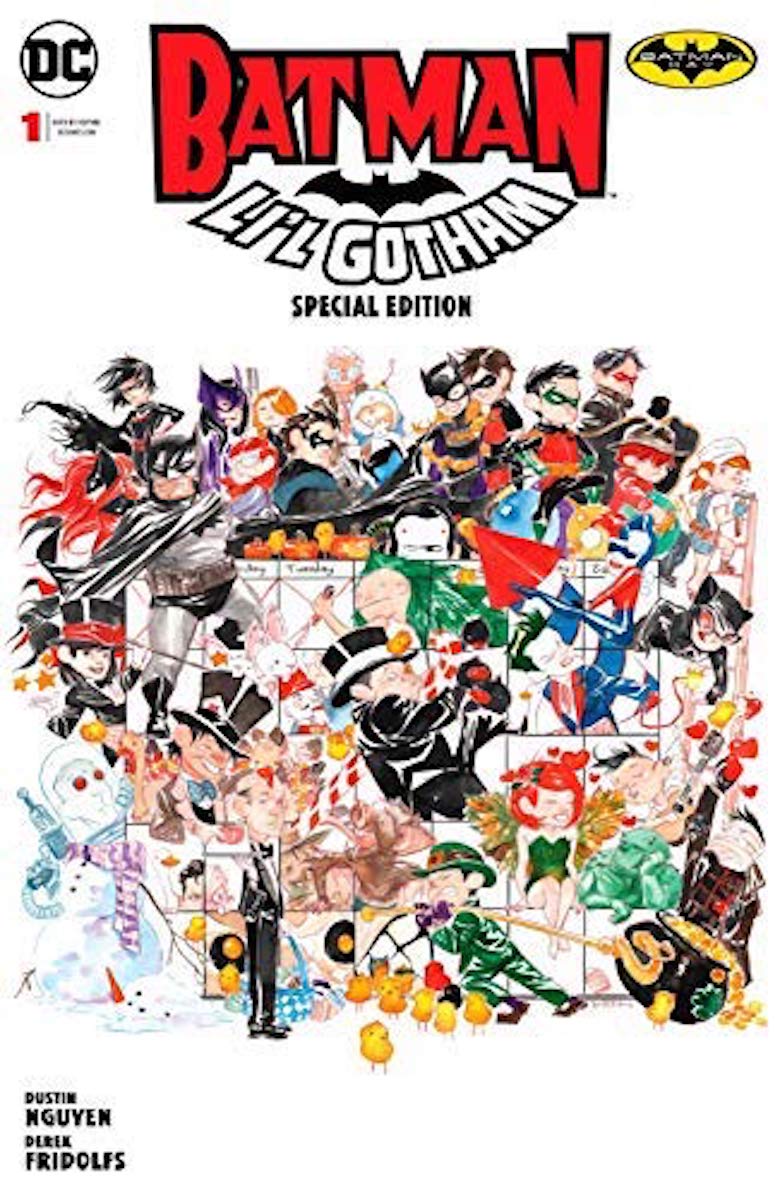 Aw, aren't all of those super-criminals cute when they're drawn that way. Sure, have my wallet, little Penguin!
Damian Wayne takes things very seriously. Like, all the time. Being raised by the League of Assassins and then having Batman as a dad can do that to a kid.
You know it's gotten bad when your childhood idea of a good time was fighting zombies that your grandfather created by throwing bodies into the Lazarus Pit.
But the Bat-family, even Batman himself, realizes that Damian needs to learn to enjoy some things in life. So, they come together as a family in this comic book series to show Damian various holidays in Gotham and how much joy those days can bring. Damian not only learns about how much these holidays mean to the general public and the citizens that he helps to protect but also how much his own family can enjoy them.
Pick this comic up if you:
Enjoy non-traditional art styles
Want stories that explore a variety of holidays  
Are looking for an enjoyable family-based story
Think Damian Wayne should lighten up a little
7.  Superman for all Seasons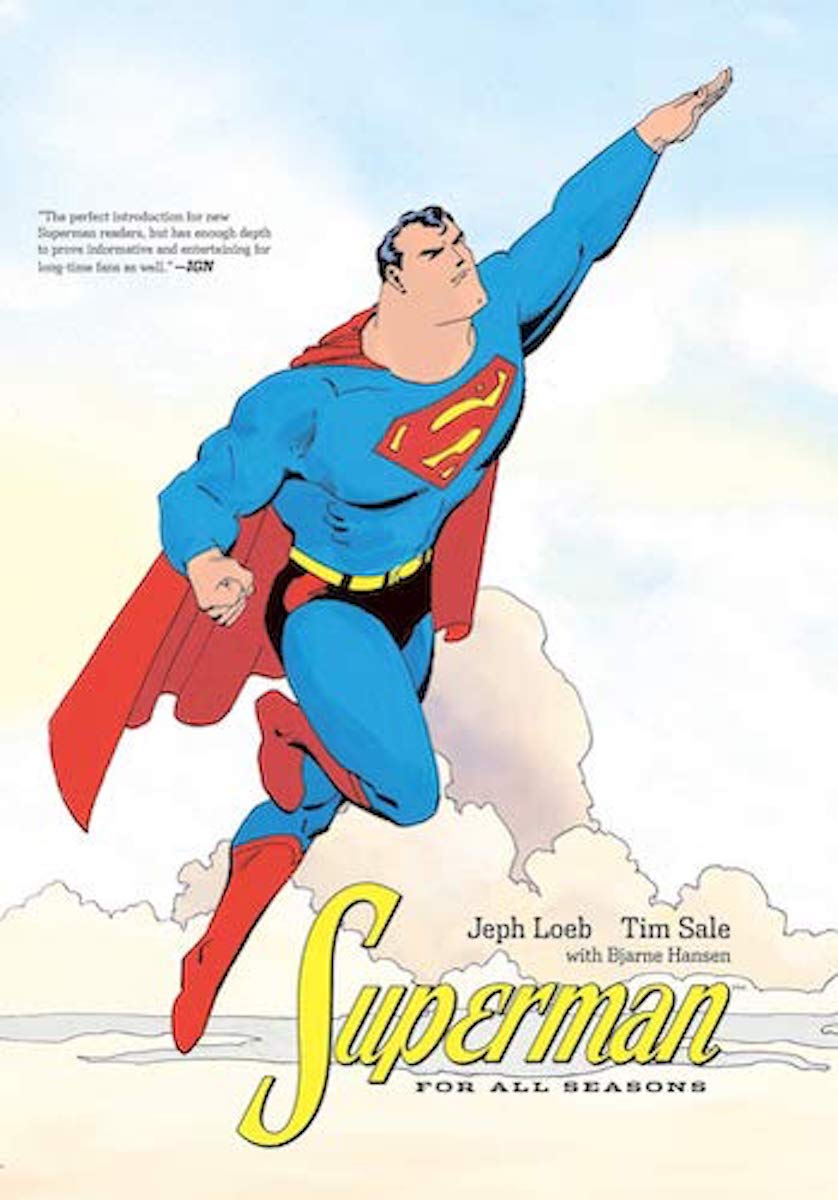 With a jawline like that, he must be a hero!
Most people are pretty familiar with Superman, but this comic approaches the man of steel from another angle. It's very much a look at the start of Superman's career as a crimefighter, starting with the Kents revealing that they found him as a child and Clark learning more about his powers before heading off to Metropolis. Once there, he meets Louis Lane, gets a job at the daily planet, saves people, and does all of the expected Superman stuff.
What's interesting about this comic is the way the story is told, as it swaps between the point of view of several in-story characters that aren't Superman. It starts with Jonathan Kent in the Spring, Louis Lane in the Summer, Lex Luther in the Fall, and the Lana Lang in the Winter. Each one brings their own perspective on the character, and the different ideas about him from each narrator are well-written.
Ultimately, it's a coming-of-age story for Clark Kent as he becomes the hero that the DC universe knows and loves. It's enjoyable, it's different, and it can really be appreciated by both kids and adults.
You should pick up this comic if you:
Are looking for a story about an inexperienced Superman
Want a mostly innocent story with some real depth
Would like a story written from a few different points of view
Want a smaller-scope Superman story where he doesn't lift the Earth or something
6. Ms. Marvel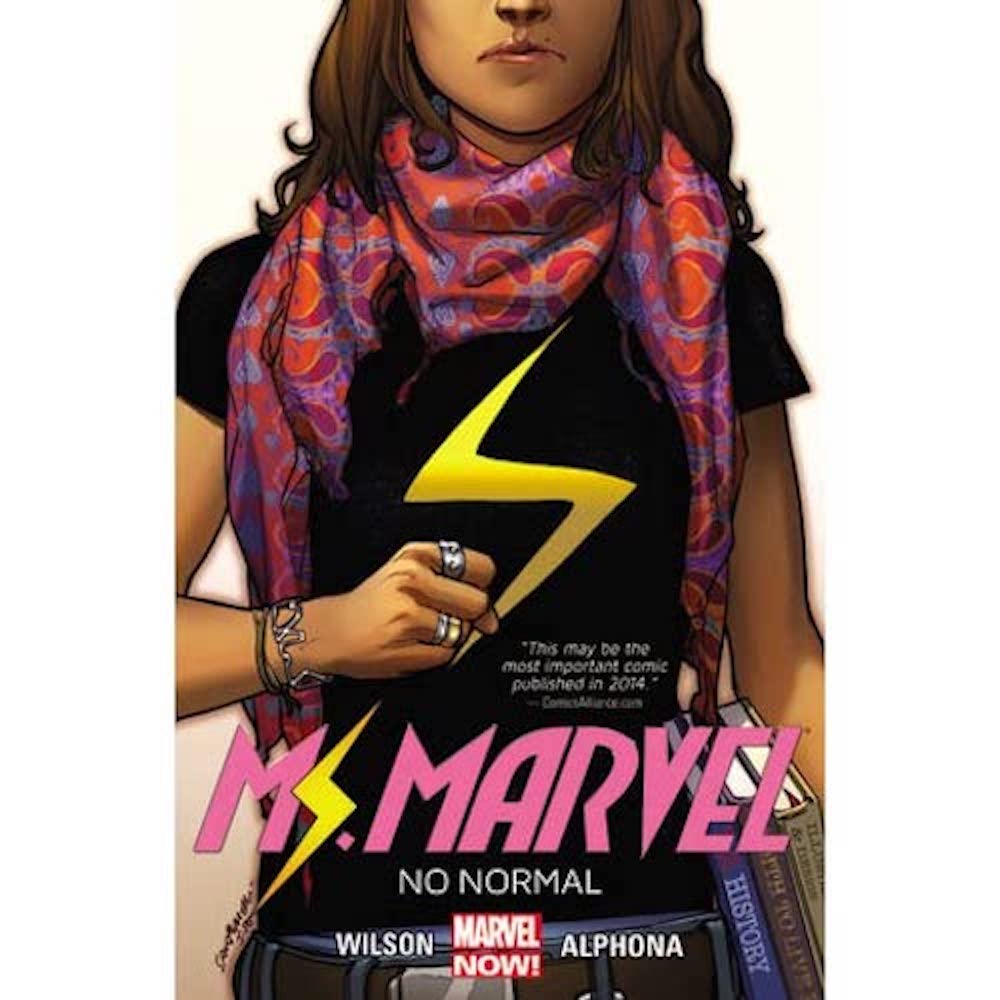 Don't think for a second that she would punch you with a hand that small. It's gotta get big first. 
Kamala Khan is a Pakistani-American girl from New Jersey who loves the Avengers, particularly Captain Marvel. In Kamala's eyes, Captain Marvel can save everyone with a smile and look very good while doing it.
One night, after uncharacteristically sneaking out to go to a party, Kamala is engulfed in a strange mist, which gives the power to shapeshift! She can grow or shrink her body parts, and she can look like other people. However, she quickly learns that having super-powers isn't all fun and games, and it's not as easy as the heroes make it look.
As she figures out what to do and who she wants to be, she reflects on her own powers and ideals, falling back on one of her father's favorite quotes, "whoever saves one person, it is as if he has saved all of mankind".  With that, Kamala decides to put on a costume and save people as the new Ms. Marvel!
Pick up this comic book series if you:
Are looking for something a bit more mature for a kid's comic
Would like a comic that explores more about Islamic-American culture
Want a story about the importance of accepting who you are instead of wishing you were someone else
Need a superhero origin where someone has actually thought of becoming a superhero beforehand
5. Adventure Time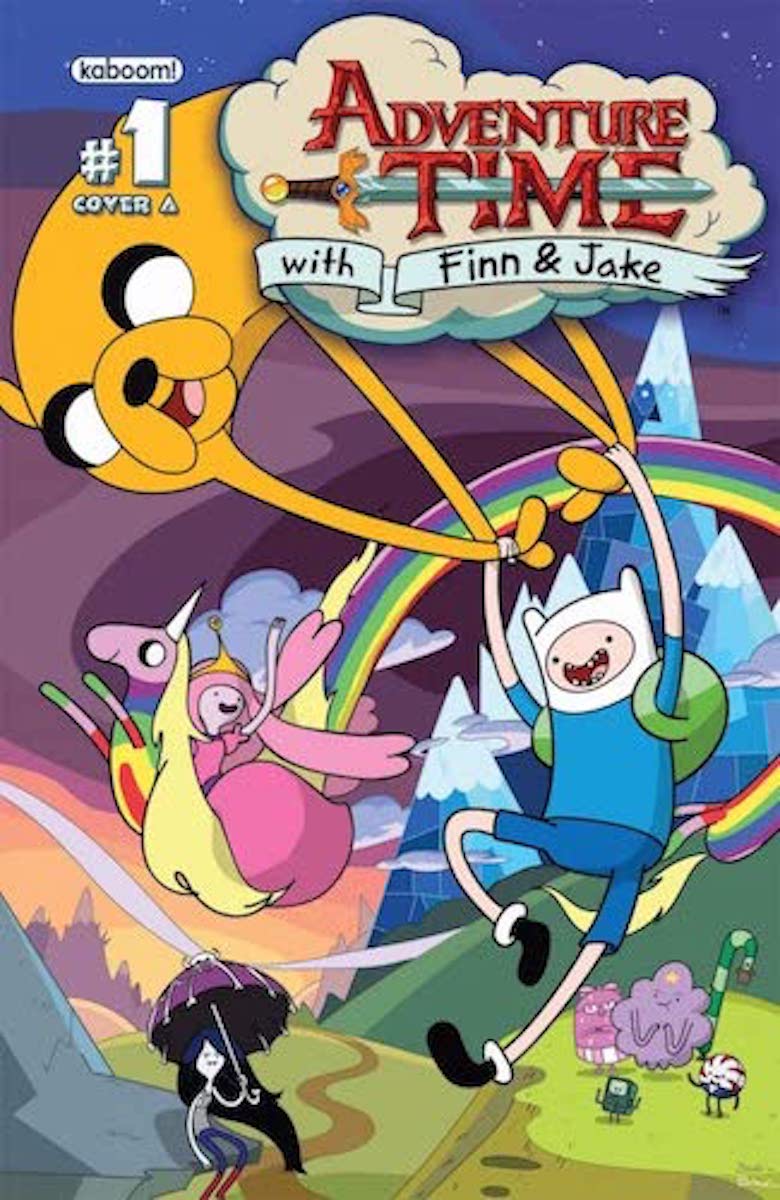 The art alone is just wildly kid-friendly. Awesome to the max, but kid-friendly. 
What time is it? Adventure Time!
A comic book spin-off of the popular show of the same name, the Adventure Time comics follow Jake the Dog and Finn the Human through many of their crazy adventures. Some adventures can be solved with a sword or item of power, while others require less traditional means, such as knowledge or compassion. Or sick battle-burns.
The stories aren't always too deep, but they're consistently enjoyable. The action is compelling and well-drawn, and the characters feel accurate to their television counterparts. Each comic contains its main story, but will also often include a small, unconnected side story.
You should pick some of these comics up if you:
Were a fan of the show
Are hunting for a pretty silly comic
Want a comic with a fair amount of action, but not a ton of actual violence
Like art where a dog stretches into weird shapes
4. Amulet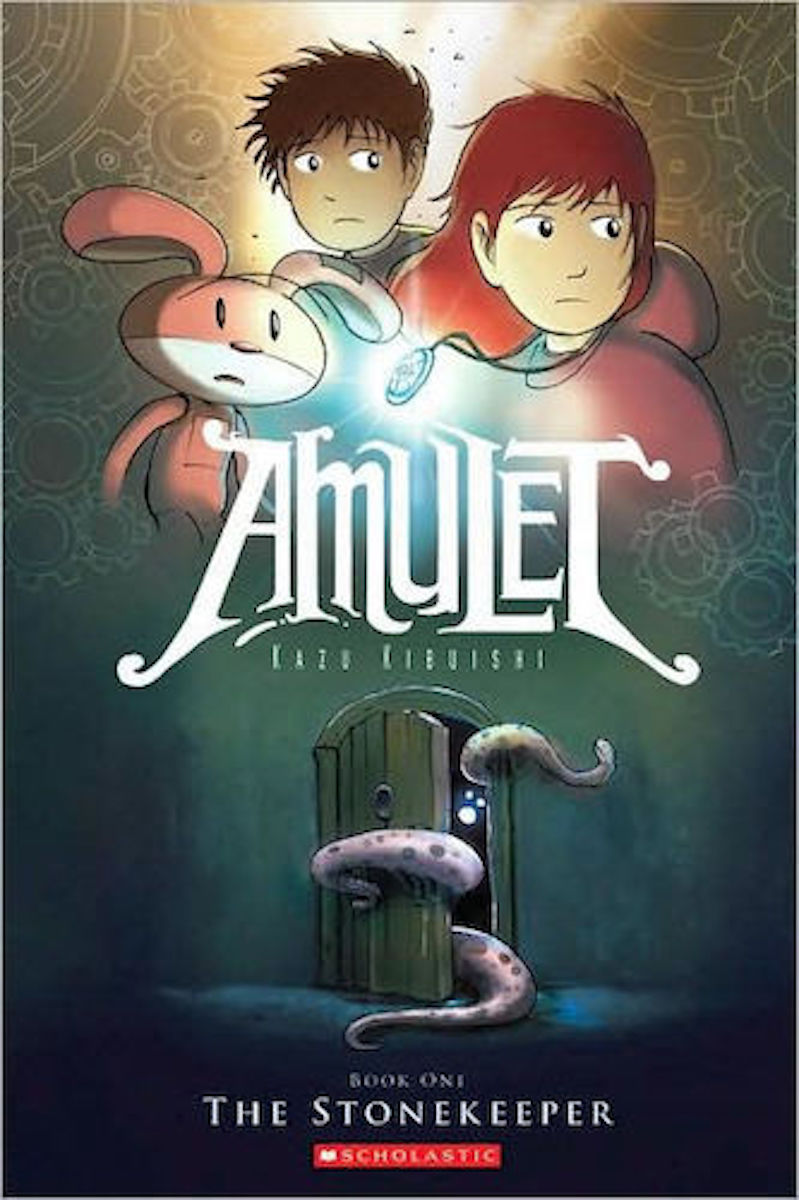 I know the imagery seems creepy, but in my defense, it is a Scholastic book. They make their own rules. 
After their father dies in a car accident, Emily and Navin are brought to an old family home by their now-widowed mother, Karen, to clean the place up. While cleaning and exploring, Emily finds an ancient amulet that used to belong to her grandfather and, like any kid, tries it on.
 At first, nothing seems amiss. Later that night, however, Karen is kidnapped by an arachnid monster, and Emily is introduced to a world full of creatures and monsters. It's in this world learns that, if she accepts the power of the amulet, she can become a Stonekeeper.
Together with Navin, Emily must use her newfound powers to rescue her mother and survive this world, making both friends and enemies along the way.
It's a good and compelling story for all ages. I've also only seen it in graphic novel form, so you wouldn't be able to buy a single issue of the comic, but it's very much worth the investment. While it doesn't reinvent the wheel for the fantasy genre, it does use the ideas and setting very well.
You should read this series if you:
Enjoy fantastical worlds and elements
Would like a story with relatable characters and emotion
Want a book that can probably make you cry
3. Lumberjanes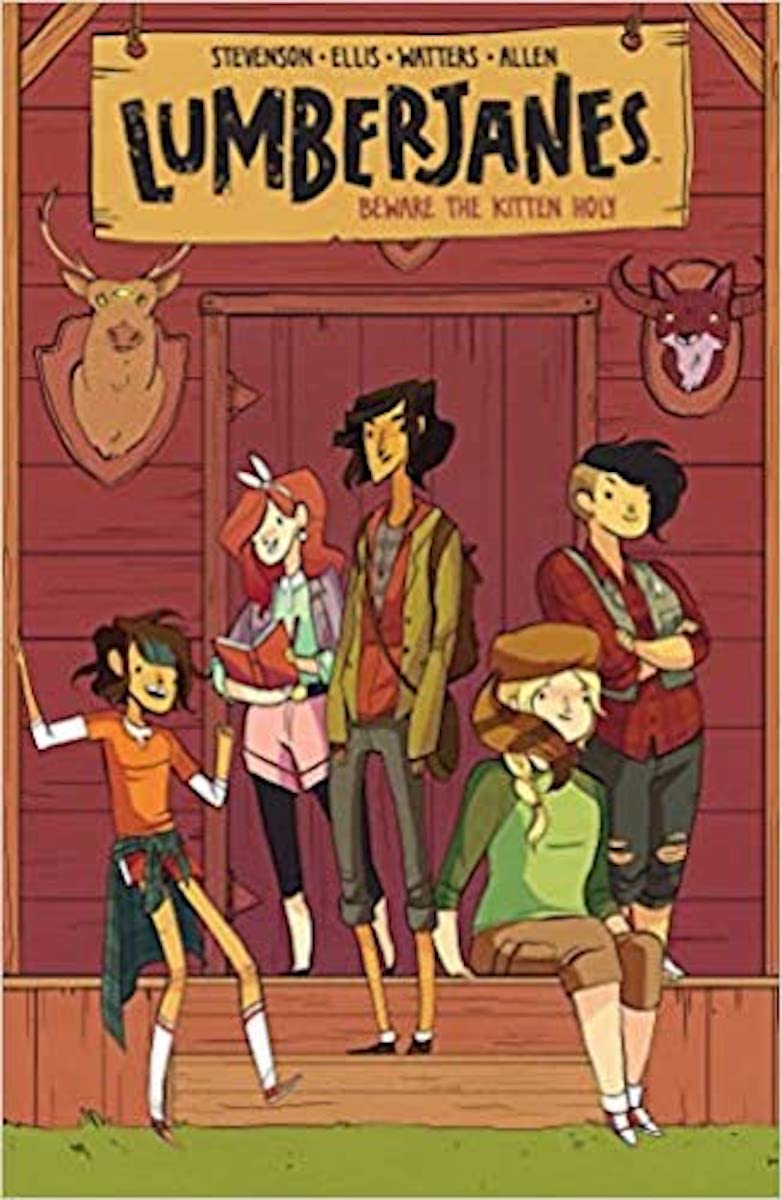 There's the calm before the storm, and there's the group photo before the rad stuff happens. 
Jo, Molly, Mal, Ripley, and April are Lumberjanes (similar to girl scouts) who are spending a week at a summer camp in the woods. There are several normal camp activities planned, like hiking and canoeing, but things aren't all that normal at Miss Qiunzella Thiskwin Penniquiqul Thistle Crumpet's Camp for Hardcore Lady Types. The camp's activities are frequently interrupted by strange creatures and events that probably aren't approved by any camp officials. 
Luckily, our main characters come together and use their unique knowledge and skills to overcome these challenges. Whether they're deciphering anagrams, tricking Yetis, or following a path that requires knowledge of the Fibonacci sequence, the Lumberjanes work together to solve the mysteries in this strange forest. Friendship to the max!
Pick up these comics if you:
Enjoy the humor and dialogue in shows like Adventure Time
Want a comic that revolves around strange mysteries
Are looking for a book with a more non-traditional art style
Would like a comic that showcases the importance of being yourself
Have always wanted to see three-eyed foxes
2. Avatar: The Last Airbender - The Promise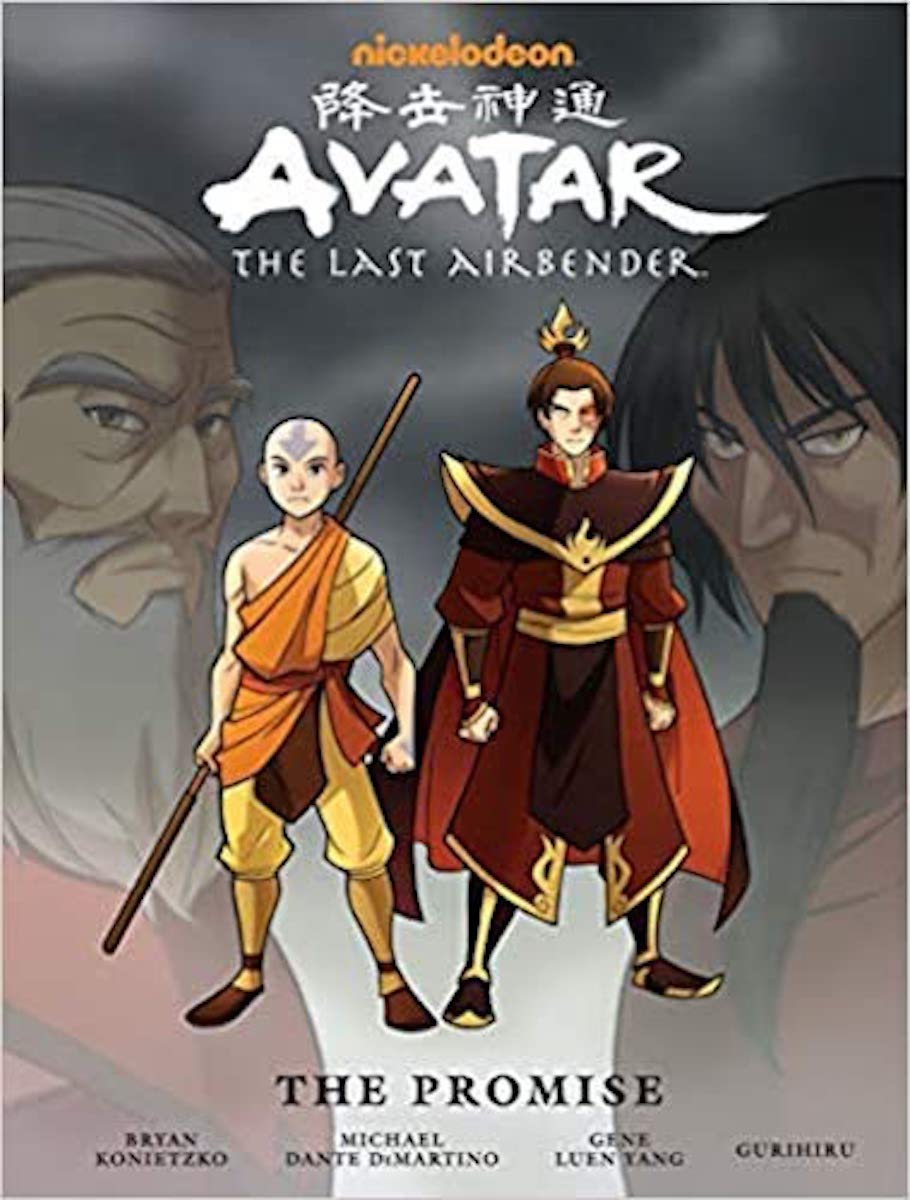 You know the characters in the background are mentors because they have beards and angry eyebrows. 
Nickelodeon's show "Avatar: The Last Airbender" took the world by storm when it came out, but, like any good production, it left audiences wanting more. There were unanswered questions, and people wanted to spend more time with these characters, and in this setting.
Well, there's some good news! This comic book series explores what happens immediately after the end of the show. Unlike many TV show tie-in comics, this one follows a singular plot rather than showcasing smaller, unconnected stories.
While there are several excellent ideas here, all of which are expertly executed, it boils down to a few key points. Chief among them is an impending war based on whether or not the Fire Nation's colonies in the Earth Nation should remain, with compelling arguments on both sides. A subplot that isn't addressed as much, but is vital to fans, is Zuko's search for his mom.
It's a great continuation of the show, with an excellent balance of humor and serious topics. There's a lot for kids to enjoy, and a lot for the adults too.
You should pick this series up if you:
Were a fan of the show
Want a comic with an enjoyable mix of humor and serious content
Enjoy manga-style art
Love boomerangs.
1. The Unbeatable Squirrel Girl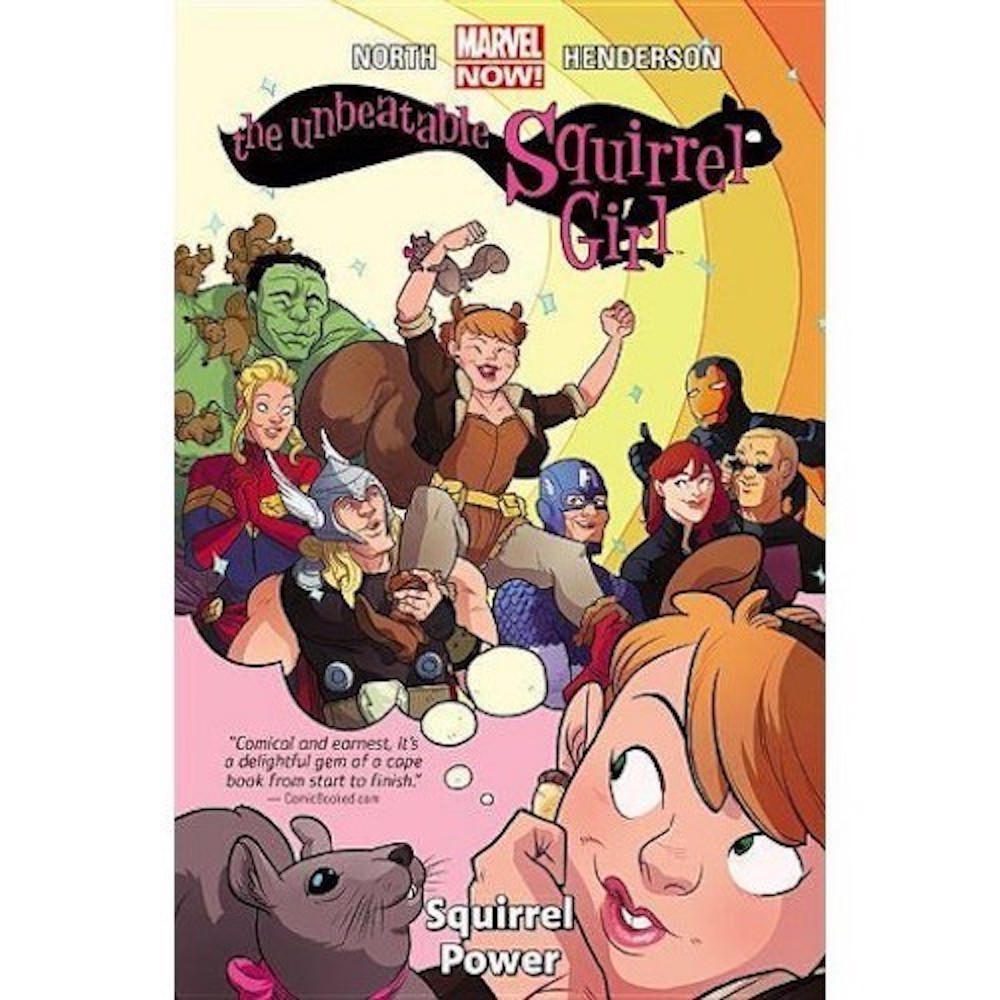 I love how each volume takes a phrase with the word "Girl" and replaces it with "Squirrel". Squirrel Power, indeed. 
Doreen Green has built something of a reputation fighting crime as the one and only Squirrel Girl, and now she's heading off to college! After spending years living in the attic of the Avenger's Mansion, she's going to attend NYU and earn her bachelor's degree in computer science.
However, New York city is wrought with criminals and villains, so Doreen can't quit being Squirrel Girl while she pursues her education. She needs to find a balance between her studies, her friends, and her heroic activities. It will take all the powers of both a squirrel and a girl to make it work, but if anyone can do it, it's the Unbeatable Squirrel Girl.
Pick up this comic series if you:
Want to see heroes solve problems with more than just violence
Need a comic book series with some well-written humor
Would like a comic with some cool lessons (like how to count to thirty-one on a single hand)
Aren't too familiar with Marvel superheroes and villains
Want to kick butts and eat nuts
Image Gallery