Top 20 Upcoming Zombie Games 2023 And Beyond
Updated: 16 Mar 2023 8:28 pm
Zombie-genre is definitely not dead yet!
Which upcoming zombie games look amazing?
Zombie games have been popular for decades, and this year and the coming years will be no exception. As games with zombies tend to focus on survival aspects of the game, more and more games are focusing on the co-op experience.
Here are 20 upcoming zombie games to look out for!
20. Kingdom: The Blood - TBA (PC)
Kingdom is a very popular Netflix South Korean TV series about zombies in the 16th century, and it will now have its own tie-in game, Kingdom: The Blood.
Based on the recent trailer and gameplay footage, it will be an action game with a focus on melee attacks, and its combat system will be inspired by other games, with all the dodging, countering, and combos that you can perform while fighting humans and hordes of zombies.
It will also have online PvP and online co-op, which is a plus.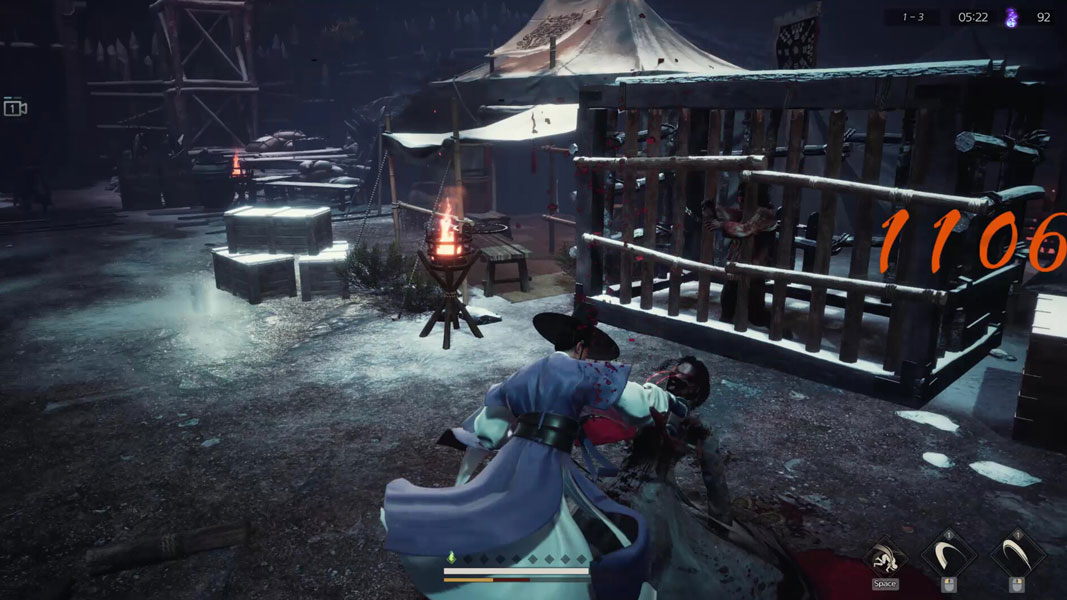 Battle your way against Horde of Zombies as well as humans in Kingdom: The Blood
19. Synced - TBA (PC)
Synced is technically not a zombie game because the enemies resemble aliens rather than zombies, but the concept remains. It is set in a sci-fi setting where nanotechnology has become the norm in society and has gone rogue, making the people in the game enemies.
It is best described as a loot shooter, with one of the core aspects of Synced being the ability to obtain items from defeated enemies. Play with your team to form a squad, and use the environment and nanos to defeat the enemies.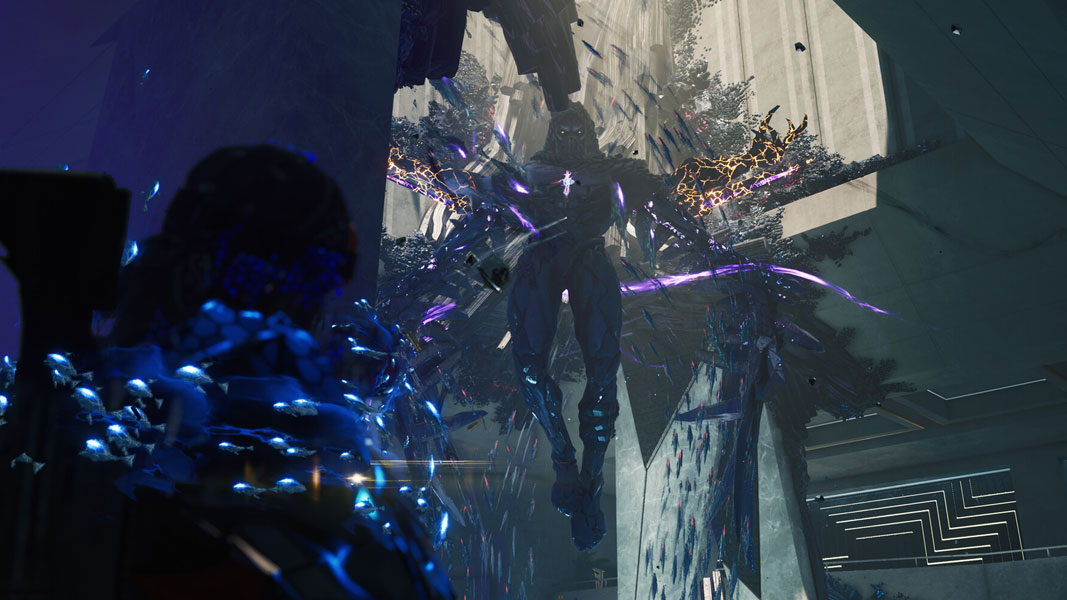 Not technically a zombie, but definitely worth waiting for.
18. HumanitZ - TBA (PC)
HumanitZ is a top-down survival co-op game in which you must try your hardest to survive in a zombie-infested world. To be honest, top-down video games are quite rare, making this game a rare find once completed and polished.
Scavenge areas in the game to survive, and you can play with friends or alone. Choose the abilities of your characters and defend yourself from the zombies that lurk around you. Furthermore, you will be dealing with other NPCs who may or may not be hostile to you, so you must always be cautious.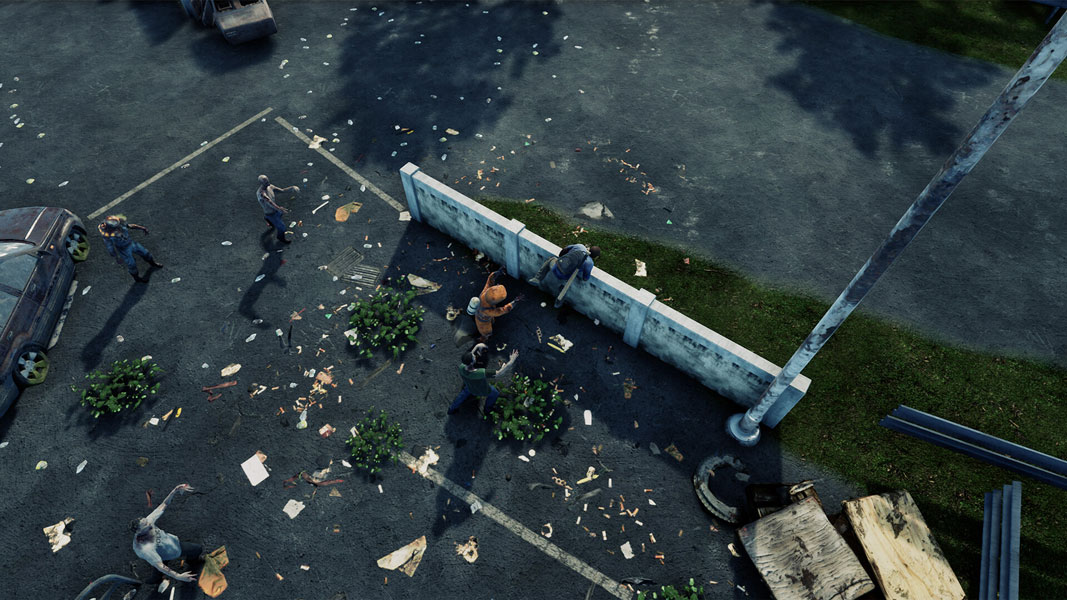 Good thing zombies cannot climb wall, right?
17.Projekt Z - TBA (PC, PlayStation 5, Xbox Series S|X)
Projekt Z is yet another co-op zombie game, but this time it takes place during World War II, with you fighting Nazi-zombies on a secret island where they conducted their research.
You have a hideout where you can craft weapons and consumables, as well as build structures based on the resources you gathered during a recent mission. Each mission will be very different depending on the order in which you complete them, which may change the enemies completely. There is also a promise of a wave survival mode, which will be useful for passing the time.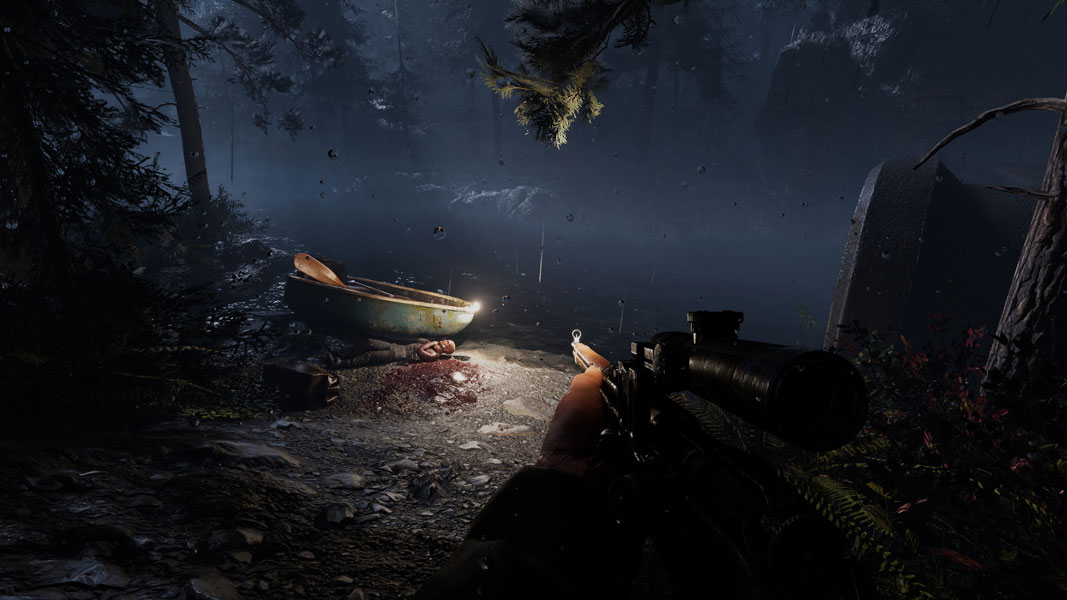 World War 2 zombie game, sounds familiar?
16. Paradize Project - December 2023 (PC)
The Paradize Project is a zombie survival game with a unique twist. You actually command the "minds" of the zombies to do your bidding.
It meets all of the requirements for a good survival game in which you collect materials, craft weapons, and fight zombies. You can play with friends or by yourself. However, you will have companions among your enemies because you can hack zombies to assist you in fighting, protecting the base, and even farming.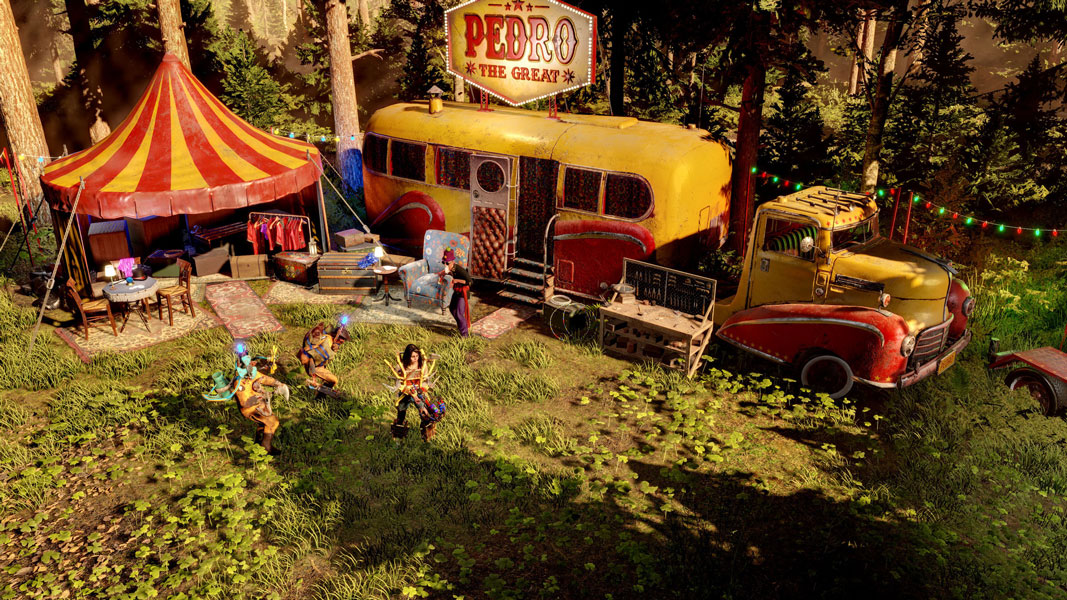 Control zombies and let them do the work!
15. Echoes of the Living - TBA (PC)
Echoes of the Living is an homage to the classic PS1 horror survival games that used fixed camera angles, which was a limitation that worked perfectly at the time. However, it is hoped that Echoes of the Living will live up to the games that inspired it, as it is very nostalgic and rare to see games played in this manner.
You play as Laurel and Liam, each with their own storyline, and the developers have promised that this game will not only pay homage to fixed camera angles, but also some of the classics' notable features such as puzzles, backtracking, save rooms, claustrophobic hallways, and immersive soundtrack.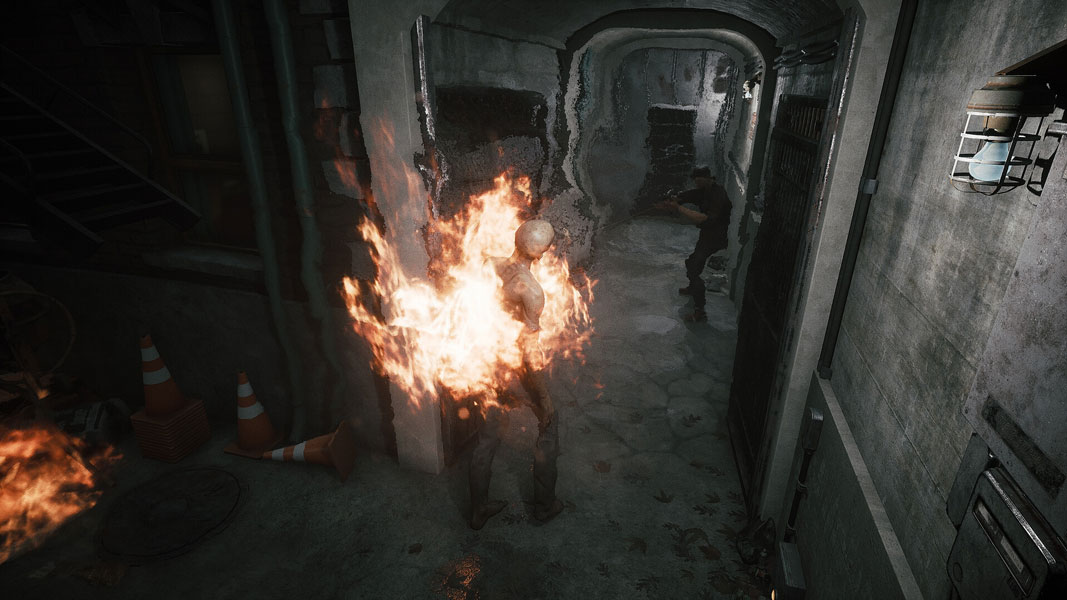 Fixed camera, finally!
14. Sons Of The Forest - February 23, 2023 (PC)
Sons Of The Forest is not a zombie game per se, but you will face cannibals and monsters born from rituals while stranded on an island trying to find your way back home.
Build a fortress to defend against cannibals and gather resources to construct structures. Seasons change constantly in the Sons of the Forest, which means you can catch different fish during different seasons, and you must save meat during the winter when food may be scarce. You can also play this game with a friend and try to survive as a team.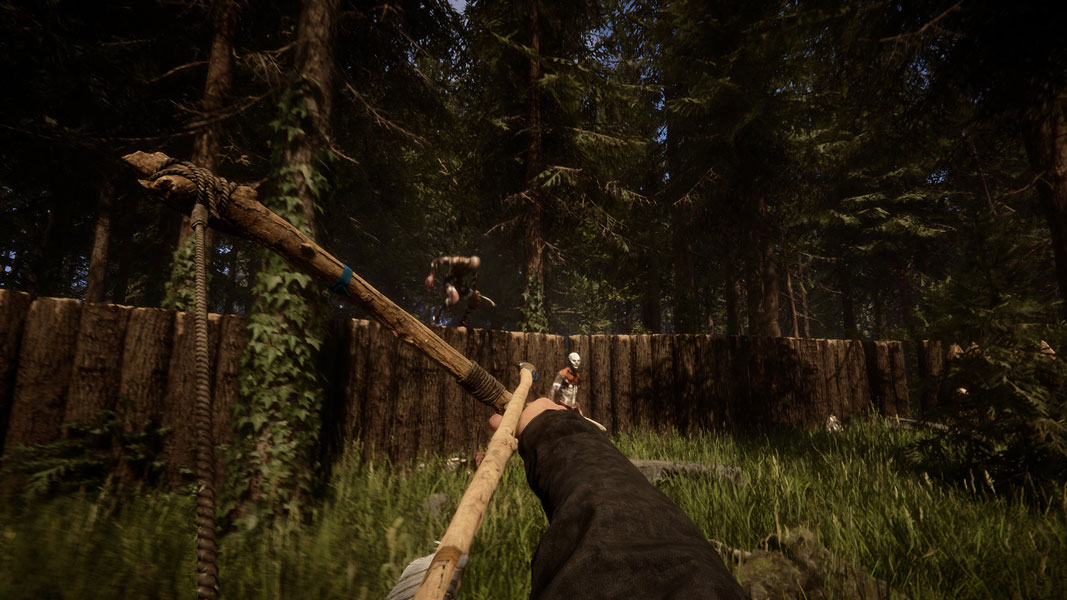 You do not want to fight them all at once, to be honest.
13. Long Gone - December 2023 (PC)
Long Gone is not your typical zombie game, as it emphasizes puzzle solving over action. It's also a 2.5D pixel-art game that looks fantastic.
You take on the role of one of the world's last survivors. It has been decades since the outbreak began, and there are still plenty of secrets and loot to be discovered. Each has its own story to tell, and you may discover one that was inhumane and unbelievable prior to the outbreak.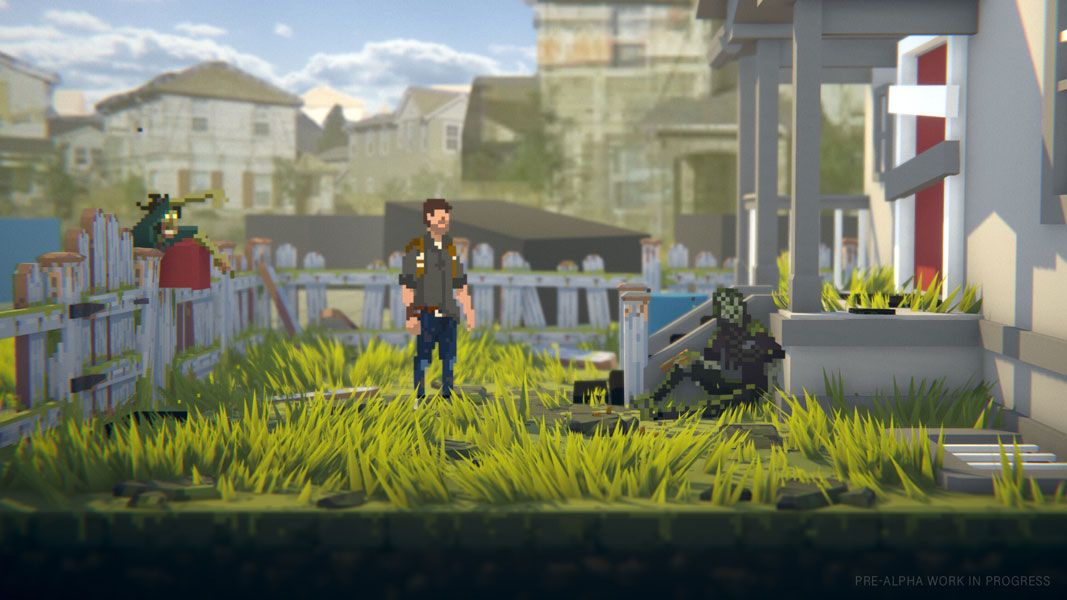 Pixel-art zombie games look awesome
12. Yet Another Zombie Survivors - Q2 2023 (PC)
Yet Another Zombie Survivors has a straightforward concept: survive until you die in a run. It's a roguelite-style bullet-run action RPG.
You can play as a solo soldier, or a group of mercenaries to kill more zombies at once, and as you continue playing, you will be able to upgrade your squad's upgrades and gain their ultimate upgrades. It is definitely worth playing for those who enjoy hours of mindless entertainment.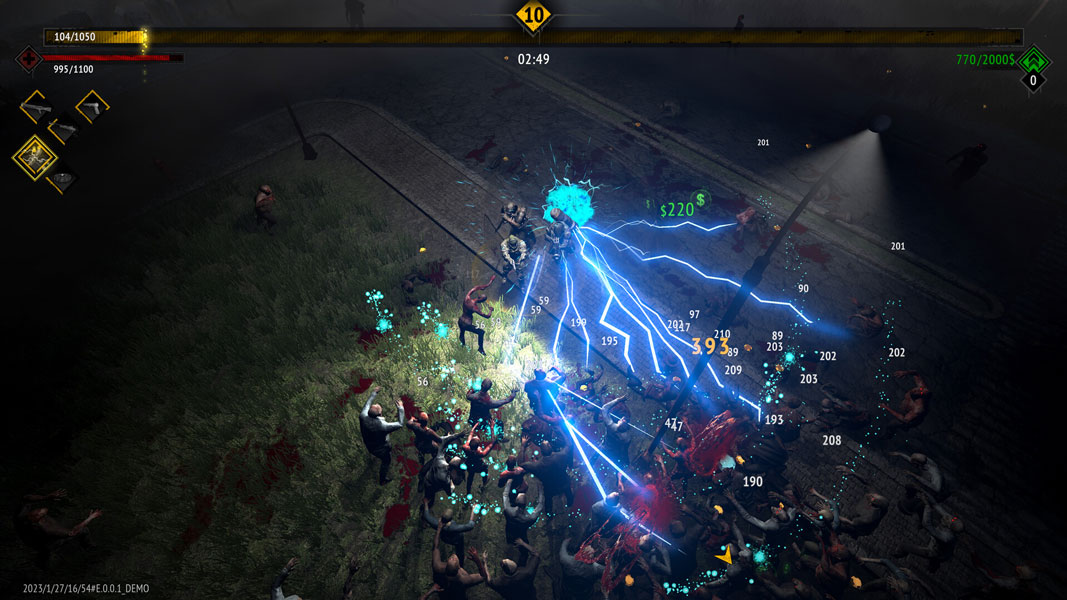 Bullet hell zombie game will be visually pleasing to watch and play
11. Wanderlost - TBA (PC)
Wanderlost is yet another upcoming zombie survival game with a cute pixel-art design and roguelite elements.
To begin with, players are encouraged to focus on base building in order to survive in the wilderness. It also encourages you to explore the procedurally generated world, which contains a variety of challenges. Farming, fishing, and hunting are also important aspects of survival in the game.
It also has RPG elements, which means that as you play the game, you will level up and be able to use points to improve your stats and perform your tasks better.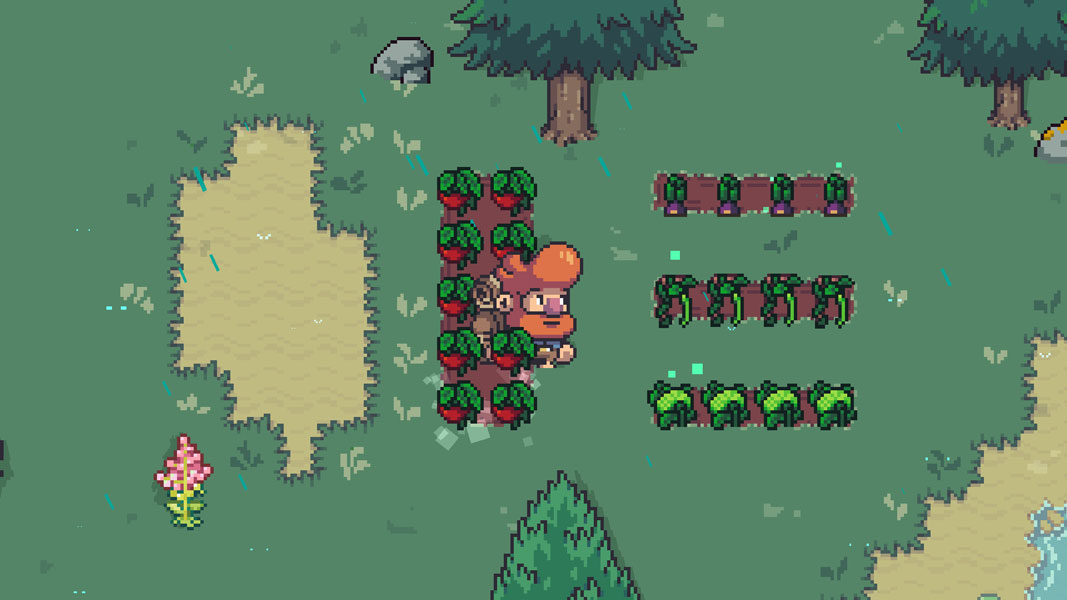 Gather, farm, explore, loot, and fend off zombies!
10. Blight Survival - TBA (PC)
If you think that Kingdom: The Blood looks good, then it's likely that Blight Survival will blow your mind! It's a roguelite-style action game for four players.
You can pillage and loot items, choose your ideal armor and weapon, and fight both human and monster enemies. It's always nice to have a medieval setting mixed with otherworldly or fiction elements like zombies because they blend well together, especially with the emphasis on co-op gameplay.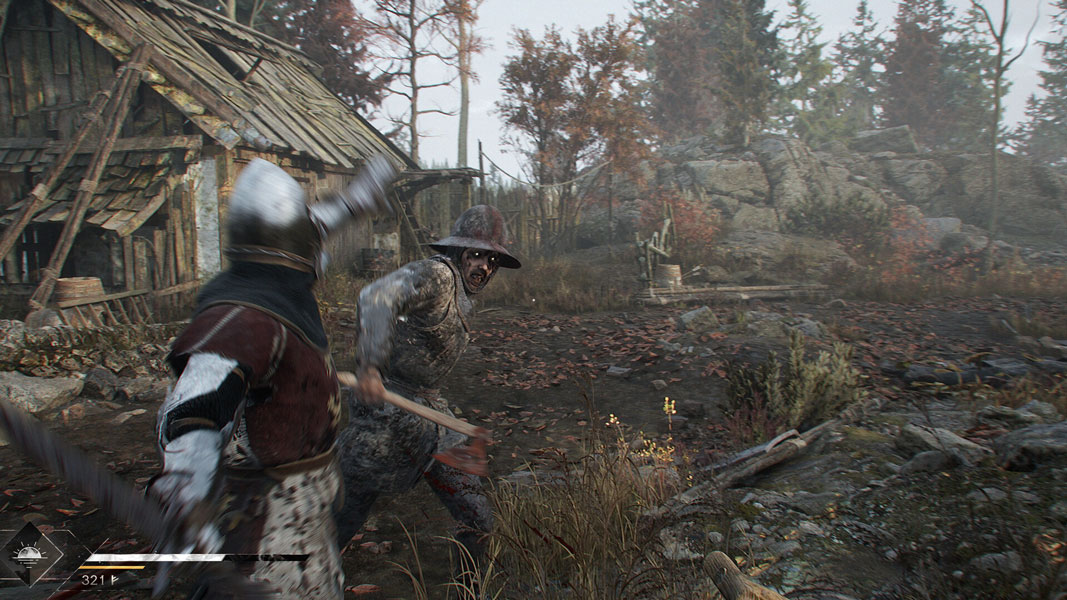 Imagine fighting a fully armored zombie!
9. Ill - TBA (PC)
Ill is an upcoming video game that is being developed by independent game developers Team Clout and is being primarily funded by the developers' supporters on the crowdfunding platform Patreon.
According to their gameplay trailer, you will be fighting zombie-like monsters. The game is being created using the Unreal Engine 5, which makes everything look fantastic. When the monsters appear in front of you, you feel both realism and uneasiness.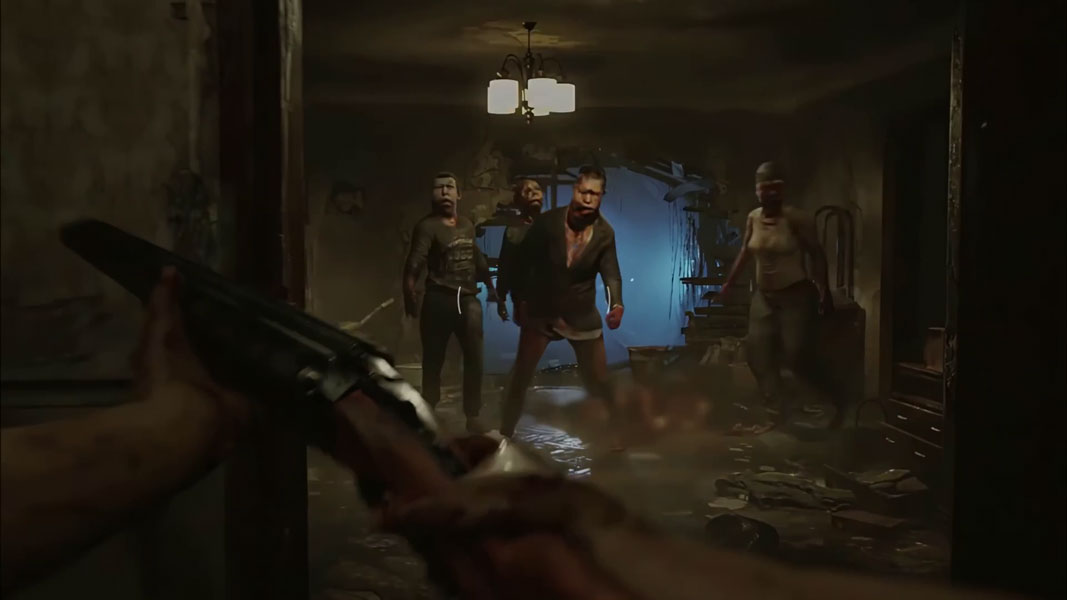 Creepy monsters chasing you in small corridors will always be scary
8. Dead Island 2 - April 28, 2023 (PC, PlayStation 5, PlayStation 4, Xbox One, Xbox Series X|S)
Since its initial announcement in 2014, Dead Island 2 has been mired in development hell for years. However, it is finally coming out in the next few months of 2023, and everyone is very excited about it.
The game takes place in Los Angeles, and in keeping with the Dead Island theme, combat will be one of its strongest points. You will be able to choose from six characters, which is similar to how the first game works, and it also has a reworked skill system so you can experiment with different builds. Of course, co-op will be a key feature, allowing you and your friends to experience the game's story together.
Welcome to Dead Island 2!
7. No Room in Hell 2 - TBA (PC)
No Room in Hell 2 is a follow-up to a 2011 source mod that is a fun game to play with friends. You will do the same in this sequel, but with a better and more modernized engine.
You can play up to 8 player co-op against hordes of zombies that are tough and resilient to any damage you throw at them, and the game has a roguelite element where every run is randomized and dynamic, making each playthrough unique. Of course, it's still a survival game where ammo and weapons are scarce and you have to craft items to survive.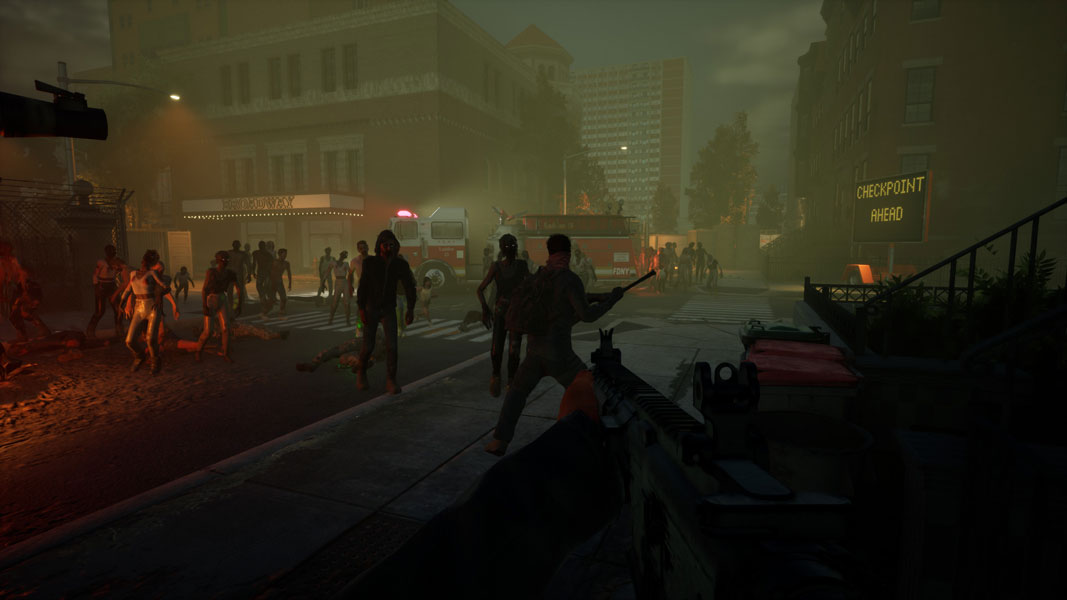 Imagine getting overwhelmed by hordes of zombies. Terrifying.
6. The Day Before - November 10, 2023 (PC)
The Day Before has been one of the most anticipated zombie games for quite some time, owing to the fact that it is a massive MMO.
It is an ambitious game that was announced back in 2021 with the focus on a highly detailed world full of zombies, and because it is an MMO, there will be PvP as well. Unfortunately, a lot of things are happening right now in its development, which has already caused several delays, but it looks promising, and we hope to have it by the end of the year.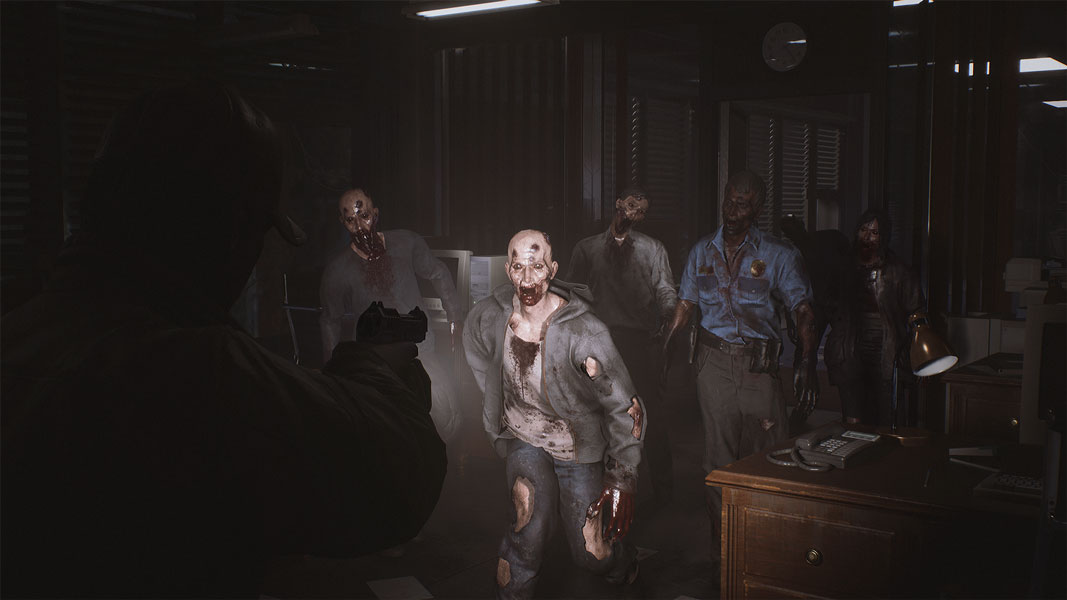 An open-world MMO zombie game, what is not to love?
5. Showa American Story - TBA (PC)
Showa American Story is a unique concept in that it is set in a fictional world in which Japan actually took over most of the United States, and then a zombie outbreak occurred sometime before the game began, but that is not even the most bizarre part.
The most bizarre aspect is that you play a girl who was mysteriously revived and now needs to know what happened in the world. The combat in Showa American Story is fast-paced, with the emphasis on dodging and combos. Mini-games will also be abundant, which will aid in the gathering of resources in the game.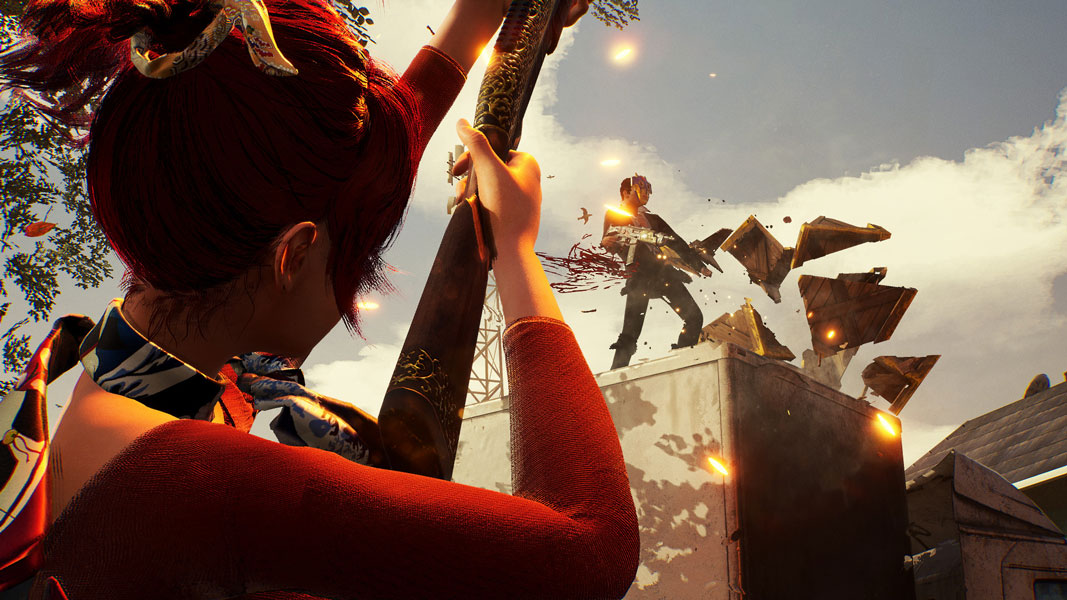 Imagine playing a game that has 80s and B-movie vibes? This would be epic!
4. S.T.A.L.K.E.R. 2: Heart of Chernobyl - December 2023 (PC, Xbox Series X|S)
S.T.A.L.K.E.R. 2: Heart of Chornobyl is a survival zombie game that focuses on post-apocalyptic tension as you struggle to meet basic needs like eating, sleeping, and avoiding the harmful effects of radiation.
Because there is no set path through the plot, each playthrough is unique, and the game features cutting-edge artificial intelligence (AI) that will put players of all skill levels to the test. They also claim that post-launch features, such as a multiplayer mode, will allow players to explore the game's environment before joining forces with others.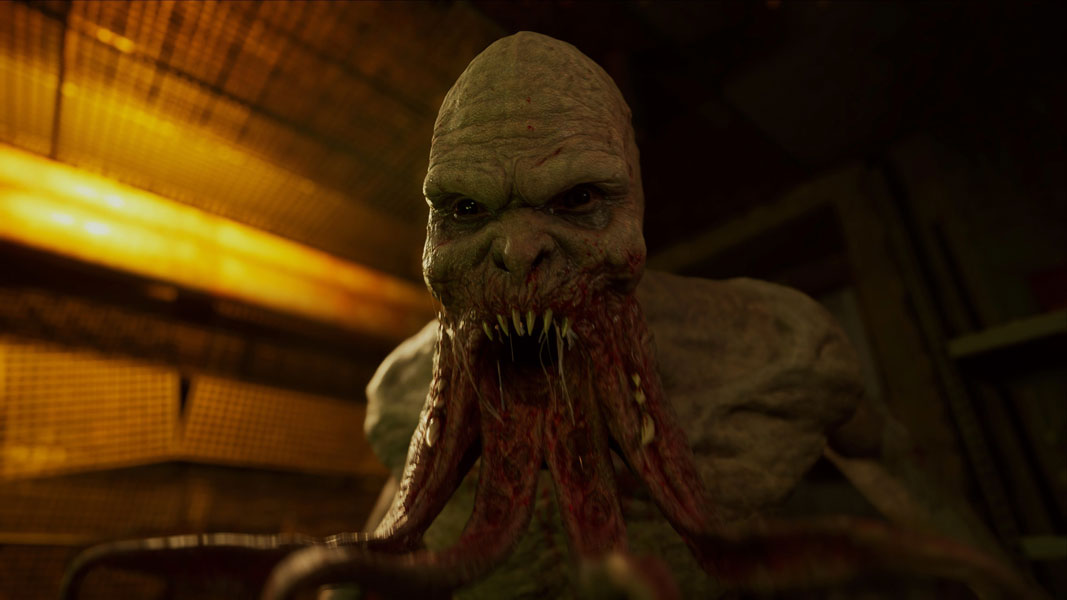 Terrifying monsters lurk everywhere!
3. State of Decay 3 - TBD (PC, Xbox Series X|S)
Following the acquisition of the developer by Microsoft in 2018, State of Decay 3 is expected to be the most ambitious installment in the series.
Apart from the announcement teaser, not much has been seen thus far, but if the third game is anything like the second, which was already fantastic and had a solid foundation while still receiving updates, then I have high hopes for this game.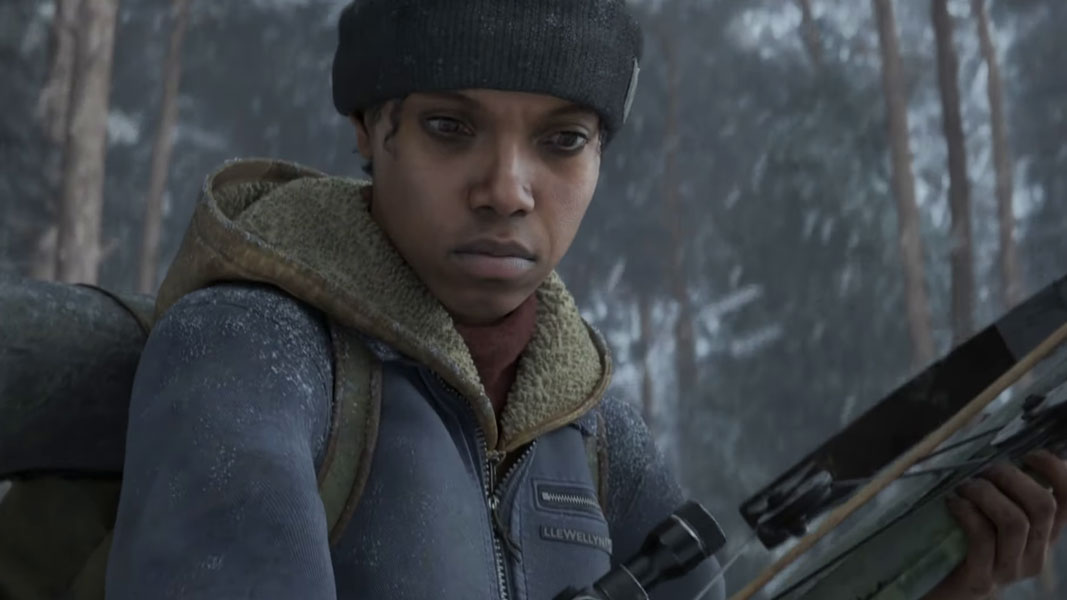 Animals can be zombies too.
2. Silent Hill 2 Remake - TBA (PC, Xbox Series X|S, PlayStation 5)
Silent Hill 2 is one of the best games of all time, and for anyone who has played the original, having Konami finally remake it is a dream come true.
For starters, remakes of classic games have received positive feedback from players, so now is an excellent time for Konami to remake one of the best games of all time. All I can say is that many of us are eagerly awaiting more information about this game.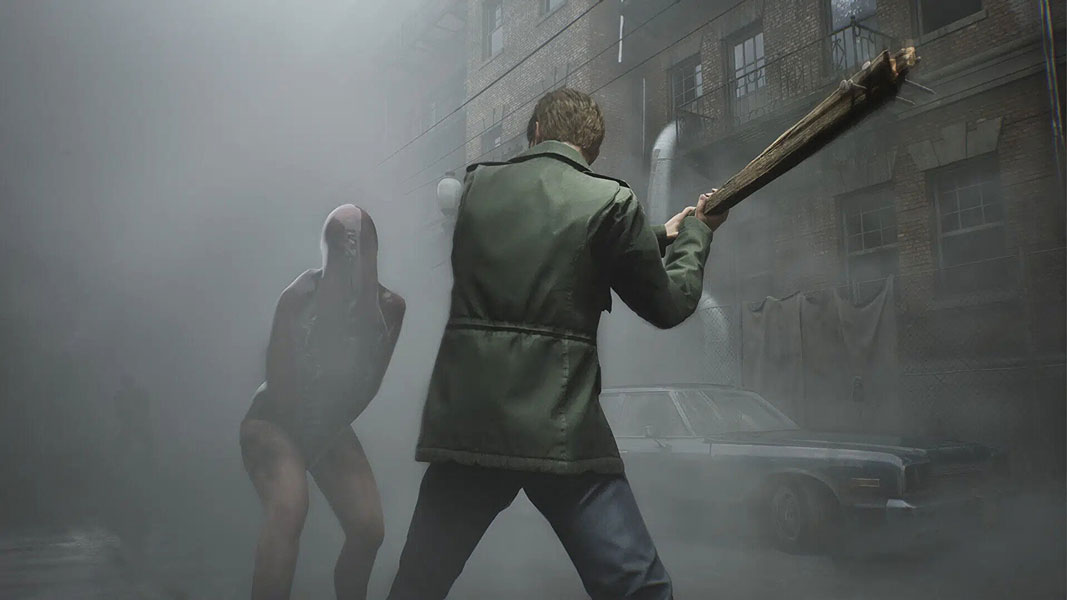 Those are not zombies, but monsters of your imagination
1. Resident Evil 4 - March 24, 2023 (PC, Xbox Series X|S, PlayStation 5)
Resident Evil 4 is one of the best games of all time for the best upcoming zombie game. In this reimagining of a great classic, you can play as Leon Kennedy once more and save the president's daughter.
The story will be drastically altered because this is a remake, much like the Resident Evil 2 and Resident Evil 3 remakes. However, it appears that they are going for a more horror vibe and look than the original, which felt more action-oriented throughout the entire campaign.
Resident Evil 4 remake is scarier than the original.
You may also be interested in: