[Top 3] Pokemon TCG Best Dark Decks
Updated: 30 Sep 2021 3:39 am
They're cool and they know it.
Hello all you fans of the Pokemon Trading Card Game and casual readers. Today we'll be looking at the three of the best dark type decks in the Pokemon Trading Card Game. All of these decks from various different times effectively utilize those black energy and their edgy Pokemon counterparts. With that said, let's get into the list.  
3. Darkrai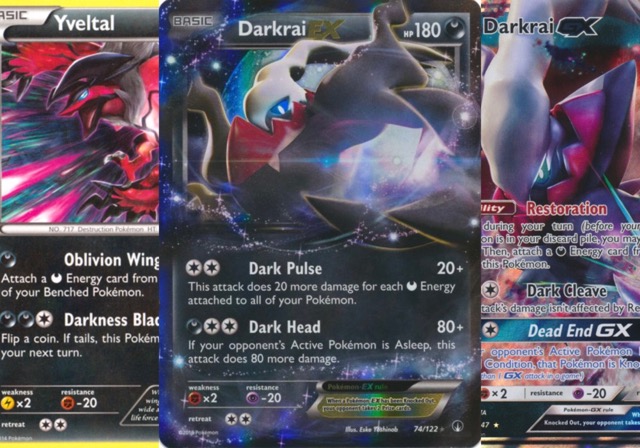 Yveltal from X&Y Base Set, Darkrai EX from BREAKpoint, & Darkrai GX from Burning Shadows. 
The Darkrai deck uses fast paced energy acceleration to power up this nightmare Pokemon and deliver some big hits. This deck saw the most play from 2016 until 2017.
The main card of this deck is, of course, Darkrai EX. This 180 HP Basic could use the Dark Pulse attack for two energy. This attack deals 20 damage plus 20 more for each dark energy attached to all of your Pokemon.
In its most powerful Expanded deck list, Darkrai EX fights along Darkrai GX which helps to place more energy onto the board with its restoration ability. It has also been played with Yveltal. 
Trainer cards like Dark Patch and Max Elixir help to speed up the energy needed for Darkrai EX's attacks. In addition, Battle Compressor can set up Darkrai GX.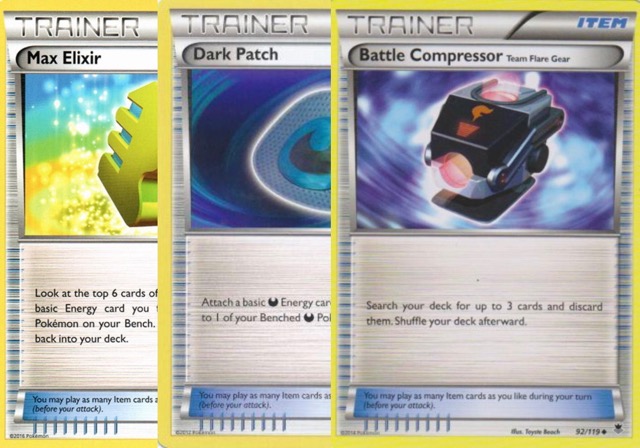 Max Elixir from BREAKpoint, Dark Patch from Dark Explorers, and Battle Compressor from Phantom Forces.
Here's one version of the deck list:
Pokemon - 12
3 Darkrai-EX BKP 74
1 Darkrai-EX LTR 88
3 Darkrai-GX BUS 88
2 Shaymin-EX ROS 77
1 Hoopa-EX AOR 36
1 Yveltal STS 65
1 Sudowoodo GRI 66
Trainer - 36
3 Professor Sycamore BKP 107
2 Guzma BUS 115
2 Colress PLS 118
1 N FCO 105
1 Hex Maniac AOR 75
4 VS Seeker PHF 109
4 Ultra Ball SLG 68
4 Dark Patch DEX 93
4 Max Elixir BKP 102
3 Battle Compressor PHF 92
2 Hypnotoxic Laser PLS 123
1 Field Blower GRI 125
1 Dowsing Machine PLS 128
2 Fighting Fury Belt BKP 99
2 Sky Field ROS 89
Energy - 12
2. Spiritomb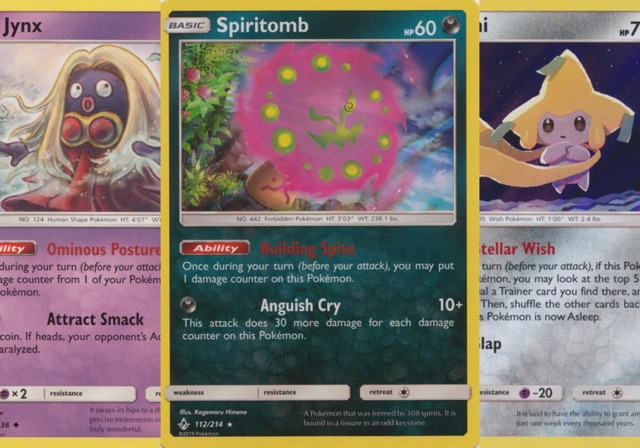 Jynx from Unified Minds, Spiritomb from Unbroken Bonds, and Jirachi from Team Up
The Spiritomb deck employs the self damaging ability of Spiritomb with some handy Trainer cards to pull off surprisingly high damage. This deck was popular from 2019 to 2021.
Spiritomb is the main card in this deck. Spiritomb has 60 HP and the Anguish Cry attack which deals 10 damage plus 30 more for each damage counter on Spiritomb. This attack only costs one energy. You can put damage counters on spiritomb in many ways, but most obviously its Building Spite ability which deals 10 damage to itself. 
There are plenty of cards that help increase Spiritomb's damage and damage output. Starting with the Trainers we've got Spikemuth (for applying damage), Cape of Toughness (for extra HP), Hustle Belt (boosting the damage of damaged Pokemon), Black Market Prism Star (decrease prize cards), and Shrine of Punishment (more damage).
In terms of other Pokemon, Spiritomb has most often welcomed the help of Jirachi and Jynx. Other cards like Arceus & Dialga & Palkia GX have also shared some time along with Stunfisk and Oricorio GX.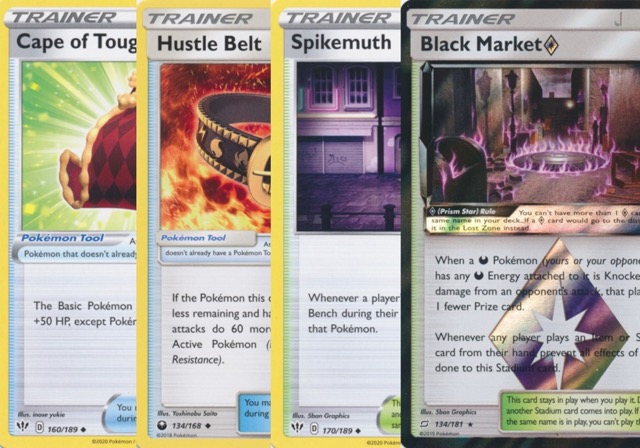 Cape of Toughness from Darkness Ablaze, Hustle Belt from Celestial Storm, Spikemuth from Darkness Ablaze, and Black Market Prism Star from Team Up. 
Here's one version of the deck list:
Pokemon - 14
4 Spiritomb UNB 112
3 Jirachi TEU 99
1 Jynx UNM 76
1 Hoopa UNM 140
1 Mewtwo UNB 75
1 Mew UNB 76
1 Marshadow UNB 81
1 Oricorio-GX CEC 95
1 Dedenne-GX UNB 57
Trainer - 39
4 Professor's Research SHF 60
3 Bird Keeper DAA 159
2 Boss's Orders SHF 58
4 Quick Ball SSH 179
4 Level Ball BST 129
4 Switch SSH 183
4 Escape Rope BST 125
4 Scoop Up Net RCL 165
2 Ordinary Rod SSH 171
4 Cape of Toughness DAA 160
4 Spikemuth DAA 170
Energy - 7
4 Hiding Darkness Energy DAA 175
3 Darkness Energy 
1. Eternatus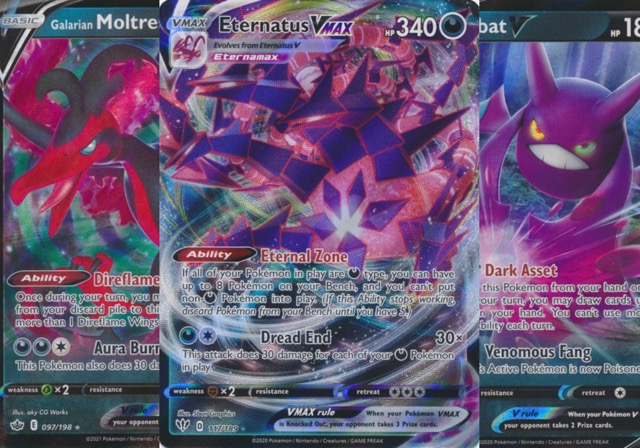 Galarian Moltres V from Chilling Reign, Eternatus VMAX from Darkness Ablaze, and Crobat V from Darkness Ablaze.
The big, bad dark Pokemon is Eternatus VMAX, the main card of this deck. Eternatus VMAX uses a powerful attack that is fueled by an overfull bench to tower above its opponents with a lot of HP. 
Eternatus VMAX has 340 HP and the Eternal Zone ability. This ability allows you to have eight Pokemon on your bench as long as they are all dark type Pokemon. This fuels the Dread End ability which, for two energy, deals 30 damage for each Pokemon you have in play. 
Since this deck needs a full bench, there are going to be some good supporting cards for the Bench. Eternatus notably played with Crobat V, Galarian Zigzagoon, two forms of Hoopa, and the most recent Galarian Moltres V. 
This deck plays fairly standard but still powerful Trainers such as Marnie, Professor's Research, Boss's Orders, and Quick Ball.  
Here's one version of the deck list:
Pokemon - 18
4 Eternatus V DAA 116
4 Eternatus VMAX DAA 117
4 Crobat V DAA 104
4 Galarian Zigzagoon SSH 117
1 Hoopa DAA 111
1 Hoopa UNM 140
Trainer - 32
4 Marnie SSH 169
4 Boss's Orders RCL 154
3 Professor's Research SSH 178
4 Quick Ball SSH 179
4 Great Ball SSH 164
3 Scoop Up Net RCL 165
3 Turbo Patch DAA 172
2 Pokémon Communication TEU 152
2 Air Balloon SSH 156
2 Viridian Forest TEU 156
1 Black Market Prism Star TEU 134
Energy - 10
8 Darkness Energy 
2 Capture Energy RCL 171
Thanks for reading. If you enjoyed this article you may also be interested in:
Image Gallery