iRacing Best Car for Every Series
Updated: 13 Oct 2019 7:30 am
Race like Carl here. And smell like him too. (Ok, maybe not)
So you just bought iRacing and you're not sure what the best cars are
It can be rather overwhelming, there are lots of series and races you could compete in.
Sometimes you'll win, sometimes you'll end up flying over the catch fence, spinning like a top into your doom.
Many actual racing drivers use the game to train for real racing. Maybe you have a few favorite kinds of race cars, or maybe you don't know much at all.
This article intends to show you which cars will provide you the most fun of all and will teach you how to drive.
Best Open Wheel Car:Dallara IR18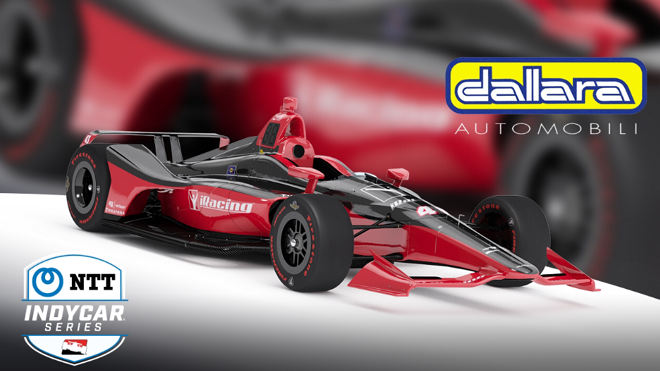 The IndyCar in its glory and terror.
The Dallara IR18 is a car from the real world that competes in the NTT Data IndyCar Series in the US. It entered the game in 2018 and has become rather popular thanks to its rugged nature, with no electronic aids and lots of power. This makes the car somewhat hard to drive, but not impossible. It also causes the most violent accidents because of the high speeds, which is one downside I suppose, unless you're a masochist or something.
Why the IR18 is awesome:
1. No electronic aids like traction control, ABS or power steering, making it hard to drive.
2. It creates great racing because of its limited aerodynamic capabilities.
3. The cars are simple and the same for everyone, allowing the best drivers to win.
4. A sleek, elegant design making the car one of the most beautiful race cars in years.
2nd Best Open Wheel Car: Pro Mazda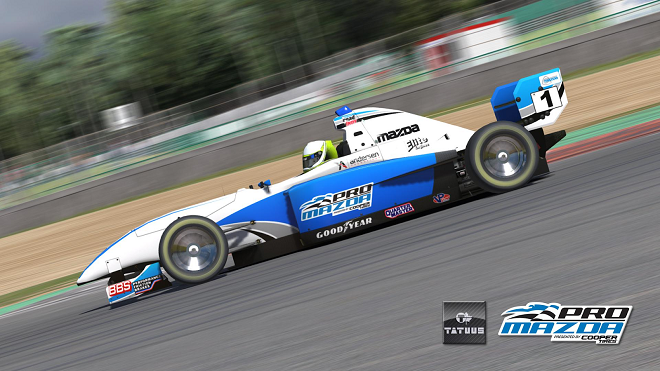 He looks focused. I hope.
This small and not as powerful open-wheel car is a great place to further your career. The car isn't that hard to drive and seems much faster than it really is. Not "I can't see anything anymore please help" fast like a modern F1 car, but still really fast. It will teach you a lot along the way to glory in the highest ranks of open-wheel racing.
Why the Pro Mazda is awesome:
1. Fast, but not blindingly so
2. Simple in design
3. Expands on the basic elements of open-wheel driving
Best Sports Car: Mercedes AMG GT3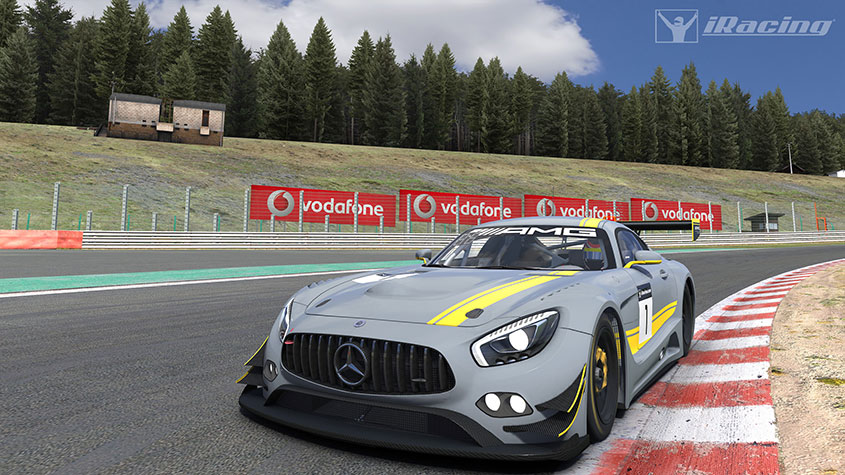 It's huge!
This big, heavy machine shouldn't be the best GT3 car, but it is. It's had the most success and is also probably the most fun to drive. It slides quite a bit, is tough to navigate due to the sheer size of it, and also looks the best in my point of view.
Why the Mercedes AMG GT3 is awesome:
1. Slides around a lot and somewhat challenging
2. The most successful GT3 car
3. Beautiful in design, reminiscent of the Jaguar E-Type
2nd Best Sports Car: Global Mazda MX5 Cup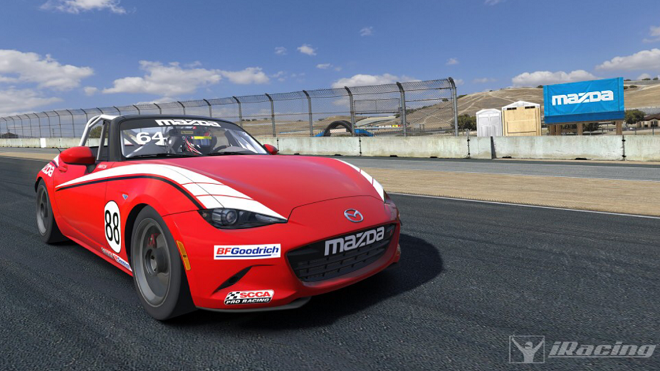 A powerful punch in a small package.
The Mazda MX5 is one of the most iconic sports cars of all time, and for good reason. It's inexpensive, quick and fun to drive. This is no different for iRacing. It's usually the first car an iRacer will drive, and the primary car raced in the rookie class for road courses.
Why the MX5 is awesome:
1. With little downforce and low power, it's great for teaching someone how to drive. It's not easy to drive but not impossible, it's the perfect car to start with.
2. Even aside from that, it's still extremely fun to drive. It doesn't matter if you're A class or a rookie, many love this car.
3. The car can be raced at virtually any road course, unlike most open-wheel cars. From Le Mans to Summit Point, it can make every corner count.
Best Dirt Oval Car: Dirt Midget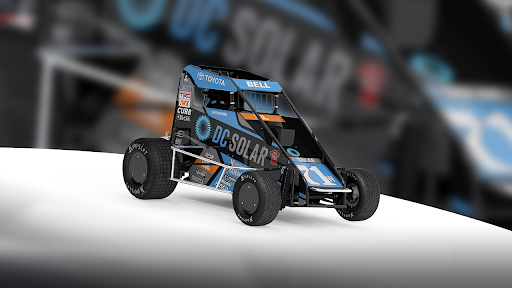 An even more powerful punch in an even tinier package.
This small, low power dirt oval racer is my personal favorite car on the game. Racing on small NASCAR-like dirt tracks, the car is born to drift and slide. It's challenging for even the best drivers, simple in nature, and a beautiful car to watch. And because of its focus on mechanical grip rather than aerodynamic grip, the only way to drive it is to keep your foot down as much as possible. This car is just absolutely awesome.
Why the dirt midget is awesome:
1. A simple design that any driver can understand and learn.
2. Tons of fun to drive in a small package, with lots of drifting and sliding.
3. Dirt cars require immense skill to control, separating the drivers by talent rather than equipment.
2nd Best Dirt Oval Car: 410 Sprint Car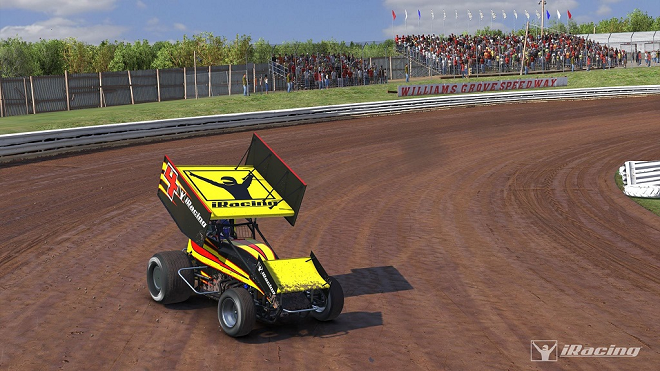 Could we get some Eurobeat going here?
The fastest dirt car in the game. With 900 HP and tons of torque, it can run flat out around a lot of tracks at more than 130 MPH, which for a half-mile track is insane. It's also very challenging, and will probably infuriate you the most as you get wrecked by someone who can't hold the line again.
Why the 410 Sprint Car is awesome:
1. Extremely fast and powerful
2. Arguably the purest form of racing there is
3. Challenging to any driver
Best StockCar: Super Late Model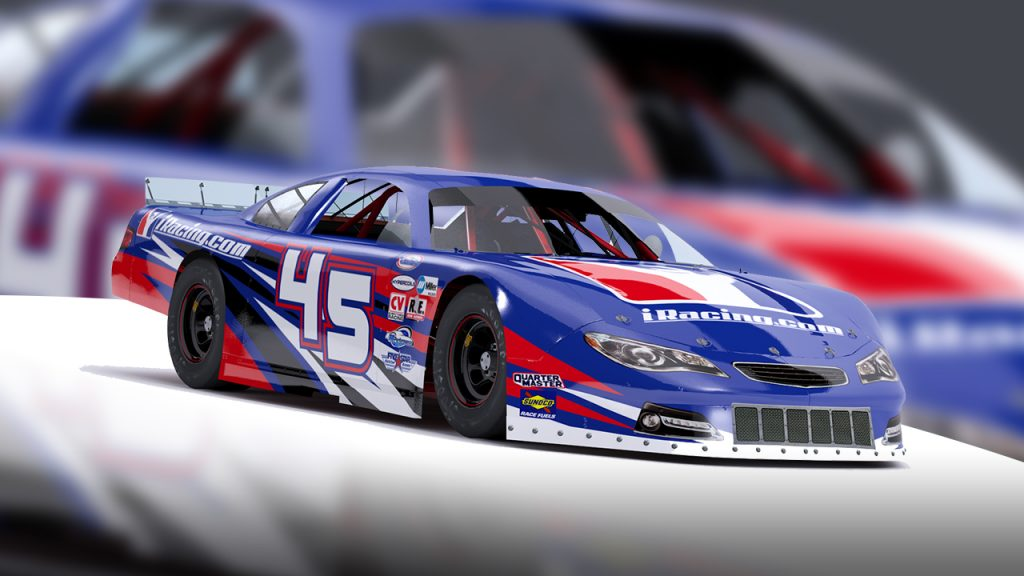 Insert turn left joke here.
Made as a stepping stone to NASCAR racing, this stock car designed for American short tracks is my second favorite of the oval cars. The car is sleek, fast and not that hard to drive, making it perfect for anyone trying to get to NASCAR. It's also extremely durable, unlike the midget which will be sent flying at the slightest bit of contact. You can beat and bang this car around the track all you want, just the heroes of stock car racing's history.
Why the Super Late Model is awesome:
1. As fast as any car on the short tracks while easier to drive, teaching young drivers how to drive on any oval in the world.
2. Sleek and elegant styling that makes it great to look at.
3. Promotes tough and rumble racing that you would see in the old days of NASCAR racing.
4. Easy to set up, helping you learn the basics of mechanical work in NASCAR, unlike the much more complicated stock cars in higher leagues.
2nd Best Stock Car: NASCAR Xfinity Car
Insert yet another old turn left joke.
So why have I chosen the 2nd tier NASCAR stock car instead of the top-level, the NASCAR Cup car? Because unlike the Cup car, this one actually requires skill to drive. It doesn't have a lot of downforce and is sometimes even faster than the Cup car because of NASCAR's ridiculous new aero package that cuts down horsepower and ups the downforce. A shame that NASCAR is run by people who apparently hate racing.
Why the NASCAR Xfinity Car is awesome:
1. Difficult to drive and more fun than the Cup car
2. Sleek and elegant design
3. Will teach you more than the Cup car can about driving on ovals
You may also be interested in:
Image Gallery