[Top 10] Best Zombie Games for Android (Ranked Fun To Most Fun)
Updated: 16 Mar 2023 8:30 pm
Plenty of zombie games at the tip of your fingers
Discover the best zombie games for Android devices
Zombie games have always been entertaining and have been around for quite some time. You can now play zombie games on your Android device, and there are many good games to keep you entertained.
If you enjoy zombie games, then this list of the best zombie games for Android is for you.
10. Dead Ahead: Zombie Warfare - 2017
Dead Ahead: Zombie Warfare is a strategy game in which you build your own team of survivors and fight off the zombie invasion horde by horde.
As you progress through the game, you will be able to collect items, gain experience, upgrade your survivors and bus, and unlock new survivors to take on increasingly difficult challenges.
Choose Dead Ahead: Zombie Aware if you like
Creating your team and leveling them up
Play across multiple maps with engaging and difficult challenges
Think of a strategy to defeat hordes of zombie to complete missions
Game Features:
Strategic zombie game, build your ultimate team and fight off hordes of zombies
Huge world with multiple maps to keep engaged
Upgrades and unlock survivors
Fun Score: 79/100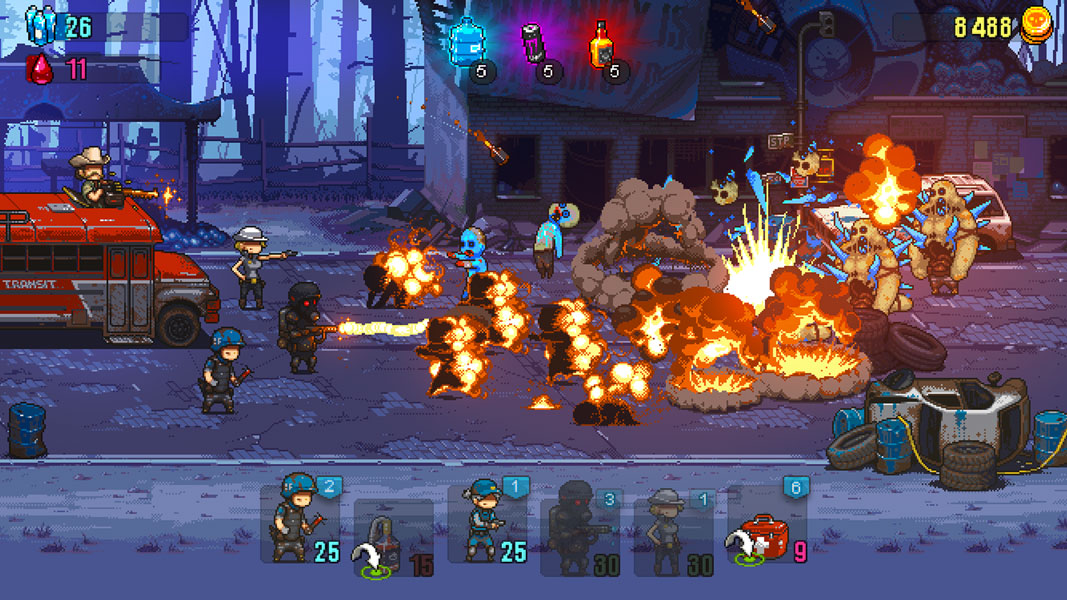 Hordes of zombie against your own squad
9. Infectonator 3: Apocalypse - 2021
Dominate the world in Infectonator 3: Apocalypse by unleashing zombies and invading every city until everyone becomes a zombie. Unlock new zombies and mutations to strengthen your zombie army.
There are over 200 challenges, and you can even add modifiers to make things more difficult or easier, as well as enjoy a cutesy pixel art design for the game's world, zombies, and characters.
Choose Infectonator 3: Apocalypse if you like
play as the zombies and turn everyone into zombies
unlocking different zombies and new mutations
building your zombie army and destroy all the cities
Game Features:
Unlock over 35 zombies and wreak havoc in the world.
Classic pixel art design for the world and characters
Complete over 200 challenges available in the game, not including the randomized events and added difficulty on various maps.
Fun Score: 81/100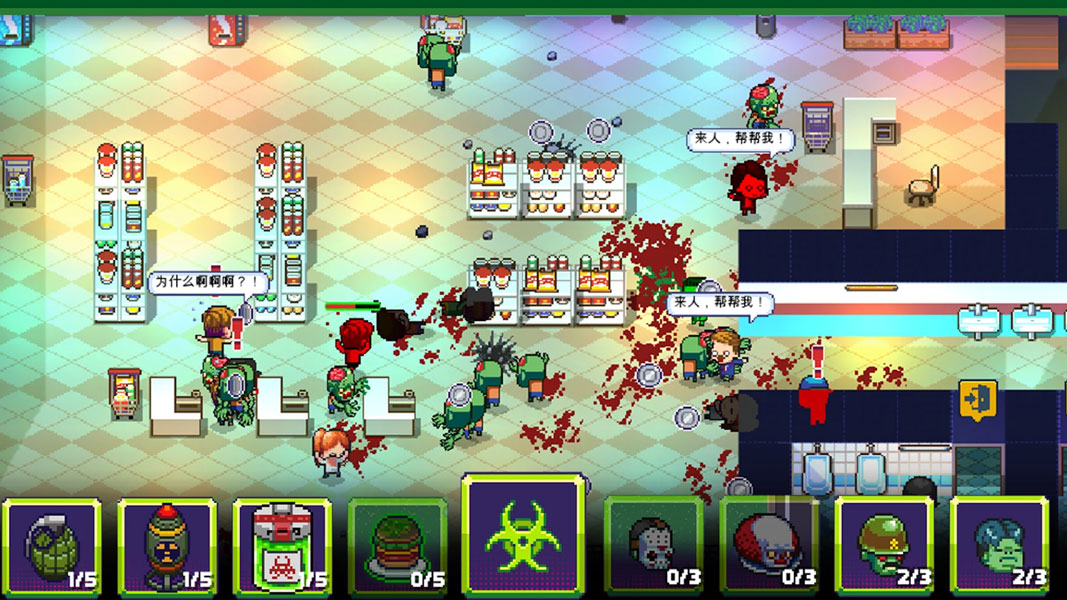 Infect everyone in the world and turn them into zombies
8. State of Survival: Zombie War - 2019
State of Survival: Zombie War is a strategy game in which players are given a safe haven in which to establish a community for their survivors in a zombie-infested world. You can expand it by killing the zombie-infested section, upgrading your buildings, and eventually fighting other players for resources.
It's a nice time-killing game where time is of the essence, so you can just play it on a regular basis and have fun in short bursts.
Choose State of Survival: Zombie War if you like
grinding in strategy games, getting resources, upgrading the shelter and heroes
a tower defense type of campaign where you can plant turrets to help the survivors
an online game with PvP elements where players can attack your shelter and you can do the same.
Game Features:
Build and expand a safe shelter, rescue survivors, and fight off infected zombies.
Make allies as and build guilds to protect yourself from other players
Level up your survivors and farm resources for your shelter
Fun Score: 83/100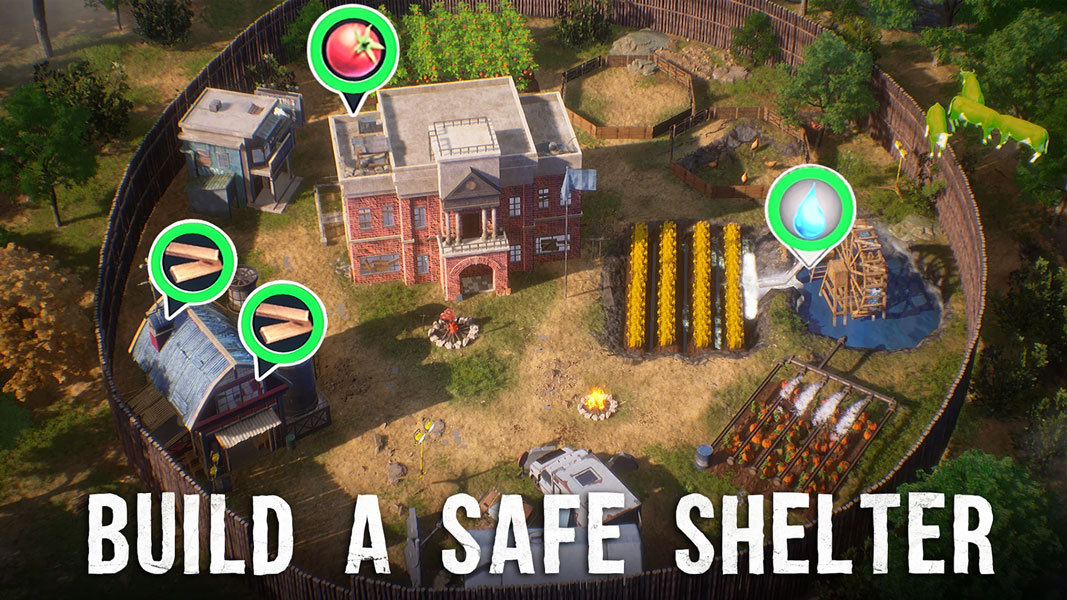 Build your base and defend it!
7. The Walking Dead Survivors - 2021
In terms of gameplay, The Walking Dead Survivors is similar to State of Survival, but with its own twist. It's a fun game in which you recruit survivors to defend your settlement from invading zombie hordes.
If you have a group of friends or have found a clan that you like, you can expand your settlement and take on other clans if you can, so you are dealing with more than just zombies.
Choose The Walking Dead Survivors if you like
Strategy gameplay to gather resources, attacking zombies, and building up your bases.
Play a social game where you can join or create your own clans to be a bigger community.
Defend your base by placing obstacles and survivors to defend from constant invading zombies
Game Features:
It is an officially licensed The Walking Dead game, which means you will be able to unlock Michonne, Rick, and other iconic characters in the series.
Defend your base against zombie attack in a Tower Defense gameplay
Explore the world, attack other settlements or build up clans
Fun Score: 84/100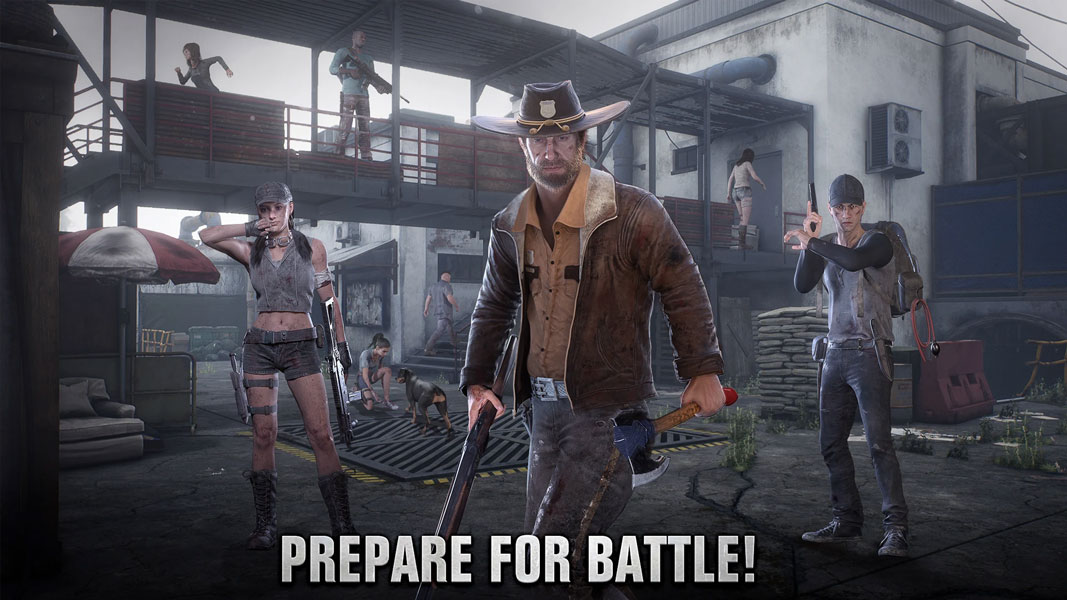 Play with iconic characters in The Walking Dead series
6. Dead Trigger 2 - 2013
Even though it was released in 2013, Dead Trigger was one of the best-looking zombie games available. It is an FPS game with a high level of detail. It is still one of the most popular games to this day, and it is a lot of fun to use different weapons and fight off zombies.
The game has a decent story, but there are so many maps and challenges to complete that it will take you months to finish it.
Choose Dead Trigger 2 if you like
if you are looking for a FPS zombie game
Use plethora of weapons ranging from powerful melee weapons and guns to destroy zombie hordes
enjoy an intense campaign where you fight hordes of enemies and even mutated zombie bosses along the way
Game Features:
Explore 10 regions and battle your way for each locations
Intensive storytelling campaign
FPS zombie game with plenty of arsenal to help you save the world and kill many zombies
Fun Score: 85/100
Fight zombies as well as huge monsters as bosses
5. Unkilled - 2015
Unkilled is another fantastic and entertaining zombie game from the same developer as Dead Trigger 2. The storyline is surprisingly good for an Android game with over 150 missions to date, and you can completely customize your guns and character.
Surprisingly, it has a PvP multiplayer mode and a co-op mode so you can play with friends, and with intuitive controls, it can provide you with hours of entertainment in general.
Choose Unkilled if you like
you are looking for a FPS zombie game with great graphics and easy-to-master controls
With over 150 missions, it will take you many months to complete, and you can play multiplayer for additional hours
a great time killer while you are on commute or waiting in line.
Game Features:
Play over 150 missions to complete the storyline
Design your hero and customize your guns.
Play with friends or play PvP, which are both extremely fun.
Fun Score: 86/100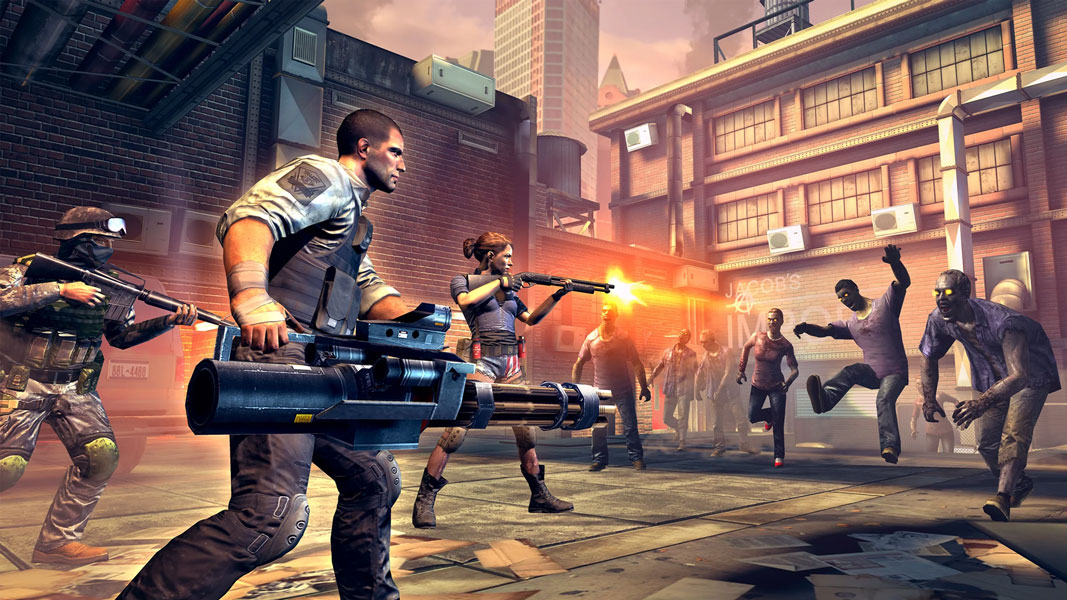 Use a variety of weapons to defeat hordes of zombies
4. Stupid Zombies 3 - 2015
Stupid Zombies 3 may not appear to be as detailed as other games on this list, but it does have a set of well-thought-out puzzle levels that will keep players thinking.
It is a fun arcade-casual game in which you must think of extremely creative ways to kill zombies, and it can be quite humorous with how the graphics for this game are animated.
Choose Stupid Zombies 3 if you like
cartoonish zombie game with puzzle elements for its gameplay
over 200 levels available that gets more challenging as you progress
surprisingly well-made maps that will definitely keep you thinking on how to complete the levels
Game Features:
arcade-puzzle zombie game that makes your analytical thinking work hard on getting as many zombies as you can.
With over 200 levels to complete the game
4 Wild weapons unlockable ranging from shotgun to homemade RPG
Fun Score: 88/100
Kill all the zombies with your ricochet shots.
3. Plants vs Zombies 2 - 2013
Plants vs. Zombies 2 is one of the best Android games, and it is also one of the best zombie games available. Why? Simple, it is based on the first game's foundation, which expands for a better game with longevity, as there are over 300 levels to complete.
To be honest, completing the game will take several months, and you can do an arena to show off your skills in this game with others. It's a great strategy game.
Choose Plants vs Zombies 2 if you like
If you are a fan of the Plants vs Zombies series
Playing strategy as you place plants that will protect your home, which can be challenging on some levels
you like to be competitive as there is an arena mode to showcase your skills with other players
Game Features:
Collect your favorite plants and utilize them to defend your lawn from mindless zombies wanting to eat your brains!
Level up your plants to ensure the cleanliness of your zombie-less lawn
Pit your team and strategy in arena where you can play with other players
With over 300 levels to complete with endless mode, fun mini-games, and more. The game feels endless fun.
Fun Score: 91/100
Keep planting, and defend your lawn!
2. The Walking Dead: The Game (Season 1/2/3) - 2014
The Walking Dead: The Game, also known as Telltale Games, is a series of episodes that are heavily influenced by your choices throughout the season. Android currently has three seasons, all of which are enjoyable to play.
The game is heavily story-driven, and it forces you to make difficult decisions that affect the plot and interactions between your companions. It is not a free game, so it is somewhat pricey, but it is definitely worth playing.
Choose  The Walking Dead: The Game if you like
You are a fan of The Walking Dead lore
You love to play games with choices that affect the story
5 Episodes for each season, which are all worth your time
Game Features:
Highly acclaimed video game with several game awards on its name
Be decisive and choose what you think is right as it may change the way the story around you.
Each episode takes around 2 hours to complete, filled with hard choices and amazing storyline.
Fun Score: 93/100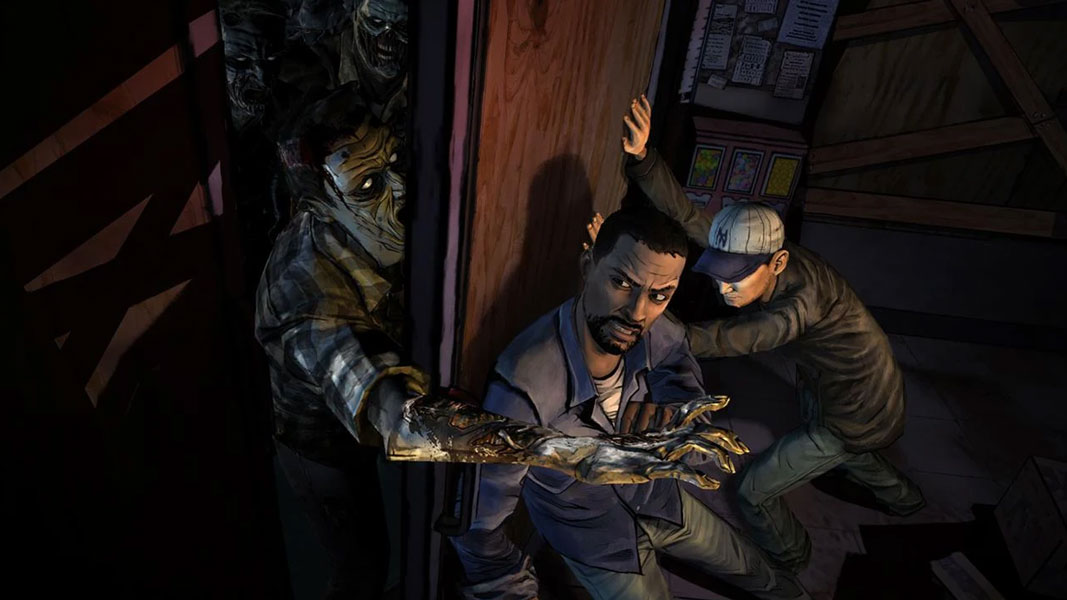 Terrifying zombie always lurks in the corner
1. Into the Dead 2 - 2017
Into the Dead 2 is one of the most enjoyable zombie games for Android right now. It's entertaining, with an incredible campaign that keeps you on your toes, but it also has side quests and even collaborations with other series that are a lot of fun to complete.
The game is still being actively updated, so more side campaigns/stories could be added in the future. There is also a variety of gameplay, such as unlocking a variety of weapons and even pets to aid you in your escape.
Choose Into the Dead 2 if you like
you like playing games with intriguing storylines that have multiple endings
a simplistic refined gameplay as it is a challenging endless runner game where you can pick up weapons to help stave off zombies
exploring high-detailed worlds that range from forests, suburban towns, and many more.
Game Features:
A unique story with multiple endings.
Unlock and upgrade your weapons and explosive
Highly detailed world and action-packed gameplay
Fun Score: 95/100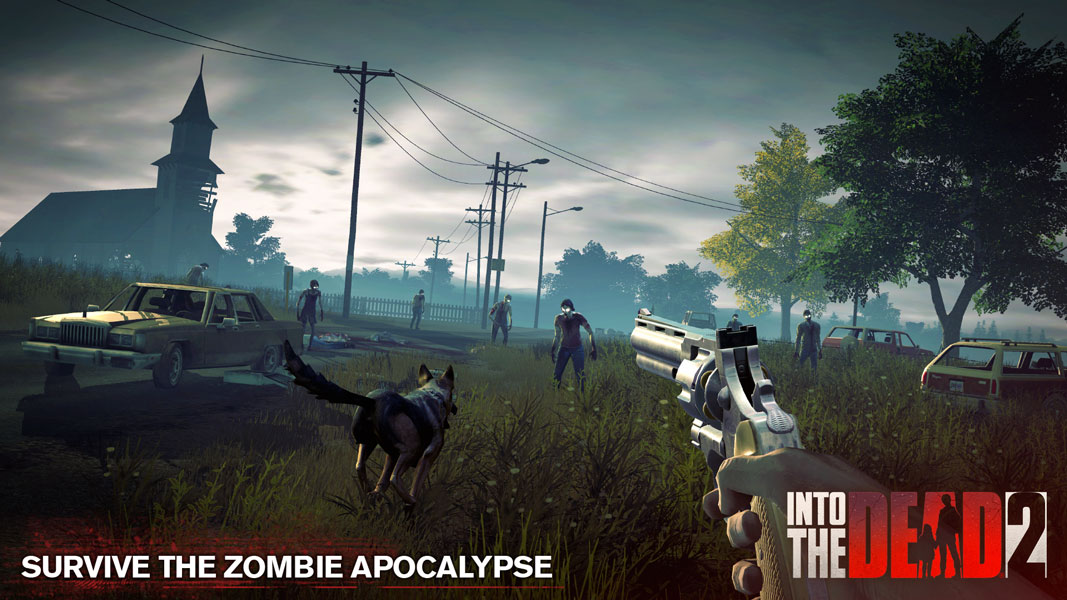 Get help from a K9 dog to help you run away from the zombies
You may also be interested in: