The 30 Best Vampire Movies That Aren't Boring
Updated: 08 Aug 2018 10:54 pm
All hail Queen Akasha, the Queen of the damned, even if the movie she is in is boring!
The 30 best vampire movies will make you rethink your evening run! 
While I was enjoying dinner at an awesome burger joint in town, my medium-cooked patty, and the way I was eating the content on my plate, made me feel like a beast. It was a disgusting, ravenous and messy sight, but it sure was tasty! I felt like the stranger in the movie 30 Days of Night asking for meat at the diner, which I definitely got and threw in my face.
Now, if you don't get the reference I just used, let me school you. 30 Days of Night is a modern-day vampire flick, a genre I'm a big fan of and you should be too, like right now! So, here are 30 vampire movies you have to see before nightfall to become a true damned-fanged-bloodsucking lover or hunter. What side to join is up to you, but choose quickly because you can end up completely drained or a vampire's slave.
30. Stake Land (2010)
Writers: Nicki Damici, Jim Mickle
Director: Jim Mickle
Starring: Connor Paolo, Nick Damici, Kelly McGillis, Danielle Harris
The first to start this list has to be Stake Land for its approach to the vampire hunter storyline, inspired by Western films and the zombie movement, a perfect way for fans to crossover. Stake Land is set in an apocalyptic world suffering from an infectious vampire virus. In this scenario, we follow a talented vampire hunter, with a group in tow and on a trek to New Eden, a place where vampires supposedly can't survive, while avoiding a crazy religious human uprising. The indie classic offers a variety of vampires, great training to kill them all and plenty of action and gore.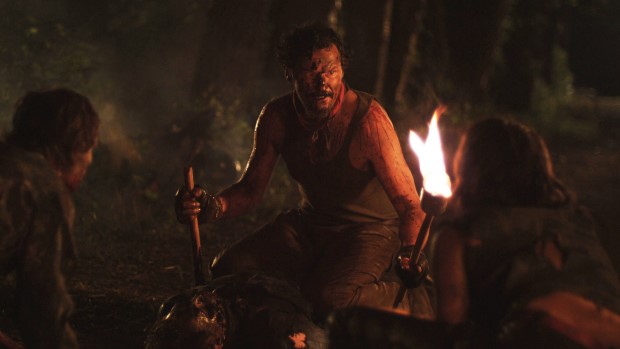 Vampires vary in appearance within the genre, from ghouls to beautiful people, which Stake Land serves up well. They certainly are not easy to kill.     
29. Stake Land 2: The Stakelander (2016)
Writer: Nick Damici
Directors: Dan Berk, Robert Olsen
Starring: Connor Paolo, Nick Damici, Laura Abramsen
Some time has passed since the first Stake Land and life has only gotten worse. Humans have become more barbaric and a new vampire villain with a posse is after the movies great vampire hunter for taking her eye.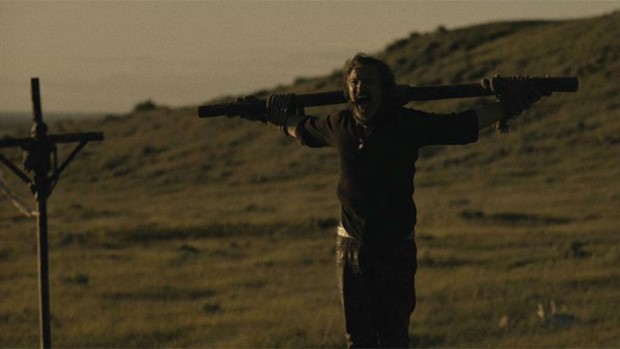 The great vampire hunter Mister finds himself back in danger after New Eden's fall.
28. Blade (1998)
Writer: David S. Goyer
Director: Stephen Norrington
Starring: Wesley Snipes, Stephen Dorff, Kris Kristofferson, N'Bushe Wright
Eric Brooks aka Blade is a Marvel Comic's character, a dhampir (half human, half vampire) caused when a vampire attacked his mother while in labor with him. After a rough adolescence, he becomes a vampire hunter, a profession that suits his vampire abilities and human right to walk in the sun, earning him the name Day-walker. The first installment of a trilogy, Blade must face Deacon Frost, a vampire set on world domination with the help of ancient power.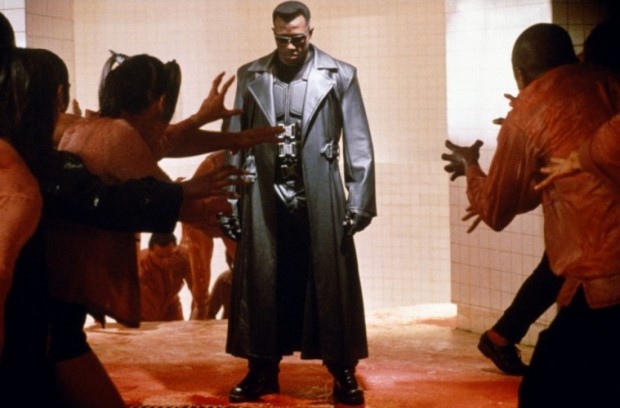 The opening scene into a blood-drenched vampire nightclub shows off Blade's martial arts training, custom weapons and plenty of the vampires weaknesses.
27. Blade II (2002)
Writer: Davis S. Goyer
Director: Guillermo del Toro
Starring: Wesley Snipes, Norman Reedus, Luke Goss, Ron Perlman, Leonor Varela
The sequel explores a point in Blade's career when his enemies want to become partners to stop a new threat to both humans and traditional vampires. A new kind of vampire has been unleashed and they need to be contained, which is not an easy task. The leader, the great Jared Nomak, one of my favorite villains of all time, has deep ties to the new vampire mutation and proves to be a challenging foe.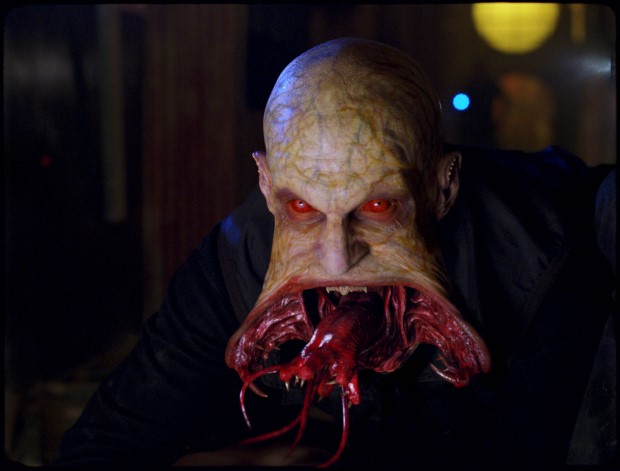 The new bloodthirsty monster on the block enjoys blood from humans and vampires, equipped with a new latching jaw and sucker.
26. Fright Night (1985/2011)
Writer/Director: Tom Holland
Starring: Chris Sarandon, William Ragsdale, Amanda Bearse, Roddy McDowall, Stephen Geoffreys
Writer: Marti Noxon
Director: Craig Gillespie
Starring: Colin Farrell, Toni Collette, Anton Yelchin, Christopher MIntz-Plasse, David Tennant
What would you do if vampires moved in next door, flaunt it but nobody believes you when you cry wolf? Well, Fright Night gives you a fun and horrific answer, leaving vampire extermination to a teenager and an actor that can't keep a job, while exploiting the cheesy-ness of the 1980's. There is also a remake with all the modern finishings, which means the original is pure gold.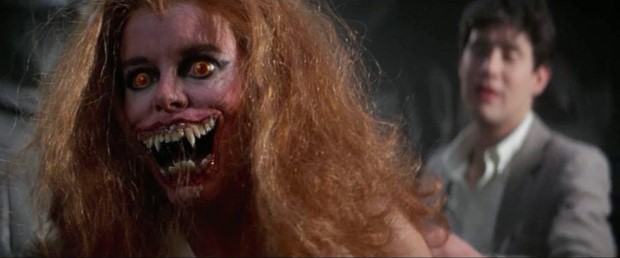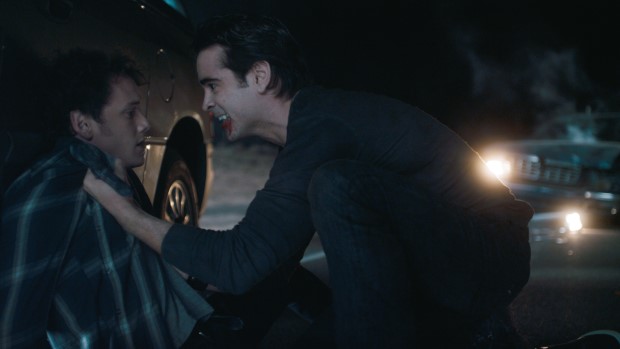 The vampires may look like everyone else but they are truly beasts beneath their immortal skin.
25. Fright Night 2: New Blood (1988/2013)
Writers: Tim Metcalfe, Miguel Tejada-Flores,Tommy Lee Wallace
Director: Tommy Lee Wallace
Starring: Roddy McDowall, William Ragsdale, Traci Lind, Julie Carmen, John Gries
Writer: Matt Venne
Director: Eduardo Rodriguez
Starring: Will Payne, Jaime Murray, Sean Power, Sacha Parkinson, Chris Waller
In the Fright Night sequel, the heroic duo is pit against very angry vampires out for revenge, which delivers more shenanigans. There is another movie released back in 2013 with the same name, maybe a remake but it has nothing to do with any other Fright Night, about a teenage trip to Romania gone wrong when the gang meets a proud Romanian vampire.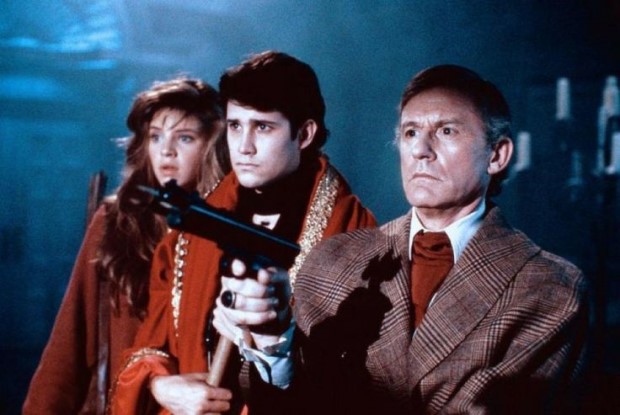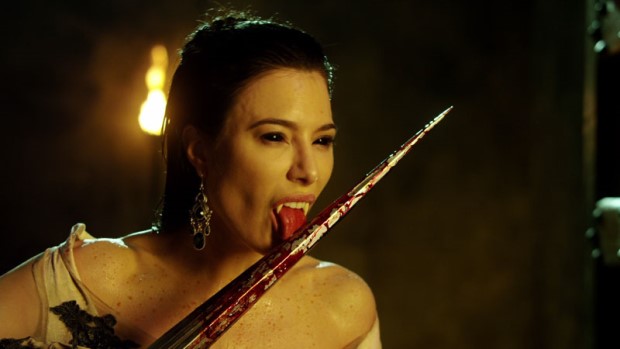 Our heroes are back on the clock and the kids in Romania have one foxy demon on their hands.
24. Near Dark (1987)
Writers: Kathryn Bigelow, Eric Red
Director: Kathryn Bigelow
Starring: Bill Paxton, Jenette Goldstein, Adrian Pasdar, Jenny Wright, Lance Henriksen
Near Dark is a great example of a traveling vampire pack and an accidental rebirth. It tells the story of a young cowboy, dreaming of a more exciting life away from his small hometown and actually getting it when he meets a girl at a bar. During their first intimate moment, she bites him, which leads to a sudden transformation and his abduction into her family.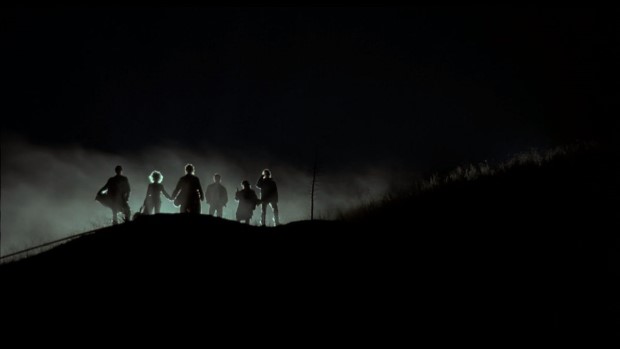 The vampire family the cowboy must join is not easy to impress and they will take their time deciding whether he can fit in.   
23. Dracula Untold (2014)
Writers: Matt Sazama, Burk Sharpless
Director: Gary Shore
Starring: Luke Evans, Charles Dance, Sarah Gadon, Dominic Cooper
This version of Dracula follows a prince seeking dark forces to keep his domain safe from another empire on his tail. After traveling the harsh distance to a notorious lair, Dracula receives tremendous power and ability from a feared vampire. As always, the transformation and show of supernatural strength create new issues and twists.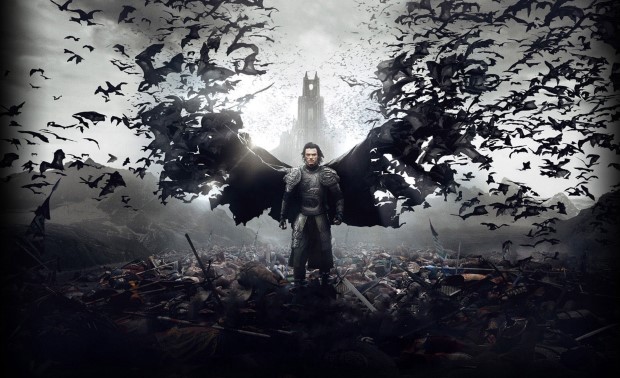 Vampires have been associated with bats since the beginning of the genre and the use of them in this movie is epic.
22. Van Helsing (2004)
Writer/Director: Stephen Sommers
Starring: Hugh Jackman, Kate Beckinsale, Richard Roxburgh
Dracula's main hunter Van Helsing goes after big game like the Prince of darkness, Frankenstein's creation and the Wolf Man. He is out to stop Dracula so ancestors of a dying bloodline can go to heaven. Along the way, he faces flying bat-like vampires, a pesky wolf and a Dracula that looks like Baraka from Mortal Kombat.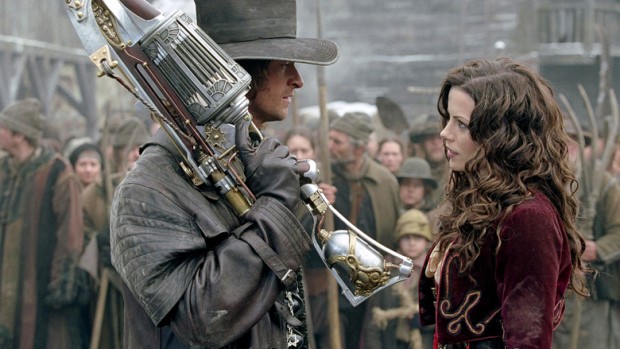 Van Helsing is a relentless vampire hunter and only works with the best. 
21. The Lost Boys (1987)
Writers: Jan Fischer, James Jeremias, Jeffrey Boam
Director: Joel Schumacher
Starring: Kiefer Sutherland, Jami Gertz, Dianne Wiest, Cory Felman, Jason Patric, Corey Haim
What I consider a John Hughes vampire movie, The Lost Boys is a story about a family's move to a new town and the aftermath of meeting the locals. Older brother falls for a girl, who happens to be a vampire and her jealous pack turns him into one of them. Younger brother, with monster-expert friends, must help older brother escape and become human again.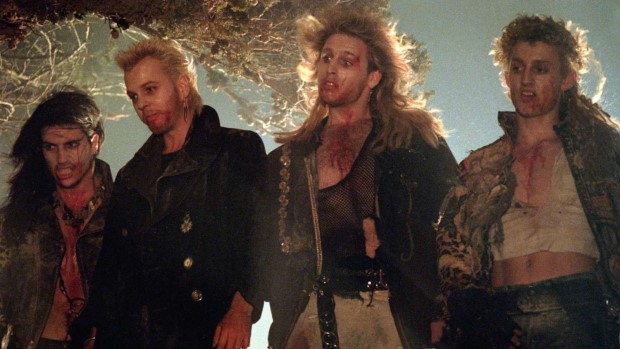 The villains in this classic look like a teenage glam-rock band, which is the perfect cover for a tribe of vampires.
21 years later, sequels were released with the same premise and the cult classic duo made famous from the original film, Edgar and Alan Frog played by 1980's stars Corey Feldman and Jamison Newlander, are the only connection between all three movies. They're self-taught vampire hunters from what they've seen in their favorite comic books.
20. Lost Boys: The Tribe (2008)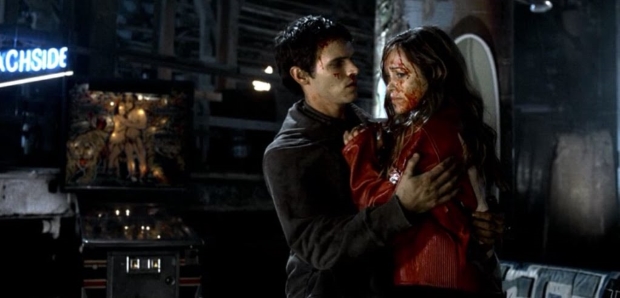 This time around, the scenario involves a brother/sister connection.
19. Lost Boys: The Thirst (2010)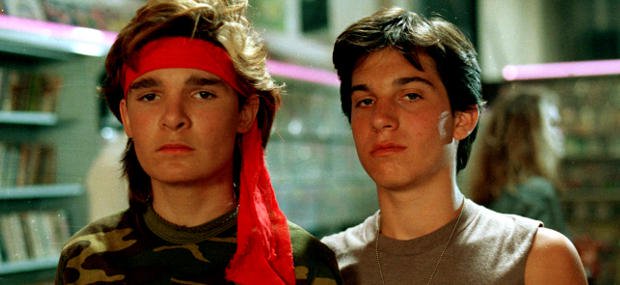 These two are proof that fantasy fiction is actual training manuals to take on the fiercest creatures around.
18. 30 Days of Night (2007)
Director: David Slade
Starring: Josh Hartnett, Melissa George, Danny Huston, Ben Foster
Here's the movie reference I used in my intro, which is based off comic books of the same name, the crazy story of a massacre in a small Alaskan town during the month in winter they get no sunlight. These vampires are vicious killers and they won't stop until their time is up. But the town does put up a fight to see another sunrise.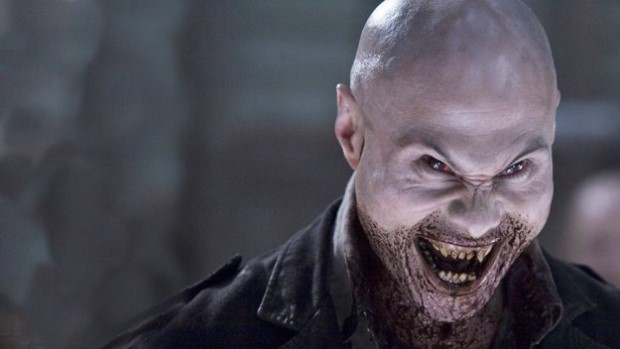 The vampires in 30 Days of Night are mostly human looking but can speed past and take you out with one blow. 
17. Underworld (2003)
Writer: Danny McBride
Director: Len Wiseman
Starring: Kate Beckinsale, Scott Speedman, Michael Sheen, Shane Brolly, Bill Nighy
The war between vampires and werewolves has been constant for decades and comes to a great climax in this movie when a hybrid of the two reveals itself, along with a lot of revelations. I rebel against this franchise because I prefer vampires over werewolves and hate when vampires are portrayed as fearful and weak in comparison to their foe. Yet, Underworld is an exciting movie with plenty of folklore, action and a memorable female lead, Selene.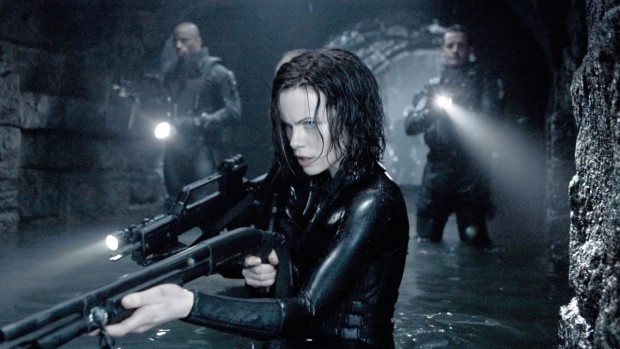 Selene, a death dealer, lands in the middle of the vampire/lycan hybrid scandal.
16. Interview with the Vampire (1994)
Writer: Anne Rice
Director: Neil Jordan
Starring: Brad Pitt, Tom Cruise, Kirsten Dunst, Christian Slater
Based on the book and also written by the author Anne Rice, Interview with a Vampire serves as a history lesson of sorts, having viewers sit and listen to the story of Louis de Pointe du Lac, an 18th-century plantation owner turned vampire. He delves into the struggle of keeping up with the times, mingling well with both humans and vampires and keeping his crazed creator, Lestat de Lioncourtat, a sinister guy, a leading character in Rice's Vampire Chronicles, Louis has to keep him at bay.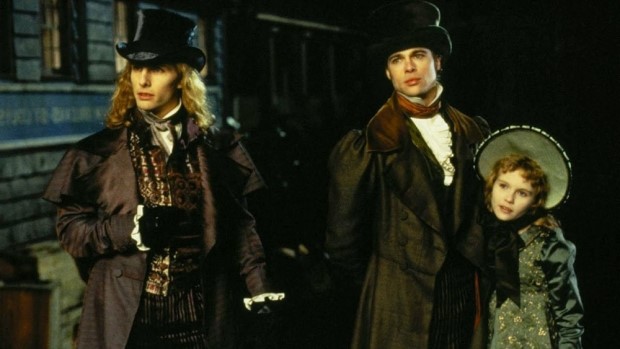 Vampires suffer tremendous loneliness and loss, which Louis recounts for us to swoon over.
15. From Dusk till Dawn (1996)
Writer: Quentin Tarantino
Director:Robert Rodriguez
Starring: George Clooney, Quentin Tarantino, Harvey Keitel, Juliette Lewis, Ernest Liu, Salma Hayek, Cheech Marin
Bank robbing brothers are on the run from the law and on their way to a rendezvous spot with a contractor in Mexico. At a motel, they see the RV of a pastor and his two teenage children, which they use as a ride, forcing the family to go along. Waiting for the boss, the group kills time at a strip club that is actually a vampire den, which, if you're lucky, turns prey into creative vampire assassins.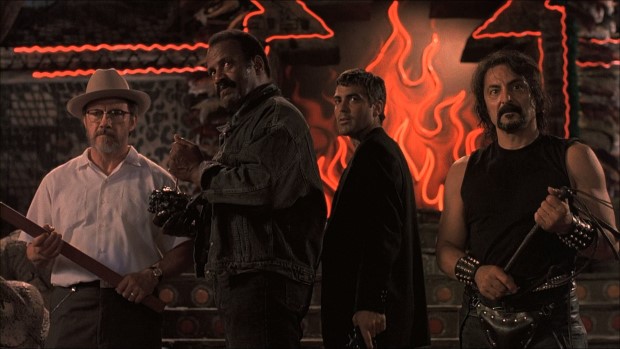 Even though the poor family was pushed into a sticky situation, they are in luck because the strip club attracts violent and armed patrons that have to join their fight.
14. What We do in the Shadows (2014)
Writers/Directors: Jemaine Clement, Taika Waititi
Starring: Jemaine Clement, Taika Waititi, Jonny Brugh, Ben Fransham
So far, the movies I've presented are gruesome, grotesque, bloody and kind of exhausting. Vampires can be hilarious and politically foolish like, say, a reality TV star, which this movie is about. What We do in the Shadows is a mockumentary that captures the real day to day lives of a group of vampire roommates.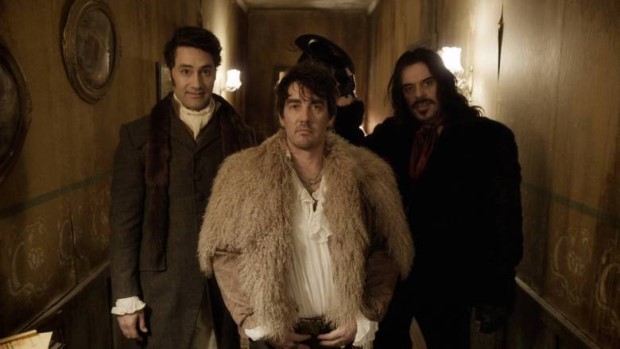 The vampires in this reality TV series are an unusual and funny bunch.
13. Thirst (2009)
Writer: Chan-wook Park, Seo-kyeong Jeong
Director: Chan-wook Park
Starring: Kang-ho Song
Asian cinema is bold and throws so much blood around, beautifully shown in Thirst, a movie about a Catholic priest that volunteers for a potential vaccine against a spreading disease. He doesn't survive the procedure and undergoes a blood transfusion, which brings him back but opens a door to thirsty evil. Somehow, he attracts an odd suitor overly drawn to his new existence, turning the movie into a love story.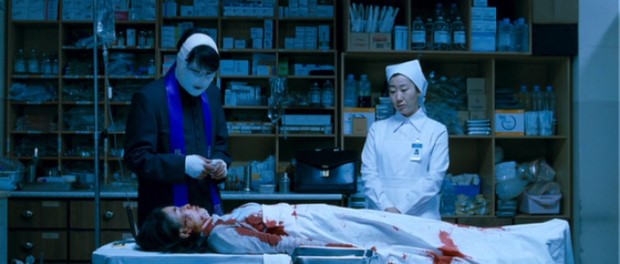 The courageous priest takes on a fascinating journey after his transformation. 
12. Let the Right One In (2008)
Writer: John Ajvide Lindqvist
Director: Tomas Alfredson
Starring: Kåre Hedebrant, Lina Leandersson, Per Ragnar
Låt den rätte komma in, or Let the Right One In, another film based on a book and also written by the author (John Ajvide Lindqvist), is actually a cute Romeo and Juliet love story between an awkward 12-year-old boy and a girl that looks the same age and happens to be a vampire. Of course, wherever there is a vampire, there is trouble and the two must overcome it if they want to be together.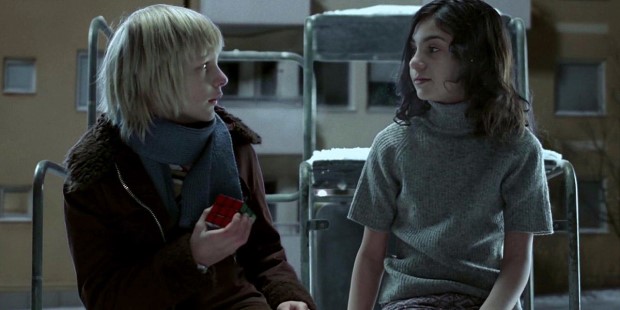 Look at the lovely couple!
11. Only Lovers Left Alive (2013)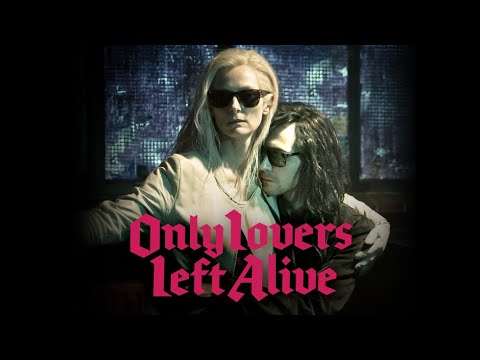 Writer/Director: Jim Jarmusch
Starring: Tilda Swinton, Tom Hiddleston, Anton Yelchin, Mia Wasikowska
Married but separated vampire couple Adam and Eve battle depression and inner demons, which attract them back to each other. One demon that causes them a lot of trouble is Eve's sister Ava, who pops up and turns the occasion into a family reunion the public can see. A great detail of this movie is that the vampires don't hunt anymore in order to protect their identity. They get their coveted drink from blood banks and dealers, which reveal a tremendous underground network.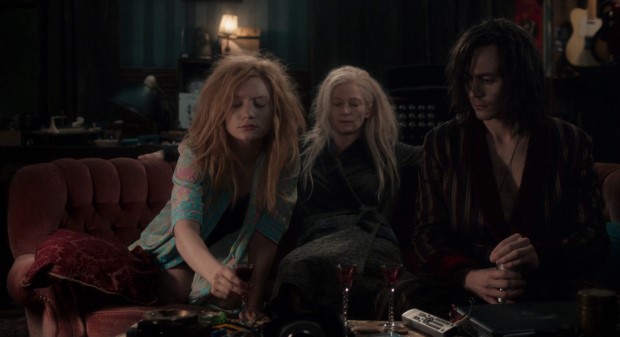 Look at the lovely couple and disastrous in-law!
10. Bram Stoker's Dracula (1992)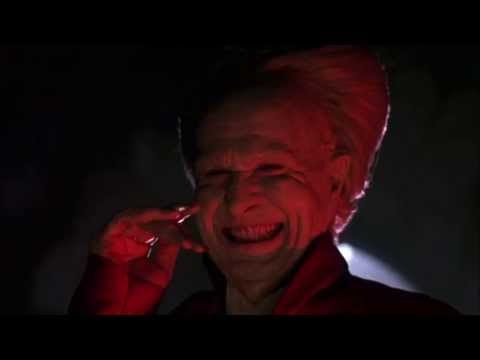 Writer: James V. Hart
Director: Francis Ford Coppola
Starring: Gary Oldman, Anthony Hopkins, Winona Ryder, Keanu Reeves
There are many versions of Bram Stoker's novel Dracula on the silver screen and the last good one goes to 1992's Bram Stoker's Dracula. Count Dracula, a Transylvanian Prince and centuries old vampire, goes abroad in search of a woman that may be his long lost love reincarnated. Of course, he wreaks some havoc and vampire hunters are called in to take him down, including his main rival Abraham Van Helsing.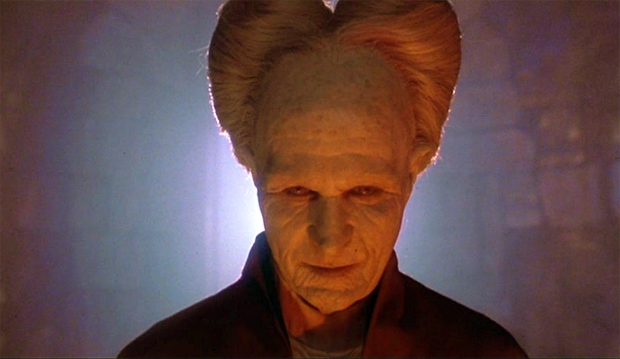 The incredible Gary Oldman masterfully takes on the role of Dracula and easily transforms into different looks like the character is able to.
9. A Girl Walks Home Alone at Night (2014)
Writer/Director: Ana Lily Amirpour
Starring: Sheila Vand, Arash Marandi, Marshall Manesh
Set in an Iranian ghost-town named Bad City, which sums up the kind of place it is with people to match, no one knows a lady-vampire stalks them at night in an attempt to thin out the herd. Then she meets a guy and life in Bad City gets very interesting.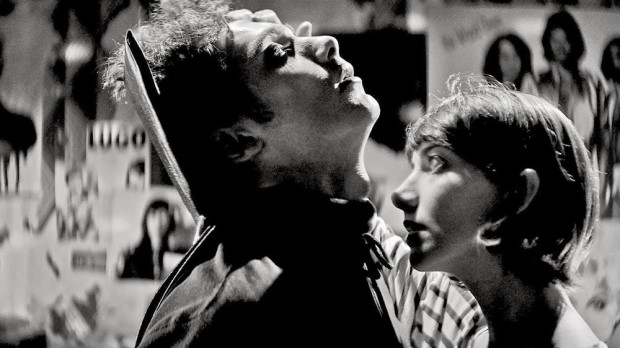 This moody and artistic film does add new material for the genre and has accomplished a lot for its homeland. 
8. Byzantium (2012)
Writer: Moira Buffini
Director: Neil Jordan
Starring: Saoirse Ronan, Gemma Arterton, Sam Riley
For those who are in the mood for a mother/daughter story, definitely check out Byzantium! It's about a vampire mother and daughter relationship and their struggle to keep their identities secret throughout some time. After watching this, I imagine mothers and daughters would have a hard time being around each other for eternity.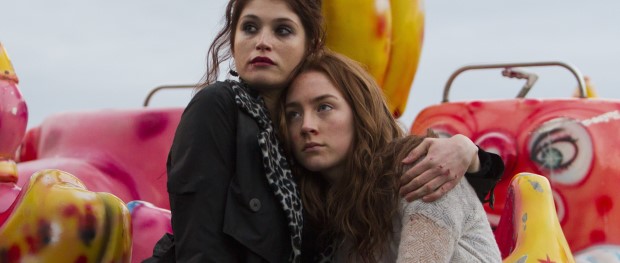 Meet Clara and her daughter Eleanor!
7. Salem's Lot (1979)
Writer: Paul Monash
Director: Tobe Hooper
Starring: David Soul, James Mason, Lance Kerwin, Susan Norton
Based on Stephen King's novel, the town Salem's Lot slowly loses its peace and quiet to mass hysteria and a vampire outbreak. A local writer and a young film buff are the town's only hope for survival.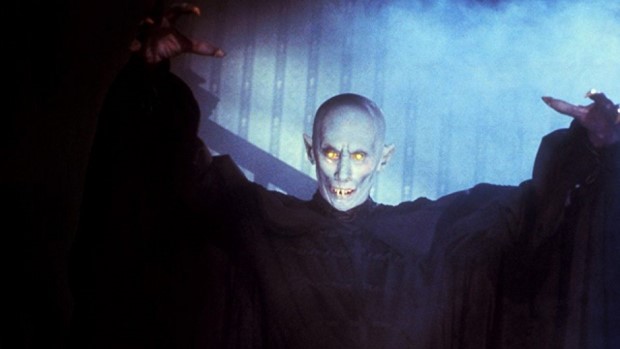 Doesn't he look infectious?!
6. Daybreakers (2009)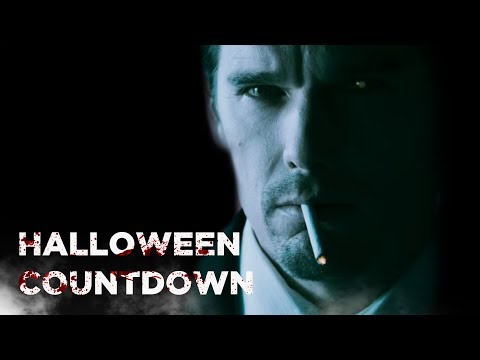 Writers/Directors: Michael Spierig, Peter Spierig
Starring: Ethan Hawke, Willem Dafoe, Sam Neill
Here's another good scenario, what if vampires were the new politicians and citizens of the world and humans were hunted, kept in captivity and farmed for their blood? Don't worry, they'll have to figure out how to survive food shortages too as the crop slowly withers away, which is not good since lack of the red stuff will turn vampires into savage bat-monsters. Luckily, there is a cure for vampirism on the streets and many people and groups want to get their hands on it.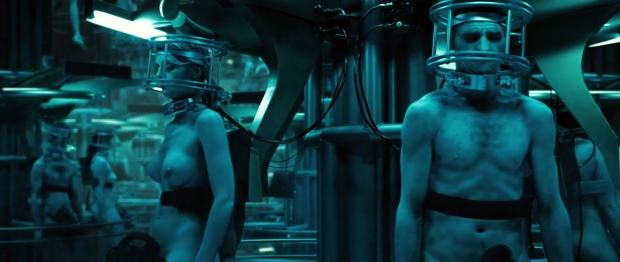 Very reminiscent of the Matrix, here are the human farms for the vampires in Daybreakers.
5. Daylight's End (2016)
Writer: Chad Law
Director: William Kaufman
Starring: Johnny Strong, Lance Henriksen, Louis Mandylor
Daylight's End is another apocalyptic story with a zombie-like vampire-virus infecting the world. In the movie, we follow a drifting vampire hunter's attempt to guide a group of survivors to catch a flight to a known sanctuary. Their only problem is the big horde of vampires along the way to the plane.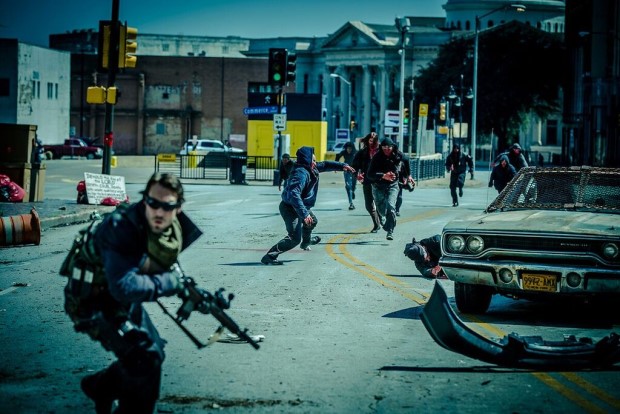 The big city action is done well in Daylight's End.
4. Bloodsucking Bastards (2015)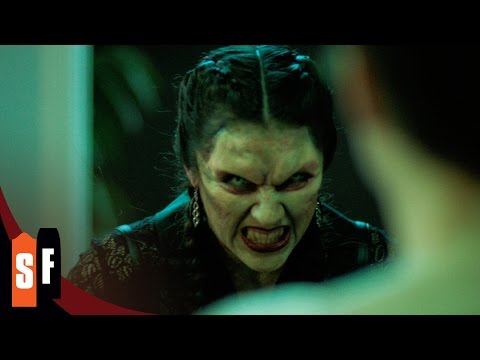 Writer: Dr. God, Ryan Mitts
Director: Brian James O'Connell
Starring: Fran Kranz, Pedro Pascal, Joey Kern
If Count Dracula and the TV show The Office had a baby, Bloodsucking Bastards would be the result. Set in a modern day office at a sales company, the new manager promises to whip everyone into shape. It turns out the new boss is a vampire and turning his minions into bloodsucking bastards is the improvement he really meant, which isn't ideal for everyone at work.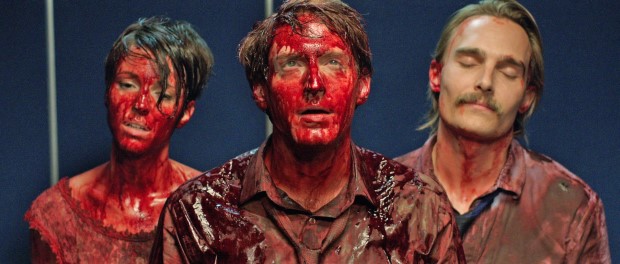 Just another day at the office!
3. Freaks of Nature (2015)
Writer: Oren Uziel
Director: Robbie Pickering
Starring: Nicholas Braun, Mackenzie Davis, Josh Fadem, Denis Leary, Vanessa Hudgens
I think we can all agree that sometimes Hollywood puts out some crazy remakes, reboots and smash ups like the movie Freaks of Nature, which happens to be awesome. Freaks of Nature sticks us in the middle of a war between humans, vampires and zombies, masterminded by extra-terrestrials. When every being on Earth realizes the foreign meddling, the groups team up to fight the invaders.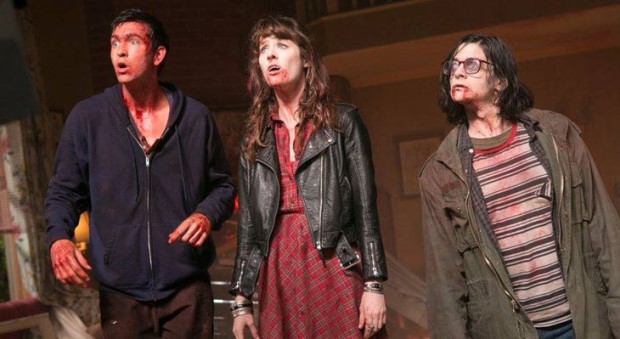 Who knew aliens enjoyed Earth's freaks of nature.
2. Liar, Liar, Vampire (2015)
Writer: Adrian Vina
Director: Vince Marcello
Starring: Tiera Skovbye, Sarah Grey, Brec Bassinger
Whenever the cartoon giants like Disney or Cartoon Network release live action stuff, I usually ignore it, automatically labeling it as corny and lame, even when I was a kid. Yet, Nickelodeon's Liar, Liar, Vampire (which I came across looking for Jim Carrey's Liar Liar on-demand) actually surprised me with its hysterical twist: no one is actually a vampire. Of course, it's set in high school and tells the story of how the new guy becomes the town's vampire and the tactics and consequences of keeping the façade going.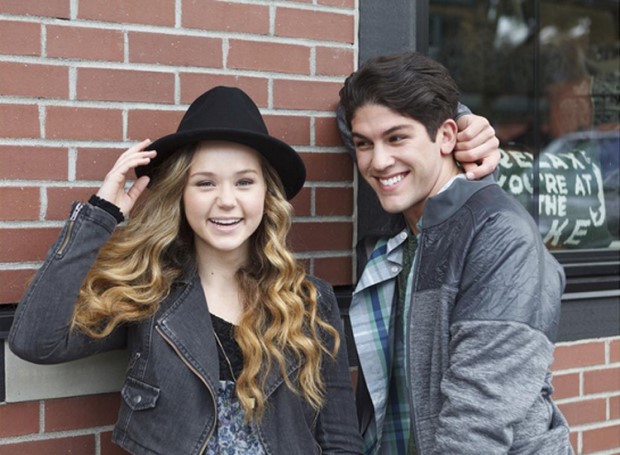 Meet the new guy everyone is obsessed with and the lady behind keeping up his thirsty reputation.
1. Afflicted (2014)
Writers/Directors: Derek Lee, Clif Prowse
Starring: Clif Prowse, Derek Lee, Michael Gill
I'm going to end the list with a flick that will haunt every vacation you take. Your welcome! An exciting trip around the world for a group of travel bloggers and friends goes south when one of them starts changing after a rough one-night-stand with a woman. He gains extraordinary powers but slowly fades into a bloodsucking monster. Luckily, everything is captured on their cameras and we get to see it all go down in first-person views.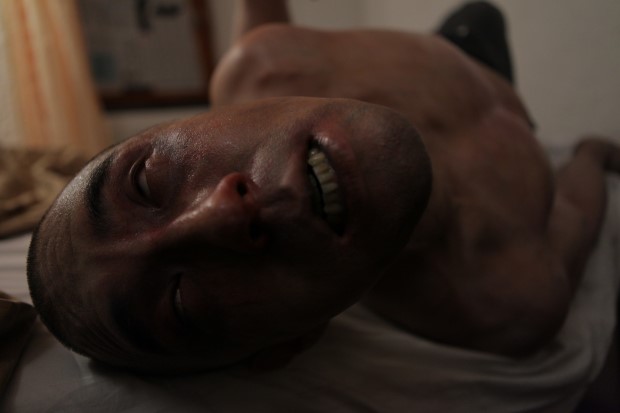 One minute he's running faster than a cheetah, the next he's turning into a nasty critter.
I hope these vampire films will turn everyone into fans and possibly contribute more tales and vicious characters. Or, if you're already a fan and can think of other entries, pass them along, get people watching them. Surely there are more greats to add and to come.
Image Gallery