ArcheAge Review 2018 - Worth Playing?
Updated: 08 Oct 2018 1:56 am
Why aren't you playing it already?
Is ArcheAge worth playing or not?
MMORPG's have been popular for years now, especially titles like World of Warcraft, Guild Wars and Tera online. People seem to love getting engaged in role playing games and transport themselves into different worlds. But there is one game that people were skeptical about at the beginning. "ArcheAge"!
We will present to you the game in the most unbiased way possible, and help you decide whether this game is for you.
About ArcheAge
ArcheAge is an MMORPG which takes the player into a world full of mesmerizing creatures and amazing quests.The game was released by "XL Games" on January 15th 2013 in Korea and one year later it was released in Europe and North America on January the 16th. The game went through beta testing in 2011. This is admirable considering how much the company has developed the game in just 2 years before its release.
This Free to Play MMORPG has always had mixed reviews ever since the beginning. Even today according to the steam community, the game has mostly mixed reviews and its most recent user reviews are quite negative.This might be because of an interesting fact which might intrigue some of us, but not all. According to the company the game is essentially a "sandpark". What that means is that the game contains a sandbox experience in it, which makes the game unique on its own. 
ArcheAge Story
The story of the game is actually based on a book, to begin with. Apparently, it is based on the "AkkiAge", or in other words the ArcheAge universe (the writer is Min-Hee Jeon, for those who want to check it out). The game contains both heaven and hell in it, and the characters separated into Good Gods and Evil Gods. Each God has unique abilities, and each and every one has their strengths and weaknesses. You get to pick which side to be part of and continue your story through the storyline quests. The storyline quests are indeed interesting, but I would say that the most interesting part of the game is the building concept and free roaming of a large world.
ArcheAge story time!
ArcheAge Gameplay
Watch: ArcheAge gameplay
The gameplay is pretty straightforward. Like in most of the MMORPG's, you have the option to create your own character according to the race they belong to. You can choose from a preset, or a very in-depth character customization.
There are 6 races to choose from and each race has unique abilities. The races are divided 3 by 3. That means that 3 of the races (Nuians, Elves, Dwarves) are considered to be the good Gods and are spawned in the Nuia region. The other 3 are the evildoers (Firran, Harani, Warborn) which are spawned in the Haranya region.
Moving on to the classes, there are 10 classes, and some of the classes have different paths to choose from with different sets of abilities. Fortunately for the indecisive, after a certain level you are able to start two paths simultaneously.
As in every MMORPG there are bosses, trading system, guild system, etc. and ArcheAge is no different.
The map is also fairly big and without a mount it will take a lot of time to travel from place to place which is a good indicator for those who like the world of a game to be as big as possible. There are cities where trading is on point and there are a lot of players you can duel or chat with.
Quests are everywhere and this is something I personally enjoy, because you can dive deeper into the world of a game this way. However, if you take up a lot of quests it can be quite annoying. The quests directions appear under the character which is helpful but definitely not needed if you ask me.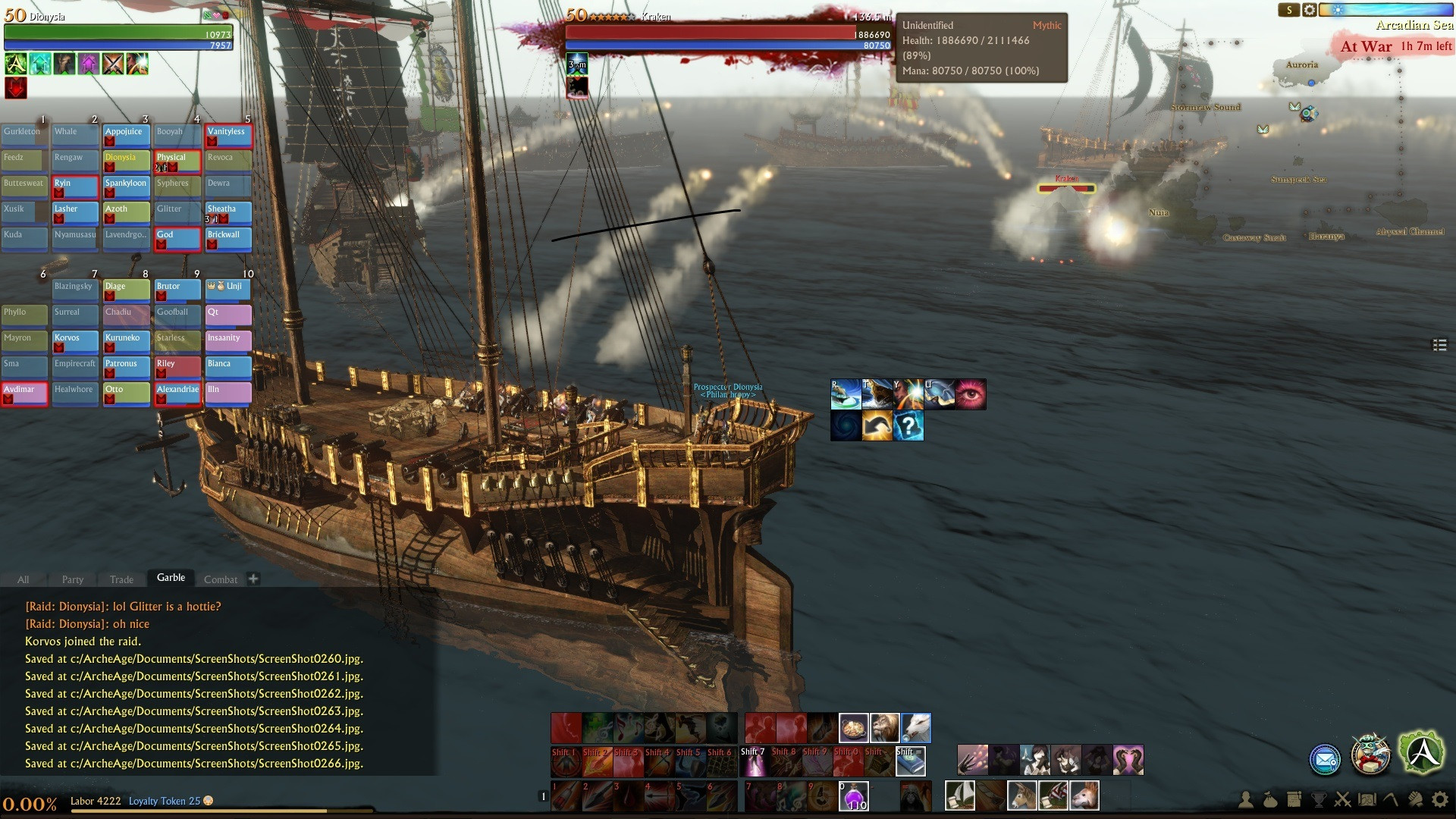 The battle of the ships!
ArcheAge Combat
The combat system is tab targeting unlike Tera or Black desert. But this is something that hardcore MMO players should be used to since WoW has a tab targeting combat system. There is auto aim once you engage into a combat which is nice to say the least and it saves time.
The level cap works weird here. Don't get me wrong, it is ok, but confusing. You can level up your character up to level 55 and after that you reach something called Successor Level. Successor Level apparently is shown by replacing the "level 55" icon with wings and number next to them.
The PvE and PvP in the game are awesome. Diverse as well. The PvP aspect of the game is simple but amazing. You can directly start attacking players from the opposite faction or become a terrorist in a way by attacking people from your own faction. There are battlegrounds as well but where is the fun in it, right? Jokes aside, the PvP is worth trying. But how to PvP without the right gear? Well thankfully you can choose gear according to the situation. Weapons, armors, skill sets, everything!
The PvE on the other hand is just like in every MMO. You can either play solo or be in a group. Dungeons are all over the place. Pretty normal stuff.
The only complain I have is the combat animations are pretty plain and the sound effects are nothing extraordinary. They should work on it in my opinion.
ArcheAge Quest/Mission System
The quest system is good. During the storyline quests, you can meet interesting NPC's and even more interesting creatures. There are beautiful places to be explored and as I said, there are plenty of quests that can help you get a mount or gain a lot of experience. Some quests are exciting, some not so, and some can be extremely boring, but that is only natural. One quest I really enjoyed was raising my first mount. Actually, feeding it and giving it water to grow bigger and be able to mount it.
ArcheAge Graphics
The graphics are a bit outdated for my taste and I have it maxed out. However, most of the people seem to like the small realistic aspects of the game. The combat animations on some classes are good but on others they can be… well … not so good. Overall, I would say that graphics are pleasing and no one should have any problems with them.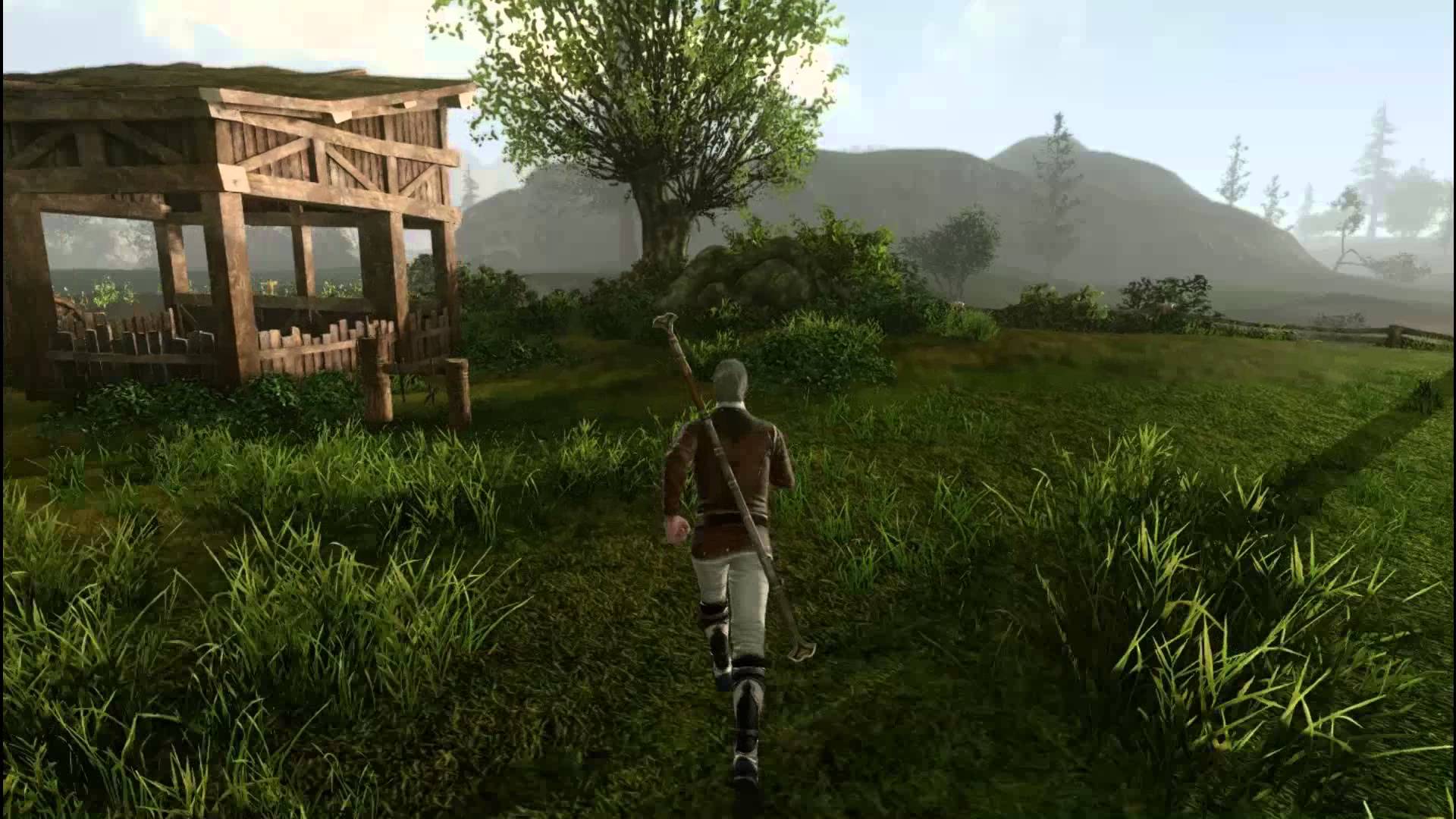 It looks fancy!
ArcheAge Developer
As I mentioned above, the developers are "XL Games" and they have done a great job. The game is not buggy at all. But is the technical support awful. And even if the game is not buggy when playing alone… in team fights there comes ultimate lags that just ruin the experience.
Patches are not released very often, maybe they consider the game perfect. Or maybe they secretly release updates during the long loading times…
So please work on this XL and be good to your community before everything else!
ArcheAge Price
The game is free to play and is available at the Glyph platform. There are pay to win elements in the game but it is only natural. Most free to play games have it anyways. Yet, I do not think that they give that much of a headstart. You get a glider which is cool. There are 3 different prices for 3 different memberships with every membership giving different bonuses in a way.
Final Verdict
Overall the game is good and I don't know why there is so much hate around it.
Here are the pros and cons according to us and you be the judge whether you will try playing it or not:
Pros:
Large world
Interesting quests and cutscenes
In-depth introduction of the characters
Variety of skills
Realistic aspect
Amount of classes
Cons:
Maybe a bit outdated graphics
Combat animations
Tab fighting
Dev support
That being said I would give the game a solid 6.5 out of 10 rating.
You may also be interested in: 
1. [Top 3] ArcheAge Best Solo Class 2018-2019
2. Top 5 ArcheAge Best Classes
3. 11 MMORPGs with the Sexiest Female Characters