Will Darkest Dungeon's Upcoming DLC Match Its Base Game's 2016 Success?
Updated: 14 Jun 2017 12:48 pm
The Crimson Court promises a lot of new content, including a whole new area of the Estate to explore.
Despite Criticisms, Will The Crimson Court Prove a Success?
Whenever criticism is levelled at Steam's Early Access vehicle for game developers, Darkest Dungeon is usually brought up in its defense. The game was unique, challenging, and offered a large amount of content that combined with its roguelike structure to give it a great level of replayability.
Darkest Dungeon hasn't reached this level of success without acquiring quite a bit of criticism as well. Many players pointed to the aggressive difficulty, RNG elements, and game mechanics as being counterintuitive and, in some cases, being difficult simply for the sake of it. Despite that, the game continues to have a hardcore group of fans.
It's little surprise that Red Hook Studios, the game's developer, would want to release more paid content. Their first DLC for Darkest Dungeon, titled The Crimson Court, has already released a Steam page, giving fans details on what content it will feature. Will it be able to win over players who were dissatisfied with the game's original release?
A new area of the Estate to Explore!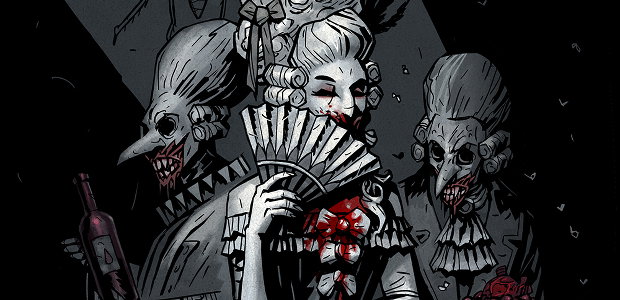 What dark secrets lie at the heart of the Courtyard?
The Crimson Court will introduce a new area for players to send their adventurers, the Courtyard. The Courtyard will feature its own unique monsters, curios, and traps like those in the base game, though many of these new foes will also begin to appear in other areas as well. Perhaps the most exciting thing to look forward to with the Courtyard is the addition of three new bosses, which the developers state will introduce new combat mechanics that will push players to use new strategies or test their old ones.
More information regarding your mysterious Ancestor...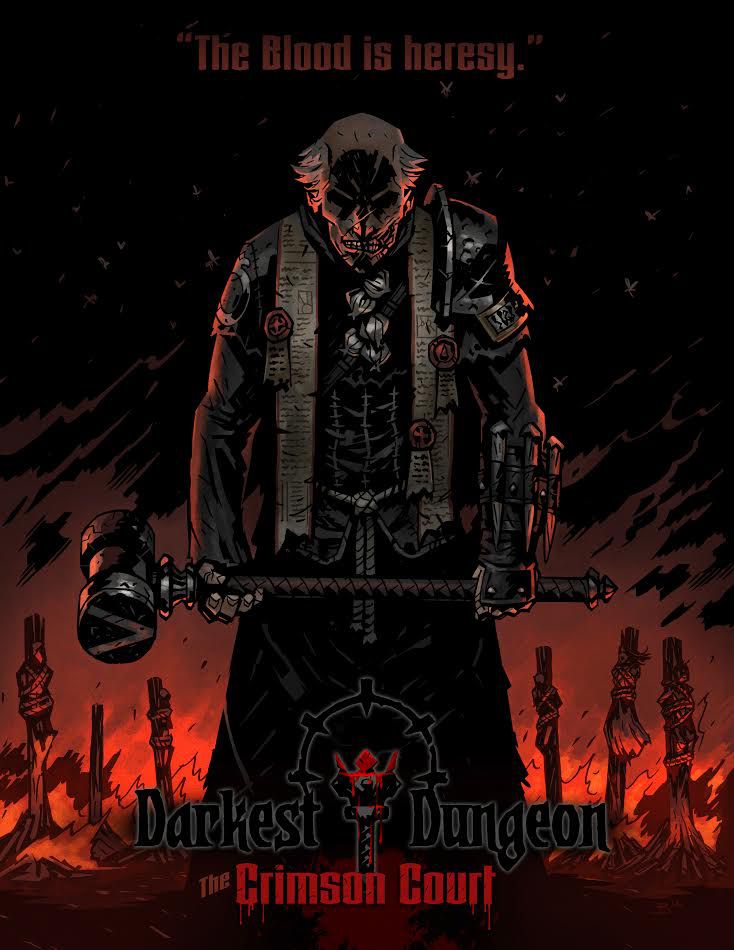 Will the Fanatic aid your heroes, or will he be another gibbering horror to be put to the sword?
It will also feature some new story elements as well. From what information that's been released, it sounds as though the content added in the Crimson Court will provide further information on the Estate's morbid owner, the Ancestor. There will also be a character referred to as the Fanatic who is as eager as players will be to lift the curse of the Court, though whether he proves to be another foe or an unexpected ally remains to be seen.
More tools with which to fight back the darkness and madness!

Stand firm against the darkness, or be consumed by it and give in to the madness like your Ancestor.
The Steam page also stated that players would receive new items and trinkets to take into dungeons. It also stated that players would have access to a new class of hero, leading to new party formations and strategies. So far no other details have been released, but fans of the base game have been speculating wildly about what the hero might be like.
With so much content, the DLC will definitely appeal to anyone who enjoyed the base game. With new monsters and bosses, it will offer a host of new challenges to players, and give heroes new ways to die or lose their minds while skulking around in the Darkest Dungeon.
Source Links:
Darkest Dungeon Official Website
You may also like...
25 Upcoming PC Games We Just Can't Wait to Play
Darkest Dungeon Gameplay: 10 Interesting Facts About This Awesome Dungeon Crawler
31 Best Dungeon Crawlers to Play Right Now in 2017
Top 7 Games Where Death is Permanent