Destiny 2: Five Fast Facts You Need To Know
Updated: 13 Jul 2017 11:08 am
Destiny 2 is finally upon us… to a certain extent!
5 Things You need to know about the upcoming Destiny 2
Destiny 2, developed by Bungie and published by Activision, is coming to PCs and game consoles as a full version soon, and we can't wait! To get you ready, here are five fast facts that you need to know:
1. It will be available on PC
It may seem obvious, but it's definitely worth a mention. Destiny 2 will not only be available on PS4 and Xbox One, but will also be playable for all hardcore PC gamers out there.
2. You can technically already play it
If you are a hardcore fan of the Destiny series, you can preorder Destiny 2 now and get access to the Early Beta version. So get preordering now to have a taste of what the full game is going to be like.
3. Destiny 2 will be released in 2017
The versions for Playstation 4 and Xbox One has already been released, and that is September 8 2017 (http://www.techradar.com/news/destiny-2-release-date-news-and-rumors). Unfortunately, we have yet to receive an exact date for when the PC version will be available to buy and download. We would like to imagine that it will come simultaneously with the PS4 and Xbox One versions in September, but the game director Luke Smith has announced that the PC release definitely will not happen until after the game is released on PS4 and Xbox One. Hopefully it will be worth the wait when it comes to it!
4. Destiny 2 will be based one year after the events of Destiny: Rise of Iron
If you played the incredible game Destiny: Rise of Iron, then you know what kind of game we have ahead of us when Destiny 2 is finally released. And for those who love a good storyline – Destiny 2 is set one year after where we left off in Destiny: Rise of Iron. However, developer Bungie has made it clear that you will be exploring new sci-fi worlds in the Destiny universe, so don't expect the same locations as in Destiny: Rise of Iron!
5. Players will be able to group up in Clans
At long last! Players of Destiny 2 will be able to group themselves together in Clans and even design their own appearance to reflect their Clan. This is a great addition that we really can't wait to test out ourselves when the game is released!
We can't wait to get our hands on the full version of Destiny 2. Here's the Destiny 2 gameplay premiere to help get you through the wait!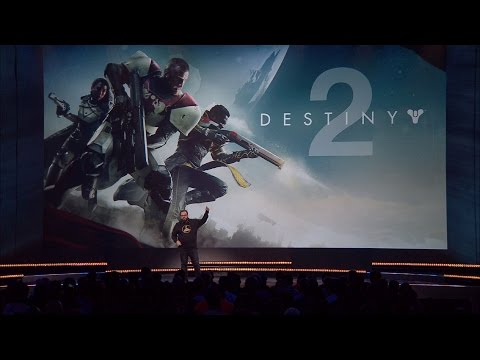 You may also be interested in: