[Top 10] Skyrim Best UI Mods For A Better Gameplay Experience
Updated: 29 Dec 2022 12:20 am
The best kind of UI is the one that knows when it's needed and wanted
Skyrim is one of the most beloved games on PC. But one of the most surprising things about the game is that the UI doesn't feel like something that was made for computers. If you're playing with a controller, it'll feel seamless to you. But once you bring in the classic keyboard and mouse, something just feels off.
Luckily, modders have been solving this problem since the game came out. Whether it's a UI redesign, addition of features or just a slight change in look, these mods have you covered. And you don't even need to be using a keyboard and mouse to reap the benefits of many of these mods.
10. Immersive Compass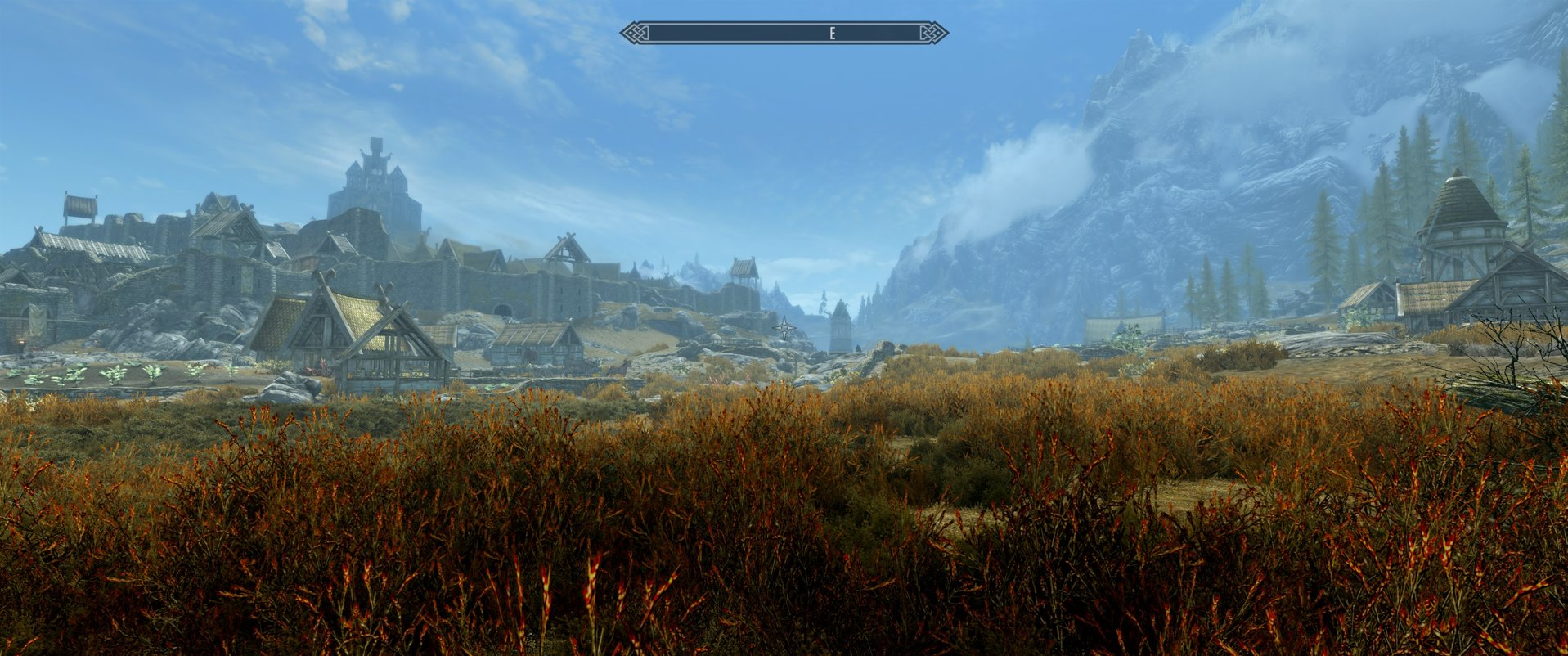 The compass in Skyrim is the primary method of exploration. Unless you're one of those people who obsessively pops the map open every second. I'm not trying to shame anyone, considering how I am one of those people.
This mod pushes the exploration aspect of the compass. No longer will the compass be littered with little icons that tell you where to go. Now it'll only do what a compass is supposed to do. Everything else is up to you to figure out and discover.
Download Mod: Legendary | Special
9. Compass Mod - Immersive Undiscovered Locations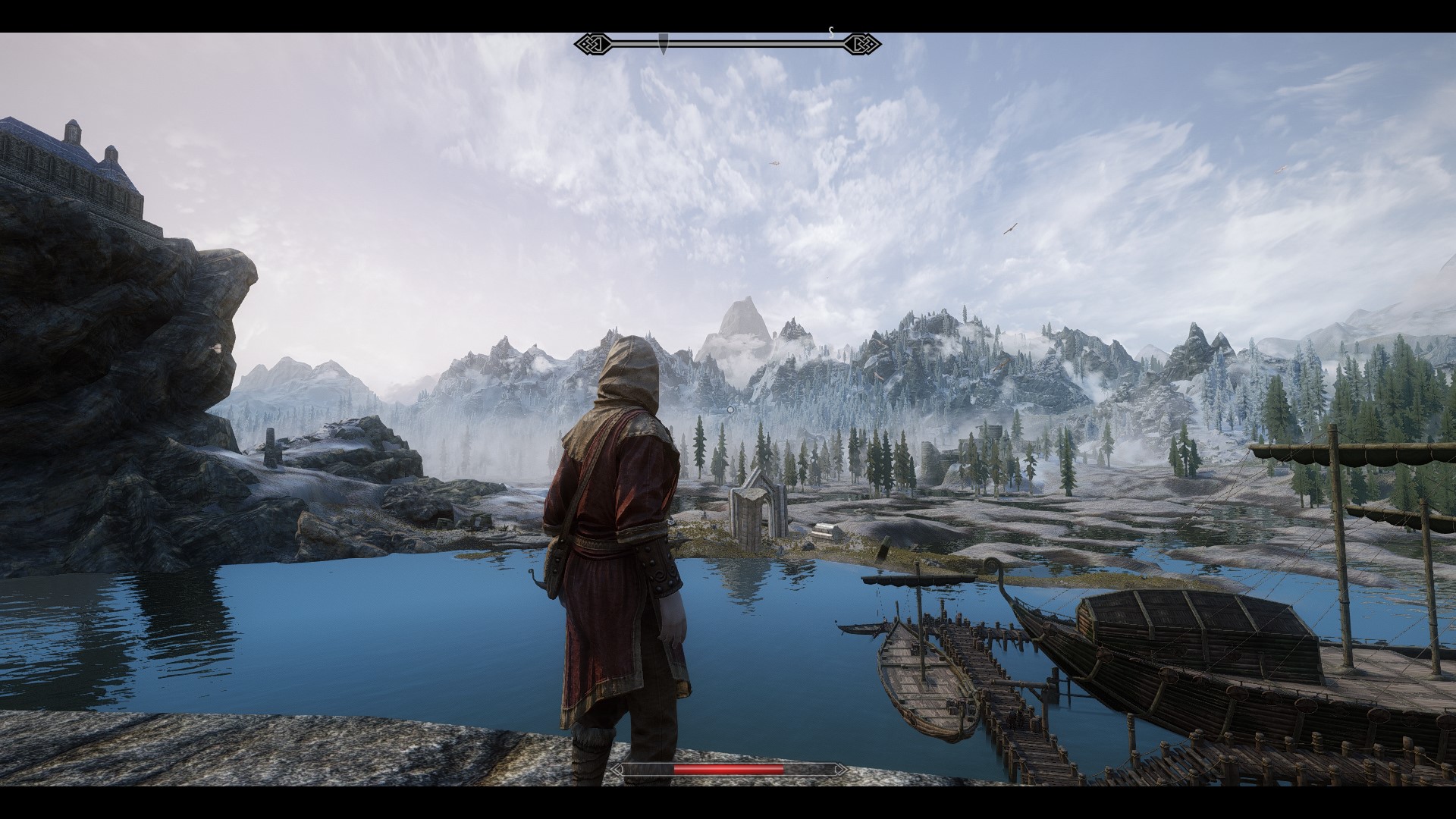 This one is an alternative to the previous entry. I personally like the compass in Skyrim, with its many icons hinting at discovery. Sure, it can be a bit much sometimes. That's why you need a mod that tones it down.
What this mod does is replace all the undiscovered icons with a very generic one. So now you'll know that there is something there, but the compass won't tell you what kind of location that is. I find that it encourages me to explore and makes me more curious. At the same time, it eliminates the risk of missing locations because the compass didn't tell me. This is unavailable for Special Edition.
Download Mod: Legendary
8. Extended UI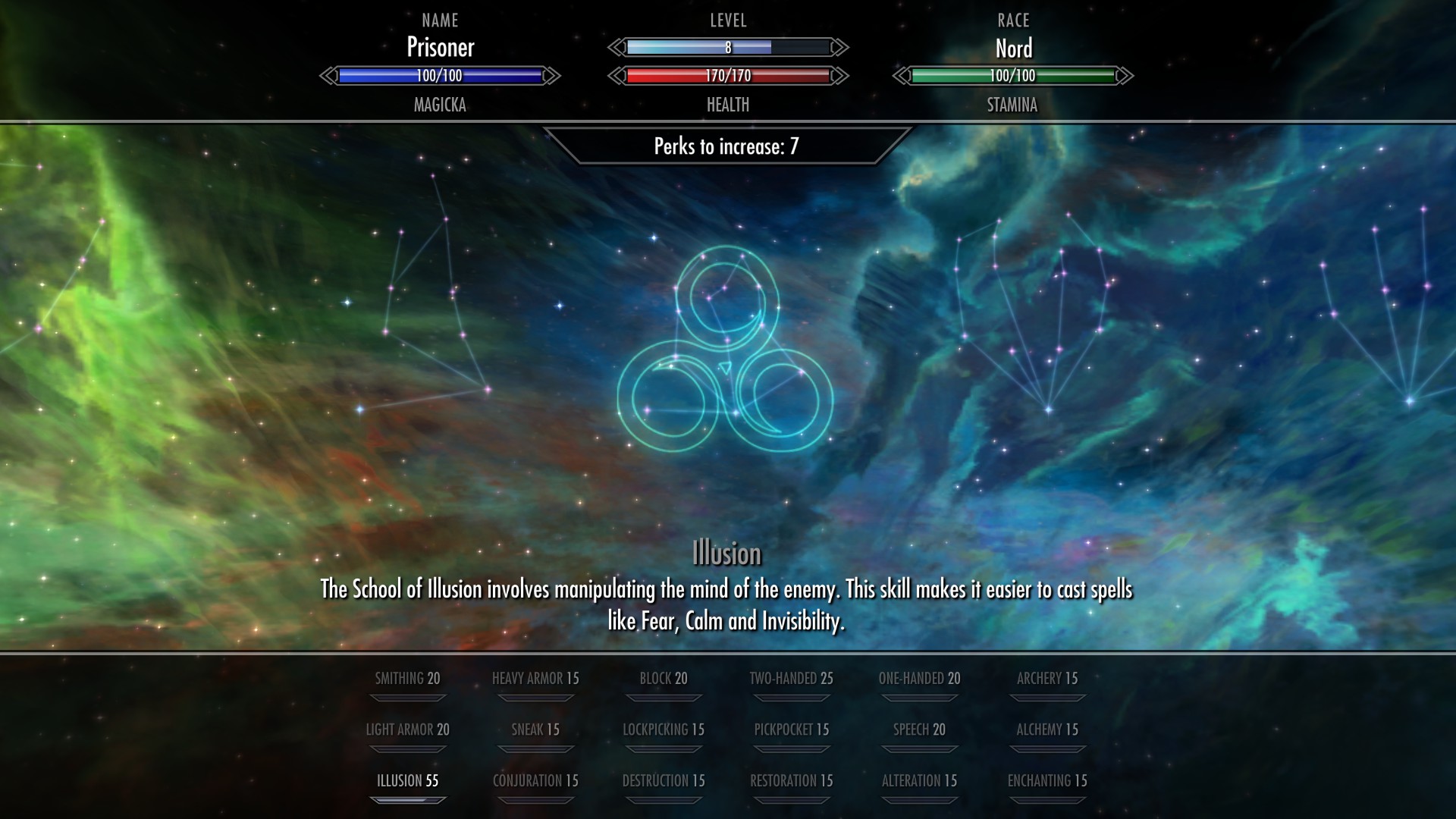 Usually, less is more. But not always. And this mod is an excellent example of this. Now the Skill Menu will have a comprehensive list of all your skills. Instead of having to scroll through an endless list to find out your Alchemy level, you'll have everything in one place.
In the Skill Menu, you can also see skill and attribute modifiers. The mod also makes changes to the Sleep/Wait menu, allowing you to configure the maximum amount of time you can sleep. For when you need a 36 hour nap. This one is only available for Legendary, but apparently it can be easily modified and used for Special Edition
Download Mod: Legendary
7. iActivate
For those of you who don't like too much information on your screen, this mod is essential. You must have noticed how the 'E' icon pops up whenever you're facing something.  After you've played for a while, you don't really need to be reminded of which button to press. I might be reading too much into it, but it's almost like the game is questioning my intelligence.
First and foremost, this mod will make the Activate Icon disappear. Instead, you'll see the display text to let you know you're up against something. You can also configure whether or not additional information should be removed from the MCM Menu. Like you can make the 'Required Key' text disappear, among other things.
Download Mod: Legendary | Special
6. Convenient Dialogue UI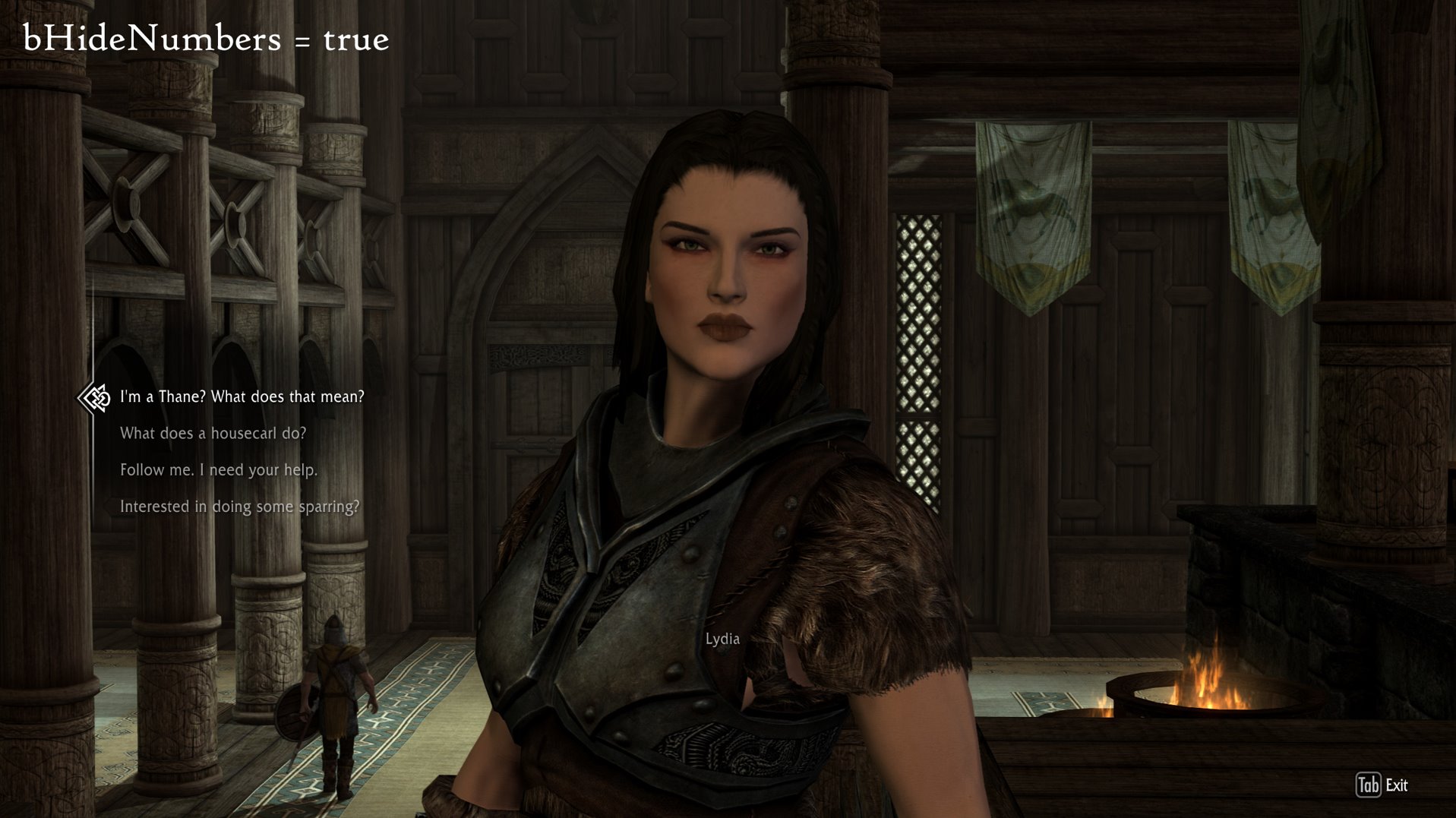 Here we have a mod that tinkers with the dialogue menu. Not exactly revolutionary, but this one does it quite well. If you remember the OG mod that did it - Better Dialogue Controls - then you'll be happy to know that this mod integrated all its features. And then some.
One of the new features added is that you can select dialogue options using the numbered keys. Even if that's not something you want, the dialogue menu has been resized to allow for more dialogue options, scrollability and overall better positioning. There are a few visual options to choose from as well, and multiple aspect ratios are supported.
Download Mod: Legendary | Special
5. Better MessageBox Control
Ah, the vanilla message boxes. One of Skyrim's biggest pains. Somehow Bethesda made it difficult to navigate with both the keyboard and the mouse. Thankfully, this old mod fixes all of our complaints.
With this, the message box starts with an option selected. This allows you to quickly select that option, or use your keyboard to navigate to a different one. The clickable area for the mouse was originally very small, making it hard to use. This mod expands the area so that your mouse clicks land properly.
Download Mod: Legendary | Special
4. RaceMenu
RaceMenu adds so many features that it's mind-boggling. But what's crazier than the quantity of the features is the quality. The mod not only revamps the appearance of the Race Menu to make it look more palatable for PC gamers. It adds so many sliders that let you customize different aspects, and to many degrees.
The most mind-blowing feature is probably the ability to sculpt your character's face. That's right, if you're not satisfied with the sliders, you can now take authority into your own hands. You can also save your presets and load from old ones, so that nothing is lost. The only reason this mod isn't higher up is because personally I don't use these features that often.
Download Mod: Legendary | Special
3. Immersive HUD - iHUD
It's hardly a surprise that this mod is on this list. Immersive HUD is a mod that came out a long time ago, and has never left the list. In a world of cluttered screens, iHUD lets us get rid of all of that and just breathe the Skyrim air.
This mod does not get rid of your UI elements. Fun as that sounds, that would make the game actually unplayable. It only hides them, and lets us choose when we want them shown. You have a configurable button with which the compass will show up once you hold it. You can also change the settings from hold to toggle, so you can seamlessly move back and forth. It also lets you choose how to hide or show other UI elements.
Download Mod: Legendary | Special
2. Less Intrusive HUD
If you prefer the cleaner look, like me, this mod is one of the best ones. Right off the bat, it provides you with sleeker alternative UI elements. Like a thinner compass and a dot crosshair. There's a variation of the sneak meter as well, though personally I prefer Bethesda's 'eye' icon.
One of the coolest features of this mod is how customizable it is. You can use the editor mode to reposition and resize any UI elements. If you don't like something, you can just move it out of the screen, so it won't show up. It makes you feel like a UI god! And the best thing is it's compatible with iActivate and Compass Mod - Immersive Undiscovered Locations!
Download Mod: Legendary | Special
1. SkyUI
Let's be honest, you're not surprised that I put this at the top of the list. SkyUI is indisputably the best UI mod for Skyrim. If you go by most endorsements on Nexus, this is the most popular mod. And truthfully, I cannot imagine playing Skyrim without one. Ever.
This mod replaces every part of the UI that you interact with. Everything that felt like a console-UI is replaced with something that was obviously designed for a PC player. The inventory is now compact, with sortable lists and a search bar. The same treatment has also been given to the magic menu.
The map menu has also been enhanced, with a search feature. If you know the name of a place but can't remember where it was, you can now search on the map. Assuming you've been there, of course. The favorites menu has also been redesigned, making it easy to use. And this is just an overview.
Download Mod: Legendary | Special
You may also be interested in: