The 10 Most Popular Board Games In The World
Updated: 29 Mar 2019 3:15 am
How many have you played?
Despite video games being the norm nowadays, there are still many captivating board games that bring people together.
There are many types of board games that make you work together or to defeat your fellow competitors. These board games draw you into a world making board games an important part of gaming.
Here is a list for those of you have been living under a rock and want to know the top board games.
10. Splendor
BoardGameGeek You are a rich merchant in the Renaissance, and your goal is to get prestige. You are working to make raw gems into precious jewels. You must try to buy gem mines, means of transportation, and shops. And if you are wealthy enough you might receive a visit from a noble at some point!
When Splendor was released, it was nominated for over 15 awards and won Golden Geek Best Family Board Game Winner and Dice Tower Gaming Awards Best Family Game Winner.
Based on the popularity and demand of Splendor, Splendor ended up releasing an expansion for it. The expansion, Cities of Splendor, was released in 2017 with four modules:The Cities, The Trading Posts, The Orient, The Strongholds.
You can even play Splendor on the go now and play the Splendor app. The app has already had over 100,000 downloads!
Year Released: 2014 Minimum Total Copies Sold: 62,510 (from https://boardgamegeek.com/boardgame/148228/splendor/stats) Estimated Total Active Players: 278,999 (from https://boardgamegeek.com/boardgame/148228/splendor/stats)
People love playing this game because there is very little luck in it. It has more agonizing decisions than 7 Wonders or Glory of Rome; Splendor is a barebones engine building game.
Competition is huge in this game. This is not a game where you team up to defeat a single opponent. This is an every man for himself game. The tension derives from anticipating your opponents future moves, and hoping that he doesn't see yours.
People like Splendor because you don't need to be a rocket scientist to play it. Yes, there is a lot of thinking and strategy to play it, but it is very easy to understand the game play and the goal.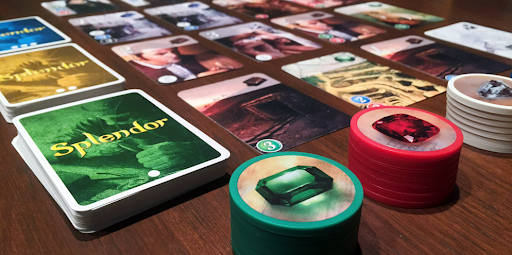 How much prestige can you get?
9. Azul
Board Game Spotlight
As a tile-laying artist, you have been challenged to embellish the walls of the royal Palace of Dvora. You must be smart and quick to get the job done. But watch out you are not the only person who wants the job to decorate the royal palace.
The options in the game decrease the longer you play it. This game has a lot of compromise or risk with choices depending on what other players are doing.
Gamers love that there are different ways to score. Scoring for the game happens on every round and at the end of the game. This means you can create a strategy to see how you can get the most points!
If you feel like you and your friends are mastering Azul don't worry there is a second title to increase the game's complexity. Azul: Stained Glass of Sintra was made for people who want even more of a challenge!
Year Released: 2017 Minimum Total Copies Sold: 320,000 (from https://www.tabletopgaming.co.uk/board-games/news/azul-is-2018s-winner-o...) Estimated Total Active Players: 160,144 (from https://boardgamegeek.com/boardgame/230802/azul/stats)
One reason why people love playing this game is because of the design. The game itself is beautiful to look at. Which is good if you are laying down tiles in the royal palace.
This game is filled with wonderfully tactile components. To be successful it requires thinking ahead.
The best offense in this game is a good defense. You must optimize your benefits while also screwing over your opponents.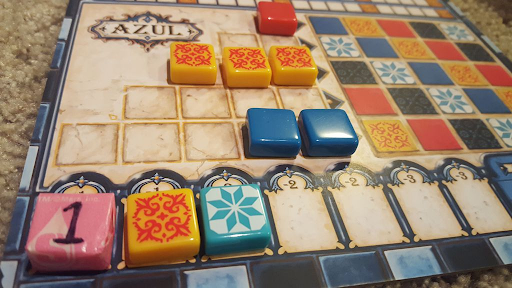 Are you the best tile-laying artist? 
8. Gloomhaven
Shut Up & Sit Down
The town of Gloomhaven is surrounded by evil forces. As an adventure you team up with like-minded people. You and your team must work together out of necessity, to clear out menacing dungeons and forgotten ruins.
With six Golden Geek awards in 2017 for best game of the year, best strategy game, best cooperative game, most innovative game, best solo game, and best thematic game, this game has rightfully earned the title of number one board game of all time by BoardGameGeek,
Gloomhaven was self-published and was crowdfunded by Kickstarter. Its first Kickstarter has over 4,900 backers. This game is so successful that it had a second kickstarter and raised over $3,999,000 for a second printing of the game.
Due to the success of the game, the company was launched an expansion. The expansion Gloomhaven: Forgotten Circles has new characters and over 20 scenarios for even more gameplay.
Year Released: 2017 Minimum Total Copies Sold:120,000 (from https://www.ign.com/articles/2018/08/03/gloomhaven-has-sold-roughly-1200...) Estimated Total Active Players:  162,151 (from https://boardgamegeek.com/boardgame/174430/gloomhaven/stats)
RPG gamers love this game because there are over 90 missions in the story. This means that the more you play the more and more you unlock.
Gloomhaven fans love that there are multiple ways to play the game. This game can house up to four players, but can also be played yourself. When playing solo the play of the game is normal. Some even say that the game may be slightly better in solo mode.
The game itself is huge! There is a massive world, all for the exploring. You will find yourself with tons of choices of what to do, what story arcs to explore, etc. There are quests, loot, and leveling up are all for the taking.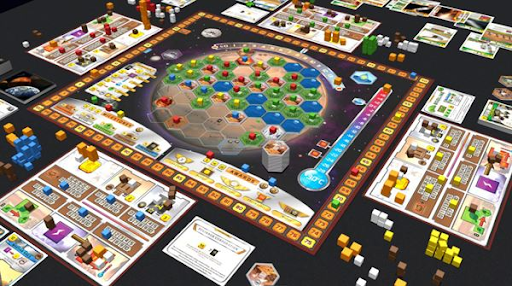 Do you have what it takes to beat the evil forces?
7. Lords of Waterdeep
Geek & Sundry
You are a powerful lord vying for control of this greatest city, the City of Splendors. The City of Splendor is the most magnificent city in the Forgotten Realms. You must navigate through the den of political interest and shady back-alley dealings for its treasures to earning rewards and increasing your influence over the city.
Lords of Waterdeep is an award-winning game, so you know that you are only playing one of the best games out there! This game has won awards such as Origins Awards Best Board Game Winner and won the 2012 Silver ENnie Award for "Best RPG Related Product!"
If you are already loving the game you can even add more game play with the expansion pack!
The expansion pack, Scoundrels of Skullport, consists of two expansion modules: Undermountain and Skullport. These modules can be used to expand the base game separately or in tandem.
Lords of Waterdeep has a huge online following too! Since the originally release this game can now be played online or with an app. The app already has over 10,000 downloads.
Year Released: 2012 Minimum Total Copies Sold: Over 49,000 (from https://boardgamegeek.com/boardgame/110327/lords-waterdeep/stats) Estimated Total Active Players: 117,543 (from https://boardgamegeek.com/boardgame/110327/lords-waterdeep/stats)
Coming from the world of Dungeons & Dragons this game already had a huge following to it. In the game you will see a lot of references that you will recognize if you're a fan of D & D.
It's an all for one and one for all type of game. You can work with or against people, and while you're all working for points, you all have your own specific goals. So creativity and strategy is a must to be successful.
People love playing this game because it is easy to pick up. Even people who are not big on board games can pick this up in minutes. This is because there are not too many rules to get bucked down with.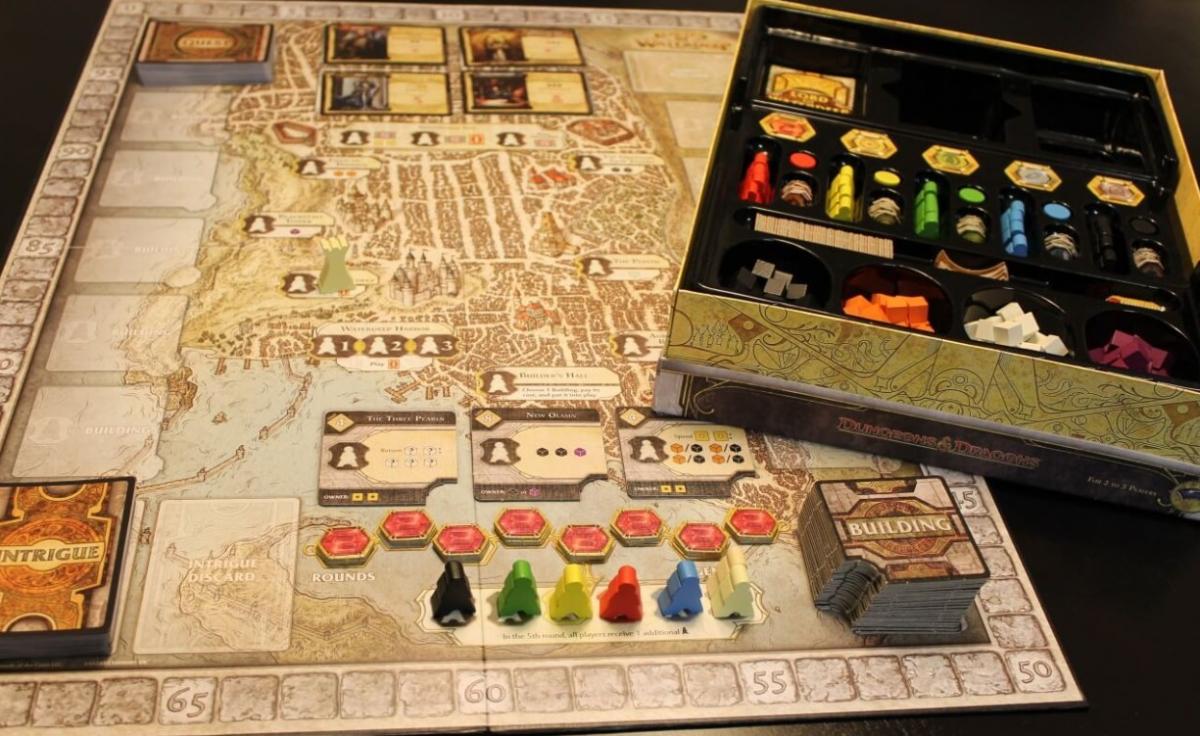 Who will gain control of the City of Splendors?
6. Ticket to Ride
Geek & Sundry
On October 2, 1900 Phileas Fogg won the bet that he could travel "Around the World in 80 Days." You and your friends have gathered to celebrate Fogg's legacy. Now you must see who can travel to the most cities in North America in just 7 days. To add pressure, there is $1 million to the person who can see the most cities.
Many people have enjoyed playing Ticket to Ride there have been many spin offs for fans to play. There have been 8 spin offs for people to play. Some of the new games include Europe, Germany, and even one that takes place over water, Rails & Sails.
To add to the game play there have been several expansions and board expansions. There are 9 expansions to the game. Some expansions include Mystery Train, Halloween Freighter, and Europa 1912. There have also been 6 map expansions to add to the fun. The map expansions take you everywhere in the world including India and Switzerland, Nederland and the Heart of Africa.
This game has not just become a favorite in many people's game night. Ticket to Ride has had over 35 nominations for the series. Some of its winning awards are Origins Awards Best Board Game Winner, Japan Boardgame Prize Best Advanced Game, and many, many more.
Year Released: 2004 Minimum Total Copies Sold:over 6 million (from https://www.daysofwonder.com/tickettoride/en/ Estimated Total Active Players:213,989 (from https://boardgamegeek.com/boardgame/9209/ticket-ride/stats)
One reason people love this game is because of its great replay-ability. Even if players have seen the board before there are still so many options for you to make your goal.
This game is very popular because it is a very family friendly game. It can take just 15 minutes to learn the rules of the game making it kid friendly.
Even though this game is family-friendly, it can easily be made for advanced play and strategy. Players can have different methods to win and the best part there is no right or wrong way. So for this game you can play to get the most trains to cities or even play defense and block other players paths.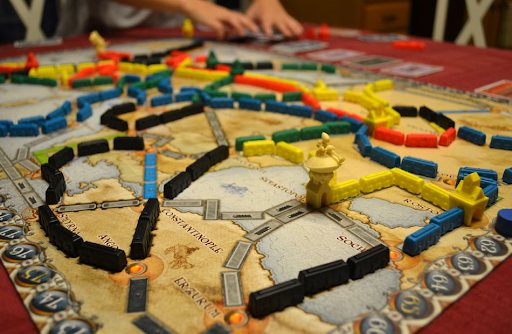 Will you visit enough cities for the $1 million prize? 
5.  (Settlers of) Catan
TheBeastsOfWar
You are a settler establishing colonies on the island of Catan. You must build settlements, cities, and roads to connect them as you settle the island. You must barter, bargain, and form alliances to make the best settlement.
Since the game was first published in Germany it has been translated into 30 languages. This game has made its way through Europe and even crossed the oceans to the Americans. Settlers of Catan has been translated into French, Spanish and Japanese.
Settlers of Catan has become popular that there are many tournaments and events for players. One of their events, Catan – The Big Game, has had over 1,000 players attend. And if you are good enough there is the Catan World Championship.
There is even a possibility for this game to come to the big screen. Sony Pictures is negotiating to acquire the rights to adapt the game into a film. Film writer, Blaise Hemingway, has even written the screenplay as of 2018.
Year Released: 1995 Minimum Total Copies Sold: over 22 million copies (from https://www.wired.com/2009/03/mf-settlers/) Estimated Total Active Players: 223,381 (from https://boardgamegeek.com/boardgame/13/catan/stats)
A favorite aspect for many players is that the board game itself can be modified every game play. This is because the different land types are laid out randomly at the beginning of each game. So even if you played this game before it's a fresh start for everyone when they see the board.
There is a huge social dimension in this game. Because of that you won't just sit there silently and stare at each other. You must talk to each other for trades and deals. You can even gang up on a leader to ruin their settlements plans.
You must be smart about every move. Since Catan is an island there are only so many resources on it. Due to this there is a lot of strategy and resource management that you need to be thinking of.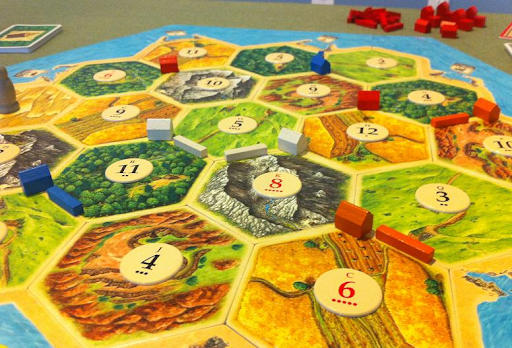 Will you create the best settlement? 
4. Pandemic Legacy
The Dice Tower
Your world is on the brink of disaster and you and your team are the only people who can stop it. You are a disease-fighting specialists, and you travel around the world treating diseased outbreaks. You must research cures for each of four plagues before they get out of hand and destroy the world.
Pandemic Legacy is an award-winning game. It was the #1 game on BoardGameGeek for two years in a row. Pandemic Legacy has also won an international title, International Gamers Award - General Strategy: Multi-player.
Due to the popularity there is even a sequel, Pandemic Legacy: Season 2. Season 2, which was released in 2017, is set in a devastated earth 71 years after Season 1.
To bring players together in competition there are Pandemic Survival events. The event hosts teams of two players where they face each other simultaneously to find all 4 cures.
Year Released: 2015 Minimum Total Copies Sold:18 million copies (from https://www.cnbc.com/2016/12/22/millennials-the-board-games-revival-cata...) Estimated Total Active Players:174,870 (from https://boardgamegeek.com/boardgame/161936/pandemic-legacy-season-1/stats)
There was already a following due to the originally Pandemic being released in 2008. Though all the spinoffs are standalone games; Pandemic Legacy is actually the 3rd spinoff game of Pandemic.
Gamers love that there is an ongoing storyline to the game making every game feel high-stakes. Since the game board and rules change permanently after each game there is always a new element.
There is strategy and complexity in this game. The choices you make in your efforts to halt the ever-advancing plague also have lasting effect on the game. If you act to rash then a whole town can become infected.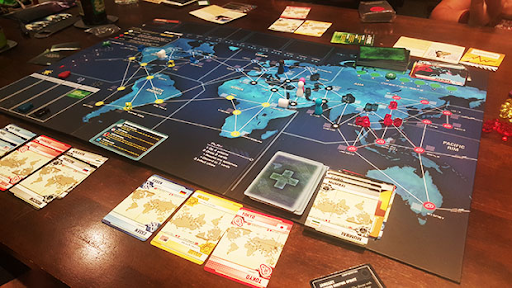 Will you let the disease destroy the world?
3. Codenames
SourceFedNERD
Welcome to the worlds of spies, where everyone has a secret codename. Only the spymaster knows the secret identities of 25 agents. You must compete to see who can make contact with all of their agents first. You must be quick to name your agents and avoid the assassin.
Codemanes has become popular that the big film studios want in on this game too. Some editions include: Codenames: Harry Potter, Codenames: Marvel Edition, and Codenames: Disney Family Edition. So once you are done playing the originally you can play with some of your favorite childhood characters.
Codenames has also been translated into over 30 languages. Some translations include Japanese, Korean, Greek and Hebrew. There is no wonder why this game is so popular.
With all of its popularity, it is easy to see how Codenames is on of the top ranking of games of all time. Codenames was ranked 17th out of more than 84,000 in the BoardGameGeek as a top game. Codenames has also won the most prestigious game award worldwide, Spiel des Jahres.
Year Released: 2015 Minimum Total Copies Sold: 1 million (from https://czechgames.com/en/home/news-16-12-17-looking-back-at-2016/) Estimated Total Active Players: 360,423 (from https://boardgamegeek.com/boardgame/178900/codenames/stats)
People love this game because it is a great party game. There is fast gameplay, with easy instructions that can be learned in less than 5 minutes. And since there is a fast gameplay you can play many rounds in one sitting.
Codenames is a hilarious game. Since you are trying to guess the codename off a simple clue, the connections you make will leave the room laughing.
Even though Codenames can be a funny game it can also be challenging. The better you are at vocabulary the better you will be at this game. So when you and your friends from college play this game hope none of them were an English major.

Are you good enough to avoid the assassin?
2. One Night Ultimate Werewolf
GameGrumps
In your village you have one goal, and that is to find the werewolf. Time is short, you only have one night and the following morning to decide who is the werewolf. But the catch is the werewolf doesn't kill at night so there are no deaths to help you find him in the morning.
One Night Ultimate Tournament have become popular to fans of the game. In the tournaments you must use your social deduction and hidden identity to win back to back rounds. If you are a good enough player there is the World Championship too.
So many fans have loved the game the there is now a free app for iOS, Android, and Kindle Fire. The best part about the app is that it is a companion to the board game.
Since gamers loved playing One Night Ultimate Werewolf there are now spin off games you can play. Some spin offs include,One Night Ultimate Vampire, One Night Ultimate Alien, and One Night Ultimate Supervillains.
Year Released: 2014 Minimum Total Copies Sold: over 100,000 copies (from http://www.dicetowernews.com/bezier-games-announces-one-night-ultimate-a...) Estimated Total Active Players: 140,110 (from https://boardgamegeek.com/boardgame/147949/one-night-ultimate-werewolf/s...)
One Night Ultimate Werewolf has been a party game hit because of the social aspect of the game. You can quickly learn your role in the game, and you need to communicate with each other to figure out who the werewolf is.
Gamers love this game because of its playability. One Night Ultimate Werewolf is a fast-paced game that can be played in ten minutes or less to play. This makes it perfect for people who are not huge gamers because it's a short commitment.
There are not a lot of games that you can lie in, but lying is encouraged in this game. If you are the werewolf, you are all about bluffing. Since your opponents are trying to ask thoughtful questions to find the werewolf, you need to play the part to come out victorious.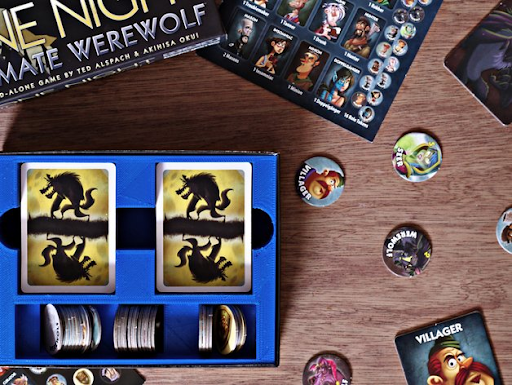 Can you save the town from the werewolf? 
1. Betrayal at House on the Hill
Achievement Hunter
Only the bravest can make it to the spooky abandoned house on the hill. The house has the smell of decaying bodies, sounds of empty footsteps, and who knows what could end up crawling towards you. You must explore the mansion to discover its dark secrets. But be careful, one of you might be a traitor.
Betrayal at House on the Hill has one expansion called Widow's Walk. With this added to your board you can explore  20 new rooms, new monsters, items, omens, events, and haunts. But remember this isn't for the weak hearted.
This game became so popular that Dungeons & Dragons has their own themed version of the game. Betrayal at Baldur's Gate takes the exploration and horror aspects of the game and applies them to the iconic Forgotten Realms.
If the game itself wasn't scary enough there has even been a Betrayal at House on the Hill Escape Room. There you and your team needs to investigate a haunted mansion, solving puzzles and collecting items. Act fast because suddenly the game becomes a competition between the Traitor and the Explorers.
Year Released: 2004 Minimum Total Copies Sold: unknown but is in second printing Estimated Total Active Players: 58,010 (from https://boardgamegeek.com/boardgame/10547/betrayal-house-hill/stats)
This board game is perfect for horror film fans. Betrayal at House on the Hill builds suspense quickly with encounters from spirits and frightening omens. This is not a game you want to play on a cold, dark, windy night.
Even if you play this game once there is always more to explore. This is because there are 50 scenarios that take place during this haunting phase. Because of this you will never know what one you will play.
It's a semi-cooperative game. You must work together to explore a creepy, old mansion, dealing with whatever threats you meet. But don't get too close to anyone because there is a traitor that will step forward.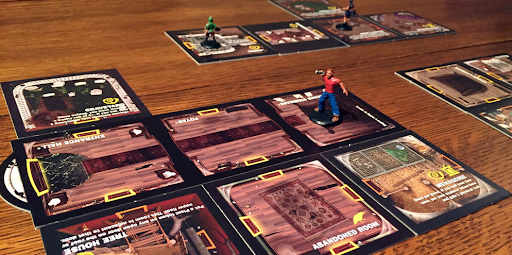 Are you brave enough to get through the house on the hill?
Also be sure to check out: 
Image Gallery