[Top 10] Don't Starve Best Characters You Should Use
Updated: 04 Dec 2021 1:09 pm
Wilson wielding his torch searching this survival horror game for the best way to survive surrounded by the looming darkness of failure behind him.
You don't need to be good at the game to have a good time. Especially when the game is designed for you to die around every corner. Don't Starve is a learning experience, where you learn there are a lot of different ways to die. If you'd like to increase your chances of lasting a little bit longer than before: Here's the Top 10 Don't Starve Best Characters you should use.
This tier list is for new and experienced players. Some characters are easier for people that have been playing longer; it can be kind of overwhelming when you just start out. You have to keep track of hunger, sanity, and health - in addition to making sure you don't bumble and misstep into something that definitely wants you dead. ...As most things do in this messed up Tim Burton-esque survival horror fantasy.
Some characters get benefits if you pay closer attention to their stats. For instance, some characters actually are more useful when their sanity is low compared to others. Other characters are better at gathering materials and building than they are at surviving long enough to use these things.
As far as ranking, I'll talk about the all-around ease and survivability of characters if you want to live longer. The information I'm pulling is for a solo run of characters from the Don't Starve base game and Reign of Giants expansion. Further expansions come with more characters, such as Shipwrecked and Hamlet, as well as Don't Starve Together which is the multiplayer sequel to Don't Starve. 
10. Woodie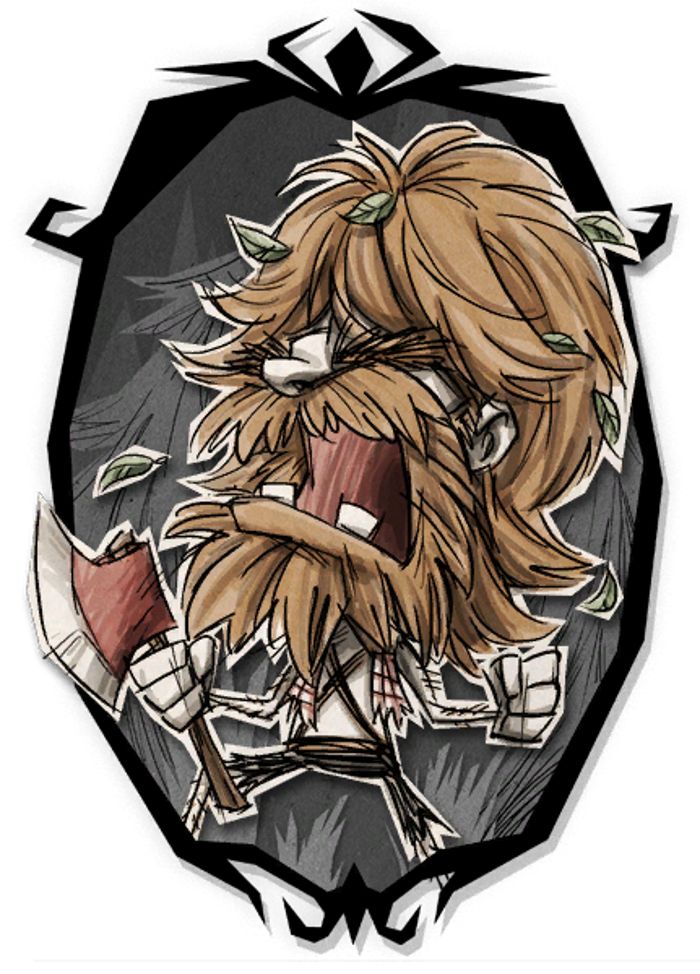 Woodie from Don't Starve holding his axe Lucy in rugged survival attire, a skin available in Don't Starve Together.
Woodie is number ten on the list. He has some pretty good benefits, but also some pretty incredible drawbacks.
His biggest advantage can also be his biggest disadvantage. Woodie turns into a Werebeaver either on the full moon, or if he chops too many trees with his special axe named Lucy. The Werebeaver drops all inventory and goes on a chopping/mining/digging rampage until the player's new Beaver meter drops to 0. This Beaver form has increased attack, damage and speed.
Woodie's the only character that can technically survive without eating food or using healing items. The Werebeaver will always return Woodie to 50 health and sanity and 37.5 hunger.
 If you're bad at managing these, this can be a saving grace. But they're super low so your saving grace is more of a last ditch effort. Any other revival method in the game will get you better base stats.
Can't interact with items in Beaver form. At all. That means you have to drain your Beaver meter before you say… pick up your food before some stray mob decides to eat it all.
Also has a transformation delay, which means enemies can kill you very quickly when you're waking up.
His axe is unbreakable though, so as long as you don't lose it you always have a (weak) weapon.
9. Wilson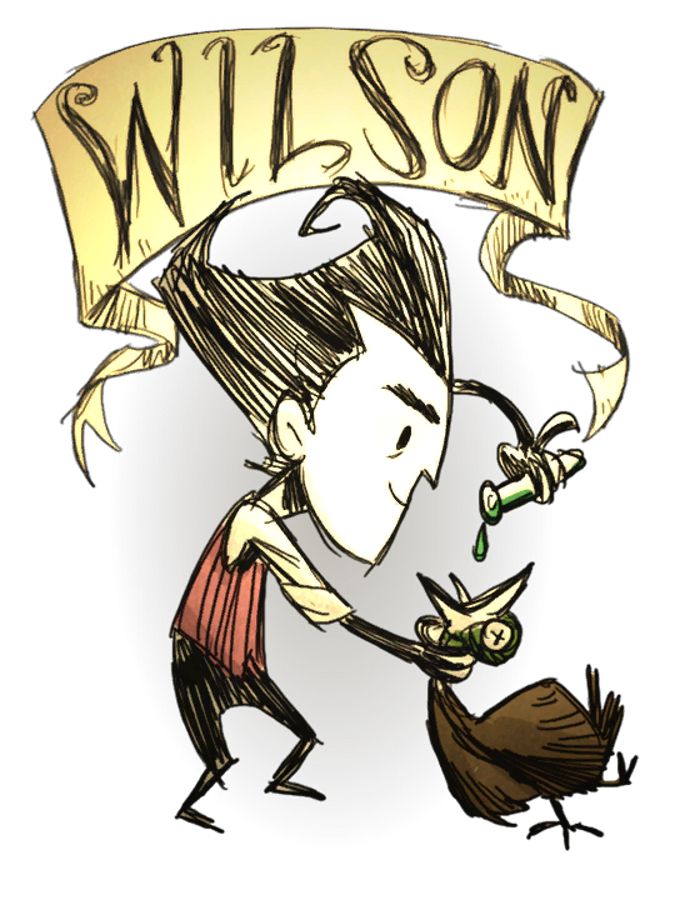 Wilson, the main protagonist of Don't Starve, and his mystical science that got him into this mess in the first place.
You wouldn't think Wilson would be on the top ten list because he's the starter character, but here he is. He's a good character to play and really fosters a sense of accomplishment if you can make decent progress with him in game. I mean, he's on the cover for a reason right? You should be able to beat the game with him. Turns out you don't have to be really good to do it!
Wilson is the starter character. You don't have to worry about unlocking him via experience or anything. He's free. He's yours.
He's an average character. No real buffs to anything but no debuffs either. You don't have to worry about stat manipulation and you can really just focus on playing the game.
His benefit is that he grows a beard. A magnificent beard as the game notes. This beard can be shaved after a few days to give you beard hair which can be used to craft items.
Specifically a meat effigy, which can be used to revive upon death. Other characters have to catch and kill Beardlings which only spawn at low sanity levels and have a pretty low drop rate for beard hair.
Another perk I love to include is that he grants lore in the game since there is a real story. With the exception of Maxwell, the story is about him and his journey through Adventure mode. The other characters tell their own side of the story, but if you want information about the state of this wacky world, Wilson will give you the most and he even has some personal dialogue with Maxwell.
8. Maxwell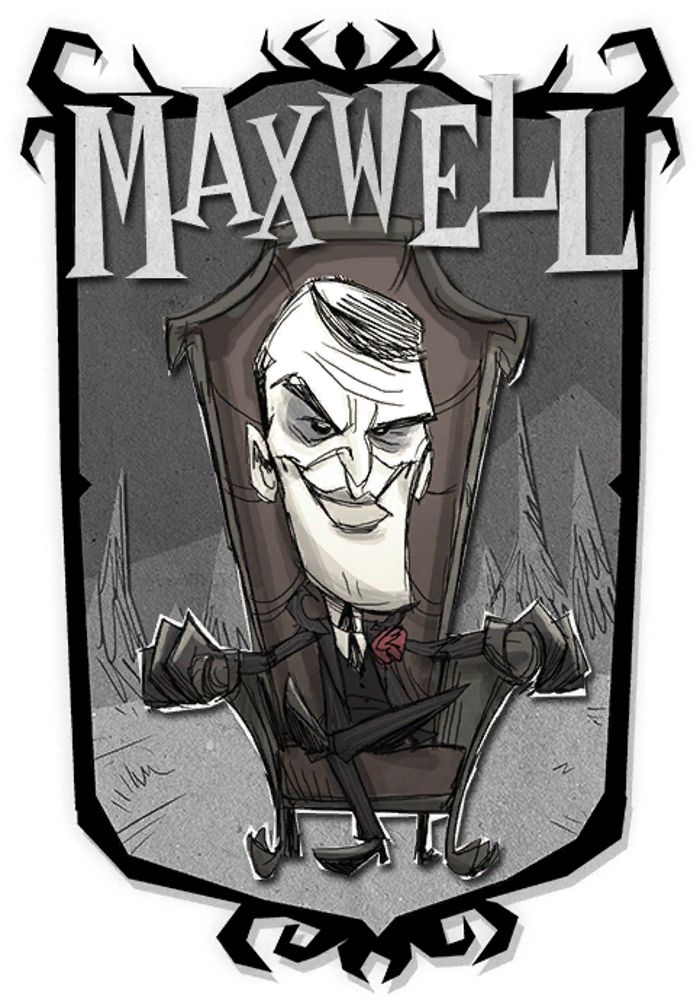 Maxwell, the main antagonist of Don't Starve, seated on his Nightmare Throne as a playable character in the game.
Speaking of Maxwell, you can play as him! In order to unlock Maxwell you need to have Don't Starve already completed. Yes, there is a way to not only survive but to win. You'd think due to this he'd be higher on this list with better stats. But, then again if you beat the game without him, you'd likely have an easier time surviving with other characters.
By the time you've unlocked this character you should know how to play the game.
Maxwell can summon shadows to help him do things like attack,chop wood, mine rocks and fight. The shadows have low health and they cost health and max sanity to make.
A lot of his abilities  come from having lower sanity, but his benefit is high sanity regeneration. So you have to spend extra time making sure you have a low enough sanity to take advantage of these abilities.
He starts with lower base health than the rest of the characters. In addition to that, his main tool costs further health to make. This leaves  him at much lower health than most other characters, meaning fighting is not your strong suit.
Maxwell spawns with armor but it's not the best armor comparatively. Nor is it really proportional to how low his base health is. He's just not the most rewarding character to play unless you're playing for the achievement. In which case, it's incredibly rewarding.
7. Wagstaff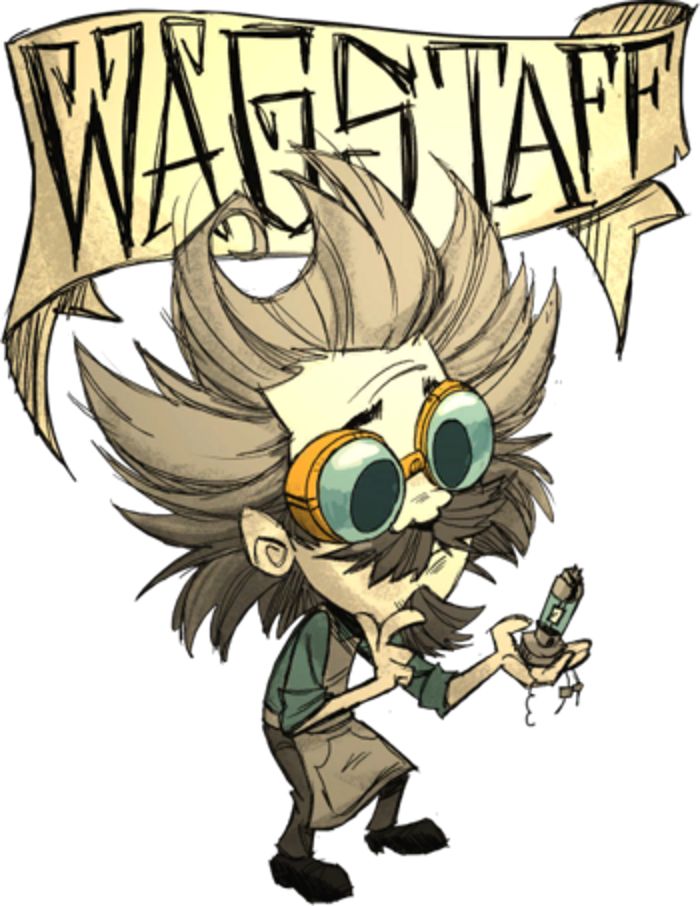 Wagstaff, a master inventor with challenged eyesight, inspecting one of his unique inventions.
Wagstaff is a character added relatively recently. He, like Wilson and Maxwell, has a role to play in the story. Unlike the two of them however, he takes a secondary role to the keeper of lore. He's nearsighted, which adds its own level of difficulty. Though he's also a tinkerer, this means he can make special items that each come with their own perks.
Wagstaff is nearsighted so he can't see beyond 4 units of in-game distance. He makes different kinds of goggles to combat this. These goggles each have their own benefit, from aiding in combat or resource gathering, to allowing him to teleport. He starts with goggles that can reveal hidden danger when in use.
Because he needs goggles to see, this usually takes up a head slot. This means other useful items that keep up warmth or maintain sanity are not as accessible.
He takes 3 damage from eating any uncooked food item, which you really shouldn't be doing anyway. Food is just so much better cooked in this game.
Another lore dropper! Because he's nearsighted you have to be able to - well, see the items in order for him to examine them. He gives alternate insight compared to Wilson for perspective and canon facts about the game if that's your jam.
6. Webber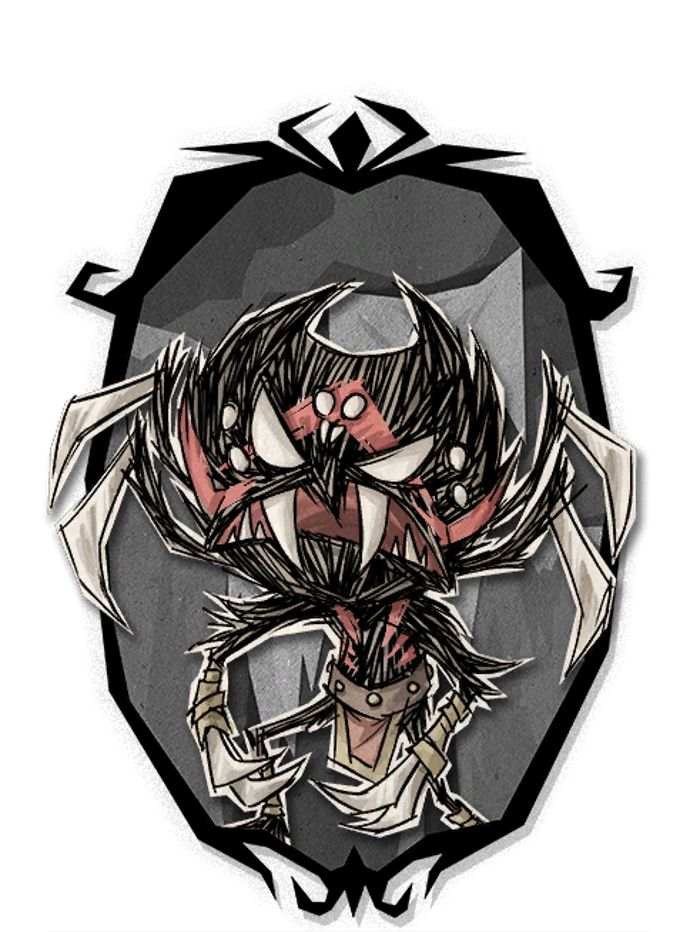 Webber, the spider boy ready to fend for himself, in his warrior skin as found in Don't Starve Together.
Webber is a character unlocked with the Reign of Giants expansion. He's a spider child. A spider that ate a child? A child that lives inside of a spider? He is a child that is one with the spiders. Which is spectacularly dark compared to how cute he is in the game. In order to unlock him, you have to find his skull as an item drop from a spider in the Reign of Giants expansion and then bury it so he'll come back to life and yeah I'll stop there.
One of his big benefits is that he's neutral to spiders and can befriend them in the same way other characters can befriend pigs or bunnies.
A big (and I mean BIG) downside to this character is that he not only cannot befriend pigs, bunnies, and many otherwise neutral mobs. They are aggressive towards him and they will give chase as long as they're on screen.
Webber is a pretty average fighter, but he can befriend spiders that can help fight for him. This includes regular spiders and spider bosses/queens.
You have more food options since he can eat monster meat and monster meat recipes. He also has less trouble with spiders so spider glands and webs are in abundance.
Spiders are easier to amass an army of because feeding one will befriend a surrounding four in the area. Getting rid of them requires you to either wait out the timer or get them killed. If you have too many around they will aggro everything in the area, whether you want them to or not.
5. Wendy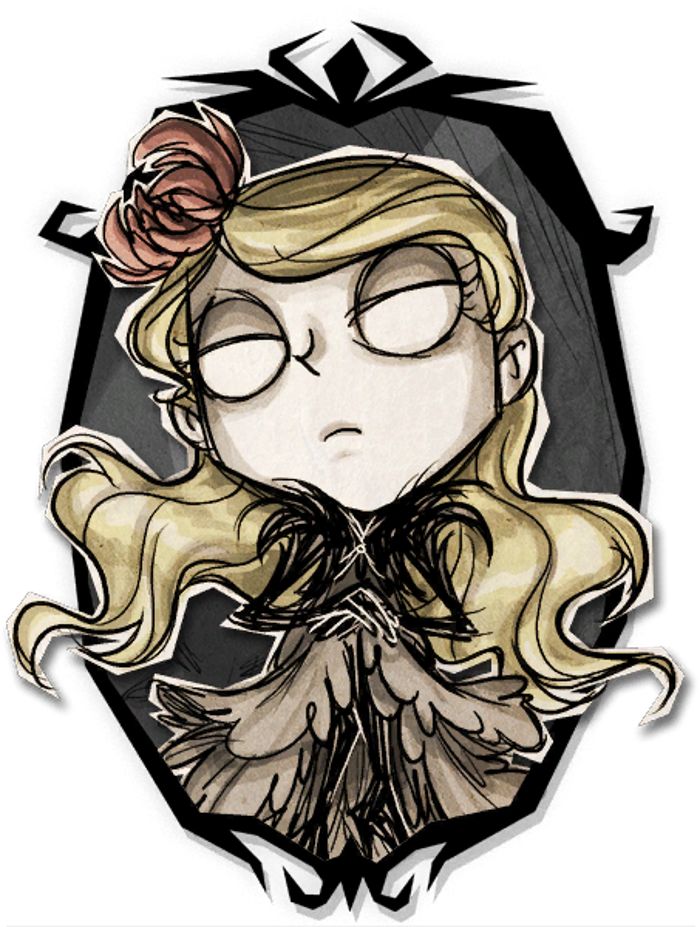 Wendy, fashionable and flamboyant, in her shadow skin awaiting her turn to try and escape the survival horror world.
Wendy is my personal favorite. She's the easiest to get a handle on and she makes starting the game mistake-friendly. She's haunted by the ghost of her twin sister Abigail and- no? No more dead kids? Okay.
Wendy's big advantage is her ghost sister Abigail. Abigail works as an avatar that follows Wendy around dealing damage to hostile mobs. Enemies have a tendency to swarm in Don't Starve. This includes bees, spiders, or even pigs and hounds. Abigail does an area attack that makes it easy to defeat these small mobs and gather resources from them. 
Newer plays might have trouble defeating these mobs. Abigail makes it easy to defeat them. Or at least aggro them long enough for the player to get away. Once Abigail "dies", she returns to a flower that the player can collect afterwards to summon her again in a couple days.
She's not a good character to play long term. Abigail can't do much when it comes to gathering food or resources. She also doesn't do well in fights with bosses or stronger enemies. She aggros mobs even if the player might not want her to.
The cost of reviving her can be pretty great in terms of time when you're counting your precious seconds. She's saved my life just as often as she's gotten me killed.
Wendy's own base damage is weaker because she starts with her sister, so this tag team duo works much better when they run away unless you can make an army of Abigails which is possible with crafting magic recipes.
You won't get killed by mobs, you just have to worry about everything else.
4. WX-78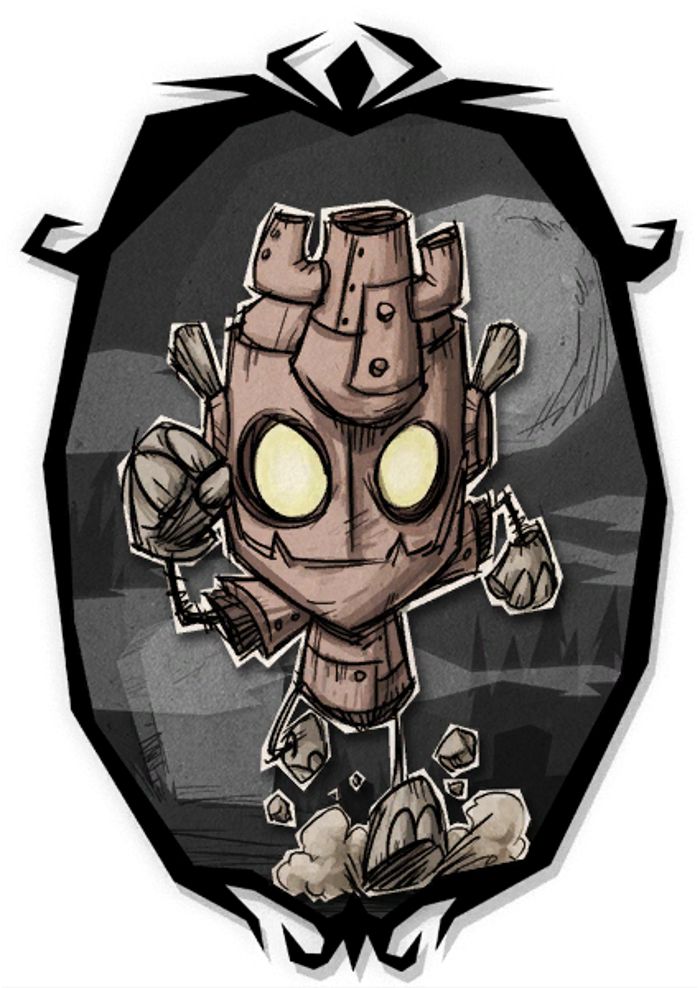 WX-78. Don't Starve's robotic character, comes with his own challenges but offers many benefits that his human companions can't match.
WX-78 is a character with good upsides if you live long enough to take advantage of them. He's a robot which means he can boldly go where many characters only dare to dream. As long as he stays out of the rain.
He's pretty average when it comes to damage and hunger. Doesn't seem like a benefit, but take into consideration the many other characters that have penalties to attack, hunger or sanity drain; this is nothing to discard. He doesn't have any factors affecting his starting level of health/hunger/sanity drain.
The biggest plus to his character is that he can upgrade with gears. Upgrading means he raises his base health, hunger, and sanity capacity. He'll be able to store more which makes it harder to die in the long run.
Because of his character balance he works pretty well if you want to use him across other expansions from Reign of Giants to Hamlet - Klei's most recent expansion for Don't Starve.
Of course in order to utilize this character's massive benefits, it comes with the risk that you have to find and defeat the clockwork creatures that drop gears. Which can be a task in and of itself. 
3. Wickerbottom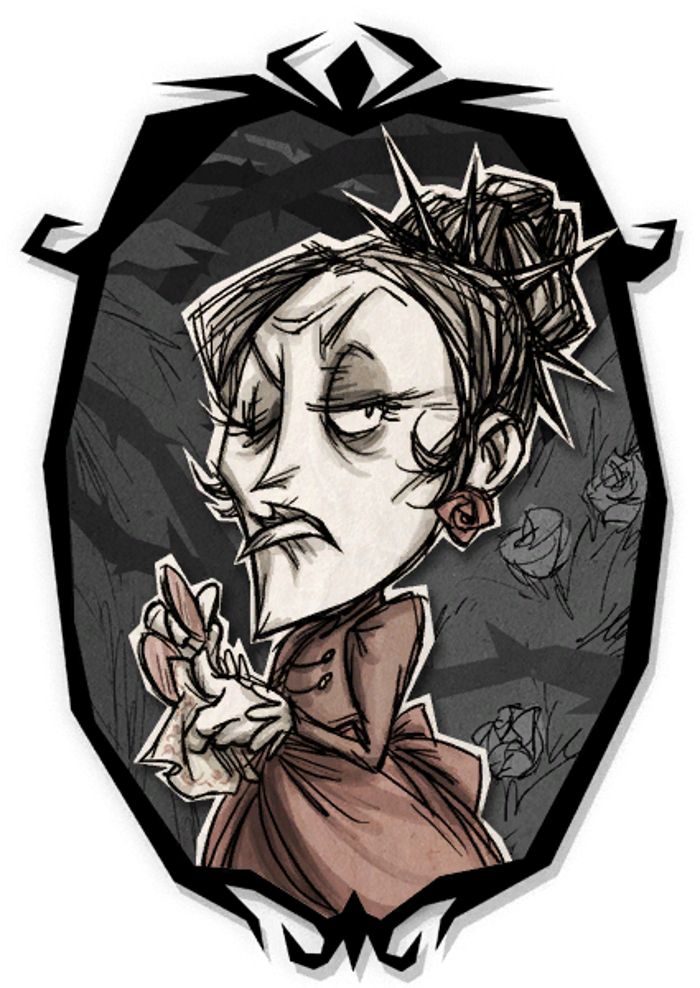 Wickerbottom, the stern librarian, has an assortment of knowledge and skills that make her one of the more esteemed character selections.
Wickerbottom is a character that is not combat focused. Her advantages are her knowledge and crafting ability.
Wickerbottom spawns with two pieces of papyrus which can be used to craft books, which are items specific to her. She's also able to craft many items without the need for an alchemy engine, so you can get a head start with the added convenience of being able to craft more exclusive items.
One of Wickerbottom's books allows her to summon birds, which if used in with another book of hers that puts mobs on screen to sleep can be used to gather a lot of easy food. This is helpful since one of her disadvantages is that she refuses to eat spoiled food.
Because her character is based around knowledge and not combat, a lot of her abilities are less straightforward and work better when puzzle piecing with other abilities or even other characters when playing Don't Starve Together.
Her drawbacks are that she can't eat spoiled food and she doesn't sleep. Sleeping regains sanity and health at the cost of hunger. If you're having issues regaining sanity and health, this can be pretty unforgiving but there are ways to get around it even for an old librarian.
There are a lot of interesting ways to play her. She makes crafting easy and exploring more rewarding. But it can be very easy to get distracted and starve. Trust me.
2. Wolfgang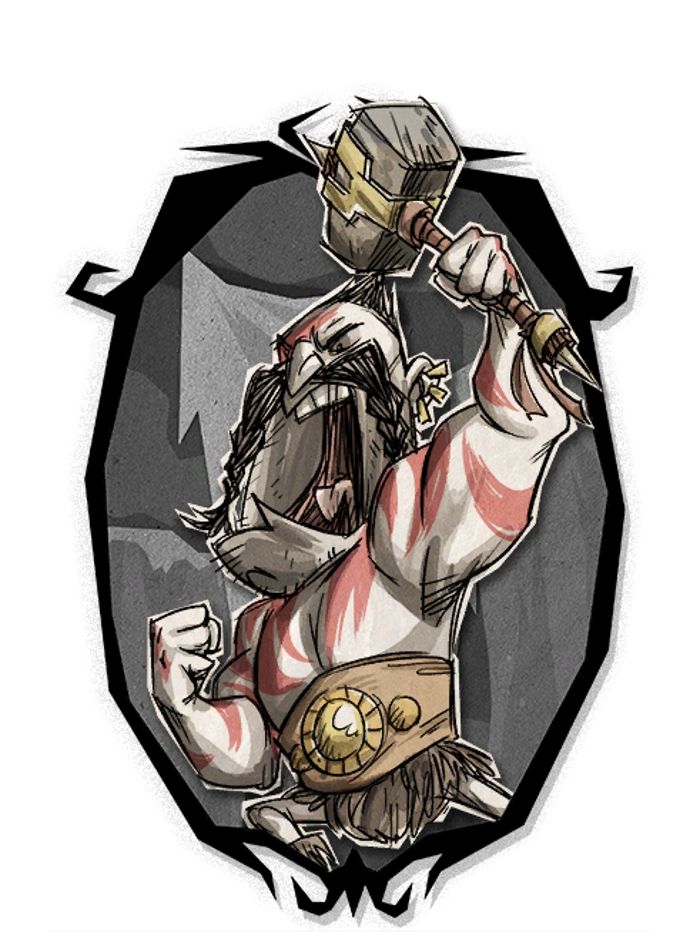 Wolfgang, the Strongman, demonstrates his strength more than the other characters and his unique take on survival.
Wolfgang is second on this list because he's not as beginner friendly. Wolfgang is a Don't Starve original, so he can be played with the base game as well as any other expansions you decide to pick up. As such, you have plenty of opportunities to practice using him. And if you decide to, he's a very rewarding character. 
Wolfgang's upside is that he gets a damage boost when his hunger is filled. He's great for fighting all kinds of things that want you dead, especially if you can get him the right weapons and armor. However, in this form his hunger drains quickly so it is not good to keep him in it for too long. Which means it'll be pretty time consuming to find alternate ways to heal if your health gets low. Trying to manipulate this when you're still getting the hang of exploring, fighting, dying and not starving can be overwhelming.
He is very good at fighting which means you're more likely to last longer with a healthier supply of food to keep up. 
If you don't mind having another stat to keep an eye on, Wolfgang can be an extremely useful character. You can get pretty spoiled if you do manage to master him. Being able to take out mobs in a couple hits or even tank bosses from early on is hard to give up.
1. Wigfrid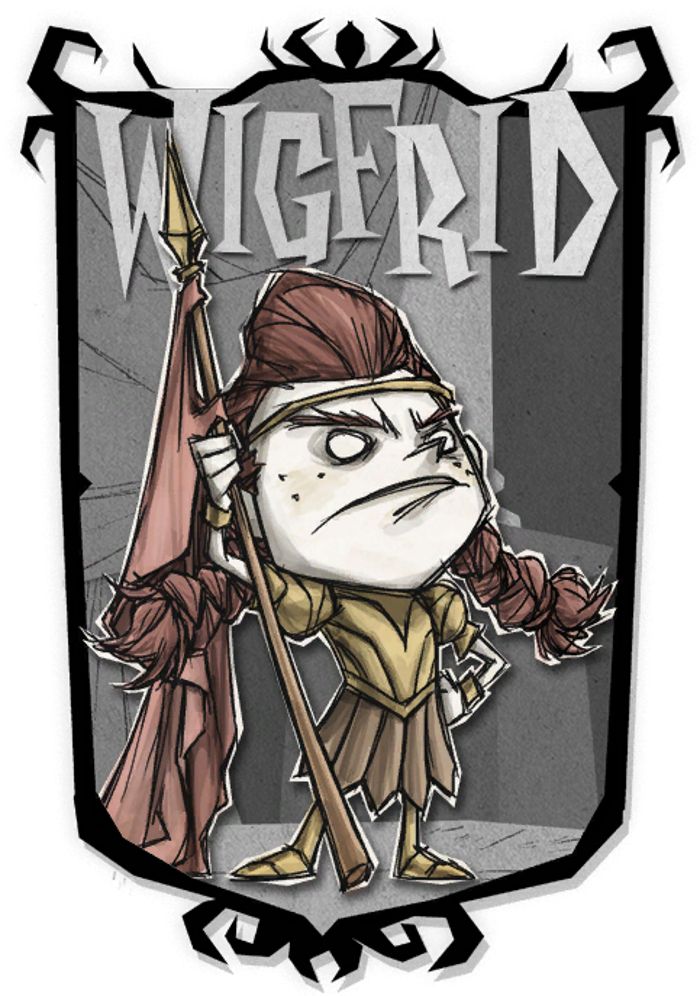 Wigfrid, the battle heroine of the game, stands proud in her ability to handle the threats of the game with a strong helmet and sharp spear.
Wigfrid makes the top of this list. She's a great character for both new and experienced players. She is one of the Reign of Giants characters, meaning you can't unlock her in the base game without purchasing the expansion. She averages the better qualities of many characters in a nice, convenient, starter-friendly package.
Wigfrid is, as mentioned, a great character for anyone new to the game or already familiar with mechanics. She spawns with her own weapon, armor, and food. 
One of her drawbacks is that she can only eat meat - so you will have to replenish that food source quickly. During the first few days you have time to do so without too much worry.
Her base stats for fighting are not the best in the game. Wolfgang does more damage and has more health in his strongman form, beating out her spear. Woodie has more damage resistance in his Werebeaver form. Maxwell starts off with better equipment. But Wigfrid's ability to average all of those qualities make for a higher chance of surviving whether you're focused on fighting or exploring.
Because of her starter helmet that can be remade pretty easily when it breaks, Wigfrid is pretty good at avoiding damage. Even when she does take damage - either from enemies or from eating monster meat recipes - fighting adds a percentage back to her health. You should still eat after big fights, but for smaller mobs you don't have to worry about them wearing down your health as much. 
This is good since you don't have to shy away from turning to monster meat if you're struggling to keep up with hunger in a game called Don't Starve.
Also Be Sure To Read:
Image Gallery