Which Is The Best Razer Gaming Mouse For You?
Updated: 17 Jul 2015 9:26 am
Razer
Picking the best Razer gaming mouse out of the 7
Razer is one of the best brands when it comes to gaming mice but how do you pick the best one for you? Check out our review of all 7 Razer gaming mice below and find out which suits you best. 
7. Razer Orochi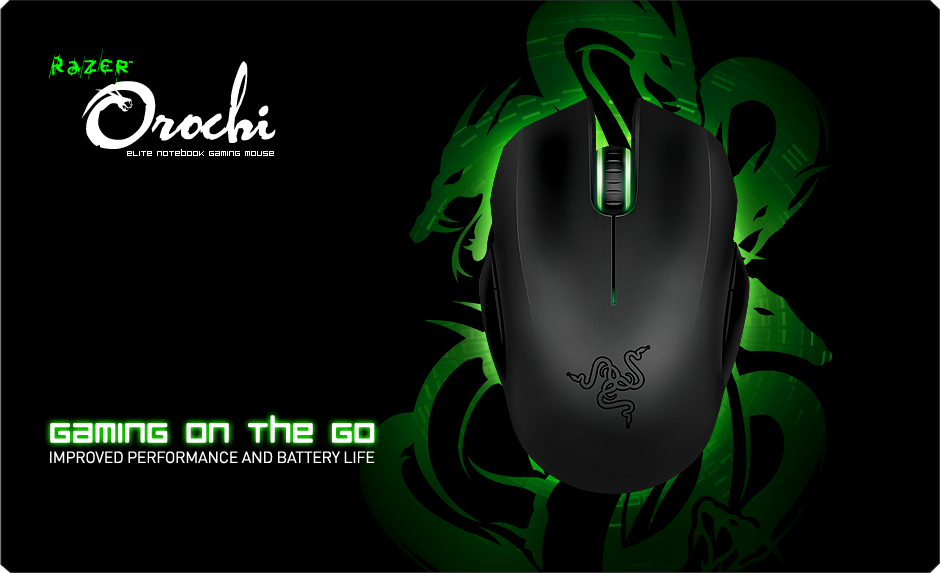 Razer Orochi: 69.99€
This Razer Orochi mouse is a pretty cool mouse with a 6400 dpi 4G laser sensor which makes it very precise for gaming. It comes with a cable or wireless which is a good feature to have because if the battery runs out you can still use the mouse without replacing batteries. It also has a low battery indicator so you will always know when you should switch to the wire or replace the battery.
This mouse has 7 programmable buttons which can be programmed with Razer Synapse, a software driver that allows you to change the DPI along with other things. It also boasts a long lasting battery life of up to 30 hours. As a cool add-on it has LED lights on the scroll wheel. The scroll wheel itself has 24 positions.
Another bonus is that the Razer Orochi comes with a mini case for the mouse and two AA sized batteries the mouse needs to function.
This mouse is for you if you like your mice being one of the small types of mice and not a full grip mouse. This is one thing you have to take into account with this mouse, if you like a full grip on the mouse then this mouse is not for you. There are buttons on both sides of the mouse making the mouse symmetrical and allowing it for left hand use as well.
Keep in mind that this mouse uses laser surface technology which tracks better on hard surfaces and not on mouse pads, so there is no need to get a mouse pad if you are going to use a laser surface mouse.
I personally would recommend the Orochi Razer mouse for your FPS games and strategy games like StarCraft or Civilization which are click demanding games. I would not really recommend it for RPG games since rpgs require a lot of key bind options and as you can see this mouse has a very limited number of mouse key binds.
This mouse is more of a gaming on the go mouse - a type of mouse you would take around to your trips and game while travelling. I personally would not use this mouse for hours of gaming. 
Razer Orochi Review
6. Razer DeathAdder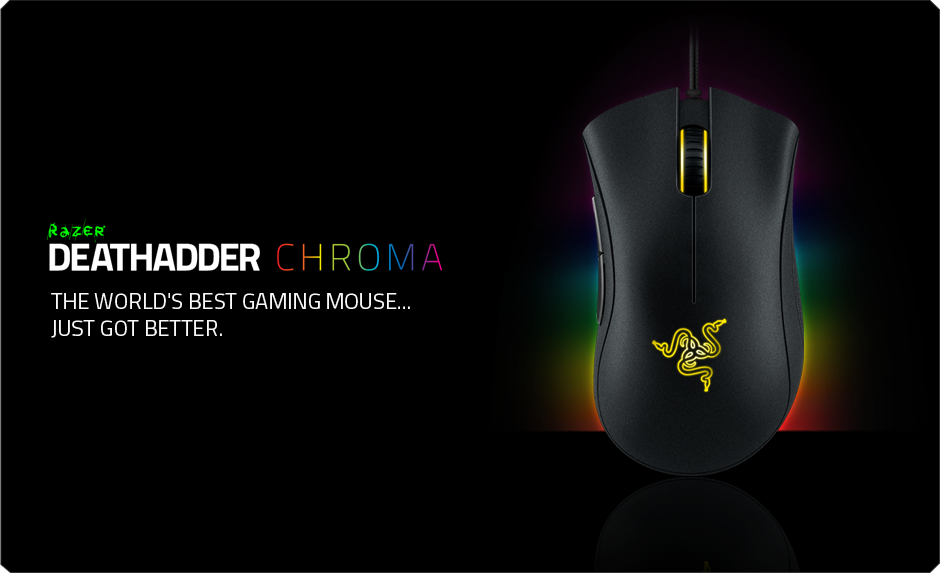 Razer DeathAdder Chroma: 84.99€
One of the most famous Razer mice is the DeathAdder. This is a type of mouse that will fit exactly under your palm. The rubber side grips is a big plus for this gaming mouse since it allows you to game for extended hours by letting you be in control of the mouse at all times, which is important for gamers. You do not want to keep losing control of your mouse.
The DeathAdder has a dpi of 10000 as opposed to the Orochi which had a dpi of 6400 dpi. The price tag is the reason this mouse has higher specs than the Orochi. Also this mouse is optical as opposed to the Orochi mouse which is a laser mouse. I personally wouldn't say there is a huge difference between a laser and optical mouse, but just take into account that a laser mouse can work on any hard surface whereas an optical mouse will require a mousepad.
A really cool feature for gaming that this mouse has is the lift-off tracking. When we game there are times when we lift the mouse off the surface and the moment we place it back on the surface there is some unsteadiness of the cursor. This is very annoying actually because it can throw you off target. The DeathAdder has a function where you can customize the height of the mouse from the surface at which tracking is cut off, this reduces the irregular cursor movements you get when placing the mouse back on the surface.
The hyper-responsive buttons on the DeathAdder is also key to a successful gaming experience. You have to apply minimum amounts of pressure in order to carry out a task.
Surface calibration is a very important add-on on the DeathAdder. As soon as you put your mouse on a surface the DeathAdder senses the surface color, rigidness of the surface and other properties. This allows the sensors to react more accurately with respect to the surface you play on.
They have also worked on the amount of profiles you can create on the DeathAdder which means you can create your own different profile for every game you play, including your own sensitivity and key binds. Now they have unlimited amounts of profiles you can create which is certainly very helpful to people who play loads of different games.
And of course it is a sin not to mention the Chroma feature where you can customize 16.8 million colors in different lighting modes. For example you can chose your mouse to "breathe" in the color of your choice, or you could activate spectrum cycling which cycles through the 16.8 million colors. For people who like simplicity you can just toggle the static option and the color you want will just stay on the mouse.
I think this mouse is extremely good for any type of FPS games. Yiliang Peng uses this mouse to play League of Legends so it would be really useful for click intensive games.
DeathAdder Chroma 
5.  Razer Abyssus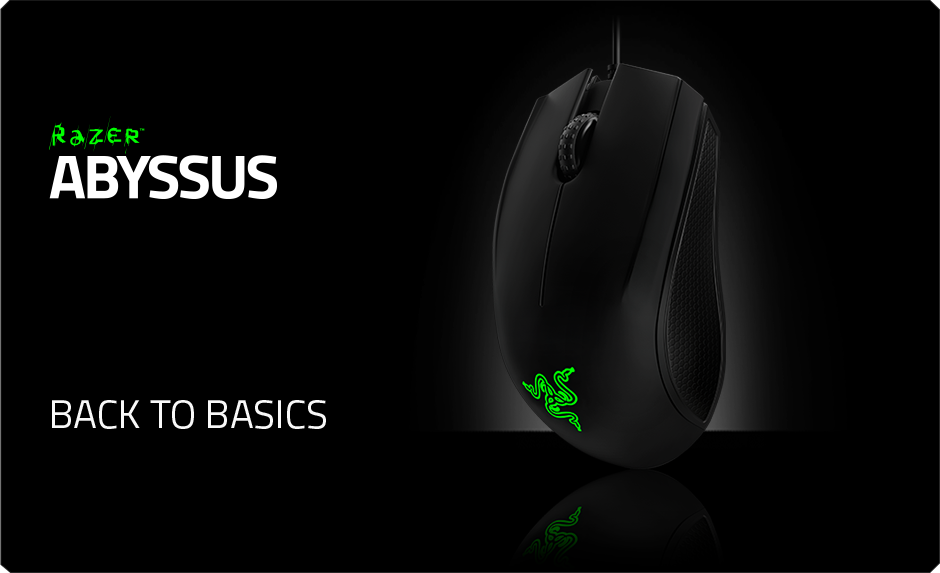 Razer Abyssus: 49.99€
The Razer Abyssus is a tactile gaming mouse with a lifespan of 5 million clicks. With a 3500 DPI optical sensor this mouse is pretty responsive and accurate. Once again the side grips give good mouse handling, which helps a lot in gaming. This mouse also allows you to personalize your mouse settings and save the configuration into the Synapse Cloud, making the settings easily retrievable.
The Razer Abyssus has a drawback in that it has no side buttons so it's very hard to call it a gaming mouse because I always use side buttons in any game genre that I play. It is a very simple gaming mouse and I think it's the best cheap gaming mouse you can get if side buttons are not as important to you.
The mouse has a DPI changing feature on the mouse which is pretty convenient. The DPI changing buttons are found underneath the mouse. You can change it to 450, 1800 or 3500 DPI making the mouse extremely agile.
I would recommend this mouse for people who are not extreme gamers and don't play competitive games like Dota or LoL. I think this mouse is made more for casual gamers who play games like Minecraft or indie games.
Razer Abyssus Review
4. Razer Naga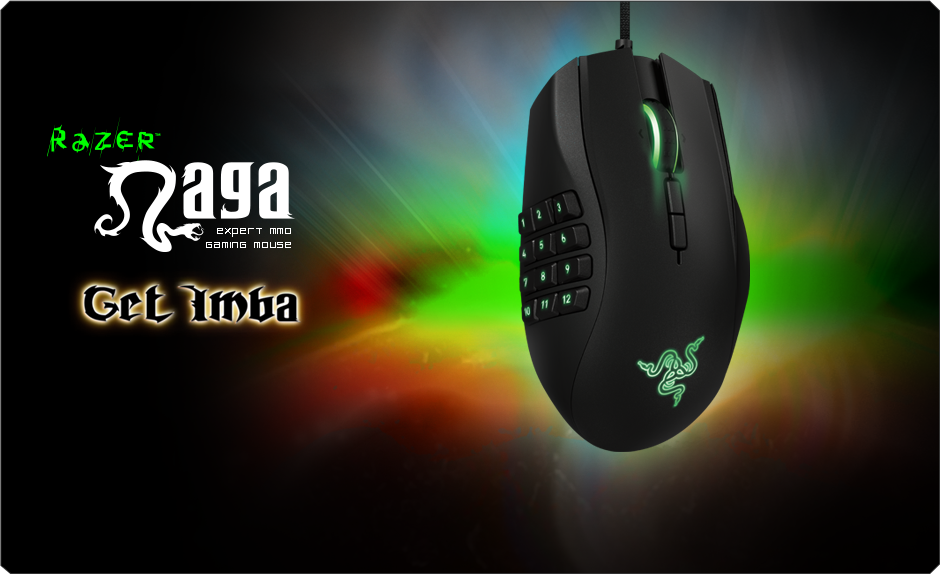 Razer Naga: 99.99€
Totally imba mouse! This mouse is made purely for MMO games, more precisely it's made for World of Warcraft. The mechanical 12 button grid is just perfect for games like WoW. This allows you to key bind so many useful spells onto the mouse making it much easier to cast spells and at least for me it increased my PVP winning rate.  Also the mouse wheel can go left and right in order to add more buttons to your mouse. This mouse basically compensates for a keyboard which makes it utterly amazing. Overall the Naga has 24 programmable buttons.
The mouse configurator they designed is totally amazing since it allows you to bind hotkeys or macros while you are playing your game. The reason it allows you to do this is because it uses a kind of overlay screen in order for you to see the game while key binding buttons. For World of Warcraft they have designed a special configurator, basically while in game you can see your mouse grid overlay and you can drop spells on the buttons you want to key bind. Simply put, extremely comfortable.
This mouse has an 8200 dpi 4G laser, which can be adjusted to any dpi level you wish. Just like the DeathAdder Chroma, the Naga has lift-off tracking which we mentioned earlier. Besides that, it also includes hyper responsive buttons, unlimited profiles and surface calibration. One thing that many people complain about in this mouse is that its lighting is not customizable whatsoever which would be expected from the latest naga model (2014) and that the mouse is heavy weighing 135 grams. Although I agree with these comments I heard from friends overall there is no better gaming mouse for MMO's in my opinion.
If you play MMO games this mouse is the way to go, you will not regret it.
Razer Naga 
3. Razer Taipan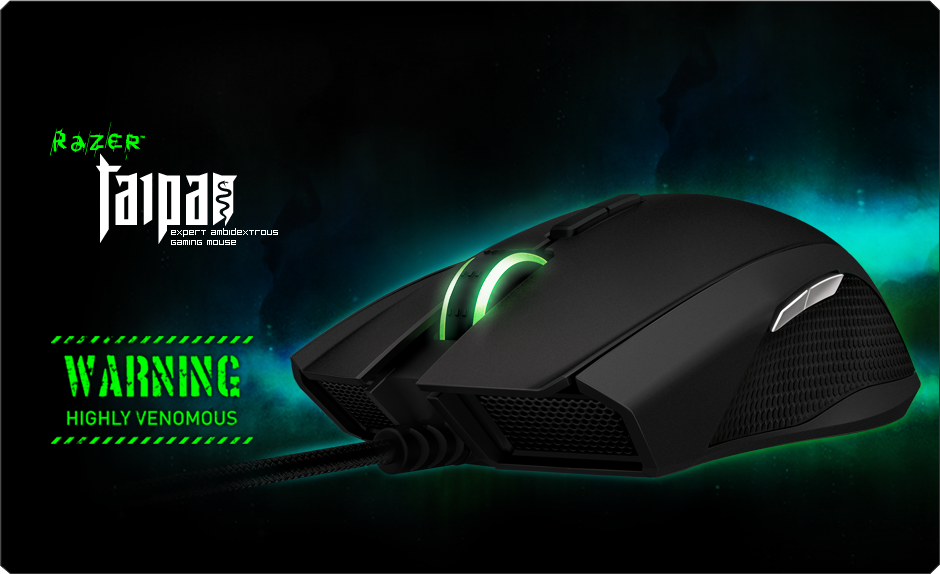 Razer Taipan: 99.99€
This one is one of my favorites along with the Naga and Ouroboros. Starting from the fact that it is also available in white color is a big plus for me since I love the color white. Whatever is your grip style you will end up being very comfortable with using this mouse, this feature of the mouse is seriously godlike. The Razer Taipan has the 8200 dpi 4G laser sensor which makes it very precise and accurate. All your actions will be on spot.
Now one more beautiful thing about this mouse: Symmetricity. This mouse is totally symmetric with side buttons on both sides allowing left handed and right handed people to use it without any comfort problems. It is perfectly balanced which is very good for gamers who need to execute actions at a fast rate and lift their mouse sometimes (including lift-off tracking function).
So this mouse has an ARM 32- bit processor. Basically you have a micro PC built in your mouse which allows it executes every action at an incredibly fast rate.
As mentioned before, lift-off tracking is an option as well as surface calibration and unlimited profile configurations. An obvious feature is the rubber sides which once again allows you to take full control of your mouse. There is one big drawback with this mouse that I have heard many people complain about and I personally agree that they could have thought this through a bit better.
The drawback is the mouse wheel which feels very awkward and hard to press without accidental scrolling. It is very important for gamers not to scroll by accident while pressing, and this issue was not thought through well by the product engineers. Still this mouse is one of my favorites due to all the things mentioned, and I would recommend it for games like LoL, Dota 2 and FPS games. Steven Ashworth who plays for team Liquid recommends this mouse and thinks that it is perfect.
Razer Taipan
2. Razer Mamba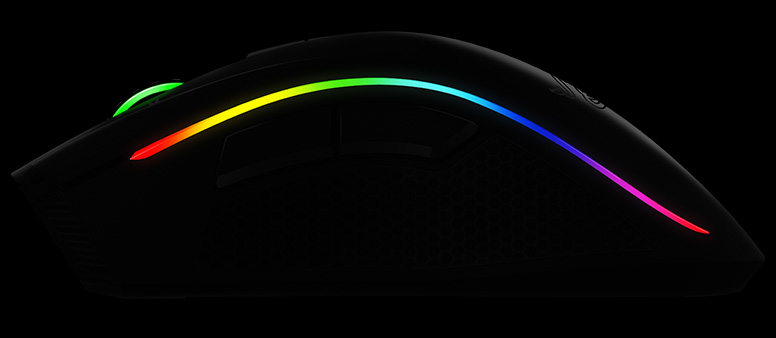 Razer Mamba: Pending Patent
This mouse is not yet for sale but it looks very promising and will be released along with the Mamba Tournament Edition. The Razer Mamba will be the most precise gaming mouse in the world with 16000 DPI which will allow an even more pro gaming experience.
They are planning to add a new technology to this mouse which is called adjustable click force technology. This technology is waiting to be patented by razor after which the mouse will probably be released. The adjustable click force technology will allow the user to adjust the click force mechanism to his or her own needs. This will be helpful for different game genres, and gamers will understand that this is a pretty cool technology to have.
One very cool and comfortable thing about the Razer Mamba is that it charges while you play so you never have to worry about it running out of battery. It charges through the wire.
The thing that the Razer Mamba Tournament Edition doesn't have is that it is not a wireless mouse and lacks adjustable click force which is kind of weird if you ask me, shouldn't the tournament edition have all the cool things since it's a tournament mouse?
Both of the editions will support full Chroma lightning just like the DeathAdder.
Anyway there is more coming up on these two mice we shall find out soon what is really happening.
Razer Mamba
1. Razer Ouroboros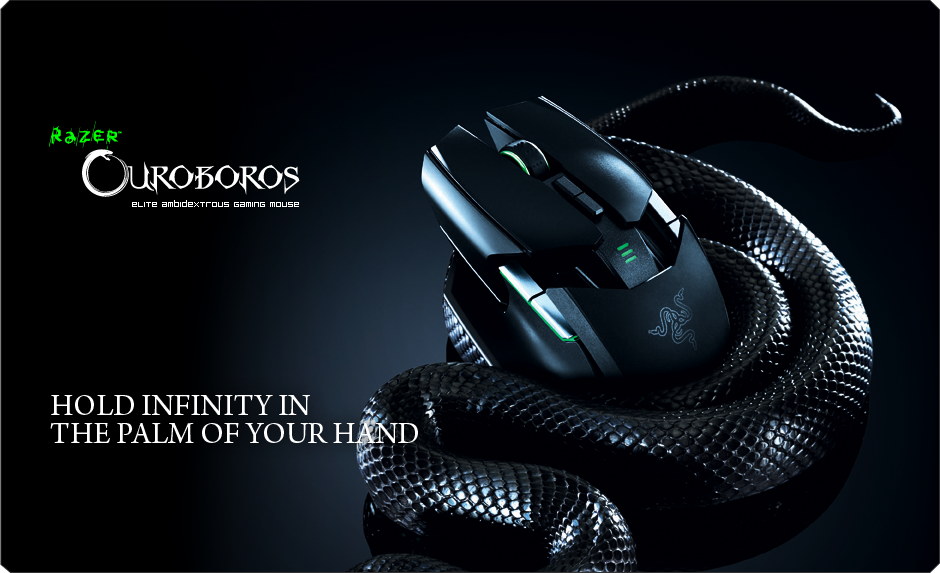 Razer Ouroboros: 149.99€
This is a mouse I use mostly for all my gaming sessions. I have not personally used a mouse which is more comfortable than this. It is an ambidextrous mouse with an amazing design. The mouse will fit any hand since it has an adjustable arch palm rest, retractable back and four side panels which can be changed suiting your needs.
This 8200 dpi 4G laser mouse hits sky levels of accuracy. Its response rate is 1ms even without a cord. It is possible to change the DPI with buttons on the mouse during the game which is a cool spec to have. The Razer Ouroboros comes with a rechargeable battery and a charging dock for the mouse.
The adjustable arch is really an ace because it allows players with different grips to play on this mouse. The steep arch is used for people who have a palm grip, medium arch is used for claw grip and flat arch for the fingertip arch.
It obviously includes all the new technologies that have been mentioned before like surface calibration, lift-off tracking and unlimited profiles. Although this mouse is top class and I really find it to be the best mouse there is one drawback. For the price of the mouse it is very unsatisfactory that there is no lighting customization.
This upsets me, but otherwise this mouse is perfect.
The Razer Ouroboros is good for FPS games and games like LoL and Dota. I would not advice using it for the MMO games.
Ouroboros
I love all of Razer's gaming mice and I think they are one of a kind. What about you? Share your experience using Razer mices with us. 
Image Gallery