10 Actresses Who Could Be The Perfect Wonder Woman: Continuing Diana Prince's Legacy
Updated: 18 Jul 2017 7:05 am
There have been so many wonderful actresses amidst the line of Diana Prince throughout her creation and world of kick-assery. She's a feminist icon and has been a lover of the human race since October 1941, when she first left Paradise Island to aid Steven Trevor in ending the war of all wars. Here's a list of ten women who would make fabulous additions to the Diana Prince legacy.
10. Gemma Arterton
Arterton reigning in Prince of Persia: Sands of Time. I definitely wouldn't want to be caught on the other side of that glare.
The Prince of Persia star has made a name for herself already as a badass queen and would definitely be a fascinating addition to the Wonder Woman legacy. Having starred in many other action films such as Hansel and Gretel: Witch Hunters and Clash of the Titans, she has plenty of experience and a great skill set.
9. Milla Jovovich
Jovovich proves it's definitely worth it to fall in love with a woman who can pull off any look she feels.
This Ukranian actress has more than enough experience with the action business, having starred in every Resident Evil there is, as well as The Fifth Element, The Messenger: The Story of Joan of Arc, etc. Though a bit of a type-cast actress, she would appeal to a world-wide audience and make a fantastic addition to the Wonder Woman name. 
8. Bridget Regan
Regan starring as Dottie Underwood in Marvel's Agent Carter. That smirk on her face is just as dangerous as that pistol in her hand.
Regan has extensive tv experience, having starred in Marvel's Agent Carter, The Last Ship, and Legend of the Seeker, as well as many other shows and films. She definitely has the experience and the sass to make her own unique version of Diana Prince shine.
7. Zoe Kravitz
Kravitz slays us all no matter what she does.
This behind-the-scenes femme fatale would be a fabulous Wonder Woman. She's had plenty of experience with action films and definitely knows what it takes to kick butt in them, including Mad Max: Fury Road, Divergent, X-Men: First Class, After Earth, and many others. She's definitely waited a while for her time to shine and Diana Prince would be the perfect step from supporting cast to lead actress.
6. Jennifer Lawrence
All hail our clumsy, down-to-earth film queen.
An absolutely versatile actress, Lawrence has done wonderfully with all different types of characters. Starring in the Hunger Games Trilogy, multiple X-Men films, and others of the same repertoire, Lawrence would bring finesse to such a sought-after role. She would definitely bring the sass and humor that we love from her, as well as a fantastic menagerie of experience that not many actresses have. As Wonder Woman, she'd definitely be kicking ass and taking names left and right.
5. Lynn Collins
Collins starring as Dejah Thoris, Princess of Mars, in Walt Disney Picture's John Carter. She ruled over an alien planet once before, I have no doubt she can do it again.
Already with a geeky following, having starred in X-Men Origins: Wolverine and John Carter, Collins has extensive action-shot experience and a close resemblance to the Wonder Woman comic character. Her flair for the dramatic and her ability to deepen many shallow-written characters would only add another layer to Diana's legacy.
4. Gina Carano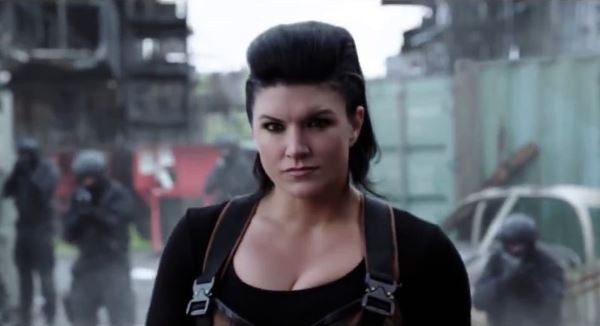 Carano kicked ass as Angel Dust in Marvel's Deadpool, despite being on the losing side and, well, in the end, getting her own ass kicked too.
This former MMA star would be a fabulous Diana Prince, bringing a set of class and winning combat skills to the table that most actresses don't possess. Starring as several strong and independent female characters in films like Fast and Furious 6, Ring Girls, and Marvel's Deadpool, she's definitely proved her talent and worth as both a supporting cast member and a leading actress.
3. Morena Baccarin
Baccarin definitely stole our hearts as the lovely Inara Serra in Firefly, I think she deserves a chance to do it a second time as our beloved kick-ass Amazon feminist.
Known for having starred in many DC related films, as well as Firefly, a science fiction tv show, Baccarin has experience with action-shots and long production times. She's a versatile spit-fire who would definitely make a wonderful addition to the Wonder Woman name.
2. Zoe Saldana
Saldana has been cast in 3+ major franchises and conquered them all, couldn't we add just one more to her empire?
This amazing actress has starred in several action and science fiction films such as Avatar, the Star Trek reboots, and Marvel's Guardians of the Galaxy. She's has the brains, brawn, and sass to bring Diana Prince to life in a fantastic way. She got beauty, she's got grace, and she'll DEFINITELY punch you in the face.
1. Gal Gadot
Gadot debuted in Batman vs Superman: Dawn of Justice and, no offence boys, but why would you ever think of denying that she's with you? Especially in the midst of a battle? Shame, shame.
The Fast and Furious star who is our current Diana Prince debuted in Batman V Superman: Dawn of Justice and then starred in her own solo Wonder Woman film this past June. She has an amazing resemblance to the Wonder Woman comic character and definitely proved that DC made the right choice with their newest addition to the Prince dynasty, bringing forth the depth and power of the character that we all hoped for but never dreamed to possess.
Each of these femme fatales have the experience and the skill sets to be part of the Diana Prince legacy, but who do you think is worthy enough for the title of The God Killer?
Enjoy this article? You may be interested in:
Top 10 Justice League Members and Their Powers
Captain Marvel 2019: Ten Interesting Facts About The Upcoming Movie