[Top 15] Best Military FPS Games We Love
Updated: 05 Jan 2021 11:55 pm
When brutality rules over humanity, we need to use both to win this war
15. Pavlov VR
Pavlov VR is basically the VR version of CSGO. Even better!
Pavlov VR is a virtual reality multiplayer shooter game with 4 main game modes; including search and destroy, casual fast-paced deathmatch, and an offline practice mode. Gameplay focuses on using the player's skills, instincts, and most importantly, teamwork. Pavlov VR features a variety of guns, including pistols, snipers, shotguns, SMGs, and more. Additionally, they also include nades, gear, and an extremely advanced training ground. This game is probably the closest version of VR CS:GO we will get as of now, but if you aren't a VR gamer and want to check it out, then get prepared for a 2021 PC release of Pavlov.
Download Link: https://store.steampowered.com/app/555160/Pavlov_VR/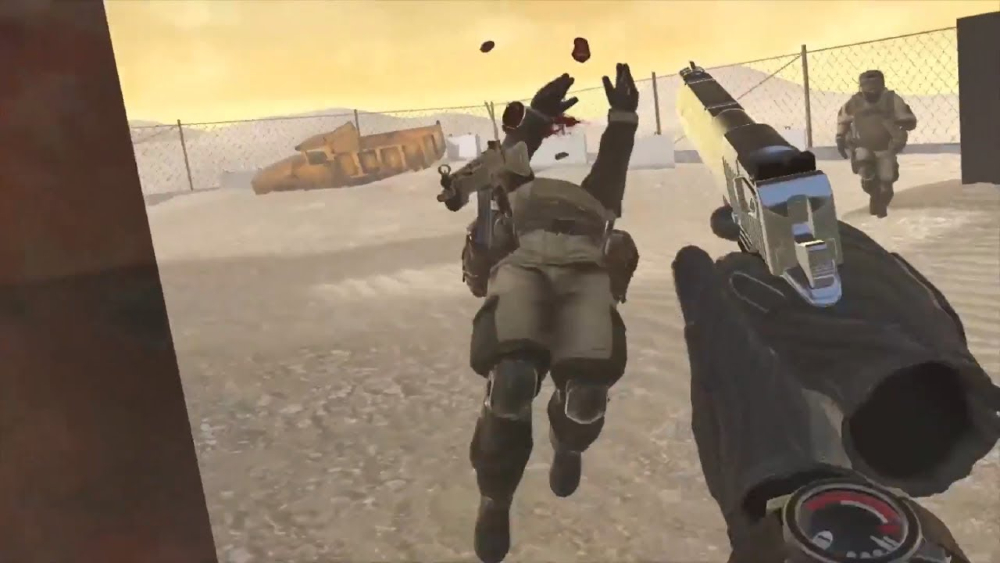 Finally got payback! Now payback for your friend: The player just shot down an enemy with a pistol, trailing behind is another enemy.
14. Hell Let Loose
In 14th place, we have Hell Let Loose, a hardcore World War Two first-person shooter with epic battles of 100 players with infantry, tanks, artillery, a dynamically shifting front line, and a unique resource-based RTS-inspired meta-game.
        Hell Let Loose is a 2019 multiplayer first-person shooter game that contains 2 modes, warfare, and offensive. However, all matches contain 100 players in each battle between 2 teams and are divided into areas for each team and to win, they must seek control. Inoffensive mode, the defending team controls all of the maps, then the offensive team must gain control. In Warfare mode, you must win by gaining control of all sectors in a given time. If you like large team battles, then I definitely recommend this game to you.
Download Link: https://store.steampowered.com/app/686810/Hell_Let_Loose/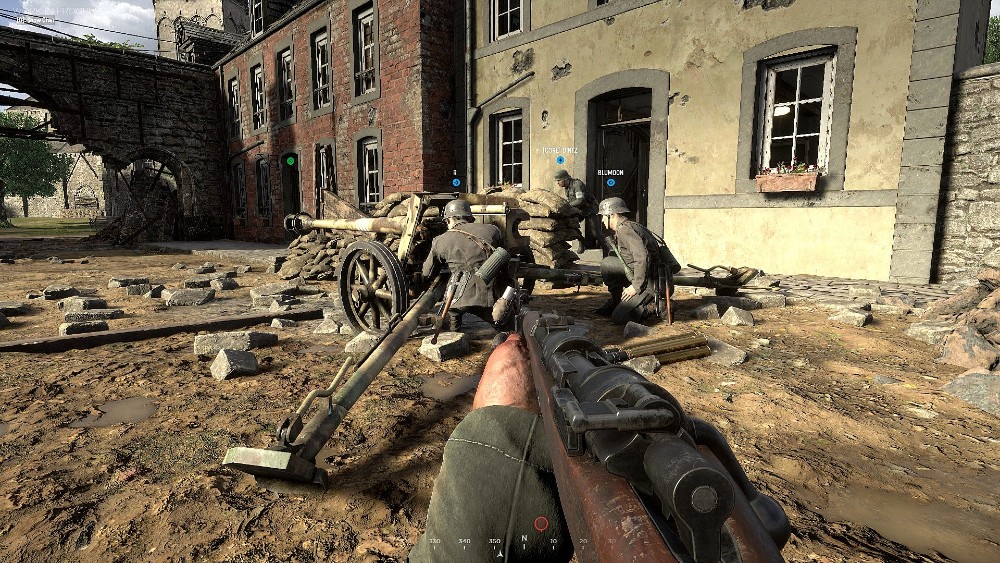 So can you guys see them or not?: The player is spectating their teammates while they hide behind a wagon, trying to find enemies.
13. ARMA 3
In 13th place, we have ARMA 3, where you can deploy a wide variety of single- and multiplayer content, over 20 vehicles and 40 weapons, and limitless opportunities for content creation, this is the PC's premier military game.
        ARMA 3 is a realistic tactical shooter game that takes place in the 2030s on 2 islands. The game sometimes starts as a single-player campaign where the player takes control of the character Ben Kerry. The player has the ability to choose various weapons and objectives according to their play style and skills. ARMA 3 has both multiplayer modes and single-player modes, such as Exile, Island Life, and many, many others. Are you ready to find out what the buzz of this game from the future is all about?
Download Link: https://store.steampowered.com/app/107410/Arma_3/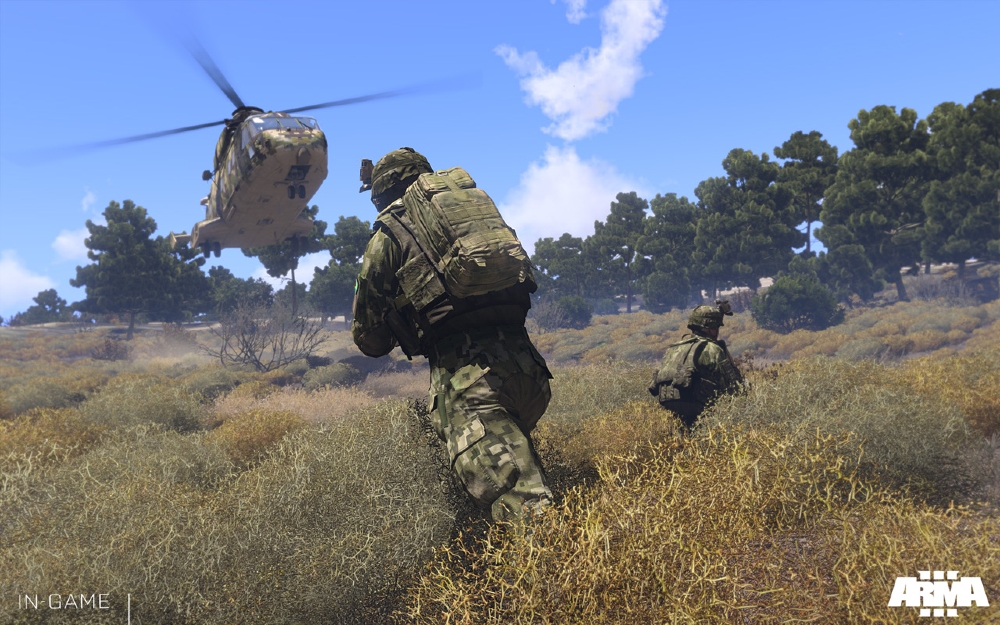 Dude, where are you going? It's this way: The player is heading towards the helicopter, intending to board it; while his teammate is heading to the left
12. Insurgency: Sandstorm
In 12th place, we have Insurgency: Sandstorm, a team-based, tactical FPS based on lethal close-quarters combat and objective-oriented multiplayer gameplay.
        Insurgency: Sandstorm is a multiplayer first-person shooter game that is realistic, booming with graphics, and freakishly entertaining. It is also a sequel to the 2014 Insurgency; although these are two different games, they share many similarities. For example, Insurgency: Sandstorm contains a health bar, minimap, deadly and accurate weapons, and a slow game but it makes it more realistic, just like Insurgency. At the beginning of a match, players can select classes. Players have points to spend on weapons & adjustments, affecting weight & speed. At that point, players are isolated into two teams. Run, hide, find your teammates. Do whatever it takes to survive, eliminate, and win.
Download Link: https://store.steampowered.com/app/581320/Insurgency_Sandstorm/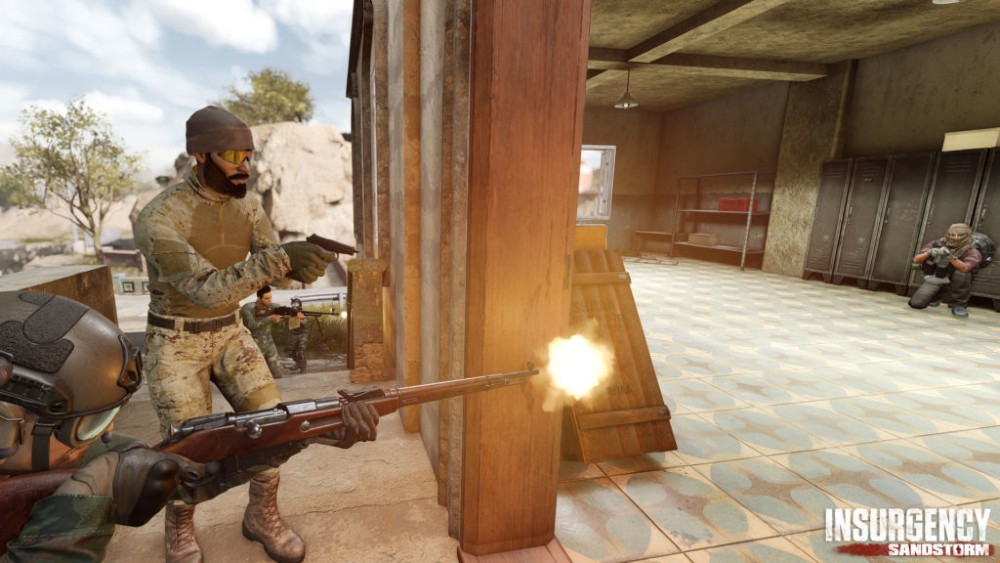 Hey, why don't you go the other way to sneak-attack him, wise guy: 2 players are battling a single player from the opposite team, both using different guns; while 2 other teammates of theirs are battling someone else
11. Counter-Strike: Global Offensive(CSGO)
In 14th place we have CS:GO, an original shooter game that is loved by millions for its plot, quality, and more.
        Counter-Strike: Global Offensive(CSGO) is a multiplayer first-person shooter game that features 2 teams, counter-terrorists, and terrorists. To win, the other team must either be eliminated, the bomb must go off, or you must defuse the bomb, depending on what team you're on. Counter-Strike: Global Offensive(CSGO) allows you to pick your matches, maps, and even create your own servers. Usually, you will be paired with people your level, which makes it easier to play and learn. Run, kill, choose good weapons, do something with the bomb. Do whatever it takes to eliminate others and to complete tasks.
Download Link: https://store.steampowered.com/app/730/CounterStrike_Global_Offensive/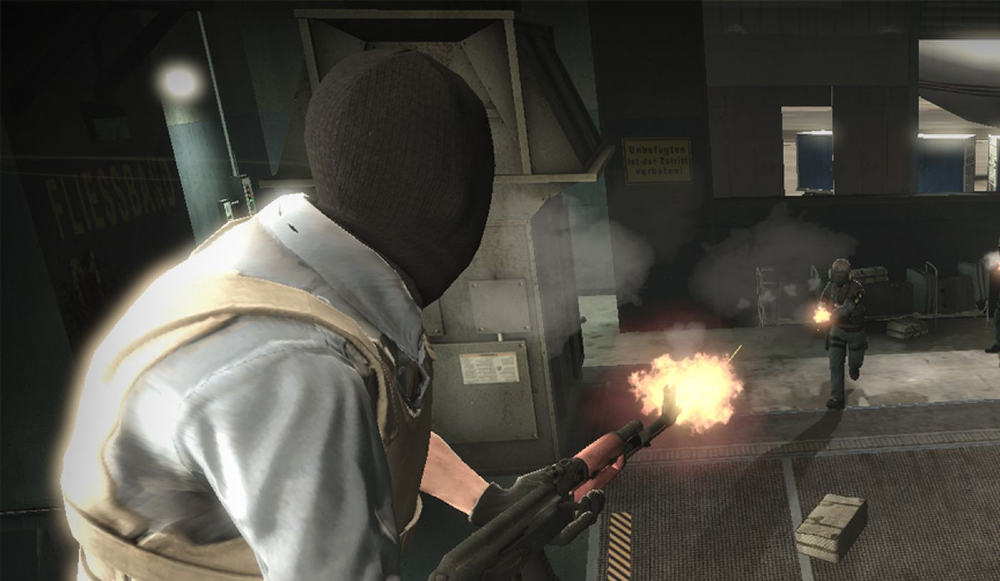 I hope the last few bullets can finish him!: The terrorist is fighting a fierce battle with an AK-47 against his enemy, the counter-terrorist
10. Day of Infamy
In the big tenth place, we have Day of Infamy where you can experience close-quarters battles in iconic WWII settings by defending the line, storm the beach, torch the enemy, or use a radio to call in fire support.
        Day of Infamy is a multiplayer first-person shooter game that features simulation and tactics. Day of Infamy is set during World War II, along with various maps such as multiple locations in Europe, for instance, Dunkirk and Crete. The player will be able to choose a class, weight and speed, and their own loadout using points. For example, some of the classes are rifleman, officer, and even a flamethrower! Are you ready to take this on in various game modes, maps, features, and find out more about World War Two?
Download Link: https://store.steampowered.com/app/447820/Day_of_Infamy/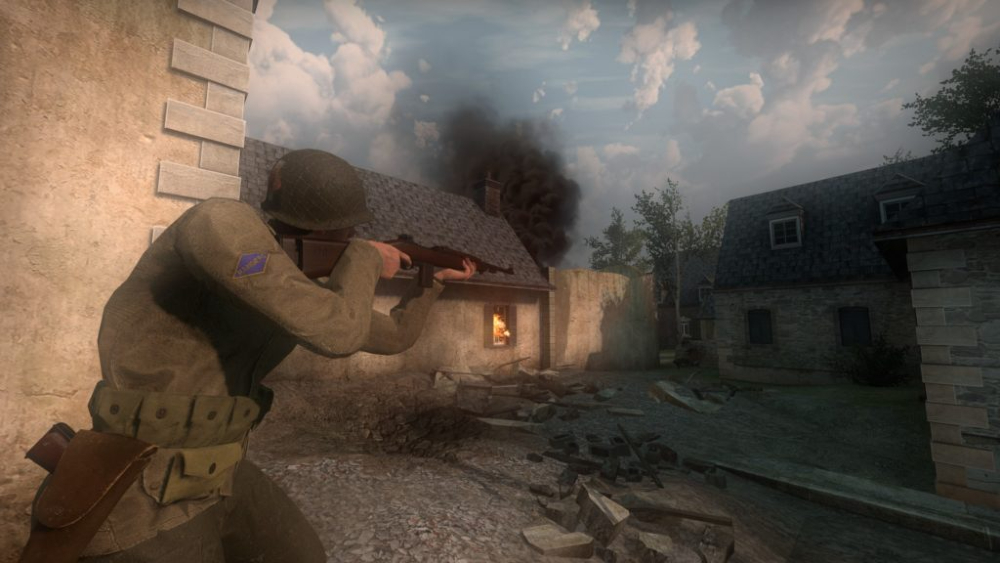 He's too hard to get, so let's burn that building down too: The player is using his rifle to get his enemy, while the other building is being burnt
9. Battlefield V(Battlefield 5)
In 9th place, we have Battlefield V, where mankind's greatest conflict across the land, air, and sea with all gameplay content unlocked from the get-go.
        Battlefield V(known as Battlefield 5) is a first-person shooter game and actually the 16th, not the 5th, the sequel to the Battlefield series. Battlefield V focuses on a "Company" system for the players' characters and not a permanent system. A "Company" system is when players can customize multiple characters with physical appearance and weapon options. Battlefield V contains multiple game modes, such as Grand Operations and campaign mode Firestorm. Grand Operations is a longer version of Battlefield I Operations mode; it gives everyone tasks and performance in each level will make it better for another. A firestorm is when a storm of fire closes in, allowing the players to find one another and eventually sort out a winner. If you absolutely love games where they allow you to expand your creativity, then try Battlefield V! 
Download Link: https://www.ea.com/games/battlefield/battlefield-5/buy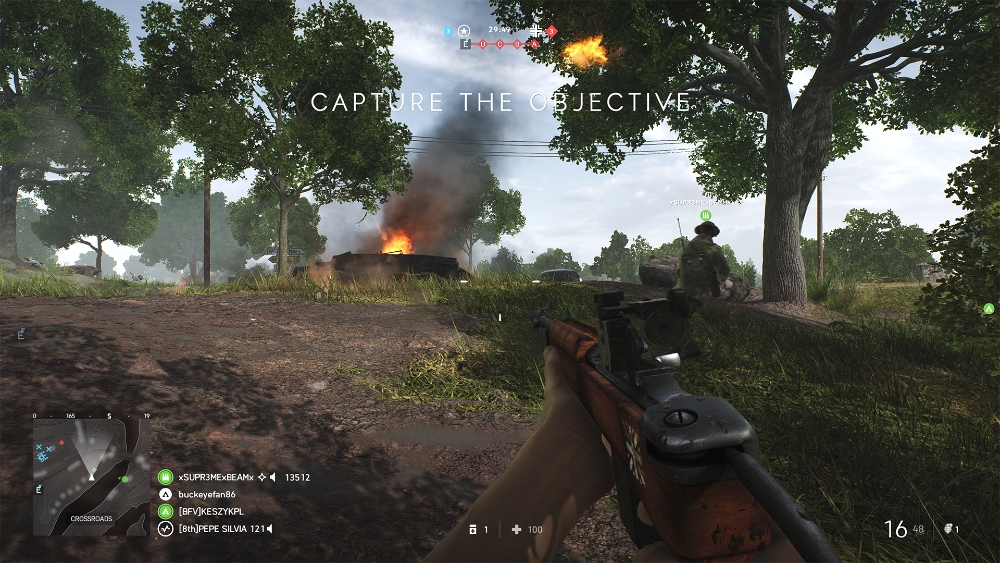 Bro, cover for me, I'm going in: The player is getting ready to complete another task
8. Call to Arms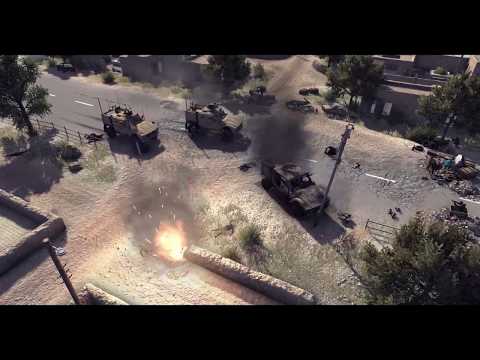 In 8th place, we have Call to Arms, where the game offers realistically modeled vehicles and heavy weaponry, as well as dozens of firearms and customizations.
    Call to Arms is a 2018 real-time strategy game that can be played either with other players or by yourself. Call of Arms contains a dozen vehicles, 60 items, and even your own forces, including land, sea, and air vehicles. Call of Arms is an extremely realistic game with different modes, such as the most common Dominate mode. In Dominate mode, the game requires each team to take points on the map using their wits, with the number of points decided by the number of players. The team with the leading points wins the round. If you're tired of just controlling one individual, then check out Call to Arms.
Download Link: https://store.steampowered.com/app/302670/Call_to_Arms/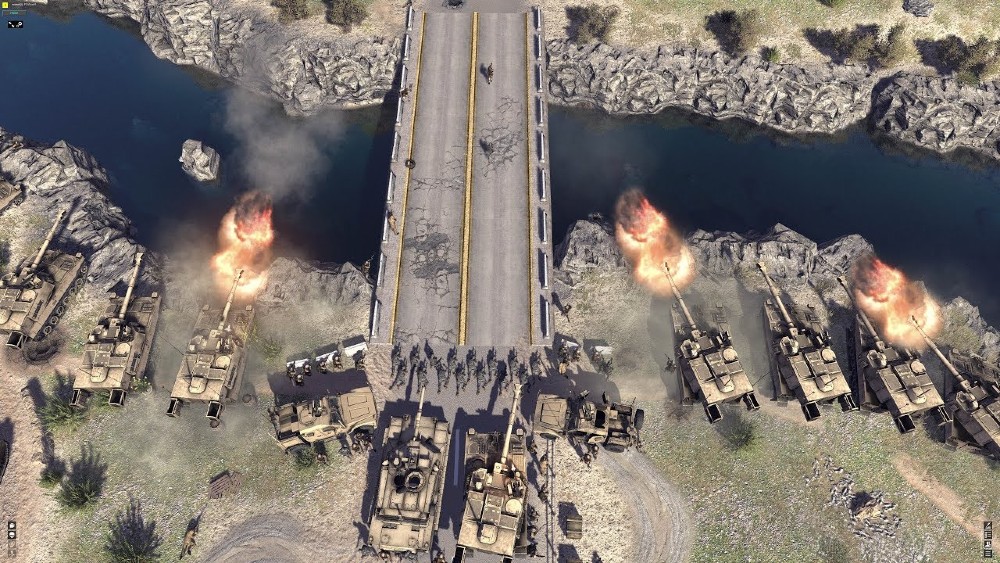 Hey, I know we're clearly winning, but can I borrow some ammo?: While the team on the bottom is clearly dominating the other team with the scattered soldiers, tensions still seem to be high.
Image Gallery