[Top 20] Sims 4 Best Building Mods
Updated: 07 Jan 2023 4:53 am
"Nash na poof?"
Top 20 Sims 4 Best Building Mods
One of the most popular kinds of downloadable and usable mods for The Sims 4 game is building customizations. These mods provide users the maximum creative freedom to create all kinds of structures in their Sims universe, from complete buildings and rooms to standalone additions made out of walls, floors, doors, and more! If you're tired of the default builds and want something new and exciting, look into the mods we've included below.
20-Build Mode FreeCam (BuildCam)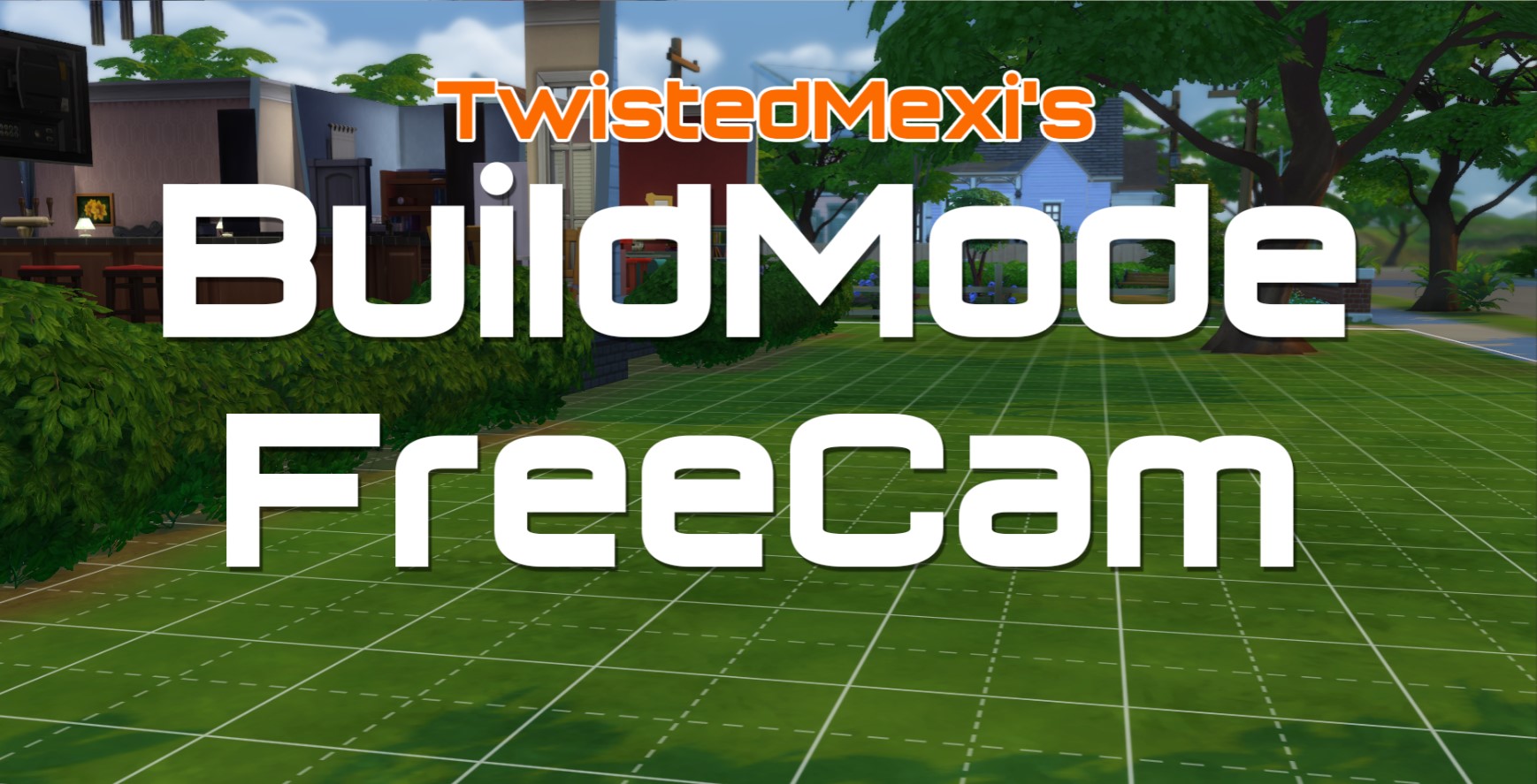 Although this mod appears to be relatively straightforward, it actually adds a lot to the game's building mode. The function of this mod is that it adds a free-roaming camera to the buildbuy mode. It behaves just like the stock camera that the game already has. It's fairly easy to use. While in build mode, press TAB and it enters you into the free-cam mode.
Please note that this mod conflicts with the Better Buildmode mod because it already has this mod. For people who only want the camera and not the additional components for that mod, there is this mod. It's a wonder the game doesn't have it already included. The Tab mode hides the UI, allowing for screenshots to be taken without any unwanted items.
What's Fun About Build Mode FreeCam:
This is the perfect mod to use for showcasing your decorating and build designs.
There is a tutorial on how to create great screenshots while using this mod by Aquelamariene
Get this mod here.
19-Millennial Part 1: The bedroom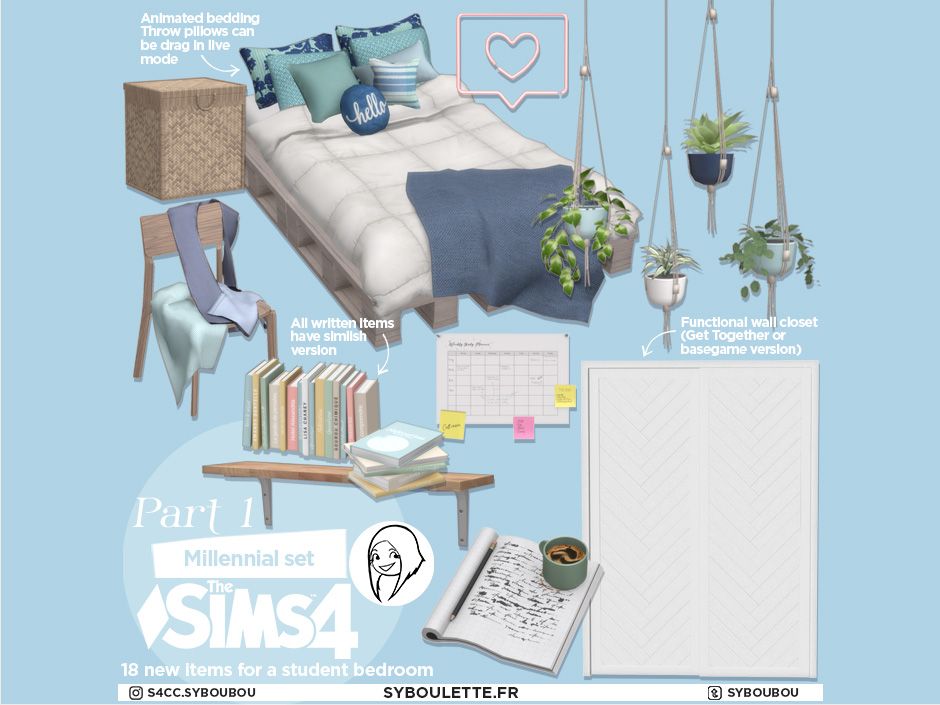 Created by Syboubou, this pastel and colorful set contains 18 bedroom items to create a student or cheap bedroom for your Sims. With several colors available, these are the perfect affordable build items for that student or affordable life.
With functional bedding, the throw pillow is draggable during live mode so they can be taken off the bed when it's time for bed, just like in real life.Everything but the Get Together Closet is compatible with the base game. There is base game version included but it works as a dresser.
What's Fun About Millennial Part 1: Bedroom:
Every detail has been attended to, with the option for words on books and pillows to be written in Simlish.
There are hanging decorations and closets for all wall heights.
Bonus mods: There are two more mods that accompany this one, part 2: living room mod and part 3: kitchen mod. These sets are also colorful with pastel shades with functional items. The living room set has 18 items, such as a bean bag, while the kitchen adds 24 items, such as a stove, all in 12 color swatches.
Get this mod here.
18-That's What She Bed - Bunk & Loft Bed Set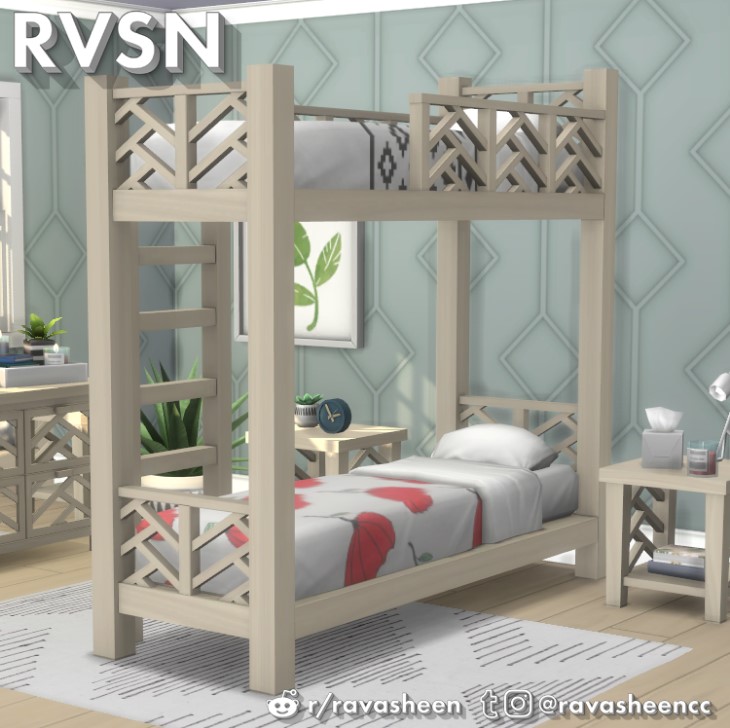 The "That's What She Bed" line is trendy and a touch whimsical, making it ideal for small spaces, shared rooms, children's rooms, and toddler rooms. With fully functional beds and frames in 8 contemporary colors and wood tones, this mod makes for an ideal Sim's furnishings. 
Bunk beds are a popular choice for people of all ages, particularly with younger people, because they are an efficient way of saving space in smaller rooms. This mod reflects that perfectly for The Sims world.
What's Fun About That's What She Bed - Bunk & Loft Bed Set:
With so many color and design options available, you can create personalized bedroom furniture for your Sims, complete with coordinating extras including a dresser, end table, and desk.
Due to the build's versatility, loft beds with a desk that fits underneath them can be made. This reflects a popular version of bunk beds that takes advantage of the otherwise unused space under the loft bed.
If you decide you want to add a bed under the loft, that can be done with a single or toddler-sized bed and still be functional.
Get this mod here.
17-Spoons - Part 1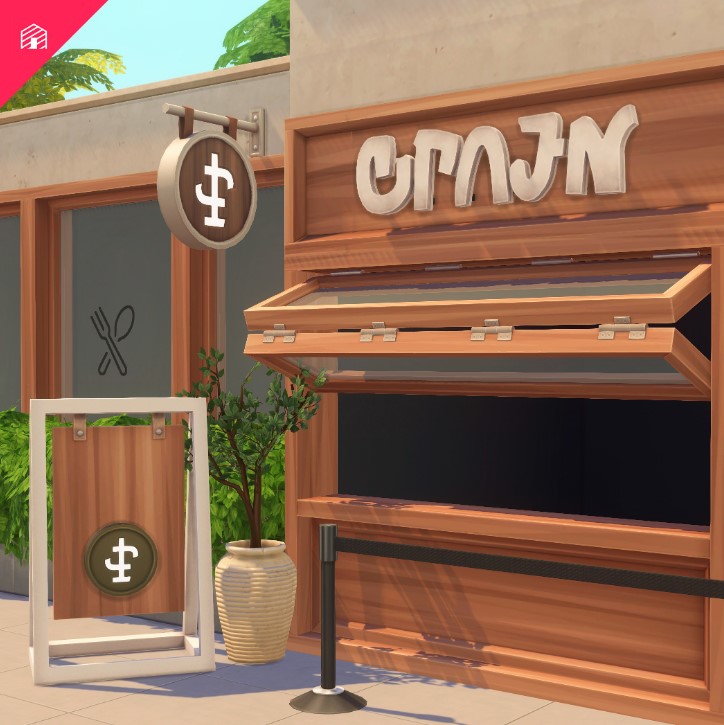 This Spoons Part 1 mod includes more than 40 items so that gamers can live out their fantasy of owning a café or restaurant. Being a build mod, it contains materials for assembling the structure with doors, windows, and signs. 
With all of the items compatible with the base game, all players can enjoy this mod without needing any extra game or expansion packs.
What's Fun About Spoons Part 1:
There are many opportunities to customize to your heart's content because the lettering, wall-mounted sign, and decals simply snap into the a-frame, projecting tube sign, and wooden header panels.
Additionally, although optionally, the Dine Out game pack can be added and is compatible with the products if you use it.
Bonus: There are two additional mods that accompany this mod, and each can be used separately. Part 2 includes 32 items that continue the theme of having a cafe, restaurant, or high-end kitchen in your home. All the items are compatible with the base game except the Espresso Bar. Part 3 includes more items fit for a restaurant or high-end home. Most of the items are base-game compatible, with several requiring the Dine Out game pack included.
Get this mod here.
16-Cottage Core Wallpaper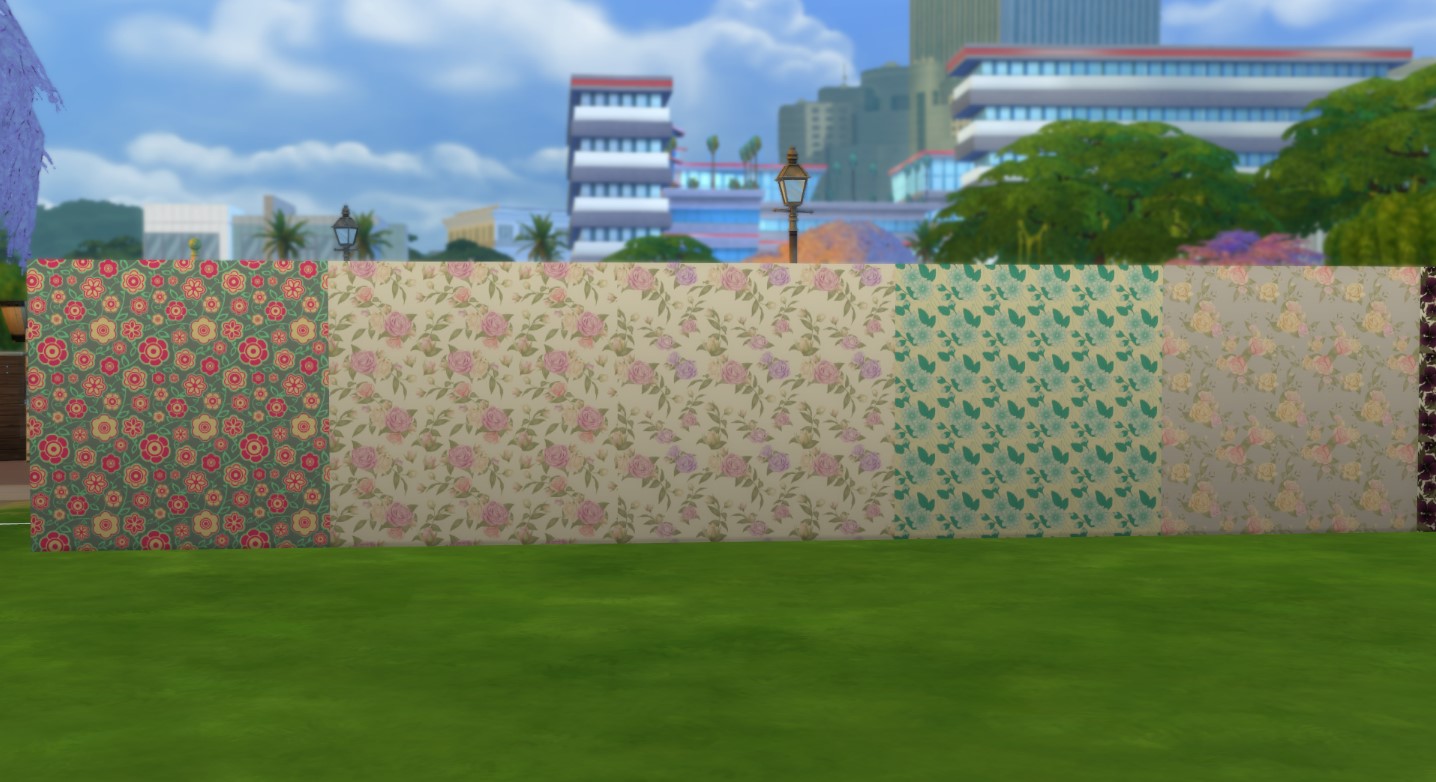 Aesthetically, cottage core emphasizes a basic life, especially in the countryside. Made popular through social media, it has a naturalistic color scheme with straw, flowers, light green leaves, and natural stone and wood tones. Strawberries, mushrooms, and flowers are the three most prevalent motifs. Following this trend, creator Wykkyd has created this cute cottage-core wallpaper build mod with over 30 swatches full of different versions of flower motifs in varying colors.
Players who want to follow the cottage core aesthetic will enjoy these wallpapers for their cottage core-themed home.
What's Fun About Cottage Core Wallpaper:
This mod is fitting to have the look of spring indoors.
Some of the included patterns are available in different colors while the rest are not repeated. This means there is more of a variety!
Get this mod here.
15-Small Spaces Room CC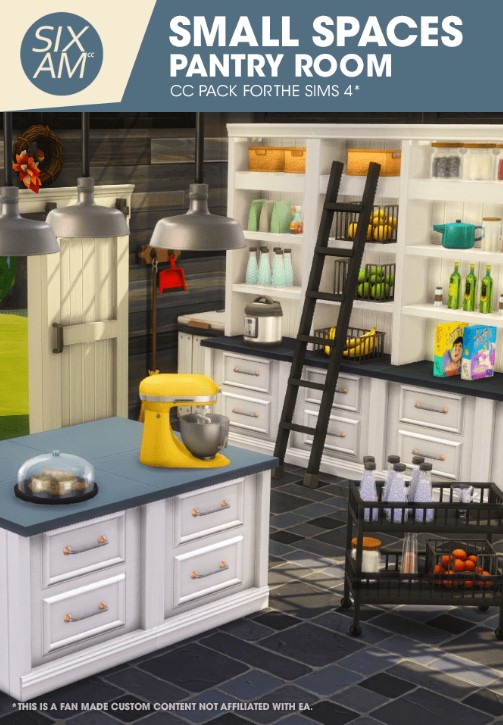 According to the creator of this mod, this "Small Spaces" collection is a part of a line of CC packs that highlight particular areas of the home that may not always receive the attention they deserve. This mod is about pantries and was designed to match the look of the Cottage Living expansion pack. 
Being compatible with the base game means that all players can enjoy this mod!
What's Fun About Small Spaces:
This mod is suitable for all sorts of items, not only foods, and has over 40 new items.
The shelves have 3 designs in a variety of colors.
Bonus: This mod is part of a series, with a Work from Home and Laundry Room available to download.
Get this mod here.
14-Invisible Fence 2.0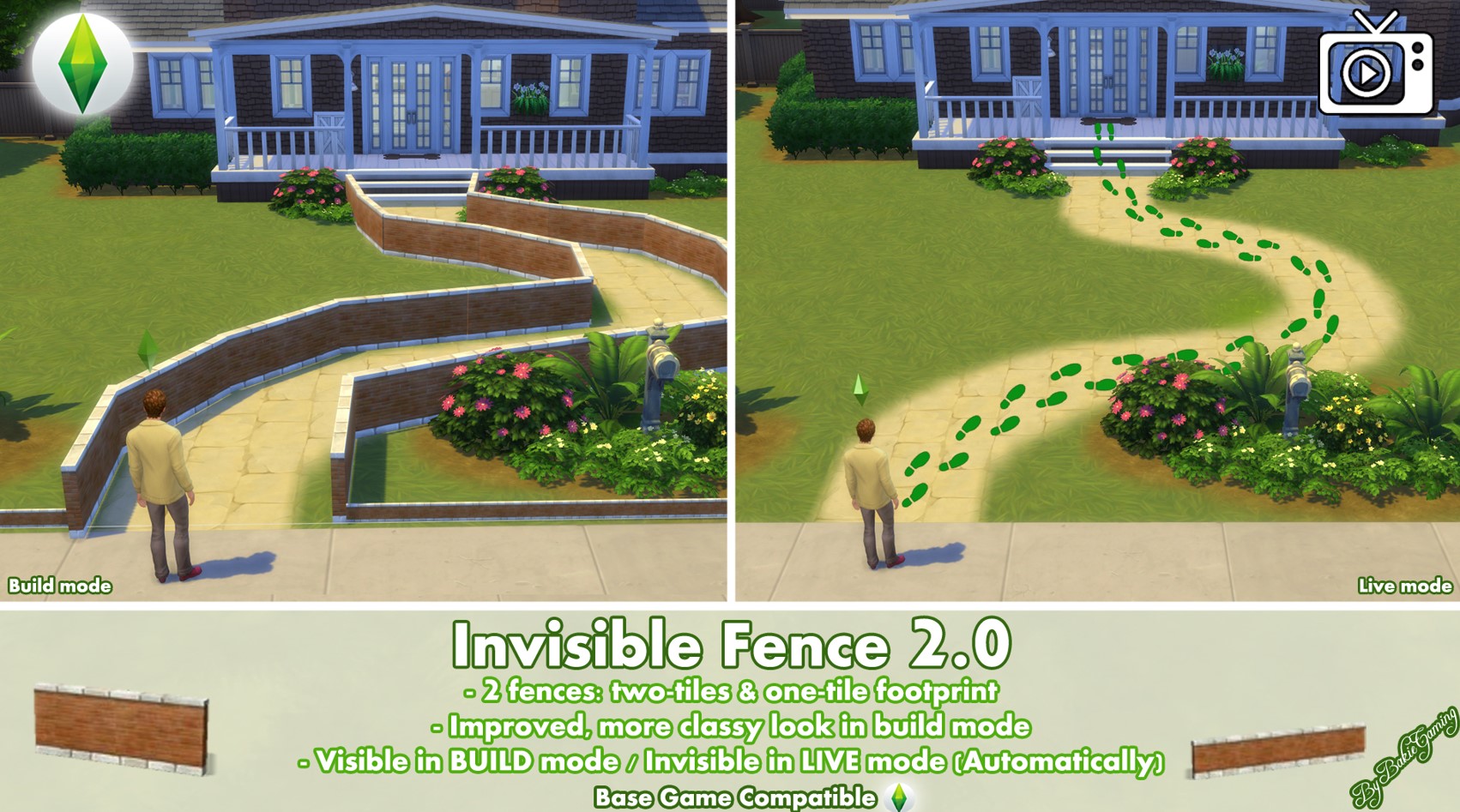 Have you ever created a specific walk path that fits just right with your build, only for Sims to walk straight through it without any care? No more of that with Invisible Fence 2.0!
This mod had gone through an upgrade and now makes fences and walls invisible where previously it wasn't. Now Sims will follow a set path that players set out without walking just anywhere, which will be helpful to keep people off your lawns.
What's Fun About Invisible Fence 2.0:
There are now two sizes available, with two and one tile footprints, respectively. 
Players can rest assured that this mod won't affect any other objects in-game as this mod is a standalone project.
This is compatible with the base game so it's available for everyone!
Get this mod here.
13-Courtyard Oasis Wallpaper Recolors

Due to the creator's love of intricate wallpaper tile patterns, this mod was created with some recoloring. They focused a lot more on different shades of purple since it's their favorite color. These wallpapers come along with the Courtyard Oasis kit add-on.
The amount of beautiful recolors mean for this wallpaper means the decorating options are expansive.
What's Fun About Courtyard Oasis Wallpaper Recolors:
The wallpapers as they are are already pretty, but with the recolors, their beauty increases
It's nice to use this mod to give builds an exotic appearance.
Get this mod here.
12-Screened-in Porch Series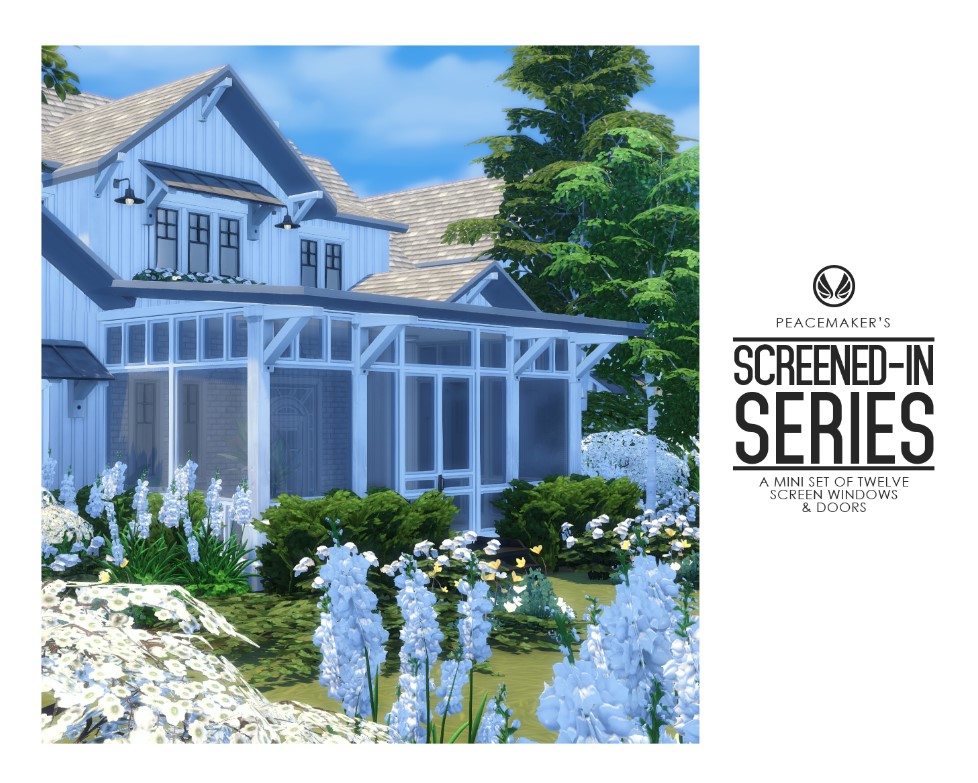 A screen room, often referred to as a "screened porch," is a porch-like structure that is located on or near the exterior of a home and has been covered with window screens to prevent insects, garbage, and other pesky objects from getting inside the screen.
The creator Peacemaker designed this build mod to be such an addition to all sorts of Sim's houses.
Screened porches are typically enjoyed by people who want an indoor environment while outside, and now Sims can enjoy this too!
What's Fun About Screened-in Porch Series:
There are a total of 12 meshes with 20 color and style options for windows and doors.
This mod is compatible with the base game.
As it's a Build/Buy mod, each item costs between 60 and 400 Simoleons.
Get this mod here.
11-Greenhouse Glass Collection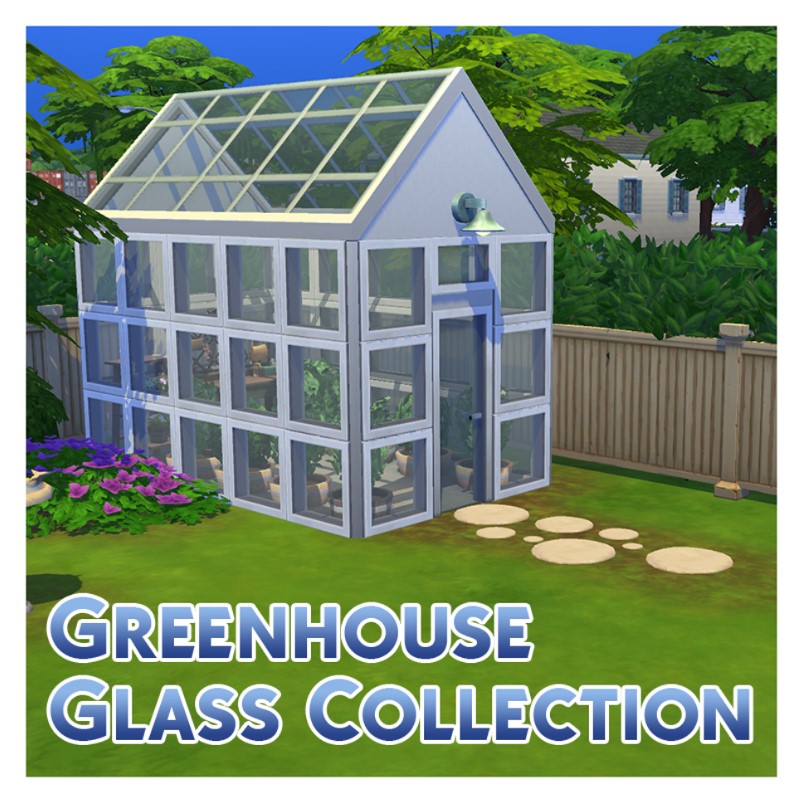 This modification adds a new window and new contemporary and modern glass roof patterns to make a glass greenhouse. Due to the lower scale of each panel frame, this can create a small greenhouse. There are two rectangle and square paneled roof frames with four swatches each. Twelve colors make up the window pane, which matches most of the windows in the original game.
A glass greenhouse is not only a beautiful addition to a small garden, but it can also be used to store plants indoors where they will receive sunlight. 
What's Fun About Greenhouse Glass Collection:
Sunrayz Greenhouse window pane: This window, which was created with the construction of greenhouses in mind, can be tiled smoothly to create whole walls that allow light to pass through.
Rectangular-Paneled Greenhouse Roof: This is a slightly less classic greenhouse roof.
Square-Paneled Greenhouse Roof: This is the most classic of greenhouse roofs.
Get this mod here.
10-Natural Water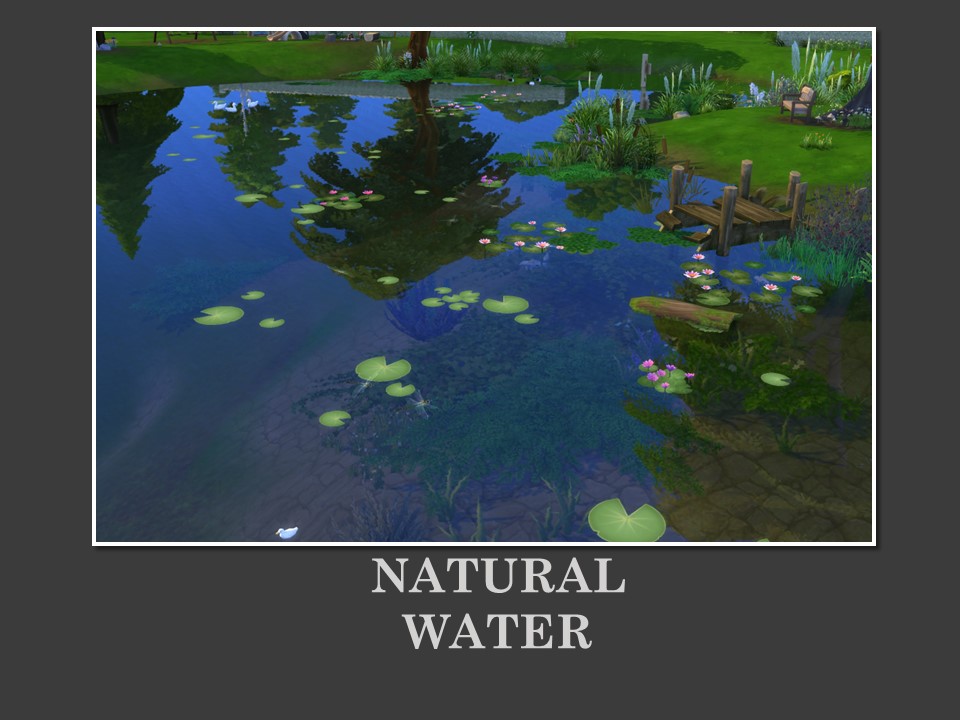 Based on the pool pourri from the Get Together expansion pack, this Natural Water mod looks more realistic with the petals and texture from the pack removed.
Naturally, you would want the best alternative for your aquatic sections if you are a detail-oriented person who believes that every aspect of your build matters.
What's Fun About Natural Water:
The water reflects the sky so if the sky is blue, it tends to look blue-ish.
Suitable to be used for fountains, lakes, and pools.
It is compatible with the base game.
Get this mod here.
9-The Warm 'n' Toasty Fireplace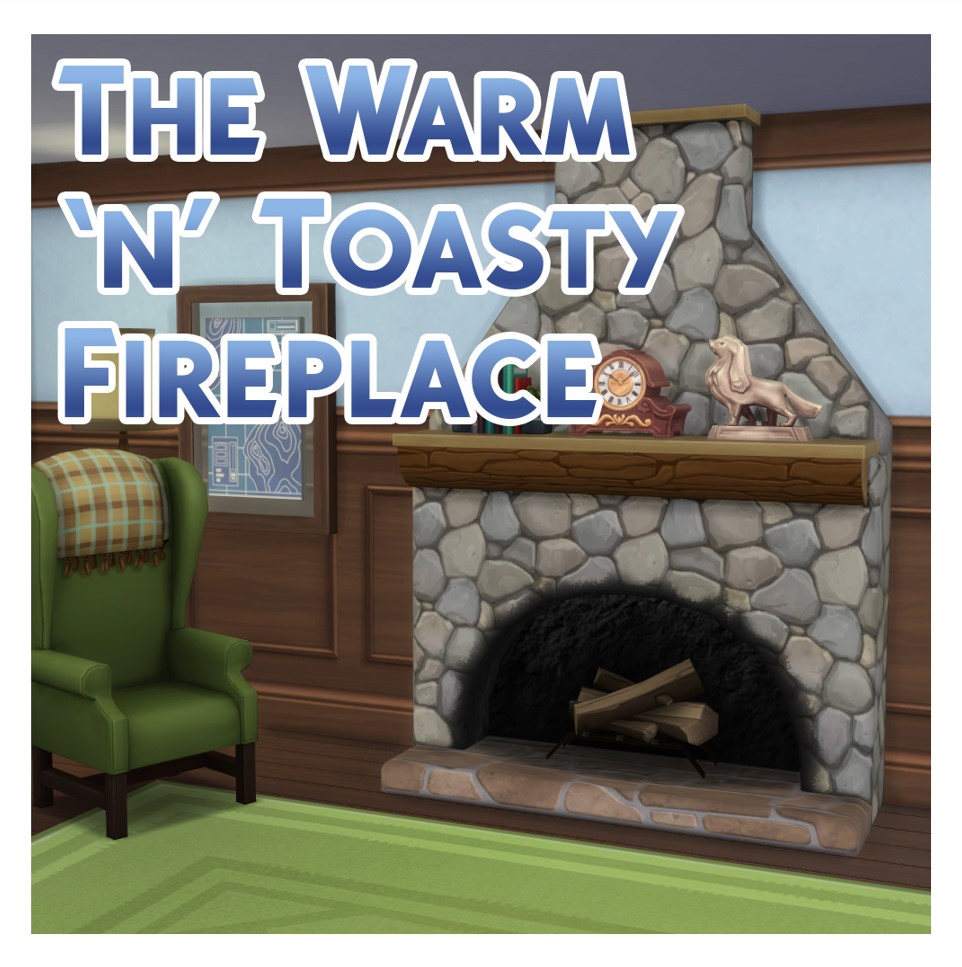 This mod, which was converted from an earlier version, adds a fireplace to the basic game that is appropriate for cottage-style structures. 
This mod can bring back memories for Sims 2 players who are familiar with the fireplace mesh because it was built using the Bon Voyage fireplace name and mesh as a base.
What's Fun About The Warm 'n' Toasty Fireplace:
The fireplace has 4 swatches.
It has 8 slots for small decorations and 5 slots for medium decorations that can be placed on the mantel.
When the fire is ignited, a unique light effect is featured
Get this mod here.
8-Totally Tiles- Azulejo & Talavera Collection #1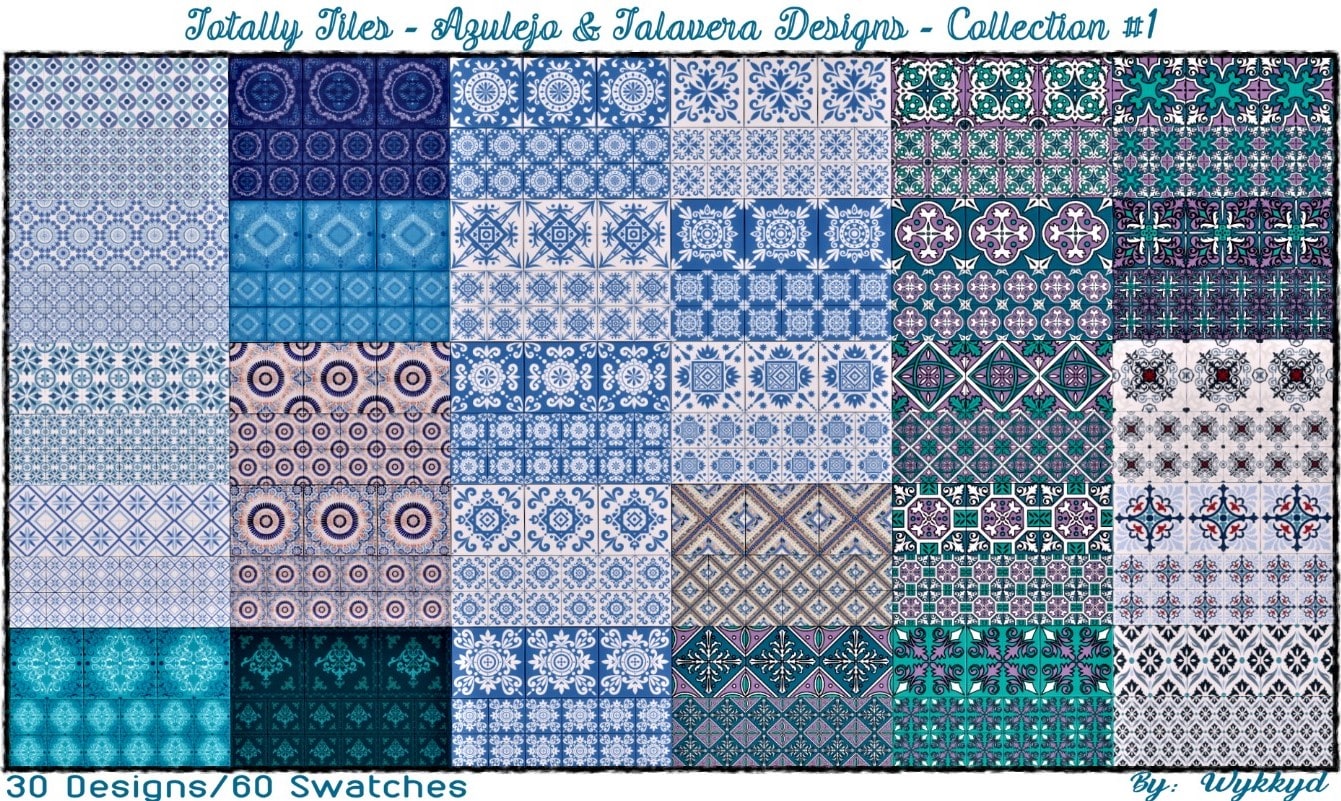 This mod comes with 2 kinds of flooring tiles, Azulejo and Talavera. Azulejo tiles are a kind of glazed colored tile traditionally used in Spanish and Portuguese buildings. Talavera tiles are a type of fine Mexican earthenware featuring colored decoration on an opaque white glaze, produced principally in Puebla.
These beautiful tiles would be lovely to use in a kitchen, as an accent flooring in a living room, or in a restaurant.
What's Fun About Totally Tiles:
There are 30 designs and 60 swatches included in this mod.
The tiles are all in various shades of blue and other cool colors. Players who prefer those shades will enjoy this.
Bonus: The creator has an accompanying wall covering mod which also has 60 swatches.
Get this mod here.
7-Ether Curved Seating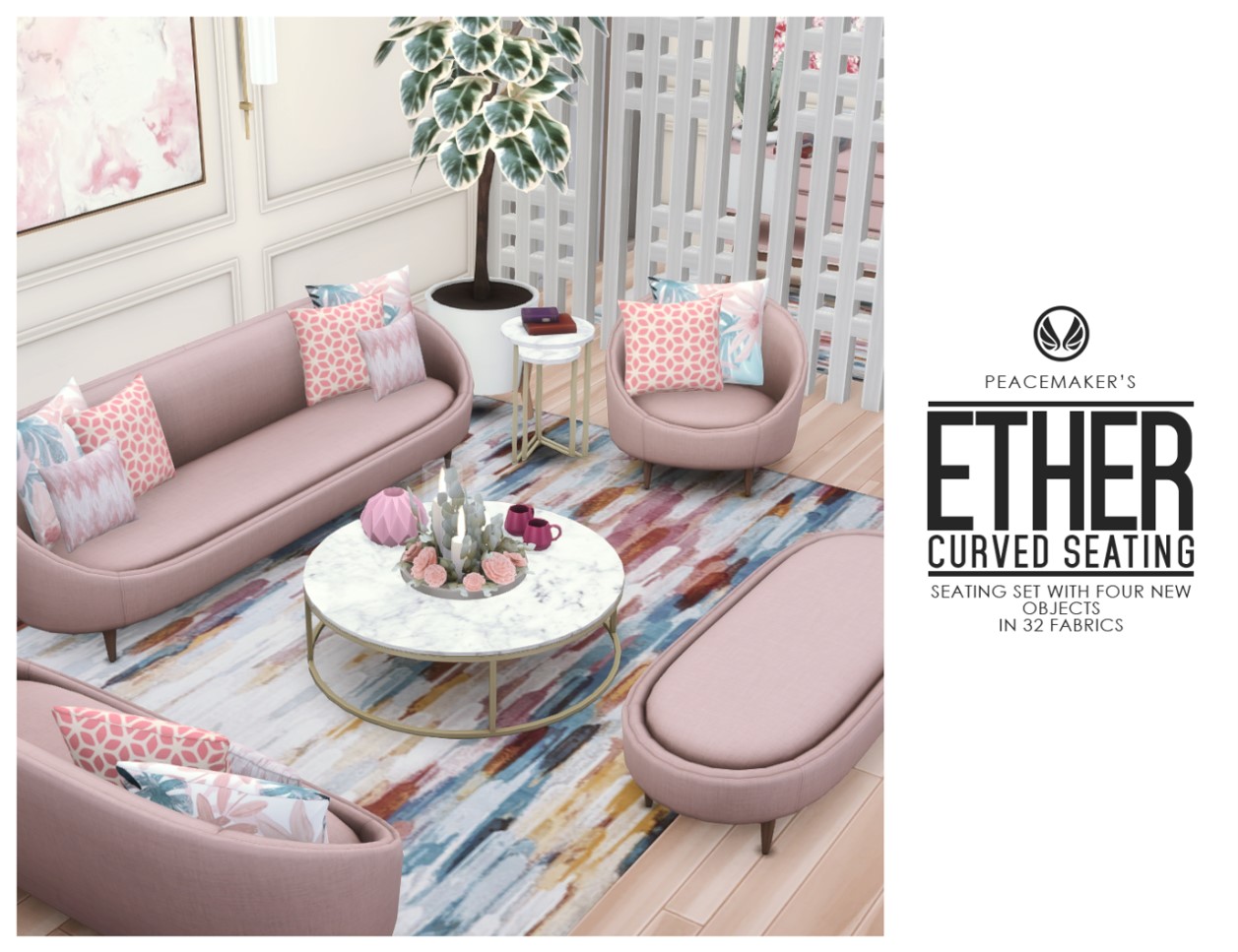 A combination of modern and retro design elements can be seen in this curved seating build mod with 4 additional seating possibilities.
Players can select the seating they want based on what they can afford because each style of seating is priced differently.
What's Fun About Ether Curved Seating:
The 4 seating options are: Sofa, Loveseat, Ottoman, and Sitting chair.
There is a total of 4 meshes with over 30 colors and style options.
It is compatible to be used with a filter for the color and styles.
Get this mod here.
6-Parenthood Counter Recolors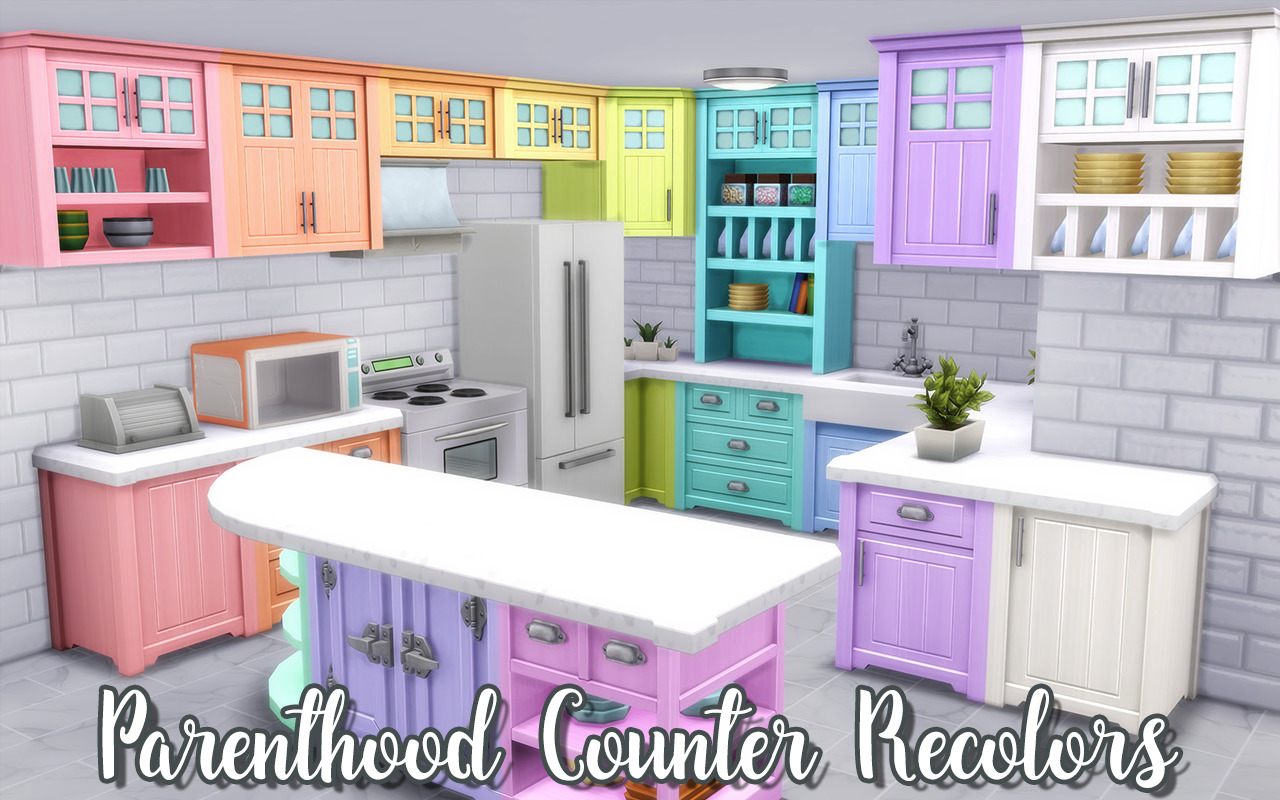 The items of this mod have been recolored by the creator Noodles Sorbet. This mod requires the Parenthood game pack as it uses the counters and other kitchen furnishings from it. Come in 65 colors including peach! 
The counters in this mod are colored the old-fashioned way which makes them more vibrant looking.
What's Fun About Parenthood Counter Recolors:
This mod comes in 65 colors and shades that range from pastels to dark colors
Included are countertops, a kitchen island, a sink, and cabinets.
The countertop with the microwave included on top is also colored to match the countertop.
Get this mod here.
5-Quaint Cottage Expanded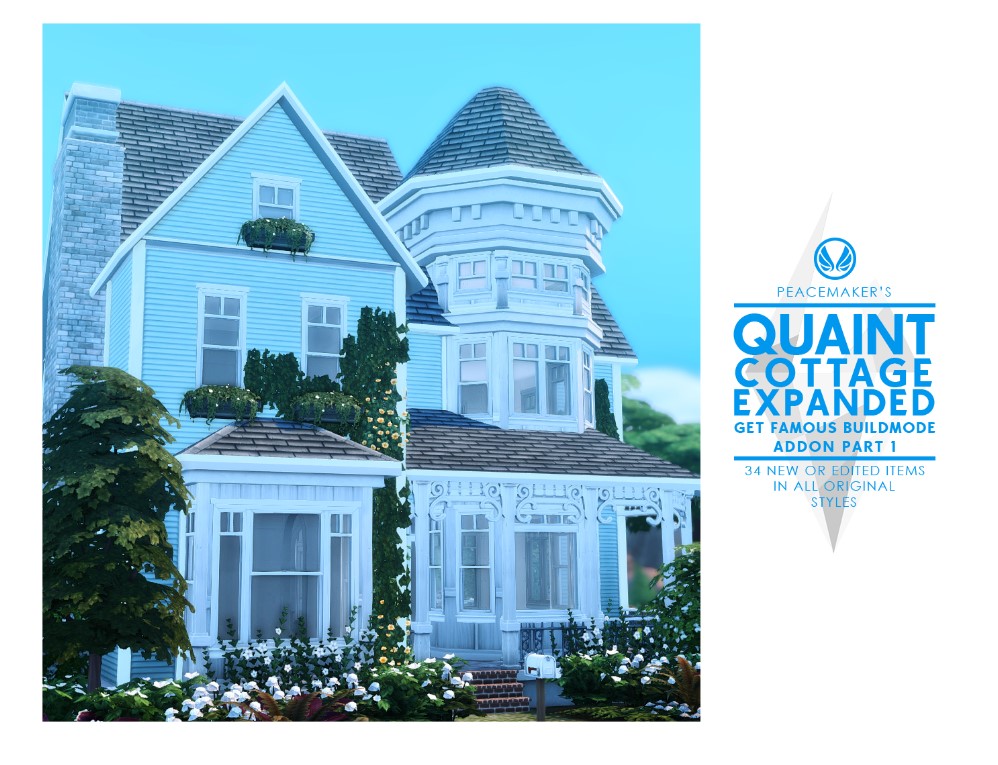 This first mod is the Quaint Cottage items with craftsman vibes. The original 4 items were given additional styles, turning them into over 30 styles and configurations. This add-on requires the Get Famous Expansion Pack.
The creator stated that they will be creating add-ons for the Get Famous expansion pack in installments to get the best potential. So based on what they already have uploaded, the updates are something to look forward to.
What's Fun About Quaint Cottage Expanded:
This mod includes a total of 34 meshes with 14 original colors and styles.
There are different window, door, doorway, and arch styles included.
Some items are edited items from the expansion pack with added colors and styles.
Get this mod here.
4-Orjanic Part 1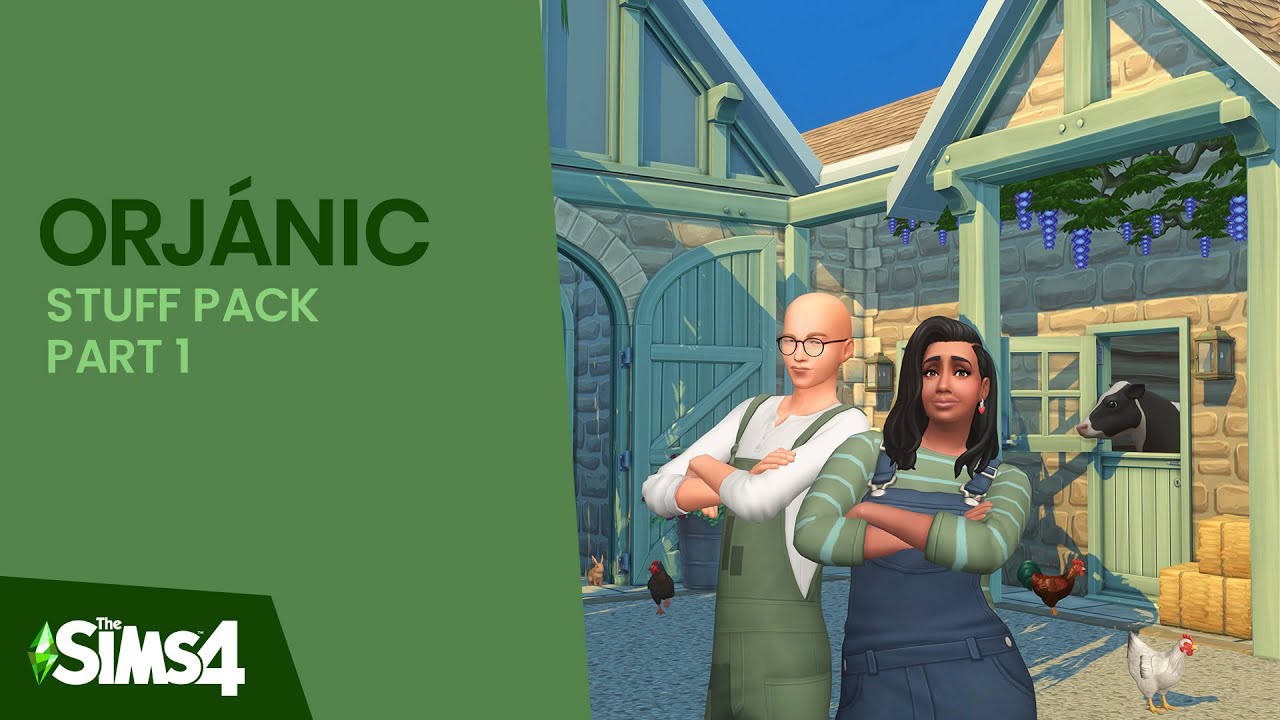 The Orjánic collection build set, which consists of 78 pieces, is intended to help you live your best barn life. It was created through a collaboration by creators Felixandre & Harrie as the Perfect Cottage Living Companion. This edition focuses on the fundamentals of constructing your barn in the country and includes spandrels, columns, windows, doors, flooring, and much more!
Using part 1 and part 2 of this build set will allow players to have the ultimate barn life experience.
What's Fun About Orjanic Part 1:
Some of the items the set includes are indoor and outdoor barn doors, functional spandrels and columns, and window frames made from modern timber.
All of the items are compatible with the base game.
Part 2 Orjánic - Part 2 is a 51-piece country living collection by the same creators, totaling over 120 items from both parts.
Get this mod here.
3-Shaker Panelling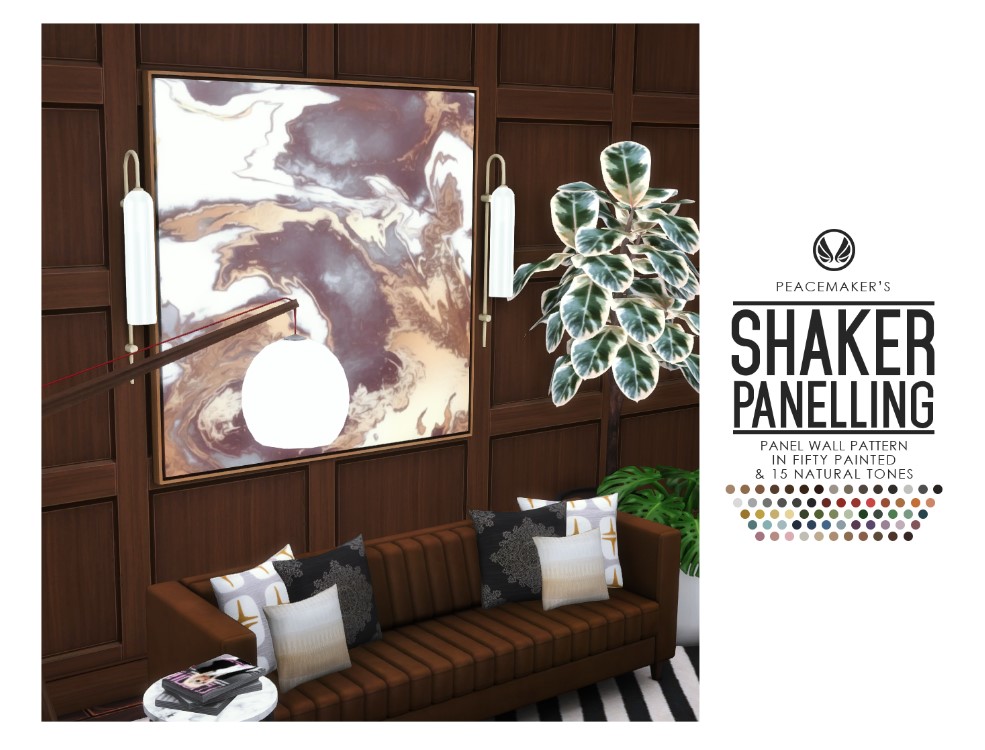 Shaker panelling is a 3D projected wall design build, meaning that it looks like it is a 3D wall but really it's a wall with a 2D texture! The wall panels are created with wood.
The illusion of the 3D panelling makes the walls look much more elegant.
What's Fun About Shaker Panelling:
There are natural and painted versions for this mod, all of which depend on the catalogue's convenience.
There are 15 natural wood tones and 50 painted tones to choose from.
Many of the tones are for different shades of real wood, so you can have walls made from oak, walnut, or birch wood.
Get this mod here.
2-Cats and Dogs Expanded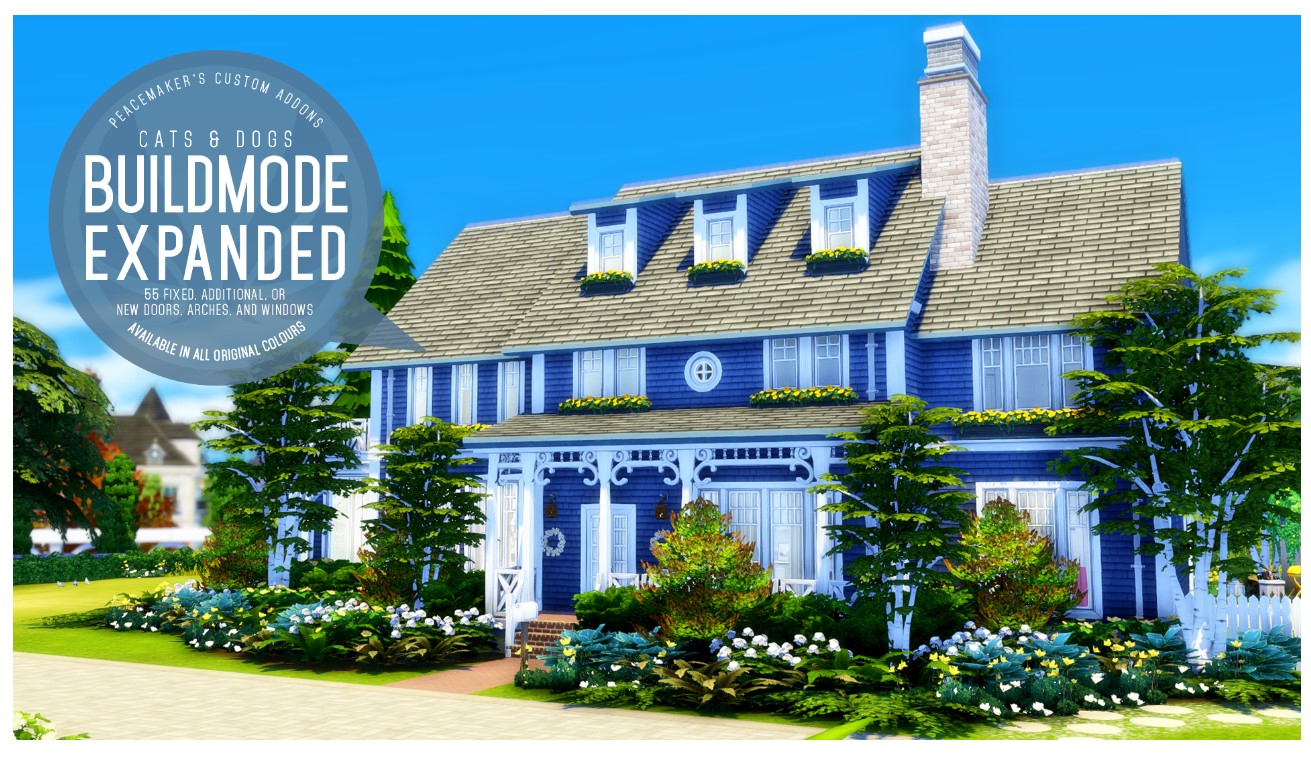 This add-on fixes and adds build features to the Cats and Dogs Build mode house builds. This mod requires the Cats and Dogs Expansion Pack.
The already stunning Cats and Dogs build now has more customization possibilities, all of which will result in an outstanding home..
What's Fun About Cats and Dogs Expanded:
There are a total of 55 meshes with original swatches and custom thumbnails
Included are doors, windows, and arches
While all the items are individual the tiles can be placed as a half-tile, 1-tile, 2-tile, and more.
Get this mod here.
1-Kesler Farm Kitchen CC Pack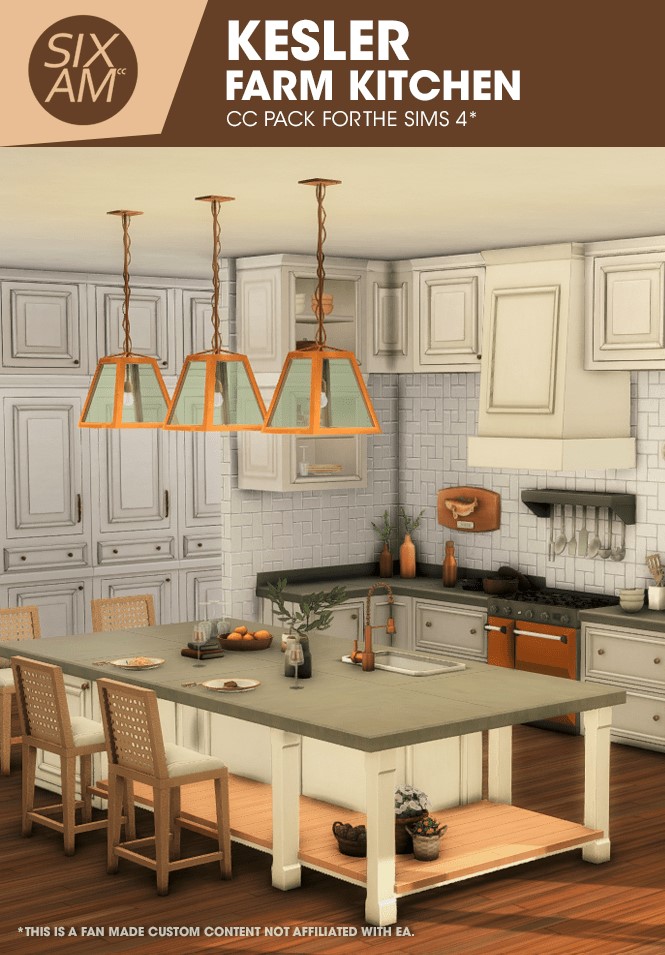 A new kitchen collection named "Kessler Kitchen" was created by Sixamcc, featuring a kitchen build in a classical style with 3D elements on the counters, cabinets, and islands. This mod is compatible with the base game.
This mod goes well with a countryside-themed build with a large kitchen style.
What's Fun About Super Streamer Kit:
There are 36 new meshes with this mod.
You can create custom kitchen islands with a mixed design.
The mod comes with a special object that needs the Parenthood game pack, called playable dinnerware. This functions as a way to clean up after Sims eat food from the dinnerware.
Get this mod here.
You may also be interested in: