Prison Architect: Best Regime
Updated: 18 May 2019 9:50 pm
Keep the criminals in line.
Regime: Make Your Prison the Best
You've just spent hundreds of hours in Prison Architect to finally finish that one supermax prison you've always wanted to build. You are proud of your electrical wiring and plumbing. You feel like your facility can withstand any danger from within or outside. It's a fortress. It's beautiful. And yet … something is still missing. The power gamer inside of you is waking up, looking steadily for new things to maximize effectiveness.
Everyone who has been playing Prison Architect for a while and had his own prison evidently knows the regime planner, who schedules your inmates' daily routine. Whether you are using it actively or not, if you have been playing the game somewhat consciously at one point, you will be familiar with it.
While some may not use it all that often, the regime planner is actually an incredibly powerful tool that allows you to get the most out of your prison. In the following, we are going to look at the best tips and tricks to optimize said regime.
The Basics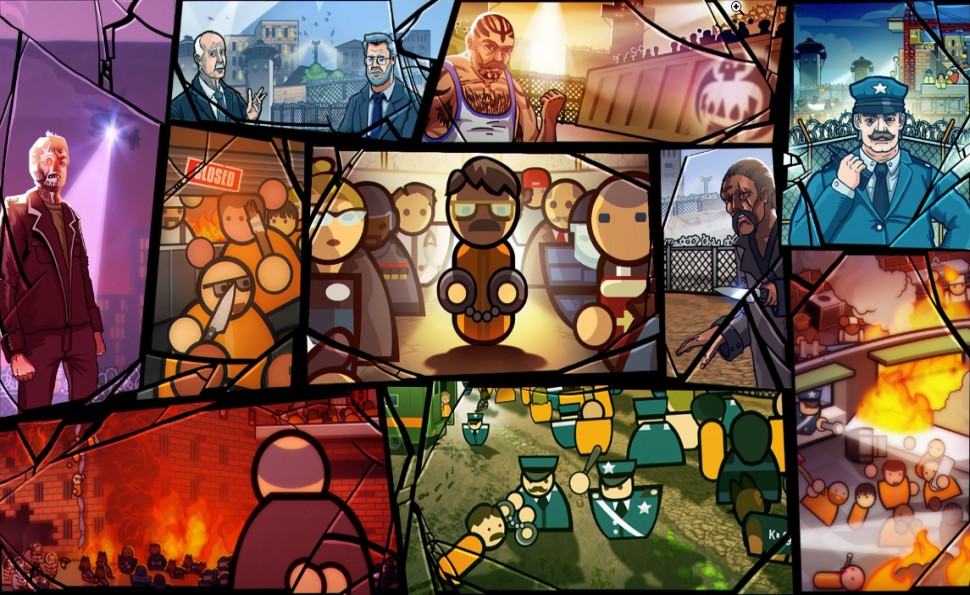 Screenshots of different outcomes in the game.
Being the warden means you have total power over your prisoners … almost. While you may tell them in which room to be at any given point, you often cannot force them to do specific actions. "Lockup" forces prisoners to stay in their cells, where they then may shower or read.
The "Sleep" regime will generally force your inmates to do exactly what it says from 10 pm to 8 am, but this is also your inmates preferred time to dig tunnels. Reform programs will be attended during work hours, so make sure those periods are long enough to do so.
Special Actions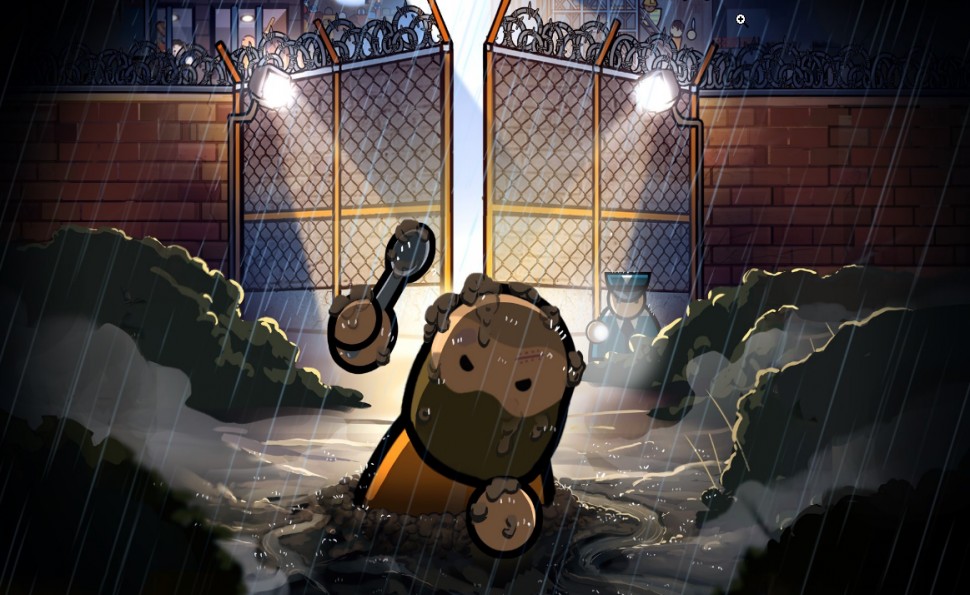 Prisoners will try to escape.
There are several things you need to be aware of when planning out your regime. Cooks only prepare food for the "Eat" regimes, therefore it's essential to plan ahead. Visitation will happen between 8 am and 8 pm, independent from the regime. No vampire visitors during night times, sorry!
With the Events option on, prisoners may also make demands to change the schedule: get more sleep, more free time or less work. They can also start riots, try to escape, and other random events.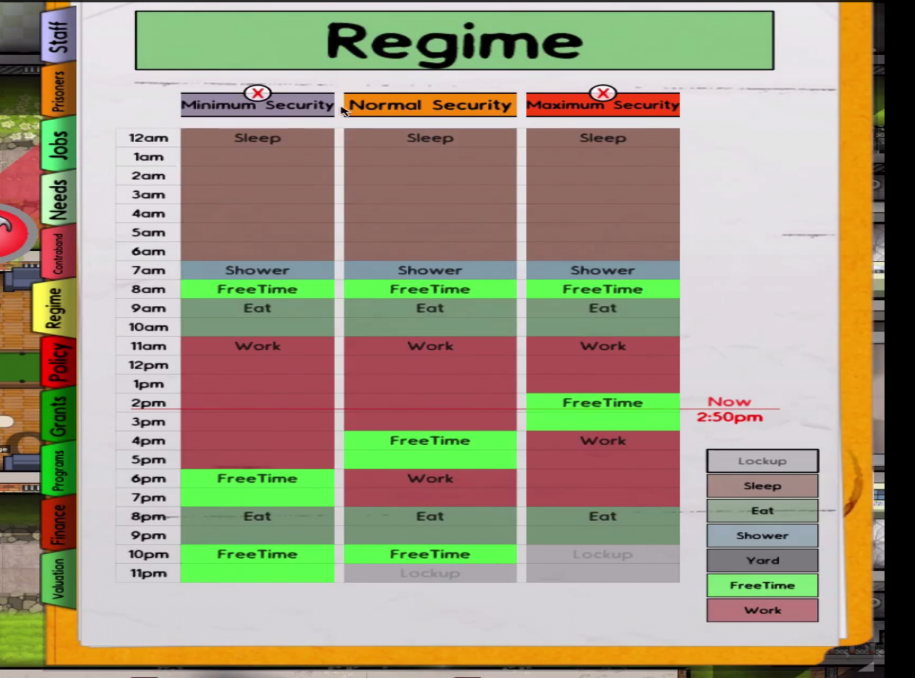 An example of a good regime.
The Shower Question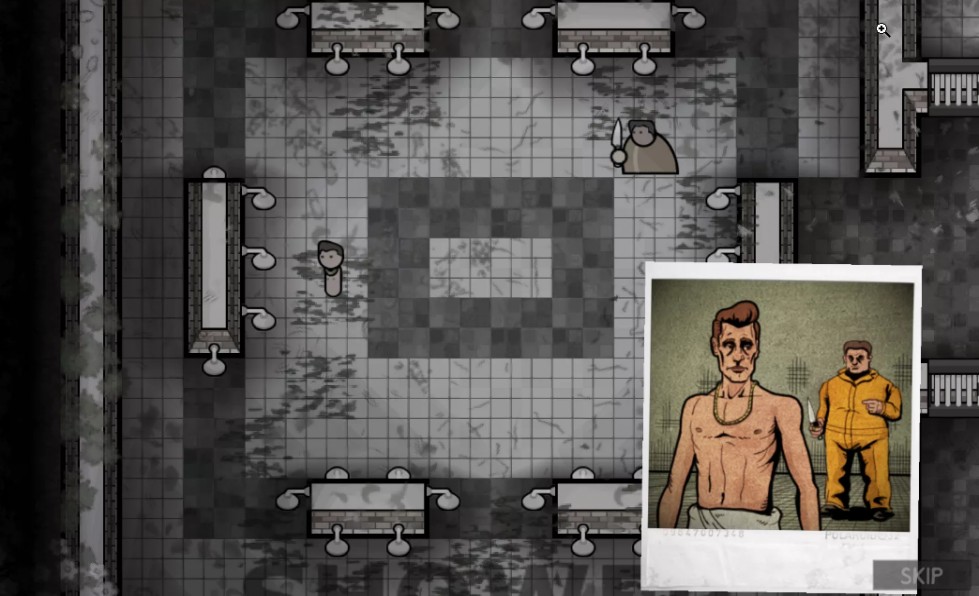 Prisoners will try to shank each other.
Be aware of the fact that 5 hours of sleep should be the absolute minimum, to avoid your prisoners becoming walking corpses! There are different views on dedicated shower times as well. Some people like enforcing them, others prefer putting showers into the cells and let the inmates take care of their needs during their free time.
This is an especially good idea when it comes to max security prisons. In the lower level prisons, inmates can mingle in the showers and possibly cause trouble.
The Holy Grail of Regimes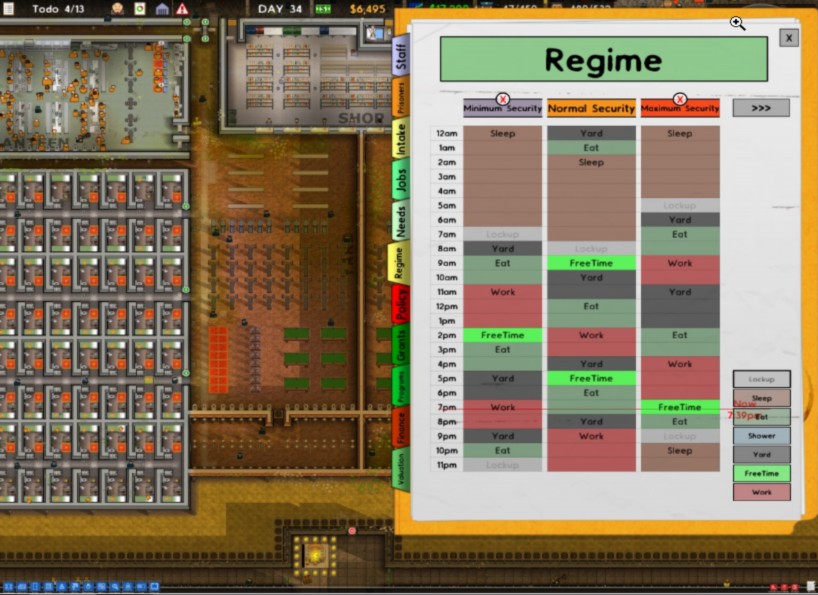 A screenshot of a regime and it plays out.
So let's get our hands on what you are all waiting for: the arguably best regime out there. This should be the base of every regime, with ample work time to guarantee high program success scores. There is also lockup to keep your prisoners suppressed and shower times to make sure that nobody can get away dirty.
Keep in mind that you might have to adapt the regime depending on your prisoners' security levels and demands and should separate the activities for different security levels.
11pm-6am Sleep
6am-7am Shower
7am-9am Eat
9am-1pm Work
1pm-2pm Free time
2pm-3pm Yard
3pm-7pm Work
7pm-9pm Eat
9-10pm Free time
10pm-11pm Lockup
Enjoy your well-optimized prison, warden!
You may also be interested in:
Image Gallery