10 Best Dating Sims to Play Today
Updated: 20 Jun 2018 3:33 am
This is how love works, right?
We all want to fall in love and spend our lives with the waifu or husbando of our dreams.
Dating simulation games allow us to live that dream through 2D boyfriends and girlfriends. They come in many shapes and sizes, from Flash-era Newgrounds games to commercial visual novels. For the most part, dating sims take away complicated gaming mechanics and favors the power of decision making, all while breaking the fourth wall to make fun of you.
It can be hard to get into the genre, so here are the Top 10 Dating Sims to Play Today!
10. Cinders (Fantasy) (2012)
Cinders cinematic trailer.
The classic fairytale of Cinderella comes with revenge! Will you reclaim your late father's estate from your wicked stepmother? Get yourself a handsome man - whether he be a knight, a merchant, or a prince - and take control of your destiny.
Make a deal with the fabled Lady of the Lake and steal away Prince Charming at the Grand Ball. Be a queen of grace or of iron. The power is yours for the taking, Cinders. You just have to snatch it.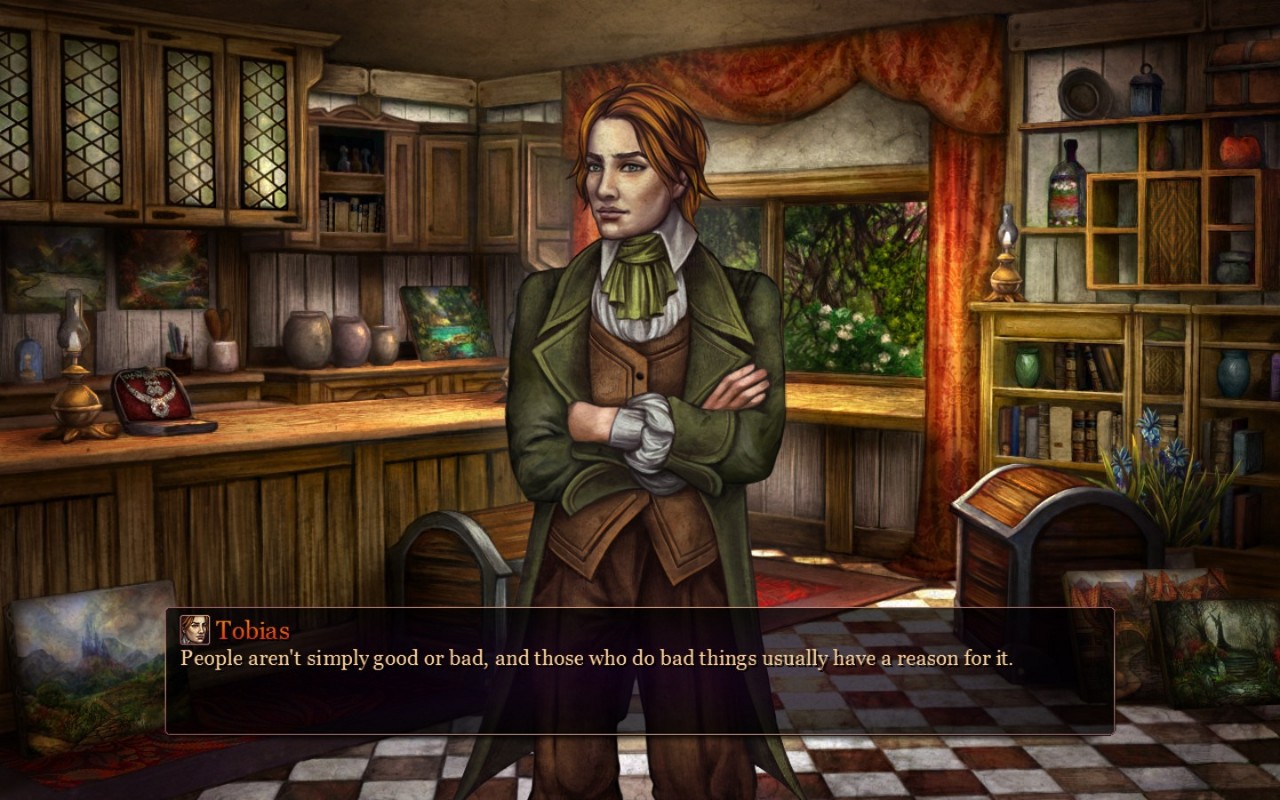 It's not the advice we want, but it's the advice we need to hear.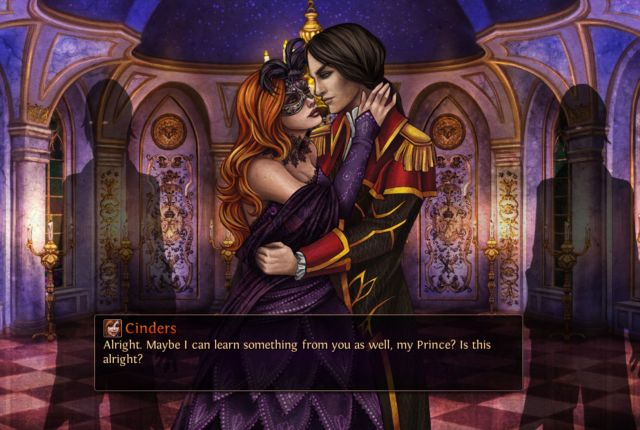 Dress to kill at the Grand Ball. Literally.
9. Coming Out on Top (Mature Humor) (2014)
Coming out on Top gameplay.
This game takes place after coming out to your best friends. Since you're out now, it wouldn't be weird to borrow your buddy's sex toys or get it on in the bathroom at a classical piano competition, would it? No, not at all!
Your roommates will encourage you to pursue relationships with eligible bachelors. If you choose to isolate yourself you will develop an unhealthy obsession with your pet fish. You must choose to flush him, romance him, or help him kill your friends.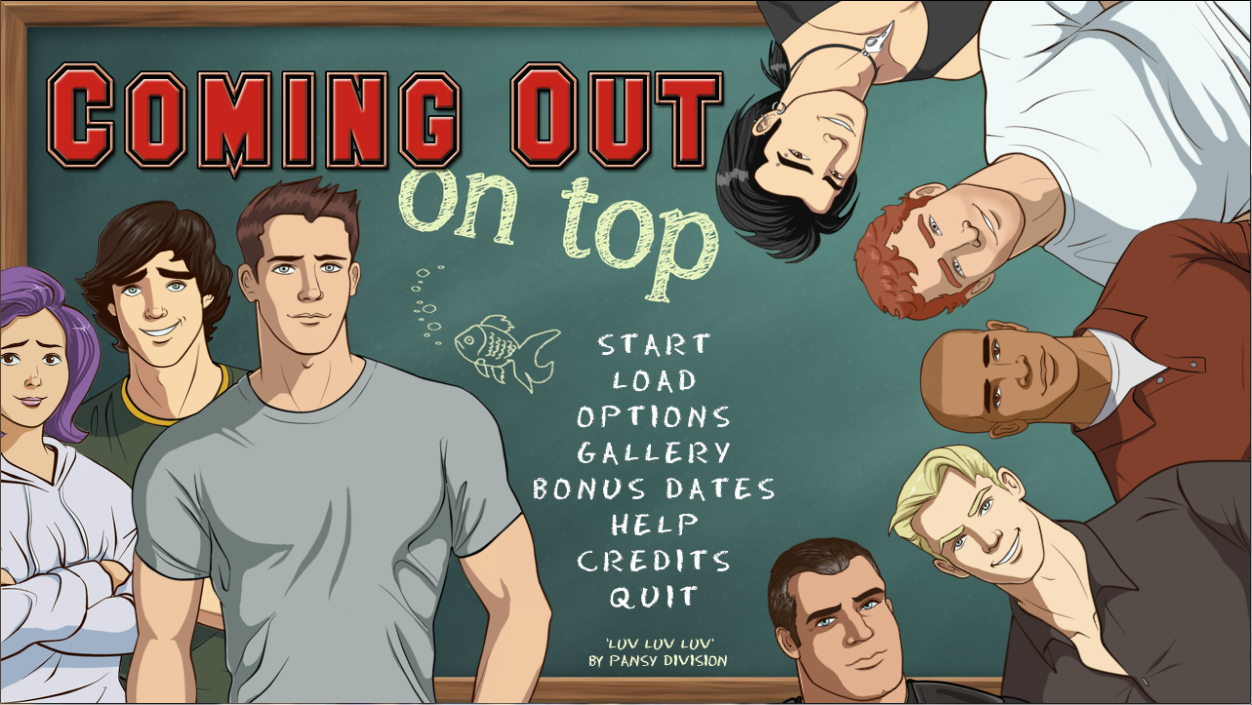 Even if you don't like dudes, Coming out on Top is fresh enough to be worth a play.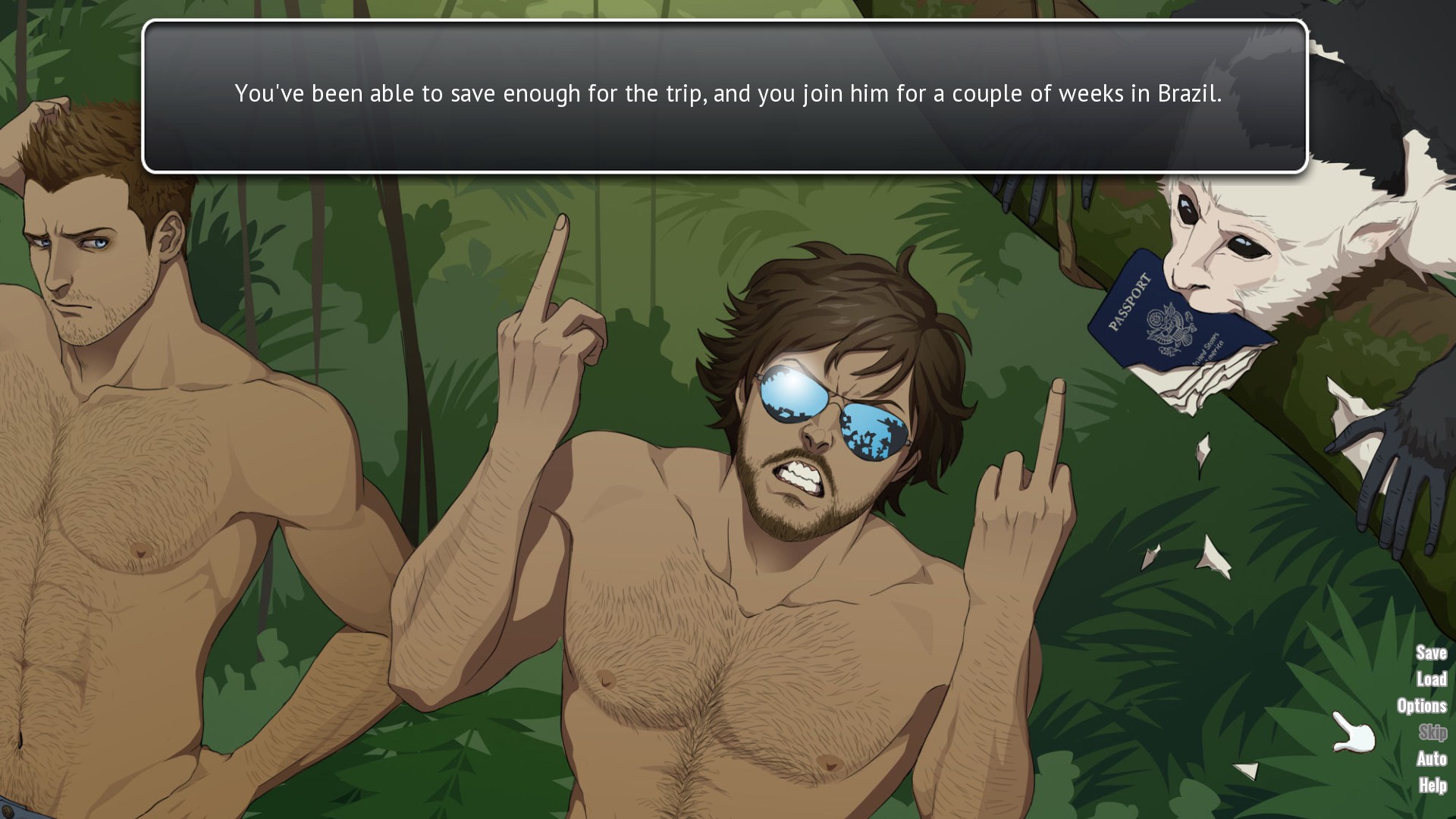 Travel to Brazil for the summer with your best bro/potential romantic partner.
8. Dream Daddy (Dad Humor) (2017)
Dream Daddy Secret Cult Ending gameplay.
Dream Daddy is full of humor and heart. You're a recently-widowed single dad that just moved into town with his sassy teenage daughter. It's up to you to fall in love and force memes.
There are mini games to compete against other dads in, like mini golf and match fishing. Enjoy dating the dads, but don't forget who the most important person in your life is. You might discover the secret cult ending and 8th dateable dad that way...

The memes in the game are all dated, but the self-awareness makes it forgivable.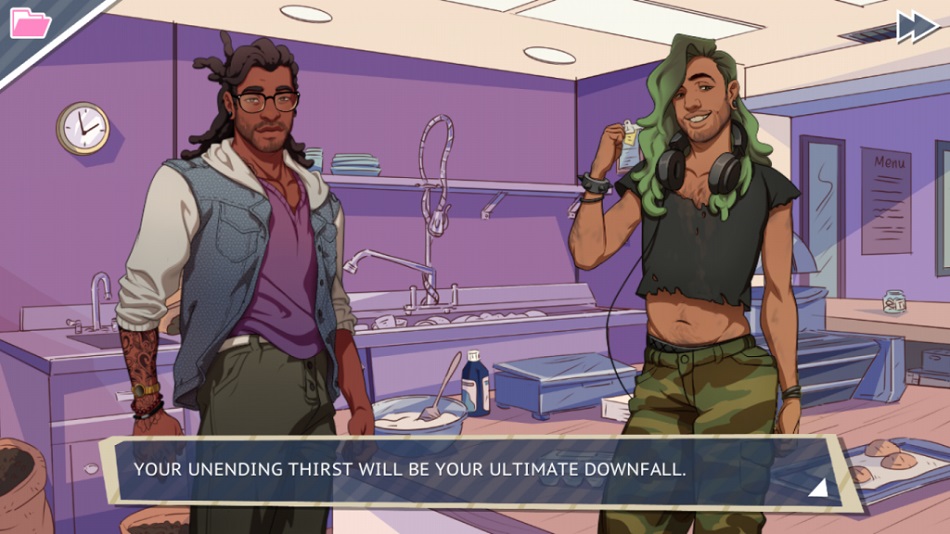 If dating sims have taught me anything, it's that the thirstier you are, the less you will drink.
7. Doki Doki Literature Club (Psychological Horror) (2017)
Doki Doki Literature Club gameplay.
Friendly reminder that cute anime girls can't be trusted. What starts as an innocent slice-of-life visual novel rapidly devolves into a nightmare. You join an after school literature club with your childhood friend Sayori and a few cute girls. You won't be writing poems about other girls ever again.
Enjoy the company of the literature club members and create beautiful poetry together and maybe lose your mind. The game has multiple warnings for its disturbing content, so try not to play it if you're easily unnerved.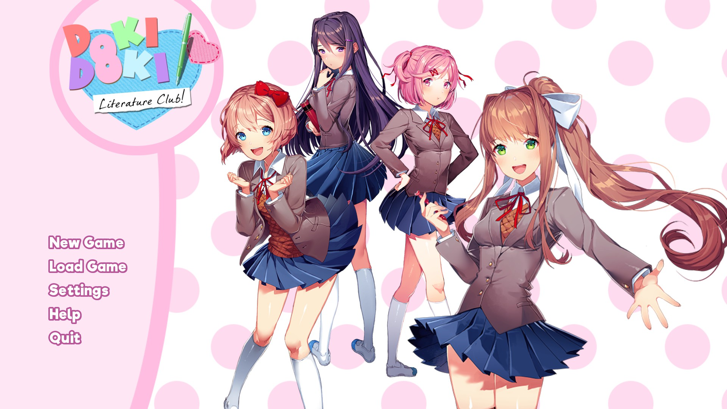 The title screen seems pleasant enough...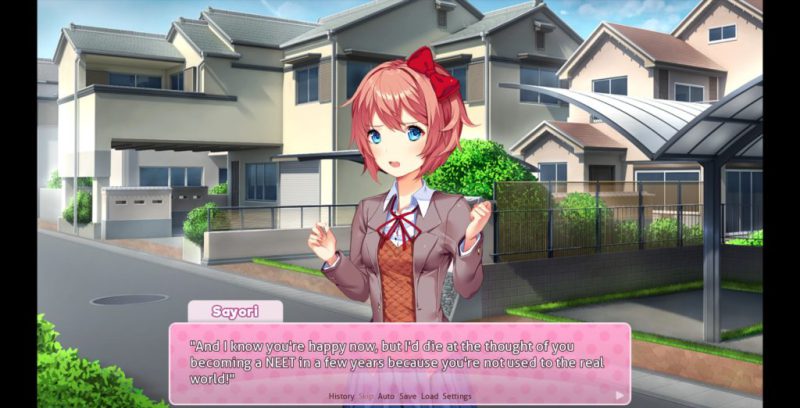 Still not seeing anything out of the ordinary...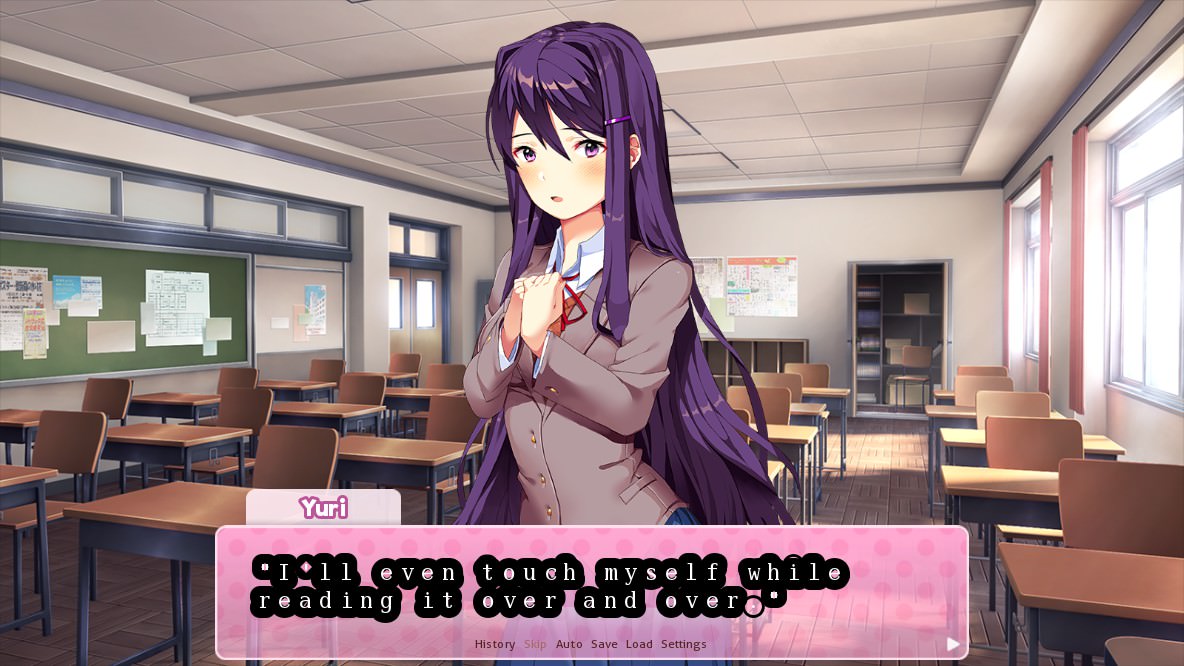 Okay thanks Yuri I'm just gonna go now!
6. Emily is Away Too (Nostalgia) (2017)
Emily is Away Too gameplay.
Following the wildly successful release of Emily is Away, Emily is Away Too has decisions that matter and strong teenage angst to suffer through. Date either Emily or Evelyn through a nostalgic copy of AOL Instant Messenger. Watch what you say, because these girls keep track of everything.
Emily is Away Too forces you to use the old Windows XP wallpaper and check out the old school Facebook and YouTube webpages. Like Emily is Away there is a collection of secret avatars that unlock secret meme conversations and unique profiles for the game's characters.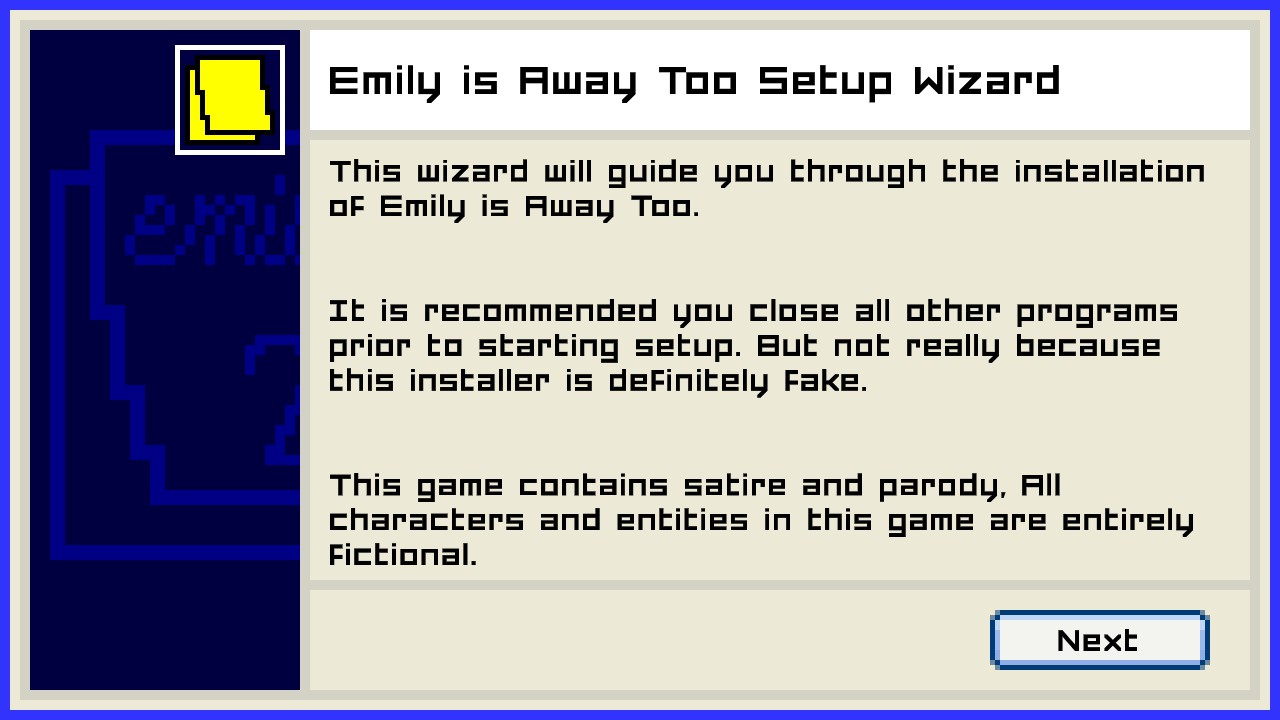 Even the installation wizard is reminiscent of 2004.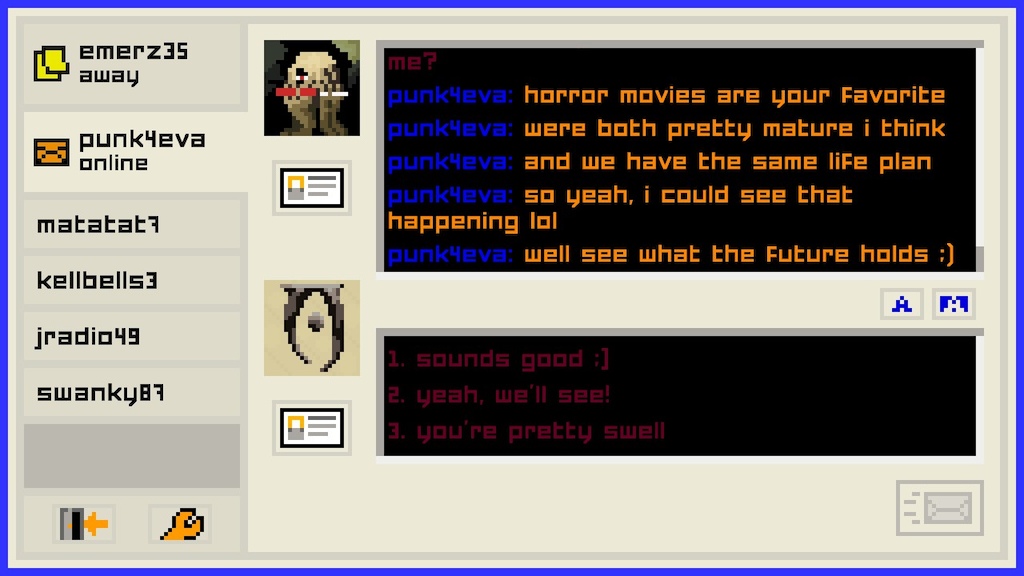 She says you're mature, but every 16 year old that listened to My Chemical Romance and Coldplay was.
5. Hatoful Boyfriend (Dystopian Humor) (2014)
Hatouful Boyfriend pudding apocalypse gameplay.
Play as a student at St. PigeoNation's Institute and romance beautiful bird men. Come to date pigeons, stay to battle the Dark Bird Overlord in his quest for genocide in a dystopian bird-powered future!
Pursuing your school nurse has a mild side effect of death and your brain being preserved in a jar. Your feathers will be ruffled by this game. It's a hoot.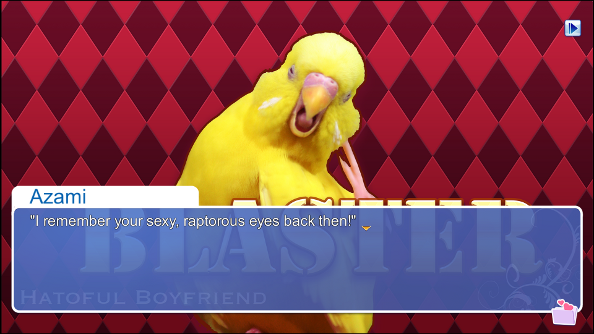 Your biker bird friend recalls fiery, passionate love.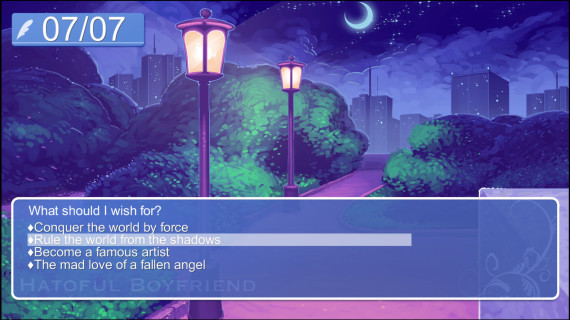 Be careful what you wish for, because you actually get it.
4. HuniePop (Mature) (2015)
HuniePop gameplay.
You meet a Magical Love Fairy named Kyu in a bar and she decides to help your pathetic butt get laid by playing Candy Crush. There are elements reminiscent of RPGs like item collection and a time limit, but HuniePop is really about getting-it-on.
Gratuitous action with 2D women is a controversial niche in dating sims. HuniePop lets you live out a fantasy with a diverse cast, high quality CGs, and voice acting in all the right places. Play some Candy Crush Saga and get the ladies going.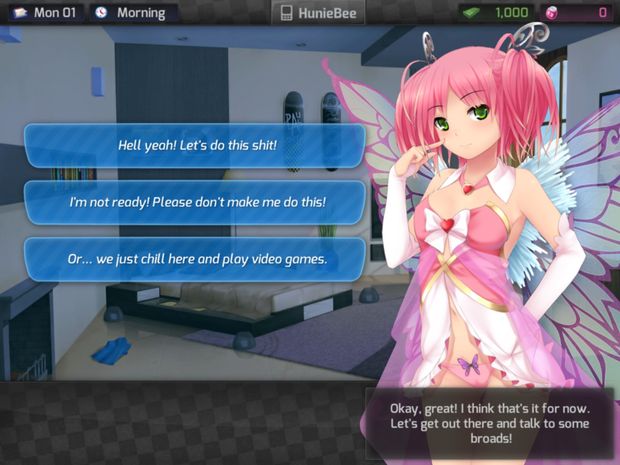 I, too, panic at the thought of talking to people.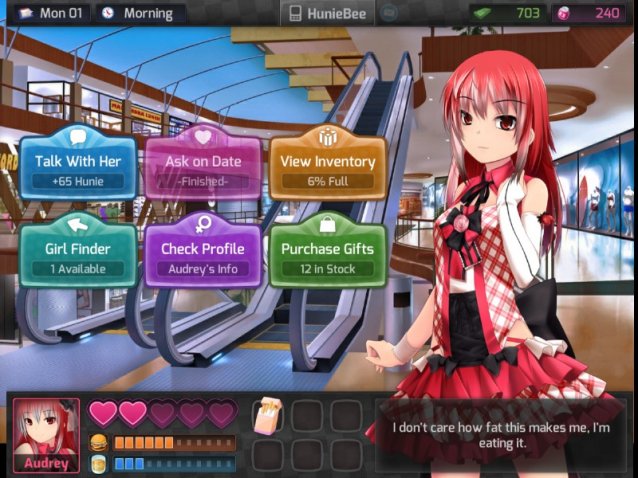 I don't care how much you eat just please don't make me spend another night alone with anime girls.
3. Fate/Stay Night (Mature Fantasy)(2004)
Fate/Stay Night: Unlimited Blade Works 2014 trailer.
Completing Fate/Stay Night in full is a Herculean labor at over 800,000 words. Seven magi chosen by the Holy Grail summon Heroic Spirits to fight to the death in Fuyuki, Japan. Pledge loyalty to the noble Saber, team up with your intelligent classmate, or dedicate yourself to the cute girl that calls you senpai.
Fate/Stay Night is a challenging game to navigate with 45 different endings across three routes, 40 of which are bad endings. Cross your fingers and project some swords, because you're probably going to die. But at least you got the girls, right?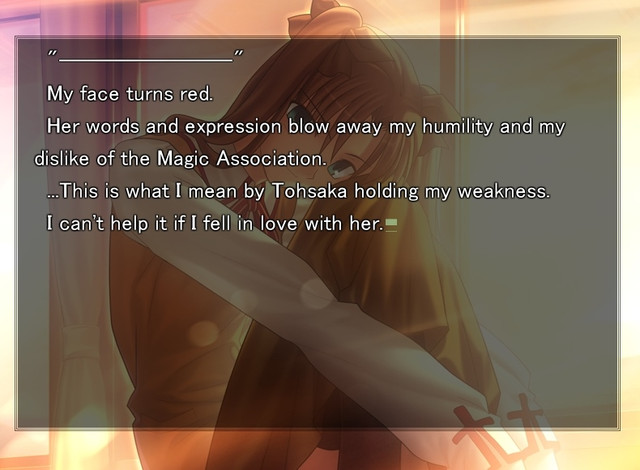 Rin Tohsaka gets my vote for Best Girl.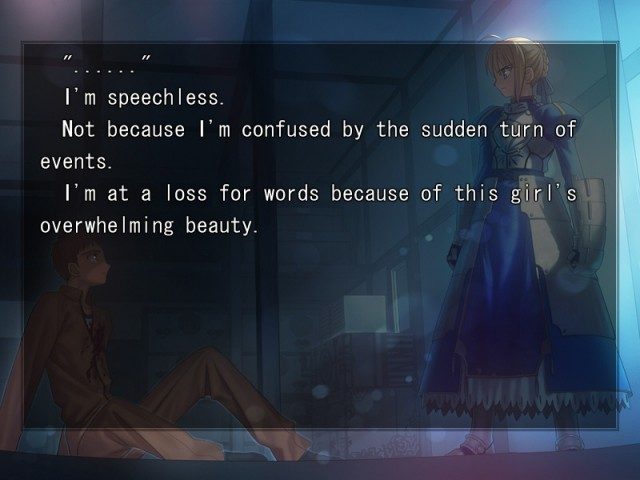 Despite having zero experience as a magus, you summon the strongest Saber-class servant. Thanks, dad.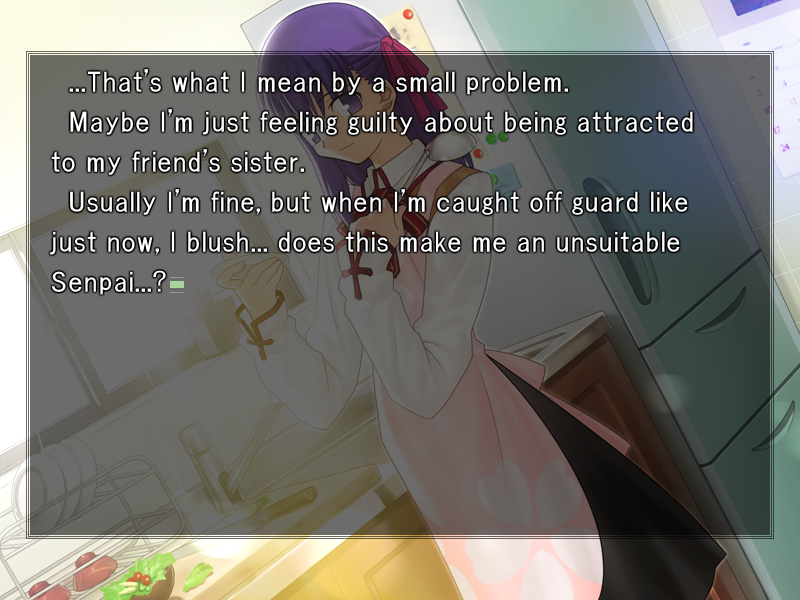 Sakura cooks. Sakura cleans. Sakura might kill you and you might enjoy it.
Monster Prom gameplay.
Monster Prom is the first dating sim of its kind, featuring local and online multiplayer in addition to a single-player campaign. The objective is to get a date to your school's prom that's only three weeks away. The multiplayer modes are competitive, pitting you and your friends against each other as you try to woo the monster of your dreams. Be your worst self, babycakes.
The game offers tons of choices that create over 1000 unique scenarios throughout the game. Dedication to getting the scenarios earns you achievements showing concern for the amount of time you've lost to the game.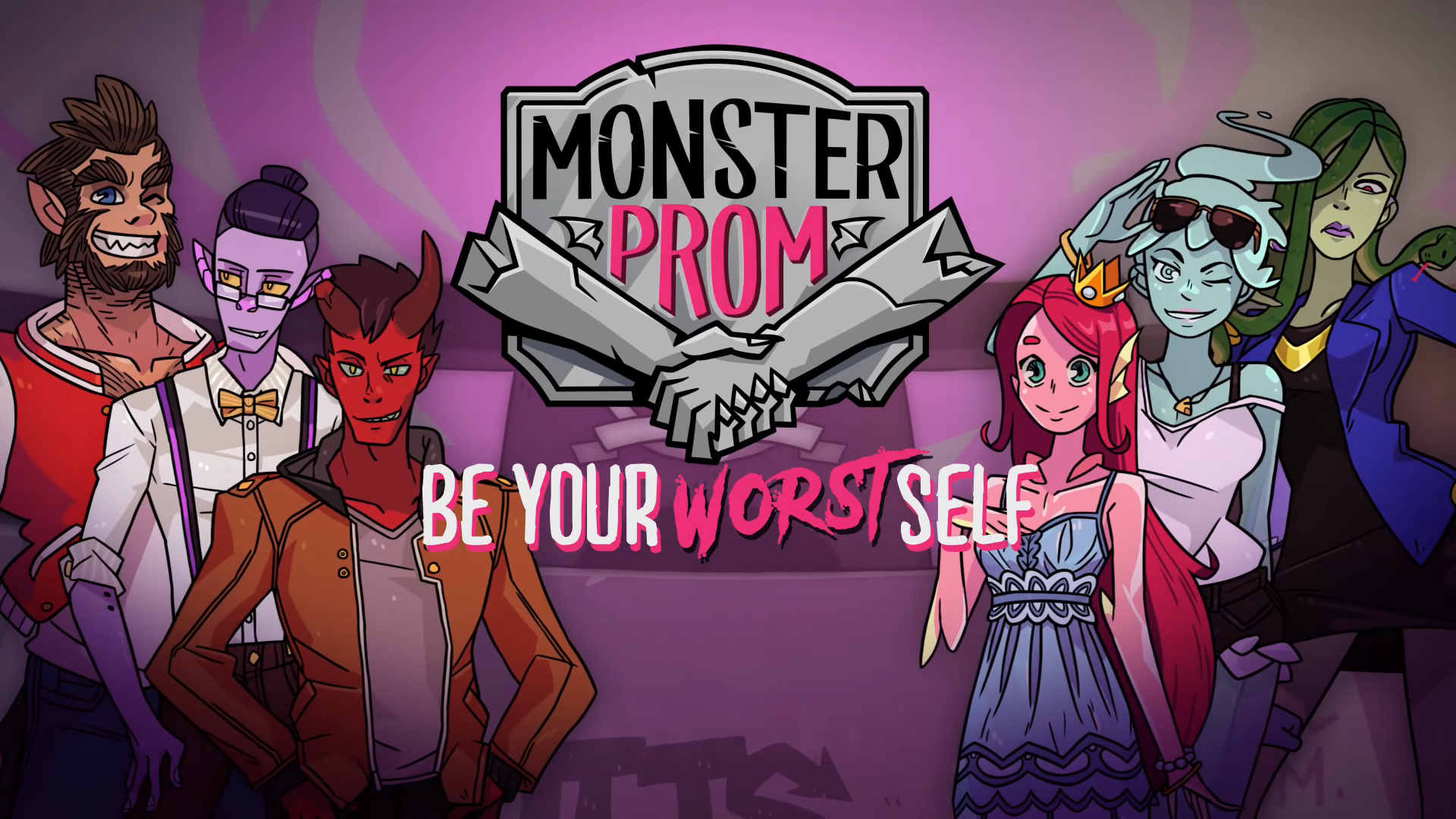 The badder you are, the better you'll do.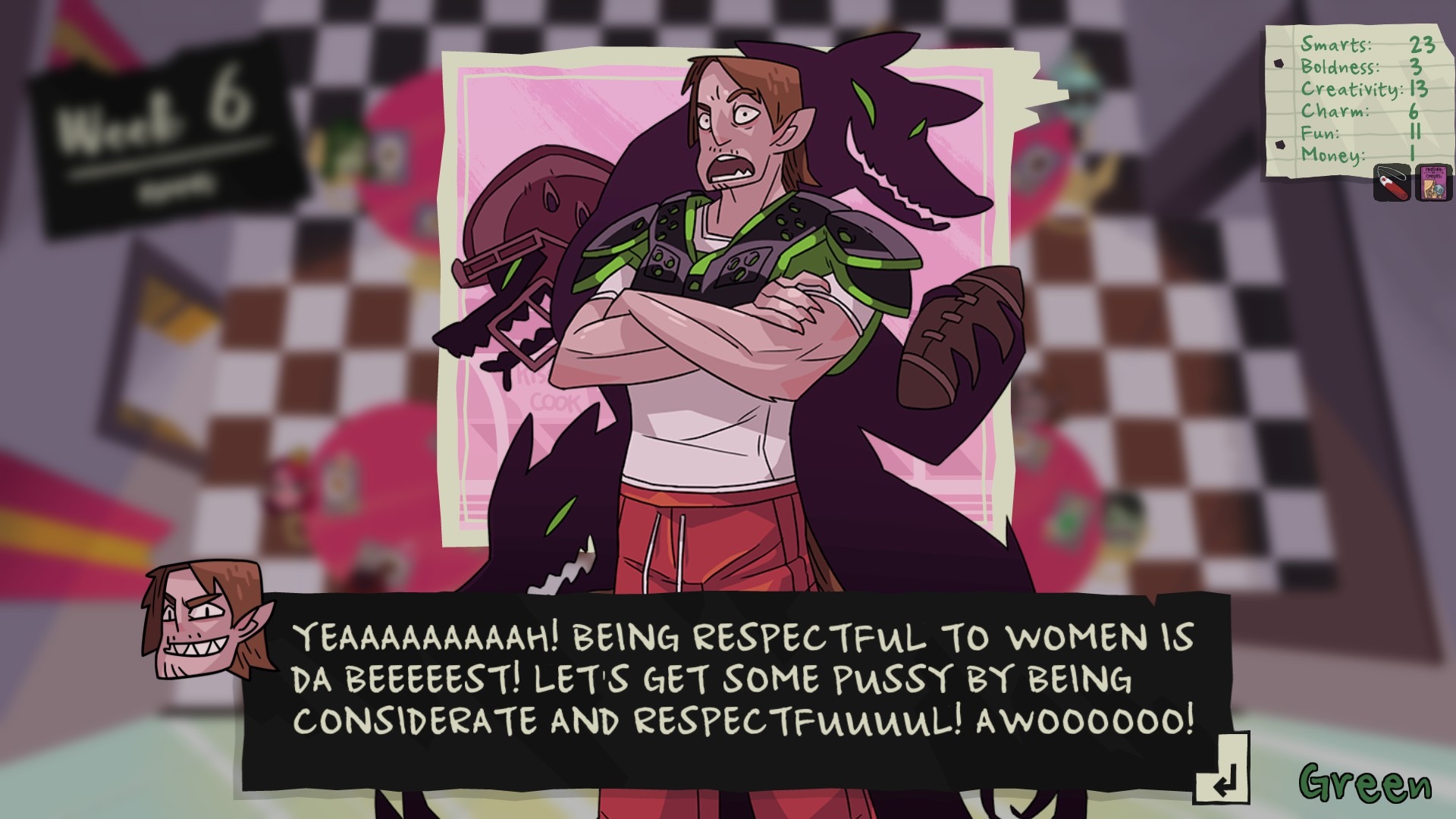 PARTY HARD AND RESPECT EACH OTHER WOO.
1. Purrfect Date (Dark Humor) (2017)
Purrfect Date gameplay.
If you're ready for a feels-trip with cats on a deserted island, Purrfect Date is purrfect for you. It's been marketed as a mating simulator, but the real story goes deeper than that. Boasting a clever plot and silly chara-cat-chers, this game is a new must-play.
Humans like you experience fatigue in the booneys, and somehow you're able to talk and become attracted to the aggressive cats living near the shore! What could possibly go wrong? The game is not complete until you've purrsued all 6 partners. Get going, kitten.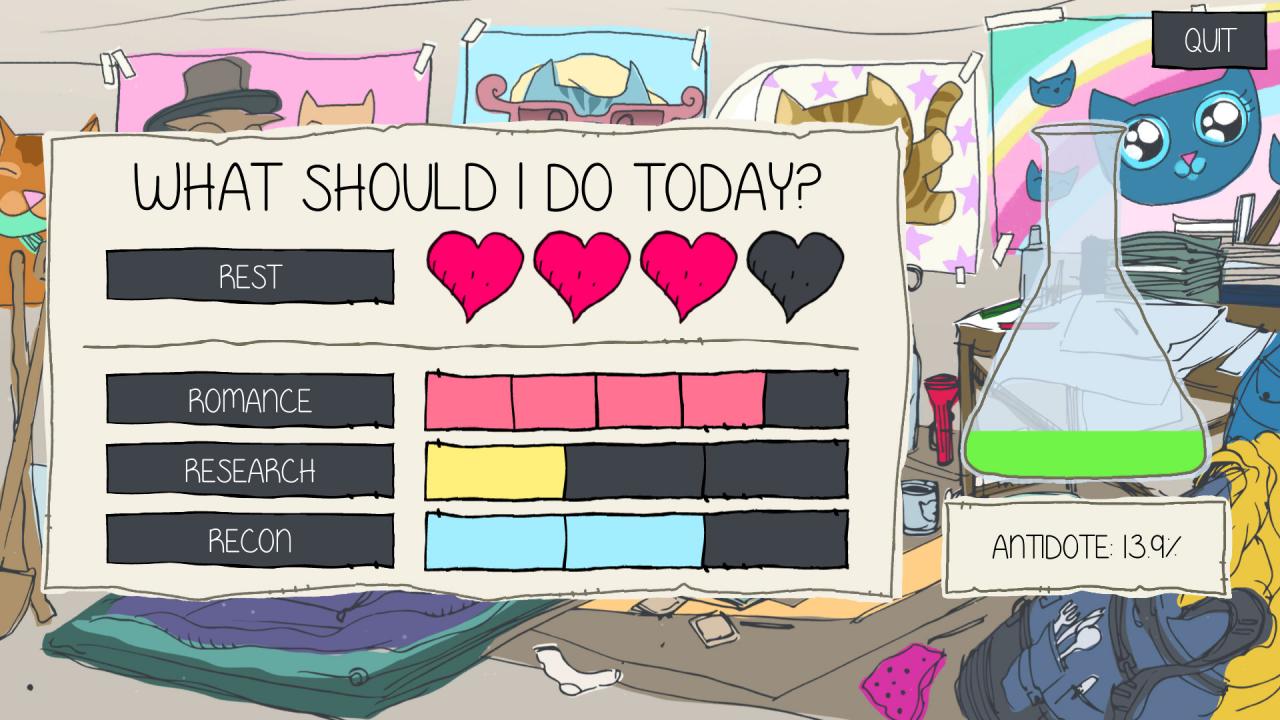 The daily decision screen is one of my favorites from a visual novel.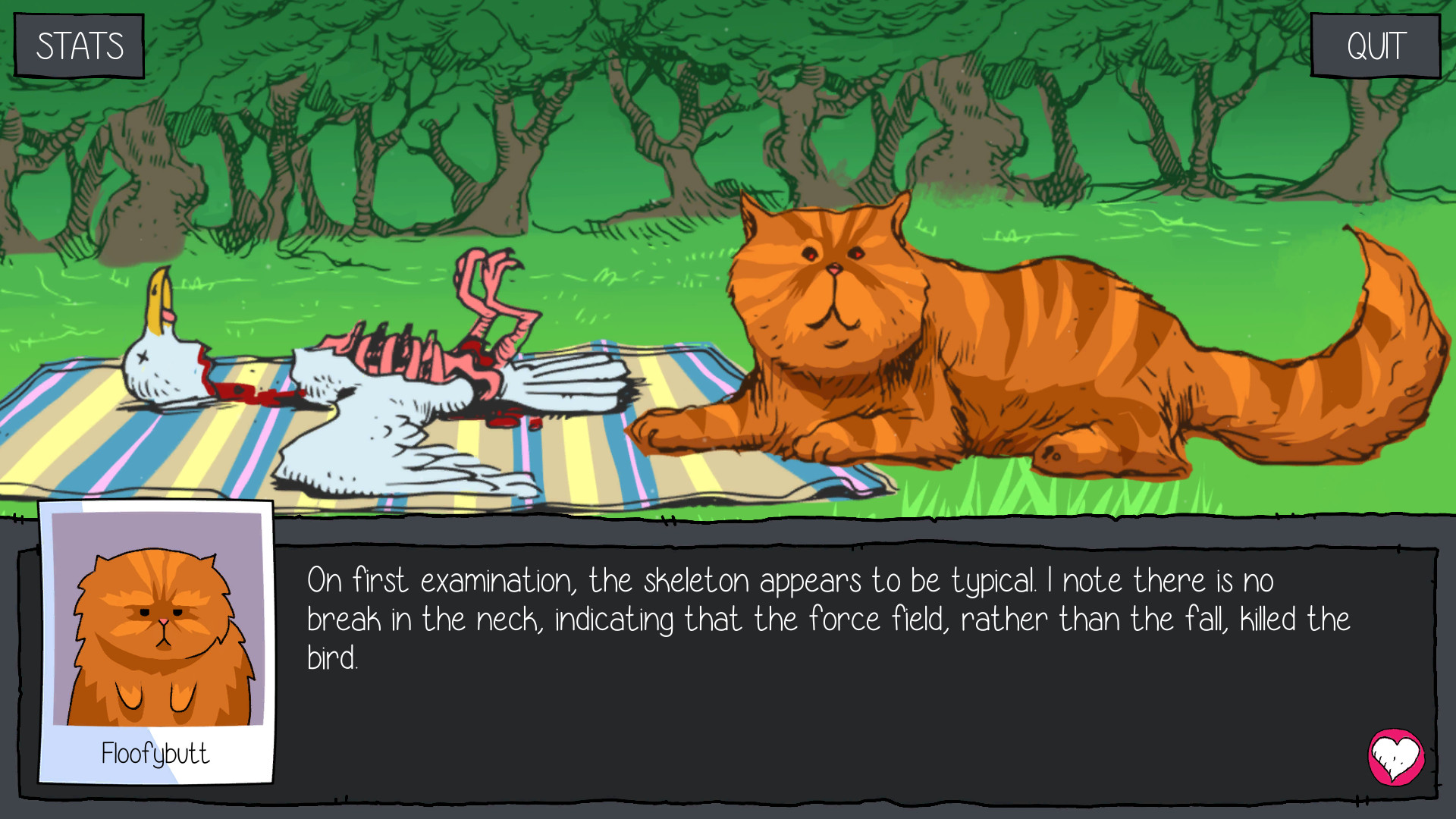 Floofybutt the cat is scientifically-minded enough to determine that a force field on the island killed a bird.
What do you think of these suggestions? I think they're purrfectly playable. Give them a shot and let me know what you think!
If you liked these suggestions, you might also like this related content:
Image Gallery