Top 10 Most Fun Video Game Jobs in The World
Updated: 25 Jan 2017 7:43 am
Top Ten Most Fun Video Game Jobs
The most fun jobs in the video game industry! Do what you love. Get a video game job
When you are a kid people always ask, "What do you want to be when you grow up?" When I was a kid, if I said I wanted to be a pro video gamer people would laugh. They'd say, that's not a real job. You can't just play video games for the rest of your life. It's not profitable. Well it is now. You don't have to be a pro gamer- you can coach, commentate, design games, and so much more. 
With social media sites like YouTube and twitch live streaming video games is something you can make your profession. The video game industry is booming. It's profitable. The days are no longer here where it's laughable to want to be a part of the industry. You can make an average salary of $70,000 in the video game industry. Gaming is where it is at. Not only that, the video game industry has some of the most fun jobs around. This is a list of the Top 10 most fun video game jobs. 
10) Video Game Marketing Manager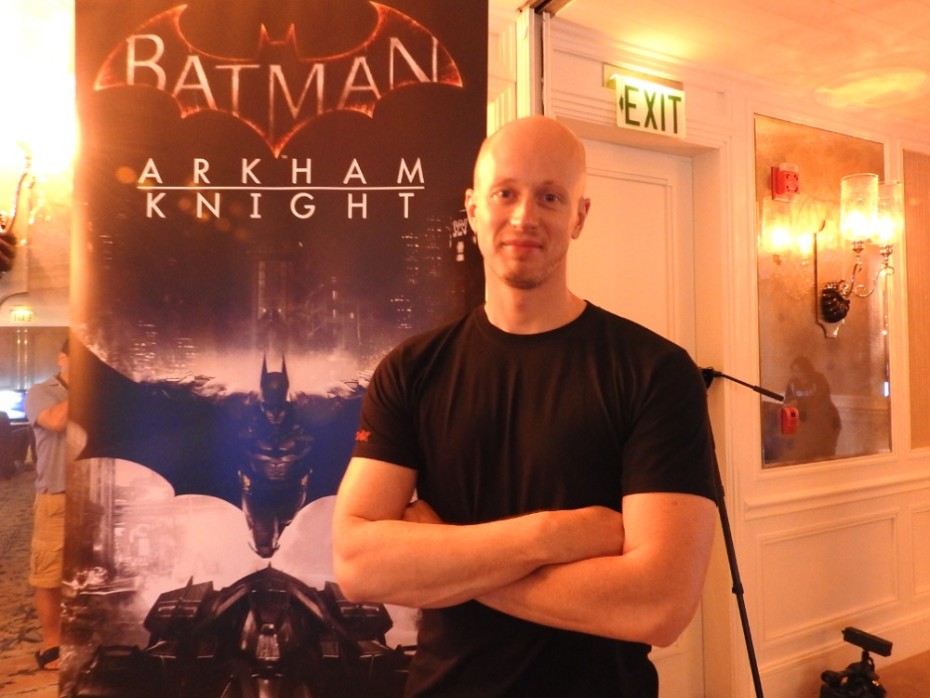 Guy Perkins Marketing Game Manager for Rocksteady Studios
Average Pay: $70,000/Year
Did you go to school for business? A lot of people do. With a business or marketing degree you pretty much have your choice of industry. So, if you are in business and marketing what could be more fun than working in the video game industry. You get to do all the same number crunching, and employ all the same skills as a normal marketing manager. You'll handle how the world views your video game company. You sell and maintain their public image. You talk to clients, work with production teams to perfect products, research products and consumer trends. It's all there. 
9) eSports Event Organizer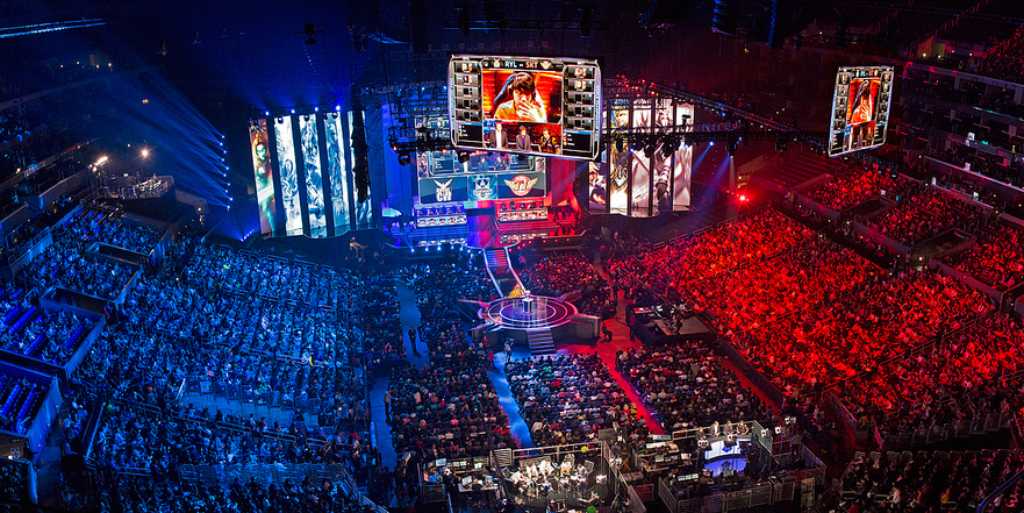 An ESL Tournament  is an experience unlike any other
Average Pay: $50,000/Year
If you love to watch professional gaming online, there is nothing like experiencing it live. At an eSport event you can watch the game on a big screen, you can get up close and personal with the eSports athletes, and hang out with other eSports fans. If an eSports event is something that sounds fun to you, and you like event planning this is the job for you. As an eSports event planner, you pick venues, find sponsors, invite teams. As an eSports event organizer you could create the next super bowl for gaming experience. You have the opportunity to show the world eSports is a true sport and that watching and playing video games isn't a joke, or a trend but the future.
8) Pro Gamer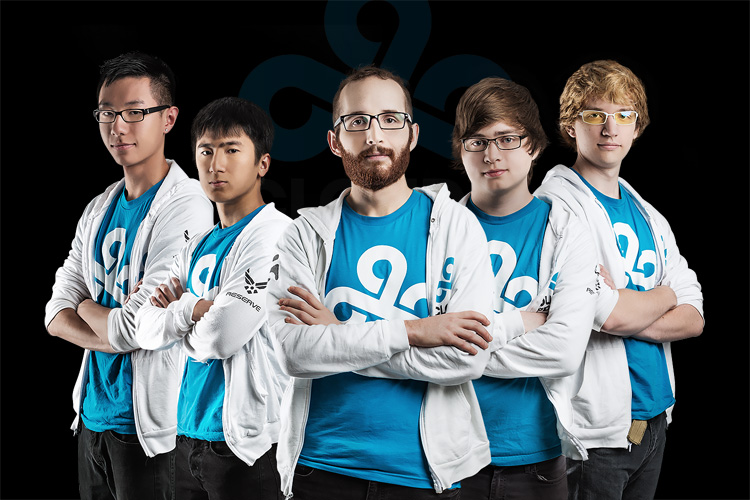 2014 LOL Team For Cloud 9 one of North America's Best eSports Organizations
Average Pay: $50,000/Year
Don't hate player hate the game. There is always that one friend you can't beat at Call of Duty. He just runs around the map killing everyone, and making you look like a noob. Or maybe, that's you. You are the player on the server everyone hates but secretly wants to be. If this is true then maybe you should consider becoming a pro-gamer. You get all the fun from gaming and the money that comes with being a professional; playing a game you love. Whether it be LoL, Dota, CS-GO, or Call of Duty. Maybe before being a pro gamer wasn't an option but today with the rise of eSports it is. Colleges even have eSports teams and give out scholarships for those who play the game well.
7) Video Game Streamer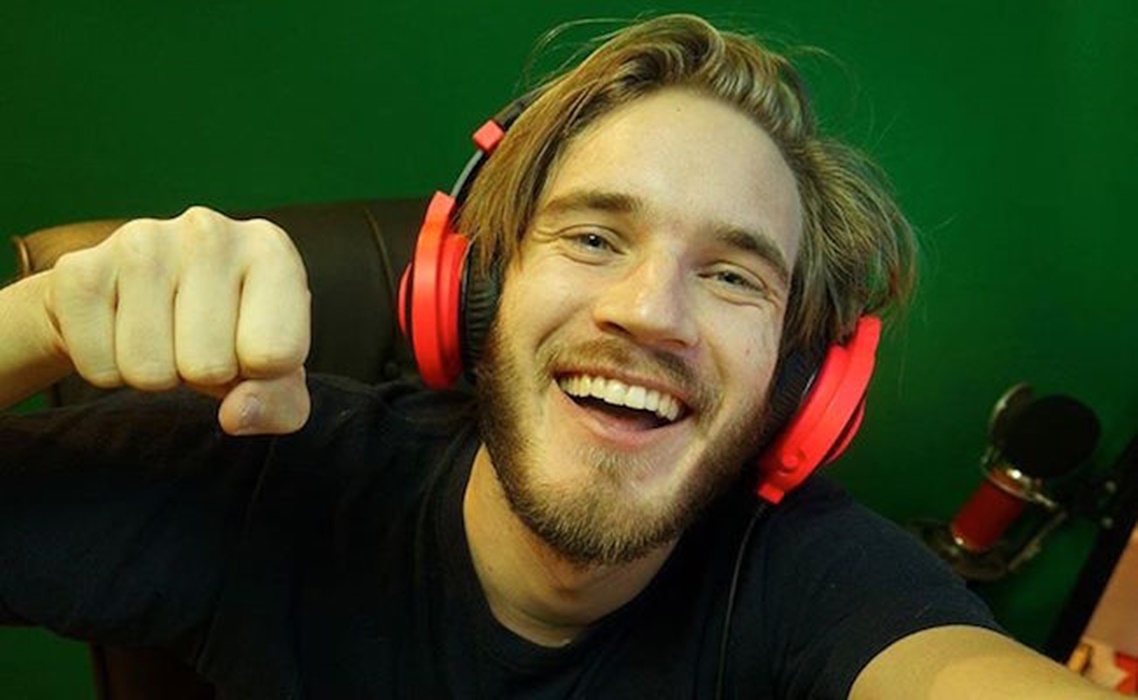 Pewdiepie one of YouTube's most popular channels 
Average Pay: $70,000/Year
Social Media is the new trend. There is no stopping this runaway train. With sites like twitch and youtube live streaming while playing video games can be a very lucrative career. Do people enjoy your commentary while playing video games? Do they like to watch you get scared?  Do you have a good rage quit reaction? Then maybe, live streaming is for you. Like any entertainment job, you need to have the personality and get lucky. But once you amass a huge following you can be raking in the dough with this job. It's easy to get into this job. It's hard to make a profit. You can start today. All you need is a twitch/youtube account, a webcam/cell phone, a good microphone and of course a game to play. You get to record yourself playing video games, showcase all your amazing skills, talk about anything and everything and get paid.  If you are trying to be a pro gamer this is one way to make yourself known.
6) Social Media Manager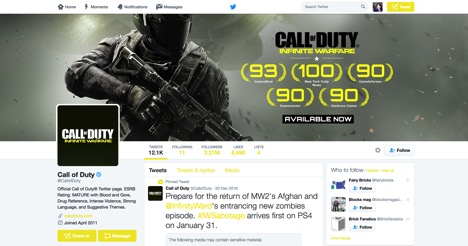 Call Of Duty Official Twitter Page
Average Pay: $45,000/Year
Do you get thousands of likes on your Facebook page? Have you created a viral video? Do you know how to use all the social media sites? Do you want to promote video games? This is the job for you. As a social media manager, you are in charge of how the world sees you. You create and publish social media content. You work with teams to produce videos, images and content for your Video Game clients. You handle and control what people see on Facebook, Twitter, Twitch, and official webpages. The more likes you get the better. 
5) Gaming News Editor/ Writer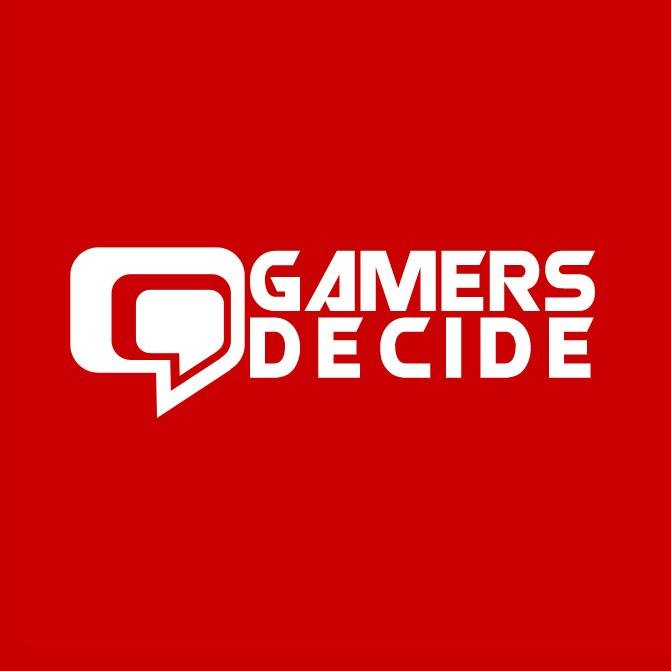 Maybe I am biased but this is where the best Gaming News Writers Are.
Average Pay: $50,000/Year
Are you a talented writer? Do you love video games? Do you follow all the video game news and trends? Maybe, being a video game writer is the job for you. If you are anything like me this could be your dream job. If you studied journalism, or writing and love video games, this certainly would be your last stop. You having the opportunity to write about eSports, upcoming video games, and review the best and the worst games of the year. You might even write an article about why you love your job. 
4) Video Game Designer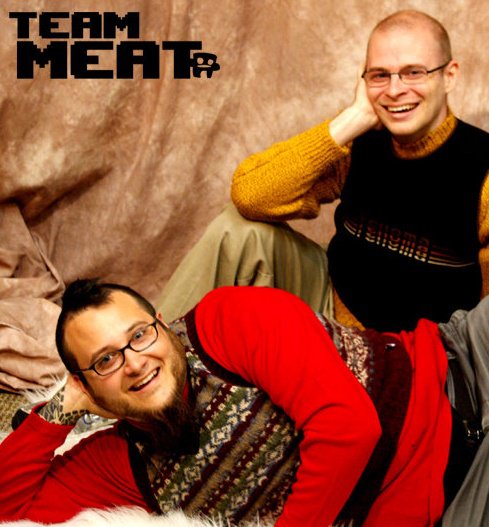 TEAM MEAT; Design Team responsible for SuperMeatBoy- Tommy Refenes and Edmund McMillen
Average Pay: $85,000/Year
Do you have a cool story you want to tell? Have you ever wanted to create your own video game? Video game designer is probably something you should think about doing. Game designers create the concept, develop the characters, pitch storylines and plots. They propose aspects of gameplay; from maps, games scenarios and user interfaces. They have their hand in every aspect of the game. Is it a multiplayer game? What about First Person Shooter? Maybe it's point and click. Who knows? You decide as a video game designer. 
3) eSports Commentator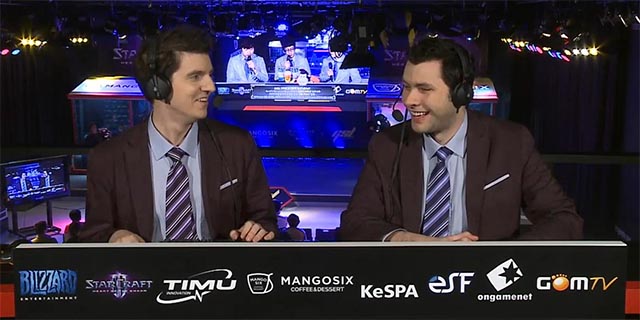 eSports shoutcasters get paid to say things like "He lost the lead, he gained the lead, he tied the leader" 
Average Pay: $25,000/Year
Do you like to do play by play? Color commentary? Do you have the voice or the on air personality of radio greats like Al Michaels?  Can you talk about LoL and CS-GO on the fly. Can you guess and propose plans a team might execute while sounding cool? eSports commentator is the job for you.  
2) Pro Cosplay Model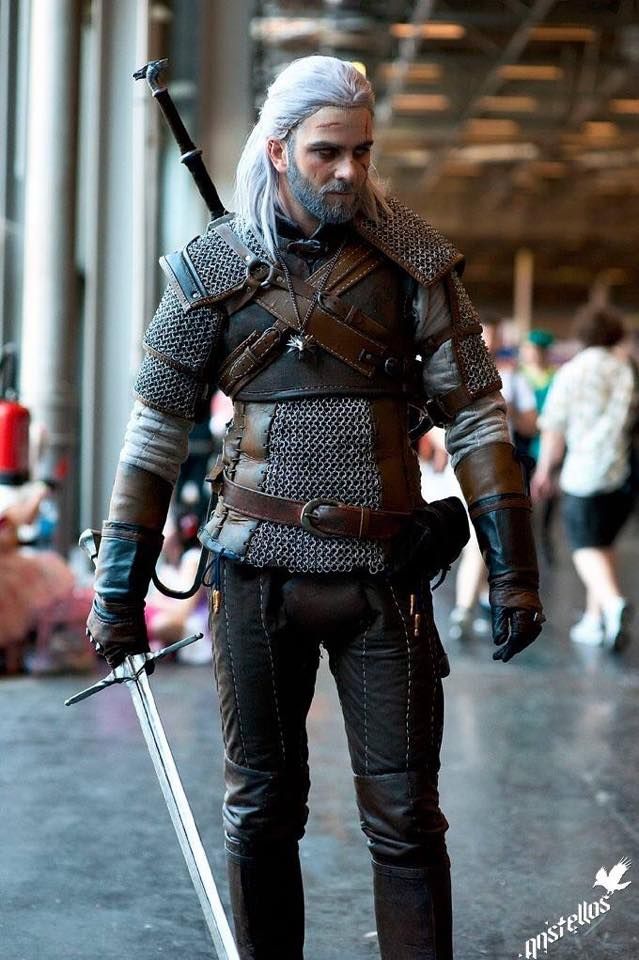 Pro Cosplayers get paid to dress up as their favorite characters
Average Pay: $52,000/Year
Costume design doesn't get any cooler than cosplay. If making video game characters come to life and you have some crazy sewing skills becoming a cosplay models. It is a one stop shop in bringing the beauty and art that comes out of video games. You can be a model and wear fancy chic couture outfits or you can become a cosplay model and be an Assassin. Or at least dress like one. Good cosplayers can make $100,000 or more a year, just from making appearances to promote a booth or an event. You basically get travel around the world, dress up as your favorite video game characters, and get paid for it. 
1) Gaming Celebrity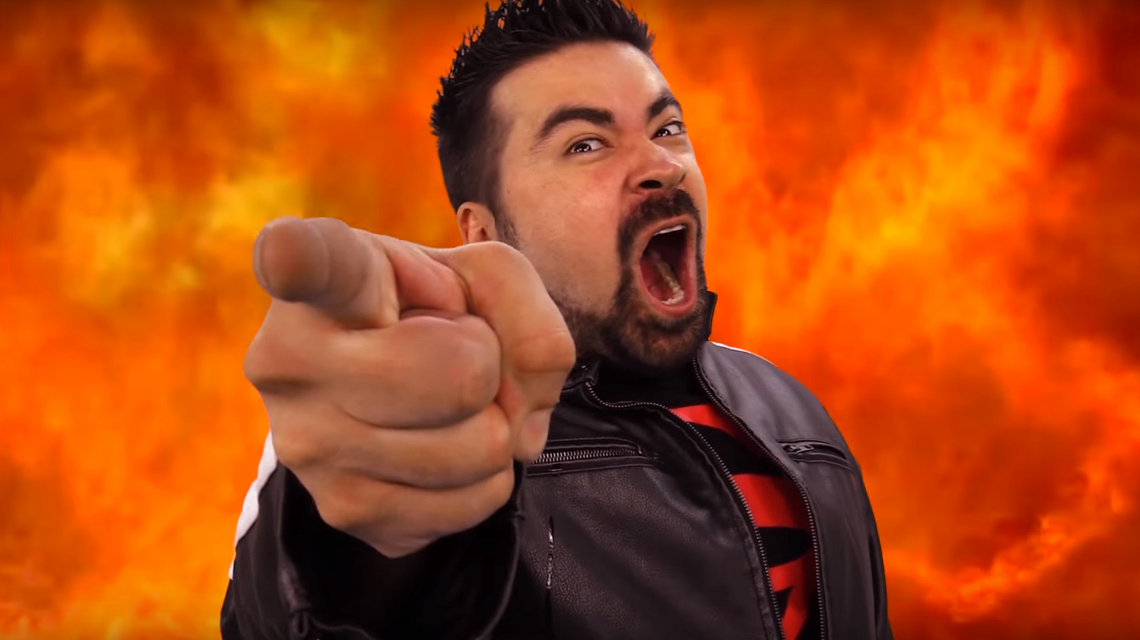 Angry Joe Video Game and YouTube Celebrity
Average Pay: $200,0000/Year
So, let's say you become a pro-gamer or have a popular twitch or youtube channel and get made hundreds, of thousands of dollars in sponsorships and ads. Let's say, people want your autograph when they see you on the street. And maybe, just maybe it's all from gaming. Then my friend, you've hit it big, you are a gaming celebrity.  You get all the fame and fortune big hollywood stars get but you are in fact a gamer. You could be a famous cosplayer, an eSports athlete, or commentator, a pro gamer like Sneaky or live streamer like pewdiepie. It doesn't matter what matters is that being a gaming celebrity would be and is one of the most fun jobs around. Seriously, people love you and you are doing what you love.
So, my fellow gamers we come to the end of this list on the most fun jobs in the gaming industry. It's not too late for you to pick up a microphone and start streaming. You can become a pro-gamer and win  an eSports event equivalent to the Superbowl; that pays you like a movie star. There are fun jobs in the video game industry that might even be the same as your own. The difference is it's for VIDEO GAMES. So keep playing, keep streaming, and keep dreaming because getting paid in the video game industry is real and it's trending. 
Until Next Time
Here are some more fun Video Game articles
Sims 4 Careers: 10 Highest Paying Jobs