"Surviving Mars" is Paradox Interactive's New City Building Game. What's It About?
Updated: 13 Jul 2017 11:08 am
What is the new game by Paradox Interactive going to be about?
Paradox Interactive, the makers of popular games Cities Skylines and Europa Universalis, have unravelled their next game
The famous Stockholm-based video game publisher has finally revealed their next game – this time round, they have gone for another city-building game, titled "Surviving Mars".
But what exactly is it about? Well, it's safe to say from just the title that it will be based on the famous red planet. Paradox Interactive have described the upcoming game as a sci-fi city building, which is going to be all about colonizing Mars and surviving the process.
Though we don't yet know a great deal about the game, we are quite keen to find out more, with Paradox's Interactive's Cities Skylines being a pretty epic city-building game, though based on earth, which has scored overall got very positive reviews so far.
Paradox Interactive's hit game "Cities: Skylines"
Interestingly, the Swedish company are currently also still working on expansion packs for Cities Skylines, such as Mass Transit which has just been released. The very popular game also made its debut on its first console, the Xbox One, last month, so there are no signs yet of the game, which was released back in March 2015, slowing down any time soon!
So what can we expect from Surviving Mars? And what do we want? Well, with Paradox Interactive's history of successful city-building games, we can only expect the best. So games like Anno 2205 need to look out, after Cities Skylines completely wiped the floor with the very disappointing SimCity.
What do we know so far?
The screenshots that have been released of the space civilization-building game look promising. We can't really see a great deal from them, but the graphics look clear and rich, and it looks like, as in Cities Skylines, that the space on which you can build is absolutely huge. I imagine there will be a similar feel to Cities: Skylines, such as being able to buy further fields to increase the area on which you can build. One of the screenshots even has the caption "Explore the vast vistas of Mars" which only supports the idea that the areas are going to be huge!
What you can also see is "domes" in some of the screenshots, with one caption being "Under the dome". This suggests that building a civilization will base itself around these "domes" where your civilians can live, and they will most likely not that easily be able to leave these domes without serious consequences. It seems players will have to make use of Mars will have to offer in any way they can.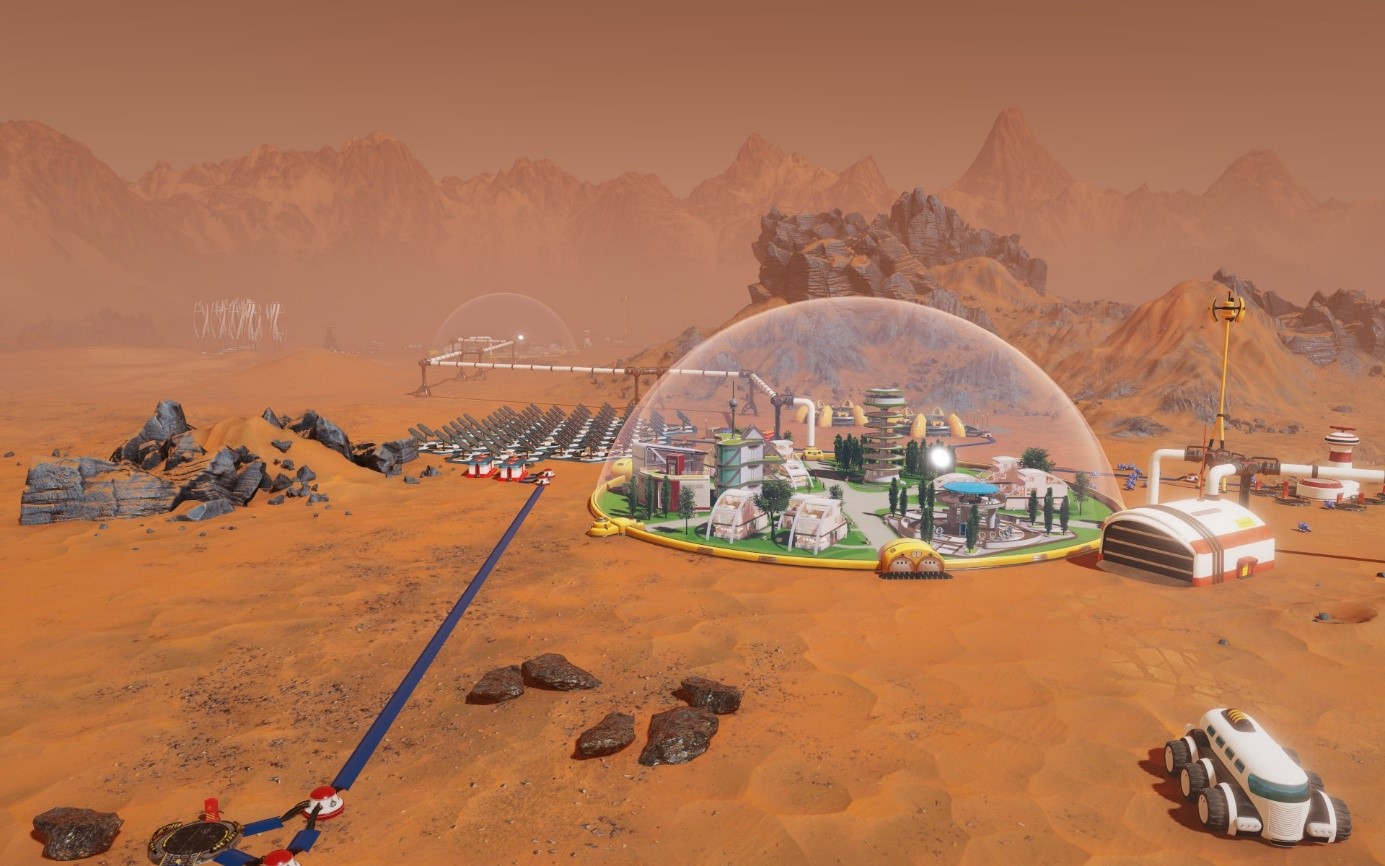 One of the few screenshots that have been released so far
Unfortunately, though we are all very excited about the game being released, this won't actually happen until 2018. However, Paradox have already announced that the game will not only be released for PC, Max and Linus, but also PS4 and Xbox One. We hope you are just as excited as we are!